Amazing food, hundreds of years of architecture, and never ending nightlife sit sandwiched between the mountains and the sea. Whether you have a day, a week, or a year, Barcelona sightseeing, food, and nightlife is worth it.
---
My Adventurous side says: I could urban hike through the hills and and swim in the until the sun comes up (and have) My Cultured side says: From Gothic architecture to unfinished, massive Gaudi architecture, the entire city is a piece of art on display that doesn't get old. My Flashpacker side says: The food is amazing, the hostels are top notch, and its hard to not live the good life here. It will be difficult to leave and I will definitely be back.

BARCELONA SIGHTSEEING….
There are plenty of Barcelona sightseeing opportunities, but these spots cover the highlights. Don't miss the Sagrada Familia church, Park Guell, or the late night Barceloneta beach front nightlife.
Sagrada Familia
Montserrat
Park Guell
Citadella Park
Poble Espanyol
L'Aquarium
Els Encants
Liceu Opera
Fundacio Miro
Museu d'Historia
Barceloneta
Palau de la Musica
Port Aventura
Casa Batllo

WHERE TO STAY IN BARCELONA
Yeah Hostel (Barcelona):A swanky hostel in a great location with big comfy beds, privacy curtains, a rooftop hangout area, and a great atmosphere. Sister hostel to Portugal's Yes! hostel in Lisbon, Yes! hostel in Porto and OK hostel in Madrid (all of which are amazing) HIGHLY RECOMMENDED – the hostel team hosts 2 great walking tours on alternating days and a worthwhile "night tour" every night
Generator Hostel (Barcelona):Another reliable hostel in the Generator
---
EAT HERE
Gola – an amazing Spanish restaurant that combines amazing ingredients to making interesting, yet very Spanish dishes. I highly recommend the marinated kangaroo, calamari, and pulpo (octopus) if available
---
GETTING AROUND
Barcelona Metro: Runs throughout the city from 5AM to 2AM
Taxi's & Uber: Plentiful and reasonably priced
---
PRO FLASHPACKER TIP
The city is equipped with free WiFi throughout the city at parks and major sites, so get a map to stay connected
Or bring an unlocked cell phone and pickup a Vodafone sim card for 10 Euros with 1.5 gigabytes of data at any mini-market
---
BARCELONA SIGHTSEEING….(IN DETAIL)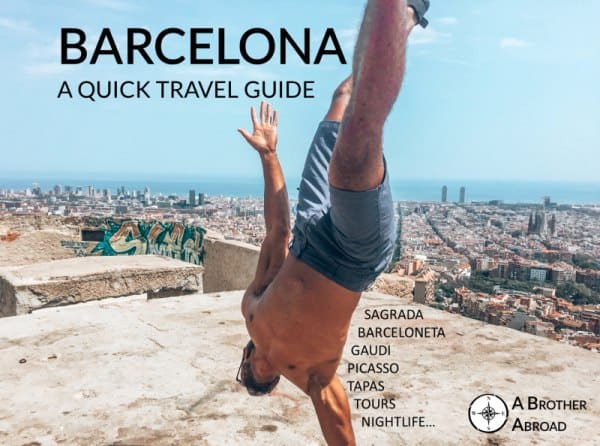 SELF GUIDED TOUR OF BARCELONA GOTHIC QUARTER
The following sites were all of the stops on a great, free (tips only) walking tour that I did from Yeah Hostel Barcelona. The tour was a great mix of interesting architecture and excellent commentary about the history of the Barcelona, Catalan, and Spain as a whole. I highly recommend staying Yeah Hostel Barcelona for the comforts and jumping on the tour, but, if you skip Yeah Hostel then absolutely do this 2 hour walking tour on your own
Barcelona Walking Tour (Gothic Tour)
Start at the Gothic Park
Cathedral

Triangles pointing to the sky
Angels embedded within

Casa de l'Ardiaca Arxiu Historic

Filled with information signs
Building used the old walls around Barcelona
Great place to view Roman, Gothic, and neo-gothic in one place

Plaza de Garriga And Bachs

Statue Dedicated to the 5 heroes that resisted the French ~1908
Made by the best friend of Gaudi
Tiles beside the monument depict how they died
Santa orlanea sits above door to the cathedral across from the statue

Plaza de Sant Felipe

A favored spot of Gaudi
A bomb exploded (second bomb) exploded in the square. The base level of all the buildings in the square still bear the damage. The bomb was dropped by the Franco Dictatorship
Pathway to square was the site for the Evanescence video – song tells the story of the kids that were killed
Vicki Cristina Barcelona was filmed at the Restaurant
Perfume was filmed here too

Jewish quarter

During the inquisition, the Jewish community fled and centralized to this neighborhood. During the period, the Jewish community was restricted from working and the ones that stayed made a living by financing and the banking activities took place in this square. To this day, the Spaniards use vocubalary (bank, broker, etc.) used with the Jews in this time. This neighborhood remains the Jewish center.

The oldest synagogue in Barcelona and one of the oldest and biggest in Spain. Now a museum.

There was a rule that the biggest synagogue couldn't be bigger than the smallest church – which is why there are many in Barcelona

View of an old city crest depicting directions

Cross represents hospital
Teacup indicates the main teahouse
Spoons indicate the direction of food markets
Lines represent townhall (come from the lines on the flag)
Boob represents that this area was a place for courtesans

Statue to Castselliers, the local sport

Made for the record for castelliers
Set in Time Square for 10 stories tall
A team from China came to this square to do a world record. The locals called the police. The people got close to making the world record and were stopped by the police (just short of the record) even though it was legal. The Chinese were released within 20 minutes and returned the next day. When they returned, the plaza was filled with new trees and local businesses were allowed to come Setup outdoor restaurants…so the Chinese team couldn't break the record. A few months later, the statue as tall as the world record was created.

Barcelona city hall
Pont Gotic

A cool alley with tons of gothic architecture an amazing, but tiny, bridge connecting government buildings adorned with interesting sculpting on the bottom side

Backside of Cathedral

Adorned with animals including an elephant fountain and a unicorn

Roof is original from 17th century
Door of St George

Plaza of the King

"The tallest tower in the world"
Grandfather of Ernanado Aragon killed the "tallest tower in the world" king

Entering the "El Born" Neighborhood

Food, design, and art

Graffiti Alley
Basilica de Santa Marta

A restored 14th century Cathedral with great acoustics. Home to many concerts and musical events

El Born CCM – Centre de Cultura Memoria

Style of building is where the market used to be
Neighborhood is "La Riviera"

Other spot – Santa caterina market is nearby

10 minutes to beach
5 minutes to the city park
Marvella beach – quiet nude beach
Restaurant – La Tasqueta de Blai