When considering the best jobs for digital nomads, most people think of the stereotypical and cliché jobs that pop culture prescribes to digital nomads – marketers, web developers, content creators, etc. Though many digital nomads fall into these fields, there are hundreds of more jobs that you could do successfully as a digital nomad.
Many people want the "digital nomad" and travel lifestyle. However, for most aspiring nomads, understanding where to start, what to do for a living, and how to make money are the biggest barriers to realizing their digital nomad lifestyle dreams – until now.
---
In this article, we'll share 51 proven jobs that you can do that successful digital nomads are performing around the world today, as discovered during our three-month study of interviewing digital nomads. We'll share practical tips for starting in these fields.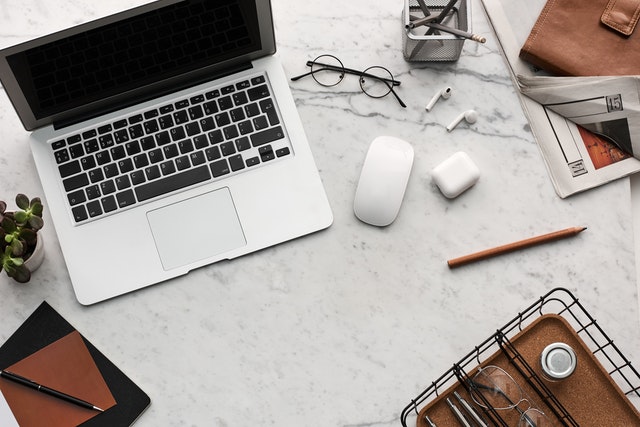 We'll also share 17 traditional job fields that are still very common in the digital nomad community and are perfect for making a great living and transition easily to a location independent lifestyle
Last, we'll share the top 30 fields for digital nomad business owners, as reported by successful digital nomad business owners.
Read on to discover the 51 best digital nomad jobs and how you can turn your current profession into a digital nomad job too.

ABOUT THE JOBS ON THIS LIST
All of the jobs on this list were reported as current professions and remote jobs by successful digital nomads in our 2021 digital nomad study. We defined "successful" as making enough from their craft to support their location-independent, indefinite travel lifestyle.
However, not all of these careers will be possible for everyone due to certifications and requirements, so we've placed the jobs into three categories.
The jobs on this list fall into three categories:
After reviewing our 51 best digital nomad jobs read our digital nomad job FAQ to learn everything you want and need to know about finding digital nomad and remote work job opportunities and deciding whether the opportunities are right for you.
---
These 37 jobs are perfect for aspiring nomads and remote workers. The jobs themselves require no formal university degree and (generally) no professional certifications. Additionally, most of these remote jobs can be self-taught using openly available information on the internet, test projects, and trial & error.
These jobs are unquestionably cool and were reported (and observed) as jobs digital nomads are doing successfully in a way that pays the bills. However, the fail rate in these jobs is so high we don't recommend them as plan A. They're still awesome to learn about, though. I honestly did one of these jobs for a stint but opted out because my current "hustles" – digital marketing and blogging – fit the lifestyle and a more pleasurable digital nomad life much better.
These jobs wouldn't come to mind first when thinking about digital nomad careers because of the extensive formal education and certification – think doctors, therapists, and urban planners – however, they do have very direct paths to an independent location income earned online.
If you are rethinking your career and want the opportunity to be a digital nomad after "paying your dues" in a conventional work environment, consider these jobs.

THIS LIST OF JOBS COMES FROM REAL DIGITAL NOMADS ON THE ROAD NOW
All of the digital nomad jobs on the list come from our Digital Nomad Statistics Report and a study that analyzed over 4000 responses from hundreds of digital nomads to understand who they are, how they live, and what they do for a living. Each job on this list is being performed by a digital nomad living while traveling as we speak.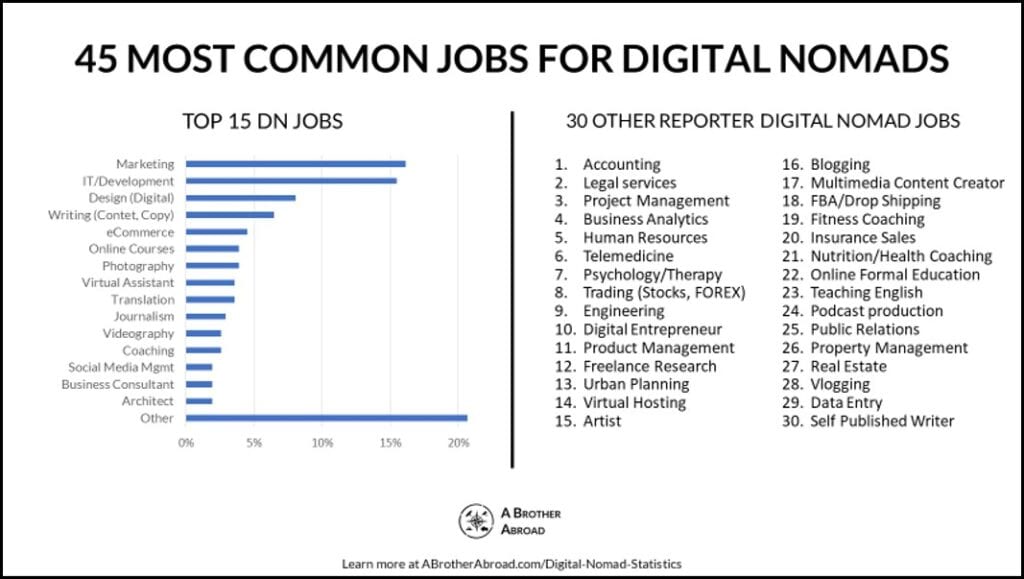 Click here, or read on to discover more about the top 45 jobs for digital nomads.

MY EXPERIENCE AS A DIGITAL NOMAD
As a blogger and owner of my digital marketing agency, I am a digital nomad and have loved the digital nomad life over the past four years. I've spent work stints in Chiang Mai, Hanoi, Bali, Buenos Aires, Colombia, Portugal, and countless other places enjoying the people and buzz of the digital nomad community worldwide.
As I've met other DNs, at co-working spaces, coffee shops, and on unexpected adventures, I've kept detailed notes of what we had in common, our hurdles, what contributed most to our success as digital nomads, and enjoying this amazingly free lifestyle. For many, job choice, building the right skills, and approaching getting customers/clients/bosses were pivotal points in building a successful career that enables location independence and indefinite travel.
In this article, we give you the data and statistics on the best digital nomad jobs and the insights that we all learned the hard way. In the end, we'll save you time transitioning from "the real world" to this dream lifestyle we live on our terms.

51 INTERESTING DIGITAL NOMAD JOBS
This list reviews the 34 best jobs for digital nomads and lists 17 additional jobs that successful digital nomads reported doing in our own digital nomad lifestyle study currently.
TOP DIGITAL NOMAD JOBS
1. Digital Marketing – Strategist
4. Search Ads Specialist (Google Ads, Bing Ads)
5. Social Media Ads Specialist (Facebook Ads, Instagram Ads, Reddit Ads, Pinterest Ads)
7. Computer Sciences /It/Coding/Development
9. Content Writer/Copywriter/Editor
12. Teaching (Professors/ Online Traditional Ed.)
16. Teaching Via Online Courses
18. Business Consulting/ Business Coaching/Sales Consulting
19. Social Media Management / Social Media Strategist
20. Accounting / Bookkeeping / Tax Prep
22. Virtual Assistant / Business Support / Executive Assistant
25. Nutritionist / Health Coaching
27. Podcast Editing And Production
28. Digital Entrepreneur/Small Business Owner Of Physical Products (Ecommerce, FBA)
29. Digital Entrepreneur/Small Business Owner Of Digital Products
30. Vlogger/Instagrammer/Social Media Influencer
31. Human Resources / Recruiting
INTERESTING DIGITAL NOMAD JOBS (THAT AREN'T RIGHT FOR MOST PEOPLE)
35. Trading (Stocks, Forex, Crypto, Etc.)
TRADITIONAL JOBS THAT ARE DIGITAL NOMAD FRIENDLY
Personal Financial Planning
Virtual Medical Services (Telemedicine)
Law (Corporate Law, Trademark Law, etc.)
Architectural Design
Public Relations
Remote Property Management
Mathematician
Engineer
Project Management
Business Analytics / Business Intelligence
Psychologist/Therapist
Product Management
Real Estate
Urban Planner
TOP 30 FIELDS OF DIGITAL NOMAD BUSINESS OWNERS

DON'T FORGET TO CHECK OUT OUR 2021 DIGITAL NOMAD STUDY AND 63 INTERESTING DIGITAL NOMAD STATISTICS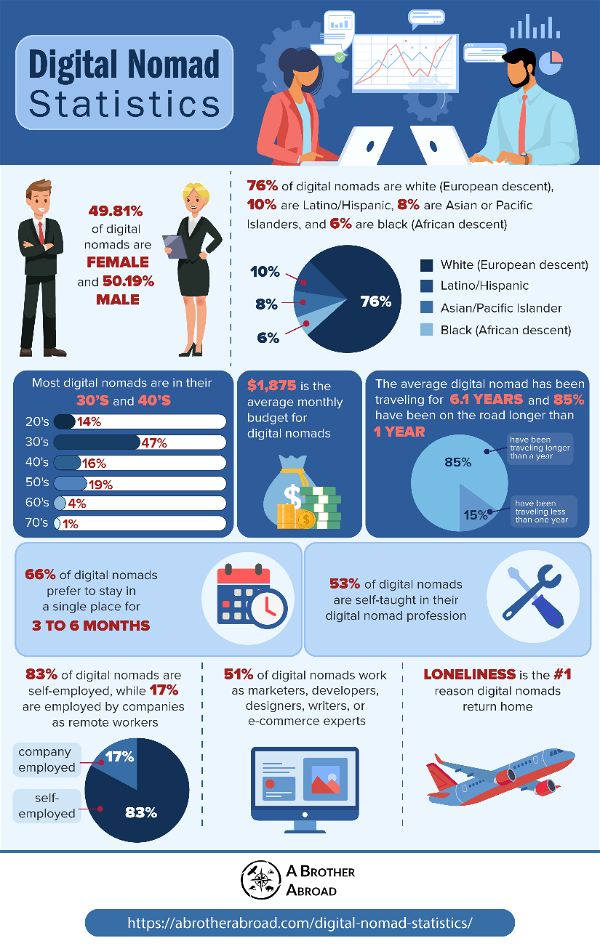 TOP 34 DIGITAL NOMAD JOBS
---
1. DIGITAL MARKETING MANAGER/STRATEGIST
Marketers, in general, connect customers with businesses and service providers, but "digital marketers" specializing in finding customers online and connecting them with businesses.
There are quite a few digital marketing subsets that fall under digital marketing – SEO, social media marketing, search ads, social media ads, etc. Digital marketing strategists or digital marketing managers put it together with a cohesive strategy across several social media channels.
Digital marketing managers can work freelance, on a task-based basis via their own agency – for startup launches, product launches, marketing consulting, etc. – but will feel most at home as a remote employee managing the digital marketing efforts of another business.
Breaking into a role as a digital marketing manager generally takes either 1) mastering a handful of the subsets in digital marketing and working your way up or 2) experience as a marketing manager with a traditional company.
If digital marketing management sounds up your alley, start by specializing within one of the subsets of digital marketing. The easiest, highest potential digital marketing specialties for digital nomads are SEO, search ads, social media ads (Facebook ads, Instagram ads, Reddit ads), and email marketing.
Marketing was by far the most popular job reported by digital nomads in our study. This occurrence makes sense given that:
The digital marketing field is so broad that there is a space anyone can fit in,
Marketing is one of the most important aspects of any business
Marketing services and business are easy to execute completely online
How to become a digital marketing manager or strategist:
Choose the digital marketing area you want to specialize in (SEO, SEM, Social Media Ads, etc.)
Learn how to design marketing campaigns in your chosen marketing specialty that find, attract, and close potential customers
Setup "practical tests" to polish your marketing skills
Use gig sites (e.g., Upwork, Fiverr), FB groups, and word of mouth to land your first clients, aiming to gather experience, results you can share, and a portfolio more than cash.
Repeat the process, refine your skills, increase your rates and move into becoming a successful freelancer or digital marketing agency owner.
---
2. DIGITAL MARKETING: SEO SPECIALIST
Google processes over 3.5 billion searches per day, and each search is an opportunity for someone to click through to your site. Whereas Facebook ads and Google ads can run dollars or tens of dollars per click, traffic from Google – to a site, an e-commerce store, or a product/service landing page – is free. All you have to do is optimize your content for search engines.
That is the job of Search Engine Optimization (SEO) Specialists, to optimize a site ranked highly in a search engine (usually Google) and receive traffic from that search engine.
As an SEO specialist or just an "SEO" for short, your work or specialization will fall into one of three areas:
On-Page SEO: Optimizing the content on a page (text, titles, tags, etc.) for specific key search terms
Off-Page SEO: Strategizing how to present a target site as an authority in the eyes of Google, based on how other sites link to and recognize the target site
Technical SEO: Making a site as fast and secure as possible
To become an SEO, start in a "sandbox" of your creation – ideally, a site or blog you own.
Study the various SEO areas (on-page SEO, off-page SEO, and technical SEO) using open resources, blogs from recognized and respected sites, and forum threads such as Reddit. Avoid paying for high-priced courses – because most don't have enough content to make them worth the price.
When starting up, take the hit to the pocket with lower rates and start on gig sites (Fiverr, Upwork) to build your skills and resume and aim to retain good clients. At the same time, share with people that you are (or are becoming) an SEO specialist. Be patient as, over time, your book of clients will increase as will the rates that you can easily charge for your work – but the success that comes from starting at the bottom and diligently building a base of experience, results, and clients is worth the initial sacrifice.
Also, many SEOs learn that for their creative style, the payoff of the efforts is more by applying their SEO skills to a business they own – such as a monetized blog or an owned e-commerce site – to find clients and build your business,
SEO is one of the least understood, most sought-after digital marketing skills by online businesses. It is one of the most inexpesnsive and sustainable forms of traffic when done right and compared to social media, ads, and any other online medium. Master SEO, have the diligence and patience to create results, and you'll have a highly monetizable, digital nomad lifestyle-friendly skill.
---
3. SOCIAL MEDIA MARKETING AND COMMUNITY MANAGEMENT (OWNED)
Social media, including Facebook, Instagram, Twitter, Pinterest, and Reddit, is a source of potential customers that isn't going away anytime soon. With over 3.9 billion people active on social media, half is part of the audience for social media marketers.
Social media marketers perform many tasks to connect their businesses with potential customers:
Create content that engages social media users
Manage the groups and communities that their audiences are part of
Plan general social media activities (content creation, posts, competitions, etc.)
Execute these tasks in an "on brand" way while "closing the deal" with target customers.
Now, what is the difference between social media marketers/managers and social media advertisers? Social media marketers/managers create traffic from sources your company owns (groups, pages, communities, subs, followers, etc.), while social media advertising specialists "pay" for the traffic by paying for ads.
Should you be a social media manager?
Suppose you know a platform well enough to garner followers, increase engagement (likes and shares), and share a story in a way that serves a brand or business. In that case, you have the potential to be a social media community manager or social media marketer.
Good social media marketing opportunities are wide and varied, and the pay varies just as much with opportunities to work as a remote employee, freelancer, or agency that takes on the outsourcing of other businesses ' social media activities and marketing.
Where do Social Media Marketers and Managers find work?
As a social media marketer for a company (remote employee), expect to work for smaller businesses and startups starting on an outsourced/agency basis. After solidifying the relationship and displaying solid results, permanent hire as a remote employee is commonly possible.
As a freelance social media marketer, expect your first few "gigs" to come from gig sites (Fiverr, Upwork) and the pay to be low – but – consider it an investment to polish your skills and display what you can do. Aim to overperform and retain the good clients you find on those platforms, but pull them off the platform for a more financially satisfying gig. Also, expect your bargaining power to increase and your pay increase from starter gig rates, as you consistently display your value (and the difficulty to replace it) to your good clients. Also, consider this a path to referred clients and follow on business
As a social media marketing small business owner (agency) – after performing for several clients, on multiple projects or landing a gig with no end date, the opportunity to perform the work each client on a recurring basis, as a small business is possible – taking on the role consistently, outsourced from your client, and potentially passed from you to your employees while you manage.
To get started as a social media marketer – teach yourself and practice in your own "sandbox." Avoid paying for overpriced (more than $50) courses. Though there are self-proclaimed "experts" that claim to know some secret tactics on social media now, constant algorithm changes in social media frequently make these "secret tactics" obsolete quickly. The best practices and tactics as a social media marketer can be learned by Googling and practicing in your sandbox.
Learn social media marketing by combining open-source learning resources with creating your own sandbox by picking your preferred social media platform (such as Reddit), picking your topic of choice (such as Travel), and create a community. Aim to strategically grow the number of users and engagement with a repeatable process.
When you have your process and displayed results, start the hunt for clients as a social media marketer.
---
4. SEARCH ADS SPECIALIST (GOOGLE ADS, BING ADS)
Though SEO traffic and "owned" social media traffic is free, both take time, planning, and lots of hours of effort to get right. However, many businesses and business activities – product launches, book launches, seasonal campaigns – need to turn on the traffic almost immediately. In the cases where businesses need traffic quickly, ads are their only option.
SEO traffic is some of the most lucrative, converting searchers to customers very well, but ranking for some search terms can take up to 18 months after putting in the effort to write content. The shortcut to getting to the top of Google instantly is paying to get there – by paying for Google Ads.
However, Google Ads and other search engine ads are just as difficult to understand and operate as their search engine counterparts. This barrier to entry (understanding how search engines and search ads work) creates an opportunity for Google Ads specialists.
Google Ads specialists help clients target a specific demographic of potential customers using Google Ads by targeting the right keyword, keeping costs low, and ensuring they pull in the type of traffic that converts well into paying customers.
To become a Google Ads Specialist, start by taking Google's ads course Insert link to ads course. It would also be worthwhile to take the Google Analytics SEO course to understand more about Google.
To get work as a Google Ads Specialist, gig sites will be your way to initially find clients. Then attempt to retain the good clients you interact with. Additionally, visit forums with startups and small business owners that deliver their products in online spaces and do seasonal campaigns or frequent launches. These business owners will occasionally ask for recommendations – when they do, take a moment to share your skills and results.
---
5. SOCIAL MEDIA ADS SPECIALIST (FACEBOOK ADS, INSTAGRAM ADS, REDDIT ADS, PINTEREST ADS)
Much like search engine ads, social media ads are a shortcut to quick and easy traffic gained by paying. Social Media Ad traffic is perfect for product launches, seasonal campaigns, or even aiming to target a specific demographic with a product or service.
However, running a profitable, efficient social media ads campaign can be more difficult than social media marketing on pages and groups you own.
Because social media ads are usually run for a short period, many startups and small businesses outsource this task – allowing you to serve as a social media ads specialist.
---
6. EMAIL MARKETING SPECIALIST
Most traffic forms from the internet are subject to algorithms' fickle whims and the frequent changes – Google, Facebook, Instagram, Pinterest, etc. One tweak in an algorithm can send the traffic you receive through the roof or plummeting to near zero. The least susceptible form of marketing to the changes of large tech companies is email marketing.
In email marketing, you own your list of readers who have willingly and interestedly subscribed to hear what you have to say. In every other medium, the true owner of the page, group, account, and followers (i.e., Facebook, Instagram, Google) chooses when and how your followers hear from you. Email marketing is the only way for business owners to ensure they'll stay digitally connected to their customers.
However, many online business owners (including myself at the start of my blogging journey) have no idea how to create and run email marketing campaigns.
Whether the email marketing includes gathering email address via site opt-ins, setting up an automated newsletter, using email marketing to market (or remarket) a product or service, or leveraging the idea of "funnels," most people don't have the knowledge to execute effectively or the time to learn.
To get started as an email marketing specialist, use the resources available on the major email marketing services websites via their blogs and free email courses.
ConvertKit, MailChimp, Constant Contact, AWeber, and GetResponse are the top email marketing platforms, and their blogs are filled with everything you need to know to get started.
Within email marketing, aim to understand these topics:
Opt-ins – How to create them and optimize them for conversion
Lead Magnets – How to create and use lead magnets to maximize opt-in
Automated newsletters – How to create them and optimize them for specific goals
Product & Service Launches – How to use an existing email list to sell via email marketing and remarketing effectively
Increasing Email Marketing Engagement – Learn how to maximize opens, link clicks, and shares of your emails
To learn and polish your own skills, start your own site/blog, and practice your email marketing skills in your own audience. When you've had repeated success executing the same tactics, you're ready to take on other businesses ' email marketing tasks.
---
7. COMPUTER SCIENCES /IT/CODING/DEVELOPMENT
Web Developers, Software Developers, WordPress Developers, App Developers, Data Scientists, and more.
The computer sciences, information technology, and coding fields are HOT amongst digital nomads because it pays extremely well, is naturally a laptop-based job, and doesn't require a degree.
Though some developers and IT-related digital nomads did have computer science degrees, most "coder" digital nomads did not have a university degree in their field. Very few of the surveyed digital nomads that are coders went to "coding boot camps." Most of the coder nomads surveyed taught themselves using open education resources their own "sandboxes."
Jobs
Software App Developers
Web Developers
Computer Programmer
Computer Systems Engineer
Database Administration (likely remote employee work)
(Computer) Systems Analyst
Software Quality Assurance
Business Intelligence Analyst
HOW TO BECOME A CODER/ DEVELOPER
To break into the Computer Sciences and IT space: start with self-education using many free resources (listed below). Use the skills you are learning to create self-guided practical training that serves as a portfolio for potential clients/employers – such as a small app or website. This could be a free project for a friend, a small paid gig, or even a passion project.
Once you've gained the skills necessary with proof, companies looking to hire remote coders and developers as well as lower-paying gig sites will be your entry into the field. From here, use the opportunities you have to display results while continuing to share your results (to drive word of mouth marketing) and pitching for higher-paying freelance opportunities.
---
8. GRAPHIC DESIGNER
Digital design and visual branding involve designing the visuals for web pages, products, and brands that we interact with daily. Graphic Designers take the basics of design and their clients' preferences to create the visual product, which is hand to other creators (web developers, marketers) to work with later. It is not uncommon for digital designers to work across many different "jobs" in the design space.
Digital Design jobs:
Individual Graphic Design (logos, images)
Web Page Design
Document Design
Company Branding and Advertising
User experience (UX) and User Interface (UI) design
Typography
Desktop Publishing
Email Blasts and eNewsletters
Product Packaging
Book Design
Print or Web Production
How to become a designer
The design field is filled with results-based jobs, and opportunities depend more on your portfolio than your education – meaning no degree is required.
1) Start by deciding an area (logo design, web design, document design) you want to specialize in as a start
2) Learn the software for your chosen niche – likely the Adobe Creative Suite, Photoshop, Illustrator, or InDesign
3) Build a portfolio of work that demonstrates your style and capabilities by experimenting with self-guided projects
4) Pitch clients for low-priced work to build your portfolio and start "word of mouth marketing" either via friends and family or gig and freelancing sites.
5) Learn the "business of design" to function more and more like a creative agency, increasing profits and productivity
---
9. CONTENT WRITER\COPYWRITER\EDITOR
Copywriters write ad and publicity materials, while content writers write articles and blog posts to the same effect. Editors within this space generally manage content writers and copywriters and proofread their work.
Copywriters generally work as freelancers on a recurring basis for a single client or as a remote employee for a company.
Copywriting is an excellent field to start in as a digital nomad because copywriting work is almost always done remotely or freelance.
However, don't expect high pay in the field of copywriting or blogging unless you have:
Developed a sales strategy to pull in high net worth clients within a specific niche (i.e., home-pathic health, niche dieting, coding education, etc.) or
Have created your agency in which you sell work which you pass on to employees. If you master high net worth client sales or transition to an agency model, pay is considerably higher than freelancing/remote working as a copywriter. But keep in mind, you'll need to polish your own skills as a freelance copywriter before growing into an agency or aiming for high net worth clients in a specific niche.
To find work as a copywriter, content writer, or editor, browse job search sites (i.e., Indeed) and Facebook groups for copywriters, content writers, and digital nomads.
---
10. E-COMMERCE
E-Commerce specialists tend to build (or buy) their businesses selling and delivering a product via online means, either on their platforms such as a WordPress site with a WooCommerce shop built-in or creating a shop larger e-commerce aggregator platform such as Amazon or Shopify.
Though general e-commerce and "selling something online" is a simple idea, its execution varies widely and in enough ways to suit nearly any personality.
Types of e-commerce businesses:
Amazon sales (marketed on Amazon.com with shipment fulfilled by you)
FBA (marketed on Amazon and stocked and fulfilled by Amazon)
Shopify: Your site and shop built using the Shopify "backend" instead of a site such as WordPress
Etsy: E-commerce aggregator for smaller online shops, specializing in smaller batches and handmade products
WordPress with a Woo Commerce plugin: A minimalist approach to building an online shop within a blog, marketed by you, sold by you
Dropshipping: Usually combined with one of the three approaches above as a marketing/sales path and the product order is fulfilled/shipped by a third party that stocks your chosen product
Pros of e-Commerce:
HUGE industry, worth over $9 Trillion globally in 2019 and growing
Easy to get into thanks to low startup costs
Easy to experiment in
Can be passive income with the right system
Can be fully executed from anywhere with the right system
Cons of e-Commerce
Quickly changing space
Very competitive for undifferentiated products/services
Learning sales and marketing within the e-commerce space can be difficult; paid marketing (ads) can be pricey
---
11. PHOTOGRAPHER
Photography came up more often than expected as a common job during our survey of successful digital nomads. The photography space is wide and can include doing requested photoshoots, selling photography on a self-hosted site, online gallery, stock photography, performing post-processing, selling photography aids (filters, blogging), and teaching (online courses, blogging, etc.).
Due to the difficulty in getting photography work and the amount of time and effort successful photographers spend before earning a steady paycheck in a niche area, diversifying how you make your living will make life much easier. Build up other marketable skills outside of photography so that you can supplement your income in the growing times when photography doesn't completely pay the bills. Many DN photographers provide videography services as well.
Mobile photographers can also benefit from traveling to the client, at the client's expense, once the photographer's reputation is established and differentiated enough/
How Photographers Make Money as digital nomads:
Requested Photo Shoots (Portraits, events, landscapes, product photography)
Sales of existing photos (stock photo sites, self-hosted galleries, online galleries)
Sales of aids and tools (filters, editing apps)
Teaching (online courses, guides, photography niche blogging +ads/affiliate marketing)
My experiences with photographers on the road:
Many "Instagram influencers" supplement their income with photography work and photoshoots, using their Instagram profile as a portfolio to attract work
Most Instagram influencers that make money also sell lightroom presets and filters as well as courses
Pros of Photography
If you have a passion for photography, passion can get you through the "dry spells."
You need to be creative in how you monetize all of your photography skills to create steady and consistent income
Cons of Photography
Takes time and effort to "make a name for yourself" and attract clients
Requires either a very large existing portfolio or the requirement to base yourself where the work is
---
12. TEACHING (PROFESSORS/ ONLINE TRADITIONAL ED.)
Working as an educator online is a great option for any professional with enough experience and skill to teach within their field.
Teaching online is a great option for traditional educators – such as Kindergarten through grade 12 teachers or university professors – or experienced professionals that could otherwise teach as an adjunct professor or vocational school teacher.
For traditional educators, especially university professors, there are a wealth of online teaching programs available through online universities and universities with an online presence and online charter schools for grade school teachers. These options offer steady remote work (and a steady paycheck) while offering locational freedom.
For teachers and education professionals that prefer self-employment over remote employment, consider tutoring online first, and secondly, creating a tailored online course for your specific area of expertise to standardize and scale through the process – for instance, calculus, high school biology, specific foreign language study as a college entrance requirement.
University-level professors may also choose to teach abroad on a semester-by-semester contract basis. Professors, adjunct professors, and those with master's degrees from reputed schools in Canada, the US, and Europe, are sought after throughout Southeast Asia – offering you the nomadic experience with a steady paycheck and cultural immersion.
My experience with teacher digital nomads:
I've run into more online teachers and professors than I can count. Professors tend to make a very high salary, even working online, so I've run into them as DN's in high-cost places like Japan and Singapore often. Each one that I met didn't mind the missing "in-person" component, loved that they were able to share their passion, and loved that they could still teach with immense freedom.
Note that certified teachers and adjunct professors fall into a different category than many other DNs, which ambitiously create online courses in their area of expertise without credentials. This is simply because certified teachers and adjunct professors have the valuable option of easily getting a job as a teacher for their institution or on their own. In contrast, ambitious course creators must start on their own as entrepreneurs from day 1.
---
13. TRANSLATOR
For translator digital nomads, most translation work involves translating documents from a source to a target language. This straightforward process allows them to perform their job anywhere once they've lined up the work. No certifications or training are necessary to get started – though these can help you. Visit the American Translator Association for details on how to become certified as a translator
Most of the translators we've had contact with that are digital nomads receive their work from 1) a translation agency they've established a good relationship with, 2) long time clients, or 3) a combination of the three.
Resources for Translators
---
14. SELF-PUBLISHED WRITER
If you have a story to tell or knowledge to share, it has never been easier to write and publish a book. Once upon a time, paperback or hard copy books were the written media of choice. These days, e-books, readable on tablets and smartphones, as well as audiobooks, are the media of choice for books, making it easier than ever to publish and distribute yourself.
Simply write, edit, and choose whether to self-publish on a large platform or on your own.
To write your own book, just get to work. Start writing, and don't stop until you have your first draft copy.
For editing – the cheap option is to use Grammarly to review your entire book for free, though I recommend the premium option for style editing. Additionally, consider using Hemmingway to improve your style. If you're serious about your book, hop on Fiverr to find an economically priced freelance editor.
To publish, either design the book yourself using cheap templates via **Adobe InDesign**, get ready to publish – on a major site, or your own.
How to become a writer and publish your books using an existing platform
After writing and editing your book, hop on one of the major self-publishing platforms, upload, and publish. Easy as that! The platforms will guide you through the upload process and will then handle marketing, sales, distribution, and (hopefully) paying your royalties after
The major self-publishing platforms are:
Amazon: Via Kindle Direct Publishing, free upfront with a fee on royalties
Barnes & Noble Press: A simple and easy self-publishing solution through a top bookseller
How to become a writer and publish & sell your books yourself
Once you've written and edited your book, it makes sense to sell in as many places as possible – including your own site.
If you don't have a blog and are an aspiring writer, start one now! If you do have a blog, use Gumroad for the sales process. Via Gumroad, you can create a product page for your book, quickly set up checkout, and Gumroad will handle payment, delivering the eBook, and sending you your share of the proceeds.
You'll be able to sell your book as an open file eBook, PDF, or any other popular preferred choice. For now, start writing!
Great Resources for publishing your own book:
https://selfpublishing.com/self-publishing-companies/
---
15. COACH / TUTOR
If you know anything about anything well enough to teach other people, and it's within a topic people are willing to pay for – you could be a coach. For the sake of simplicity, I am clustering "tutors" into this category to cover academic and not-so-academic topics.
Coaches essentially specialize in a specific topic and meet (one on one or coaching a group) to do or improve in something, the same thing tutors do.
Though in some topics, it is highly recommended that coaches have certification (e.g., nutrition, mental health, fitness, medicine), no certification is required. In other words, if people frequently ask you to teach them or assist them in the knowledge of a specific task, you could continue sharing the knowledge, ask for hourly compensation, and BOOM, you have a coaching business.
What could you do as a coach?
Answer: anything. Right now, I have a garden that looks more like a plant cemetery. I would happily pay a gardening "coach" for a few hours of time to teach me what I need to know to stop destroying plants. Fitness coaches are quite common. While working at a Fortune 500 company, I had a former Brand Management Vice President as my "coach" for marketing management and dealing with corporate politics.
Along the same lines, teachers make excellent coaches – and could potentially "coach" children one on one in math, the sciences, and writing.
Applicants to prestigious universities outside of their own countries often hire "coaches" to be guided through the admissions process and presenting the best image possible, ultimately aiming for admission.
These examples are varied to make the point – if you are good enough to teach something at the beginner level or higher, you have the potential to become a coach.
My experiences with coaches as digital nomads
As a traveler, I've run into many coaches who deliver their services virtually and use their coaching business to support their lives as DNs. Here are a few examples of business from coaches I've personally met:
Comedy coach
Relationship coach
Sex coach
Handstand coach
Calisthenics coach
Marketing funnel coach
Business coach
Surf coach
Math coach (tutor)
Therapist (essentially a well-certified life coach)
And the list goes on
How coaches earn money
Digital nomads that are coaches charge clients by the hour, delivering sessions via phone call or video call. As coaches progress, they generally sell packages (i.e., 12 one hours sessions) at a discount or deliver group coaching sessions (i.e., a call with one coach and six clients in a group format) to reduce costs.
As coaches develop a more and more standardized approach to helping people, they eventually create a deliver an automated course (read on for that model).
What's the difference between coaching and teaching online via a course?
Coaches trade their time and expertise for money in one on one interaction.
More efficiently, in teaching courses (especially virtual courses), teachers deliver a systematized learning experience that is automated (usually via video, audio, and text) and thus scalable and still working even when they're not.
If you're an expert in something, recommend starting with coaching (paid or not) and then using that experience to develop a systematic approach to teaching what you specialize in
---
16. TEACHING VIA ONLINE COURSES
If you have coached enough people to create a standard framework or approach to teaching a single or several concepts, you have the material for an online course.
Any topic that could need a book longer than a chapter would require a workshop or would make a good module (not a whole semester) via a university course is a perfect candidate for your own online course.
Except creating your own course doesn't require a certification, approval from anyone, or a license (in most topics). Thanks to the internet, you're free to share your knowledge openly, as a teacher, in an easy-to-digest video or audio format.
Services such as Udemy and Kajabi make creating, delivering, marketing, and selling a course 100x's easier than it was ten years ago and with minimal monetary investment on your part – just time and passion.
Courses are a fantastic way to make money because once you record the original material, you have a product that can be sold over and over and continually improved based on user feedback.
When I re-took the Crossfit Level 1 trainer course, the course was delivered online. Additionally, I've taken online courses in calisthenics, web development, coding, relationships, nutrition, dog training, marketing, and these are just the courses I've taken since I left the "real world."
Where to get ideas of a course you can make
Udemy: Head to Udemy and browse areas you're an expert in to see what you could potentially deliver
Instagram/Facebook: All of those ads you receive for courses? You see them because there is demand. If you see a course advertised and think, "I could do better." You have an idea on your hands
How to start making your own course
Kajabi: Kajabi is the #1 platform for creating a course, and they have plenty of tutorials that will guide you through the process
Udemy: If Kajabi seems intimidating, start with Udemy. Udemy pays a lot lower than you would make with your own course (think 10x less), but their marketing is exceptional, and the Udemy platform and experience will teach you how to make a good course next time.
---
17. VIDEOGRAPHER
Videography is creating video, including planning, pre-production, and post-production, and editing. Though some digital nomads do travel to film locations at the request of clients, most digital nomad videographers make their money by editing food in the post-production process.
Additionally, some digital nomad videographers create and sell stock footage – think drone footage for a dreamy travel destination – but this is performed more as a small business with a book of clients than a freelancer on Fiverr.
Note that just like in photography, the hard work required while building a portfolio and making your name, diversifying what you do – doing as many videography tasks as possible that pay – is in your best interest.
---
18. BUSINESS CONSULTING/ BUSINESS COACHING/SALES CONSULTING
If you have built, automated, optimized, or scaled businesses effectively or can do this for any single business function (i.e., marketing, finance, sales, operations, etc.), you may be able to be a business coach.
Business coaches and business consultants specialize in helping businesses increase profits or optimizing/improving a single part of their business – such as marketing, sales, email marketing, etc.
Business coaches, just like any other coach, meet with their clients one on one, coaching them through a problem live, adapting the situation to the problem at hand.
A recommendation: Unless you have significant successful experience and business results, stay away from this niche for the sake of moral integrity.
However, if you have achieved success in this niche, you'll know how to find clients and deliver services, so I'll save that section.
---
19. SOCIAL MEDIA MANAGEMENT / SOCIAL MEDIA STRATEGIST
Social media has become a core component in how brands and businesses connect with their customers. Unfortunately (as we all know), existing on social media is a time-consuming process. Doing social media well in a genuine way that benefits both you and your followers adds difficulty. Figuring out how to do this profitably – that results in more profits from sales than money spent on the efforts of keeping up social media – is a tough task that most small business owners and entrepreneurs aren't up for.
This marketing process on social media is as hectic as it sounds, so most businesses outsource their social media activities to social media managers and strategists.
Social Media Managers handle the day-to-day activities of posting, commenting, and engaging with followers on Instagram, Facebook, Reddit, Pinterest, and every other platform you can imagine, with side tasks of increasing the number of followers.
Social Media Strategists plan and execute more long-term ideals while Social Media Managers execute day-to-day social media activities. For instance, platform-specific branding, social media calendar planning, profile design, follower growth strategies. Social media strategists' tasks tend to be one-time tasks that are revisited every six months to a year.
Social Media Managers offer the same services as Social Media Strategists after enough time in their niche, proving results and understanding what works and what doesn't.
How to become a social media manager or strategist:
Becoming a social media manager, and selling work, requires a soft, empathetic sales approach to get the first few clients
In terms of education, don't count on any social media management courses to be worth their cost or offer a sufficient return on investment. Instead, focus on self-education on a single platform (i.e., Facebook, Instagram, Pinterest) and niche (i.e., fitness, parenting, healthy eating) and use Google as your primary source to learn Googling the next question. Don't pay more than $10 for any single educational resource.
After building a base for your skills, test them out with a page and profile of your own.
Once you've honed your social media management skills, start "business development" by reaching out to potential clients about clear and specific ways you can:
Improve their current profiles and processes, focusing on the benefits and improvement you can deliver and
Do everything you can to leverage word of mouth marketing – notify friends and family of the service you offer and deliver on opportunities that arise, aiming for recommendations in the future.
Know that though you can make a living with social media management, marketing, and strategy, you won't be able to live off the profit you'll make from gig sites. You will have to differentiate yourself and your service, and reputation and referrals will help you break through the glass ceiling for most social media marketers.
---
20. ACCOUNTING / BOOKKEEPING / TAX PREP
The only things that are certain in life are death…and taxes. One other thing is certain – people hate taxes and hate doing their taxes. So, if you can do taxes, you'll always have a job. Lucky for DNs, preparing taxes is a job you can do from anywhere, and you can prepare taxes as a remote employee or creating your own business as a tax preparer.
All that is necessary (aside from knowing what you're doing) is applying for a Tax Preparer Identification Number from the IRS. From there. You're off and to the races.
However, I've already said I hate doing taxes, and I don't know too much about the process, so if you're interested in this digital nomad business, check out this awesome resource.
---
21. ARTIST
Thanks to virtual galleries like Artfinder and Saatchi Art, online payment, and possibilities for easily shipping artwork safely, you can monetize your artwork. ArtPal is the best free option, but you can go here to find plenty of great websites for selling your art online.
Just know that as an artist and digital nomad, you'll likely run into three hurdles:
Doing large pieces of art while location independent and finding clients can be difficult
Finding clients that like your medium of art may be difficult
It generally takes a long time of applying consistency and passion for making a living as an artist can take a long time
However, with diligence and planning, it is possible to make a living as a digital nomad artist – I have three friends that are doing that right now.
Here are tips I recommend for anyone aspiring to be an artist and digital nomad
Diversify the art mediums you create in. Creating as many types of art as possible will allow you to create anywhere and adapt to the tastes of the location and your growing clientele. I know a painter who does everything from acrylic on canvas to graffiti art to body art for photoshoots.
Don't be afraid to give away your art when you leave to share your talent and increase exposure. As a DN, you won't be able to take it all with you, and it won't all sell. Considering leaving your art with restaurants, cafes, or friends that will love it – in turn, you can start fresh and won't be weighed down by old art. Embrace this experience instead of loathing it.
Ship worldwide with DHL. Yes, this will increase the costs involved in selling your paintings. Still, global shipping beauty means you can be inspired to make a piece of beautiful art in Bali or paint an iconic UNESCO rice field view and sell it to hand on a wall in California.
Signup for all of the online galleries and share all of your work on them.
Diversify your hustle/money-making early by creating other income sources – perhaps teaching art online or an art blog – so you don't feel the pressure for your art to make money. It will take time for your art to sell. Plan for that to lighten the stress
For more information on becoming an artist as a digital nomad, check out AcrylicPaintSchool.com, run by a digital nomad, sharing her passion for art as a digital nomad.
---
22. VIRTUAL ASSISTANT / BUSINESS SUPPORT / EXECUTIVE ASSISTANT
Virtual assisting is a very expansive field that goes far beyond just being a virtual secretary. Virtual assistants perform any task that can be instructed virtually and performed remotely. From common digital marketing tasks (sending emails, posting on Pinterest, managing social media communities), to low-level data processing and data organization, to calendar management, virtual assistants can do nearly ANYTHING that takes the weight off of someone else's shoulders.
If you are good at organizing and adapting to several varied tasks, you might make a great virtual assistant.
The one downside for virtual assisting is that you may need to frequently overlap time zones and working hours with your client, depending on the work.
Interested in becoming a virtual assistant? Check out Flex Jobs and Upwork for opportunities.
---
23. BLOGGING
Blogging is a perfect digital nomad job for the right personality. If you have an analytical mind and enjoy writing, and can develop a deep interest in a single topic or niche and then enjoy sharing the information, you could easily be a blogger.
A common question, though, is, "isn't blogging dead?" In short: no. The best time to start blogging was ten years ago, and the second-best time is now.
Thanks to free and easy resources for creating websites (such as WordPress), the low cost of setup, and the highly automated monetizing processes, blogging is one of the lowest investment, high payoff business fields to be in.
Lastly, I can attest to everything shared, saying blogging is an amazing opportunity. I am currently sitting at a café, beachfront, typing this article as a full-time blogger – yes, I earn a living blogging.
To get started as a blogger, first, I recommend checking out this free 20 part series on how to make money blogging from one of my five blogging sites. You'll learn (for free) how to create a blog, how to create content that pulls in traffic, and how to make money blogging via affiliate marketing and high-paying ad networks.
---
24. FITNESS SERVICES
Personal Training, Fitness Coaching, Workout, and Program Development
The health industry will be around forever, and fitness is an integral part of maintaining good health. Because of this, fitness services will always be around, and you can count on it as a solid opportunity.
What areas of the fitness industry can be served virtually?
Online personal training (conducting training sessions online)
Online fitness coaching (writing programs, designing training)
Fitness app development
Fitness blogging/writing – blogs, magazines, and self-published books
E-Commerce – delivering online fitness shops and affiliate/content marketing for existing brands
---
25. NUTRITIONIST / HEALTH COACHING
In much the same manner that fitness professionals can deliver services virtually, nutritionists and lifestyle-focused health coaches can advise clients online – aiming to assess and share their expertise virtually.
Work for virtual nutritionists and health coaches
Nutrition, meal and lifestyle assessment, and planning
Online nutrition and health courses or self-published books and written resources
Delivery of niche topic-focused seminars and summits
Working as a nutritionist may require formal education and certification to be safe and legal, but investing time in education for a profession that is "digital nomad compatible" work as a nutritionist and health coach is very compatible with the digital nomad lifestyle.
---
26. ONLINE EDUCATION
For formally trained and certified teachers and professors, teaching online, online schools, online universities, and classes delivered online presents a great opportunity to be a digital nomad as a traditional educator.
Note that most online teaching positions for traditional education institutions are generally at the university level and require a minimum of a master's degree.
Additionally, graduates of universities in the US, the UK, and Australia stand a very high chance of finding teaching positions throughout Southeast Asia – virtually and in person. Though many of these may not be 100% virtual, they still present an opportunity to travel and nomad as many positions operate on a semester to semester contracts and offer a break in between semesters, allowing you to travel between semesters and easily switch institutions to "nomad."
---
27. PODCAST EDITING AND PRODUCTION
Podcasting is a quickly growing medium that will dominate in the future. At current, there are 600,000,000 blogs on the internet but only 1,750,000 podcasts. However, most people can list more podcasts that they repeatedly listen to than blogs that they routinely visit – meaning – the opportunity to capitalize on this growing industry is upon us.
Most podcasters are creative and have a lot of potential, but crafting stray cuts of audio into an engaging podcast that is just the right length and supported with intro, outro, sound effects, and transitions is not easy – leaving a great opportunity for podcast producers and editors.
Podcast editors take the cluster of audio files and clean everything up to create a single, desirable episode
Podcast Producers envision the project from start to finish and guide all involved to create the best possible end product – delivering on a single driving purpose, goal, and brand. This can involve creating scripts, preparing questions for or prepping guests, and more.
If you cultivate the skills to do this well consistently, you'll have an in-demand set of capabilities to deliver while on the road.
---
28. DIGITAL ENTREPRENEUR/SMALL BUSINESS OWNER OF PHYSICAL PRODUCTS (E-COMMERCE, FBA)
Small business owners share the common practice of simply delivering a product or service to a customer. Entrepreneurs add the additional goal of "scaling" their business, or growing the size of their revenue, profits, and team indefinitely, to create larger enterprises.
But the common basis is "delivering a product or service." Many of the other digital nomad jobs on this page deliver services, so let's focus on product-based small businesses and entrepreneurs.
If you can identify a product and either buy it or create it and then resell it at a higher price than it cost you, you have the potential for a small business. In this day and age, the infinite capabilities of the internet have even made this possible remotely.
The first step is identifying something you can sell.
The second place is finding somewhere to sell it – you can either build a digital shop (possibly powered by WordPress and WooCommerce or Shopify) or hop on an already existing e-commerce platform (Amazon as an Amazon seller, eBay, Etsy, etc.).
Third, you'll sort out fulfillment. You can hold the product yourself, but this doesn't jive completely with the digital nomad lifestyle. Instead, you can either allow Amazon to hold your product and sell your product "FBA" (fulfilled by Amazon), or "drop ship" your product, which is held by the manufacturer or third party for a fee and fulfilled for you as orders come in.
Finally (actually first, but we'll deal with it last), you'll manage the receipt of payment, handle customer service issues to ensure customers return, and refine marketing and remarketing processes to grow your business sustainably.
Work your way through this process, and you'll have a digital nomad-friendly business that you own.
---
29. DIGITAL ENTREPRENEUR/SMALL BUSINESS OWNER OF DIGITAL PRODUCTS
Just as small businesses and entrepreneurs sell physical products, you can also sell digital products. Digital products are by far more lucrative and (with the right skillsets) easier to manage than selling physical products, especially as a location-independent digital nomad.
What kind of digital products can you sell as a small business owner or entrepreneur?
Spreadsheets, checklists, templates (Excel-based)
eBooks
Software – WordPress Themes, WordPress plugins, white-label apps
Software as a service – subscription-based apps, subscription-based software, or software with monthly/annual updates
Member communities – Pay for access sites
Templates for any software – Adobe suite, Instagram (filters), website themes, etc.
---
30. VLOGGER/INSTAGRAMMER/SOCIAL MEDIA INFLUENCER
Vlogging is one of the most commonly sought-after "jobs," but an extremely deceptive one regarding paths to success and overall potential.
Here's the heartbreaker: Vlogging on YouTube DOES NOT pay much.
However, using Vlogging as a marketing tactic (source of customers) to sell a different product or service is an excellent tactic.
As such, being a Youtuber or Vlogger alone isn't a prudent move, and very few will find success purely as Youtubers (though there are outliers). However, if you can build an audience and use that as a marketing opportunity to sell your product or service – or another more lucrative product or service – Vlogging can bear fruit.
---
31. HUMAN RESOURCES / RECRUITING
With the recruiting process starting and primarily happening online these days – starting with the job hunting sites like Indeed and professional networking sites like LinkedIn, then continuing online – it's easy to understand that the Human Resources support niche and recruiting is potentially a great field for digital nomads.
This field is more suited to seasoned professionals with experience working with a brick-and-mortar company than newcomers. After putting in your time as a human resources professional, take that experience to the road as a remote recruiter.
To break into this field, you'll need contacts for companies (and fellow HR professionals) to work with as a headhunter or convince your current company that your current duties as an HR professional could be performed as a remote employee as part of a larger team.
---
32. INSURANCE SALES AGENT
Today, for most businesses, finding leads (that will eventually become customers) and closing sales generally happens via email, conversations on the phone, and video conferencing. This holds true for the insurance sales field.
Insurance Sales Agents can work as remote employees for insurance companies of all types – health, auto, home, life insurance, personal property insurance, etc.
The beauty of getting ajob as an insurance sales agent is the requirements are fairly low, generally just a GED. There may be state-to-state licensing requirements that require passing a test.
Click here to learn more about how to become a remote insurance sales agent
---
33. VIRTUAL HOST
In today's global situation, we've all had our fair share of virtual meetings – and nearly worthless virtual meetings. Scattered agendas (if there is one), disruptive communication, and the meetings tend to drag on too long or hit the point of boredom too quickly.
Virtual hosts manage virtual meetings and virtual training sessions for large groups of people online. They keep everyone engaged and the course of the meeting aligned with the agenda (and creating one if necessary). Before the meeting, they load all relevant material (slides, video clips, polls, etc.) and prep presenters. The host manages the event to ensure everything runs smoothly, taking pertinent notes and "action items," ensuring the meeting doesn't drag on, concluding the meeting crisply, and performing follow-up as necessary.
Though a small handful of digital nomads in our study made a living as a virtual host, this is a practical, needed job, and the need for it grows as most of our business is conducted virtually.
To create opportunities in this job – a natural talent for communication and charisma, experience managing meetings, and the ability to "herd cats" and stay on track is all that's required. For clients, plan on word of mouth is your best path for growing clients.
---
34. FREELANCE RESEARCHER
Freelance researchers provide the service of scouring the internet to collect data, then analyze that data, and potentially go a step further and deliver findings in a report/summary as agreed upon with the client.
Freelance researchers tend to have a very narrow niche to more effectively appeal to clients and specialize over time to improve their research's efficiency, exhaustiveness, and accuracy. Paid freelance research tends to be in business-related topics, but one can specializing in researching nearly anything.
Types of freelance research include the following fields:
Market research
Competitive research
Data mining (hunting for numbers and figures in a specific topic)
Polling a demographic
Conducting surveys for a specific demographic
Data entry
General research in any topic
Summarizing large bodies of research
To get an idea of the possibilities of fields, you could work as a researcher, visit Fiverr, search "researcher," and browse the results to find examples of what others are successfully doing as researchers.
An example of what could be freelance research is the digital nomad statistics study we performed, polling and interviewing thousands of nomads and distilling the data into 63 straightforward facts about the global digital nomad community.
---
UNCONVENTIONAL AND INTERESTING DIGITAL NOMAD JOBS
The following jobs are more interesting than possible for the average person and do a good job of showcasing how wide the possibilities are for digital nomad jobs – however – the most important factor is finding a job (or jobs) that fit your skill sets, personality, talents, and ability to learn.
I DO NOT – advise planning on being a digital nomad and planning to make one of these your profession unless you are already consistently successful (for at least a year). These jobs are being shared more "for your information" than your application.
---
35. TRADING (STOCKS, FOREX, CRYPTO, ETC.)
Trillions of dollars exchange hands daily in the stock mart, FOREX market, and crypto trading. "Traders" aim to buy, hold, and sell an asset (stock, foreign currency, or crypto) within a day, aiming to make a profit off swings in prices throughout the stock market that happen for a variety of reasons. If you are able
Tips:
Don't pay for a course
Seek out several overlapping, diversified education
"Paper trade" for at least three months, and don't enter the market with real money until you are making consistent successful trades with the same consistent strategy
Read these books: Beginner's guide to day trading, Candlestick Course
Start practicing using TD Ameritrade's free platform ThinkOrSwim in PapeTrading mode
Follow these subreddits on Reddit: http://reddit.com/r/daytrading. Read through their resources, ask questions, and DO NOT pay for a poorly reviewed resource or not reviewed on there.
Be wary of any "bandwagon" movements of what you should do for quick money – such as crypto, bots, MLM within trading schools, etc. Unless there are still observable results after applying a healthy dose of skepticism, stay back.
Pros of Trading:
Allows you to make a living anywhere, on your terms, usually "working" less than a few hours a day (not including research)
Cons of Trading
Less than 1% of traders stay in trading and keep their initial investment
Forex trading, and many large daytraders, require $100k in capital to achieve the results they brag about
Easy to fall victim to trends – latest buy, crypto bandwagon, bots bandwagon
EXTREMELY technical field that requires calm nerves, an analytical mind, and lots of consistency
MY EXPERIENCE AS A DAY TRADER IN THE STOCK MARKET AS A DIGITAL NOMAD
At the beginning of my travels, I was day trading stocks as part of my many hustles. Though I was clocking a profit, I grew tired of the "game" of trading after accidentally leaving a trade open for a week while I took some time away from the computer and returned to a $1,000 loss.
Additionally, trading has to overlap with the market hours, which means if you're in Europe or Southeast Asia, you'll always have to be at your peak mental performance when you'd rather be sleeping or enjoying a night out.
Trading may work for some, and it's sexy when it does work, but plan on one of the other jobs above being more practical for most digital nomads.
---
36. ONLINE POKER PLAYER
I know two digital nomads that are active, successful professional poker players and make a living via online poker.
I won't even attempt to explain how they do it.
I do not recommend this as a path to becoming a digital nomad (for most people). However, it is possible…and I think it's cool
---
Other concepts to be familiar with when designing your perfect "digital nomad job."
In our recent digital nomad study, over 80% of digital nomads reported being self-employed as freelancers or small business owners. This means, more than 80% of digital nomads will make money by delivering their product or service.
Additionally, if you review this list again, you'll realize that though the industries and niches vary, the tactics for monetizing one's skills are all quite similar – selling a product or service. How those products or services are marketed and sold falls within a few categories – generally on your site, on Amazon, or on a different e-commerce site, etc.
So, suppose you are serious about building a digital nomad lifestyle-friendly profession. In that case, I recommend 1) figuring out the niches and industries that you could either serve as an expert in or become an expert, and then 2) research these concepts:
Affiliate marketing
Ecommerce
Dropshipping
Self-publishing
Course creation
Consulting/coaching
Freelancing
Information products (e-books)
Etc.
---
TRADITIONAL JOBS THAT DN's ARE DOING
Journalism
Personal Financial Planning
Virtual Medical Services (Telemedicine, Therapy, etc.)
Law (Corporate Law, Trademark Law, etc.)
Architectural Design
Public Relations
Remote Property Management
Mathematician
Engineer
Project Management
Business Analytics / Business Intelligence
Psychologist/Therapist
Product Management
Real Estate
Urban Planner
Massage Therapy
---
37. JOURNALISM
Whereas bloggers and self-published authors are writers that guide their fates as self-employed writers and entrepreneurs, journalists make a living writing for large publications, newspapers, and magazines – online and in print.
Because most journalists work for large, entrenched publishers, the path to becoming a journalist is more traditional – attaining a university degree in the communications field, paying your dues via an internship, landing a staff position at a magazine or newspaper, and working your way through the ranks.
For journalists that have paid their dues, there are plenty of opportunities to then work as a digital nomad and remote employee
Personal Financial Planner
Medical Field
Law (Corporate Law, Trademark Law, etc.)
Architect
PR
Remote Property Management
Mathmetician
Engineer
Project Management
Business Analytics / Business Intelligence
Psychologist/Therapist
Product Management
Real Estate
Urban Planner
---

TOP 30 FIELDS FOR DIGITAL NOMAD BUSINESS OWNERS
Digital nomads who own their own businesses directly delivering services to clients and customers (and not as freelancers or remote employees) stand to make the highest income and have the highest level of autonomy – in dictating when and how they work. For the long term, as a digital nomad, starting your own business is the best choice.
The following 30 fields were the most represented among digital nomads that owned their own business – in our study.
If your long term goal is to own your own business and be a digital nomad, consider each of these fields as a great option
---
E-Commerce
Coaching
Agency (Creative, marketing, sales)
Marketing
Translation Services
Teaching
Podcast Editing/Production
Virtual Assistant
Virtual Host
SAAS (Software as a service)
Social Media Management
Graphic Design / Visual branding
Videography, Video Editing, Video Production
Product management
Coding
Business Consulting Services
Real Estate Sales
Stock Trading
Personal Fitness Training
Web Design
Engineering
Web Development
Photo editing
SEO
Human Resources
Insurance
Medical Writing
Architecture
Writing/Editing
Therapy/Counseling

USEFUL NOTES ABOUT GETTING WORK AS A DIGITAL NOMAD
Finding and keeping clients was listed as the one of the top struggles for digital nomads in our study. At the same time, if you browse many digital nomad forums "how can I get a remote job" or "how do I get clients" will be the most common questions asked.
Just know that this area (sales, business development) will take 1 to 2 years of patient, diligent work to build consistent clientele. You will start with lower paying gigs (paying too low to live off) but you will use those clients and demonstrated success to build consistent work.
The most sustainable path to financial security will be moving off gig sites and building your own business of retaining clients and attracting new clients with your own sales and marketing process (not relying on Upwork, Fiverr, any gig sites, or any single employer).
For digital nomads, the best way to make the most of your lifestyle and location freedom is to start your own business or agency. You won't have to at first (just start something, anything), but plan for your own business or agency as the primary component of a long-term plan.

Digital Nomad Job FAQ
Where is the best place to find remote job opportunities?
The best digital nomad opportunities (jobs) are the opportunities nomads build themselves, as freelancers, agency owners, infopreneurs, and service deliverers on a contract basis.
The best locations to find remote jobs are by searching job opportunity boards for companies known to foster a work remote policy. In addition to locating remote work friendly companies, joining forums and groups within your job field and watching for opportunity posts is the best approach to finding a remote job with a remote work friendly company.
What are the best online business options for digital nomads?
The best online business options for digital nomads, that plan to move and be location independent, either businesses that operate completely online delivering a software as a service, information products, or services that can be delivered remotely, as well as freestanding information products or services that are evergreen and have proven, consistent automated monetization, such as a blog or website monetized through ads, affiliate marketing, or information products.
Businesses that involve managing a team in a central location while you are remote, or involve delivering a physical good via employees, third parties, and intermediaries is possible to accomplish as a digital nomad, however, many seasoned digital nomads avoid moving while running a "physical products" based business until the operating model is proven, and the standard operating procedures are strong enough that you do not need to be involved.
Is it possible to work remotely for a company and be a digital nomad?
Many digital nomads have reported traveling while working for a company and many others do. However, working for a traditional company, wherein you are likely the odd employee out working remotely, adds many layers of difficulty and completely due to issues with differing timezones, the expectation of "face to face" meetings in traditional companies, and many supervisors' expectations about how and how much micro-management is acceptable and beneficial.
If you are aiming for the possibility of working remotely for a company, target companies with a work remote cultural, and communicate upfront about your situation, desires, and expectations.
Will being a remote worker or having many remote jobs affect the digital nomad experience?
Most digital nomads that work remotely for a traditional company have less time flexibility compared to digital nomads with professions that allow them to work more autonomously. This means that "remote job" digital nomads generally end up sitting at a desk for most of the traditional 40 hours a week, to align their work schedule with their team. As a result, they have less time available to explore the locale they are in, may spend time in meetings at odd hours (early mornings, late nights) due to timezone differences, and can't "cram work into a time block" to free up larger parts of time.
Though any opportunity to work remotely as a digital nomad is a great opportunity, working remotely for a traditional company as a digital nomad tends to restrict freedom and creates schedule and activity restraints that self-employed digital nomads do not have.
What are the most common digital nomad jobs?
Skills related to marketing (ads, SEO, direct marketing, etc.), sales, and web/software development are in extremely high demand now and as such accounted for the profession of over half of the digital nomads in our digital nomad study.
Note that most digital marketers worked on a freelance basis or within their own agency, while developers were just as likely to be employed or working on an extended project as they were to be self-employed.
Learn my by reading the full findings of our global digital nomad study
What are the essential requirements for a successful experience working as a digital nomad?
Enough savings in your bank account to make the transition
Existing clients or already being employed as a remote worker and permanent hire for a copany
A stable internet connection
Effective problem solving skills, and being able to work autonomously
What are some good tips for a good digital nomad job
Start your own website to use as a portfolio for client development
Start your own business, delivering your own product or service, and aim to trade time for money increasingly less as you grow
Don't worry about maintaining or growing a social media presence unless this directly contributes to your revenue and profit

MORE GREAT INFORMATION ON DIGITAL NOMADS
(Click here to return to the Table of Contents)

More Great Articles to Help You Get Abroad: