Sri Lanka, the "Pearl of the Indian Ocean" is an island paradise ripe with adventure and is at the top of many travelers' bucket lists. Unfortunately getting around Sri Lanka and understanding how to travel quickly and easily by train, bus, and car has most people worried about creating their own Sri Lanka adventure and getting between all of its great destinations. Don't worry, A Brother Abroad has your back!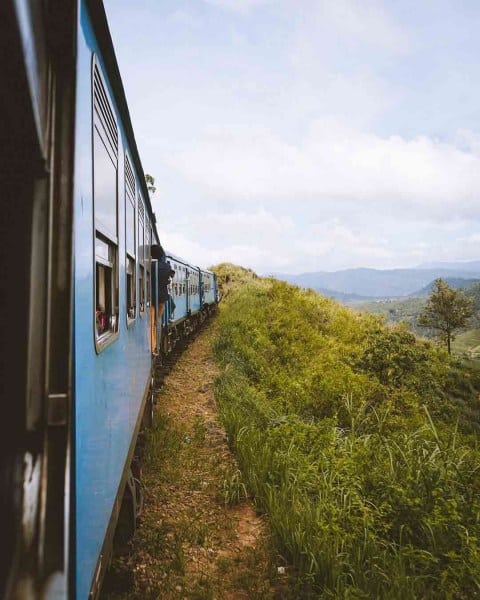 During my 3 weeks in Sri Lanka, I managed to experience the best the country has to offer, bouncing between cities by train, bus, and tuk-tuk…and I kept all of the notes to help you move around the country cheaply, easily, and comfortably.
Read on to learn the best options for getting around Sri Lanka by train, bus, driver, and on your own via tuk-tuk, including where to find schedules (for buses and trains), how & where to book trains and buses online, how to go about renting a tuk-tuk, and more.
Welcome to traveling Sri Lanka made easy.

CONTENTS

GETTING AROUND SRI LANKA
One of the most difficult parts of being a new traveler or traveling adventurously is figuring out how to get around. Lucky for us, Sri Lanka's infrastructure and options for getting around are convenient and cheap. Whether you rent a Tuk Tuk (to drive yourself), ride the train, take the bus, or hire a private driver, getting to the best of Sri Lanka on a tight timeline without spending too much is very possible.
---
Sri Lanka By Tuk Tuk: My Transportation Mode of Choice
If you're feeling adventurous and want the freedom to not plan your itinerary…then you need to rent a tuk tuk. This is exactly what I did as I explored – and I f***ing loved it. The Tuk Tuk cost ranges from $14 to $25 a day, including insurance, plus it'll cost you $40 to get a Sri Lankan drivers license.
It seems like it costs a bit more, but I was able to do more in less time and saved the cost of guides by literally doing my own safari and also wandering around Anuradhapura without a guide.
Click here to read about my experience renting from Tuk Tuk Rental in Sri Lanka
---
SRI LANKA BY TRAIN
The railway is one of the easiest, most adventurous, and most beautiful ways to get around Sri Lanka. Thanks to a robust railway system you can from Colombo to pretty much anywhere in the country, besides Arugam Bay – as no rail is connected to Arugam Bay
If you would like to book any train in advance (which I highly recommend) you'll have to book a first-class train, and I recommend checking out prices, schedules, and booking on 12Go. If you're planning the Kandy to Ella train ride absolutely book online, as far in advance as possible.
(Click here to railway schedules and seat availability on 12Go)
To take the train anywhere without a reservation, simply head to the central train depot in the city you're in, show up, and buy a ticket. The city's railway station will show up in Google Maps. Railway schedules for non-reserved tickets aren't published online as they change frequently, so head to your train station the day before travel and buy tickets, to be on the safe side.
To view lines and times, also visit the Sri Lanka Railways website.
---
SRI LANKA BY BUS
Bus travel is the cheapest and most comprehensive in Sri Lanka, as you'll be able to get from anywhere to anywhere. Again, book by showing up at the main bus station (which will show up in Google Maps) and ask around for the bus headed to your destination or the bus that will take you to your halfway point where you'll transfer buses.
To book buses in Sri Lanka, use BusSeat.lk and BusBooking.lk.
Colombo and Kandy are the two biggest and busiest cities in Sri Lanka. If you need to get anywhere that doesn't have a direct bus line, connect through Colombo or Kandy and then proceed to your destination
---
SRI LANKA BY PRIVATE CAR
For those traveling with surfboards or uncomfortable with public transportation, there is a private car option but prices will be similar to what you might pay back at home.
To book a private car across the country, your hotel or hostel in Colombo/Negombo will be able to arrange your driver easily and at a close to a fair price. If you want to save money or book a driver for more than one day, I recommend joining a Sri Lanka travel Facebook Group, either the Sri Lanka surf Facebook group or the Sri Lanka backpackers Facebook group, and ask publicly for driver recommendations. Both travelers and drivers will answer up, allowing you plan your transport in advance.
GETTING AROUND TOWN
Ridesharing apps are the best way to get around by car, tuk tuk, and mototaxi without getting ripped off. Uber and "PickMe" are the two rideshare apps available in Sri Lanka.
For those who want to step up their travel a bit and (literally) want to drive their own adventure, I have an experience for you…

MY #1 TIP FOR SRI LANKA
RENT A TUK TUK AND DRIVE YOURSELF…HERE'S WHY…
---
The best travel experiences aren't just enjoyable, comfortable, enlightening, and tasty, they're the kinds of experiences that remain fresh in your memory and loved more as time passes – because the experiences are truly irreplaceable.
Perhaps these experiences are potent thanks to the people we travel with, the exoticness of the destination, or the serendipitous course of events.
Whatever factors create these experiences, they will likely be among our favorite travel memories indefinitely – because they are truly a one of a kind experiences. An experience that could be replicated few other places…if at all.
renting a tuk tuk and driving yourself through Sri Lanka is the best way to take your Sri Lanka adventures to the next level because it creates one of a kind travel experiences
Sri Lanka is a small island, packed with as much adventure and exotic experience as you can handle. As you peel back the layers of what the "Pearl of the Indian Ocean" has to offer, ideas will be sparked, your plans will change, and the real Sri Lanka adventure will kick into high gear. With the freedom that comes from wandering on your own three wheels, you'll be free to map your own adventure, changing on a whim, leaving as early as you'd like or at the last minute, picking up passengers along the way, and literally going down that unknown path at the fork in the road.
Not only will renting your own tuk-tuk give the kind of freedom that lets adventures blossom naturally, but you'll adventure down the backroads that few other tourists see.
You'll stop at restaurants with only locals and stop for monkeys, elephants, and peacocks on the side of the road.
You'll have fun conversations with roadside vendors happy that a foreigner wandered into their village…when most tourists never deviate from the railways and bus lines in Sri Lanka.
Honestly, my experience of just wandering the back roads in a tuk-tuk had a richness that made the "normal" tourist sites lackluster. Not that they were bad by any means, but as I was standing in line listening to everyone else talk about the rock we were about to see, I was thinking of the elephant I handed a banana to, or the itty bitty monks I wash chatting with when I took a wrong turn earlier that day.
It is nearly impossible not to have an irreplaceably unforgettable experience driving your own Tuk-Tuk through Sri Lanka.
During my experience driving a tuk tuk through Sri Lanka solo, I took mine on my own (free) safari through Yala national park, feeding wild elephants by hand. I went off the beaten track and walked through 1500 year castles with no tourists in sight. I stopped at random beaches to surf, nap in my tuk tuk, and keep going whenever I felt like it.
I completely threw away my own itinerary on day 4 and just wandered.
It was amazing. That was my Sri Lanka experience…and it wouldn't have happened without my Tuk Tuk.
Read more about my Tuk Tuk experience in Sri Lanka here

GETTING TO SRI LANKA: TIPS FOR FLYING IN CHEAPLY
Flying to Sri Lanka will likely be the costliest part of the adventure to plan…but you'll thank yourself for making the journey. Trust me.
You'll fly into Colombo, the capital city, to Bandaranaike International Airport (CMB), Sri Lanka's main airport. Your biggest question though is likely, "what's the cheapest option for flying to Sri Lanka?"
Best options for cheap flights to Sri Lanka
Travel hack a flight to Sri Lanka for free: (open a single credit card with a hefty award flights bonus)
Use these tips from Momondo's Flight Analytics for flights to Sri Lanka to find the lowest fare:

Book tickets 60 days minimum before your flight for the cheapest airfare

Fly on Monday's for the cheapest flights into Sri Lanka

February is the cheapest month to fly to Sri Lanka

For a cheaper flight, consider flying into a cheaper, major Southeast Asia destination and taking a shorter flight on a budget airline from there

GETTING FROM THE COLOMBO AIRPORT TO NEGOMBO AND COLOMBO
Within Sri Lanka, Uber is your "go-to" option for rides within the city and around Colombo, so download the Uber app and take a car…or tuk tuk…or scooter (all via Uber) to your destination.
Your next best option is a shuttle. Expect to pay 2000-3000 Sri Lankan Rupees for a shuttle or taxi from the airport into main Colombo.
Tip for Picking Between Colombo and Negombo: Stay in Negombo
Though the airport is listed as being "in Colombo" it is actually situated about 45 minutes ride from Colombo. Aside from this, Colombo is very much a big, busy city with no beaches.
Negombo, however, is only a ~15-minute ride from the airport, has a slower pace and much nicer beaches. Though I do recommend attending a walking tour in Colombo and seeing a few sites, stay in Negombo to make life easier.
---
OTHER SOLID SRI LANKA FLIGHT & TRAVEL TIPS
Add a "cheap" trip to the Maldives
If you're globetrotting to as exotic a destination as Sri Lanka, why not (cheaply) add an epic each destination and another passport stamp? The Maldives is the perfect option.
Maldives: Flights to Male, Maldives are available for ~$185 round trip, and the snorkeling and diving is epic

MORE GREAT SRI LANKA CONTENT

NEXT UP IN THE SRI LANKA BACKPACKING SERIES