With all of the great locales around the world, why should you, as an adventurous traveler with only a few weeks free and a tight budget, visit Sri Lanka? When searching for the best places to visit in Sri Lanka the search can get overwhelming very quickly. There are so many beaches, experiences, ruins, and amazing sites to see that picking a few spots for that perfect Sri Lanka experience can get overwhelming very quickly. Lucky for you, it doesn't need to be.
In this quick guide, we'll share the essentials sites, cities, and experiences in Sri Lanka to craft the perfect itinerary for you with just enough of what you need, and not so much that you feel overwhelmed.
Don't forget to check out our perfect itinerary for 3 weeks in Sri Lanka when figuring out the best places in Sri Lanka for your visit.

CONTENTS OF "BEST PLACES TO VISIT IN SRI LANKA"

WHY VISIT SRI LANKA
There are plenty of reasons to use your sacred vacation backpacking Sri Lanka, but here are my 5 favorite reasons to visit Sri Lanka:
Sri Lanka is cheap to travel through, experience, and enjoy, for much less than $50 a day
The varied landscapes, from pristine beaches to towering mountains and lush, green jungles and tea country make it an outdoorsy paradise
Seeing epic animals…in the wild, like elephants, leopards, buffalo, crocs, and so much more, is priceless. No need for inhumane zoos and exploitative "sanctuaries" just a tuk tuk you can drive or a cheap jeep safari
The adventures abound in Sri Lanka whether you want to surf, hike, drive a tuk-tuk, or anything else, there's more adventure opportunity than you could ask for in such a small destination
The culture and history from 2,000 year old ruins that rival Angkor wat, to mellow seafood curries, to the mild and welcoming elegance of the locals, the cultural experience in Sri Lanka is beyond rich.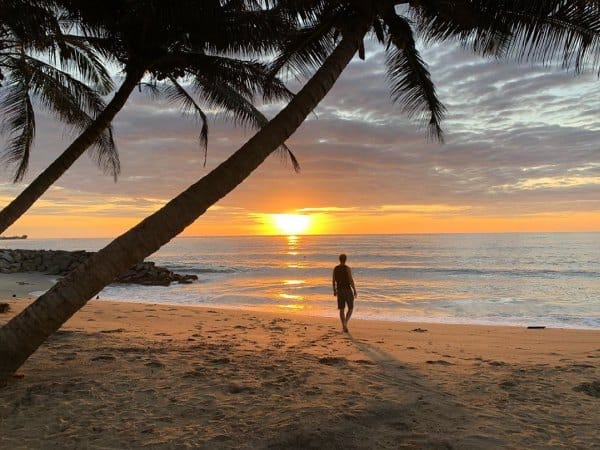 Here are a few other factors that make a 3 Week Sri Lanka Itinerary the perfect use of your precious annual vacation and limited time.
An 8-hour drive takes you all of the way across Sri Lanka passing any attraction you may want to see along the way
Public buses and trains will take you to anywhere in Sri Lanka, for less than $5 USD
Each National Park "specializes" in a type of animal, like elephants or leopards or critters that hang near the water
Sri Lanka is the best place to see elephants in Asia in the wild, humanely treated, respected, and living naturally.
What does all of this add up to?
An adventure travel destination that offers the chance to experience nearly anything you could want within a comfortable 2-3 week period. Few places on the planet pack as much fun, experience, and adventure into such a convenient package.
That is why Sri Lanka should be your next destination.
So that your interested is (hopefully) piqued, what should you expect from a Sri Lanka experience?

What to Expect from Sri Lanka…from My Experience
What to Do in Sri Lanka | The Essential Experiences

WHAT TO EXPECT FROM SRI LANKA
BASED ON MY EXPERIENCE…
During my three weeks in Sri Lanka, I experienced more in a single trip, in a single country, in a single month, than I had in over 50 countries over a few years.
Very earl in the trip, I scrapped my schedule completely and lounged on the beach, waiting for surf and laying in a hammock with a book and a coconut.
I rode through a national park filled with wild animals, solo, in my tuk-tuk, coming within arms reach of wild monkeys, boar, peacocks, and (my favorite) gentle and charismatic elephants.
I took a wrong turn and ended up in a monastery filled with 7 year old monks and helped them practice their English for 20 minutes before I gave them all of the cookies and chocolate I had in my tuk tuk (that monkeys hadn't taken yet).
I hiked jaggedly steep hills to views that seemed to extend hundreds of miles.
I wandered through religious holy sites, around towering stupas and through the ruins of 2000 year old ancient kingdoms.
I couldn't have asked for more…and…
I highly recommend visiting Sri Lanka for yourself.

THE BEST PLACES TO VISIT IN SRI LANKA
Now you know that Sri Lanka is an amazing destination because it offers so much, but it is incredibly easy to get overwhelmed as you research everything possible to do on this little island.
Though 2 to 3 weeks in Sri Lanka is enough to pack in a bit of everything, its far from enough to pack in everything that Sri Lanka has to offer.
To avoid that dreaded FOMO (fear of missing out) or burning yourself out and ruining a vacation by doing too much, I recommend picking the essentials to start and work from there. Plan your Sri Lanka trip by starting with just one of each of the essential Sri Lanka experiences (listed below). With this approach, you'll capture the best of what to do in Sri Lanka at the start of your planning, without planning too much. From here, add more of your fave types of travel experiences as icing atop tropical travel cake – and don't be scared to wait until the last minute. Especially if you rent your own tuk tuk last minute planning is the best way to travel in Sri Lanka.
Below you'll find two perfect options for a great Sri Lanka itinerary of 3 weeks, and a few more for 1 week, 2 weeks, 4 weeks, and an all Sri Lanka Surf itinerary, but I recommend adapting them for what you love. The list of "essential Sri Lanka experiences" that follows will help you keep your itinerary manageable without missing any "must-see sites" and "must do" experiences.
Pick one from each option and you'll have the perfect itinerary for your tastes on your hands
If you trust me that much click here to jump to our Sri Lanka Itinerary for 3 Weeks
---
THE ESSENTIAL SRI LANKA EXPERIENCES
[Beaches]
[Surfing]
[UNESCO World Heritage Sites]
[Kandy – Ella Train Ride]
[Safari in A National Park]
[Hill and Tea Country]
[History, Culture, and Archeology]
---
1. [Beaches] Visit a beautiful beach to lounge, hang in a hammock, and sunbathe
Best Options: Tangalle, Trincomalee, and Arugam Bay
2. [Surfing] Try to surf, then enjoy watching the experienced surfers shred
3. [UNESCO Sites] Visit a 1000+ year old fortress, castle, or religious site
4. [Kandy Ella Train] Ride "the most beautiful train ride in the world" through lush, green, tea country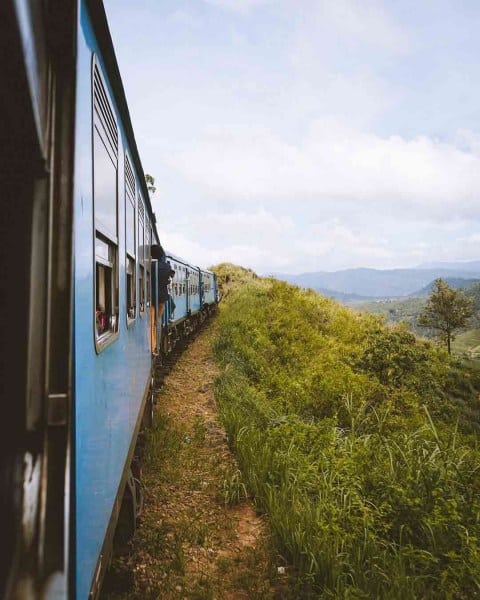 5. [Safari in a National Park] See exotic animals you thought you'd only see in Africa or a zoo
6. [Hill and Tea Country] Wander and hike through the lush green hills of tea country
7. [History, Culture, and Archeology] Wander through 1500+ year old cities and kingdoms with ruins that rival Angkor Wat and Bagan, Myanmar

MAJOR CITIES & BEST PLACES TO VISIT IN SRI LANKA
Knowing the major cities (or at least knowing where to come back to in order to find them) and places to visit in Sri Lanka will help you build a FOMO proof itinerary without wasting time. Use this list of cities, and the highlights they offer, to decide how you would like to fill your itinerary.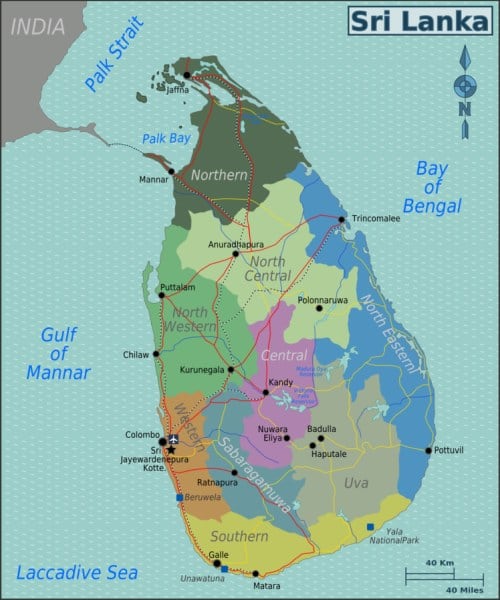 Central Province
Kandy: A large, busy city (similar to Colombo) near the cultural heart of Sri Lanka. Kandy can be skipped without worry if your itinerary is cramped.
Nuwara Eliya: A former British settlement that maintains the British look and architecture, and even has weather similar to England. Come here for the tea factory and a hike to the religiously significant Adam's Peak
Northern Province
Jaffna: The northern capital and cultural center for Tamil and Muslim culture and uniquely Sri Lankan cuisine
North Central Province
Anuradhapura: Formerly the seat of the ancient Sinhalese kingdom and still filled with ruins that (in my opinion) rival Angkor Wat. If deciding between Polonnaruwa and here, come to Anuradhapura
Polonnaruwa: Another former seat of the Sinhalese kingdom, very similar to Anuradhapura except it is costlier and harder to get to. Feel free to skip this if you've visited Anuradhapura
Sigiriya: Home to the Lion's Rock, something similar to a small Macchu Picchu. The structure itself is interesting but I recommend skipping it (due to the $35 entrance price tag and 3-hour line) and climb Pidurangala for a similar view with fewer people for $3.50 – it's a 5-minute drive away.
Dambulla: Home to the monastic caves adorned with hundreds of frescos of the Buddha. I highly recommend visiting on your way to Anuradhapura
Eastern Province
Arugam Bay: The surf capital of Sri Lanka from April to November with something for everyone from beginner to advanced and a deserted surf town kind of vibe.
Trincomalee: A desolate beach destination with snorkeling, whale watching, and lounging when it's in season – April to November
Southern Province
Galle: A charming former Dutch settlement notorious for a beautiful oceanside view with high ramparts that you can walk along. A must see
Weligama: The only surf spot that is good for surfing year-round, thanks to its cape protecting the surf breaks from the open ocean. Low key and a great stop anytime
Tangalle: A quiet, beachy area on the Southwest coast perfect for lounging on pristine beaches
Unawatuna: Surf and party in Unawatuna (when in season)
Yala (National Park): The best place in Sri Lanka to see Leopards and the only park where you can do a self-guided safari in your own tuk tuk
Western Province
Colombo: The capital of Sri Lanka. Though you can learn a few things here, spend as little time as possible here, there are much better things to see.
Negombo: The best place to start and end your trip – comfortably close to the airport and filled with good accommodations

OTHER SRI LANKA HIGHLIGHTS
For me, when I research a destination, knowing all of the options – all of the cities and adventures available and what they offer – is the best first step to planning my trip. In that spirit, here are the highlights you should choose from when patching together your Sri Lanka itinerary.
---
THE MOST FAMOUS BEACHES IN SRI LANKA
---
THE BEST SURF TOWNS IN SRI LANKA
Arugam Bay: The place to head straight to between April and November, with a great vibe, low key parties, and a point break worthy of the professional surf tour, with plenty of other spots good for beginners
Hikkaduwa: A couple hours south of Colombo and accessible by train, Hikkaduwa is an awesome and low key surf focused beach town with nice yet cheap hotels right on the beach in front of each surf break. Go between November and April for the best conditions
Weligama: A protected cape offers year-round surf, perfect for beginners. Great accommodation is situated right across the street from the best breaks and surfboard rental spots. Good year-round for beginners, best November to April for tourism and bigger waves.
---
TOP CULTURAL SPOTS IN SRI LANKA
Anuradhapura: A vast city with the remains of a 1600-year-old Sinhalese kingdom, with temples and structures that (in my opinion) rival Bagan and Angkor Wat was my favorite and an absolute must
Nuwara Eliya (Remnants of the Brits): A once British settlement in the high & cool tea country, now named "Little England" as it has preserved the British buildings, golf courses, and city layout
Jaffna: The "Northern Capital" exudes a different feel than the south with majority Tamil nad Muslim culture (vice Sinhalese) and exquisite foods (like crab curry)
Polonnaruwa: The second most ancient Sri Lankan kingdom, from the 10th century, filled with ancient ruins and riverfronts with roaming elephants
---
THE BEST SRI LANKA SAFARI NATIONAL PARKS
AND THE ANIMALS YOU'LL LIKELY SEE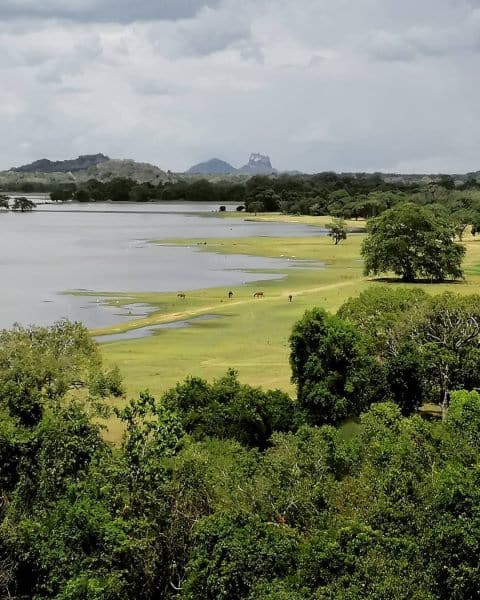 For more information on the numerous Sri Lanka safari and national park options, check out our List of Sri Lanka Safaris and National Parks
---
EPIC HIKES IN SRI LANKA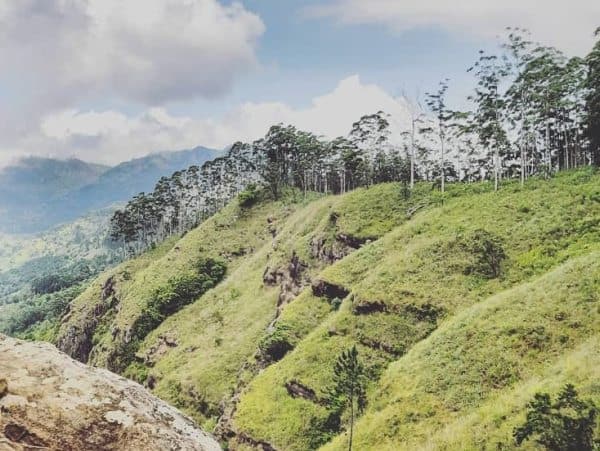 Click here to read more about the best hiking in Sri Lanka
---
EPIC RIDES IN SRI LANKA
Many of the most beautiful scenes you'll see in Sri Lanka will be on the side of the road, between cities, at a viewpoint with no name (one more reason to rent a tuk tuk). These roads were my favorite for scenic views.
Highway B35: The "bootleg safari", a road dotted with elephants and wildlife
Ella to "Lipton's Seat": A cruise through amazingly beautiful tea country
Ella to Kandy (The First Half): Beautiful views from the roadside of waterfalls and through mountains across vast green plains will have you stopping for pictures every 15 minutes

RECOMMENDED SRI LANKA TOURS
For Rushed Travelers and New Adventurers
---
I love independent adventures spent wandering without an itinerary – but – if you're on a tight timeline (and have only 2 weeks in your Sri Lanka itinerary or less) or are new to adventure travel then I highly recommend picking a few guided tours to get the most of your time in Sri Lanka
These "short tours" are potent experiences that I highly recommend.

RECOMMENDED SRI LANKA TOUR PACKAGES
If you're pressed for time or if planning out a good trip seems daunting then I recommend checking out the package country tours from Intrepid Travel's Sri Lanka Tours as well as G Adventures for one to three weeks. Both offer a great way to experience the best of Sri Lanka within a short amount of time, and without worrying about the logistics of getting from place to place or booking. If you're a partier or in the early 20's crowd, then opt for Contiki Travels for a "lively" time.
The added bonus of traveling with a ready group of other travelers eager for experience and adventure adds a nice, social element to the travels.

MORE GREAT SRI LANKA CONTENT

NEXT UP IN THE SRI LANKA BACKPACKING SERIES