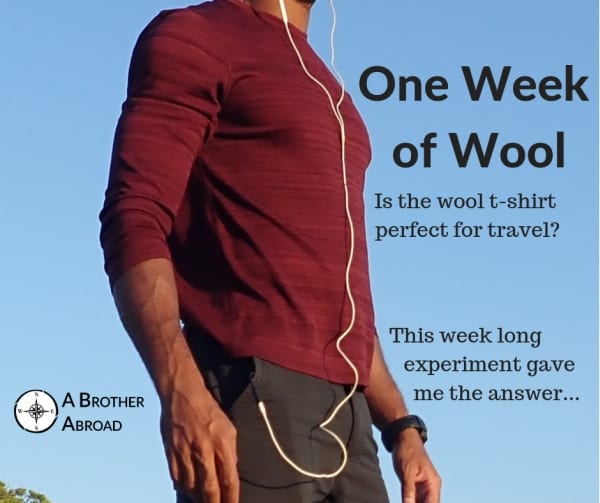 I wore a wool T shirt for a week straight to see if they really make the best travel t shirts…they do
Can the merino wool travel shirt really be worn for days on end through the normal rigors of travel and still look (and smell) good enough to impress polite company? That is exactly what I planned to test in this grungy experiment — I travel…a lot. I'm currently on a world tour that has actually gone on for about a year so far and has no signs of stopping. Some of my biggest headaches traveling are clothes, laundry, luggage, and everything related. Finding a place to do laundry in a foreign country (and a foreign language) can be a hassle, and carrying around extra clothes as to avoid doing laundry often is even more painful. Herein lies one of the greatest benefits of the wool t shirt over polyester or cotton for travelers…or so they say. I decided to test the legendary perfection of the Merino wool shirt for travel by wearing one for as many days as I could tolerate through the rigors and day to day life of bouncing between countries and exploring cities – without washing it at all.
A Little Background on the Wool T Shirt
Wool is the original and the ultimate "performance fabric", as it works to keep you warm, dry, and not-so-stinky in a way that many other synthetic fabrics try to imitate but usually fail miserably at. The idea being, the wool t shirt, or any merino wool shirt with a stylish cut, is a classic enough of wardrobe piece that it can be worn in any circumstance and still look good, and the fabric will stay fresh the entire way. At least, this is the notion that has been echoed for some time in traveler circles.
I love the outdoors. I used to rock climb quite often, camping is my ideal weekend getaway, and I'll take a hike up a mountain over a rooftop cocktail any day, and I've rocked my wool flannel through sunshine and rain in each setting, so I know from experience the value of wool for staying warm and dry in smelly, wet circumstances. However, what about when I'm actually trying to look, feel, and smell good in the posh settings of Europe? In city life, is wool that much better than its cotton, polyester, and nylon brethren?
Is the Merino wool shirt really the perfect garment for travelers and do the look and function of wool in the city truly make it worth the price tag?
As my latest trip started in Lisbon, Portugal, a stylish yet low key metropolis where the average local has an oddly impressive sense of style and standard of dress, I decided to wear my wool t-shirt for a week while flying, walking, sightseeing, exercising, and socializing…without washing it at all. If I got away with everything intact (except my hygiene standards), then wool would be proven as valuable as travel legend tells…
Jump ahead to the experiment of wearing one merino wool shirt for an entire week without washing
After the wool experiment, I would follow up by doing the same experiment with polyester and "performance cotton" shirts to compare. I would wear the cotton and polyester until unacceptably stinky, then wash all three and time how long the wool, cotton, and polyester shirts each took to dry. Spoiler alert: wool actually is as awesome for travel as they say, with a few disclaimers & tips:
Go for a heavy weight wool t shirt to get the feel of cotton, measured by "GSM". If you want the weight of cotton, aim for 180-190 GSM or higher
Go for a merino wool shirt, instead of a regular wool t shirt to avoid the potential itch of wool
Buy your wool t shirt from a well-reviewed distributor Woolly Clothing, Unbound Merino, Icebreaker, Smartwool, etc. to avoid paying the unnecessary markup of big name wool clothing brands. I own Smartwool and REI gear, but the function and fit don't justify the markup for me. In the reviews pay attention to itchiness, fit, and the quality/durability of the stitching
One of wool's downfalls compared to is potentially durability, but this does depend on the manufacturer. For each specific garment (e.g., v-neck t-shirt, long sleeve shirt, women's line) check the reviews on that specific item before buying. I've seen situations when a wool manufacturer can produce a great shirt for, say for example, the men's line and the women's shirts underperform in durability, developing holes. Check the reviews for your specific item before buying!
Now for a little background on why wool rocks…
Why is wool such a great performance fabric?
Wool naturally resists odor, meaning you can get more days of wear in before laundry
Wool still insulates when wet, meaning you will stay warm when wet
Wool naturally wicks sweat away from the skin, keeping you dry, warm, and comfy
Wool dries quickly and will dry when worn
1. Wool naturally resists odor, meaning you can get more days of wear in before laundry
The fact that wool fights odor is probably the main draw for travelers that might have to go a couple of extra days between laundry days. The structure of wool fibers is what gives wool its antimicrobial qualities, preventing the microbes in your sweat, which are responsible for those funky body odors, from attaching to the fibers and growing. Cotton doesn't have this same property and most synthetic fabrics are even worse breeding grounds for these nasties than cotton. The result (with wool) is a garment that can be worn more than a couple of times, and drenched with sweat in the process, but won't smell like it. In truth, you will likely smell worse than the shirt does at the end of a few days of wear without washing.
A major weakness of polyester and other synthetic materials is how they trap odor and tend to get stinky very quickly. Over time (months and years) of hard use, many garments from synthetic materials will grow a permanent odor that doesn't wash out and persists even when clean. One remedy is to wash synthetics as soon as you can after use or use vinegar during a wash every once in a while, or some other home remedy, to kill off the odor completely. Vinegar has saved many of my favorite synthetic base layers from a stinky death.
For travelers, (supposedly) you can expect more than a few more wears out of a merino wool shirt before you really need a laundry run. This can be handy for travelers moving quickly through an area and too busy to wash, or backpackers traveling light with only one bag and less space for clothes than most.
2. Wool still insulates and keeps heat in well even when wet, meaning you will stay warm when wet
Wool always insulates, doing a better job of keeping the heat whether or not it is wet. Most other natural fibers don't keep you warm when wet.
Cotton pulls heat away from your body when wet…so if you get cotton wet, ditch it to avoid hypothermia and get dry layers as soon as possible.
The insulating properties of wool are what makes simple wool t shirts and wool base layers great for layering. Put on a medium weight wool t-shirt (to insulate) under a rain jacket (to block the wind and heat loss) and you'll be fine for most environments
For travelers, those casual wool t-shirts turn into an essential part of your layering system to stay warm, in the city or while trekking, and make it less necessary to bring big jackets and the like Checkout our Guide to Layering Your Clothes (Coming Soon) to learn more about how to plan your clothing so you can pack less and do more )
3. Wool naturally wicks sweat away from the skin, keeping you dry, warm, and comfy
The "moisture wicking" quality of the fabric, which takes sweat or vapor from your skin and pushes it to the top of the fabric to dry away, is where wool and synthetics both shine
4. Wool still dries quickly and will dry when worn
Both Wool and most synthetic materials can be worn while wet, as they still insulate when wet, and be expected to dry, even in lower temperatures. On the other hand, if you put on a wet cotton t-shirt, expect it to stay wet, especially in low temperatures…and also expect to get hypothermia if you're taking that gamble
For travelers this means, if you wash your wool t-shirt by hand the night before and it's a little damp when you wake up, don't be afraid to throw it on. The wool shirt will use your body heat to dry fairly quickly on your body.
The Wool T Shirt vs. the Merino Wool Shirt: What's the difference, and why is Merino better?
Strengths and Weaknesses of the Wool, Synthetics, and Cotton Fabrics
| | | | | |
| --- | --- | --- | --- | --- |
| Fabric | Moisture Wicking | Odor Resistant/Antimicrobial | Insulates when wet | Dries on body |
| Wool | Yes | Yes | Yes | Yes |
| Synthetics | Yes | No | Yes | Yes |
| Cotton | No | No | No | No |
Cotton (The Worst): Pack it sparingly
Does not insulate when wet
Gets dirty quickly (external dirt and trapping sweat)
Dries slowly after washing, especially in lower (60 F or less) temperatures
Traps moisture
Strengths
Tips for using cotton
Avoid wearing cotton socks on hikes
Only use when durability is the concern (jeans)
Synthetics (Mainly Polyester): Good but get stinky quickly
Does not resist order
Collects order over time
Melts easily
Not as durable as wool or cotton
Strengths
Cheap
Wicks moisture well
Can insulate when wet, depending on the specific fabric
Dries quickly
Wool (The Best): Load up on it to improve your travels
Can be expensive – but value can be worth the price, depending on use
Strengths
Fights Odor
Wicks Moisture
Dries Quickly
Insulates heat
The bottom line on wool (vs. other materials):
For travelers aiming to keep their bags light and bring garments that are multi-functional and need to be washed less often, wool t-shirts and socks are the answer.
Next: Read my experiment of wearing a wool shirt and socks for a week straight
Checkout the wool options at REI.com
OR
Checkout the wool options on Amazon.com
OR Learn a little more about
How to "layer your clothing" for travel (Coming Soon)
My "One-Bag" carry on only travel packing list for a year abroad (Coming Soon)
How to wash your laundry while traveling (Coming Soon)
---
The Wool Experiment: Wearing a Merino Wool Shirt for a Week Straight
Wool is possibly the best material for travelers and hikers that want to stay comfortable yet odor free on their adventures…or so it is reputed. Given all of the potential hype, during my year of traveling around the world I decided to test the performance of Merino Wool against synthetic materials, cotton materials, and "active cotton" blends (e.g., cotton with elastin or some other wicking, quick dry, or stretchy material). I decided to wear all three materials, wool, synthetics (polyester), and cotton, as my garments that would potentially get the sweatiest and (shirts and socks) as long as I could stand, to find out if wool really is worth the hype and the higher price tag.
Getting the garments: Loading up on wool shirts supposedly good enough for travel
Before the trip, I picked up 2 shirts from Woolly Clothing via Amazon.com one mid weight short sleeve v-neck that would be a versatile garment, good enough for nightlife but equally suited for hiking, and a black lightweight long sleeve shirt, for classier events and layering when things get cold. Out of the box, both garments looked and felt great. The Merino wool was soft and not itchy, the fit was trim without being too tight, and the stitching was good quality. So, Woolly Clothing had done their job…now to see if the wool could do its job.
The purpose of this test was to see how valuable wool shirts really are to travelers venturing through urban terrain, so I decided to test the shirts as such. During the dark hours at the start of my adventure in Dallas, Texas, I threw on the short sleeved Woolly Clothing V-neck and made my way to the airport. For the next 24 hours I would be in transit to Lisbon, Portugal.
Day 1: In Transit from Dallas to Philadelphia to Lisbon:I wore the shirt like you wear any garment. I flew fairly early to Philadelphia, so in the Philadelphia airport I decided to get some use out of the wool shirt. I put on my workout/hiking shorts and shoes and ran through some mobility routines (stretching), some light calisthenics, and a 4.5 minute burpee high intensity workout routine. About 30 minutes of exercise. At the end I wasn't too sweaty, just noticeably, but the shirt dried within a few minutes. Afterwards, I changed back into my pants, leaving my shirt on, and all was back to normal.
I hopped on the plane to Lisbon later that day and arrived in Lisbon at just after 9AM. Day 1- shirt is still looking good and smelling fine.
Day 2: Wandering the city + a night out:Though I halfway slept on the airplane I didn't want to waste a day, so I arrived at my hostel, dropped my luggage, and immediately headed out to wander the city. From sun up to sun down I followed Google maps wandering the sunny streets of Lisbon. That night, I followed the hostel crowd to bars until the early AM. Day 2 – shirt is still looking good and smelling fine
Day 3: Guided tour around the city of Lisbon, walking up and down hills for a few hours and then a night out
Day 4: Day trip by bus and train from Lisbon to the city of Sintra, a hilly city littered with castles on every hill and peak. I spent 4 hours walking up and down hills between castles for 4 hours…all by returning to Lisbon for another night out.
Day 5: I woke up feeling a little self-conscious, so I did a sniff test and the shirt smelled very neutral. It didn't smell "Downy fresh & clean" but it didn't have an odor. The shirt just smelled like me…he not smelly version. So I hopped in the shower, put on the shirt again, and started my day trip to north of Lisbon by train. Things were hotter this day and I spent hours walking through the town and along the riverfront, sweating the entire day.
Day 6: Relaxed day of eating then joining Portuguese locals for nightlife consisting of local upscale bars and live music. The dress code was casual for the evening, which is quite a bit more stylish than what I saw back in Dallas – sport coat and scarf on one guy, and a fedora on another – but I felt perfectly fine. My very touchy Brazilian friends didn't complain about any scent…and they definitely would have called me out
Day 7: With a mid-day flight to Porto, I proceeded to the airport via bus and train carrying my bags up and down the Lisbon hills again. I finally arrived in my hostel after ~6 hours of transit and walking up and down the Porto hills between buses and trains. Feeling slightly self-conscious about wearing a shirt for 7 days in the atmosphere of my super swanky Porto hostel, The House of Sandeman – where I actually slept in a wine barrel for a night, I decided to end the experiment and placed the shirt on my locker to air out and compare to my synthetic shirt later after a few days of wear.
I will note that as the days went on, when my wool shirt was clearly wet the odor became lightly but increasingly apparent but the odor disappeared once it dried. This didn't start until approximately day 4
To close out the experiment, I enlisted the help of an unlucky roommate to get an objective opinion. I explained what I was doing and then awkwardly asked her to give the shirt a sniff. After a laugh she was happy to sniff it and give me a verdict. The conversation that followed went something like this…
"It doesn't smell bad at all, it just smells like you…"
I gave a pretty awkward "wtf does that mean?" kind of look because I was wondering if that meant the shirt smelled fine or I just needed to take a shower really bad and didn't realize it…and she read my face pretty well. I was pretty worried that I smelled like hot garbage for a week and no one told me. She laughed at my look and clarified.
"It doesn't smell like it was just washed, but it doesn't smell bad…it smells like you put it on early today. You could still wear it."
I agree with her assessment. I took a shower to "refresh my nostrils" and then sniffed the shirt before I asked her to. The shirt didn't have the "just cleaned" smell, with the lingering scent of detergent, the shirt only had a very neutral scent with a light scent of my natural smell…the clean version, not the nasty body odor version.
Done.
Verdict: Wool rocks. After a week, based on the smell of the shirt (if I was doing that "sniff test" you normally do when going through my clothes to test whether its laundry day) I would absolutely feel comfortable wearing it one more time. Buuuut, something doesn't feel right about wearing a shirt for longer than a week outside of, say, the apocalypse…so I called the experiment
Synthetic Shirt Test:
As a comparison, I used a Champion G3 synthetic shirt from Target, comparable to Lulu Lemon's gear for men without the price tag or the stigma (…joking..). I wore the synthetic shirt for two days of wandering up and down the hills of Porto between viewpoints, fish restaurants, and wine houses before I didn't feel comfortable wearing it due to funk…I could definitely smell my arm pit scent in the shirt by the end of day 2.
I left the synthetic shirt on my locker to air out overnight and compare with the wool shirt for a sniff test the next day
Cotton Shirt Test:
One day of walking the hills of the city of Porto and my "performance cotton shirt", the Eddie Bauer Lookout shirt which looks great and holds its shape well, was as funky as my arm pits. I let it air for a night but it didn't recover the next morning, clearly funkier than a 70's disco with Bee Gees headlining. I counted the cotton shirt out after one day.
Wool vs. Synthetic Sniff Test Results:
Synthetic shirt: still as funky as the day before
Wool shirt: didn't smell completely fresh but didn't have an odor. It smelled more like the non-stinky version of me.
The Woolly Clothing shirt was a clear winner and did an amazing job staying fresh through 7 days of travel
I doubted my results a bit so I swallowed my pride once again and explained my experiment to a seemingly hygienic girl in my dorms that was friendly asked for a second opinion. She agreed – the synthetic shirt was funky enough to retire, the wool was fresh enough to wear on
Takeaways from wearing my wool shirt for one week
The wool shirt I wore maintained its fit and shape very well through a variety of activities, which I loved. I loathe how cotton shirt, without spandex or elastic material, lose their shape after one day of wear. The wool shirt actually looked like it had been freshly pulled out of the drawer
Sweat dried quickly after strenuous activities
The shirt moved well and stayed comfortable through all of the active activities (exercising, stretching)
The performance is absolutely not limited to this brand, Woolly Clothing, as my Smartwool, People Socks, and Pendleton wool gear has performed similarly, so get whatever works for you, as long as its wool
Suggestions for Travelers based on my week of wool wear
For travel, I recommend taking 2-3 medium-weight wool shirts and that is absolutely all you'll need for shirts regardless of your length of travel and add a long sleeve button down or tank top as you see fit.
Aim for V-neck shirts and optionally one Henley for a versatile, balanced travel wardrobe
When purchasing your wool shirts, go for a heavier weight fabric, measured by "GSM", for a more natural t-shirt feel that compliments your hard earned physiqe. My long sleeve wool shirt is 150 GSM and is great, but feels fairly thin, perfect for a summer evening but it still feels rather light. Woolly clothing's Everyday Weight Short Sleeve V-neck's 190 GSM weight is as heavy as a normal (cotton) t-shirt and lays perfectly because of it.
Other Experiments: Drying time of wool, synthetic, and cotton t-shirts
Later during the trip, I washed my wool, synthetic, and cotton shirts and laid them in the same area, a dark room just above room temperature, to dry at the exact same time
The wool and synthetic shirts dried quickly in about the same time (4-6 hours) while the cotton shirt, a "quick drying" blend of cotton and spandex took a full two days to dry and picked up a mildew smell in the process forcing me to wash the cotton shirt again and dry it in the sun
Value Comparison
Now that we know wool rocks, the question is how and where to you buy the right wool gear for you?
What brand of wool t shirt should buy: Any reputable direct to consumer brand (usually best found on Amazon) has the best price and reliable quality
Any reputable brand will do as most popular manufacturers produce reliable wool garments. Aim for direct to consumer wool manufacturers to get the most shirts for your buck, but check the reviews for the specific item you plan to buy – don't assume a brand's wool gear is universally great. Some brands to better with men's gear than women's gear. Some brands do better with thicker layers or best layers, while other brands' t-shirt game is on point.
At the moment, I stick with Woolly Clothing, because I've tried 3 shirts and they've worked very well for my needs. Any other 4 star reviewed supplier/shirt on Amazon is a decent bet to start your research with.
Where to buy Merino wool shirts
In general, I prefer buying over Amazon thanks to free shipping and the 30 day return policy and Amazon customer support I get on top of the manufacturers customer support and warranty. It makes buying brands that aren't the "big brands" a bit less risky. For wool socks, I do the same on Amazon (People Socks, Darn Tough, etc.) or go with REI (Smartwool or REI brand) as REI backs their products in a way that keeps my headaches to the minimum.
REI is always a great place to get the bigger brands like Smartwool, Patagonia, and even their own REI brand gear, thanks to their 1 year satisfaction guarantee.
Tips on shopping for a Merino wool shirt specifically for travel:
Mid-weight in darker, neutral colors (i.e., grey, blue, black, and burgundy) to allow wearing with more varied outfits more often without others noticing while the colors make dirt and the occasional stains less visible
Vary the shirt styles to get the most out of your wardrobe noting that V-neck and Henley shirts add the most style to your wardrobe and the simple crew neck is the most vanilla
Consider these Notable Wool Gear Brands
The Verdict on wool vs. other fabrics
The Verdict, by my logic, wool t-shirts are worth at least 3x the value of synthetic shirts and 7x the value of cotton based on how long they could reasonably be worn between washes. In the future, I will likely pack one synthetic shirt to abuse, and the rest of my shirts will be Merino wool to stay fresh look good. Merino wool wins this round by a knockout!
Checkout the wool options at REI.com
OR
Checkout the wool options on Amazon.com
OR Learn a little more about…
How to "layer your clothing" for travel (Coming Soon)
My "One-Bag" carry on only travel packing list for a year abroad (Coming Soon)
How to wash your laundry while traveling (Coming Soon)