The GORUCK Kit Bag (32L): A durable, functional, and versatile canvas duffle bag. The GORUCK Kit Bag is great as a weekender or carry on duffel bag, everyday carry duffle, or improvised messenger bag and packs down flat between uses. GORUCK delivers again.

A GORUCK Kit Bag Review
The GORUCK Kit Bag is a 32L Cordura nylon canvas duffel bag with the selling points of being tough as hell yet well-organized via simple, intuitive design. This tough duffel was based on the military style "aviator kit bag", which was designed to hold everything a soldier would need for an extended operation, and then upgraded with tougher materials and additional pockets for organization.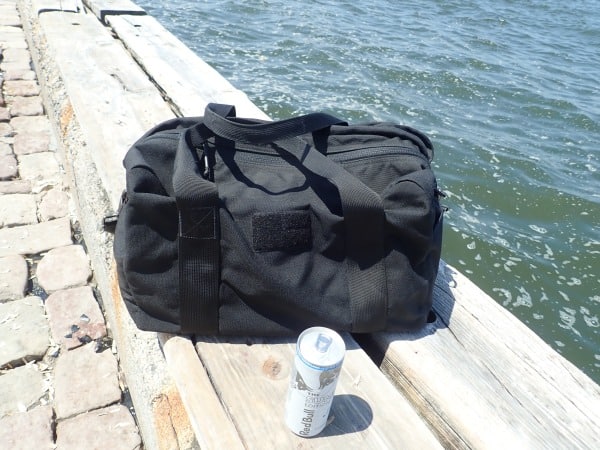 The 32 liter GORUCK Kit bag will hold everything you need for a few days to a week, while the internal and external pockets prevent your bag from becoming as cluttered as a gypsy camp. This is one of the best canvas duffle bag options available hard users. This handbag will likely last for life and is functional enough to be used every one of those days.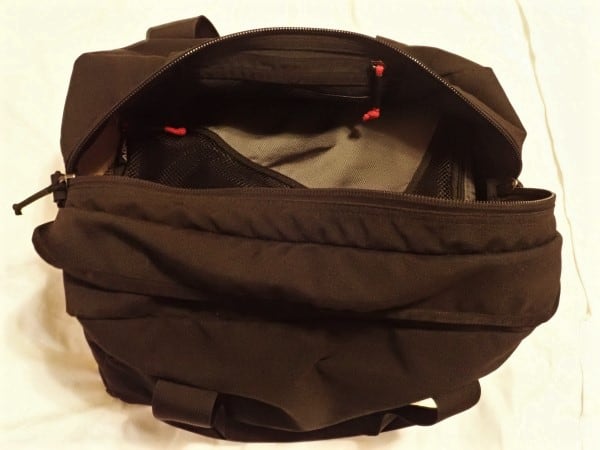 1000D Cordura Nylon and high quality construction make it "rainproof", abrasion resistant, and tough enough to carry serious weight. The design includes two easy access exterior pockets for quick access and two zippered mesh pockets on the interior ends of the bag, for tucking small items and valuables. One easy access, slightly hidden zippered pocket for valuables (identification, cash, phone etc.) sits just below the top of the bag at the top of the main compartment.
If you're on the hunt for an extremely durable hand bag that packs flat for stowing but is easy to stay organized with, the GORUCK Kit Bag can't be beat.
Best Uses of the GORUCK Kit Bag
Carry on duffle bag – if you don't plan on moving from place to place much, and are a minimalist packer, this thing is perfect as a 3 day/weekender bag. At 32L the bag is large enough to fit everything but small enough to be easily managed as hand bag. If you're traveling for longer than a week just getting the best canvas duffle bag you can find may not be enough to preserve your sanity, so checkout our "15 of the Best Carry on Backpacks" list for other great carry on bag ideas.
"Leave behind" bag for backpackers going on treks or other adventures, to store gear not in use when using your main pack for other adventures
Gym bag, errand bag, or daily bag used for holding any and everything you'll need on a daily basis, keeping it organized yet accessible
Improvised briefcase & commuter bag. I've used the kit bag frequently to hold my odds and ends for a work while "digital nomading" for a few days between travels
Weekend travel bag or anything up to a week. The kit bag nearly accommodates the contents of my entire backpack (enough for a year long trip) decently well
Any situation where you'll need a durable handbag that will take a decent amount of abuse and hold more weight than your average day bag or hand bag
My Experience with the GORUCK Kit Bag
I accidentally brought the GORUCK Kit bag (hidden in the bottom of my backpack) with me on my year trip around the world (which I'm currently on), and it was a pretty great mistake to make . As my GORUCK GR3 is a perfect carryon, stowed overhead in planes when flying and under buses when overlanding, the GORUCK Aviator Kit Bag has been the personal item I keep my laptop, snacks, and important documents in to keep them close to me during travel times. When I've taken a week off in a city to catch up on writing, the Kit Bag becomes my improvised brief case, carrying my Surface Pro, cables, and notebooks. When I head to a park or shoreline to workout, the Kit Bag becomes my gym bag, carrying exercise bands, my Monkii Bars 2 travel suspension trainer, and my workout clothes for the day.
This bag has enough pockets to keep things oddly organized and accessible for a duffle bag, while being as tough as GORUCK's reputation – making this a "buy it for life" choice and easy to overload without worries. If you need a durable small to medium sized duffle bag and handbag, look no further.
I previously used the REI Roadtripper duffle as my "leave behind bag" for storing items I didn't need for short trips, which was great, but I upgraded to this for the square/fold flat design and more durable materials and construction of the GORUCK Kit Bag. I couldn't be happier with the investment.
The fold flat design of the Kit Bag allows me to store it in the slanted front pocket of my GORUCK GR3 without sacrificing much space.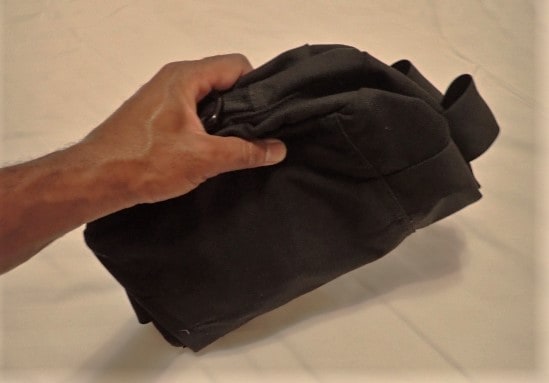 As my daypack, I normally use the lightweight REI Flash 22, a compressible daypack, but the bag eventually ripped at the stress points (shoulder straps, drawstring opening) due to the excessive weight of my tablet, liters of water, and electronics over two years of travel. The Flash 22 did a great job over that 2 years, but it eventually gave in. In its place, I used the GORUCK Kit Bag until I could repair the Flash 22. Now, my Flash 22 is stitched up and reinforced to hold the weights I need and better than new, btu I've kept using the Kit Bag because it's so convenient and functional on a daily basis for anything outside of hiking
Pros of the GORUCK Kit Bag
Well thought out and functional pockets makes a place for everything without unnecessary bulk
Easy to pack due to flat folding design – fits easily in the front pocket of the GORUCK GR3 or similar pockets on any other backpack
Durable thanks to water resistant, abrasion resistant 1000D Cordura Nylon fabric, mil-spec webbing for handles and straps and heavy duty zippers & stitching
Warranty: GORUCK will repair or replace your bag for life
Cons of the GORUCK Kit Bag
Price: $160 is steep for a duffle bag, but you get what you pay for. With this Kit Bag, you get something that will last for life (check on the military veteran and "earned service" discount to save 25%
You really need the shoulder strap: Walk across an airport with 20lbs in your hands and you'll feel like you're doing a low grade, really annoying Crossfit workout. Try it yourself if you don't believe me…or just get a shoulder strap
Having to know how to carry the kit bag efficiently when weighted with 10+ lbs: Sling both hand straps over a shoulder, and sling the shoulder strap cross-body style (over the other shoulder) and it will make carrying the duffel on the daily easier.
Tips for How to Use and Carry the GORUCK Kit Bag
Don't plan on holding it in your hand – you'll get tired and annoyed quicker than you think. Get a good shoulder strap
Sling the carry handles over your shoulder and then cross body sling the shoulder strap to support the load
Absolutely use Packing Cubes if you are using the Kit Bag as a travel bag
Pick up a small carabineer to clip the straps together, like the Metolius climbing carabineer that serve tons of uses, but are really cheap (~$5) and climbing grade
Verdict on the GORUCK Kit Bag Review: Highly Recommended for those searching for a durable, medium sized duffle
An excellent small to medium sized daily duffle style bag for hard users
An excellent option for long term travelers looking for a duffel bag to use between plane flights and a collapsible "personal item" to use on flights
Perfect for daily life as a duty bag, gym bag, or improvised briefcase
Based on materials, construction, and my experience, I expect the GORUCK Kit Bag to last a lifetime
I absolutely recommend the GORUCK Kit Bag (32L) for anyone looking for a durable, medium sized duffel or handbag
GORUCK KIt Bag Review
Summary
A durable new take on a time tested classic: the aviator kit bag. With solid upgrades, like 1000D Cordura nylon, zippered mesh pockets, and quick access external pockets, GORUCK did an excellent job making this handy bag just as ready for war and a weekend road trip. I highly recommend the GORUCK kit bag.
---
6 Months of Experience with the GORUCK Kit Bag: Durability is definitely this bag's strong suit
After 6 months of use as a daily carry bag while "digital nomading" and a workout bag when heading to the beach, the pristine condition of this aviator kit bag (aside from dirt) validates the durability of the materials and high quality construction.
The bottom, the most abused portion of the bag, shows little sign of wear or abrasion, despite being thrown around on the concrete often. The bottom is made of double-layered Cordura nylon for durability, but considering the first layer isn't showing any sign of wear…the second layer just feels like a nice to have that increases how much weight I can carry in the Kit Bag. Everywhere else on the bag shows absolutely no signs of abrasion, damage, or wear. If this is what the bag looks like after 6 months of use, I seriously expect this bag to last a lifetime under normal conditions.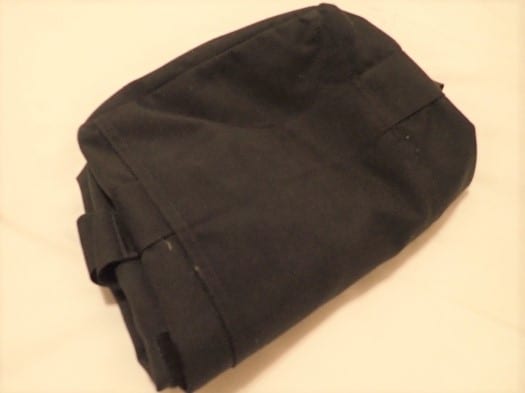 My favorite bag from military service, the Spec Ops T.H.E. (Tactical Hold Everything) Backpack, incorporated the same 1000 denier Cordura Nylon and YKK zippers, and has lasted 10 years of heavy use over combat deployments, hiking, camping, and rock climbing, and is still in great shape. Given the same materials, high quality construction, and lighter loads that I use the bag with, I expect the GORUCK Kit Bag to have a much longer life. So, 10+ years looks like an extremely conservative estimate for the kit bag
There are military surplus stores all over the US selling used military gear that has been used in everything from intense training to combat and most of that gear has been built to lower specs than the GORUCK kit bag. The gear can be resold despite such extreme abuse because the high quality construction and durable materials make its useful life much better than ordinary pants, jackets, sleeping bags, and backpacks. This aviator kit Bag clearly follows the same design principles, being overbuilt so that it not only survives intense abuse but is still useful after dust settles. I expect this duffle, the GORUCK kit bag, to far outlast the competitors, even with intense abuse.
Function and Design Review of the GORUCK Kit Bag
The GORUCK Kit Bag is designed like a normal military aviator kit bag, square in shape with a long zipper to access the main pouch, strong webbing for handles, and a flap covering the zipper to block out the rain and grime. In addition to the upgraded materials (Cordura Nylon and YKK zippers) GORUCK made some great design improvements (mostly pockets) that make this bag more practical for everyday life and very suitable as a handbag for travel. The military gear DNA combined with even tougher fabric and zippers than commonly used and the subtle additions and changes, specifically in inner mesh pockets and Cordura pocket are make GORUCK Kit Bag possibly the best canvas duffle bag available if you prioritize durability or plan to use the bag for travel.
Outer pockets: Two open pockets sit on the ends of the bag for you to quickly place and access things while wearing the bag. Perhaps a cell phone or passport while standing in line, or a place to empty your pockets into before going through airline security. The depth and design of these pockets are surprisingly useful and functional as I use them often and they can be accessed with one hand while wearing the bag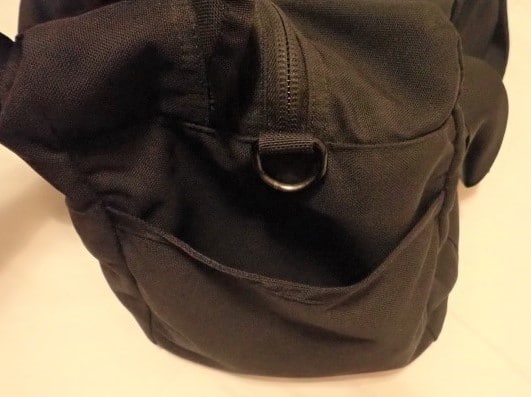 Inner zippered mesh pockets: The inner zippered mesh pockets are great for organization and I frequently use them to store small items, charging cables, and any random items. The see through mesh of the pocket allows you to easily see what is stored in each pocket and the pockets hold a surprising amount
Top, Inner Cordura Pocket: This inner pocket is the easiest to access, but is still very secure. Its great for storing things that I don't want crushed (like headphones) or need to quickly access but don't want stolen (like cash, or a cell phone)
The combination of these five pockets, as simple as they are, keep the bag as organized as I want it to be
Easy to Pack: Just enough pockets to stay organized, and the cavernous main compartment holds as much as you need. This open main compartment makes things easy to put in and take out easily.
Versatile: The nature of the aviator kit bag in general makes this bag quite versatile as a "gear dumpster". When carried with handles over the shoulder and the shoulder strap slung across the body, moderate weight is still fairly comfortable. As a result, this bag works well on the daily as a gym bag or day bag and just as well as a carryon bag (with a shoulder strap and packing cubes to make life easier)
Fold Flat Design: The collapsible nature makes the Kit Bag very easy to store. On this trip, I've simply kept the kit bag in the front slant pocket of my GORUCK GR3, making it my convenient daily use bag on the coffee shop days, and my leave behind bag during short adventures
Aesthetics of the GORUCK Kit Bag
Simple, subdued design looks great, and the only potential giveaway that the design is military centric is the velcro patch. Beyond that, its just a bombproof, very functional duffle with a clean look
Just like many classic military pieces (combat boots, the M-51 field jacket, rucksacks) the GORUCK Kit Bags design will fit naturally and suitably into any environment, from the airline terminal, to the gym, to the boardroom (under the table of course) adding style along the way
Materials in the GORUCK Kit Bag
1000 Denier Cordura Nylon – highly abrasion resistance, high tensile strength, and water resistant
Double layered Cordura Nylon on the bottom of the bag, so even if you manage to make a hole in layer 1, layer 2 is standing by
Mil-Spec nylon webbing straps support more of a load than you can carry
The YKK zippers offer great durability and operate smoothly
Heavyweight Nylon stitching looks and feels insanely well-constructed and shows no signs of stress under heavier loads (~40lbs). I threw in a couple of 40lb ruck plates briefly just to see if the kit bag's stitching or materials would stretch or show signs of stress under load…and it didn't
Size and Measurements of the GORUCK Kit Bag
Just big enough to hold everything, but not so big as to be cumbersome. We're talking about Goldilocks perfect here.
The kit bag's size (17.5"W x 11.5″H x 9"D inches / 44.5cm x 29cm x 23cm ) is suitable for most budget airlines as a carryon. The 2.5lb/weight is light enough that it doesn't chip away at the common 8kg/17.5lb weight limit for carry-on bags with the more miserly airlines (we're looking at you Spirit)
Specs of the GORUCK Kit Bag
What is the GORUCK Kit Bag? A daily use or weekender duffle that's tougher than you are and will last a lifetime
Price: $160
Value Assessment: Pricey but worth it. Between the high quality materials, meticulous construction, and GORUCK Lifetime warranty, you'll never need to buy another duffle again.
Warranty: Lifetime warranty – just ship it back to GORUCK at any time and they'll fix or replace it
Size: 17.5"W x 11.5″H x 9"D inches / 44.5cm x 29cm x 23cm
Internal Cordura Pocket: 10.5″W x 5.25″H
Internal Mesh Pocket: 9.5″W x 9.5″H
External Cordura Pockets: 9.25″W x 7.5″H
Capacity: 32L / 1,952 Cubic inches
Weight: 2.5lbs / 1.1kg
Design: 5 pockets
2 open external (no zip)
2 mesh zippered internal
1 interanal zipper Cordura nylon covered security pocket
Materials: 1000D Cordura Nylon, YKK zippers
Notes: Shoulder strap not included
Suggestions for getting the most from the GORUCK Kit Bag
Purchase a good shoulder strap for best use. Don't get GORUCK's shoulder strap as the reviews don't justify the price. Instead, checkout Amazon for well-reviewed, reliable duffle bag shoulder straps
For travelers: if using this as a "leave behind", consider the GORUCK Tough Compression Bag instead, which pairs well with the GORUCK GR3. The GORUCK Tough bag delivers half as much space (18L) but straps easily to the outside of most backpacks
For any travel, pair the kit bag with nylon packing cubes (aim for mesh vented nylon bags for durability) to keep things organized and this bag becomes a great short term travel bag
Verdict on the GORUCK Kit Bag Review:
A well-designed aviator kit bag and canvas duffle bag that's equally suited as daily carry or weekender bag. Pockets easily keep the bag organized. Simple yet tough as nails materials and construction will outlast the competition. If you are looking for the best canvas duffle bag or weekender bag available and prioritize durability, do yourself a favor and pickup the GORUCK Kit Bag

Great Related Content
---
MORE GREAT TRAVEL GEAR