A simple game of sharing stories, designed for connecting, and perfect for your next party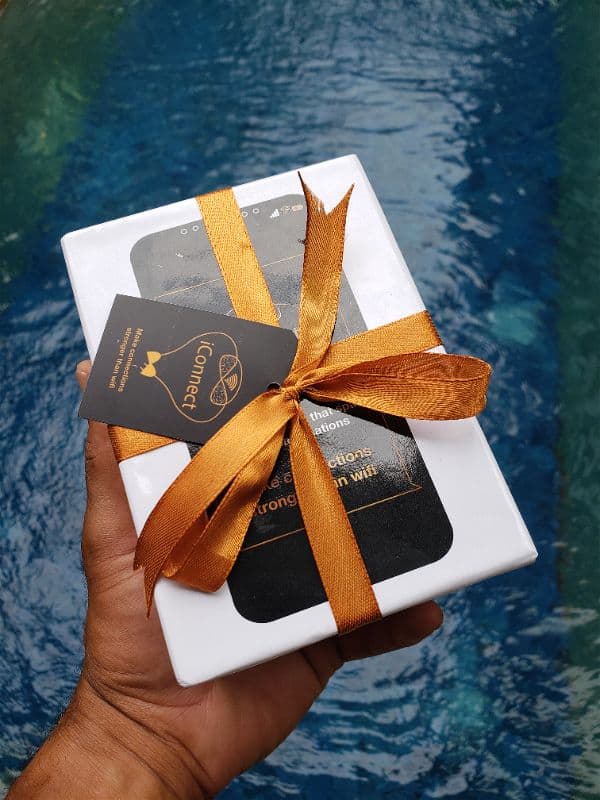 iConnect: The Bottom Line Up Front
A friend in Bali made an awesome game from scratch made of a simple deck of cards and questions designed to help you connect better. I've played the game with my girlfriend, and a 45-minute test turned into 3 hours of relaxing connection. This game will be the centerpiece of my holiday parties. I highly recommend supporting Nini's (the creator's) campaign to make this worthwhile game mainstream. Click here to visit the iConnect Kickstarter page.
I am a lover of stories. Movies. Books. My own experiences. All stories. Of the many things that excite and enliven me, a good story is top of the list.
But especially not just my own story, or even the story of a stranger. My favorite stories are from my friends, new interesting people that have entered my life, and the hidden stories of people I've grown close to but stopped "digging" into.
I love hearing about where they're from, their funny mistakes, their dreams that came true or fell flat, their hopeful stories of the future. These are the stories I enjoy the most.
Unfortunately, in this day and age, the word "story" has taken on somewhat of a new and less "connected" context. Snap stories. Instagram stories. Facebook stories. These "stories" show only a fraction of the peoples' lives, not necessarily the most significant portions. These stories are glamorized, chopped up into bite-sized bits, eliminating most of the detail that would lead me to connect more deeply with someone.
Lucky for me, I recently discovered a game called iConnect just in time for the holidays that aims to give me those stories from friends and loved ones that I crave so much. This game is all about ditching the modern age mutation of "stories" and aims to help us connect with our friends and loved ones – simply by sharing the real stories of our lives.
I love that.
---
Before we get into my thoughts on the iConnect game, I'll be upfront that I love the idea, I love the game, and I love the experience I had with it. If you're already excited, head over to Kickstarter to hear Nini's story in her own words.
Also, consider backing the campaign to make this "social networking offline" possible for everyone.
Click here to visit Nini's iConnect Kickstarter page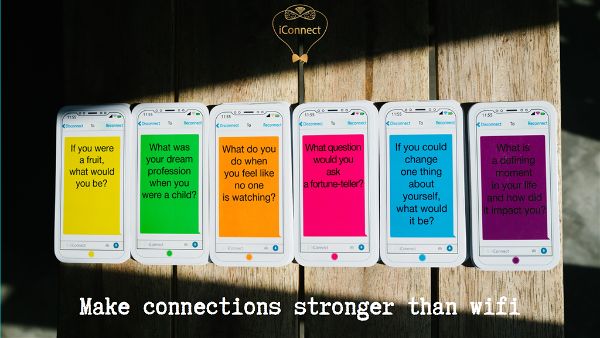 WHAT IS iCONNECT?
An "offline social networking game" that add fun to any party
"iConnect is an offline social networking game that instantly makes you (and anyone you're playing with) more interesting than social media," as stated by Nini, the game's creator.
iConnect is a card game in the style of old school boards with one passionate goal in mind – to get us offline and together to better connect.
What do I mean by "connect?"
I mean chat.
I mean, share little secrets and talk about those stories that we would love to share and hear.
At its simplest, the iConnect game is a deck of cards, each with its own "icebreaker" style question. Some questions are fun and silly. Other questions are deep and revealing, all of which make for great conversations, connections, and getting to know each other.
The game's deck consists of 6 categories of cards with "icebreaker" style questions with each deck focusing on questions that range from light and fun to deep and revealing.
The group playing iConnect takes turns rolling the die to figure out which card deck to draw from and draws from the deck that lines up with the number on the die – 1 through 6. The decks vary in how intimate and personal the questions, and resulting stories, tend to be.
For example, a level 1 question is, "what is your favorite ice flavor?" Fun, playful, and on the surface.
On the other hand, the level 6 deck hits deeper with much more personal and revealing questions like "what are one of your insecurities?"
Once the card is drawn for the round, you start the timer and share by answering the question of the round
That's it.
Draw a card.
Read the question.
Start the timer.
Share and answer the question.
Enjoy.
Repeat.

MY EXPERIENCE WITH BOARD GAMES:
MONOPOLY AND CARDS AGAINST HUMANITY. I LOVE THEM, BUT THEY ALWAYS END IN CHAOS
Anyone who knows me or has even met me briefly knows I'm an extrovert, I'm a connector, and I love getting people together to have fun. Parties. Movie nights. Boardgame nights. Beach parties. I'll find any excuse to gather a group and instigate smiles.
For instance, during the pandemic, my buddy Matt and I would hang out in his villa here in Bali Zoom, calling tens of friends on a single call daily.
Fast forward to when Bali started re-opening, and I craved connection again with my "close peeps" badly, so my friends and I started hosting different nights. Tuesday movie nights. Wet wings Wednesday (pretty much pool + wings + good times). Friday standup comedy nights. And one of the craziest, Saturday fun day…with board games and cards games.
From Cards Against Humanity, to "King's Cup" (yes, I consider that a card game), on to the local version of Monopoly – Canggu Monopoli – we dabbled in them all. They were tons of fun, but none of them was "perfect" for just enjoying friends.
Cards Against Humanity gets vulgar very quickly, and non-native English-speaking friends missed out on a lot of the humor.
Kings Cup was a drinking game, so "Sober October" went right out the window…along with sober July, August, September, and…I think you get the point.
And Canggu Monopoli was awesome! Except Monopoly always ends in death threats and insane aggression…Canggu Monopoli was tons of fun but followed the same pattern.
So, being a person that loves to connect with people, loves to host, I'm always on the lookout for a new way to get people together in a fun, genuine way. I seriously wanted a game that was easy to play, connected people effortlessly, was entertaining, and was still wholesome in a non-cheesy way. So when I saw the chance to test out iConnect, I jumped at the chance!
A game that is just opening up about (and listening to) stories on interesting topics sounds like a solid recipe for a get-together, especially around the Christmas Holidays.
---
TESTING OUT ICONNECT: A FUN AND RELAXING NIGHT FOR TWO
I'm personally excited to break this game out during the holiday parties to get things started, but my first experience with the iConnect was just having a fun night for two.
When my girlfriend heard about the game and that it was on the way, she got way more excited than I expected and insisted we play that night. So, the plan shifted – order cinnamon rolls and grab the wine.
I honestly can't say there are many games besides chess and checkers that I could play with one other person and be entertained…but iConnect was a ton of low key fun playing with just the two of us.
I threw on so music in the background (the Mahogany Sessions channel on Youtube), cracked open a bottle of wine, relaxed, and we started the game.
So, how was it?
Honestly, awesome.
---
My girlfriend and I decided to play iConnect for 45 minutes before I had to get back to finishing up some work for the night.
We popped open the game, set up the cards into the stacks of 1 (easiest to answer) to 6 (most revealing), rolled the die, and drew the first card.
"Tell me about your worst date ever."
A very short silence on both our sides followed by laughter as we dug through our memories.
Then, we started the timer, and she shared, then I shared.
The stories were hilarious. It was a great start to the game, and things only got better.
Fast forward three hours and half a bottle of wine, and we were still playing the game. We'd forgotten about the timer as we were sharing and laughing, mostly on my part as I kept interrupting her with questions. In my defense, my interrupting was out of interest in all of her crazy stories I was surprised I'd never heard before! That extra bit of sharing made the fun and connection we had during the game even deeper.
To be honest, we were horrible about sticking to the rules – following the timer, not asking more and more and more questions afterward – but for me, it was a ton of fun hearing quirky and interesting stories I wouldn't think to just ask about. It was somehow effortlessly playful, entertaining, and intimate.
Though I can't wait to play this game with friends, we'll definitely be doing more "duo sessions" on date nights at home.
The Bottom Line: iConnect is actually an excellent tool for a date or just good fun for a couple hanging out at home. Great "lockdown" material!
---
…AND I'M EVEN MORE EXCITED TO PLAY WITH FRIENDS
The evening with my lady at home was effortlessly enjoyable, and it made me even more excited about playing this game with friends soon.
Here's why, and here's why I'm excited to break this game out with more friends….
I find that the people I pull close are quirky, interesting, and have their uniquely own brand. They're filled with countless, varied experiences and stories that I'll likely never completely hear. My friends range from genius-level entrepreneurs to tarot card readers and mentalists to comedians to combat veterans to artists and more. And this was before living in Bali! Since then, I've added people from different countries, cultures, ages, backgrounds, and more.
Through all of this – having so many amazing people around – my biggest mistake has been laziness in getting to know all of these interesting people more deeply. This wasn't necessarily because I should for the sake of our friendship, but because I'm cheating myself of so many entertaining, enthralling, and one of a kind stories.
I'll admit I'm the kind of guy who can binge-watch Narcos on Netflix again (for the 3rd time), but my friends are filled with so many more rich stories and adventures that don't make it to their "Instagram stories."
Like the friend who was a model in Hong Kong, or the one that coached pickup artists, or the one who has wandered the wild coast of Africa for work, or tells me true stories of life in Soviet Russia. These stories are priceless, worth much more than anything I could find on Netflix.
These stories from my friends, and hearing them, deepen my friendships. However, these stories are sometimes hard for people to share or can be difficult to bring up in normal conversation. These are the stories that we miss out on after knowing someone so long that we think we know everything about them.
The potential for more of these stories is my favorite reason for playing iConnect.
iConnect effortlessly kicks us into sharing things that not only entertain but also draw us closer together.
---
MY FAVORITE QUESTIONS FROM iCONNECT
I don't want to give away all of the iConnect secrets, but I hope you play this game soon, so here's a teaser.
These are my three favorite questions from iConnect. Randomly ask your friends these questions the next time you see them, put down your phone, and listen…
What was the worst date you've ever been on?
What was the last lie you told? Would you do it again?
Who is the most inspiring person you've ever met?
---
WHAT NOW? AND WHERE TO FIND iCONNECT?
As awesome as iConnect is, the game isn't available yet. Nini is running a Kickstarter campaign right now to fund the first batch of the game.
If you like the idea of this game and you want the same experiences (or better), then do one of the following
1. Head to the iConnect Kickstarter page now and donate to the campaign
Or
2. Share the word about iConnect, in a text to a friend, on social media, or wherever to get the buzz needed for this game to go mainstream

WHAT'S NEXT FOR ME? HOLIDAY PARTIES!
It's the holiday season, and I have plenty of parties to host. I'll break out this game at every opportunity and keep you posted on the shenanigans!
Happy Holidays! Now put that phone away, and go connect…