Extremely stylish, lightweight, breathable, and travel-ready, the Western Rise Evolution Pant is just as suited for adventures as looking good. After a year of wearing these awesomely techy yet comfy and stylish pants, they've become my travel pants of choice for another year of travel.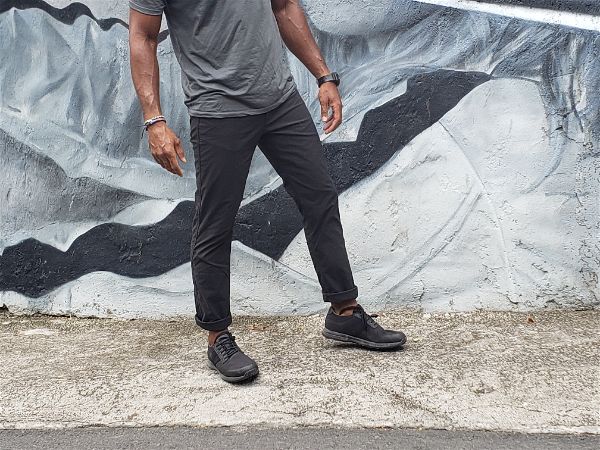 Suppose you're aiming for a minimalist (yet stylish), travel-ready wardrobe and in search of the perfect travel pant, especially for warm climates. In that case, the Western Rise Evolution Pant is likely exactly what you're searching for.
Minimalists, adventurous travelers, and urban explorers will love the combination of wrinkle resistance, abrasion resistance, stain proofing, water-resistance & quick-drying, odor resistance, and easy washing experience that made me fall in love with these pants for travel and daily life..
Read on to discover how a year of rocking the Evolution Pant's earned them a permanent place in my travel pack in this Western Rise Evolution Pant review.
Note: This article may contain affiliate links that support the cost of testing and writing at no extra cost to you. Enjoy the review!

QUICK WESTERN RISE EVOLUTION PANT REVIEW
---
5 REASONS I LOVE THE EVOLUTION PANTS
Very Stylish and classic five-pocket jean design with a slim cut that looks great for evenings out at the bar
Durable build with tough materials that perform – abrasion, water, and stain-resistant Supplex nylon and tough stitching translate to years of use through travel and outdoor adventures
Perfect amount of two-way stretch gives freedom of movement and keeps these pants comfortable through hiking, motorbiking, and moving
Breathable fabric dries fast and stays cool in hot climates of Southeast Asia
Lightweight cloth and 13oz. total weight and packable size keeps the backpack light and takes up less space than most pants
Hidden pockets, funk resistance, and quick-dry construction make these a solid "one bag" travel pant.
You could easily travel with just this pair of pants and a pair of shorts just as functional (like the Outlier New Way Shorts)
---
CLICK HERE TO CHECK AVAILABILITY OF THE WESTERN RISE EVOLUTION PANTS
---
MY EXPERIENCE TRAVELING IN THE EVOLUTION PANTS
I've spent the last year traveling the world – from the US, through Southeast Asia, and finally to Bali – testing the Western Rise Evolution Pant along the way in a crazy range of climates in situations.
In the heat and humidity of Bali and Southeast Asia, these pants still breathed, wicked away sweat, and dried quickly on the fly after hand washes and light rain showers, proving to be an amazing hot weather pant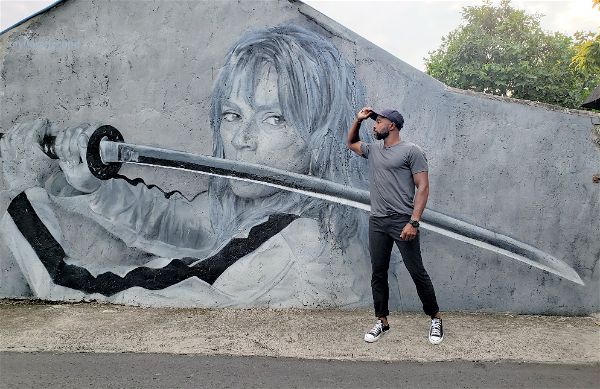 In the cool winter of Georgia and snow speckled road trips across the US, the Evolution pants stayed comfortable (with a pair of long underwear underneath).
I traveled for days straight in airports and days of flights, sleeping in airports and knocking out impromptu workouts to stay travel-ready in empty boarding areas without taking off the Evolution Pant – all with zero issues.
Through all of this "dirt bagish" travel, the pants resisted spills and funky smells (though I couldn't say the same for my body). The soft, air texturized nylon stayed comfortable on my skin regardless of how long I wore the pants. The ample (but not too much) stretch allowed me to knock out burpee Tabata workouts in the airport, stretch out with some quick yoga, and fall asleep in odd positions on uncomfortable furniture in the boarding areas.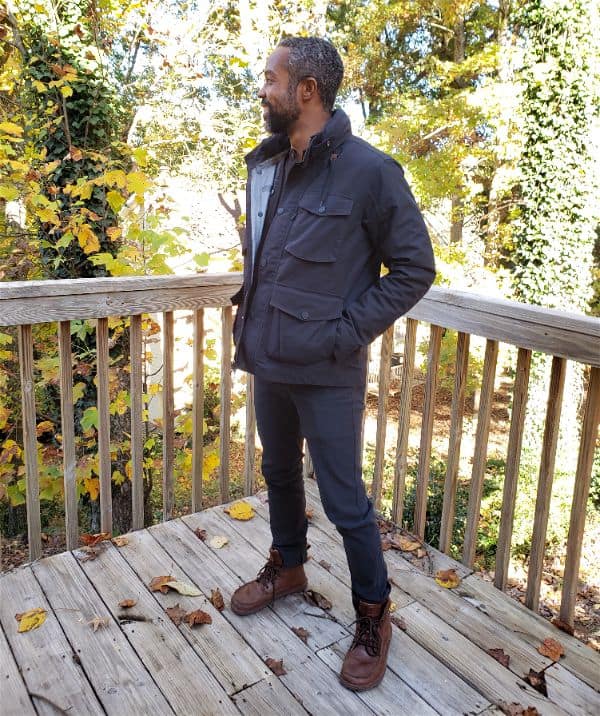 All of this performance function comes in a stylishly slim pair of pants that look good enough to fit in anywhere I would want to go without looking like a backpacker.
The Verdict: Hot or cold, adventurous or chill, daily wear or days straight, my experience with the Western Rise Evolution pant was exactly what I'd want from a single pair of travel pants.
(Click here to jump to the full experience of wearing the Western Rise Evolution Pant for a year of travel)
---
PROS AND CONS OF THE EVOLUTION PANT
| | |
| --- | --- |
| PROS | CONS |
| Durable, travel-ready fabric (spill & abrasion-proof, quick-dryingComfort – cottony soft with great stretch makes for easy wearStylish, fashion-forward cutMatte color finish gives pants a "normal" instead of techy lookHidden and special pockets keep phone and valuables safe and accessible | Tend to wrinkle when packed, though the wrinkles fall out within an hour of wearWaistband tends to stretch slightly after a few days of wear – refreshes with a washLightweight material requires a pair of long johns in cold weatherLength seems long, but is easily fixed with a tailor. Also, the material is light enough that you can fold and roll with no issues/bulky bottom |
---
Western Rise Evolution Pant Review
STYLE

TRAVEL PERFORMANCE

CONSTRUCTION, MATERIALS, AND DURABILITY

VALUE
Western Rise Evolution Pant
A comfortable and capable pair of travel pants, ready for anything from the city to the trail. Days and weeks of wear and the pants shine, staying cool in hot weather, unrestricted in active situations, and odor free despite extended wear. If you need one pair of pants to last through the varied times and situations of your travels, the Evolution Pant is a solid contender.
---
CLICK HERE TO CHECK AVAILABILITY OF THE WESTERN RISE EVOLUTION PANTS

FULL WESTERN RISE EVOLUTION PANTS REVIEW
After a year of wandering (mostly through the humid heat of Southeast Asia) with the Western Rise Evolution pants as my go-to pants, I can honestly say I'm impressed.
Stylish, breathable, quick-drying, and comfy through everything from adventurous to classy, these pants take the place of nearly every other pair of pants in my wardrobe. They beat out my hiking pants, perform and look just as great as any of my Outlier pants. Add the Evolution Pant to a single pair of great travel shorts and you'll have a minimalist, travel-ready wardrobe that's ready for anything.
Read on to discover my experience why the Evolution Pant is my new "one bag travel" pants of choice in this in depth Western Rise Evolution Pant review…
---
MY EXPERIENCE WITH THE EVOLUTION PANTS AFTER ONE YEAR OF NOMADING
After one year of rocking the Evolution Pants on trans-pacific flights, Bali rainstorms, sleeping on airport floors, motorbiking Indo islands, and plenty of impromptu workouts (in pants), what stands out?
The Evolution Pants look great. A classic slim fit with a classic five-pocket jeans design makes these pants look good in any casual situation and dress up well enough for cocktails and a night out in Europe or New York easily.
Though I embrace my "dirt bagger," rock climber, surfer side, I do like to look good at night, and I'm no stranger to rooftop cocktails. So when I go out, I prefer to look good. Regardless of how many days I've spent without washing the Evolution Pants (or showering myself), they still look good enough for a nice night out. My personal record is two weeks straight of wear without a wash before hitting the town, and I still received plenty of compliments on these pants.
Durability isn't a concern. The pants are tough and intentionally designed for hiking and traveling – which showed through every time I wore them. Abrasion-resistant Supplex ® nylon fabric treated with a stain and water repellent coating and topped off with tough stitching means these pants won't simply last. They're ready for hard adventuring, trekking, and everything you could muster on an RTW trip.
Here in Bali, daily life could be posting up in a co-working space, a last-minute motorbike adventure to Ubud for some local food, or Amed for freediving, mini-hikes around Nusa Penida in the hot heat, or hiking up volcanoes like Batur.
Regardless of the adventure, the Evolution pants have come through unscathed. Abrasion resistance (my favorite trait of nylon) and just the right amount of two-way stretch (thanks to 4% elastane) makes this versatility, comfort, and durability possible through it all.
Comparatively, I traveled in the Outlier Slim Dungarees for an entire year. Though I did love the Outlier SD's, the Slim Dungarees pants snagged fairly often, making me less prone to adventure in them and requiring an extra set of pants more suited to abuse. I don't have this problem in the Evolution Pant. With the Evolution Pant, I can scramble on rocks or roll up my pants and squeeze in a workout with no question of whether the pants will pill, snag, or split.
The Evolution Pant breathes and dries very well. I've been on Bali most of my time wearing these pants and Bali is always in one of three states – hot, humid, or wet.
In the humid heat of Bali, the air texturized nylon fabric still feels very light, breathing so well that sweat rarely accumulates, and we're talking 85 to 95 degrees Fahrenheit on the regular.
Of course, in the rain, these pants get wet, but I never sweat it because the pants tend to dry while wearing within an hour or two. If I throw them over a chair once I walk in, they'll generally be dry enough to wear (still slightly damp) within a couple of hours. I usually keep wearing the pants until they dry, which happens fairly quickly and would be miserable in cotton jeans.
Through all of that sweaty, Southeast Asian wandering, road-tripping across the US, and sleeping in airports, I definitely skipped more than my fair share of showers. While I smelled slightly ripe, the Evolution Pant did an impressive job of resisting my funk. A quick shower and throwing the pants back on erased (most) traces of my funk impressively.
Through all of this, the high performed Supplex ® nylon fabric, which is air texturized to feel more like cotton, stayed soft and comfortable on the skin. One year in, after washing these pants with dish soap and riding in the Indonesian sun that bleaches most all of my clothes, these pants have held their color impressively.
The one downside is after 3 to 4 days of wear, the waistband loses a bit of its elasticity. If you have empty pockets, this won't matter at all. However, if you carry a cell phone, cash, pens, and odds and ends as I do, you may need to wear a belt after a few days of wear. Although, one quick wash quickly tightens up the waistline and fit, and you'll quickly be back to belt free wear.

CATEGORY BY CATEGORY REVIEW OF THE EVOLUTION PANTS
| STYLE & FIT | | PERFORMANCE | | CONSTRUCTION |
---
STYLE AND FIT
DESIGNED LIKE A CLASSIC JEAN WITH A FASHIONABLE, TIMELESS CUT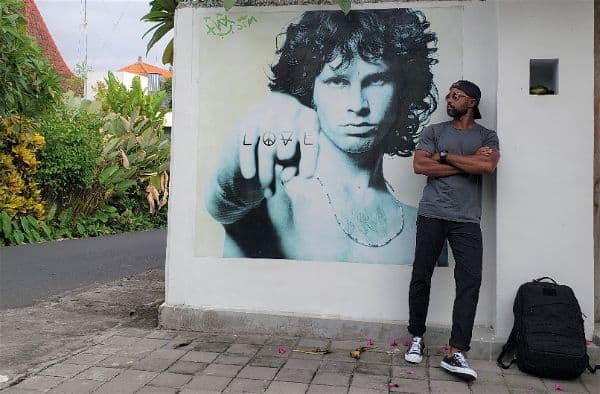 Fit and Cut: Stylish and slim with a classic fit yet still easy to move in thanks to two-way stretch (thanks to 4% of elastane)
The air texturized fabric gives the pants a matte, less techy, and more stylish look closer to dark jeans than high tech pants helping these pants look normal despite how technically well they performed
Solid yet simple rivets and buttons add a classy touch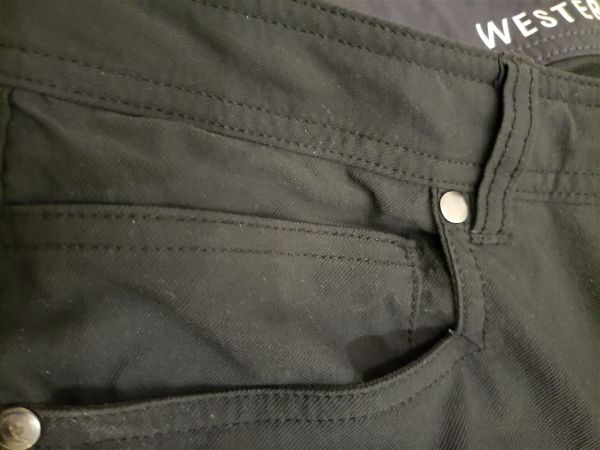 Color options: The Evolution pants line of dark, neutral, and earth tone color options (Khaki, Navy, Olive, Charcoal, Blue Grey, Shadow) look good, resistant to the visibility of grime, and help you pick a "minimalist" friendly pant. The Western

---
HOW TO ROCK THE WESTERN RISE EVOLUTION PANT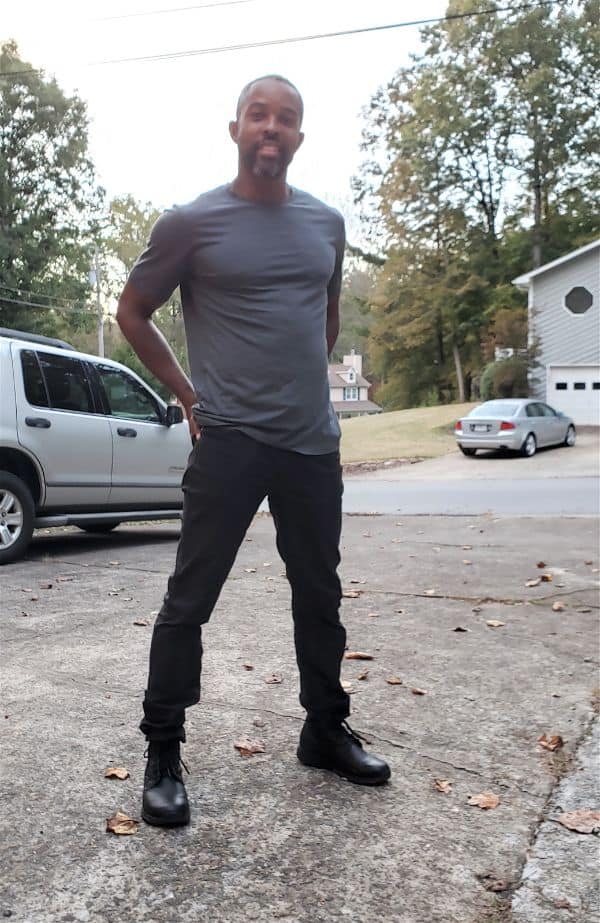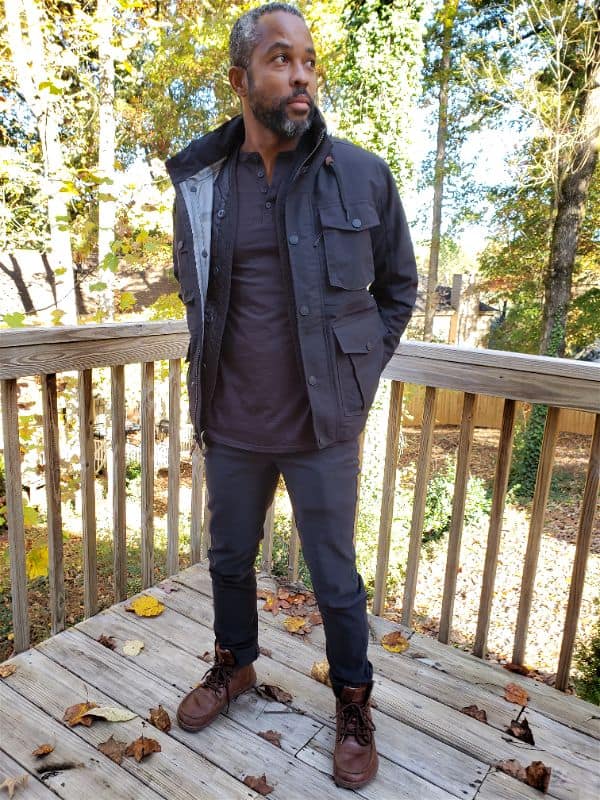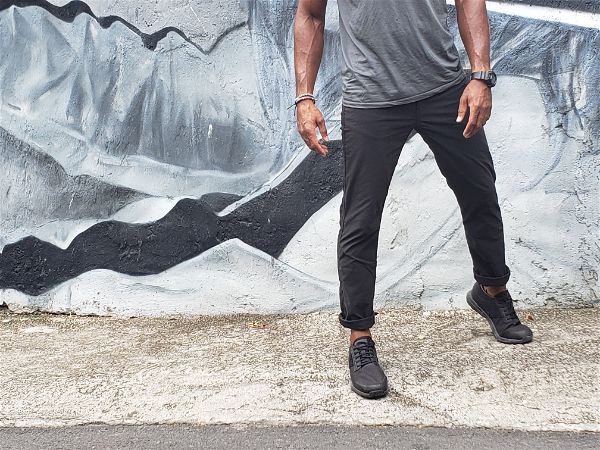 ---
SIZING
The Evolution Pant fits true to size compared to other performance pants (Outlier Apparel, Oliver Apparel) and traditional jeans (Levis)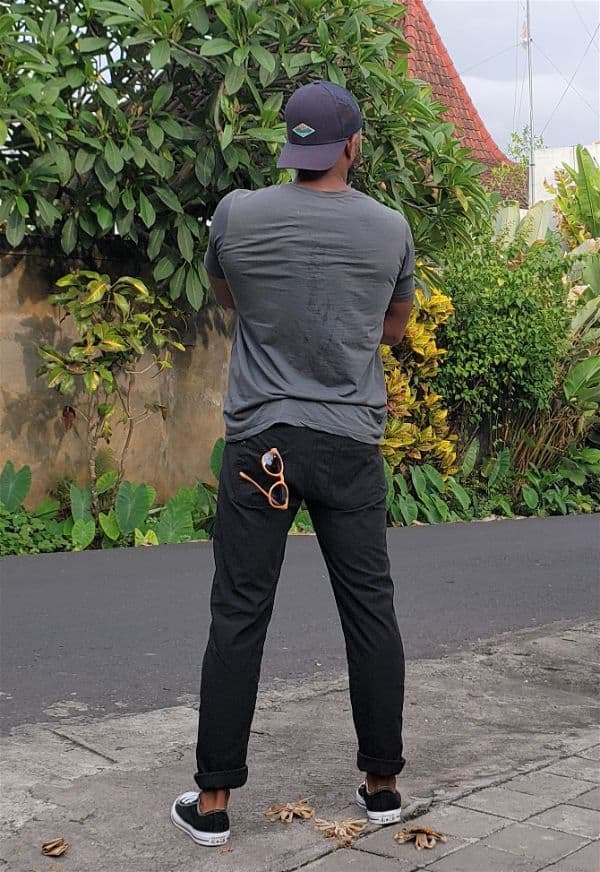 ---
PERFORMANCE AND TRAVEL READINESS
ENOUGH STRETCH AND BREATHABILITY WHILE DRYING QUICKLY AND RESISTING ODOR
On top of the fact that these pants look good and feel good, their performance seems perfectly geared towards travelers looking for a single pair of pants and minimalists aiming to find a high style and low maintenance pant.
Versatile performance from hot and humid climates (thanks to breathability and sweat-wicking properties) to the cool winters of the US east coast (with long johns worn underneath) make these a versatile pair of pants that will keep you comfortable in most places on the globe.
The slight stretch and abrasion resistance make these pants comfortably suitable for any activity from hiking and trekking, to sleeping in airport boarding areas, to impromptu workouts (if you're desperate and want to push it).
Through it all, the spill and grime proof coating on the pants and resistance to funk and odor mean they'll still be wearable if you can't wash for a while. I personally wore these pants for two weeks straight, road-tripping and showering every other day with zero issues.
If you do become desperate to wash, you can easily wash these pants in a drybag at night and expect them to be dry by morning.
The deep media pocket (embedded in the front right pocket) and zippered security pocket (tucked in the back right pocket) allow you to carry the essentials (cell phone, passport, cash, and wallet) securely without a backpack – making these pants perfect for airport travel.
When you switch to shorts and finally pack the Evolution Pant away, the small footprint (13 oz. and the size of a travel coffee mug) stow easily and unnoticeably into the bottom of your bag.
---
FUNCTION
STRETCH, WATER REPELLENCY, AND QUICK DRYING MAKE THESE PANTS PERFECT FOR HIKING AND TRAVEL
The Evolution Pant's best features – that most "travel pants" have, but the Evolution Pants do better – are the following
Two way stretch in just the perfect amount thanks to 4% elastane in the Supplex® nylon weave without being too much (Slim dungarees offer a little to much stretch and need to be washed to "refresh" while the Outlier Futureworks don't offer much)
Nylon naturally delivers durability, abrasion resistance, lightweight compared to other fabrics, water resistance, dries quickly, anti-bacterial and odor resistance, breathability, and UV resistance
The Supplex® used is a weave of air texturized nylon for softness similar to cotton
Durable Water Resistant (DWR) coating causes water to bead and shed off the pants without getting the pants wet
Extremely lightweight at 173gsm (grams per square meter) weight fabric compared to the Outlier Slim Dungarees 275gsm.
This Supplex fabric comes from "one of the oldest, vertically integrated and sustainable fabric mills in… Sweden."
YKK zippers from Japan: Tiny yet still tough, and haven't any issues in function or durability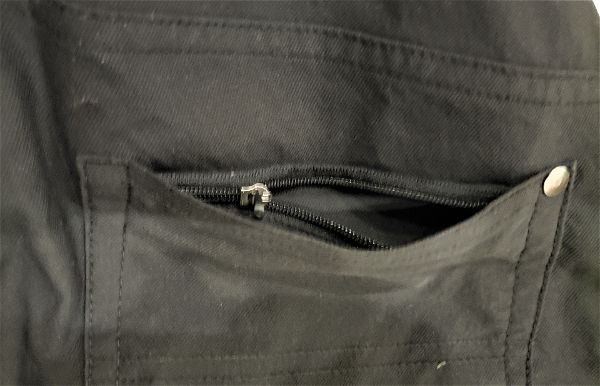 ---
DESIGN & CONSTRUCTION
Slim Fit
Five-pocket jeans design with media pocket (in front right pocket) and security pocket (in back right pocket)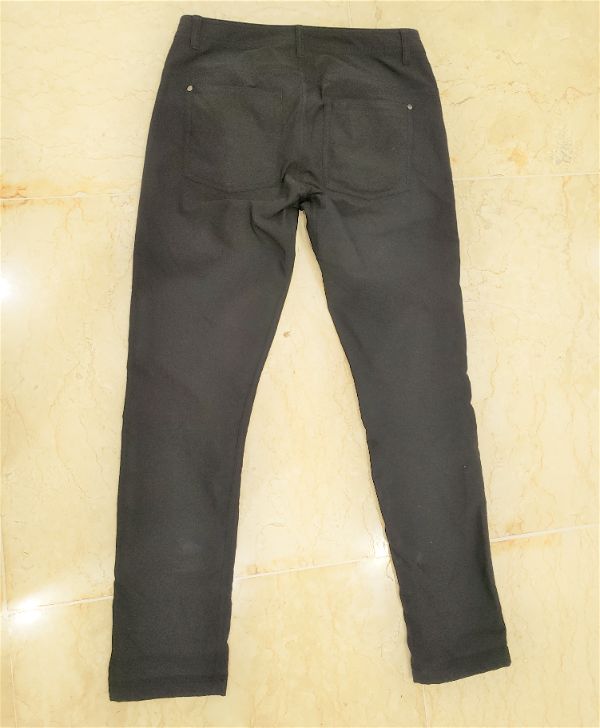 Hidden Pocket
Interior
Gusseted crotch
Two Way Stretch
---
SPECS (STRAIGHT FROM WESTERN RISE)
Price $149 on westernrise.com
Material 96% Nylon, 4% Elastane
Fabric Weight 173 gsm
Weight 13oz/368g
Made in Vietnam with fabrics from Sweden
Design to be lightweight and versatile
Designed specifically for travel and hiking
Comes in Slim and regular fits
Lifetime Guarantee
Free Returns

THE WESTERN RISE EVOLUTION PANT IN PICTURES
All of the best pics of the pants in one place, to help you get acquainted more quickly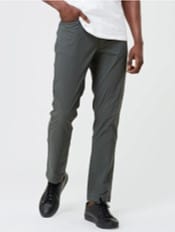 OTHER WESTERN RISE PANTS TO CONSIDER
AT Slim Pant: A heavier wet and tougher pant with a slimmer fit, designed for harder use
Diversion Pant: A still travel-ready pant but softer and more comfortable – more like a pair of sweat pants

BOTTOM LINE ON THE WESTERN RISE EVOLUTION PANTS
An extremely stylish and well-designed pant for travelers and minimalists, built with high-quality materials and tough construction. Could easily be your only pair of pants for a long time
CLICK HERE TO CHECK AVAILABILITY OF THE WESTERN RISE EVOLUTION PANTS


Now that you've discovered my favorite pair of pants, I recommend pairing them with a great pair of travel shoes, like the Altama OTB Maritime, or the awesome new GORUCK IO Cross Trainer shoe.
Next, grab a good adventure ready backpack (these are my favorite backpacks I recommend) to fit that "carry on only" packing list.
Last, if you want to complete your minimalist yet adventure travel ready wardrobe, check out our favorite travel shirts, travel shorts, and travel pants to keep your packing list light and ready for anything.