With all of the consumerist noise, sometimes we can get caught up thinking that "new gear" and "high tech gear" is the "better" gear for travel and adventure. While I do enjoy a good new piece of gear, the "new is better" isn't always true – and the M65 field jacket liner proves it.
Around since 1965, the M65 liner has been a hard tested, durable, extremely warm, and versatile layer for keeping warm and staying comfy for relatively cheap.
The button in M65 liner was designed for the M65 field jacket cold weather system, designed for the harsh requirements of Marines and soldiers in cold weather conditions, but it serves as a great layer for staying warm, even without the M65 field jacket.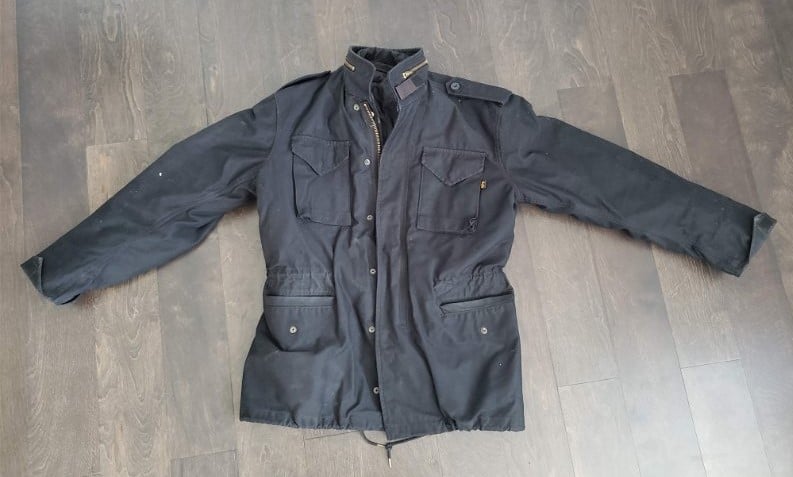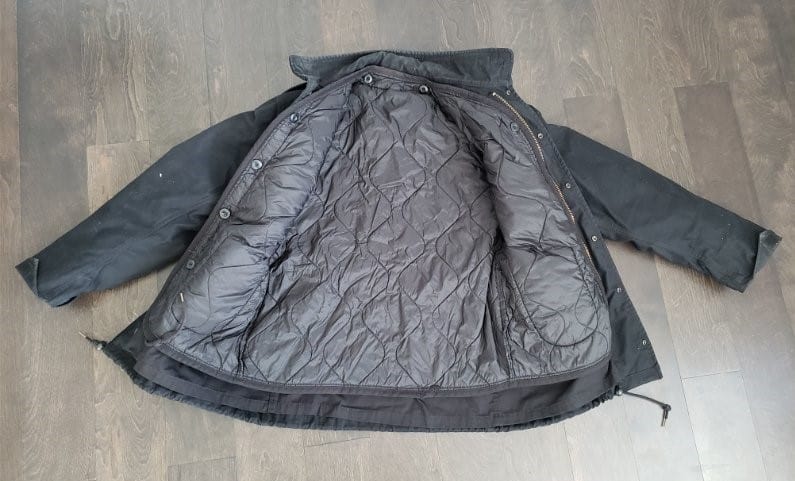 More recently, I stumbled on my old black field jacket liner as the perfect layer to pair with my travel-ready Bluffworks Field Jacket (which keeps me dry & stylish) while the field jacket liner keeps me warm even when the temperature dropped into the 30's
Read on to discover the best piece of travel ready adventure gear that you hadn't considered- cheap enough for any budget, durable enough for military grade abuse (and neglect), and keeps you warm even when wet. The M65 field jacket liner.
Interested in a great updated M65 Field Jacket? Click here to read about my experience with the Bluffworks Field Jacket
..or click to check prices on my favorite original M65 Field Jacket
---
Please note that this article contains affiliate links, but rest assured I love, highly recommend, and have purchased the recommended gear with my own money.
---
OVERVIEW OF THE M65 FIELD JACKET LINER BY ALPHA INDUSTRIES
Quilted Ripstop nylon outer for durability
Lofted polyester fill – stays warm when wet
Ribbed cuffs fit softly and comfortably while keeping the warmth in.
Durable – in service and abused since 1965
Lightweight and compressible to pack down small
Synthetic insulation stays warm when wet – I paired it with the Bluffworks Field Jacket and stayed warm down to mid 30's
Click to check prices on my favorite M65 liner from Alpha Industries

CONTENTS OF THIS M65 FIELD JACKET LINER REVIEW FOR TRAVEL

BACKGROUND ON THE M65 FIELD JACKET LINER
---
A LITTLE BACKGROUND ON THE M65 FIELD JACKET…
Around 1965 the US Military wanted to revamp its cold-weather gear and as a result created the M-1965 Field Jacket, commonly shortened to the "M65 Field Jacket". This jacket is now a timeless staple in style and culture, rugged, durable, and looks damn good (my personal opinion). Mild water resistance, a functional hood that stows away into the collar, and a few other tricks make this jacket easy to fall in love with — although Bluffworks made an insanely great update to the M65 field jacket with their Bluffworks Field Jacket that I highly recommend.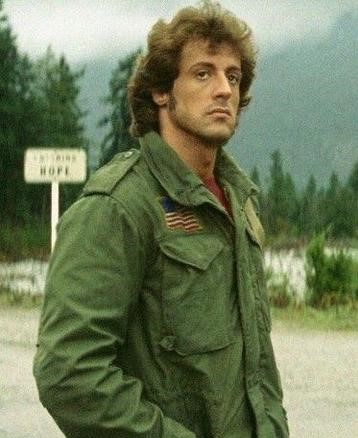 However fantastic this jacket is, when the temperature drops toward freezing, you need something more…that's when the M65 Field Jacket Liner steps in.
…AND THE M65 FIELD JACKET LINER
For those that have used it, the M65 Field Jacket Liner is possibly one of the most beloved pieces of gear – its extremely durable, functional, packs down to nearly nothing and keeps you warm beyond expectations when conditions get really crappy — think sitting in a hole when its raining and you can't go anywhere kind of crappy. The M65 Field Jacket Liner stands up to the kind of abuse and performs (and keeps you warm) in those conditions because those are the conditions it was designed for.
So what is the M65 Field Jacket Liner?
The M65 Field Jacket Liner is essentially an insulation layer that sits under a windproof/waterproof shell to keep you warm while your jacket keeps you dry.
A durable ripstop nylon outer resists tears and abrasion making this thing extremely durable and justifying how you can still buy a used M65 liner from the '70s and it still works.
Lofted polyester insulating fill traps in ample heat, maintains its loft (and heat retention properties) over the years, and will still keep you warm when its completely drenched.
Waffled stitching holds the filling in place very well, so you can throw this thing in the washer without it's insulation get shifted to one corner of the jacket.
As long as you buy a mil-spec M65 Field Jacket Liner, these features and function will come standard.
The style of the field jacket liner is cut like an old-school, shawl collar sweater. No only is the reminiscent of mid 20th-century style, but it fits better under any jacket.
WORTHWHILE UPDATES TO THE M65 FIELD JACKET LINER
Though you can find the M65 Field Jacket Liner pretty easily, it has been "out of service" for years as the US military has moved on to more hi-tech and "high speed" gear. This actually translates to a benefit as the original manufacturers Alpha Industries and Propper have taken to continue producing the mil-spec M65 liner. Along the way, Alpha Industries has made a few upgrades that make it more useful, functional, comfortable for daily wear and ultimately created the Alpha Industries M65 Field Jacket Liner that I highly recommend for travel.
The updated features on M65 Jacket Liner include:
Full button front, allowing their variant of the M65 liner to be worn alone as well as with a field jacket
Front pockets: Because who doesn't like pockets?
Stretch knit cuffs: The final touch to make
---
A NOTE ON THE FIT OF THE M65 FIELD JACKET LINER
Before you jump at this item, know that the sleeves run short on field jacket liners. The don't run short because they were designed for little people, but simply to help them fit full under a field jacket and have a more athletic fit. Personally, I like this fit and how well it fits under my Bluffworks Field Jacket, but be warned. Purchasing the Alpha Industries field jacket liner from Amazon is a great way to try before you buy…that's what I did.
Side note: If you're a fan of the original M65 Field jacket, I highly recommend checking out this Bluffworks Field Jacket. It is an insanely great update that adds waterproofing, makes the jacket lighter while maintaining durability, improves the cut for a more athletic fit, adds tons of sneaky pockets, and more. The Bluffworks variant is def worth checking out here.
Now that you know a little bit about the M65 Field Jacket Liner, let's talk about what goes into a good insulation layer, so you can decide for yourself if this is a good option for you and your travel wardrobe.

WHAT TO LOOK FOR IN A GOOD, TRAVEL READY COAT
Staying warm, dry, and comfortable can make the difference between a tough yet amazingly fun adventure in which you tough it out having fun overcoming the elements and experience just being miserable while you sit cold and wet waiting for it to end.
A good insulation layer should empower you, keeping you relatively comfortable even as the temperature drops and the situation gets wet.
So then, what makes a good insulation layer for travel?
Packs down small
Lightweight
Insulates into the 40's and 30's Fahrenheit (warmth to weight ratio)
Insulates when wet
Breathable
Layers easily
Durable – abrasion resistance, tear resistance, maintains insulative properties with years of use
Let's look into each of our criteria for good insulation a bit further…
---
Packs down small & is Lightweight
When we're traveling, less is more. Less bulk and weight means less weight to carry and the option to pack all of our luggage into a carry on backpack and a good carry on the packing list, like this Rick Steve's packing list adapted for adventure travel. Additionally, picking a lightweight, compressible insulative layer lets you carelessly throw the coat into your day pack, transitioning comfortably and easily from the active, warm days to cooler nights that happen in high altitude and desert areas.
---
Insulates into the 40's and 30's Fahrenheit
An insulative layer that insulates down to the 40's and 30's will be warm enough to keep you comfortable in most of the cooler temperatures you'll encounter in adventurous situations – like higher altitudes and deserts that have wide swings in temperature. The coat will also keep you comfortable in the 50's & 60's if you need it.
---
Insulates when wet
For some insulation, particularly cotton and down, when it gets wet it not only loses its loft but also sucks heat from your body. In short, avoid cotton and regular down.
On the other hand, other great insulative materials, particularly wool, synthetics (usually made of lofted polyester), and water resistance treated down (like in the Eddie Bauer Storm Down coats), will continue to insulate you and keep you warm, even when completely drenched.
The point: ensure your insulative will continue to insulate when wet, to ensure you stay warm in the rain and after a little too much sweating.
---
Layers Easily
The key to staying warm, but not too warm, is having a good layering system for staying warm. This layering system usually starts with a water and windproof jacket (like the Bluffworks Field Coat) followed by a midweight insulative layer (like the Alpha Industries Black M65 Field Jacket liner) followed by a lighter weight and versatile insulative layer (like the Eddie Bauer Travex Travel Flannel Shirt) and a great base layer (like the Ridge Merino's tough Merino Wool baselayer).
Now, you don't particularly need these layers for a good system, but the basic principles and pieces (jacket, midweight layer, lightweight layer, base layer) still apply. Any layer should be warm enough to be worth carrying but should fit easily under the other layers – in other words, aim for "not too bulky".
---
Breathable
If you adventure hard enough then eventually you will sweat. In order to avoid having the sweat collect on your skin, or in your insulative layer, the layers you're wearing should be "breathable" allowing sweat vapor from your skin to escape through the insulative layers and jacket you're wearing.
---
Durable – abrasion resistance, tear resistance, maintains insulative properties with years of use
Finally, for the investment to be a good one, our coat or fleece shouldn't just perform well, it should perform well in the long term. With this approach, we not only save money by not buying new gear, we don't have to worry about our gear failing us down the road and far from home.

WHY THE M65 FIELD JACKET LINER IS PERFECT FOR TRAVEL
Now that we now what makes up a good, travel-ready fleece or jacket, how does the M65 stack up? Let's see…
(Spoiler alert…its damn good…)
---
Packs Down Small & Is Lightweight: Yes
The M65 Field Jacket Liner weights nearly nothing and folds down easily
Small enough to tuck in the bottom of a daypack without sacrificing too much space
---
Insulates into the 40's and 30's Fahrenheit: Yes
Paired with a good waterproof, breathable jacket, like the Bluffworks Field Jacket or the Patagonia Torrentshell, the M65 liner can easily keep you warm into the 40's.
During a flash cold spell visiting family on the East Coast, the weather dropped into the 30's and 40's and I was caught with my Alpha Industries M65 Field Jacket liner as my main gear for staying warm, and I did with little issues. This is in addition to the hundreds of times I've slept in the field with the field jacket liner during military exercises.
If you're fairly cold blooded, you'll probably need a couple extra layers underneath the field jacket liner, but this improvised fleece is a great starting point.
---
Breathable: Yes
Ripstop nylon and quilted polyester allow the your sweat vapor to pass through easily, keeping you dryer even when you're sweating
---
Insulates when wet: Yes
The field jacket liner's nylon quilted outer layer holds polyester insulation in place which means this jacket is 100% synthetic and will still keep you warm even when wet, whether you're sweating too much or caught in the rain.
---
Layers easily: Yes
The original field jacket liners (and the updated versions sold in the civilian market) were made to button into the M65 Field jacket to be a perfect layering piece of insulative gear by design.
Even if you're not wearing an old school M65 field jacket the jacket liner is thin enough that it wears easily under a waterproof/windproof layer. Also the shorter, cuffed sleeves fit well under a jacket.
---
Durability: Definitely
Abrasion resistance, tear resistance, maintains insulative properties with years of use
The M65 field jacket liner is durable by design. As a standard-issue piece of military gear, it was expected to survive years of heavy abuse and perform in the worst of conditions.
The ripstop Nylon shell not only delivers water resistance, but also aims for abrasion and tear resistance. The polyester insulative fill will maintain its loft considerably well over the years. A button front (instead of zippers) translates to simplicity and the lower likelihood of something going wrong over time.
That all sounds very technical but practically speaking – for decades Marines and soldiers would be issued used field jacket liners, that they would return to be used again over and over and over. If a fleece can stand a decade of military-grade abuse being crawled in, sweated in, and slept in while camping constantly, that's a good testament to its durability.
---
Stylish Enough for Versatile Use
Whether the field jacket liner is "stylish" or not depends on your own personal tastes. Though the original green M65 field jacket liners aren't much to look at (though they're still functionally awesome) the Alpha Industries updated Field Jacket Liner is quite versatile in style.
The Alpha Industries field jacket liner comes in black and is updated with pockets, a full button front, and fleece cuffs to make the liner wearable easily as a layer or on its own.
The "shawl collar" sweater style design is similar to that of old school style sweaters, and if you look at it as such, it has some wear potential, unlike your typical insulated outdoor jackets.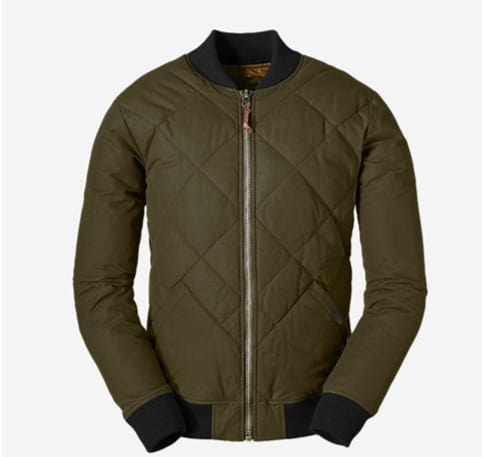 I found the new style field jacket liner to go perfectly with my Bluffworks Field Coat not only functionally and in style. I ultimately opted to replace my Eddie Bauer Down Field Coat with it because the Alpha Industries M65 Field Jacket Liner is much more stylishly versatile option and layers better, making it better for travel.

CATEGORY BY CATEGORY BREAKDOWN OF THE M65 FIELD JACKET LINER
---
SUITABILITY FOR TRAVEL: PACKS SMALL, WEIGHS NEARLY NOTHING
The M65 field jacket liner is a sneaky piece of adventure gear. It packs down small, weighs nearly nothing ~10 oz., and wears well with the rest of your layers. It will go just as well under your jacket in cold weather as it will alone, worn as you would a comfy fleece or sweater.
---
STYLE: CLASSIC AND VERSATILE, DEPENDENT ON YOUR TASTES
This one will be a subjective judgment depending on your own personal style, but if you can pull of the "shawl collar classic sweater" this one will fit and wear the same way.
The Eddie Bauer's 1963 Skyliner down jacket and the Alpha Industries Bomber Jacket (Alpah M1-A Flight Jacket) are similar styles. If you can rock either of these, the M65 liner will fit easily into your travel wardrobe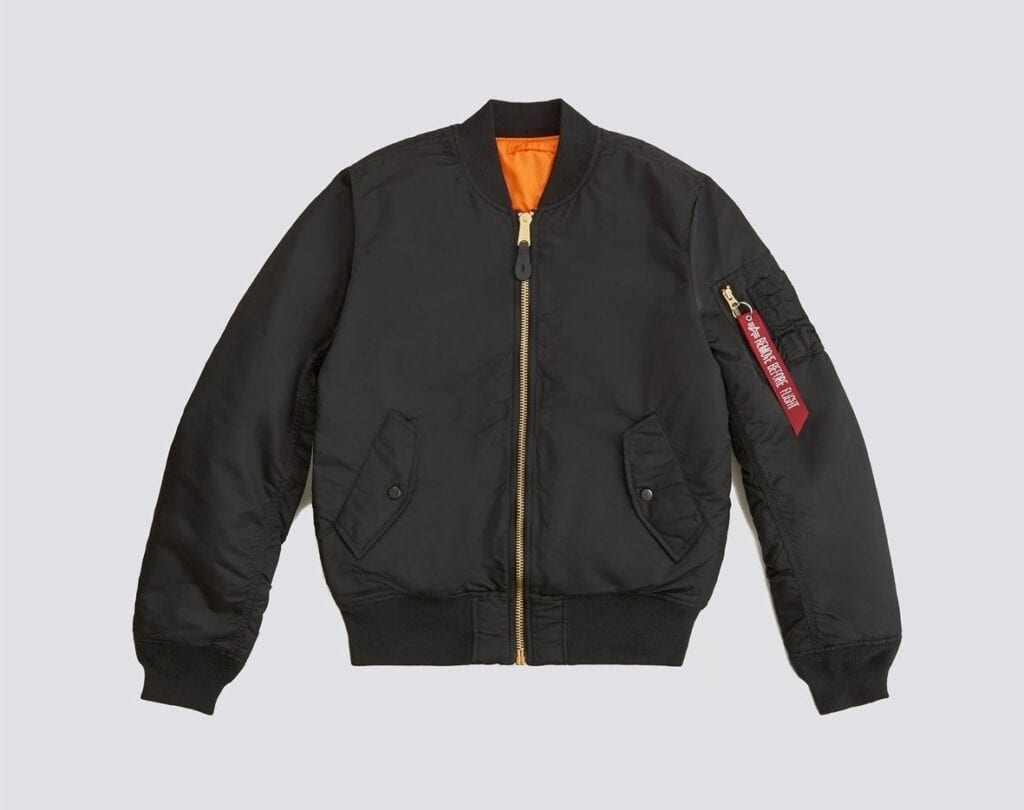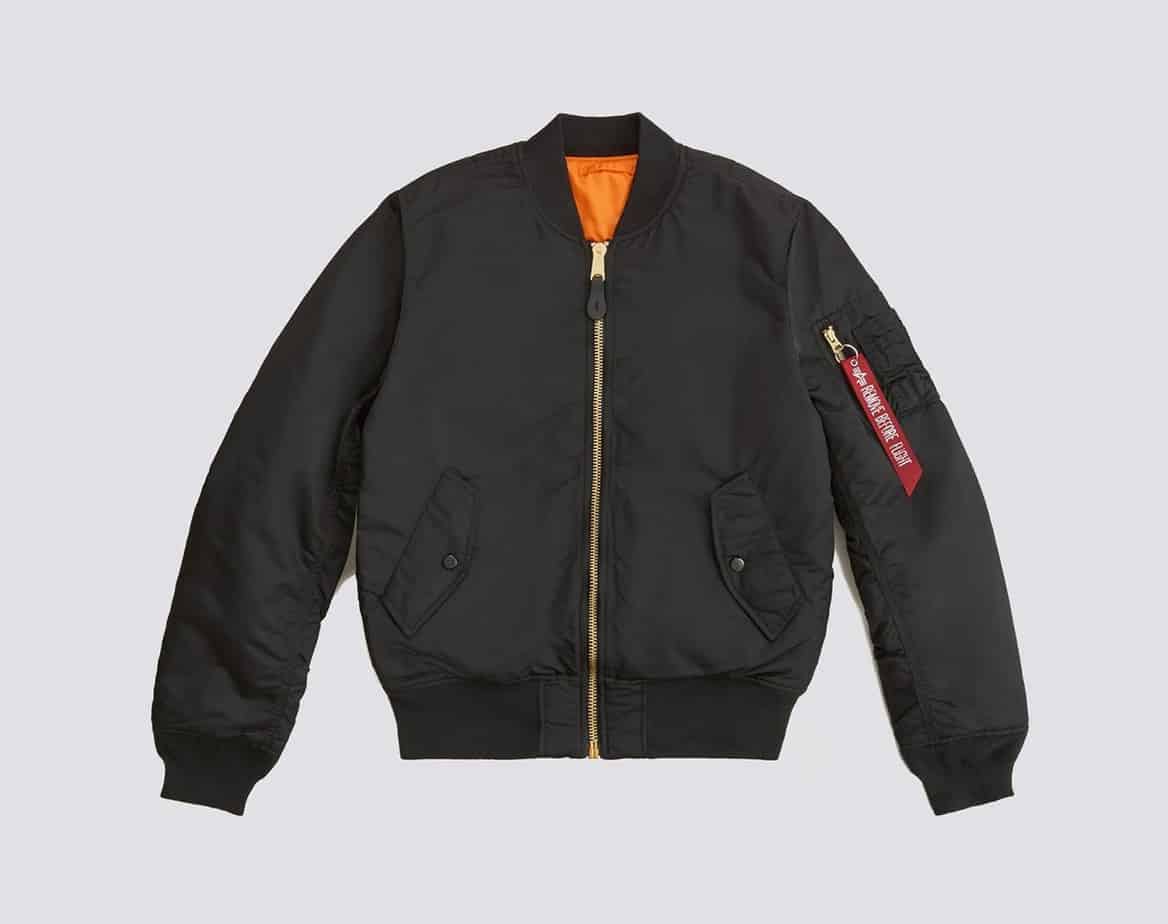 ---
ADVENTURE READINESS, GETTING OUTSIDE, AND DURABILITY
Durable ripstop nylon, a proven track record with military-grade abuse to during field exercises (aka military camping) make this a great piece of gear for adventure. Not only will it keep you warm and perform, it'll do it much longer than you expect.
---
TECHNICAL TRAITS
Polyester fill for insulation held in place by durable quilted stitching breathes, to allow vapor and sweat to escape, and insulates even when wet.
---
VALUE
Like my late grandpa's M65 field jacket, this liner is an "heirloom" piece of gear, that's likely the to be something you pass on to your kids. With the field jacket liner already being half the price of your average synthetic insulated coat, it's even more of a value because this pseudo-fleece will last a decade of beatings easily

PROS | CONS
---
PROS
Durable & Tested: In service since 1965, known to last for decades
Classic & Timeless Styling: reminiscent of military bomber jackets and shawl collar sweaters
Great Value: relatively cheap and lasts longer than more expensive alternatives
Performs Very Well
---
CONS
Styling may appeal to some and not others
More expensive alternatives may perform slightly better – personally, the small performance difference in warmth is worth the tradeoff for durability, packability, and function

MY EXPERIENCE WITH THE M65 LINER
My love of the M65 field jacket liner, and underestimating it, started back in my military. What looked like a simple, old, beaten up piece of gear performed so well I almost got heat stroke.
During combat training, "ruck marches", or walking hours on end with a heavy backpack to train for combat, are fairly common. During the morning of one such ruck march that was given or take 8 miles long, we were situated in the pre-sunrise darkness playing the "hurry up and wait" game. Sitting there on the cold ground it was nearly freezing – probably in the mid '40s. Like any person with a tidbit of common sense, I threw on my field jacket liner to keep warm, and it worked very well, but the story doesn't end here.
Against my Sergeant's direct orders I decided to continue wearing this field jacket liner to stay toasty just because it was sooooo comfy. The problem is that the layer that keeps you warm when sitting on the ground when its 45 degrees might be a tad too warm when you're walking 4 miles per hour with 45 lbs on your back.
For the first few minutes of the "hike", I enjoyed feeling toasty while everyone else was nearly freezing with just shirts on. However, after 10 minutes I was sweating…a lot. Come 15 minutes in I realized I made a bad decision, underestimating the field jacket liner as I started to full-on overheat. I mean, light headedness, difficulty breathing, everything. This field jacket liner wasn't letting any of the heat out – and the catch was that if I "fell out" of the ruck march, I'd fail that phase of training, so I had to tough it out until we stopped briefly and I could ditch the liner.
So what happened? Did I pass out first? Did I "fall out" of the ruck march and fail? Nope…neither…I took advantage of someone else tripping by doing an overdramatic fall to move to the side and quickly ditch the liner while I "inspected myself" to make sure I didn't hurt anything. Rest assured that if I hadn't started that little piece of drama I would have gotten heat stroke, even with the temperature being only ~50 degrees.
That is how awesome the field jacket liner is.
From that point on I always kept a liner in the top compartment of my backpack as an "adult woobie" of sorts. Warm. Comfy. Comforting.
---
As I left service I still used the field jacket liner often outdoors. In rock climbing, you want to climb in the cool morning light so your fingers have more traction on the rock and you're not sweating. The liner was great for this because the ripstop nylon outer was durable enough to withstand abrasion against the rocks and light enough to either throw down or tuck into a cargo pocket after I warmed up.
As I lost gear I replaced my issued field jacket liner with the Alpha Industries ALS/92 Heritage Liner field jacket liner. This M65 liner update is awesome because it has been updated to wear alone – thanks to the ribbed cuffs, front pockets, and added buttons, making it fit like a classic shawl sweater or bomber jacket while being much warmer and more packable.
Today I pair that black Alpha Industries M65 Field Jacket liner with the Bluffworks Field Coat for a stylish and functional system for cold-weather adventures.

M65 JACKET LINER SPECS AND TECHNICAL INFO
(PRICE, WEIGHT, CONSTRUCTION, MATERIALS, ETC.)
---
The M65 Jacket Liner specs are simple, but therein lies their beauty. Durable materials, high quality, near bulletproof construction, and simplicity of design leave few things to go wrong and makeup a design that has lasted through decades of war and style changes. Hard to beat.
Ripstop Nylon Shell and Lining
Quilted Stitching
Polyester insulating fill
Weight: 11 oz.
CLICK HERE TO SEE PRICES FOR THE ALPHA INDUSTRIES UPDATED BLACK FIELD JACKET LINER

WHERE TO BUY THE M65 FIELD JACKET LINER, AND WICH TO BUY
(PRICE, WEIGHT, CONSTRUCTION, MATERIALS, ETC.)
---
Amazon is your best bet for purchasing the M65 jacket liner. Their free shipping and free returns (through Amazon Prime) let you test this jacket out and see if its for you, risk free. I'll be the first to admit this is a very polarizing piece of gear. Your either love it and treat it like your "woobie" or claim its ugly as sin and wonder why I wrote this. I'm putting my money on that you'll love it.
NOTE: BUY ONLY ALPHA INDUSTRIES OR PROPPER BRAND FIELD JACKET LINERS FOR THE BEST PERFORMANCE, DURABILITY, AND QUALITY
There are a lot of options out there for who to buy from. The risk is that many look authentic but are only replicas, not built to the original mil-spec standards, not built to perform, and not build to be durable.
Save your time by ensuring that either the item is an Alpha Industries brand or Propper brand piece of gear. Both manufacturers have supplied tons of standard-issue military gear over the years and make high quality.
Though you could go for used military surplus, only the new, updated variants will have the upgrades listed at the beginning of this review.