The luggage you carry when traveling can either go pleasantly unnoticed or create all sorts of unnecessary headaches. For this reason, on your adventures around the world, taking only a carry on backpack is one of the best ways to improve the quality of your adventure. By traveling the world with only what fits overhead in your international flight saves time, money, and stress, leaving energy for the more enjoyable experiences to come.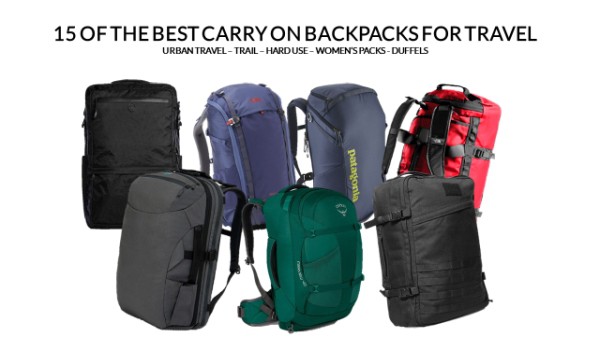 For over three years I've wandered the worlds searching for adventure, exploring urban paradises, and aiming to experience everything in between. Throughout that journey I've learned that the baggage you take can enhance your travels or weigh you down, heavily depending on what you aim to find during your travels, where you go, and what you'll carry. But, no matter how you travel…lighter is better, and "carry on only" travel or "onebag travel" makes for lighter minds and freer adventures,
In this list of the best carry on backpacks for travel, I'll share my favorite carry on sized backpacks for weekend trips and years around the world, tech heavy travels, and outdoor adventures, with the perfect carry on sized backpack for every type of traveler,
Read on to find some of the best carry on backpacks for trekking & trail, urban adventures, women, durability, and weekend travel in this list of the best travel packs for onebag and carry on travel.
(This article contains a few affiliate links that pay for producing this content at no cost to you)

---
Contents of the 15 Best Carry on Backpacks for Travel
---
Best Carry on Backpacks By Category

Traveling with only a carry-on bag, or "one-bag travel" will save you more than enough to make it worth the switch to a smaller bag…
Time spent arriving early to drop bags and waiting around in baggage claim,
Money spent on ridiculous checked bag fees, and
Stress created by all of the extra junk we bring by instinctively over packing to fill every inch of larger bags.
Unfortunately, picking the right backpack for your level of travel experience, intended use (urban travel vs. hiking), budget, and expected durability can be daunting given the number of options out there. That's why this guide exists.
"The 15 Best Carry on Backpacks for Travel…and a few more" is a list of some of the best bags and backpacks that fit airline carry-on restrictions, are a great value for your money spent, perform well (for their intended environment and purpose), and will last through your travels — all broken down by travel and traveler type.

How to choose the best carry on backpack for you
No single carry on backpack will be perfect for every occasion, but the best carry on backpacks will be perfect their intended uses. Understand what you will use a backpack for and you can pick the right bag accordingly.
---
Backpack Categories
Backpacks that maximize use of space with pockets, compartments, and storage organization while being comfortable enough to wear for the duration of travel and perfectly sized for airline carry on restrictions
---
Well-padded and designed shoulder straps, waist belt, and back panel make it easier to hike for long periods with these packs while pockets are designed to make it easier to access items frequently used on the trail

---
Backpacks specifically designed to be more comfortable for women: curved shoulder straps follow the contours of the chest, and a shorter length and longer hip belt transfer the load from the shoulders to the hips more effectively than unisex backpacks
---
Built to handle heavy abuse, heavy abrasion, and heavy loads. Designed to last through the worst but still serve well for adventurous travelers that want a bag that will last for life
---
Functional duffle style bags with a few additions, that make them more conducive to staying organized and traveling. I only recommend these for travel of less than one week or with little movement, but they're great day to day bags.

Criteria to Consider when choosing a carry on bag
Durability: Examine the bag fabric, stitching, buckles, webbing, and zipper quality, durability, and construction based on what you'll need for your travels and adventures
---
Price & Value: For the price, are you getting the function you need? Will the bag last long enough for you and how you intend to use the bag to justify the price? If your budget is on the light side, be honest. Go for a budget/value pack now and a pricier, "buy it for life" pack later.
---
Suitability for airline travel: Does it meet airline carry on size and weight restrictions for the airlines you plan to travel on? Will it be easy to access things in the bag while in an airport or hotel lounge without creating a yard sale?
---
Design and function: Whether you're a hiker, minimalist, digital nomad, business traveler, or other, will the design of the bag, how its carried, and how it stores items make your life easier and less stressful?
---
Trail performance: How comfortable will the bag be while hiking for one day? For multiple days?
---
City & Urban Travel performance: Will the bag be easy to carry on subways and buses, walking through aisle ways? Is the bag design vulnerable to pickpocketers or slashing?
---
Company Reputation: Does the manufacturer provide good customer service support and warranty support after the sale based on customer reviews? Is production quality consistent?
---
Fit & Comfort: Regardless of the reviews, the ultimate decision factor should be comfort and how the pack fits you. Are the shoulder straps comfortable? Does the hip belt stay comfortable when weighted? Does the back panel feel comfortable on your back and breathe? Fit and comfort are the main reasons for different pack designs for men and women, so make sure you don't sell yourself short by getting the pack perfect for everyone else and horrible for you.

Travel Backpack Carry On Size Guide
When it comes to travel backpack carry on options, 35 Liters (35L) to 45 Liters (45L) is the best bag size for most adventures – big enough to carry everything for trips longer than 1 week, small enough to satisfy the airlines. FYI, the "L" after the size numbers indicate the liters of capacity in the backpack
Here are some general guidelines for other backpack sizes:
<30L: Best for daypacks or ultralight travel
30L -> 39L: Weekender or 1 week travel bags (1 month+ for minimalist travel pros)

35L -> ~50L: 1 Week or longer of carry on only travel (perfect for "RTW Travel")

50L<: "Summit bags", multi-climate travel, bringing your own camping gear, and completely moving your life
Notes: If you're traveling through several different climates and carrying your own gear you may need an expandable storage option, to use at times and pack flat during airline travel, to avoid taking a 50L. Keep in mind that for most regions of the world, hiking and camping gear can be rented cheaply and easily for the duration of your trip. Consider the expandable storage options (below) for temporary extra storage.

Characteristics of the Best Carry on Backpacks
Meets carryon restrictions for most airlines and can be compressed slightly to meet the rest
(North America) Spirit Airlines Carryon Guidelines: 22 x 18 x 10 inches (56 x 46 x 25 centimeters)
(Asia) Air Asia Carryon Guidelines: 22 x 14 x 9 inches (56 x 36 x 23 centimeters)
(Europe) Ryan Air Carryon Guidelines: 21.5 x 16 x 8 inches (55 x 40 x 20 centimeters)
(South America) Avianca Carryon Guidelines: Can't exceed 45 inches (115 centimeters) or 22lbs (10 kgs)
Front-loading or clamshell Design: allows easily accessing anywhere in the bag easily, without unpacking much
Lightweight via simple design, innovative materials, and efficient construction saving more weight and space for packing
Comfortable shoulder straps that stabilize the load letting you use it on any terrain
Comfortable yet functional hip belt so they can be used for long walks on any terrain
Durable enough to survive at least 2-3 years of constant travel and hard abuse (budget bags) and the rest should last for life

The List of Best Travel Backpack Carry on Options (by Category)
---
Urban Travel Carry on Backpacks
For the "carryon only" traveler that moves from airport, to urban destination, to airport, without much hiking or walking in between, urban focused travel backpacks are your best option. These bags have intuitive design that keeps you organized with well-designed pockets throughout.
Quickly and easily accessing anything in the bag without unpacking is a must. The best urban bags are topped off with "opening flat" or "clamshell style" design, to expose more of your luggage easily and make packing simpler, and dedicated space for a laptop and all of the electronics you carry.

Best Carry On Backpack for International Travel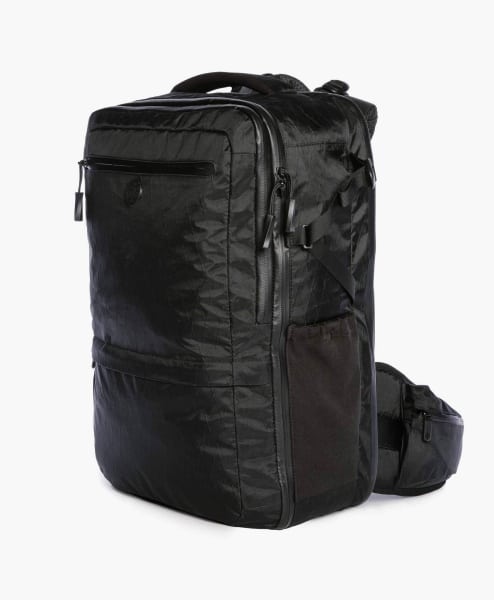 The Tortuga Outbreaker is absolutely one of the best carryon backpack options for urban ventures and my vote for the best carry on backpack for international travel thanks to the meticulous design by travelers, for travelers. The result is a roomy backpack that is as comfortable as can be with tons of space for tech, sheds rain, and still passes for a carry on sized bag. The Tortuga Outbreaker is a ridiculously well thought out pack and has a place for everything.
The Tortuga Outbreaker's organization, two main compartments with several zippered mesh pockets and padded pockets for electronics. The separate zippered compartment for a laptop, a tablet, and electronics cables is well thought out. The bag also opens flat for easy packing and unpacking. Comfortable straps, and a water bottle pocket finish off this highly functional bag.
The only concern I have with this is the durability of the touted "X-Pac Waterproof Sailcloth" over 1000D Cordura nylon and 1600D ballistic nylon. The fabric is a combination of 210D nylon and laminates which may suffice for everyday use on airlines but causes me to question durability of the cloth with heavier loads and the abrasion of adventurous travel.
I glean that the Tortuga team implies that you should reasonably expect a 3 year lifespan based on Tortuga's official warranty.
From Tortuga's website:
"Most travelers replace their luggage every few years. Barring a defect as mentioned above, your Tortuga will easily handle all of your adventures during that time…".
In either case, the bags is impressively designed and well suited for urban adventures, but future reviews will tell if the materials will stand the test of time and adventurous travel.
Best for: Tech saavy travelers, flashpackers, and digital nomads confined to city limits
Advantages: Impressively designed for keeping organized without packing cubes due to the plethora of pockets, separated into three compartments and room for a laptop, tablet, and electronics
Cons: Questions on the durability of X-Pac Sailcloth as the primary fabric under hard travel, and the value over 610D Nylon or 1000D Cordura Nylon.
Bottom Line: Despite the Tortuga Outbreaker's durability questions (given the price), this is an impressively designed bag that will help keep digital nomads and road warriors organized through the hustle. If the bag does break down in 3 years, the money spent will be worth the convenience gained
I like what the Tortuga team is doing with their gear but buy this bag understanding that you can only expect a few years out of it or aim for something more durable if that's your primary concern in a bag.
---
Price: $299 (45L); $269 (35L) at Tortugabacks.com

Size (45L): 22″ x 14″ x 9" | 56 x 35.5 x 23 cm — 5.1lbs | 2.3kg
Size (35L): 20.3″ x 12.9″ x 8.2" | 51.5 x 33 x 21 cm — 4.6lbs | 2.1kg
Materials: Waterproof X-Pac Sailcloth (210D nylon with DWR and UV resistant coatings, PET film, 50D polyester taffeta backing)

Features: Front Loading/Clamshell design; Padded Laptop Compartment for 17″ laptop; Padded, removable hip belt; Lockable zippers; Fleece Lined Electronics Pockets
---

Also Consider as an alternative for the Tortuga Outbreaker…
The Patagonia Black Hole MLC Brief Case 45L: This flat folding pack is minimalist, full of pockets for organizing, is made of a fully waterproof material, and is a fraction of the Outbreaker's pricetag ($180 at REI Online with membership + free shipping)

A Near Perfect Urban Travel Backpack
The Aer Travel Pack 2 is a fairly simple carry on sized urban travel backpack made of extremely ballistic nylon, that make it something you can for short travels (~1 week) and use for a long time to come.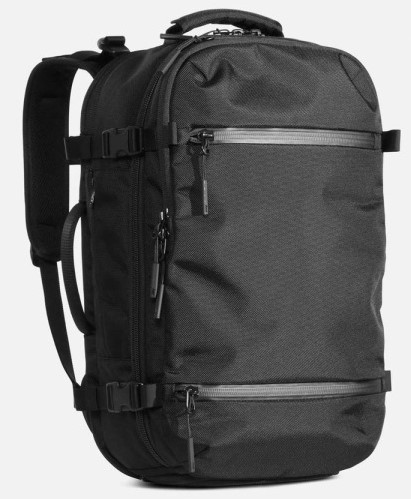 The Aer Travel Pack 2's smaller than average capacity (~33L) may limit it to the corporate traveler, weekend traveler, and short trippers. If you travel for longer than a week, consider something larger, but for 1 week or less (or are a minimalist traveler) this is a great carry on backpack option.
Best for: Weekend travel, short trips, minimalist urban travelers
Advantage: Constructed of very durable materials with a clean aesthetic
Cons: A bit on the small side at 33L, limiting it to shorter (~1 week) trips. Fairly simple design that could deliver more function for the price tag. Simple, main compartment + front panel/pocket organization differs little from normal laptop backpacks for much cheaper
Price: $220
Size: 21.5 x 13.5 x 8.5 | 55 x 34 x 22 cm
Weight: 3.7lbs | 1.7kg
Capacity: 33 liters | 2014 cu. in.
Materials: 1680 Denier Cordura® ballistic nylon exterior, YKK zippers, Duraflex® plastic hardware

---
Also Consider as an alternative for the Aer Travel Pack 2…
• The North Face Overhaul 40 Pack: Not completely front loading, but delivers the same function for digital nomads with the same pocket setup and durability for much cheaper (~$160)

The Minaal Carry on 2.0 Bag is great option, and more suited to the crowd that values attention to detail.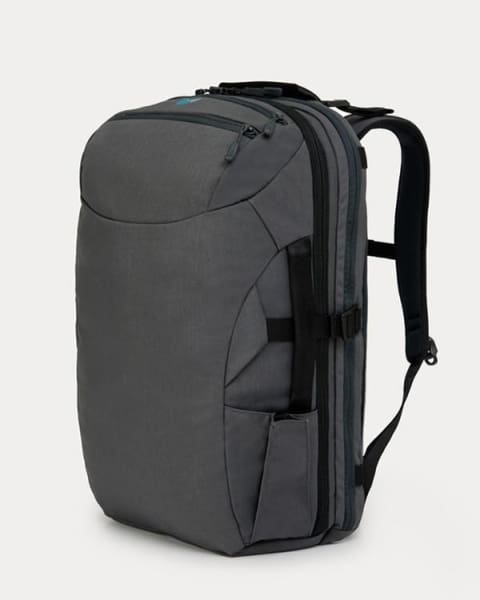 Minaal clearly pays attention to small details, which shows in the features like a magnetic clipping system for the top shoulder harness support straps, a clip in "holster" for the chest strap, and even etching the bag's dimensions on the shoulder strap to show to over zealous airport security (not sure that will suffice though…the New Zealand TSA must be quite a bit different than US TSA).
Beyond the tiny details, the bag structure is similar to the other urban carry options: a flat opening pack made of durable material with mesh and covered pockets on the inside front panel. The question is if the additional price is worth those tiny details for you.
Best for: Minimalist travelers and digital nomads moving through urban areas
Advantages: The attention to the very small details
Cons:
• A bit on the small side making it better for trips of a week or less, but minimalists may do just fine traveling for longer than a week
• Heavy design focus on small details that add very small vale to the travel experience
Price: $299
Dimensions: 55cm x 35cm x 20cm | 21.6in x 13.7in x 7.8in
Capacity: ~35L | ~2135 cu in.
Weight: 3.1lbs | 1.4kg
Materials: A combination of 600D and 1000D Nylon, YKK zippers
Warranty: Lifetime warranty against manufacturing defects (+90 day trial period)
Notable Features: Chest strap "holster", embossed bag dimensions on shoulder strap, roll away & zippered cover to stow shoulder straps and waist belt (although reported to annoyingly press into the users shoulders), laptop and tablet strapping system that holds your devices in place and saves space, also suspending your devices to prevent damage when the bag is dropped, document pocket and passport pocket, 2 Small "quick access" pockets on top of the pack and two expanding pockets along the back panel of the main pack

Standard Luggage Co.'s Standard Carry on Backpack is a great carry on backpack option for those that want to avoid checking baggage, will be based mostly in cities, will use a different bag for their day hikes, and don't want to spend ~$300+ on a backpack.
The Standard Carry on Backpack is made of high quality, durable materials (1600D ballistic nylon), incorporates a few good internal pockets, a laptop pocket for up to a 15" device, and has a shoulder harness system that will get you through your travels comfortably. Just don't plan to use this as your day bag because the shoulder strap system isn't built well enough for serious hiking.
Standard's Carry on Backpack is a well-built yet simple carry on backpack at a reasonable price. The carry on is 35L but unzips and expands to 45L. Get Standard Luggage Co.'s Hanging Packing Cubes, which fit the backpack perfectly, along with Standard's packing cube that doubles as an 8L backpack, or pick up some reliable nylon packing cubes on Amazon to keep the bag in order.
---
Best for: Ideal for urban travelers on a budget
Advantage: A durable carry on backpack intended for urban travels at a reasonable price
Cons: Lacks the organization of the Aer, Minaal, and Tortuga packs, but you can use the money saved to get packing cubes
Price: $179 on Standard Luggage; $189 on Amazon
Dimensions: 21.5 x 13.5 x 7.5 in when zipped and 21.5 x 13.5 x 9.5 when expanded
Capacity (zipped): 35 Liters | 2135 cu in. zipped
Capacity (unzipped): 45 Liters | 2746 cu in. unzipped
Weight: 3.7lbs | 1.7kg
Materials: 1600D Ballistic Nylon
Warranty: Lifetime warranty for the original owner and excludes damage caused by "negligence, extreme use, improper care, accidents, or the natural breakdown of materials over time"
Perks: Free shipping, made in Canada
---
For Urban Carry on Backpacks, also consider…

The Patagonia Black Hole MLC Brief Case 45L – This carryon lacks structure and internal support of the other urban travel carry on backpacks, but is still great for carry on travel. A friend did Southeast Asia with it for 6 months and loved it

Travel + Trekking Carry on Backpacks
For the traveler that will arrive by plane but inevitably make their way into the outdoors, a travel and trekking ready backpack is a must.
When aiming for a backpack with travel + trekking prowess, look for the following:
Well-padded and designed shoulder straps a waist belt
Weather and abrasion resistant fabrics and thoughtful, hiking conscious construction
External pockets that make storing and accessing essentials while hiking (e.g., water, snacks, camera, phone) quick and easy
Proven reputation (of the bag and the manufacturer) with travelers and backpackers – good assurance that the bag will perform well over time

One of the most functional and comfortable packs I've owned, and a great value for the price.
I tested this bag over 6 months which included hiking to Everest base camp solo, riding the Ho Chi Minh trail by motorbike, countless treks and wandering through 9 countries by plane, train, bus, and boat. For adventurous first time travelers, I absolutely recommend this bag.
---
Best for: Travelers that plan to hike and trek
Advantages: A trekking and hiking ready pack that works equally well as a carryon and is perfect for beginners in performance and price.
Cons:
• No dedicated, padded laptop space
• Shoulder straps are comfortable but feel like the weakest point on the pack. If carrying heavier loads (45lbs+) expect a ~2 year lifespan, conservatively estimating.
Price: $119 (often ~$80 on clearance) at REI Online
Weight: 3 lbs
Size (Medium): 21.5 x 13 x 10 in. | 54.5 x 33 x 25.5
Size (Large) 22.5 x 13 x 10 inches| 57 x 33 x 25.5
Materials: 210 denier nylon and YKK zippers

---
Also Consider: the REI Ruckpack 40 if your adventures are more urban and involve more airline travel than overland. Checkout our Review of the REI Ruckpack 40 for more info

A true trekking and hiking backpack with a lightweight yet functional design aimed at the ultralight hiking and camping crowd.
This pack's length (26" for the unisex medium and 27" for the unisex large) is a bit longer than the 22" average length restriction for budget airlines in Southeast Asia and Europe. You can get around this by under packing or offloading some gear into your daypack "personal item", but know about this potential hassle going in. If you can handle that, you'll get a carryon sized backpack that is completely designed for trekking and multi-day backcountry adventures. Pair this with the Flash 22 compressible daypack and you're set for all of your adventures
From REI's website: "Most airlines require a piece of carry-on luggage to be no bigger than 45 linear inches (L + W + H) to meet carry-on size restrictions. The medium [REI Flash 45] is 38 linear inches and the large is 49 linear inches, so please check with your airline ahead of time."
---
Best for: Trekkers and hikers
Advantages: A lightweight pack designed for trekking and hiking that is much more affordable than the competition
Cons:
– No dedicated, padded laptop space
– Length of the REI Flash 45 Pack when fully packed is technically longer than most budget airline restrictions by 4" on the medium and 5" on the large, but you get great on trail performance in return
Price: $149 at REI Online
Weight: 2lbs 14oz
Size (Medium): 26 x 13 x 9 inches
Size Large: 27 x 13 x inches
Materials: 420 denier nylon and YKK zippers
Also Consider: the REI Ruckpack 40 if your adventures are more urban and involve more airline travel than overland (REI Ruckpack 40 Review)
Comparison: Over the REI Trail 40, you get a beefier shoulder strap and waist belt system, 5 additional liters, and tougher material (420D nylon instead of the 210D nylon used on the Trail 40)

"A gear dumpster that hikes well" – The Patagonia Cragsmith is a utilitarian bag designed to feel great on your back while walking, be durable, and hold a lot for its size. That's it. Efficiency and durability through simplicity
This bag falls into an overlooked category of bags – rock climbing bags and rope bags. "Rope bags" are designed to hike and carry well, protect the gear inside more than normal hiking bags, and have a generally smooth design (fewer pockets) inside while making sure the gear inside is very accessible from all angles.
The main compartment of rope bags tends to be simple with few pockets, but this pairs well with packing cubes to make a practical yet durable travel backpack and still performs well in the outdoors. All of this usually comes at a reasonable price given the comfort, function, and durability.
The Patagonia Cragsmith's access points (back loading and top loading) make it very interesting and convenient for travelers. Combine this with packing cubes and you have a versatile carryon travel backpack that's more than ready for adventure. Construction is built to be light yet bombproof with tougher than average materials on the outside (630D nylon) and inner lining fabric to extend the life of the bag, all backed by the warranty of a very reputable company. PataGucci (aka Patagonia).
Also, check out other rock climbing and rope bags from other rock climbing gear manufacturers. As great as the Patagonia Cragsmith bag is, its average for the category. I'm not saying the Cragsmith is subpar. I am saying the whole category of bags (rock climbing & rope bags) performs very well for hiking and travel.
---
Best for: Travelers that will get outdoors and into the backcountry more often than the city and want a bag that will last a long time through varied types of abuse
Advantages: Hiking performance, durability, access methods (back loading and top loading). Padded sidewalls and extra durable outer material help keep your gear safe.
Cons: May require packing cubes to keep things organized
Price: $169 at REI Online
Capacity: 45L | 2746 cu. in.
Weight: 3 lb. 7 oz. | 1.6 kg.
Dimensions:
• 23.5 x 10.6 x 7.5 | 60 x 27 x 19
Variants: Available in small/medium and medium/large Also available in 32L
Materials: Outer: 630 Denier water repellent Nylon | Inner Lining: 200 Denier water repellent Polyester
Warranty: Patagonia Ironclad Guarantee on product, normal wear and tear will be replaced for a modest fee
Also Consider: Rope bags from other reputable rock climbing gear manufacturers

Durable & Heavy Duty Backpacks Fit for Carry on Travel
When you want a travel backpack that will last you for life, durability is your main concern and you need a heavy duty backpack for your travels. I admit, this is the category I love most as I usually abuse my backpacks. I also believe each time a backpack survives a "risky encounter", it retains a bit of luck. Needless to say, my Spec Ops T.H.E. and my GORUCK GR3 are the "luckiest" packs I own.
When shopping for a durable backpack, look for:
• High denier Nylon materials, ideally coated for weatherproofing. I settle for nothing less than 1000D Cordura.
• Military-grade straps and buckles
• Reinforced and heavily stitched straps, handles, and stress points to support heavy loads and abuse
• A track record of good reviews and lots of abuse in varied environments

An Excellent One Bag Travel Backpack
You will be hard pressed to find a more well constructed, more heavy duty backpacks than the GORUCK line – trust me, I've tried. Among the GORUCK packs, the GORUCK GR3 is the most suited as for long term travel and is one of the best one bag travel backpack options on the market thanks to ample space (45L) and the optional 18L tough bag stuff sack which straps easily to the bottom.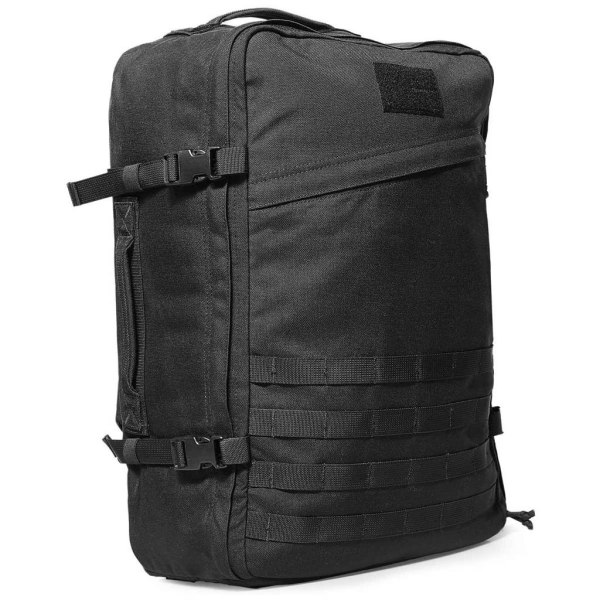 The GORUCK GR3 is inspired military medic packs, upgraded with intuitive yet simplistic design, put together with materials and construction that allow it to carry 450lbs, and tested during 100's of rucking (aka hiking) competitions GORUCK hosts. Based on specs for design construction and 6 months of travel, I rate this hands down as one of the most durable and best travel backpacks available.
Best for: Heavy use, heavy loads, high abrasion, long term travel
Advantages: Pure durability. Tested to loads of 450lbs+, lifetime guarantee, easily expandable storage to 63L (with GORUCK Tough Compression Sack).
Cons:
• Sternum strap sold separately
• Pricey (but you get what you pay for)
• Requires packing cubes to stay organized
• Weight is ~1lb more than your average pack due to heavier materials
Price: $545 at GORUCK
Size: 22 x 14 x 9 in. | 56 x 35.5 x 23 cm
Capacity: 45L | 2746 cu. in.
Weight: 5.15lbs (4.59 lbs without hip belt) | 2.3 kg
Materials: 1000D Cordura makes this backpack heavily slash resistant, and great for city travel, "rainproof"; YKK zippers; Mil-spec webbing and buckles

A Great Urban Travel Backpack Ready for Adventure
The GORUCK GR2 retains the same rugged and tested DNA of the GR3, but helps you stay better organized, thanks to more standard pockets and the two compartment setup. The smaller size (34L & 40L) make it better than the GR3 for shorter travel.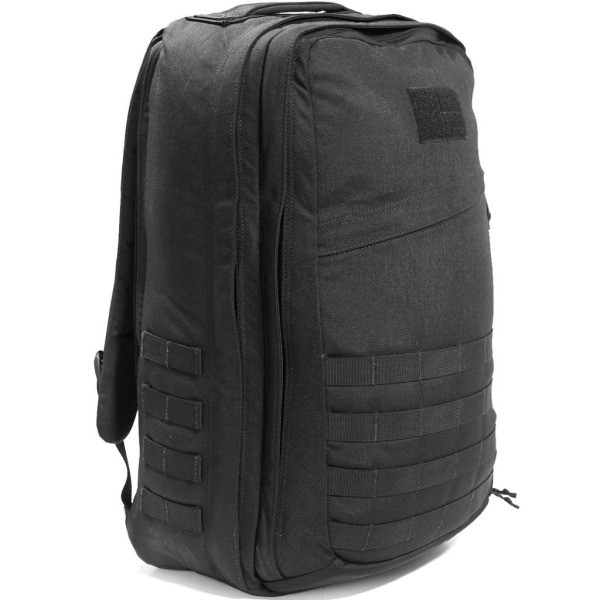 The GR2 does have 5L or 11 less space than the GR3, depending on the variant you get, thus I only recommend it for travels shorter than 1 month and in a single season/climate. A benefit of the GR2 over the GR3 is with the smaller size, it is easier to get away with the GR2 as an everyday use pack. From my experience with this pack, it is excellent for its intended purposes of heavy use and short trips. If that's what you're after, the GORUCK GR2 is an excellent option.
---
• Best for: Heavy use, heavy loads, daily use, shorter trips, and anyone looking for "buy it for life" gear
Advantages: Bombproof, durable construction and a significant lifetime guarantee
Cons:
• Price…but once again, you get what you pay for
• Weight, approximately 1lb heavier than the average carryon bag and .5lbs heavier than the average carry on travel backpack
Price: $495 at GORUCK
Size (40L Model): 22 x 12.5 x 9 in. | 56 x 32 x 23 cm
Size (34L Model): 20.5 x 12.5 x 9 in. | 56 x 32 x 23 cm
Capacity: 40L Model |2440 cu. in & 34L model | 2074 cu. in.
Weight: 4.75lbs | 2.2 kg
Materials: 1000D Cordura makes this backpack heavily slash resistant, and great for city travel, "rainproof", and abrasion resistant; YKK zippers; Mil-spec webbing and buckles

The Spec Ops brand T.H.E. ("Tactical Hold Everything") backpacks are very durable, heavy duty backpacks at much better prices than you'll find on GORUCK's site, making them a great GORUCK GR3 Alternative.
I bought my Spec Ops T.H.E. 13 years ago and took it to war 3 times…and it did just fine. If the GORUCK line is too pricey and you don't mind the "tacti-cool" look of MOLLE webbing consider this option with the optional removable back panel…or a homemade kydex frame sheet. I've run with 25lbs – 45lbs in this bag, hiked and rock climbed plenty with it, taken several trips with it in the last decade and there is not so much as a single thread loose.
---
Best for: Durability, heavy loads, lots of potential abrasion abuse
Advantages: Though it lacks the marketing, arguably as bombproof as the GORUCK series
Cons:
• Not fully front loading design
• Will require packing cubes for organization
• Back Panel sold separately (~$30)
• No padded laptop space
Price: ~$180 on Amazon
Size: 19 x 13 x 12 in | 48 x 33 x 30.5 cm
Weight: 3.5lbs| 1.6kg
Capacity: 42L | 2550 Cu Inches
Materials: 1000D Cordura Nylon, Military grade webbing and buckles, #10 YKK zippers
Warranty: Full warranty on workmanship and materials, Spec-ops will prepay shipping to return the item and repair/replace for free. If the gear damage is your fault and you have a great story, Spec-ops will likely repair/replace for free
Also Consider: The 5.11 Rush 24 or Rush 72

The ALICE Pack – Old School Military Rucksack
A reliable, time tested budget option for those that want durable, hiking ready, heavy duty backpacks with old school swag. ALICE isn't perfect, but she'll get everything you need done just fine. You can buy one new online or get a "seasoned" one from any military surplus store. For near perfection, upgrade the shoulder straps to something more substantial and padded and purchase a frame for the pack – or build one out of 1/2″ PVC based on online tutorials. For less than $50 you can have an extremely durable pack with the function to travel well anywhere and is light enough to impress any ultralight traveler.
Another option is to aim for many of the updated versions of this pack, made with 1000D Cordura nylon in the US to durability standards that rival GORUCK. Spec Ops Brand was the front runner, but many have popped up in their place
Note: If you do go the route of beloved "ALICE", eBay or your local surplus store are your best bet for getting a genuine, military issue ALICE pack for cheap. Avoid Rothco and Fox gear, as these are replicas and not built to military specifications. Retired, GI backpacks can be found for ~$20-$50 at your local surplus store or on ebay. You'll have to add your own straps from there, and I recommend Blackhawk, Tactical Tailor, or any other reputable brand for great shoulder straps. At this point, you'll have a simple, durable backpack for ~$75. If you want to step it up for serious hiking, pickup a used ruckpack frame for the ALICE pack and you will have the most reliable backpack setup possible for under $100. Also, check eBay for used versions of the Spec Ops Brand Recon Ultra backpack for a reliable, updated option (these packs have been discontinued but provide the same function in an updated package for cheap).
My experience: This was my first true "one bag" for a vacation to Thailand, Indonesia, and Japan over a month. For this kind of single climate travel, the ALICE pack is perfect
Best for: Travelers looking for a tough budget friendly pack, hard users, minimalists, and anyone who appreciates an old school feel
Advantages: Well tested, extremely durable yet functional, cheap
Design: Functional via simplicity, with three easily accessed external pockets, one main storage area, a document pouch in the lid, and one pouch in the main compartment
Cons: To get the best use out of this bag, making a homemade back support from PVC is optimal, but not necessary
Price: ~$50-$75 for the whole package
Weight/size: ~2lbs
Capacity: 2,285 cu.in | 37.5 liters
Materials: Unicorn leather
Warranty: None. But this kind of gear doesn't need one
Also Consider
• Greenroom123 Rainmaker: Something more modern on the cheap side
• RedOxx C-Ruck

Budget/Starter Bags for Carry on Travel
When you're just getting started traveling, most travelers honestly don't know what they need in a bag. For that reason, dropping $300-$500 on a travel backpack doesn't make sense…yet.
For another crowd, money may be scarce – whether you're a gap year student or saving for other things, money may be limited. In both cases, I absolutely advocate experiences (and travel) over material possessions, so spend more money on your trip and less money on your gear. If buying a pricier backpack will compromise a portion of your trip, or prevent you from getting the ticket to the destination that you really want to go to, then get the cheaper backpack now and make those memories.
In the meantime, consider any one of these great quality backpacks for budget friendly prices.

Budget/Starter Carry on Backpacks for Trekking + Hiking
The Osprey Farpoint 40 has to be the backpack that I come across dmost uring my travels. Whether in the US, Asia, or Europe, you will find plenty of people with this bag, and for good reason.
The size is just right for trips less than 3 months and through a single climate. The build is durable and the bag stays comfortable even on long walks. Lastly, the cost is great considering what you get.
Even today, while writing this article (in Albania), a Canadian guy stopped in front of me with the Osprey Farpoint 40 strapped to the back of his bicycle. It was his first backpacking trip but he got jealous of everyone with the freedom to ride the Balkan coast when and where they chose, so he bought a bike and rode. When I asked him about his bag, he replied, "I love it, it's been great, and it's just the perfect size. I wouldn't have been able to bicycle with it if it was any bigger, so I'm glad I chose this pack."
Morals of the story: The Osprey Farpoint 40 is a reliable starter bag, and over packing will limit your adventures, so stick to a carryon and consider the Osprey Farpoint 40 as your first bag.
---
Best for: Urban backpacking with a touch of adventuring beyond the city limits
Differentiator: Great price and value, durable, versatile fit and comfortable support system makes it appropriate for most beginners and a great starter pack
Cons: You'll look like 25% of the other backpackers you come across…but in the world of travel, that's not necessarily a bad thing…
Price: $160 at REI Online
Weight: 3 lbs. 2.7 oz.
Dimensions:
Size (M/L): 21 x 14 x 9 inches | 53.5 x 35.5 x 23 cm
Size (S/M): 20 x 14 x 8 inches | 51 x 35.5 x 20.5 cm
Capacity (M/L): 40 liters | 2,441 cubic inches
Capacity (S/M): 38 liters | 2,319 cubic inches
Materials: 210 denier nylon, 610 denier pack cloth
Warranty: 1 year warranty when purchased through REI (REI Warranty)
Also Consider: The Osprey Porter 46, which delivers similar reliability, function, and value, with slightly less hiking prowess.
---
For more info checkout our Osprey Farpoint 40 Review

A great all around travel backpack. This bag is essentially the Osprey Farpoint 40 with a convenient zip-off daypack. I have seen the Osprey Farpoint 55 more times on the road than I can count. Partly due to great price (often on sale) and partly due to reliability, as most people have taken it on several trips over the years.
Every time I ask for a traveler's opinion on their experience with this bag, usually the bag is the traveler's first travel pack and they still love it.
Best for: New travelers in need of an all-around performing backpack; those who want a pack/daypack combo
Differentiator: Zip off daypack included simplifies travel
Cons: Not front loading or fold flat design and a few inches longer than most airline carry on limits
Price: $180 at REI, but frequently on discount
Size: 25 x 13 x 12 in. | 63.5 x 33 x 30.5 cm.
Weight: 3 lbs. 14 oz. | 1.8 kg.
Capacity: 55L / 3,356 cubic inches (including daypack capacity)
Variants
S/M: 53L (15-19 inch torso)
M/L: 55L (18-22 inch torso)
Materials: 210-denier ripstop nylon
Warranty: "All Mighty Warranty" – Fix or replace for life, from Osprey

Budget & Starter Carry on Backpacks for Urban Travel
If you will be "backpacking Europe" for the first time or know that your adventures from day to day will be confined to the city limits, consider these budget bags for urban adventures.
Urban travel carry on backpacks generally have a durable, abrasion resistant outer material sturdy enough to handle the occasional abuse of checked baggage and being thrown under buses (the storage, not under the wheels). Travel within city limits will be more enjoyable, than with trekking backpacks, thanks to the streamlined profile (so that you don't bump everyone and everything while walking) and the ease of wearing your luggage instead of dragging it (over rolling carry ons).
The shoulder straps and waist belt usually tuck away making for a smooth exterior without straps to snag on conveyor belts, in the occasional adventures of checked baggage.
Remember that urban travel carry on backpacks are designed to make travel (planes, trains, and buses) easier but the shoulder straps and overall design aren't meant to be worn all day. Bring a packable day pack that fits inside your carry on luggage, like the REI flash 22 compressible daypack so that your city exploration isn't limited by what you can carry in your hands.
So, if you're planning on your first jaunt to a foreign city, consider these option.

One of the best travel packs for Europe and urban wandering
On the REI Ruckpack 40, REI took clear design cues and hiking performance from the REI Trail 40, then cleaned up the exterior to make it more urban travel focused. This urban-focused bag is one of the best travel packs for Europe for those on a budget. Functional, durable, simple, and comfortable.
Zip away pockets make moving through the cities without being pickpocketed easier. Stowaway shoulder straps and hip belt, hidden at will by the zip up back panel, make for easy bag checking and side/top handles make it easy to move while straps are stowed. Finally, the REI DNA makes for frame/back support and straps design that will stay comfortable throughout the hiking and trekking adventures that happen between city experiences.
---
Best for: New travelers or travelers on a budget that will hike as much as they'll adventure by plane, bus, rail, or however the trail happens
Price: $140 at REI Online
Size: 24 x 13 x 10 in. | 61 x 33 x 25.5 cm.
Capacity: 40 Liters |2,440 Cubic Inches
Weight: 4lbs 3 oz | 1.9 kg
Materials: 210 Denier Ripstop Nylon and YKK zippers
Warranty: 1 year unlimited warranty through REI
Features: Side zip access to water bladder pocket/ laptop pocket that fits a 15″ laptop

Also consider these budget backpacks


A Few of the Best Carry on Travel Backpacks for Women (that this Brother could find…)
In the months I've been on the road, I have to admit…I've noticed women make up most of the backpackers over the age of 25 that I've met. Whether they're leaving for a week, a month, or on sabbatical, they're doing their thing and I think that's awesome! In an attempt to help out my fellow travelers (of the female persuasion), I've kept notes on the travel backpacks for women I've seen satisfied female travelers wearing abroad. The backpacks below are the ladies' packs I keep seeing over and over with great reviews.
---
What makes women's packs different from men's packs? Why does it matter?
The structural build of the average male vs. the average female is very different, especially when we look at shoulder width, torso length, hip width/circumference, and the ratios of all these bits and pieces. As a result unisex (i.e., standard) packs can be uncomfortable for many women, especially if they've been designed and tested on only men. The same way a one size fits all pack is usually not the best for every hiker, the best unisex backpacks usually aren't great for women. The best travel backpacks for women (as reported by women) take into account these subtle differences in body makeup.
Now, in case the title of this site doesn't make it clear, I am not a woman (and I don't know the struggle) so these packs are recommended based on observations, research, reviews, and conversations. Ladies, if you have a great pack you can recommend specifically for women (or disagree with the packs on this list) please let me know at [email protected] Thanks!

Note on the Women's REI Trail 40 Pack Reviews: The Women's Trail 40 pack on the REI was updated and isn't enjoying great reviews in its initial days, although the previous version that had great reviews was and is essentially the same pack. I'll keep an eye on this and update accordingly but I have faith that users will appreciate the bag they get for the price with the Women's Trail 40.
Best for: Just like the original nisex pack, this pack is a perfectly sized carry on that wears comfortably and is well suited for hiking and trekking. I took this pack (in the unisex version) from Galapagos to Everest and loved it. You'll be hard pressed to find a better backpack for the price
Advantages: The amazing price, and how well the backpack performs hiking and trekking
Cons: Could use more horizontal compression straps
Price: $119 at REI Online
Capacity: 40 liters | 2,441 cubic inches
Dimensions:
Size (Small): 20.25 x 13.125 x 10.5 inches
Size (Medium): 21.6 x 13 x 10.5 inches
Weight: 2 lbs. 15 oz. | 1.3 kg.

Just like the Men's REI Flash 45, the REI Flash 45 Women's pack is a true trekking and hiking backpack but aimed at the ultralight hiking and camping crowd, so it performs well while keeping weight light.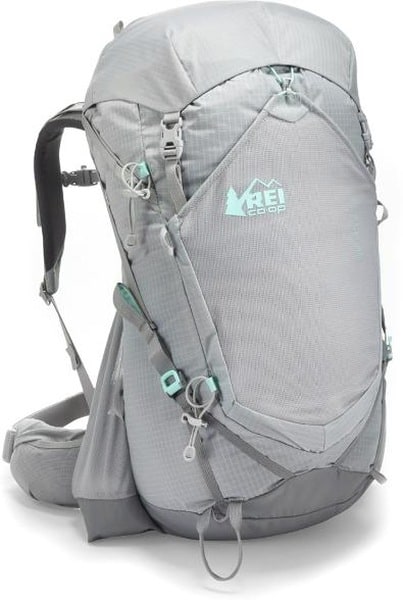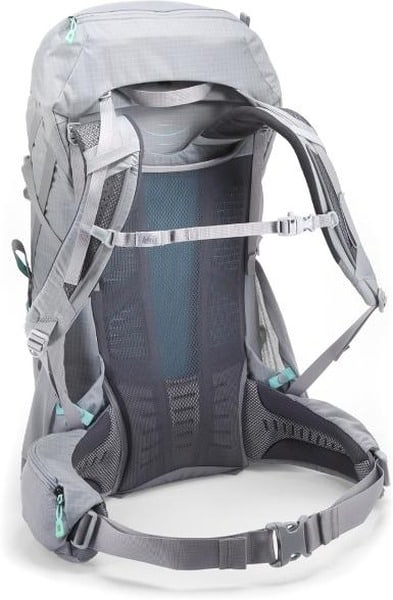 The benefit of the women's Flash pack over the men's is the shorter length of 25", meaning it will be easier to squeeze by the all too common 22" length restriction on Southeast Asia and European budget airlines. You can get around this restriction by under packing or offloading some gear into your daypack "personal item" to make that last 3 inches, but know about this potential hassle going in. If you can handle that, you'll get a carryon sized backpack that is completely designed for trekking and multi-day backcountry adventures. Pair this with the Flash 22 compressible daypack and you're set for all of your adventures
---
Best for: Female Trekkers and hikers
Advantages: A lightweight pack designed for trekking and hiking that is much more affordable than the competition, with padded and curved straps and a shorter torso to accommodate most female frames
Cons:
• No dedicated, padded laptop space
• Exceeds the strictest Southeast Asian and European budget airlines by 3 inches (which can be made up for by under-packing)
Price: $149 at REI Online
Weight: 2lbs 12oz | 1.25 kg.
Capacity (Sm): 45 | 2,746 cu. In.
Capacity (Med): 47 | 2,868 cu. in
Size: 25 x 13 x 8 inches | 63.5 x 33 x 20.5 cm
Materials: 420 denier ripstop nylon and YKK zippers
Comparison: Over the Women's REI Trail 40, you get a beefier shoulder strap and waist belt system with the REI Flash 45 Women's , 5 additional liters, and tougher material (420D nylon instead of the 210D nylon used on the Trail 40)

The well-reviewed and lady friendly version of the Osprey Farpoint 40
---
Best for: Mostly urban travel with the occasional jaunt beyond city limits. Great for new backpackers and small budgets
Advantages: Cost and versatility
Price: $160 at REI Online
Materials: 210-denier ripstop nylon/600-denier packcloth
Dimensions: 21 x 14 x 9 in. | 53.5 x 35.5 x 23 cm.
Weight: 3 lbs. 2 oz. | 1.4 kg
Capacity: S/M: 40 liters | 2,441 cubic inches
Capacity: XS/S: 38 liters | 2,319 cubic inches

The lady friendly version of the Men's REI Ruckpack 40. This pack's length does exceed most airline carry on size restrictions by 2", but you can compensate for this by not over packing the top portion of the pack…so if you get this one, ensure to pack your self-control before packing anything else (and overloading your pack).
What makes this version different than the fella's version? Shaped harness straps that curve differently around the chest. Shortened torso length. Longer hip straps to accommodate the extra curves (that we love so much)
---
Best for: Urban travel with light adventuring beyond city limits. Great for new travelers and small budgets
Advantages: Price and value. REI delivers amazing packs for the price and the ladies are loving this one
Cons: 2 inches too large for some carry on travel, but reportedly a great travel rucksack for the price nonetheless
Price: $140 at REI Online
Weight/size
Weight: 4 lbs 3 oz | 1.9 kg
Size: 24x13x10 inches | 61 x 33 x 25.5

The perfect backapcks for traveling abroad
The ladies' version of the Osprey Farpoint 55, so this is essentially the Fairview 40 with a zip off daypack included. Impressively reviewed as reliable, convenient for airline travel, and versatile.
---
Best for: Mostly urban travel with the occasional jaunt beyond city limits. Great for new backpackers and small budgets and travelers that want a daypack included
Cons: The Packs length exceeds carry on restrictions for most airlines by 3 inches when fully loaded, so be ready to shift items in your pack if called out by the gate agent
Advantages: Cost and versatility make it suitable for most travelers
Price: $180 at REI Online
Materials: 210-denier ripstop nylon/600-denier packcloth
Dimensions: 25 x 13 x 12 inches
Weight: 3 lbs. 13 oz.
Capacity S/M: 55 liters | 3,356 cubic inches
Capacity XS/S: 52 liters | 3,173 cubic inches
---
Also Consider these other hiking and travel backpacks for women:
Osprey Kyte 46 – Hiking and trekking – If you consider this pack, try it in store with multiple other packs, as "good fit" seems to vary a lot from individual to individual
Kelty Redwing 40 Women's Pack – Hiking and Trekking with a touch of travel

Duffel Bags and Convertible Duffles as Carry on Bags
A Note on Duffle Bags as Carry on Bags:
For the weekend traveler or the frequent traveler only going from airport to taxi to hotel, a convertible duffle bag may be a simple, functional and cheap solution. "Convertible Duffle Bags" offer a one up on reglar duffel bags because they can be worn as a backpack as well. Granted, these bags won't be perfect for long hikes, they will make travel easier when walking a couple miles through urban terrain or changing a few buses. But, whatever you do, make sure to get a good shoulder strap.
I personally don't recommend the pure duffel bag option if traveling more than a week, especially if you're frequently changing where you sleep, but the following two options are great for any length of trip thanks to the shoulder straps and functional setup.

A meticulously designed urban travel bag that emphasizes organization, via 3 main compartments and countless pockets, and versatility, as it can be loaded and worn as a backpack or shoulder bag/duffle.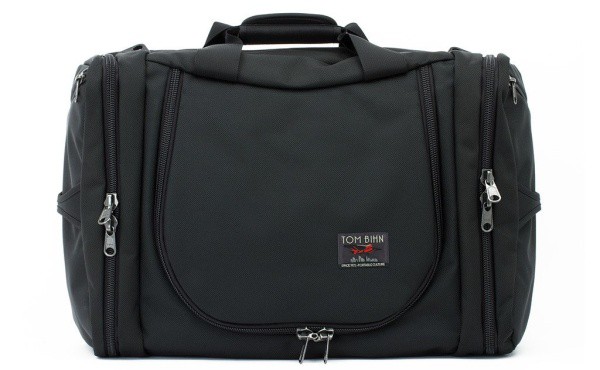 Tom Bihn's Aeronaut incorporates extremely heavy-duty materials, such as 1600D ballistic nylon and YKK zippers, ensure this is a "buy it for life" investment. For those that don't plan to abuse this bag enough to warrant ballistic nylon, the bag is also available in a lighter 450D nylon.
For the consummate urban traveler that is more concerned with keeping the contents of their bag organized than using it to scale mountains in their free time, the Tom Bihn Aeronaut 45L is a strong candidate.
---
Best for: Purely urban travelers that have difficulty staying organized, travelers looking for a bag that will do double duty as the gym back you take to work in the mornings that is built durably to last a lifetime
Advantages:
• Versatility – can be carried as a backpack, shoulder bag, and duffle with a removable frame
• Choice of fabrics to choose for light weight (450D nylon) or durability (ballistic nylon)
• Novel, intuitive design
• With the ballistic Nylon outer (design for bulletproof vests) and lifetime guarantee of workmanship this bag should last for years.
• Design: Divided into three compartments with side opening clamshell design for main compartment and top opening/accessing for side compartments
Price: $295
Dimensions: 21.9″ x 14″ x9.1″ |55.5cm x 35.5cm x23cm
Capacity: 45L | 2700 cu. In.
Weight: 1050 Denier Ballistic Nylon – 3lbs 1 oz | 1.4 kg.
Weight: 450 Denier Nylon – 2lbs 7oz. | 1.1 kg.
Materials: 1050D Balistic Nylon or 650D Ripstop Nylon (your choice); YKK #10 Zippers; Duraflex buckles
Warranty: Lifetime free repair and replacement for manufacturer defects. Repair for a reasonable fee of wear and tear
Pick this bag if:
• Staying organized is difficult for you
• You prefer compartmentalized bags to separate things (shoes, gear, etc.)

The North Face Base Camp Duffle is a great convertible duffle bag option as it delivers very well on a simple concept: Duffle with handles and shoulder straps. The best part is the Base Camp Duffle is absolutely a carry on, and it can fit on any plane…but it's on you to not overstuff the thing.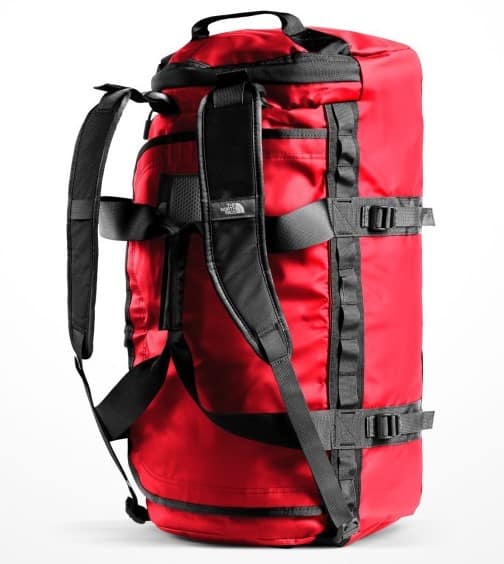 I've had my Base Camp Duffel for a couple years and love it…I was considering using it for this year long trip with a the Ruckpack 28 as a daypack (checkout our REI Ruckpack 28 Review) when I wasn't sure if my GORUCK GR3 would arrive in time. The North Face Base Camp Duffle has normal, short carrying handles as well as comfortable shoulder straps to use when moving around town. The fabric is waterproof, though the seams are not waterproof sealed, so count on this bag to be very water resistant, but not quite waterproof.
The outer bottom of the bag is covered with a nylon canvas to protect the waterproof fabric from abrasion and extend the life of the bag. Functional daisy chain loops line the outside of the bag so, with help of some small Metolius carabiners, you can clip shoes, wet gear, or anything else to the outside of the bag. For the price, this is a great duffle that I've used it a ton. I wouldn't plan on hiking with it, but it's a great carry on option for holding most of your gear and using an REI Ruckpack 28 or a GORUCK GR1 for your other adventures up to a few days
Pro Tip: If you like this bag but don't need it right now and have Vietnam on your itinerary, visit Hanoi and buy one of these bags for ~$15 -$30 that have been cut by "quality control" ("or fallen off the backs of trucks") but are still perfectly solid for use. Look for the "Made in Vietnam" stores as a starting point. I have a The North Face Japan edition backpack that I picked up in Hanoi for my motorcycle ride through Vietnam and Laos. I still have that bag to this day and love it. Bottom line: Pickup this pack cheap in Vietnam, or get it from REI. Either way, you're getting a great deal.
---
Best for: General travel, when you have a separate bag for the hikes and treks
Advantages: Great quality gear dumpster for the price
Cons:
• Shoulder strap system isn't comfortable enough for legitimate hiking and there is no back support system which also limits hiking. Think of the Base Camp Duffle as a gear dumpster to pair with a small hiking pack.
• This thing is huge (good) and its on you to not over pack (bad)
Price: $100-$130 at REI Online
Weight: 3lbs 8 oz. | 1.6 kg
Dimensions: 13.9 x 25.4 inches
Capacity: 71 liters | 4,333 Cu. In.
Materials: 1000-denier fabric laminate (waterproof)/840-denier ballistic nylon (abrasion reistant)
Warranty: 1 Year satisfaction guarantee through REI
Also Consider: The Patagonia Black Hole Line

Compressible Duffles as Carry On Bags and "Leave Behind" Bags
If you're making a long hike, trek, or trip in country and returning to the same spot, keeping a "leave behind bag" handy is a great idea. I've had great experiences keeping a flat folding duffle (like the GORUCK Kit Bag) or easy stowing duffle (like the REI Roadtripper) to store things in and leave at a location I'll come back to later.
During my Everest and Patagonia treks, which were in the middle of 6-month long trips, having a "leave behind bag" allowed me to easily drop my gear at a hostel in town, lightening my load for my trek, and returning to quickly grab the goods on my bus out of town. If you plan to be on the road for more than a few months and have some multi-day adventures planned, definitely bring a leave behind bag to make life easier.

When looking for a pure duffle bag that is simplistic yet easy to organize and will last through abuse , the GORUCK 32L Aviator bag is a great option.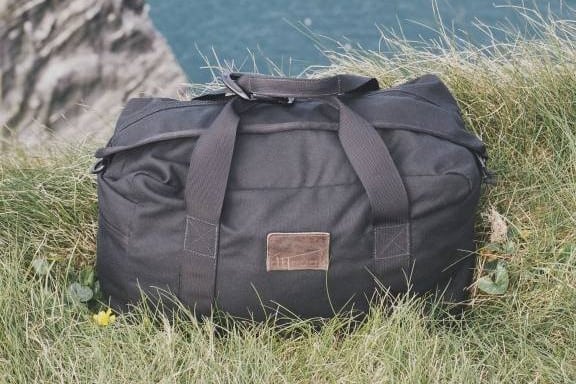 The GORUCK Kit Bag will perform well as a carryon weekend bag, gym duffle, or even suffice for travels up to a week if you use packing cubes and aren't moving too much. The bag has a very clean aesthetic, muting how well built the bag is.
The 1000D Cordura Nylon and military grade webbing show little signs of use and no abrasion after 6 months of being my leave behind bag and "improvised briefcase" while doing the digital nomad things. Also, the fold flat design let this bag fit easily into the front pocket of my GORUCK GR3 until its ready for use.
Though I advise against using this bag for long term, or as a one bag travel backpack (get something that has shoulder straps), I'm addicted to it as a durable handbag and small duffle. If you do use this bag for travel, absolutely pickup some packing cubes. These Travel Wise nylon packing cubes are what I've used for the past 6 months and they're great. The packing cubes also fit the GORUCK Kit Bag perfectly.
Best for: Leaving gear behind during treks, carryon bag when traveling for weekend trips, gym bag, daily use as an improvised briefcase.
Why this bag? A weekender bag that will survive the apocalypse, and keep you organized along the way
My Experience: I accidentally brought this bag on my trip intending send it back to the US…but it went from pinch hitter to being used pretty much on a daily basis. My favored day bag, the REI Flash 22, started to rip at the shoulder straps after 2 years of carrying too much weight (~10lbs) so I started using this bag as a briefcase and urban day bag, instead of just a "leave behind" bag.
The bag quickly became my go to for anything that wasn't hiking. It can withstand heavier loads (grocery shopping), slings easily over the shoulder easily, and the pockets keep everything organized on the inside (charging cables, laptop, notebooks, snacks, pet ferret) and easily accessible on the outside (immediate snacks, water, cell phone, book/kindle, notebook). I repaired my Flash 22 but I still use this bag as my "briefcase" on workdays (digital nomad problems) and as a personal item on flights to keep the essentials close.
Bottom line: I love this bag. Way better performance and usefulness than I thought I would get
Design Notes: The bag has 5 well placed and designed pockets that allow storage and easy access to anything, while doing an impressive job of keeping the bag organized: two on the outer ends, two zippered mesh pockets on the internal ends, and one easy to access internal zippered pockets.
---

Cons:
• Shoulder strap not included – but reviews say the GORUCK shoulder strap isn't worth buying, so opt for a different one.
• Wouldn't recommend for trips over a week
• Fabric (1000D Cordura Nylon) is bulkier than lightweight options – but I appreciate the durability I get in return.
Price: $160
Weight/size: 2.5lbs | 1.2 kg
Dimensions: 17.5 x 11.5 x 9 in | 44.5 x 29 x 23
Capacity: 32L | 1952 Cu in
Materials: 1000D Cordura Nylon, YKK zippers
Warranty: GORUCK SCARS guarantee, they'l replace it for life
Also consider
• Redoxx – C-ruck Carry-on Rucksack $285.00
• Redoxx – Small Aviator Bags


The REI Roadtripper duffle is another great, simple duffle that packs away into a small package.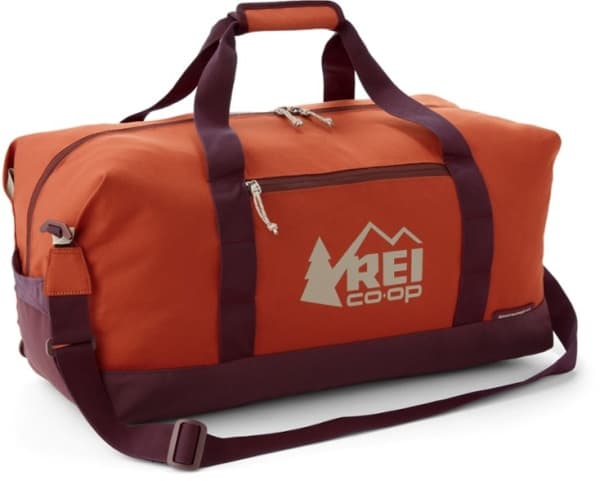 The no frills design of the REI Roadtripper Duffle is just right for tossing in gear to leave behind during adventures (instead of using a flimsy trash bag) and still packs into a small disk that can sit at the bottom of your bag. During my Asia trip last year, this bag sat at the bottom of my REI Trail 40 for most the trip, but when I hiked to Everest Base Camp and when I rode the loop around north Vietnam starting and ending in Hanoi I left half of my gear at my hostel in the Roadtripper duffle to lighten the load. As a simple, no frills leave behind bag that sits at the bottom of your pack otherwise, I recommend considering the REI Roadtripper.
Best for: Leaving gear behind during adventures, expandable storage that packs into the bottom of your backpack
Advantages: Cheap, packs away efficiently
---

Pros:
• You really can't be this price
• Packs down small
Cons:
• Not functional enough to be an everyday bag
• Didn't feel durable enough to survive a trip as a primary bag
• Polyester material – which isn't the most durable
Price: $40
Weight: 1lb 2 oz.
Dimensions (Upacked): 21 x 10 x 10 inches
Capacity: 40L | 2,440 cubic inches
Materials: Polyester
Warranty: 1 year satisfaction guarantee through REI

Expandable and External Storage Options
For long term travelers, the total amount of what you're carrying can grow and shrink like most waistlines during the holidays. Whether you're picking up some extra gear for a long hike or accumulating cooking ingredients while traveling overland by bus, having an expandable storage option that straps easily to the outside of your bag and folds flat when empty (as not to violate carryon restrictions) is a convenient way to hold those temporary additions.
I'm always on the hunt for gear worth recommending, but at the moment the only stuff sack and external storage that stands above the rest is the GORUCK Tough Compression bag. I'll keep my eye out for more, but if you know of any that have served you well, please shoot me an email at [email protected] to have them added to the list.

Of the 15 or so "compression sacks", packing cubes, and stuff sacks I've been through, the GORUCK Tough Compression Bag is by far the best. This bag is roomy, tough , and easily attaches to my GORUCK GR3.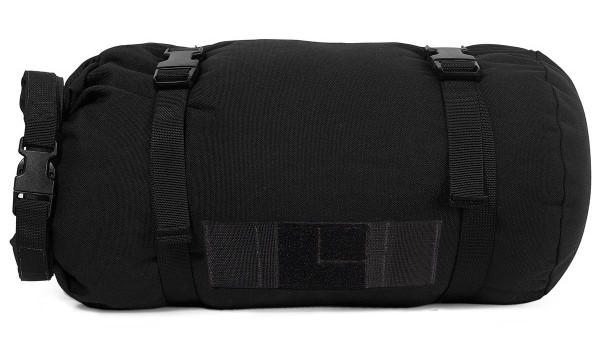 My GORUCK Tough Bag is currently strapped to the bottom of my GORUCK GR3 and holds shoes, dirty laundry, and anything I don't feel like packing when traveling by boat, bus, or foot. When I fly, I empty it (making sure I did my laundry), repack my main ruck, and make carryon restrictions just fine. Over 6 months of travel, and sitting on the bottom of my travel ruck, the bag has been rained on, dragged, and beaten pretty well, but is still in fairly great condition (no holes or abrasion).
For comparison, my REI bags have all been filled with holes and worn through after 4 months of travel. The rain resistance and buckle system or two more keys that make this the expandable storage bag you should get.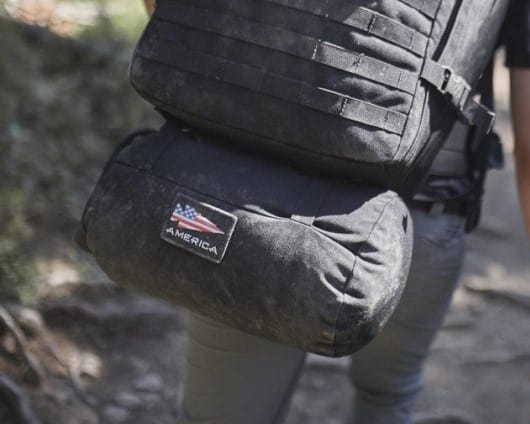 ---
Best for: Expandable storage capable of taking abuse and can be strapped to the bottom of a bag
Advantages: Durability
Cons:
• Needs vertical compression straps to be a true compression bag
• I wish it made coffee for me in the morning
• 4x the price of other compression bags – but will last 10x longer, at least.
Price: $90
Weight: .73lbs
Dimensions: 19.5 x 13 x 13 in. 49.5 x 33 x 33
Capacity: 18L | 1098 cu. in.
Material: 1000D Cordura nylon (abrasion resistant, water resistant)

Other Well Reviewed Backpacks and Manufacturers to Consider
Though this list has most of the best travel backpack options available in carry on size, the list is not exhaustive. This list is just meant to be a starting point for anyone shopping for a new bag. There are several other reputable backpacks and backpack manufacturers to consider if the bags above don't suit your needs and tastes. Backpacks are like boots — what may be perfect for someone, may not be perfect for you…and there's nothing wrong with that. In those cases, use what you've learned from the list above and consider these other bags and manufacturers that have great reputations or are newer but full of potential.

Other Respected Carryon Backpacks
• Tortuga Setout
• Cotopaxi Allpa
• Thule Subterra (40L)
• Timbuk2 Never Check Expandable Daypack (Urban Carry on Alternative)
• 5.11 Rush 72 – 55L, (GORUCK GR3 Alternative)
• 5.11 Rush 24 – 37L, too "tacticool" (GORUCK GR2 Alternative)
---
Smaller Carry On Backpack Options

Best Backpack Brands
These are the some of the Best Backpack Brands according to many travelers, based on function, durability, innovation, and aesthetics. but consider this list an additional starting point. Each of these brands have a solid following and reputation due to quality, performance (within their niche), and customer support (based on reviews). If the list above doesn't have a bag that fully suits your needs, checkout the carryon backpacks from the brands below and you will likely find something (nearly) perfect for you
5.11
Arc'teryx
Cabin Zero
Cotopaxi
Deuter
Eagle Creek
Kifaru
Mission Workshop
Mystery Ranch
Recycled Firefighter
RedOxx
Timbuk2
Up and Comers
• Peak Design – Travel Line
• Nomatic

Like it? Pin it!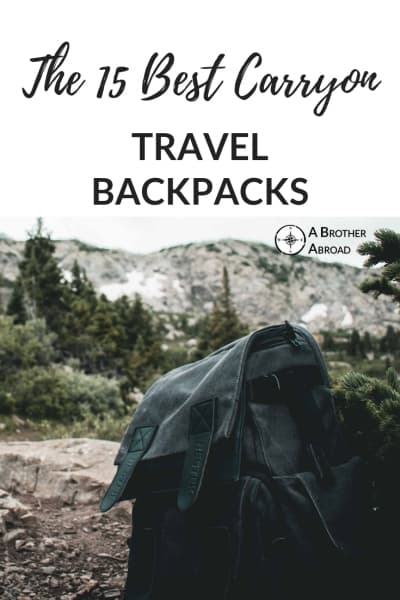 Other Great Travel Content

For some of the backpack links (not all) I do receive a small bit of compensation. Profits go towards continuing to build this site and financing the stories and "research" that make it up the content. If you find this useful and want to show some love, buy through a link here, leave some comment love, or share with someone that may find it useful. My goal isn't getting rich, it's sharing the knowledge I wish I had earlier. Every product recommended here I would absolutely purchase with my own money or have purchased in the past. If you have any questions, feel free to email me at [email protected]