Coron Island was the highlight of the Philippines for my trip. Shipwrecks at snorkeling depth, dense coral gardens, white sands, and pristine turquoise waters make this locale hard to beat… but you have to work for the beauty and adventure by finding your way to this paradise. There are plenty of options, for the budget, flashpacker, and wanderer crowds for getting from Manila to Coron. With Coron just emerging onto the traveler and backpacker Trail, finding these options on the Internet can be a pain. Lucky for you, A Brother Abroad's got your back.
Below you'll find the best options for traveling from Manila to Coron for your timeline and budget
(Note: Please excuse any typos, misspellings and the like in this article as I'm currently working from an iPhone due a broken laptop and being "happily stranded" on an island whose name I can't pronounce correctly. Thanks for the patience and good luck on your travels!)
Contents of Manila to Coron
• Cheapest route from Coron to Manila
• Fastest route from Coron to Manila
• Most scenic route from Coron to Manila
Cheapest route from Coron to Manila: Ferry with 2GO or Atienza
By far, the cheapest transportation means from Manila to Coron is by ferry. If you have the time in your schedule for the 12-16 hour overnight boat ride, fully equipped with beds, the ferry will save you cash compared to flights (costing $20-$30 USD) and deliver you fresh and ready for adventure the next morning.
The downside of the Manila to Coron ferry: you'll need good timing as it only goes on Sundays, Mondays, Thursdays, and Saturdays. Read on to see which ferry (2GO or Atienza) fits your schedule.
2GO Ferry Options between Manila and Coron
2GO, The most comfortable ferry, with different classes of beds and suites, leaves once per week on Friday's for the Manila to Coron trip, and returns once per week on Sundays for the Coron to Manila trip.
Prices for 2GO range from 900 PHP (~$18 USD) to 2000 PHP (~$40 USD) depending on class and bunk. The ships are also equipped with a restaurant.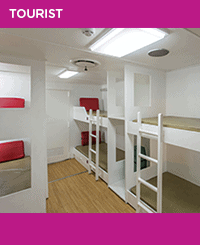 2GO Ferry Schedule for Manila to Coron:
2GO Ferry from Manila to Coron: Departs Friday 7:00PM and Arrives Saturday 6:00AM
2GO Ferry from Coron to Manila: Departs Sunday at 8:00PM and arrives in Manila Monday at 7:00AM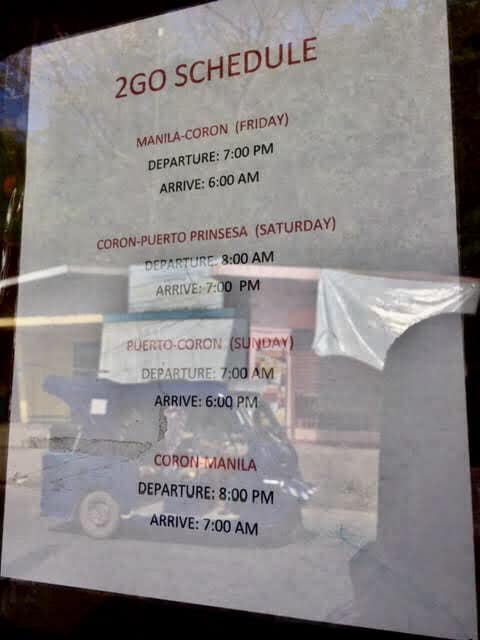 Other Options with 2GO Ferry from Coron
After your time in Coron, I highly doubt you'll want to go back to Manila after coming this far. **El Nido** should be your next stop but Puerto Princesa is a great option if you're heading to Cebu, Bohol, Siquijor, or Negros islands next.
The 2GO ferry Coron-Puerto Princesa line runs as follows:
Coron to Puerto Princesa: Departs Saturday at 8:00AM and arrives Saturday at 7:00PM
Puerto Princesa to Coron: Departs Sunday at 7:00AM and arrives Sunday at 6:00PM
Book your 2GO ferry from Coron to Manila (Sundays) via 2GO website at: https://travel.2go.com.ph/eTicket/search.asp
Book your ferry ASAP as the seats do book out fully the day before and the tickets are refundable, minus a 10% service fee (conform before purchase as policies change).
Atienza Ferry Options between Coron and Manila
Coron to Manila: Monday, Thursday, Saturday
Manila to Coron: Tuesday, Thursday, Saturday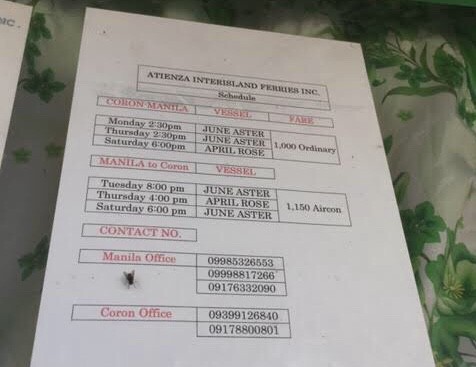 If you need to get to Coron by ferry from Manila on any other day of the week than Sunday, take the Atienza ferry. The Atienza accommodations are more modest than 2GO, but the price is right (~$20) and the option is there for off days.
Atienza Ferry Coron to Manila Schedule:
• Monday: 2:30 PM Departure
• Thursday: 2:30PM Departure
• Saturday: 6:00PM Departure
Atienza Ferry Coron to Manila Schedule:
• Tuesday: 8:00PM Departure
• Thursday: 4:00PM Departure
• Saturday: 6:00PM Departure
Atienza Ferry Coron to Manila Prices:
• 1000 PHP (~$20 USD) standard bunk
• 1150 PHP (~$23 USD) air-conditioned bunk
At current, Atienza doesn't have online booking so you'll need to go to the port or a booking agent. Be warned that Atienza's ferries hardly ever leave on schedule…which is a plus if you're like me and live on BST (Backpacker Standard Time), or plan your life the morning of
Fastest route from Coron to Manila: Flight
If you're in a rush and your pockets are deeper, flights to and from Manila are an option via "puddle jumpers" (tiny prop planes). Expect to pay $100+ USD one way, and book at least 3 days in advance to avoid burning your entire budget on tickets and transfers.
Manila to Coron airport: The price will run ~$80 USD one way if booked far enough in advance, so a bit more expensive, but you get time in return. Busuanga Airport is the airport on Coron and you'll save more (~$80 USD) by flying into Clark International Airport in Manila.
As an alternative to flying into Coron, fly into El Nido, spend time there, and then take the 3 hour fast boat from El Nido to Coron. El Nido's activity options range from island hopping tours, to rock climbing (literally a walk away from the main strip), picturesque beaches, and motorcycle touring. Be sure to book your ferry from El Nido to Coron two days in advance. El Nido -> Coron ferries leave daily but tend to book out completely leaving at 7AM and 9AM daily.
Most scenic route from Coron to Manila
Palawan is arguably one of the most beautiful regions in the Philippines. Given how many amazing islands are, that's a tough argument to make but most people will agree Palawan is amazing. If you want to make the most of Palawan, fly into Puerto Princesa and take the scenic route up by bus and boat.
From Puerto Princesa to El Nido to Coron
If you have the time, make your way to Puerto Princesa and meander your way north from there, stopping at Port Barton and El Nido along the way. All have amazing beaches and great weather.
Scenic Alternative: Consider a Live Aboard cruise from El Nido to Coron
If you want a very genuine and irreplaceable travel experience, book a live aboard. These cruises set you and a group travelers up on a large, traditional boat and float you from island to island between El Nido and Coron over 3 to 5 days. Along the way you have the option of sleeping on the boat or heading to shore to camp or be a guest of locals. With 1,200 islands in Palawan alone, you'll more than likely encounter and island that has seen no foreigners before or is completely undeveloped.
For live aboard trips in the Philippines, look into Tao Philippines and Buay Isla, both reputable companies that provide great experiences and are well reviewed.