Coron Island. The northernmost island in the Palawan islands. Unheard of until recently and surrounded by crystal clear waters, secret lagoons, countless shipwrecks for snorkeling and diving, and white sand beaches. If you enjoy the sun and the sea while getting off the beaten track, Coron should be on your list. The perfectly curated list of destinations on the Coron tours and the rich Coron Diving Options make the destination a beach loving traveler's dream come true
Best Things to Do in Coron
• Island hopping tours
• SCUBA diving in pristine waters
• Freediving
• Cruising Coron by Motorbike
• Buay Isla Live aboard
• Expedition and Live Aboard Cruises
(Read on for more details on what to do on Coron Island)
Contents of this Coron Tours and Coron Diving Guide
• Intro to Coron Island
• Things to do on Coron Island
○ Island hopping tours
○ SCUBA diving in pristine waters
○ Freediving
○ Cruising Coron by Motorbike
• Coron Diving and Snorkeling
○ Ship wrecks and depths
○ Dive sites
○ Dive Shops on Coron
○ Freediving in Coron
• Other great things to do around Coron
○ Buay Isla Live aboard
○ Tao Philippines Live Aboard
• Getting to Coron
• Leaving Coron
---
A Guide to Coron's Best Tours and Coron Diving Options
Intro to Coron Island
Ask travelers and backpackers who have explored the Philippines "what's your favorite island?" And their response is bound to be tied between two spots…
Siargao and Coron.
Siargao is a beachy island known as the surf Capital of the Philippines with perfect waves all year round.
For those that don't ride waves…Coron. Ooooh Coron. Coron is a place anyone can love. This island, in north of Palawan, is edging out legendary El Nido as the most quintessential island paradise in Palawan and, possibly, the Philippines. With its hundreds of islands and (literally) countless beaches with white sands and crystal clear & turquoise waters, there's something for everyone.
For snorkelers, there are tons of dense coral gardens giving the experience of swimming in an exotic fish tank. Other hidden lakes and lagoons, all with warm water, provide pristine viewing and are just fun to be in
For divers, shipwrecks abound as 12 ships of the Japanese fleet were bombed during WWII and sit covered in coral on the seabed surrounding Coron.
Even better, the wrecks range in depths from 0 meters at their shallowest to 45 meters at their deepest, putting them in view of everyone.
For freedivers, the Skeleton shipwreck, Tao Maru shipwreck, and the Lunsong Gunboat shipwreck are a ton of fun – but more on that later.
For travelers that love that less touristy, raw, backpacking experience, Coron is just making it onto the backpacker trail, meaning fewer people and more authenticity. Consider Coron to be what El Nido was 5-10 years ago. There are actually only 5 Hostels on Hostelworld in Coron right now, and you'll have to book the best one at least 2 months in advance.
For the "land lubber" crowd, renting a scooter on the cheap and riding the road that hugs Coron's coast all of the way around the island will be a nice day adventure. Three hours (without stoping) of undeveloped roads and even more undeveloped beaches with (more) white sands and clear waters with depths that stay waste high for a hundred meters from the beach. Extra points if you find the beach shack paradise on a remote corner of the island where the owner will serve you a fresh lobster…that he'll canoe out to pull from its trap and let you pick.
No matter who you are, Coron has something that will make you say, "Damn…that was awesome." Better yet, the standard Coron tours have the perfect package experience for any traveler, especially the beach lovers.
Best Things to do on Coron Island
Coron Island hopping tours
Coron has a handful of day tours that give a well rounded experience of the island that will leave you very satisfied. Though there are tens of agents throughout the city, the standard tours all have the same names, stop at the same stops, and have the same prices. Knowing the stops (and where you would prefer to spend your time) beforehand will help you pick the right tours for you.
The Main Island Hopping Coron Tours
• The Ultimate Tour (Tour C)
• Coron Island Tour A (Tour A)
• Coron Island Tour B (Tour B)
• The Pass Island Tour / Reef & Wrecks Tour (Tour D)
• The Island Escapade Tour (Tour E)
(Scroll down for itineraries of each tour)
The Ultimate Tour (Tour C)
• Kayangan Lake
• Twin Lagoon
• Skeleton Shipwreck
• Malwawey Beach
• CYC Beach
• Coral Garden
• Siete Pecados
Price: 1400 PHP (~$28 USD)
Coron Island Tour A (Tour A)
• Kayangan Lake
• Green Lagoon
• Quin Reef
• CYC Beach
• Coral Garden
• Dimanlet Beach
Price: 900 PHP
Coron Island Tour B (Tour B)
• Barracuda Lake
• Twin Lagoon
• Skeleton Wreck
• Malwawey Beach
• Reef Garden
Price: 1200 PHP (~$24 USD)
The Pass Island Tour / Reef & Wrecks Tour (Tour D)
• Pass Island
• East Tangat Wreck
• Lusong Gun boat
• Lusong Coral Garden
Price: 1500 PHP (~$30 USD)
The Island Escapade Tour (Tour E)
• Bulong Island
• Banana Island
• Malacapuya Island
Price: 1500 PHP (~$30 USD)
My experience: The Ultimate tour (Tour C) essential, the Reefs and Wrecks Tour (Tour D) is a great second
90% of the travelers that come through Coron do the Ultimate tour (and with good reason). The remainder are likely just on the island for diving or are passing through on an "exploration" or "live aboard" cruise.
The Ultimate Tour drops by 7 locations, giving a perfect balance of white sand beaches, coral reefs, a turquoise blue lagoon to float in, and even a shipwreck at snorkeling depth. Honestly, I felt like I could leave the island satisfied after this one tour.
The "Reefs and Wrecks" tour makes a perfect second day trip. Though the boat time between stops is long, an hour to an hour and a half, the stops are amazing. The Lusong Gun Boat shipwreck is one of the few that is completely at snorkeling depth (0-10 meters). The coral gardens on the second stop are much more colorful than the marine sanctuary from the Ultimate tour. Last, Pass Islands white sands and hammocks has views comparable to the Maldives rounding out the Reefs and Wrecks tour as a jackpot…as long as you can stand the boat time.
Design Your Own Coron Tour
If you're pretty certain what you're after (beaches, shallow wrecks, coral gardens) renting a boat is very easy.
For 2500 Pesos (~$50) you can rent a boat for up to 2 people, and additional people for only 100 PHP additional fee (~$2)
Coron Diving and Snorkeling
With all of the wrecks and coral, great scuba diving is easy to find and cheap.
With local divers, expect 3 fun dives to run ~3500 PHP (~$70 USD) and 4500 PHP (~$90 USD) for dives with Europeans and westerners that have set up shop in Coron.
Coron Ship wreck Dives and depths
On September 24, 1944 during World War II, the allied forces raided and bombed the Japanese fleet around Coron sinking 9 Japanese warships. Though parts have been salvaged, most of these ships still sit at the bottom of the ocean around Coron within an hour boat ride.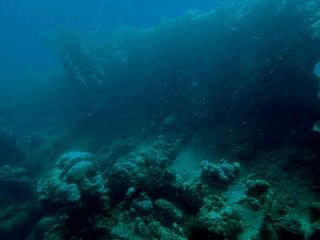 • Morazan – 26-34 meters
• Irako – 39-45 meters
• Kogyu Maru – 20-36 meters
• Lusong Gunboat – 0-10 meters
• Tai Maru – 9-26 meters
• Amitsushima – 26-36 meters
• Nanshin Maru – 21-32 meters
• Kyokuzan Maru – 28-43 meters
• Olympia Maru – 22-30 meters
• Skeleton Shipwreck
Snorkel and Freediving sites around Coron Island
• Coral Garden
• CYC Reef
• Bugor M Park
• Twin Peeks Reef
• Barracuda Lake
• Dimakya Island
• Siete Pecados M Park
Dive and Tour Shops on Coron
• Amphibiko Dive Center
• Aquahabitat Dive Shop
• Asia Grandview Hotel Dive Center
• Coral Bay Beach and Dive Resort
• Corto Divers
• Coron Divers
• Coron Sarang Dive Club
• CSLC Dive Club
• DCC Dive Center Coron
• Freediving Coron
• Fun&Sun Dive&Travel
• Kiss Diving
• MDI Divers
• Medusa Wreck Diving
• Neptune Dive Center
• Pirate Divers
• Red Carabao
• Reggae Dive Center
• Safety Stop Dive Centers
• Seadive Dive Shop
• Tao Expeditions
• UDCC Umali Dive Centers
• UU Dive Centers
• W Divers Coron
• Whale SCUBA Dive Center
Free Diving Coron
A very underrated opportunity on Coron is for free diving – diving simply with fins and a snorkel. With brief training (2 days) you can swim down to 20 meters on a single breath very easily.
The advantage of freediving over snorkeling in Coron is though there are plenty of great snorkeling sites, such as the ship wrecks and coral gardens, many of them sit on declines. The normal snorkelers float above and observe, but the view is much better from below.
All of this beautiful underwater scenery and clear water make Coron a great place to freedive whether you're going for a personal record or exploring.
Because of how rich the underwater scenery is in the Philippines, with sea life, coral, and ship wrecks, all within 15-20 meters I highly recommend taking a Freediving course before coming. I took a **freediving course on Bali** and followed it up by **free diving Apo Island** off the coast of Dumaguete and I couldn't be happier with my decision. Consider the investment before coming to Coron.
How to freedive on Coron
Most of the tours cater to snorkeling but the snorkeling sites are amazing and run fairly deep if you swim out a few meters. Simply join one of these tours, swim out, and drop your line. Most tours stay at each place for 40 minutes giving plenty of time for more than a few dives.
A second option for Freediving on Coron is to rent a boat (2500 PHP / $50 USD) and hit all of the sites tuned for your depth. Check the Coron Diving section for a list of dive sites and depths.
Where to free dive on Coron
• Skeleton Shipwreck
• Lusong Gun Boat ship Wreck
• Any of the coral gardens
• Kayangan Lake: This is more of a relaxing spot with beach and no coral, but the walls of the lake have interesting, jagged rock formations that are fun to dive and examine.
• Twin Lagoons
All of these locations can be visited as part of the Ultimate or the Reefs and Wrecks tours. Each site is sold as a "snorkeling spot", but the ability to swim down to 10-20 meters and stay for a while makes the experience much more interesting.
Cruising Coron by Motorbike
The beauty of the kind of unspoiled opportunity that exists on Coron is adventures and travel pleasures go beyond the sea.
For an on land adventure, rent a motorbike from anywhere in the main strip of Coron.
Two main tracks can be ridden. A loop on the west side of Coron, and a second ride out and back to Turda.
On both rides, there will be clusters of beach huts recently built, waiting for tourists, and completely empty. Between the new paradise huts will be stretches of white sand beaches and waste high turquoise water that goes out for a hundred meters, but looks like no one has ever set foot on it.
In the words of a friend who rode the route
"I just rented a bike and rode and found a set of huts. I decided to ask the guy about it and they had just been built a few weeks earlier. He said that he cooked dinner as well and asked if we wanted lobster. When we said yes, he actually got in his canoe, paddled out to the lobster trap, pulled it up, and let us pick our lobster. I had three that night. I ended up staying two more days because it was so peaceful. The entire ride I didn't see a single western face."
…so, if you want a side adventure, absolutely rent a motorbike and cruise.
Live Aboard Cruises around Coron and to El Nido
If you have extra time and want to add some adventure to your travel between islands, considering joining an "expedition cruise". Expedition cruises usually take 3-5 days cruising between the 1200 islands in Palawan by day and camping on one of them, with locals on the island or with the crew, or sleeping aboard the ship. I've talked to a handful of people that have done this and every single one loved it. The downside is prices will be roughly $100-$150 USD per night.
If you do decide to do a "Live Aboard" or an exposition cruise, Tao Philippines and Buay Isla are the two companies to join. They are the best rated, best reviewed, and I've heard nothing but great things about them from Filipinos and travelers.
Getting to Coron
To get to Coron you can travel from Manila, from El Nido, or from Puerto Princesa directly.
From Manila, the best option is an overnight ferry with 2GO or Altieza, but check the schedule before planning your travel as the ferries only go on specific night.
Read our article "Manila to Coron" for more info on ferry and flight options to Coron.
If you are traveling from anywhere else in the Philippines, like Siquijor or Bohol, you will likely have to connect through Cebu City to Puerto Princesa. From Puerto Princesa, most take a van from the San Jose terminal to El Nido, spend some time in El Nido, and then take the fast boat to Coron. As an alternative, ferries run from Puerto Princesa direct to Coron.
Read our article "Manila to Coron" for info on all of your options for getting to Coron from Manila, El Nido, and Puerto Princesa