One of the best ways to save money, improve your style, and build a comfortable wardrobe is by selectively investing in minimalist clothing brands and staple wardrobe pieces that exude the essences of simplicity, timeless style, and longevity.
By choosing high-quality clothing that delivers minimalist style, versatile function and comfort, but is still durable enough to last a lifetime, you're guaranteed to look good (and feel good) with fewer pieces of clothing, no matter what you decide to wear.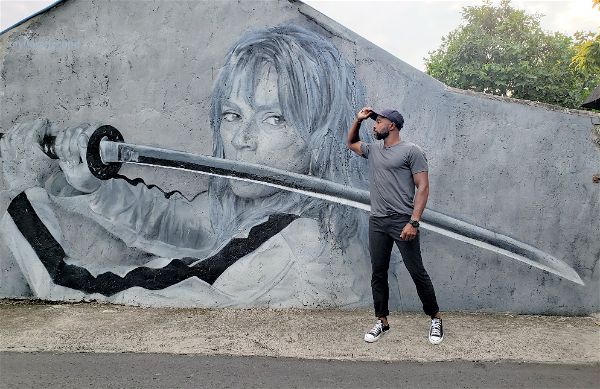 However, knowing which pieces of clothing will stay in style for decades, will last for decades, and will be comfortable enough to wear for decades can be tough without being able to read the future.
Fortunately for you, millions of minimalist fashion enthusiasts before you (like myself) have worn, tested, and come to love a handful of minimalist brands that always deliver stylish, high-performing clothes that are proven to last a lifetime.
This article contains affiliate links.
In this guide to the best minimalist clothing brands on the market, I'll share 47 best clothing brands for minimalists, "one bag" travelers, and "buy it for lifers" love and use to break the fashion industry trend of wasteful, expensive, and finicky fast fashion.
Then, I will share the essential ideas of what makes good minimalist clothing, how to choose the timeless, versatile pieces to create a "capsule wardrobe".
Whether you are minimizing to de-clutter your life, to step up your fashion, or to prepare for long term travel with as few bags as possible, we'll ensure you have all of the information you need in this ultimate guide to minimalist clothing brands and capsule wardrobes.

TABLE OF CONTENTS

Quick List of the Best Minimalist Clothing Brands for Minimalism, Capsule Wardrobes, and "One Bag Travelers"One Bag Travel
Click any brand to jump to the brand explanation
Shoes: Everyday footwear that packs down small and is versatile in use
Minimalist Socks
Socks that are comfortable, last for years, and can be worn for days without smelling bad
Click here to jump to the full list with brand details, and recommendations by brand

What makes a good "minimalist" clothing?
In short, a good minimalist fashion brand creates timeless pieces for your wardrobe.
Timeless pieces are staple items that incorporate classic, timeless designs that will never go out of style, are durable enough to stand the test of time, and are versatile enough – in color, in function, and design – that they can coordinate with any other item in your closet and can be worn for more varied activities than normal clothing.
The best minimalist wardrobes start with and are built with stylish basic pieces with slimming, clean lines – such as jeans, t-shirts, Henley shirts, flannels, classic button downs, chinos pants, chinos shorts – and are constructed with excellent workmanship, high quality stitching, and high performing and eco-friendly fabrics such as wool, textured nylons, organic cottons, and choice synthetics.
What makes a good "minimalist" clothing brand?
The best minimalist clothing brands, such all of the one in this list, have the universal standard of creating versatile pieces of clothing that look classically stylish (not trendy) that will last a long time, and enhance a minimalist lifestyle – of owning less, spending less time choosing what to wear, and allowing you to do more and live a more active lifestyle with the clothes you wear every day.
Compared to the fast fashion brands that people normally think of, these recommended minimalist fashion brands have fewer pieces in their catalog with less branding, more simplicity, and more focus on pieces that each fill a perfect place in your wardrobe and will be something that lasts.

Full List of the Best Minimalist Clothing Brands for Travel and Stylishly Minimalist Wardrobes
Now that you understand what attributes make up great minimalist clothing and why these brands in particular are trusted in delivering great, staple, minimalist pieces of clothing, let's review the best minimalist clothing brands by category and what they do best.
All Around Best Minimalist Clothing Brands
These brands deliver great, stylish, versatile pieces perfect for everyday casual wear, at the office and in leisure time, that is technical enough (sweat wicking, odor resistant, stretchy) to be great travel clothing or just allow you to have a smaller wardrobe.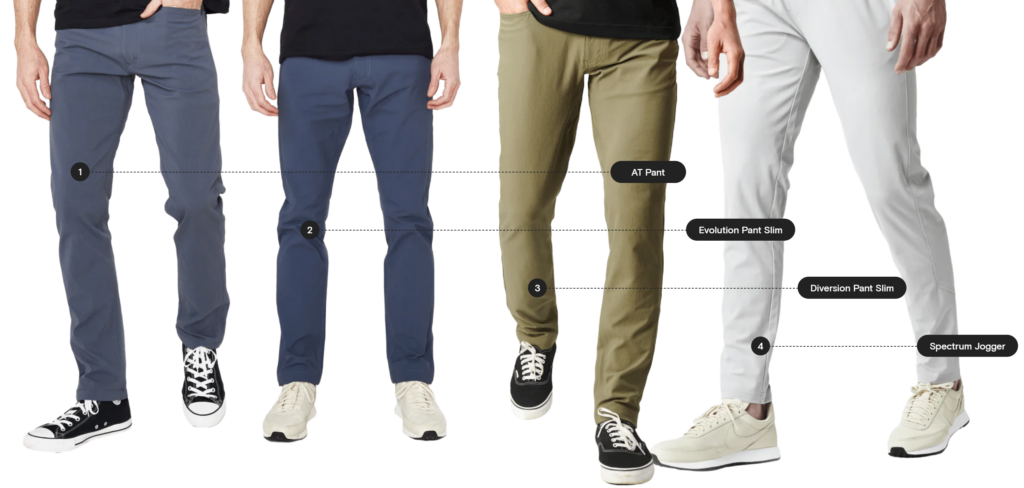 One of the all around best minimalist clothing brands to start with and for travel. Western Rise consistently delivers stylish yet budget friendly and travel friendly staples that handle adventures as well as daily life and look good enough to wear in the office or an upscale night on the town. The team does impeccably well with versatile pants, shorts, and insulation layers.
Best pieces from Western Rise
Discover more great pieces at Western Rise
Outlier Clothing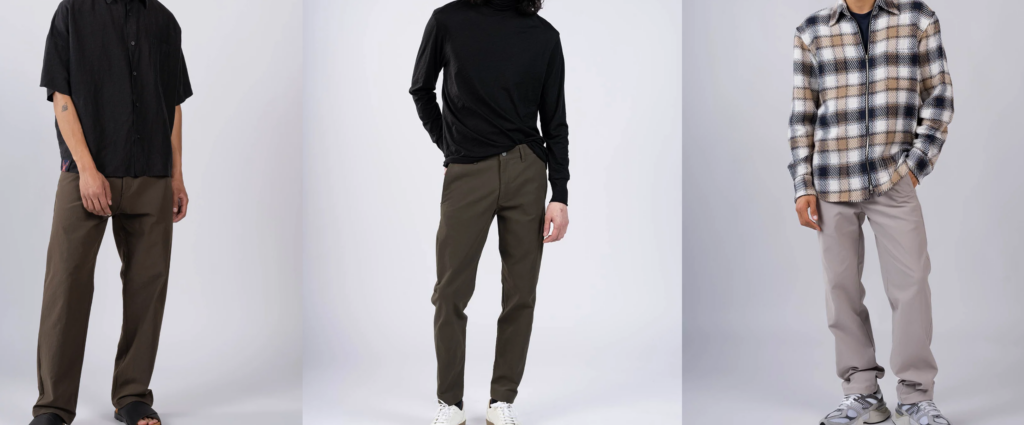 One of the pioneers in the performance daily wear niche, Outlier Clothing is an innovative New York based brand that delivers reengineered clothing staples with high tech and heavy duty construction. Though pricey, every single piece of their clothing is over-engineered for durability, performance (sweat wicking, odor resistant) and style
Best Pieces from Outlier:
Discover more at Outlier Clothing
A trusted brand for excellently produced outdoor wear and casual wear that offers a lifetime guarantee on all of its clothing, but you likely won't need it. Eddie Bauer delivers everything well – jeans, shoes, shirts, bags – but I highly recommend their tops and jackets
Best Pieces from Eddie Bauer
Stormdown Hooded Jacket: High fill goose down with waterproof treatment
Travex Flannel shirts
Discover more at Eddier Bauer
Daily wear cycling commuter apparel that makes weather resistant basics for long term, low maintenance wear, cut as fashion staples such as dungarees, t-shirts, and rain shells.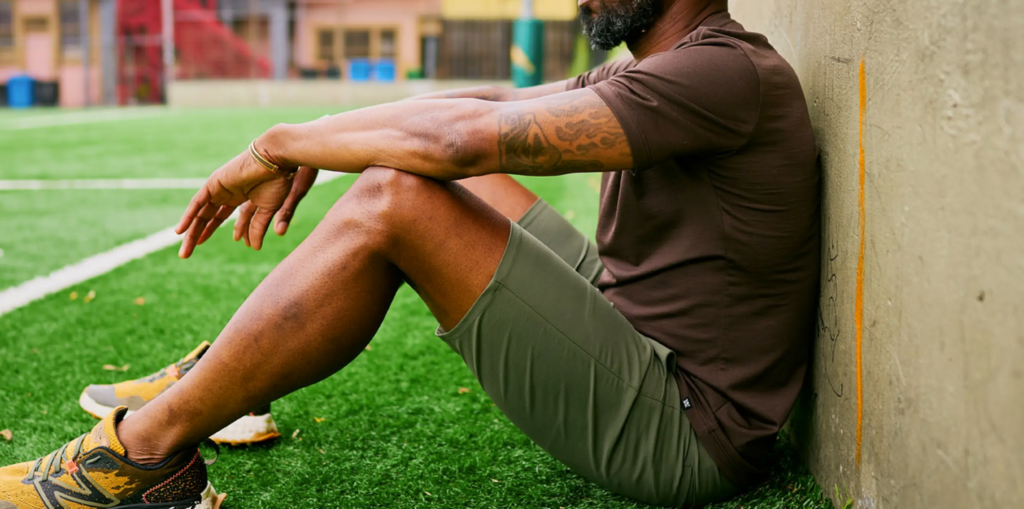 Discover more at Mission Workshop
A minimalist brand that specializes in unbranded Merino wool basics with classic fits at very affordable prices. Obsessively designed by travelers for travel, but perfect for daily wear.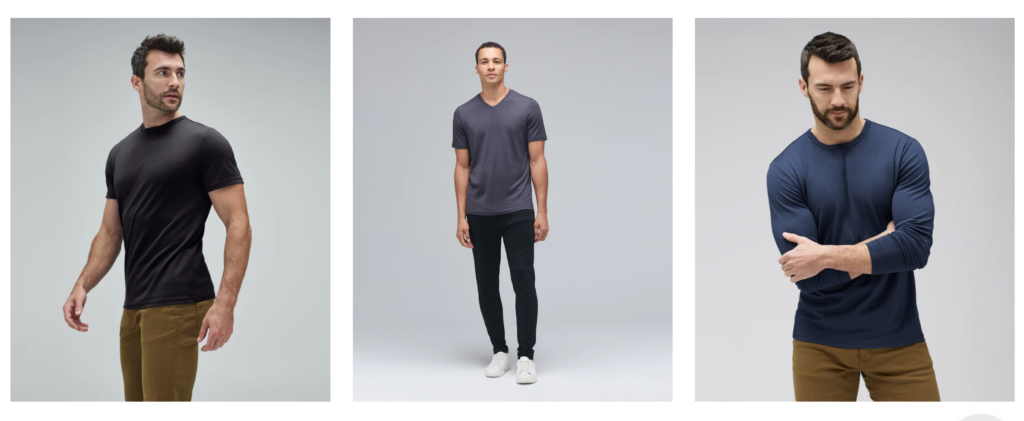 Discover more at Unbound Merino
A sustainable and eco friendly company that delivers great Merino wool basics equally suited for rough conditions and daily life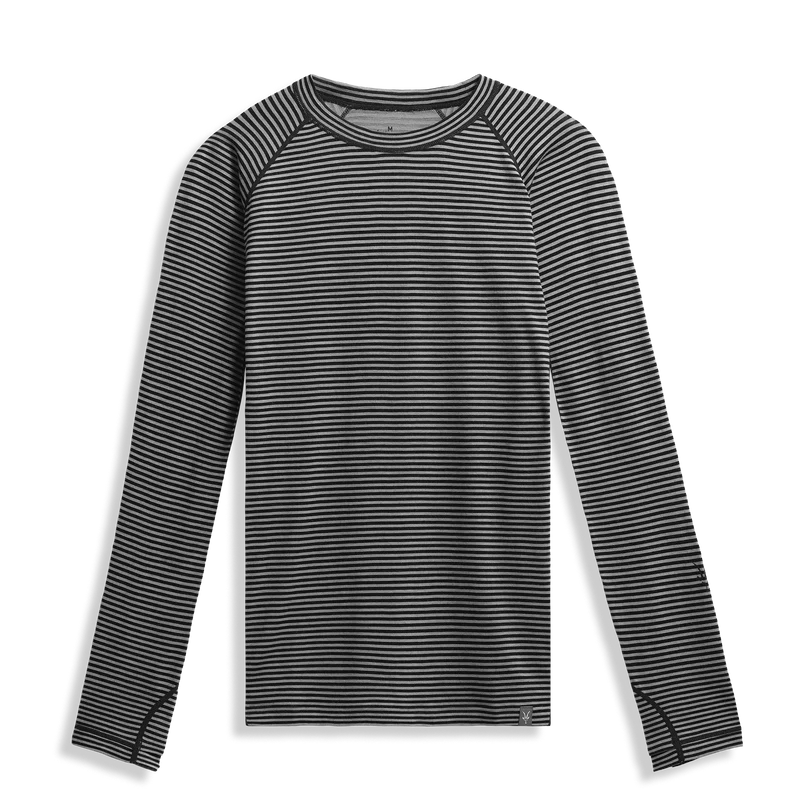 Best Pieces from Ibex Merino
Levis
The originator of jeans and denim still delivers some of the most timelessly stylish, durable, and versatile jeans and denim pieces around
Uniqlo
A Japanese company that delivers simple basics for men and women for every aspect of life – casual, formal, active – cheaper than any other alternative. Not Buy it for life, but inexpensive and budget friendly, versatile high quality basics for a minimalist wardrobe
Shop at Uniqlo online for the best selection
H&M
Though technically focused on fast fashion H&M is a greater starter point for simple, affordable minimalist clothing and basic pieces that will last…if you know what to look for. H&M does cheap, basic activewear items well (joggers, shorts) and if you're overseas you'll be able to find an H&M. For the best longevity, avoid stretch fabrics.
For any other purchases, plan on a 2 year lifetime – so – to be clear H&M isn't "buy it for life," but the unbranded basics are a great place to build the starter points of a minimalist wardrobe, and upgrade later piece by piece as each H&M item wears out. Also, if you are not in North America or Europe, H&M is a great place to start shopping as they have locations throughout Asia, Africa, and South America as well.
Click here to explore H&M online however, I recommend visiting a store in person to check clothing quality before purchase
Asket

Delivers high quality, stylishly versatile, unbranded basics, and is known for great t-shirts that last
The North Face
One of the originators in techy outdoor wear, virtually everything they produce is built to last and perform.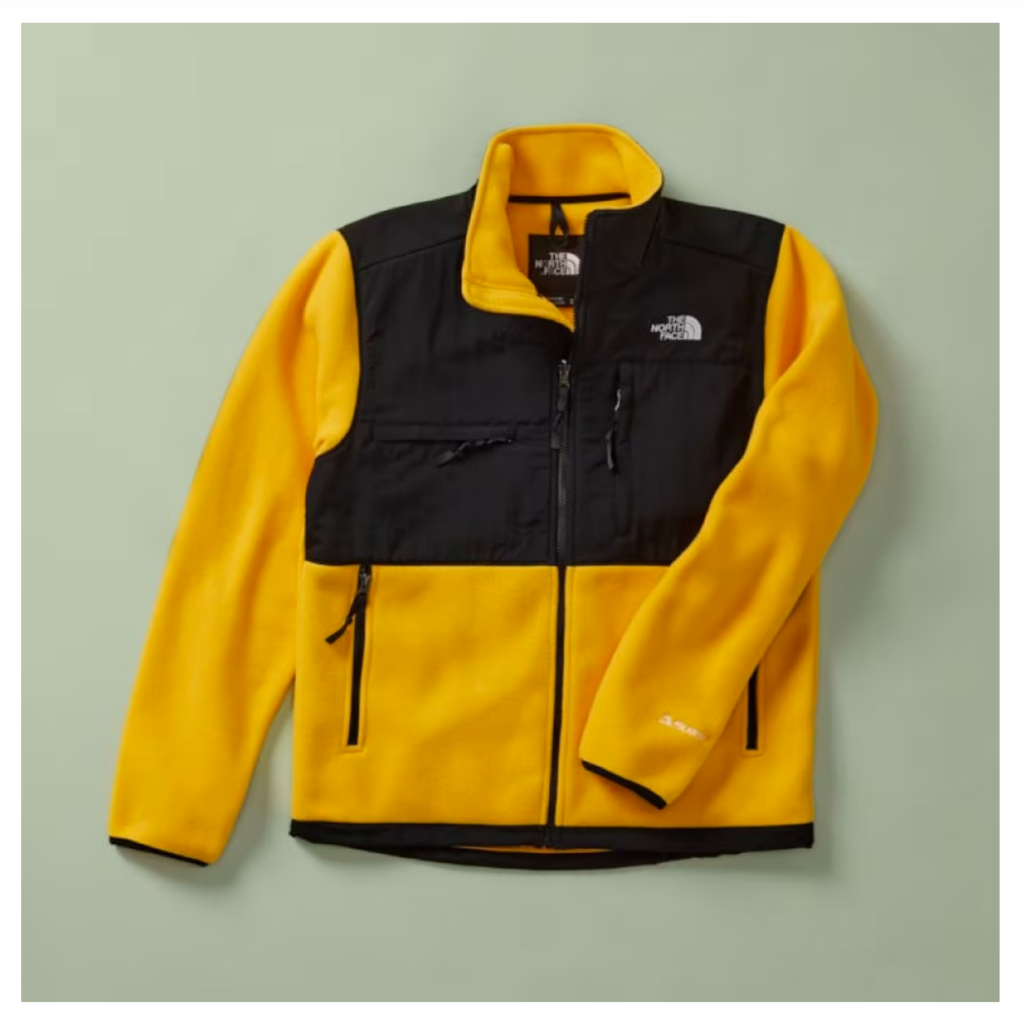 Discover The North Face's full line of products
The North Face Renewed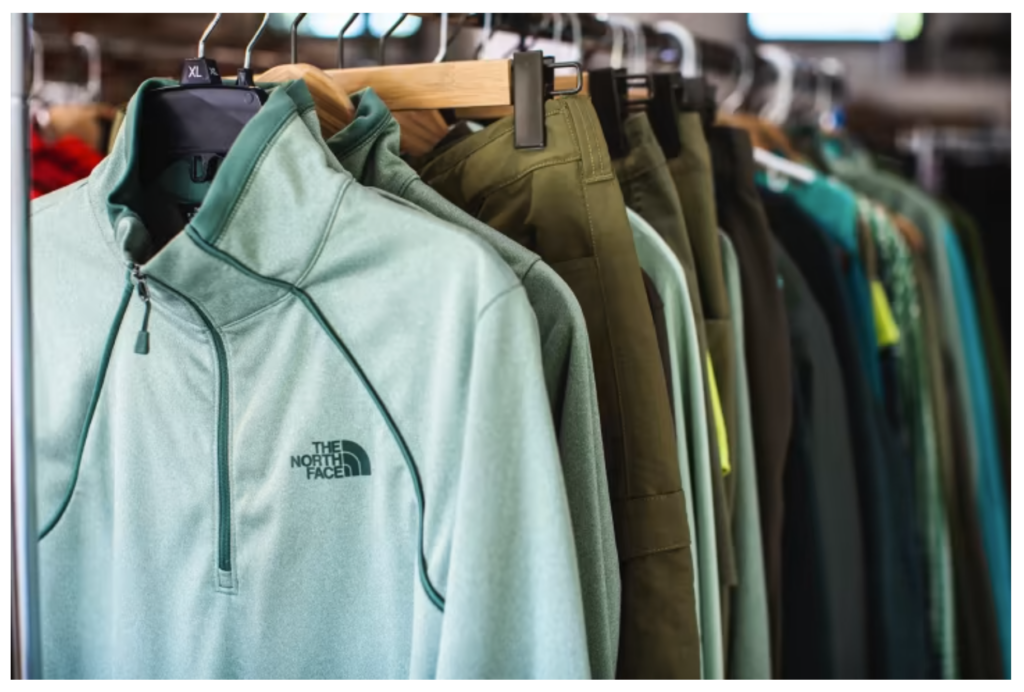 Emphasizing "circular fashion", TNF Renewed takes used North Face gear to sort, refurbish, and resell, saving you money and reducing environmental impacts (learn more)
Click here to discover what The North Face Renewed has to offer

A legendary outdoor wear company that delivers in sustainability, eco-conscious business and production, and "owns products for life" to help you repair and keep using your clothing. All of Patagonia's pieces are built to perform and to last, so you can count on every purchase to last for years or decades, and you can count on the Patagonia team for help with repairs if/when the gear breaks down.
Learn more about what Patagonia has to offer
Patagonia Worn Wear
Program allows you to trade in used Patagonia gear to be cleaned, refurbished, and resold, reducing environmental impact and keeping your clothing in service longer.

Arcteryx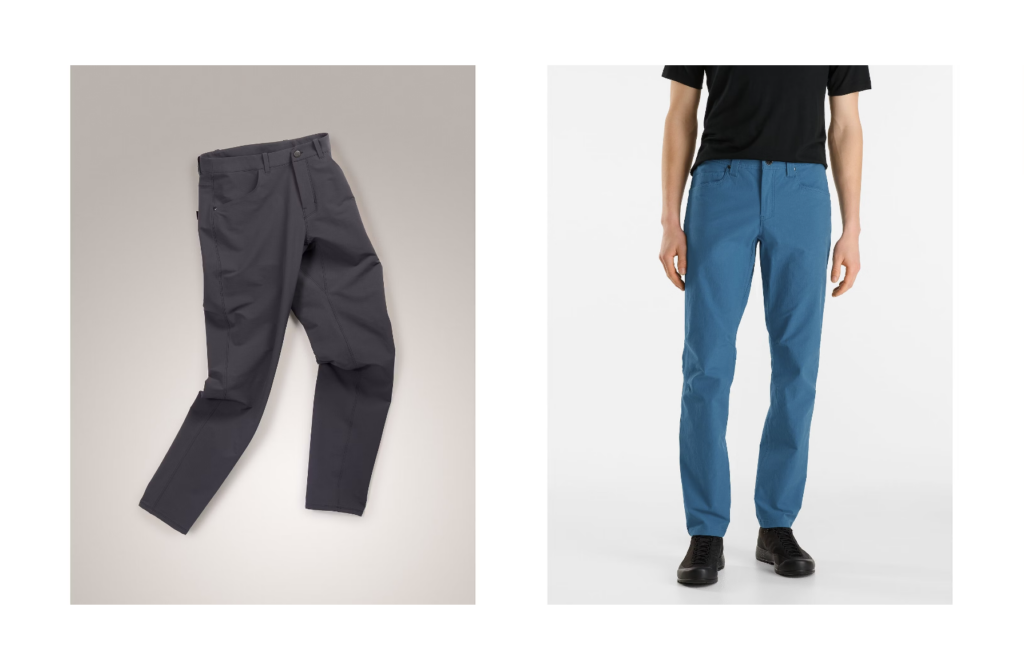 Known for military and adventure grade hard use apparel, anything you buy from Arcteryx is guaranteed to be a "buy it for life" item. Arcteryx focuses on outdoor and adventure, so their offerings lean toward the casual and adventure wear side, but view all of their clothing as an investment that will last.
See what Arcteryx has to offer
Makers and Riders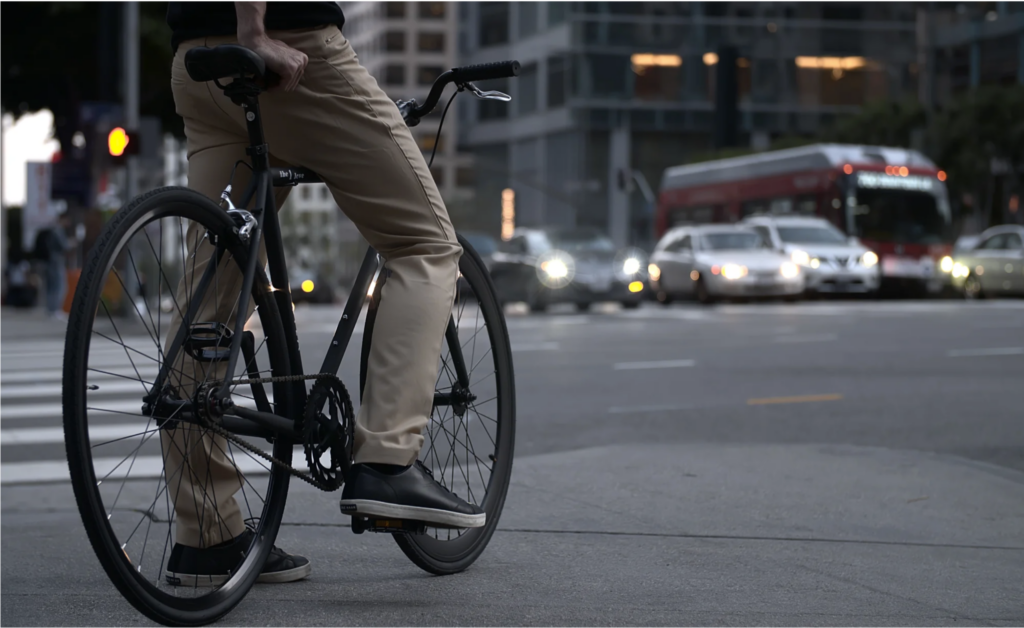 Makers and Riders delivers travel specific classic styles in merino and synthetics; pants, a shirt and layer piece.
Discover more Makers and Riders Piecs
Civic Collection by Taylor Stich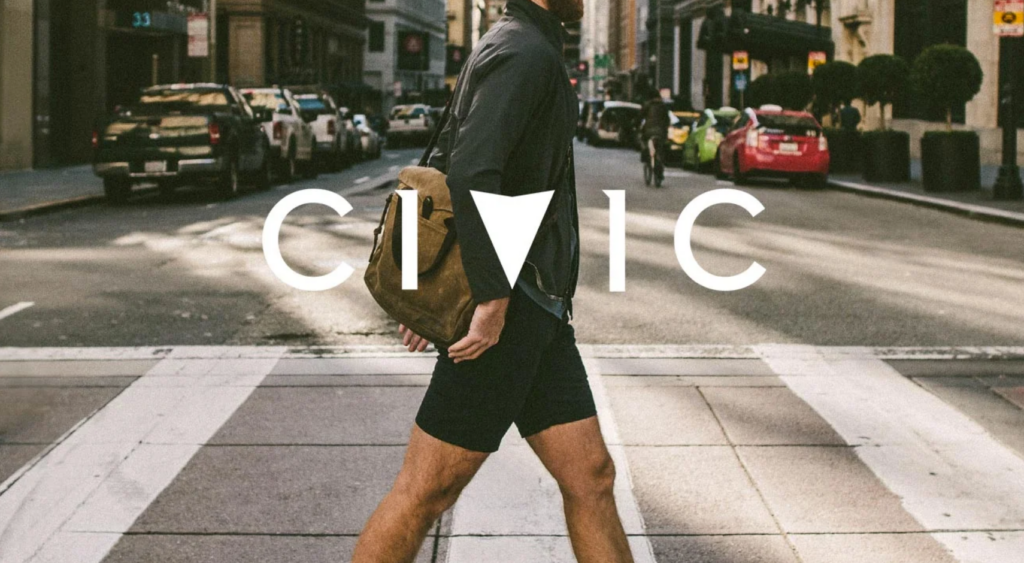 Essentials and basics redone in merino wool with a simple but reliable lineup of shirts, layers, pants, underwear.
Wardrobe essentials in performance synthetics and merino; shirts, pants, layers, outerwear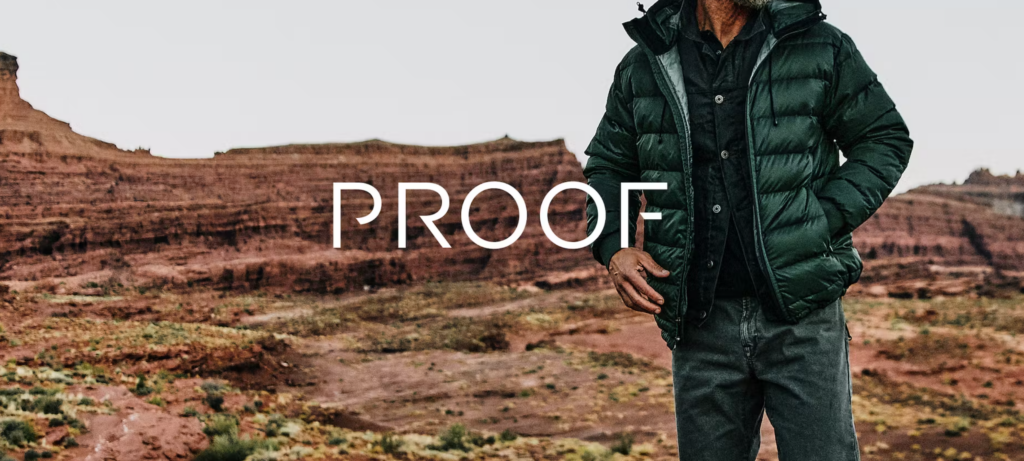 Discover the Proof line of clothing at Huckberry
Outerboro

Outerboro is a newer company that delivers performance essentials in synthetic and merino versions of shirts, pants, outerwear with their standout item being Merino tees.
Aao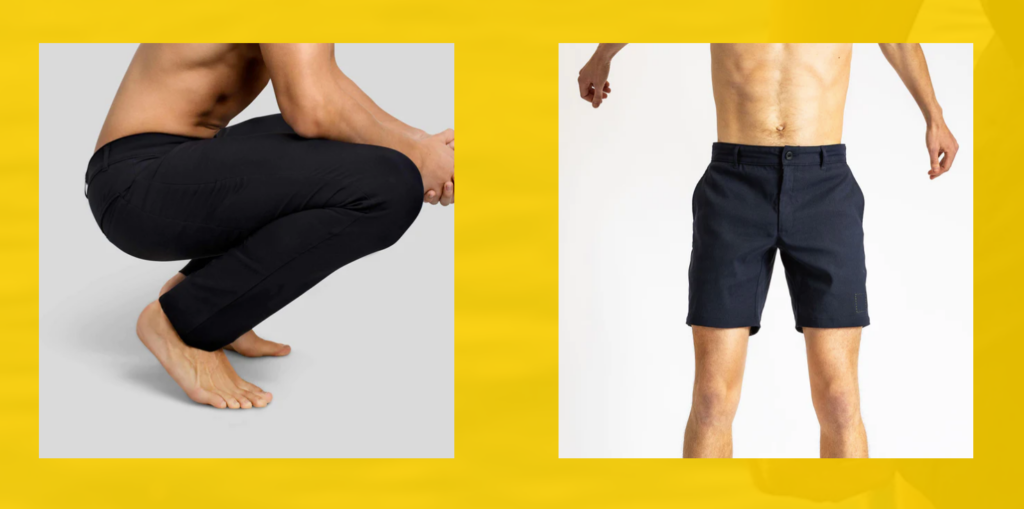 A Swedish brand focused on classically styled but slim fitting synthetic pants and shorts and merino beanies
Aviator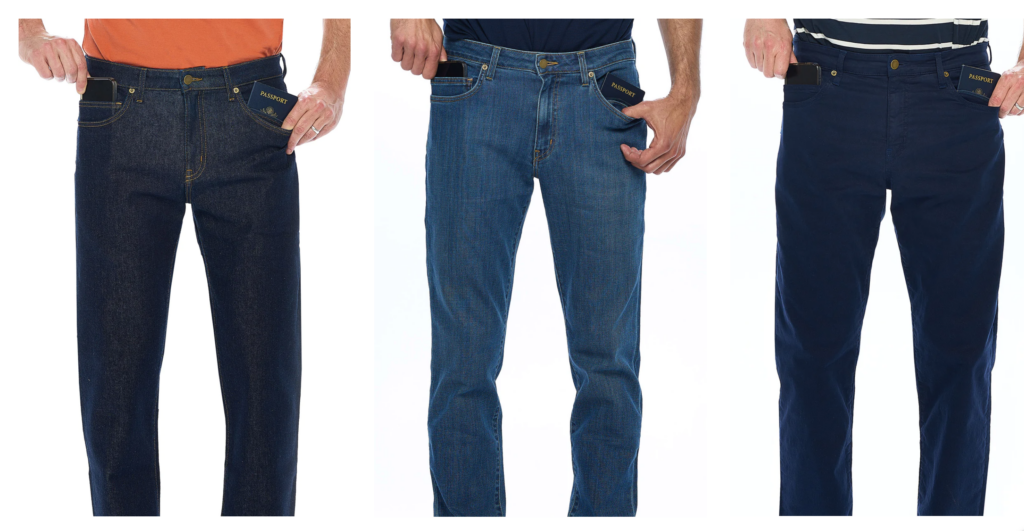 Aviator delivers travel clothing and performance focused essentials (jeans, hoodies) made with synthetic/naturals; pants, shorts, shirts with the travel jeans being their standout item
Learn more about Aviator travel clothing
Gap
A well know brand that is great at delivering classically styled, unbranded basics that are versatile in wear and high quality in construction. Though Gap's garments don't usually have the stretch, water resistance, and odor resistance of tech wear, their cotton heavy jeans and shirts are constructed to last and stylishly versatile, filling a great space in the urban minimalist's closet.
Click here to discover what The Gap has to offer
Dickies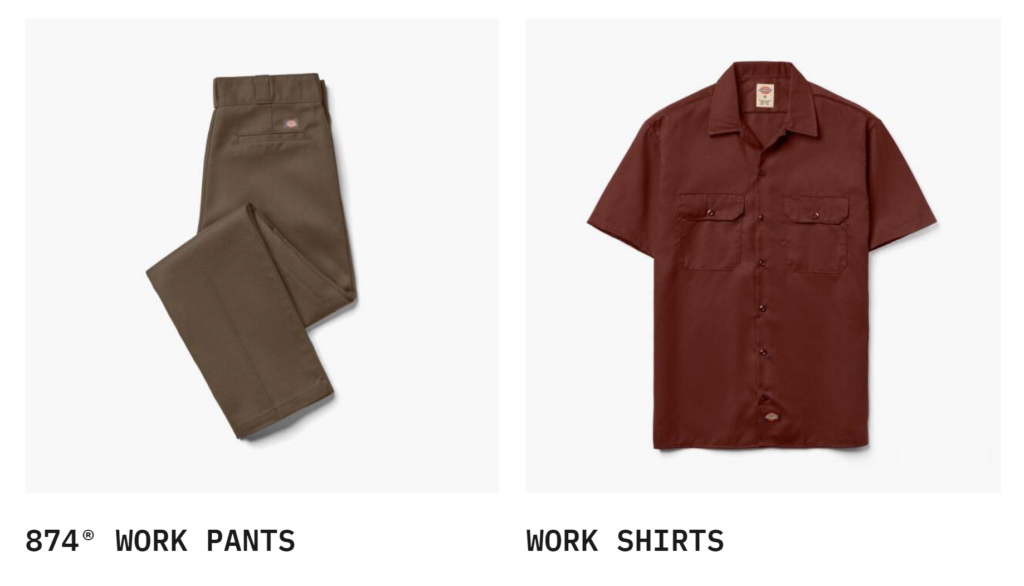 A commonly overlooked workwear brand that delivers budget friendly, high-quality basics that will last a lifetime with the 874 Workwear pant being a standout piece of minimalist clothing for decades. Along the same lines, you can expect any clothing purchased from Dickies to last for decades.
Discover what minimalist clothing Dickies has to offer
Duluth Trading Company

Heavy duty workwear apparel (and legendary underwear) that is made to last and backed by Duluth's "no bull guarantee". Expect the jackets and flannels from Duluth to be very warm and last for years. Expect the workwear pants to last as well.
Discover more at Duluth Trading Company

Activewear and Athleisure inspired Minimalist Clothing Brands
"Athleisure" brands do a fantastic job of creating casualwear pieces – pants, shirts, and shorts – built with the function – stretch, odor resistance, comfort, and durability – that we need in a workout. The result, with a good minimalist athleisure brand, is clothing that you can wear virtually anytime after work, through the weekend, and through the adventures.
For those that live an active lifestyle, consider these athleisure brands for basic pieces that you can wear in and out of the gym.
Oliver's Apparel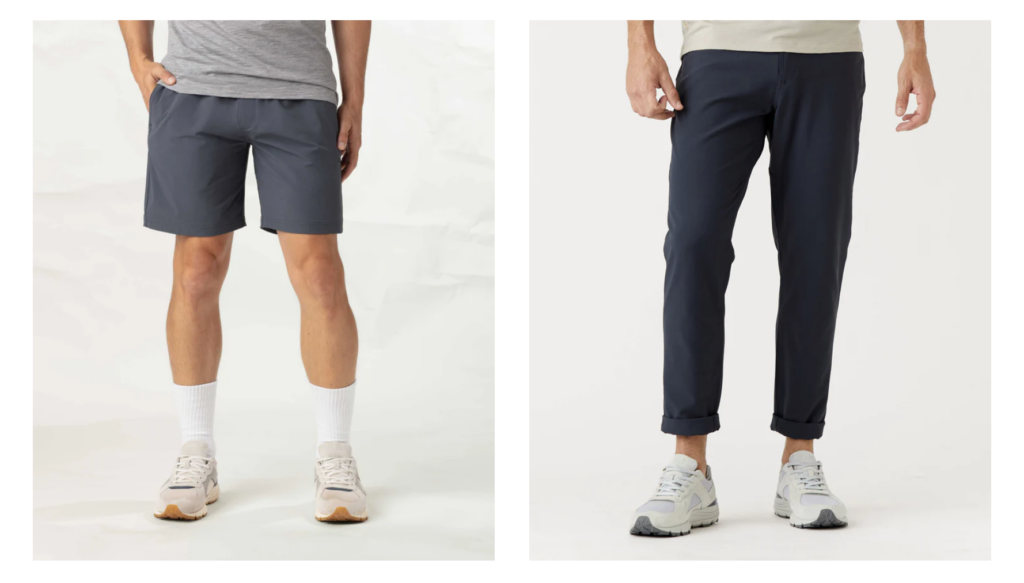 "Athleisure wear" brand delivering high performing athletic wear with the cut and comfort that discreetly allows for daily wear. Great synthetic and merino fabric options in shorts, pants, shirts, warmth layers, and other staples.
Discover more at Oliver's Apparel
Myles Apparel

Another great "athleisure wear" brand that targets delivering athletic wear that performs well but is versatile enough for daily life, but also perfect travel and adventure wear with the standout piece being their everyday short.
Discover more at Myles Apparel
Lululemon

In addition to athletic wear, provide tech inspired casual wear basics (shirts and pants) that are minimalist in design and low maintenance. The Lulemon ABC Pants are likely Lululemons most highly regarded piece of minimalist dailywear.
Prana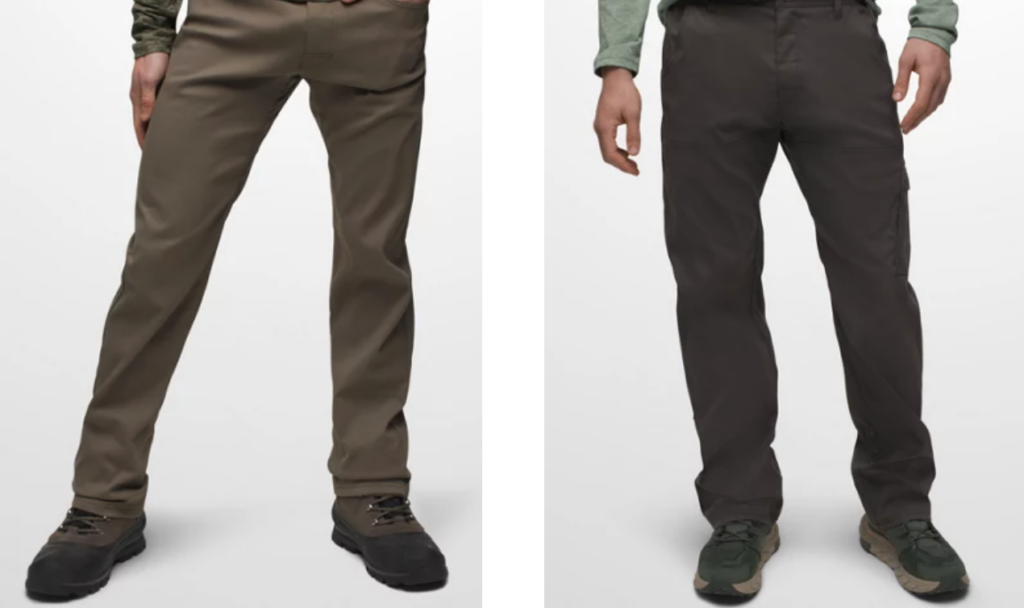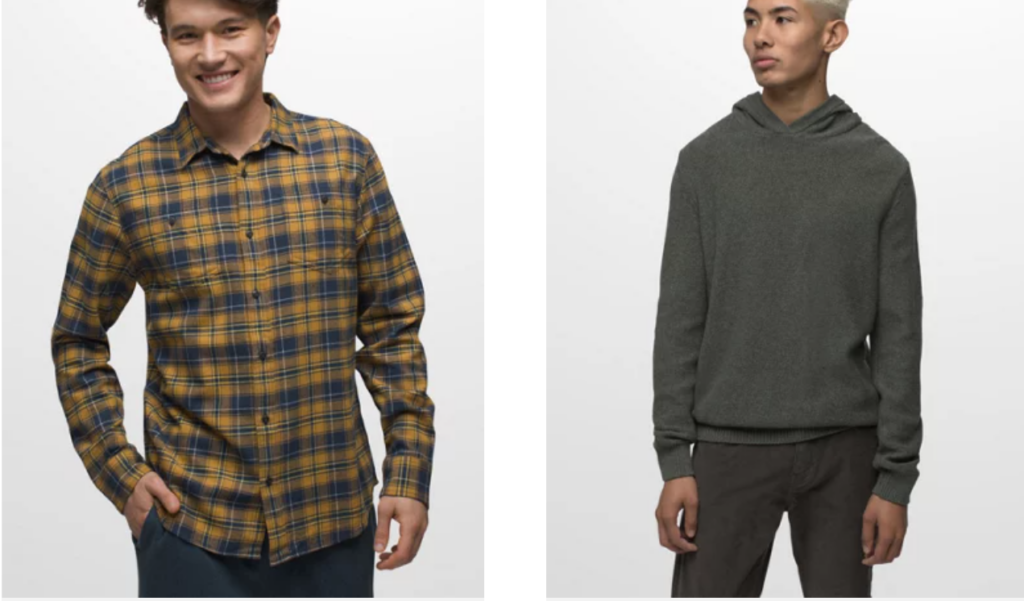 Outdoor and active lifestyle brand that delivers durable, hard use pieces in the form of fashion basics (dungarees, t-shirts, warmth layers) offering affordable casual wear that will last for years. The Prana Brion II pants are arguably Prana's best minimalist item, tough enough for rock climbing yet stylish and comfy enough for daily wear.

Best Affordable Minimalist Clothing Brands
Just because a good piece of clothing exudes "quiet luxury" and is extremely functional doesn't mean it has to break the bank. These affordable brands meet our criteria of producing stylish pieces that are versatile and last, and do so in a way that actually makes them cheaper than normal clothing.
Western Rise
With their high value capsule wardrobe approach, Western Rise delivers single versatile pieces that can be worn for months yet cost roughly the same as normal clothes making Western Rise not only one of the best minimalist clothing brands but one of the best affordable minimalist clothing brands.
Uniqlo
Uniqlo overdelivers in providing unbranded, staple pieces with solid construction for half the price you would find in other stores.
Decathlon
One of the biggest athletic store chains in Europe and with convenient presences throughout Asia, South America, and the US as well, Decathlon designs, tests, and manufactures all of its clothing in house, to deliver gear that performs well and costs 1/3 to ½ the well-known athletic brands.
Also, if you are not in North America or Europe, H&M is a great place to start shopping as they have locations throughout Asia, Africa, and South America as well. No matter where you are in the world, you are likely near the Decathlon stores in 73 different countries and affordable minimalist athletic and activewear.
Click here to discover the 73 countries Decathlon has a presence in and find a Decathlon near you
Best Sustainable Clothing Brands
For conscious consumers, ensuring those new minimalists clothes come from sustainable brands should be a priority. Luckily, thanks to the diligence that good sustainable clothing brands put in anyways, finding an ethical brand that still produces high quality gear from sustainable materials isn't difficult.
These brands, the best I've observed at reducing their environmental impact, using sustainable fabrics (that are either low impact or last long enough to avoid future waste), and offsetting an unforeseen negative impact with intentional, planned positive impact via donating a portion of profits to long term ecological and social causes. Additionally, these brands apply sustainable practices in business such as delivering fair wages, using innovative design to reduce waste, and creating not only a sustainable product but a sustainable brand.
Though, in this day and age, you will be hard pressed to find a company that delivers high quality products with absolutely zero environmental or social impact, these brands come close with a track record you can trust.
Patagonia + Patagonia Warn Wear
Already on our list as one of the best minimalist clothing brands for adventure friendly casual wear, Patagonia actively assess and reduces environmental impacts and adjusts its business to ensure as little as possible ends up in land-fills and contaminates nature. From championing the cause of Organic Cotton (which eliminates tons of pollution in rivers), to being Fair Trade Certified, to monitoring the health of waterways affected by the fashion industries production approaches, to repairing and reselling clothing to avoid waste, rest assured that anything you buy from Patagonia is as sustainable and friendly for the environment as a large clothing brand can be.
Western Rise
Again, Western Rise shows up on our list in the "best of" section as a brand that champions sustainability and eco-friendly production with 100% carbon neutral and blue sign approved (Western Rise's Sustainability Record) – all while still delivering excellent clothing at an affordable price. One more reason I highly recommend Western Rise.
Learn more about Western Rise's minimalist clothing
Ibex Merino
With a "buy less, buy better" approach, humanitarian sheep handling practices, and constant monitoring of carbon footprint, Ibex delivers high quality products in a responsible way making Ibex one of the most sustainable, environmentally friendly wool clothing companies.
When harvested in a humane way, friendly too the cute little sheep, wool is one of the most sustainable fabrics available, with zero harmful byproducts for the environment and a naturally regenerative source allowing a centuries old tested approach to production of minimalist, high performing clothes with all natural materials.
Discover the full Ibex Merino line

Best Minimalist Business Attire Brands for Dress Clothes
Wool & Prince: Excellent 100% wool dress shirts

Wool & Prince serves the minimalist market through its slogan, "Own Less, Own Better." With well known dress shirts that are perfectly tailored from 100% Merino wool, this brand allows you to set your closet up with formal wear and workwear that requires less maintenance and fewer washes, and stays fresher while you wear.
For business travelers aiming to carry less on their trips, Wool & Prince is an excellent option.
Be sure to check out Wool & Prince's casualwear pieces – wool canvas pants, t-shirts, Henleys, joggers, and more – that deliver the same solid style and function with fewer pieces in your closet.
Discover more at Wool & Prince
Ministry of Supply

Originally established by two MIT students with a kickstarter funding a dress shirt made with a temperature regulating, moisture regulating, odor controlling fabric made by NASA. Since then, the company focuses on using aerospace industry technology, robotic engineering, and thermal analysis to create better fitting and better performing business attire.
Discover more at the Ministry of Supply
Bluffworks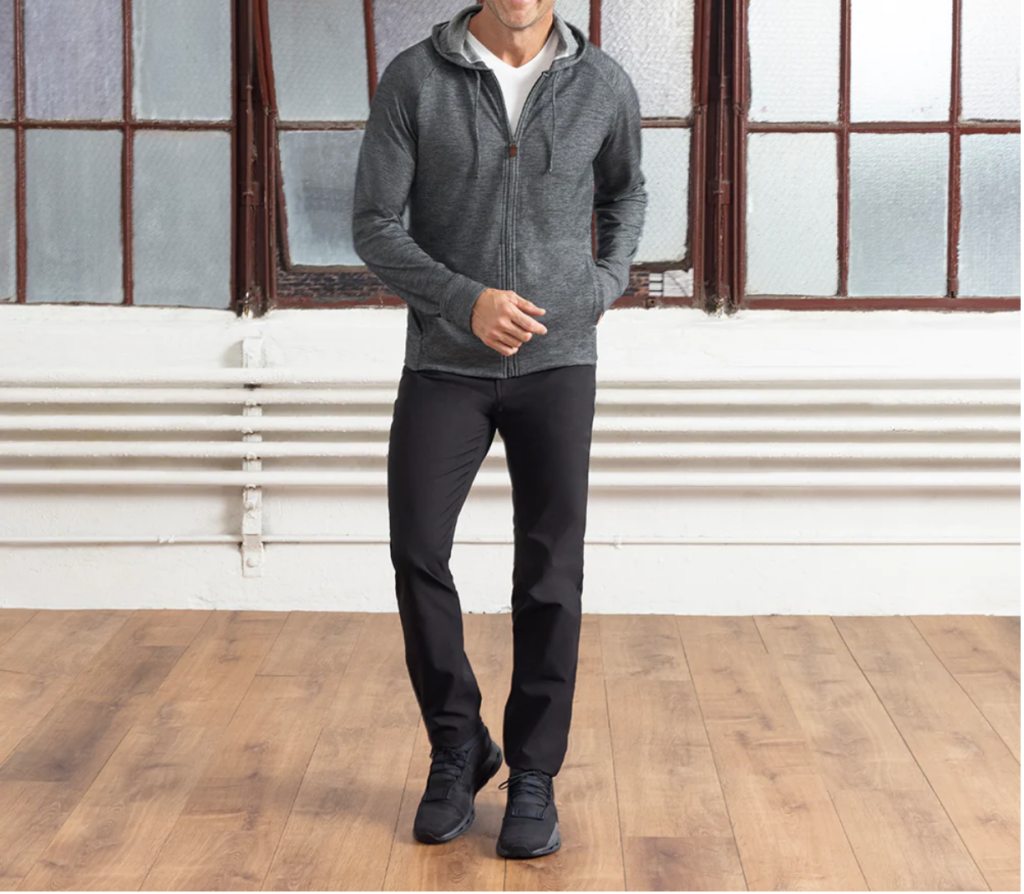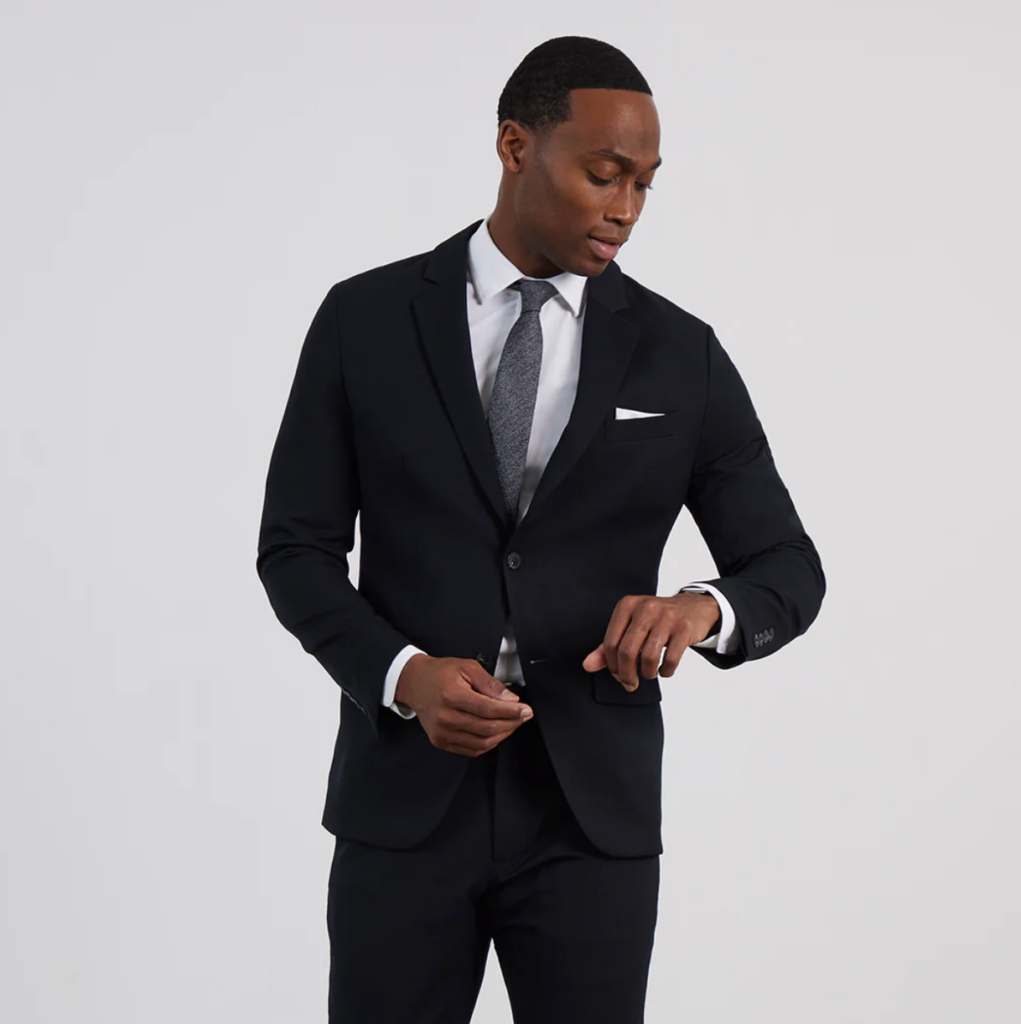 Bluffworks delivers office wear and formal wear staples – such as dress shirts, blazers, slacks, and the like – but constructed of durable, technical materials that avoid wrinkles and odors, can be worn for extended periods between washes, and are designed for "easy care," like machine washable blazers.
Bluffworks is the brainchild of a frequent traveling corporate warrior who realized normal "dress clothes" are uncomfortable and too high maintenance. The result is travel friendly, minimalist, dress wear staples.

Minimalist Footwear: Shoes and Boots
Everyday footwear that either packs down small, is versatile in use, or is tough enough that one pair will last.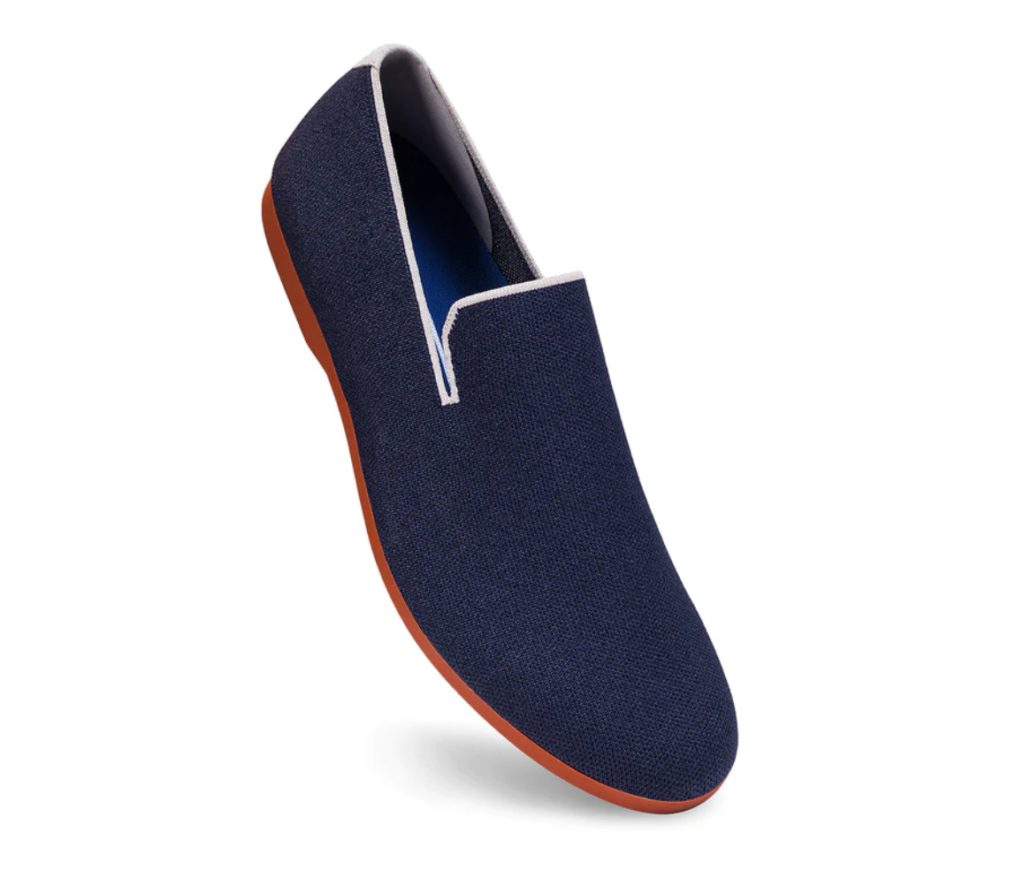 An innovative shoe wear company that 3D knits an incredibly stylish and travel friendly loafer.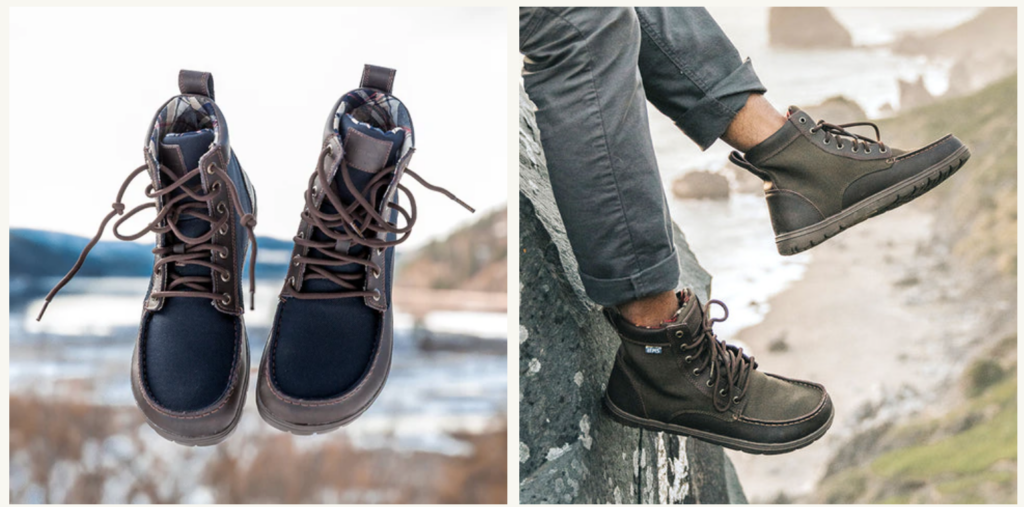 A miminalist shoe wear company that delivers minimalist, packable, comfortable boots and shoes. The Boulder Boot, an extremely comfortable, lightweight, packable boot, and the Outlander being top among them.
Adventure ready running sandals that will last you thousands of miles, and a full line of minimalist shoes inspired by them.
Another adventure ready "running sandal" option, that presents a "between the toes" flip flop style sandal instead of over the top
Discover more at Earth Runners
Another great minimalist shoe company that makes low profile, packable shoes suitable for the office, such as the Vivobarefoot Ra
Discover more at Vivo Barefoot
Tough training footwear, sneakers, and boots that are designed for rucking and guaranteed for life under the GORUCK SCARS Guarantee. Perfect for anything from daily wear, to travel, to hardcore adventuring.
Discover more about GORUCK footwear at GORUCK

Watches

Affordable, reliable, and classically styled timepieces are perfect for everything from casual, to formal, to travel, and adventure. A single classic watch can serve as your only watch for an entire wardrobe.
Discover all of the Timex Expedition line watches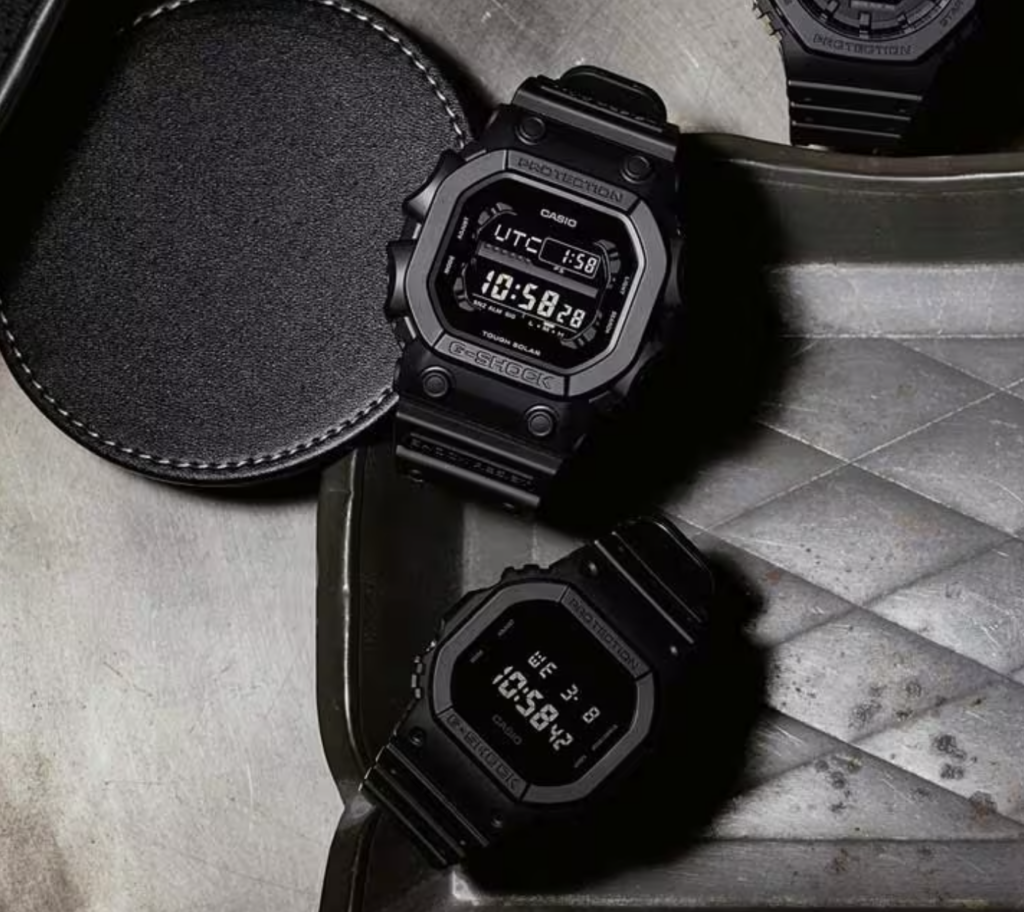 For hard use situations requiring a waterproof watch that can perform in all weather through dust and grime, few watches are tougher and more accurate and even fewer watches deliver the value and the price that the G-Shock watches do. Additionally, the neo-retro adaptions of the G-Shock line make them a staple, functional piece that can be worn on most any occasion.
Discover more G-Schock watches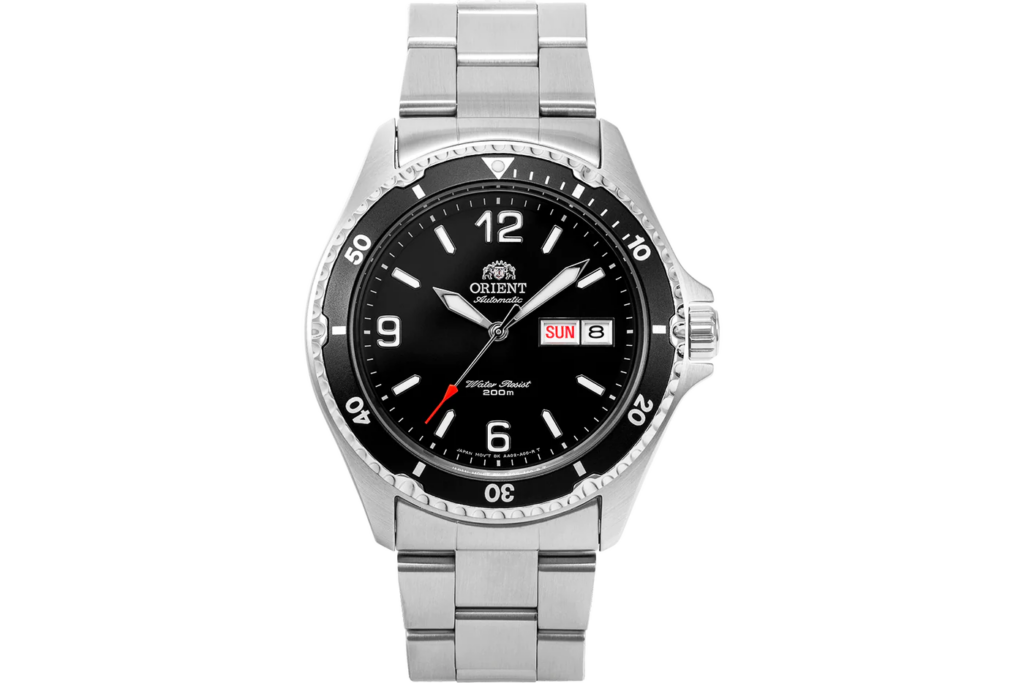 Highly regarded manufacturers of heirloom-worthy watches for over 70 year, with timeless designs at the cheapest available in the pool of "good watches." Start your hunt by checking out the Mako and the Kamasu watches.

Understanding Minimalist Clothing, Capsule Wardrobes, and Minimalist Fashion Brands
Why you need a minimalist wardrobe: Timelessly stylish clothes that last longer, perform better, and allow you to own less
Imagine a compact wardrobe with carefully selected pieces in which no matter what you grab, you'll look great, because every piece you have is timelessly stylish. Because every item is built of high-quality materials and well constructed, it will last long enough to be heirloom. Lastly, because each item is made of high performing materials that resist dirt and odor, dry quickly, and can be worn more times between washes – like wool, spun nylon, waxed cotton, and more – you require fewer pieces in your closet because each piece of clothing does more THAT is a minimalist wardrobe.
With the investment in a minimalist, capsule wardrobe comes the benefits of saving money over time, always looking good, and less time choosing what you wear.
Minimalist wardrobes are the epitome of quiet luxury while maximizing the function and value we get from clothing
In the past, "luxury" in terms of clothing brands has been strictly related to how prestigious and pricey and brand is perceived to be – not function or longevity. Though this showy and bling focused approach to fashion may satisfy some in the short term, it can lead to an expensive, wasteful, and bloated closet with pieces that go out of style or break down easily. In turn this "luxury" and "fast fashion" approach leads to the inconvenience of more shopping, more wasted money, and more clutter.
The recent trend of "quiet luxury", in which luxury brands are valued due to the high quality of their products, timeless appeal of their style, and the function they deliver aligns perfectly with the ideals of a good minimalist clothing brand. Quiet luxury and minimalist wardrobes counter the ideas of fast fashion and "bling", by prioritizing timeless style, function, and longevity in clothing – leading to a stylish wardrobe of fewer pieces that lasts longer, stays stylish longer, and costs less in the long term.
Why you should make minimalist clothing brands the staples in your wardrobe: Simplicity in choice, saving you money and saving you time
Ultimately, a simple, minimalist wardrobe focusing on quality pieces over quantity reduces choice in a way that improves how your wardrobe looks and performs. No matter what you grab from your closet you will look good, and regardless of the situation, environment, or occason – going to work, out on a hike, or long term traveling with a single bag – a well crafted minimalist wardrobe will ensure you are comfortable, prepared, and stylish (enough) for the event.
Now that you understand the value of building a minimalist wardrobe, we'll quickly explain how to choose clothing pieces before sharing the best minimalist clothing brands – that making building your "capsule wardrobe" easy.
Click here to jump to our list of minimalist clothing brands
How to make your wardrobe minimalist
1. Plan each piece to be easily color coordinating: Aiming for neutral colors and earth tones (e.g., grey, tan, black), or versatile staple colors in deeper tones (dark blue, burgundy)
2. Choose fabrics that "perform": Odor resistant, quick drying, with slight stretch (wool, Cordura, spun nylon, etc.)
3. Choose timeless styles, cuts, and fits (slimmer fitting or classic fit)
4. Pick clothing from brands that consistently deliver time tested, good workmanship and construction – achieved by using heavy duty threads and redundant, high quality stitching
What does the ideal minimalist wardrobe look like? The essential pieces of a good, minimalist wardrobe
**
Minimalist staple clothing pieces everyone should own
Jeans/Dungarees
Chinos
Chinos shorts
T-Shirts
Collared button down dress shirt
Flannel
Pea Coat or Field Jacket
Casual and everyday wear
Dungarees / jeans
Chinos
V neck t shirts
Simple button downs
Short sleeve button downs (casual
Chinos shorts
Field jacket style jacket
Workouts
Versatile workout shorts that can be worn casually
Tank tops
Wool socks
Travel and adventure
Rain shell / Rain coat
Boots or comfortable, durable, adventure ready shoes
Wool socks
T-shirts that wick sweat, dry quickly, and resist odor
Long sleeve wool or synthetic t-shirt for warmth
Light Warmth layer – full zip hoodie (synthetic or wool)
Loft Layer – compressible down "puffy" or synthetic "puffy"
Formal
2 button suit, ideally 3 piece

Black
Blue
Grey

OR blazer
Brown shoes + brown belt
Black shoes + black leather belt

Minimalist Clothing FAQ
What are the most affordable minimalist brands.
Western Rise and Uniqlo are the most affordable minimalist brands
What clothes do minimalists wear?
Minimalists where earth toned and neutral colors in basic staple designs such as t-shirts, jeans/dungarees
How do minimalists buy clothes?
Consciously and intentionally to fill a need and function within their wardrobe and daily life
In a way that a single piece clothing can be worn more often in more versatile situations (casual to formal), versatile activities (relaxing and everyday wear or high movement activities), for longer (durability), and with lower maintenance (less washing, rarely need repair)
Minimalists generally shop for clothing online as it affords them more variety and avoiding the additional costs "brick and mortar" stores charge.