Nestled along the southeastern shore of South America, Argentina hides the vibrant and captivating metropolis of Buenos Aires, beckoning travelers and digital nomads alike to take in a big city, cosmopolitan experience that mixes the best of Latin culture and Europe and sits on the doorstep of some of the greatest and most beautiful adventures in the world.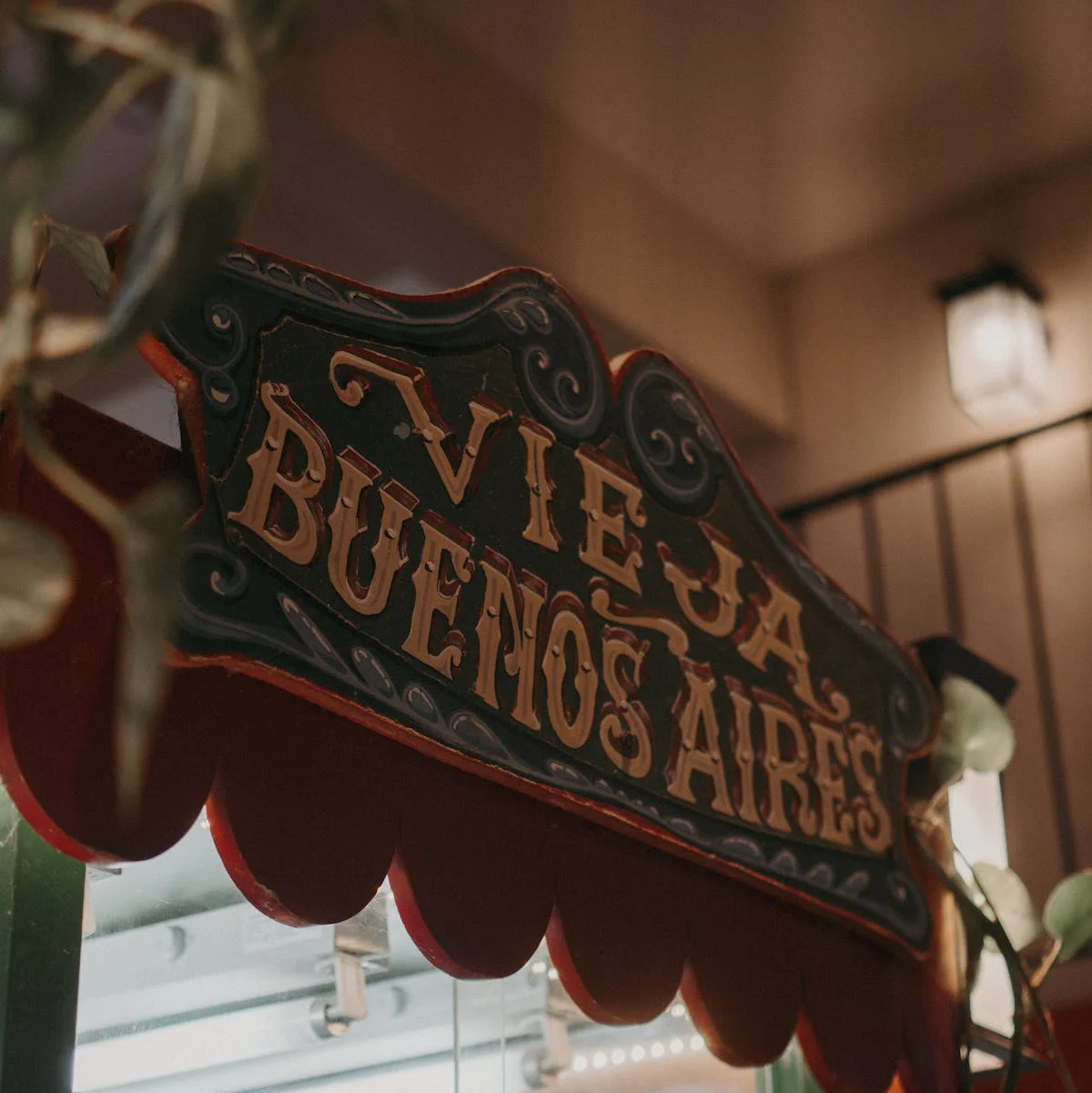 As the heart and soul of the nation, the "Paris of Latin America" stands as the capital and largest city of Argentina, offering a remarkable fusion of rich cultural traditions and global influence, eclectic neighborhoods, and an inviting spirit that's impossible to resist. For the adventurous yet city life loving digital nomad Buenos Aires delivers an enthralling and one of a kind fusion of global cultures, arts, charm, and low cost of living that can captivate for days, weeks, or years.
No other big or cosmopolitan city in the impresses and entertains the way this city does. If you have sufficient time, and adventurous nature, to travel this far south the only way you'll regret the adventure, is if you skip Buenos Aires.
In this Ultimate Digital Nomad Buenos Aires Guide for not only nomads but international remote workers, and slow travelers, we'll share everything you need to know – where to stay, what eat, what to do, essential visa info, and where to explore beyond the metropolitan city limits when visiting Buenos Aires.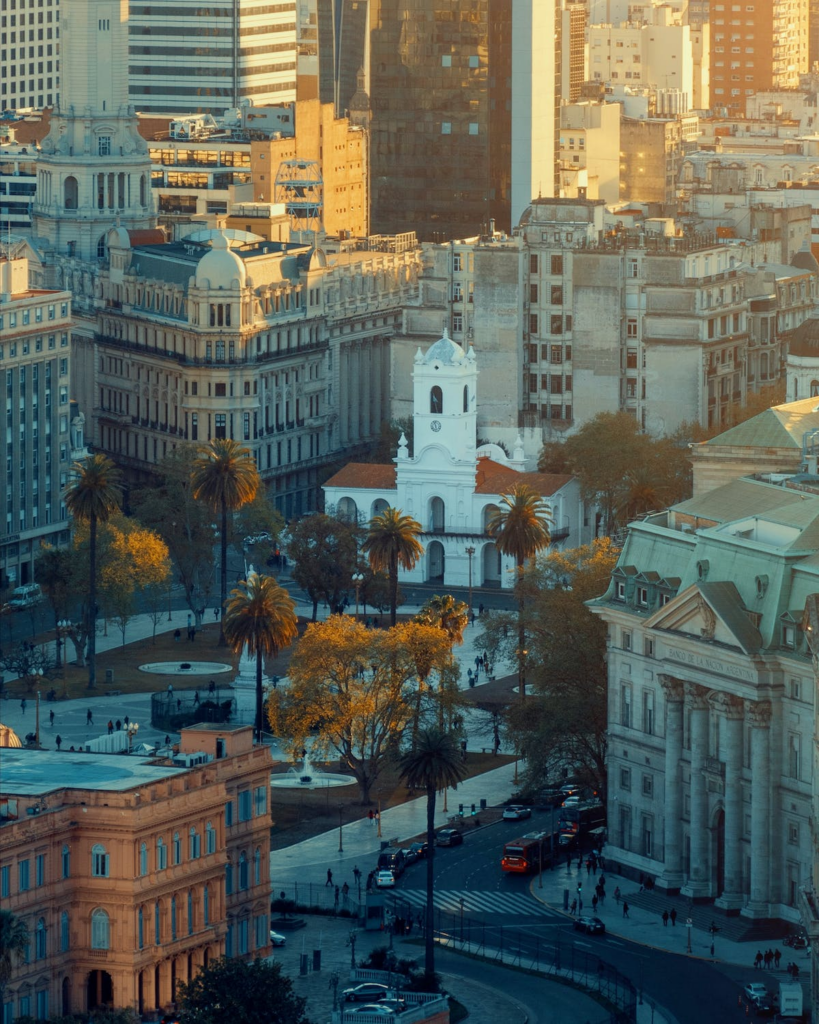 Buenos Aires. A combination of all things old and new, European and Latin, modern and classic

Contents of this Digital Nomad Buenos Aires Guide
Buenos Aires Essentials for Digital Nomads

…and if you're not certain if Buenos Aires is right for you, be sure to check out our list owof 11 Reasons Why Buenos Aires is Perfect for Digital Nomads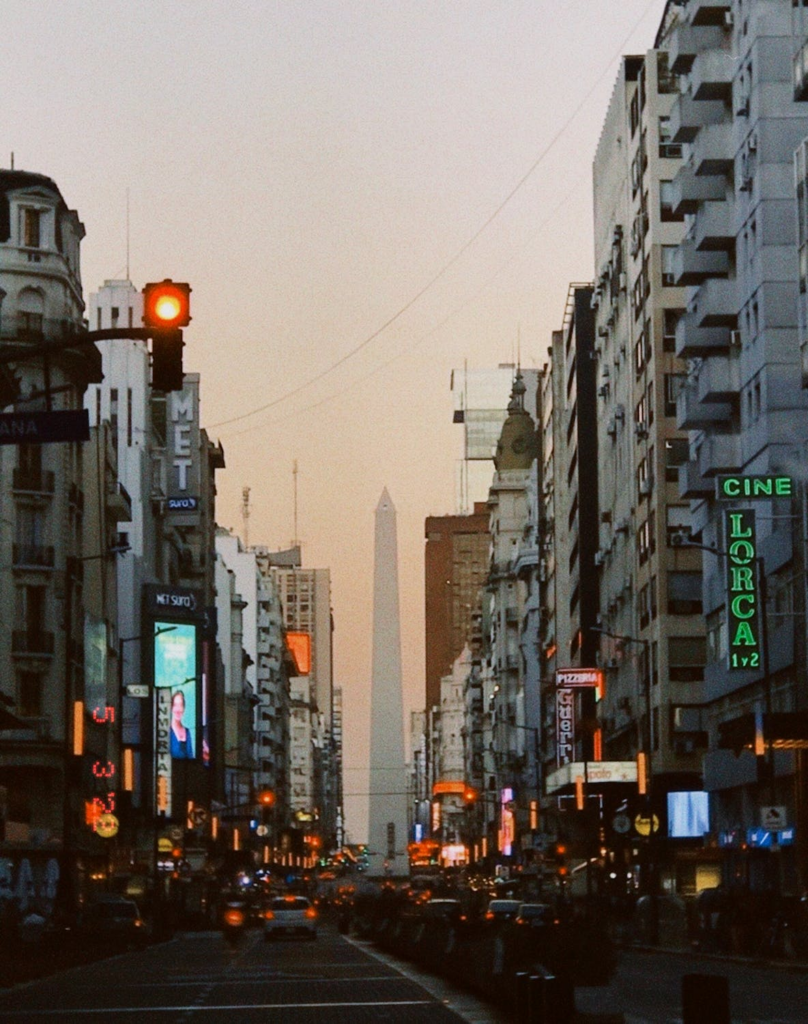 A nighttime view of the beautiful chaos that is Buenos Aires and the iconic "Obolisco" statue
Why is Buenos Aires the best place in Latin America for digital nomads?
Affordability and low cost of living for a high quality life: ~$1,000 to $2,000 per month for a New York, London, or Paris lifestyle
Amenities: Modern accommodation, robust public transport, and easy access to conveniences
Great digital nomad infrastructure: Plenty of co-working spaces, co-living options, work friendly cafes, and reliable internet
A Patch Work of Eclectic Neighborhoods: From French architecture, to posh, to hipster, to ethnic, the 48 neighborhoods of Buenos Aires are diverse and an endless adventure
Cultures: From the current day mix, of professionals, nomads, travelers, other South Americans, and locals, to the Italian, Spanish, and local heritage, BA delivers a rich mix of European, Latin, and modern cultures
Arts and cultures: 100+ museums and the most theaters of anywhere in the world, BA is an endless arts and culture adventure
Big city cosmopolitan lifestyle: Buenos Aires is "Paris of South America" for a reason…
Easy travel throughout Buenos Aires: Robust metro system, bus system, and rideshare options make is cheap, easy, and convenient to transit across the city
Easy travel to nearby countries: Brazil and Uruguay are short rides away, Chile, Bolivia, and Paraguay are a short flight, or adventurous bus ride away
Robust community of other digital nomads: Coworking spaces, co-living spaces, active digital nomad communities (managed only) and even digital nomad summits speak to the robust DN community in Buenos Aires
Nomad friendly visa policies: Free 90 day visa**, and easy 6 month Argentina Digital Nomad visa** make stays easy
Strong café culture: 77 of Buenos Aires' cafes are recognized by the UNESCO World Heritage organization and the Argentine Ministry of Culture, and thousands more exist across the city to meet, work, relax, and purely enjoy
Adventure awaits beyond Buenos Aires: Mendoza Wine country, epic trekking in mountainous Patagonia, and adventurous experiences on the frontier lie in convenient reach of Buenos Aires.
Buenos Aires overview: Culture, arts, and history are the ingredients of the port city's charm
With a population of over 15 million, Buenos Aires stands as the second-largest city in South America. The city's demographic tapestry, of cultures**, neighborhoods**, and arts** is a captivating blend of diverse backgrounds and influences. Here, you'll find an array of nationalities and identities, both via ancestral heritage and new visitors, coexisting harmoniously, contributing to the city's cosmopolitan character.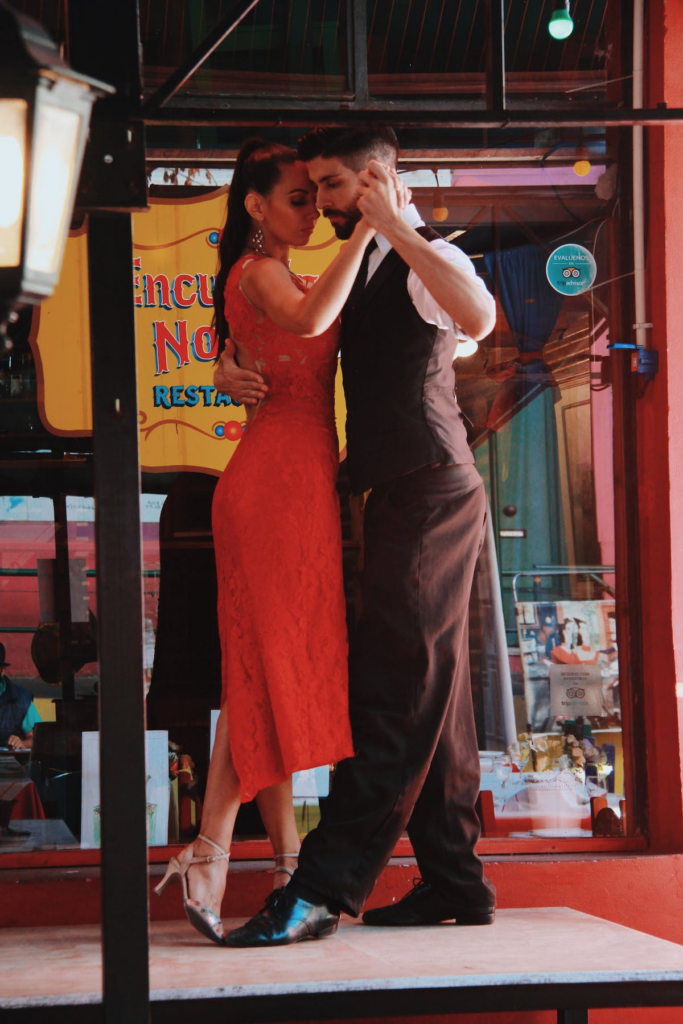 As the birthplace of Tango with more theaters than any other city in the world and 70+ cafes recognized by the UNESCO World Heritage Organization, every single day will be rich with arts and culture
Buenos Aires is renowned for its vibrant culture and diverse roots, a reflection of the city's rich history and the many waves of immigration that have shaped its identity. From the heavy the heavy Italian and Spanish influences of immigrants that arrived between 1880 and 1930, to the many indigenous peoples' heritages, Buenos Aires celebrates its multicultural roots in its art, music, cuisine, and festivals with 100+ museums and more theaters for opera and the arts than any other city in the world.
The evolving and growing cultural and economic landscape over the last 150 years in Buenos Aires has created a patchwork of rich and eclectic neighborhoods that rivals New York in appeal and diversity. From the French architecture of Recoleta neighborhood, to hipster and young professional havens of Palermo and Villa Crespo, to the small traditional markets and pockets where international cultures thrive, Buenos Aires offers far more than a taste of every international influence your heart desires, against the backdrop of a city that exudes warm, quintessentially South American culture.
Not just the city's bustling avenues and modernity make it appealing. Buenos Aires is widely known for its inviting and friendly atmosphere, where visitors and newcomers of all nationalities feel a warm welcome from the city's residents, known as "porteños." These warm-hearted locals, who are cultured, love their nightlife, and wonderful to connect with, are the core component of the city's reputation for being a hospitable and captivating destination for digital nomads and travelers.
…and Buenos Aires consistently ranks as a top 10 destination in the world for digital nomads…
As of late 2023, Buenos Aires is the 7th best location in the world according to city data analyzer Nomad List.
According to Nestpick's "Work from Anywhere Index", Buenos Aires ranked as the 1 destination in Latin America for digital nomads.
Last, Buenos Aires ranked 1 in cost of living among the best cities for digital nomads according to the 2023/2024 Nomad Cost of Living study** conducted by **A Brother Abroad** and **Nomad News Hub**
As we delve deeper into the vibrant tapestry of Buenos Aires, we'll explore its diverse neighborhoods**, culinary wonders**, captivating arts and culture scene**, and the welcoming spirit of its people**. Join us on this journey through the city of tango, vibrant street markets, and the magic of Buenos Aires, a destination that captures the hearts of all who have the privilege to explore its enchanting streets.

Buenos Aires Essentials for Digital Nomads
Interesting Facts about Buenos Aires
Buenos Aires is the 7th best location for nomads in the world as of 2023 according to Nomad List
Buenos Aires reported that 62,800 digital nomads moved to the city during 2022 (3x their initial target of 20,000 nomads), and they want that number to grow**
Buenos Aires means "Good Air" or "Fair Winds"
Most visited in South America
Has more theaters (think operas and orchestras) than any other city in the world
Locals are called "portenos" or "people of the port"
Tango originated in a brothel in Buenos Aires
The Buenos Aires subway is the oldest running subway in South America
The city has more practicing psychiatrists per capita than anywhere else in the world
Locals' nicknames for Buenos Aires

"La Ciudad de la Furia" (The City of Fury)
"El Quilumbo" (The Chaos)
The Buenos Aires Governments is Excited about Digital Nomads in Buenos Aires and aims to attract more
Like other fantastic locations around the world that understand and appreciate that digital nomads can be value adding guests to the temporary homes they wander, the Argentine Government and the Buenos Aires municipal government have been public about their goals to attract digital nomads and assist them in becoming part of the Buenos Aires landscape, thanks to visas, welcome packages, information, and continuing support.
According to the Buenos Aires city government:
"In 2022, the goal was to reach 22,000 digital nomads installed in the City of Buenos Aires and thanks to incentives such as discounts and benefits to promote the City internationally, the goal was almost tripled with 62,800 digital nomads."
This growth in the population of digital nomads in 2022 of 62,800 nomads was up from only 9,000 foreign digital nomads in 2021.
Additionally, the Buenos Aires government recognized that digital nomads in Buenos Aires spend 56% more than the average international tourists.
Source: http://buenosaires.gob.ar/compromisos/atraer-22000-nomades-digitales
The best part of this is that Argentina and Buenos Aires are following up on their words with actions that make it easier and more enjoyable for DNs to arrive to and settle into Buenos Aires
Argentina creates a digital nomad visa, available completely online **
Argentina's first and most telling step in its pursuit of more digital nomads is the 6 month Argentine Digital Nomad Visa**. The visa can be attained completely online if you are outside of Argentina and can be attained at a local immigration of office if you're already in Argentina on a tourist visa. The visa fee is only $200 per 6 months, and nomads that stay in Argentina less than 12 consecutive months do not pay personal taxes in Argentina on foreign sourced income.
Click here to learn more about the Argentine Digital Nomad Visa**
The Buenos Aires Digital Nomad Program offers perks, benefits and a welcome package
The Buenos Aires city government is as excited and proactive about supporting nomads as the Argentine government. For digital nomads staying in Argentina more than 30 days, by signing up at the official Argentina travel site for digital nomads you become eligible for a welcome package with the following treats:
Discounted shuttle transfer into the city center
Free local SIM card,
Free SUBE card for use on public transport in the city
Special rates on select accommodation for the first part of your stay
Discounts on promoted workspaces
$500 gift card for use at local restaurants for nomads that stay longer than 3 weeks
Additional Sources: https://www.buenosaires.gob.ar/sites/gcaba/files/resolucion_130_sgriei_programa_nomades_digitales_ba.pdf

Who is Buenos Aires best for…what kind of digital nomad or remote will thrive in Buenos Aires?
I clearly love Buenos Aires for travel as well as living, but who else specifically would appreciate what the city has to offer?
Art and arts lovers: Museums, theaters, orchestras, exhibits, and collectives that encourage the arts are abundant and thriving throughout the city
Music lovers: Buenos has a thriving music scene with festivals, concerts from big name international artists, and local live music in bars across the city every day of the week
Night owls and parties: With nightlife that starts late and goes until sunrise every day of the week, those with a healthy appetite for going out will find the city more than satisfying
Urbanites and City lovers: As a sprawling metropolis filled with skyscrapers, architecture and (in parts) the hustle and bustle of the city, urbanites will feel very at home.
First time visitors to Latin America: Due to Buenos Aire's European influenced heritage and architecture
Quick Cost of Living info
One of Buenos Aires' main draws is the remarkably low cost of living paid for such a high quality life
Cost of living snapshot:
At $1,000 to $2,000 per month for cost of living and rent for an apartment in the city center, the cost of living in Buenos Aires is 80% lower than in New York and 65% lower than in London.
A middle-class lifestyle, including living in a modern apartment with amenities like a swimming pool, dining at restaurants, and exploring the city, can cost less than $1,000 per month for the average digital nomad. Keep in mind that alcohol consumption, partying, and purchasing foreign brands can balloon a nomad's budget quickly, however, a budget of ~$1,900 a nomad can live in Buenos Aires with the lifestyle of someone paying ~$10,000 per month in New York (Data Source: Numbeo)
Source: https://www.numbeo.com/cost-of-living/in/Buenos-Aires
Pros and Cons of Living in Buenos Aires
Living in Buenos Aires as a digital nomad offers a wide array of advantages and unique experiences. However, like any destination, it comes with its own set of pros and cons. Here's an overview to help you make an informed decision:
Pros of Living in Buenos Aires as a Digital Nomad
1. Great Quality of Life: As a modern city with great food, robust entertainment options, good infrastructure, and the arts, Buenos Aires provides an excellent quality of life against canvas of a vibrant social life, and a welcoming atmosphere. The city offers a unique blend of European elegance and South American warmth that fits the digital nomad lifestyle and makes for a comfortable and enriching temporary home
2. Affordability: At $1,000 per month cost of living easily and $2,000 per month cost of living for sparing so expense you can live like a king. At the moment, foreign currencies (USD, Pounds, Euros)have more purchasing power as long as you understand how to convert money using **the Blue Dollar rate**, allowing you to enjoy a comfortable lifestyle on a modest budget. Even in economically stable times, Buenos Aires is the most cost efficient cosmopolitan metropolis in the world.
3. Cultural Experiences: Buenos Aires boasts an abundance of cultural experiences, including live theater performances, art galleries and exhibitions, music festivals, tango shows, and a long list of live music options. Buenos Aires is a great place to fully immerse yourself in a rich cultural and arts scene as a way to recover from work and grow in the process.
4. Diverse Neighborhoods: Buenos Aires is a city of 40+ neighborhoods, each with its unique charm and character. Whether you prefer the chic streets of Palermo, the historic elegance of Recoleta, or something in between, you will absolutely find a neighborhood that resonates with your vibe.
5. Robust Digital Nomad Ecosystem: The well-established digital nomad community exists within numerous co-working spaces, meetups, and events that foster productivity, skill sharing, networking, and just connecting for pleasure making it easy to connect with like-minded individuals.
Cons of Living in Buenos Aires to be aware of…
The economic situation is Buenos Aires and accessing dollars and euros is tricky, so be aware of the "Blue Dollar"** and how to access money at a fair rate for your international currency
Normal big city issues: As great as Buenos Aires is, you will find trash, the pace may be a bit busy in areas, and petty crime does happen, but no more than in other enjoyable big cities and arguably far less
4. Petty Crime: While Buenos Aires is generally considered safe, like any major city, it's important to remain vigilant and practice basic safety precautions to avoid pickpocketing and petty crimes of opportunity. Be mindful of your bag and keep it closed, don't flash expensive items (smart phones, expensive watches) while walking, leave valuables at home, and be aware of your surroundings. Follow these tips for safety in the city** and you'll find Buenos Aires to be a peaceful and safe place.

The Details and Logistics of living in Buenos Aires as a Digital Nomad
Cost of living: $1,000 to $2,000 per month is sufficient, but varies with your lifestyle
Buenos Aires is by nature of being a city in South America and recently experiencing economic troubles a very affordable city compared to European and North American counterparts, with $1,900 per month purchasing the same lifestyle as $10,000 per month in New York.
The average long term traveler or nomads can expect to spend roughly $1,000 per month on the budget living end of the spectrum, shared accommodation, cheaper meal options, and primarily free entertainment, to $2,000 per month for an apartment, the creature comforts in life, and no spared expenses.
For an up to date and more detailed look at Buenos Aires' cost of living situation, be sure to visit the Expatistan** and Numbeo** Buenos Aires cost of living pages. Additionally, you can check our full list of cities' costs of living
Keep in mind that because Buenos Aires is a city of richness that never sleeps, with endless nightlife and party options, if you have tastes for the finer things and excesses, your budget can balloon quickly.
Budget tips for Buenos Aires
To avoid excess expenses, keep the following in mind:
Foreign brands in Argentina are expensive due to import taxes: Foreigners looking for foreigner brands should expect their costs to balloon, but with a few strategies you can live an affordable, high quality life in BsAs
Nightlife is never ending in Buenos Aires, so if you don't stop yourself
Buenos Aires public transport between neighborhoods is great so save money by not living in expensive Recoleta or Palermo and taking a $1, 15 minute transit ride from a different barrio to Palermo instead
Strategically choose where you stay if budgeting under $1,500 is a concern and don't be scared to live "outside of the bubble" because the public transportation system is so easy. By contrast, staying in a "trendy" neighborhood can double your apartment costs, and costs of everything around, for the same quality. Instead of Palermo and Recoleta, if you want to save money, opt for San Telmo, Belgrano, and Villa Crespo
Don't plan on buying brand name clothing or electronics in Argentina, for laptops, cell phones, and accessories, bring them with you as they will be expensive, 2x to 3x the price you would pay in North America or Europe
Local markets and street food can be a budget-friendly option for meals: Traditional Argentine dishes like empanadas, choripán (sausage sandwich), and asado (barbecue) offer a taste of the culture without straining your wallet.
Itemized Cost of Living
All prices are in USD
Dinner out at an Asado: $10
Quick meal – Empanadas, Burger, pizza: $2 per, ~$5 to $6 for a full meal
Wine: $2 to $5 for a glass in a restaurant, ~$3.50 for a midrange bottle in stores (Buenos Aires )
Argentine Beer: $1
Imported Beer: $2
Bottle of water: Around $1 or less
Coffee: $1 to $2
Hearty lunch or dinner at a local restaurant: $10 to $25
Money and Banking Exchange rates and the "dolar Blue": Understand these and how to use them before you arrive
Due to years (nearly decades) of economic instability, the Argentine Peso has been tumbling in value against the dollar, euro, and the pound. Though this makes a horrible situation for the working class Argentine, it also creates an opportunity for nomads and travelers to take advantage of the additional purchasing power their foreign sourced income (in dollars and euros) offers.
Keep in mind that the official exchange rate differs from the more practical "blue market exchange rate" or the "Dolar Blue."
In 2010, 1 US Dollar was worth roughly 4 Argentine Pesos (at the time, the official exchange rate)
In 2015, 1 US Dollar was worth roughly 13 Argentine Pesos (start of the "blue dollar" exchange rate)
In 2020, 1 US Dollar was worth roughly 100 Argentine Pesos to 150 Argentine Pesos (blue rate)
As I write this article today, 1 US Dollar is worth roughly 1000+ Argentine Pesos (blue rate)
Though inflation is rising, and the international value of the Argentine Peso is plummeting, price increases in Argentine Pesos have not yet fully caught up to the devaluation of the Argentine Peso. This means that if you earn your income in US Dollars or Euros and know how to bring the cash into Argentina, you will be able to buy far more for your money than expected.
For more information, check the dolar blue rate here to remain aware of the blue market value of the dollar
To ensure you get the "Blue Dollar" rate for your money, instead of the ever increasing Argentine rate, and that you get the best value you for your money:
Bring cash (USD) to exchange via money exchanges that offer the "Blue Dollar rate" for the best rate on your money

However, keep in mind that Western Union tends to run out of money by mid morning

Don't take money from the ATMs, as ATMs will use the official rate
If you do pay with a credit card, check their conversion rate first, and always pay in Argentine Pesos
Convert small amounts of cash (not large) because inflation moves quickly and the 1000 pesos from today might not be worth as much as the 1000 pesos next week.

Food and Drink
Buenos Aires offers a culinary adventure like few other places, and the dining and food culture is an essential part of the city's charm. In Buenos Aires, food is a social experience, food is an entertainment experience, and food is a cultural and heritage experience.
Socially, life between family and friends is shared very frequently and intimately over a meal. Whether the experience is a meal with friends, or even family (parents, grandparents, and kids) before the younger ones head out for a bout of weekday partying, food in the evening and on weekends generally has a heavy social component. Be sure to find a way into an epic backyard Argentine barbecue experience on a weekend(asado), featuring a mouthwatering selection of grilled meats like ribs, sausages, and steaks, all seasoned and grilled to perfection as if family honor depends on it. Ultimately, once you embrace the city's social appreciation for eating you will love the city so much more.
For entertainment, there are a variety of dining experiences so fantastic that a foodie will fall in love. From the dining experience at tango bars, which is literally entertaining, to world class food at Don Carlos's restaurant (featured on Anthony Bourdain's Parts Unknown) wherein he taxes the rich, you will discover that the Buenos Aires food scene is not only delicious, but packs a dose of charm and entertainment with each meal.
From a cultural standpoint – Buenos Aires has a rich mix of indigenous, gaucho (Argentine cowboy), Spanish, and Italian heritage, all with very strong appreciations and unique yet delicious approaches to food and those ways are preserved in the BA food scene. Immigrants in smaller groups from the Middle East, the rest of Europe (Germany), and Asia have all made Buenos Aires their home. Along the way, all of these cultures have managed maintain and integrate their culture into the BA food scene. The result is an landscape of culinary adventure available at any price point, and with so many options (of restaurants, cuisines, and experiments) you won't be able to try them all.
How to embrace the Buenos Aires food scene:
Explore Local Markets
For a truly immersive experience, explore the city's food markets, such as San Telmo Market and Feria de Mataderos. These markets offer a glimpse into Argentine culture and allow you to sample regional specialties, artisanal products, and street food.
Best food markets in Buenos Aires
Mercado de San Telmo
Mercado del Progreso
Feria de Matadores
Feria de San Telmo
Buenos Aires Market
Feria Organica San Telmo Verde
Mercado Solidaria Bon Pland
Sabe de Lat Tierra
El Gapon
Café Culture:
Buenos Aires is also known for its café culture. Locals enjoy leisurely sipping on coffee, and you'll find charming cafés on almost every corner. Over 70 cafes are UNESCO World Heritage recognized and the Argentine Ministry of Arts and Culture has a special committee aimed to preserve cafes recognizing the contribution to culture, social life, and arts that they provide.
Beyond UNESCO recognized cafes, you'll find hundreds of cafes across the city as Argentine coffee culture is closer to Italian coffee culture than most other places in the world
To start out, try a "café con leche" (coffee with milk) and pair it with a medialuna, a croissant-style pastry, for a quintessential Buenos Aires experience.
Late-Night Dining:
The dining scene comes alive at night, with many restaurants and parrillas (steakhouses) staying open until the early hours of the morning. I was shocked at my first solo parrilla experience when the owner was frustrated that I showed up early at 9AM. If you're a night owl, you can indulge in a late-night dinner followed by dancing or live music at one of the city's vibrant nightlife venues.
Try the Essential Traditional Argentine Dishes
No trip to Buenos Aires is complete without indulging in some of Argentina's traditional dishes. One of the most iconic treats to try is the "Alfajores," a delectable dessert loved by locals and visitors alike. These sweet treats consist of layers of chocolate or vanilla cookies sandwiched together with rich dulce de leche, a caramel-like spread, and often coated in chocolate or powdered sugar.
Also, add these Argentine food staples to your list of things to try:
Essential Food
Bife de Chorizo (Steak cut): Recognized as the best cut of steak in Argentina
Matambre: Flavorful grilled flank steak
Tira de Asado: Cross cut ribs cut from the short loin – cheaper but extremely flavorful
Cazuela: A hearty stew reminiscent of gaucho culture
Locro: A thick stew made with corn, beans, and meat
Choripan: Sausage sandwiches that make a perfect to go or lunchtime snack
Empanadas: A delicious baked or fried turn over filled with meat and veggie filling
Medialunas: Argentine croissants, best enjoyed with dulce de leche
Alfajores: A dessert (or snack) of two tender cookies sandwiching a layer of sweet dulce de leche
Argentina style pizza: proclaimed to be the best pizza in South America
Asado: An array of grilled meat cuts, typically beef, slow grilled over fire for hours until tender
Milanesa: Breaded and fried meat cutlet, usually beef or chicken
Provoleta: Grilled provolone cheese
Chimichurri: An especially Argentine sauce for grilled meats made with parsley, garlic, and olive oil, and everyone has a secret family recipe
Dulce de leche: Caramelized sweet milk
Essential Drink
Best Restaurants in Buenos Aires to Try:
Gran Dabbang
Sarkis
La Cabrera
Don Julio
Sampa
Pizzeria La Mezzetta
Anafe
Bar Federal
Aramburu
Malvon
Other Food Guide Essentials
Buenos Aires Foodie's Facebook Group: A social community of eating enthusiasts based in BA that share food and restaurant tips as well as arrange group meetups and experiences
Food tours: Empanada tours, Asado tours, and more help you discover the hidden food pockets of the city and learn Argentine food culture quickly and enjoyably
Cooking lessons: A perfect, productive, and tasty way to entertain and yourself in BA
Experience an Asado: Whether at a digital nomad meetup or a private invite to family and friends, ensure you experience an Asado at least once in Buenos Aires
Whether you're savoring traditional dishes, experimenting with international cuisine, or enjoying a leisurely café experience, the city offers a diverse and budget-friendly culinary journey that will tantalize your taste buds and leave you craving for more.

Best Neighborhoods and Where to stay in Buenos Aires
Whether you're planning where to live in Buenos Aires or where to explore, of the 40+ neighborhoods in Buenos Aires, these neighborhoods should be top of your list. Each of these neighborhoods are comfortable, have everything you will need as a productive nomad, and specialize in something unique that adds charm.
Palermo ( Palermo Soho, Palermo Hollywood, Palermo Woods)
San Telmo
Belgrano
Villa Crespo
Colegiales
Recoleta
San Telmo
Microcenter
Palermo ( Palermo Soho, Palermo Hollywood, Palermo Woods)
The upper middle class neighbord of Palermo, including Palermo Soho, Palermo Hollywoood, and Palermo Woods, is very similar to the posh neighborhoods you will find in New York. Hip, trendy, and filled with varying cuisine (Argentine and international), cafes, and even art exhibits and museums, Palermo is arguably one of the best places to live in Buenos Aires.
San Telmo
Buenos Aires' oldest neighborhood and heart of Tango, San Telmp has much to offer with a Bohemian vibe, colorful houses, and deep cultural experiences. Between the excitement lies a very classic, old world European feel in architecture, pace, and culture.
For visitors, the Plaza Dorrego, Mercado de San Telmo, Parque Lezama, and the Italiante Museo Historico are highlights you should check out first in the neighborhood.
Belgrano
Adjacent to the waterfront and home to busy shopping, stores for luxury brands, and upper class residential apartments, condos, and houses, Belgrano delivers plenty of green spaces, eclectic architecture, and vibrant street life. Enjoy leisurely strolls in Barrancas de Belgrano, explore diverse dining in Chinatown, and admire art at the Museo de Arte Español Enrique Larreta.
The architectural grandeur, combined with a plethora of shopping and dining options, combines to create a luxurious big city lifestyle experience, offering both inspiration and relaxation for the modern digital nomad.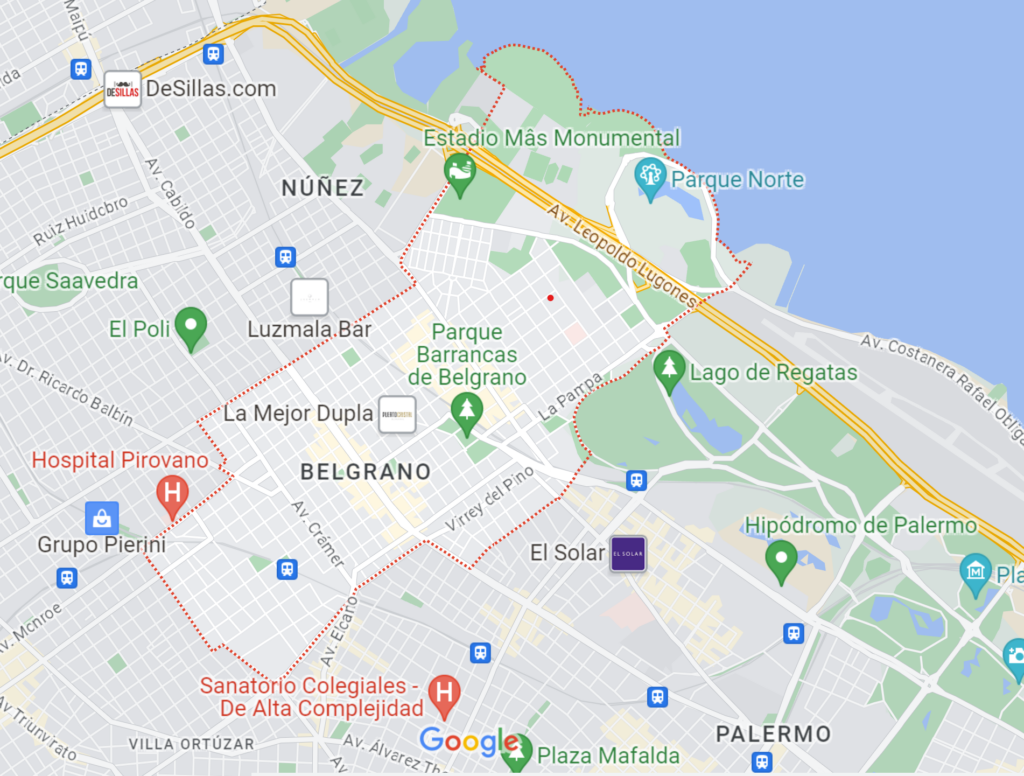 Villa Crespo
The up and coming Villa Crespo neighborhood delivers all of the chicness of Palermo without the price, as Villa Crespo is right next to Palermo making it all only a short walk away. Even better, Villa Crespo's owning its own personality with speakeasy style bars, pool halls, and hip reimaginations for nightlife amidst its many late night delis. Known for its leather goods shops and vibrant street art, it provides a more authentic, less touristy experience.
For a slightly quieter but still very entertaining place to live, consider Villa Crespo
Colegiales
Barrio Colegiales brings is a sleepy and residential neighborhood a couple kilometers (30 minute walk) from Palermo and the other busier neighborhoods, allowing easy access to everything you want in city life but a quiet neighborhood to come home to.
Recoleta
Home to embassies, mansions, and the upper class, French architecture abounds in Argentina's most expensive neighborhood.
Recoleta is one of Buenos Aires' most prestigious and elegant neighborhoods, known for its Parisian-style architecture, upscale boutiques, and art galleries. Abundant in parks and plazas, this barrio offers ample green spaces for relaxation. A vibrant cultural scene with numerous museums and theaters, provides endless entertainment options. With its safe streets, sophisticated ambiance, and a wide variety of cafes and restaurants, Recoleta appeals to those seeking a refined and cosmopolitan lifestyle. It's well-connected to the rest of the city, making it an ideal choice for expats, professionals, and digital nomads looking for an upscale living experience in Buenos Aires.
Microcenter
Buenos Aires' bustling heart of business, Microcenter is a hub of commercial and financial activity, marked by its impressive architecture and crowded streets. With numerous shopping streets, restaurants, and cafes, residents and visitors have access to a variety of amenities. While it might be noisier and busier than other neighborhoods, living in Microcenter puts you right in the middle of the action, offering a truly urban experience. It's well-connected by public transportation, making it easy to explore the rest of the city. For those who thrive in a fast-paced environment and want immediate access to everything Buenos Aires has to offer, Microcenter is an attractive option. However, it might be less appealing for those seeking tranquility or a sense of community typical of residential neighborhoods and enjoyable nightlife is a rare find in Microcenter so plan on traversing to other neighborhoods after sunset.
Accommodation and finding a place to stay
For long stayers in Buenos Aires, finding a good place to stay will be the best first step to setting yourself up for an enjoyable 3 to 6 month adventure.
The best approach to moving to Buenos Aires is to first book a place for at least a month to stay before arriving on AirBnB. Then after your arrival, meet with potential landlords and agents to find a place to stay. In the meantime, use the Facebook real estate groups to scout out potential apartment rentals before arrival.
An AirBnB before arrival will be far costlier than a normal monthly rental apartment, but will reduce headache, and immerse you in the neighborhoods of Buenos Aires in a way that a hotel won't. You will want that so that you can better discern what you want in an apartment.
For finding an apartment, your two best options are Buenos Aires Real Estate Groups on Facebook, and agents. Real estate groups on Facebook are fairly transparent. The prices will be slightly higher than normal (especially if listed in English) but this approach makes rental options accessible and navigable. Last, consider use a real estate agent, many of which can be found in the Facebook groups, and for a commission, they will help you find an apartment rental and sign a lease.
Recommended Buenos Aires Real Estate Facebook Groups:
Prices to Expect for Accommodation
Budget Hotel: $40 per night
Hostel: $20 per night
Monthly rental 1 bed 1 bath: $300 to $750 per month, depending on the neighborhood with Palermo and Recoletta will be the most posh and expensive, while Colegiales and Villa Crespo will be the cheapest while delivering a solid quality of
Best Hostel Options for Your Short Term Stay
Millhouse: Party
Millhouse Avenue: Bigger party and best hostel on Avenida de Mayo
Art Studio Palermo hostel
Selina Palermo Hostel
Circus Hostel in San Telmo is regarded as the best hostel in Buenos Aires
Puerto Limon Hostel: Best hostel for digital nomads
Benita Hostel: Best hostel for private rooms

When to Go to Buenos Aires
Anytime is a good time to be in Argentina, as rain is rarely a problem, and summer or winter there is somewhere beautiful to escape to.
March to May (fall) and September to November (spring) are the best times to visit Buenos Aires, as December to February are swelteringly hot and the South American heat can be brutal
Note that Buenos Aires turns into a ghost town during the summer months of December to February, as most Portenos leave on vacation to the west (Mendoza and Cordoba) and to the cooler south of Patagonia (San Carlos de Bariloche and further south)
June and July will be winter in case you're chasing cooler temperatures or want to plan for a ski trip to Bariloche

Visa: Easy and free 90 day tourist visa + visa runs or 6 month Argentine digital nomad visa
Most foreigners don't need a visa for 90 days or less, as the 90 day tourist visa on arrival will do. However, there are plenty of visa and residency permit options for 180 days, 2 years, permanent residency, and even citizenship
The best visa option for most digital nomads is the 90 day free visa on arrival, especially if this will be your first time to Buenos Aires and you are still tasting the city. If you do want to extend your stay and stay longer in Buenos Aires, you can renew your visa via a quick trip to Uruguay, Paraguay, or Brazil via bus, ferry, or plane.
The Argentine Immigration and Argentine immigration policy is some of the most relaxed I've encountered in the world, so don't stress too much about the visa situation.
Citizens of the following countries may enter Argentina for 90 days without a visa:
Andorra, Armenia, Australia, Austria, Barbados, Belarus, Belgium, Bolivia, Brazil, Bulgaria, Canada, Colombia, Costa Rica, Croatia, Czech Republic, Chile, Cyprus, Denmark, Ecuador, El Salvador, Estonia, Estado Ciudad del Vaticano, Finland, France, Georgia, Germany, Greece, Guatemala, Guyana, Honduras, Hong Kong (With Passport R.A.E.H.K.), Hungary, Ireland, Iceland, Israel, Italy, Japan, Korea Republic, Latvia, Liechtenstein, Lithuania, Luxembourg, Macedonia, Malta, Mexico, Monaco, Mongolia, Montenegro, Nicaragua, Norway, New Zealand, Netherlands, Panama, Paraguay, Peru, Poland, Portugal, Romania, Russian Federation, Saint Kitts and Nevis, San Marino, Santa Lucia, Saint Vincent and The Grenadines, Serbia, Singapore, Slovak Republic, Slovenia, South Africa, Spain, Sweden, Suriname; Switzerland, Thailand, Trinidad and Tobago, Turkey, Ukraine, United Arab Emirates, United Kingdom Of Great Britain and Northern Ireland, United States of America, Uruguay.
You can find more information on the Argentine visa tourist exemption at the Argentine Consulate's official page here.
Digital nomad visa: 6 month renewable visa with lots of perks
Digital nomads that wish to stay in Argentina longer, the renewable 6 month Argentina digital nomad visa is an excellent option. This visa costs $200 per application (per 6 months) and is renewable for up to a year, and comes with no personal income tax obligations in Argentina.
Additionally, the Argentina Government and Buenos Aires city government are showing significant support to the nomad community with extra support and perks for nomads entering on the DN visa.
In addition to the national efforts to attract digital nomads to Argentina, the Buenos Aires city government is making valiant efforts to make nomads feel at home and incorporated into the ecosystem.
The Buenos Aires government confirmed that over 62,000 digital nomads visited Buenos Aires in 2022, and they only aim to increase that number.
To apply for Argentina's Digital Nomad Visa, visit the Digital Nomad Residency permit application page.
More great information sources for the Argentine Digital Nomad Visa
Nomads seeking longer stays of 2 years or more, residency, and Argentine citizenship should consider the Argentine Rentista visa and Investor visa
For individuals with passive income or ample savings, the residence permits of the Rentista visa** and Investor visa** offer great options for a renewable 2 year stay can easily convert to citizenship

Nomad Friendly Infrastructure
Buenos Aires, the bustling and cosmopolitan capital of Argentina, fits the needs of most digital nomads. The city offers a range of internet connectivity options, co-working spaces, and flexible places to work making the city an ideal destination for remote work.
Coworking Spaces
With a wide array of budget friendly, well equipped, and accommodating coworking spaces, Buenos Aires is home to a thriving co-working scene, with numerous spaces catering to digital nomads. These co-working spaces offer a blend of comfort, functionality, and affordability.
Most co-working spaces and furnished apartments also provide reliable, high-speed internet, offering digital nomads the connectivity required for productive work.
Prices for co-working spaces in Buenos Aires typically range from $10 for a day pass to around $150 a month, depending on your preferences and the facilities provided. Spaces like WeWork and Selina are among the popular choices.
For example HIT&Go Coworking Space's prices are as follows:
ARS 9,900/ month (USD 55.33) for 4 monthly day passes
ARS 23,000/ month (USD 128.54) for 10 monthly day passes
ARS 35,000/ month (USD 195.59) for unlimited day passes
Best Coworking Spaces in Buenos Aires
Urban Station
Origen Cowworking
Manawa Coworking
La Maquinita
WeWork
Huerta Coworking
Workey
AreaTres
Deck-co
HIT&Go
Café culture and coffee shops for relaxing
Just for coffee (no work)

Le Blé
Ol'days
Cocu
All Saints Cafe
Habito Cafe
Co-living
For digital nomads seeking a well-rounded experience in terms of balancing social life and work life seamlessly, Buenos Aires offers co-living options, such as Selina and Nomad Hub. From dorms to private rooms, you'll definitely found a collaborative and connecting living situation that delivers what you need.
Selina has a location in the Palermo district of Buenos Aires and provides a co-living atmosphere where digital nomads can work, live, and socialize. The facilities include high-speed Wi-Fi, co-working spaces, and more.
Nomad Hub is another co-living space that caters to both short-term travelers and long-term residents.
Connectivity
On a budget? You can get internet plans with speeds of 10 to 15 megabytes per month for approximately $20, which is ideal for remote work.
The average internet connection in Buenos Aires is ~31mbps
Need faster speeds for your work? Plans range from 50 to 1,000 megabytes or even more. For example, you can find a 300-megabyte plan for about $50 a month, ensuring you stay connected seamlessly.
Sims as well as E-Sims** are available for a solid internet connection via cell phone and the ability to hotspot to your laptop
Wi-Fi – generally available everywhere
For SIM Cards, pre-paid sim cards are available for purchase at tobacco shops, news shops, and cyber cafes. The best telephone networks are Personal, Movistar and Claro
For e-SIMs, I highly recommend Airalo** as their e-SIMs have served me well on several adventures and will ensure you have connectivity on arrival
No matter how you work, be sure to use a VPN to protect your data.
In Buenos Aires, you'll find that high-quality internet and co-working spaces are not only accessible but also affordable. Whether you're looking for a quiet space to concentrate, a vibrant co-working hub to network, or a co-living experience that combines work and leisure, Buenos Aires has options to cater to your needs, ensuring that you stay connected and productive while enjoying your time in this dynamic city.

Digital Nomad Community in Buenos Aires
The digital nomad community in Buenos Aires is a dynamic and welcoming ecosystem that offers a variety of resources and opportunities for remote workers. As a city with a substantial expat and digital nomad presence, Buenos Aires provides an array of co-working and co-living spaces, networking events, and supportive communities in a vibrant scene of locals that have creativity, innovation, and a love of mingling with internationals baked into their culture, and bleed into the business ventures of startups. However, due to the city's vast size and diverse neighborhoods, you may need to actively seek out these hubs of digital nomad activity.
These bits of Buenos Aires nomad infrastructure offers the best ways to work and connect:
Plenty of Co-Working Spaces across the city
Buenos Aires boasts an impressive number of co-working spaces, providing you with comfortable and productive environments to get work done. Some of the popular co-working spaces in the city include WeWork, La Maquinita, Urban Station, and Selina. Prices for co-working memberships can vary, with day passes starting at around $10 and monthly memberships ranging from $40 to $150. These spaces offer not only high-speed internet and dedicated workstations but also opportunities to connect with like-minded individuals.
These are the best co-working spaces in Buenos Aires at the moment
AreaTres
WeWork
HIT Cowork
Urban Station
GoWork
La Maquinita
Usina Co-Work
Manawa
La Ofi
Ronda Coworking
Join
Huerta
Workey
GMG Coworking
Joy Cowork
Espacio Centenario
Teamworks
Coreworks
Abasto Office
People Coworking
Co-Living Spaces: Quality over quantity and a great option for nomads
Co-living spaces have gained popularity in Buenos Aires, offering not only a place to live but a community of fellow nomads. Selina, for example, has a location in the trendy Palermo district, providing fully furnished accommodations, co-working spaces, and various amenities. There's also Nomad Hub, which offers the flexibility of short-term and long-term stays, catering to both travelers and those seeking a home away from home. These co-living spaces are fantastic for fostering connections and networking within the digital nomad community.
Networking and events are ample for work and pleasure amongst other nomads
To fully integrate into the digital nomad community in Buenos Aires, it's essential to attend networking events, workshops, and meetups. Various organizations and groups regularly host gatherings, providing opportunities for skill sharing, socializing, and expanding your professional network. Keep an eye on platforms like Meetup, Facebook groups, and coworking space event calendars to stay updated on upcoming events.
The Meetup.com Buenos Aires Digital Nomad group is a great place to track upcoming events
In Buenos Aires, the digital nomad community is a diverse and vibrant group, and connecting with them can greatly enhance your experience in the city and how much you get out of it as a whole. Whether you're seeking a co-working space to boost productivity or a co-living environment to foster new friendships, Buenos Aires has the resources you need to thrive as a digital nomad.
Online Buenos Aires Nomad Communities to Join
The online digital nomad communities in Buenos Aires have been some of the most active, friendly, and helpful I've seen. I highly recommend engaging with them before arriving, with any questions you may have, and after arriving, just to make friends

Entertainment and things to do between work sessions
Buenos Aires never ceases to dazzle and captivate, in large part due to it's lively entertainment scene and diverse lifestyle. This unique mix makes the city an ideal destination for digital nomads seeking a balanced mix of work and leisure with a heavy appreciation for the arts, culture, and nightlife.
When you have time free, there is no shortage of enriching things to do and sites to see in Buenos Aires. With the most theaters in the world, plenty of art museums, a vast network of markets across the city, walking tours, enchanting European inspired architecture, cafes, and food adventures, nomads in Buenos Aires will find as much entertainment as they seek. From theater and music to art and outdoor activities, there's something for everyone
Here's a glimpse of the major areas of arts, entertainment, and nightlife that Buenos Aires overdelivers on
Theaters galore for operas, orchestra, and the performance arts
Buenos Aires, and particularly the Recoleta neighborhood, boasts a remarkable cultural heritage with an abundance of theaters, making it a global hub for live performances. In Buenos Aires, there are more theaters than any other city in the world, including New York, Paris, and London. You can attend a wide array of theater performances, from traditional Argentine tango shows to contemporary plays.
With over 400 venues, Buenos Aires has the most theaters of any city in the world and thus more opportunities to experience the arts and culture.
Museums and Art Galleries
For art enthusiasts, Buenos Aires is a treasure trove of museums and art galleries. The city's art scene is as vibrant as it is diverse, featuring works by renowned Argentine artists and international talents.
Start your Buenos Aires art exploration with these popular art museums and exhibits
Museo de Arte Latinoamericano de Buenos Aires
Museo Nacional de Bellas Artes
Amalia Lacroze de Fortabat Art Collection
Abbey Art and Latin American Studies
MACBA – Museum of Contemporary Art in Buenos Aires
Museo Moderno
Xul Solar Museum
FOLA Fototeca Latinoamericana
Museo Nacional de Arte Decorativo
Cultural Events
Buenos Aires is a city that never rests. Major cultural festivals and events are hosted year-round, ensuring there's always something interesting to do. Whether it's the Buenos Aires International Film Festival or the World Tango Championship, there's an event to pique your interest.
Vibrant Nightlife
When the sun sets, Buenos Aires transforms into a city that truly never sleeps. The nightlife is electric, with countless bars, clubs, and live music venues. You can dance the night away to the sultry tunes of tango or groove to international beats in trendy clubs. There's always a place to unwind, socialize, and make new friends.
As a default for early nightlife, head to Palermo and Villa Crespo, however, know that as the night gets later, the best venues for any particular night are spread throughout the city and vary by night of the week. Ask around and you will pick up the nightlife rhythm for your particular late night preferences.
I highly recommend partiers in Buenos Aires start their stay at either of the Millhouse Hostels, notably one of the best "party hostels" in the world, as a short stay will familiarize you with most of Buenos Aires' major nightlife options
Use Buenos Aires' location and accessibility to explore the rest of Argentina
Buenos Aires' geographical location offers easy access to other parts of the country. You can explore the breathtaking landscapes of Patagonia, visit the wine regions in Mendoza, or venture to Bariloche's stunning lakes—all within a short flight or bus ride. Though these adventures may require a weekend or week long trip, they will be absolutely worth it.
Buenos Aires' diverse lifestyle and entertainment options ensure that you can experience the best of both worlds—productive work during the day and exciting, culturally enriching experiences during your leisure time. Buenos Aires truly lives up to its reputation as a city that never fails to enchant and inspire, so do yourself a favor and take plenty of pleasure time to make the most of the experience.
Quick List of Entertainment Notes in Buenos Aires
Sites to see
The iconic "Obolisco"
Plaza de Mayo
Casa Rosada (Presidential Palace)
The Cathedral
The Cabildo
Mercado San Telmo (San Telmo Market)
La Boca Caminito (La Boca neighborhood walking street)
Recoletta Cemetery
Grand Splendid Athenaeum
Best Art Museums
Museum of Fine Arts
MALBA (The Buenos Aires Museum of Latin American Art)
best Theaters
Walking Tours
Architecture **
Food **
Graffiti **
Do
Watch a tango show
Take a Tango lesson
Cooking lesson
See a futbol match in the stadium
Parks and Greenspaces – A highlight of balance in Buenos Aires
Buenos Aires' welcoming parks and green spaces allow to balance work, play, and healthy down time by walking, picnicking, or just sitting and enjoying
Buenos Aires is not only a city of bustling streets and vibrant culture; it's also a good place where nomads and locals alike can find serene and peaceful retreats in the heart of the urban landscape. You'll find parks and green spaces to relax and enjoy in nearly every neighborhood, whether you're in the historic San Telmo or the chic Recoleta, each area has a manicured greenspace that somehow also exudes the quintessential character of the neighborhood.
The city's numerous parks and green spaces provide a welcome escape from the fast-paced city life, offering moments of tranquility and relaxation.
Though there are too many parks to count in BsAs, here's a list of Buenos Aires' best parks and green spaces that you should save on your map and visit:
Bosques de Palermo (Palermo Woods):
In the trendy Palermo neighborhood, Bosques de Palermo is one of the city's most beloved green spaces. It offers a lush oasis with manicured lawns, walking paths, and picturesque lakes. Visitors can enjoy leisurely strolls, picnics, and even paddle boating on the serene water.
Parque Tres de Febrero (3rd of February Park):
Nestled within the larger Bosques de Palermo, Parque Tres de Febrero features beautiful rose gardens, fountains, and cultural sites. The park offers an array of activities, from cultural events to open-air concerts.
Reserva Ecológica Costanera Sur (Ecological Reserve):
Walking distance from Puerto Madero, between the promenade and the river, this sprawling nature reserve along the waterfront provides a peaceful escape from the urban hustle and bustle. The Reserva Ecológica Costanera Sur is a birdwatcher's paradise with extensive trails offering easy opportunities for hiking and biking and a potent mix of all things old and modern in Buenos Aires as you can enjoy splendid views of the city skyline from this natural haven.
Parque Centenario (Centennial Park):
Situated in the residential and relaxed Caballito neighborhood, Parque Centenario is a spacious park known for its green expanses, sculptures, and botanical gardens. It's an excellent place for a leisurely afternoon, a picnic, or simply unwinding under the shade of a tree.
Be sure to explore and take full advantage of Buenos Aires' public greenspaces as simple, healthy spaces to change up work settings or just recharge and relax, as all Argentine's do
Buenos Aires' parks are not just about tranquility but also about inspiration. Smart digital nomads can find these green havens ideal for working outdoors or finding a moment of Zen during a busy workday.
Thanks to the many tree lined parks, you'll easily be able to find a shaded outdoor space to work on a laptop, and being within the city limits, with strong cell phone connectivity, means you can easily hotspot a laptop with a SIM card and work in the fresh air.
Whether you're seeking a place to work outdoors, unwinding with a book, or simply enjoying the beauty of nature, Buenos Aires' parks and green spaces are waiting to welcome you. The accessibility and tranquility of these urban retreats offer the perfect balance to the city's vibrant lifestyle, making them an essential part of the Buenos Aires experience for digital nomads.

Other Logistics Notes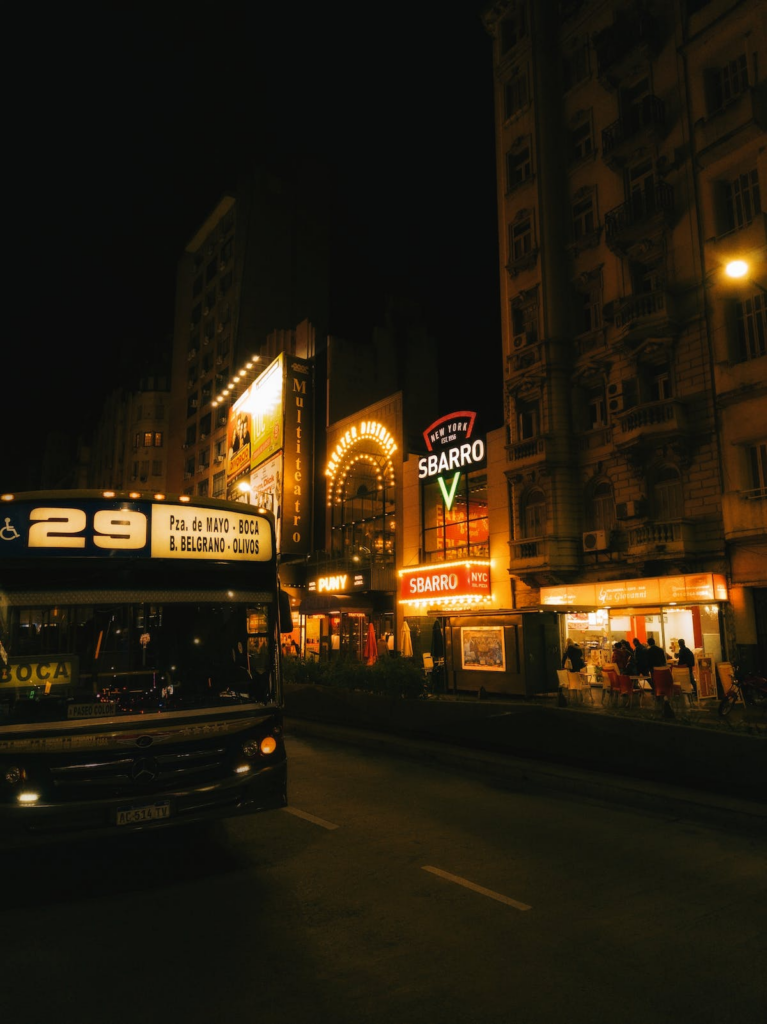 Safety and Health
Don't drink the tap water
Use awareness when using cell phones while walking or holding valuables to avoid pickpocketing and petty crime
Keep bags closed and wear them on the front of your body in crowded spaces
Keep valuables on you to a minimum
Bottom Line: Buenos Aires is one of the safest big cities in the Americas. Use common sense to secure your valuables to reduce the opportunity of petty crime and you will have a very safe stay.
Insurance (Travel vs. Health Insurance)
Always traveled insured. The cost of ** travel insurance ** is far cheaper than the cost of an accident or medical evacuation. As such, plan on getting travel insurance or nomad insurance for the first months of your travel.
As you extend your stay to 3 months or longer, consider getting full, local, Argentine medical insurance as it is much cheaper and the Argentine standard of private medical care is very good.
Vaccinations
Be sure to check the US CDC's official Argentina travel page for a list of recommended vaccinations and medical precautions based on common health issues in Argentina, and the US CDC Recommended Health Packing List for Argentina to plan if you have specific risks or take medications.

Learning Spanish: An easy way to improve your adventures in Argentina
Argentines will know enough English for you to get around, however a little Spanish goes a long way in sweetening your experience in Buenos Aires and creating friendships. I highly recommend considering one of the following options for learning Spanish during your stay.
Best ways to learn to speak Spanish
DuoLingo: Free, fun, and effective, use the DuoLingo app to start learning before your arrival
Tutor: Private Spanish teachers or tutors are widely available in BsAs and one of the easiest ways to learn Spanish quickly.
Spanish School: Many Spanish schools exist
Margarita Madrigal: This book is a "Rosetta Stone" for strategically teaching Spanish via "shortcuts"
Pimsleur: Listen while walking or driving to learn Spanish

Getting to Buenos Aires
Ministro Pistarini International Airport – also known as Ezeiza International Airport due to its location in the city of Ezeiza within the autonomous region of Buenos Aires – is the primary international airport in Buenos and Argentina as a whole. If you are flying in internationally, "EZE" airport will be your destination.
However, keep in mind that though there are direct flights from the United States (from Dallas, Houston, Miami, and Los Angeles), most travelers connecting from Africa or Europe will connect through Sao Paulo, Brazil. When hunting for flights, if you're on a budget, search for flights to Sao Paulo or Rio de Janeiro, as well as to Buenos Aires. Both Sao Paulo and Rio are major airports with far cheaper inbound flights than EZE, and flights from Sao Paulo to Buenos Aires and from Rio to Buenos Aires are available for only $150 to $200.
Public Transportation and getting around in Buenos Aires
Public transport , the abundance of it, efficiency, and cheap price is a major aspect of why Buenos Aires is so livable.
Buses and Subway are ubiquitous and reliable (though I prefer the subway). To use either, simply purchase a Sube card at any kiosk or at a subway station then load up with credits. Subway rides will cost $.30 USD. Bus rides will cost roughly $.30 USD inside the city and $.50 USD to the outskirts of the city.
Download the SUBE app to find out the best route across Buenos Aires via Public Transport
Rideshare apps, Uber, Cabify, and Didi are all excellent for getting around town cheaply without being scammed.