For adventurous wanderers, a portable water filter for travel is insufficient. A portable water purifier is necessary
A major mistake that many travelers make is assuming that because they have the best filtered water bottle or travel water filter available that they are ready to drink from any water source in any place, but the average portable water filter (such as Lifestraw) doesn't remove viruses. For adventurous international travelers that may end up in rural back country or the urban sprawl of a developing nation, a true portable water purifier is necessary to turn tap water into safe drinking water for the average North American or European. Below, we've listed all of the travel water purifier options on the market suited for adventurous international travelers aiming to keep their pack small
This post isn't meant for all, just international travelers that plan to travel light through rural or developing areas where water contamination risk (bacterial and viral) is significant. In areas like these, having a true purifier helps you stay healthy, always have access to clean water (instead of carrying it all) and do the environment a favor by avoiding plastic bottles. But backcountry hikers should know their water sources and be familiar with the risk of viruses in their water supply as well.
Your average portable water filter isn't good enough, so, what do we need in a travel ready portable water purifier?
A travel water purifier should be contained in a bottle or in a very small, self-contained package, be able to remove any likely waterborne threats, last for the duration of your trip, and be easy to use.
Criteria for a good travel water filter:
Eliminates viruses, bacteria, and protozoa/parasites: Filtering chemicals and heavy metals would be a great plus but isn't necessary
Long Life: The best travel water filter options have a useful life that will last on an extended trip (3-6+ months) and for the length of your trip. This accounts for durability and filter life
Brand, Reputation, Reviews: From a reliable brand with a product that is reviewed well on multiple platforms (Amazon, blogs, etc.) – reputation and reviews are good assurance that the product will last through the adventures
Small, self-contained design: Must be very packable no larger than a small pocket at max
Clean, simple design: Avoid contraptions with external hoses that can break or snag
Note: No matter what filter you have, always avoid potential chemical and heavy metal contaminated water sources at all costs. Even most "purifiers" don't remove these elements well enough to risk it.
Why do viruses matter in a travel water purifier?
Viruses are microscopic organisms, much smaller than parasites and bacteria, that when ingested cause disease and are transferred via contact with animal or human waste (i.e., feces, urine). In North America and Europe, the risk of viruses in tap water and rural water sources is low. Unfortunately, when traveling in rural areas and urban centers of developing countries differences in customs and infrastructure standards, compared to North America and Europe, can often lead to contaminated water supplies.
1. Bathing and water disposal in rural lakes and streams often contaminates rural water sources with viruses from humans
Customs, such as bathing in local water sources and disposing of waste in drainage runoffs that lead to local water sources, make most international, rural water sources very likely to be contaminated with viruses from human waste.
2. Leaks and unidentified breaks of underground pipes in developing countries can mix wastewater with freshwater and leave viruses in tap water without any clear warning
For these two reasons (local customs and degraded infrastructure) ensure your portable water filter is capable of removing viruses, in addition to bacteria and protozoa/parasites when you travel abroad.

HUGE WARNING: Always avoid farm and industrial waste runoff. These sources are more likely to contain chemicals and heavy metals and few portable water purifiers reliably remove these elements.
Be sure to check the CDCs food and drink recommendations. (CDC Travel Site Link)
---
Best Travel Water Purifier Options
---
The water purification new kid on the block, The Ultralight Grayl Water Purifier Filter Bottle is an excellent open for purifying water while traveling with a french press style design and function and easy to replace filters.
What it filters: Viruses, Bacteria, Protozoa/Parasites, some Chemicals, some Heavy Metals
What it doesn't filter: Filters everything
Cost: $60
Lifespan (in liters & days): 150 liters per filter, 37 days of water at 4 liters per day
Replacement filter costs: $25
Recommended region & use: Great for any region of travel, compact enough for any type of travel
Brand Reliability & Reviews: The Grayl water purifier is a new product and receiving many great reviews but reviewers have stated that when repeatedly using murky or sediment heavy sources, the Grayl can clog much more quickly (~1 week of routine use in the backcountry). Pro Tip: Avoid this and extended the by filtering your water with a bandana or t-shirt before purifying with the Grayl.
Bottom Line: A new product receiving great reviews but limited by filter life (1 month). The Grayl Water Purifier Filter Bottle appears to be a great short-term travel water purifier, just remember to bring an extra filter from home if you'll be gone longer than a month. Not recommended for RTW trips.
Purchase the Grayl Water Purifier Bottle on Amazon or REI
---

What it filters: Viruses, Protozoa, Chemicals, Pesticides
What it doesn't filter: Heavy metals
Cost: $80
Lifespan (in liters & days): 484 liters, 121 days at 4 liters of water per day
Purchase the Sawyer S2 on Amazon or at REI

What it filters: Viruses, Protozoa, Chemicals, Pesticides
What it doesn't filter: You're covered for everything with the S3
Cost: $90
Lifespan (in liters & days): 242 liters, 60 days at 4 liters of water per day
Recommended region & use: The S2 and S3 are capable of filtering water commonly available in urban centers and rural areas of the developing world.
Replacement filter costs: Replacement filters not available
Brand Reliability & reviews: Sawyer is renowned for great portable water filter options for the backcountry. Sawyer's newest additions (the S2 and S3) perform the job of filtering out nasties very well. Users have reported frustration on occasion with difficulty manually squeeze water through the filtration system and with an odd flavor for the first several uses of the system.
Bottom Line:
Purchase the Sawyer S3 on Amazon or REI
---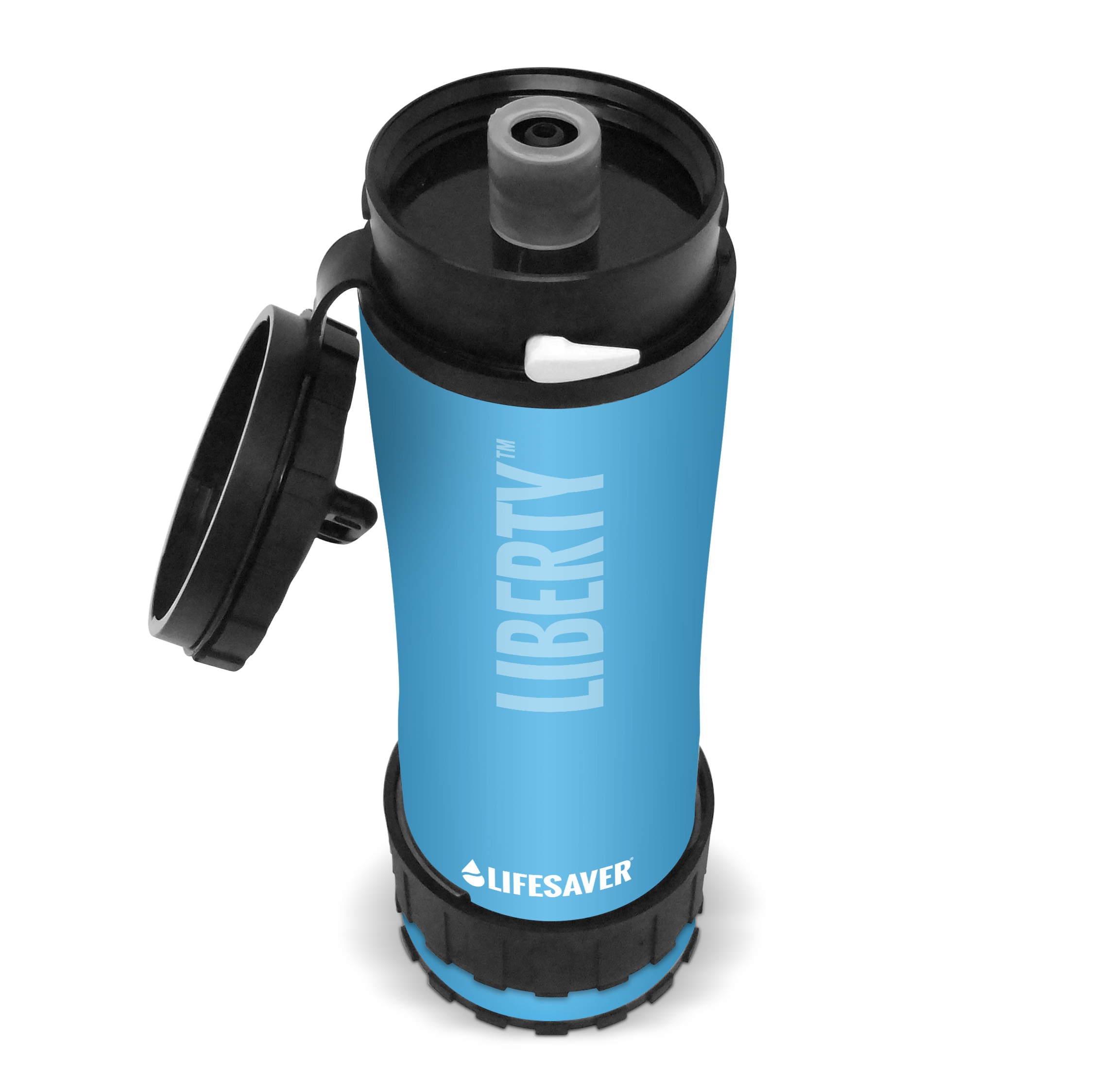 Cost: $110
Lifespan (in liters & days): 2000 liters, 500 days at 4 liters per day
Replacement filter costs: $40
What it filters: Viruses, Bacteria, Protozoa/Parasites
What it doesn't filter: Chemicals, Heavy Metals
Recommended region & use: Suitable for everywhere – originally designed for disaster relief efforts
Brand Reliability & reviews – What are other people saying?: Large and cumbersome (similar to a coffee thermos) but a suitable option for reliable water if you'll be spending extended time in the bush.
Bottom Line: This is the only filter water bottle with an inline pump, meaning you won't have to suck the water through, just pump. Additionally, a detachable hose allows you to refill from streams but remove it and tuck it away while on the move. The Liberty is the newest among our travel appropriate portable water purifier bottles…but that remains to be proven.
---
Cost: $19
Lifespan (in liters & days): 1500 liters, 375 days at 4 liters per day
Replacement filter costs: Filter not replaceable
What it filters: Bacteria and Protozoa/Parasites
What it doesn't filter: Some viruses
Recommended region & use: Not for travel (see reviews)
Brand Reliability & reviews – What are other people saying: Though this filter cleans water very well, sucking water through the straw is extremely taxing and not worth the work. This filter is more for a survival scenario as a last resort than adventurous travel situation where you to use it. Additionally, there isn't clear evidence on the manufacturers site of tests proving the filter can remove viruses.
Bottom Line: Designed for survivalists and should be combined with chemical or UV purification for safety. Travelers should look elsewhere
Other Popular Portable Water Filter options, and why they're inadequate (but still awesome)
The following portable water filters are beloved by their following but are inadequate for international travel as they do not filter out viruses. The Sawyer Mini, Lifestraw, MSR Trailshot, and Survivor Straw Filter all contain pore filter sizes too large to remove all viruses. See how your favorite portable water filter pore size stacks up against common viruses
Average Virus Size: 0.004 to 0.1 microns
Common Viruses and Sizes:
Hepatitis A, 0.004 microns
Rotavirus, 0.004 microns
Norwalk, 0.004 microns
The Best Travel Water Filter Options and Filtration Capabilities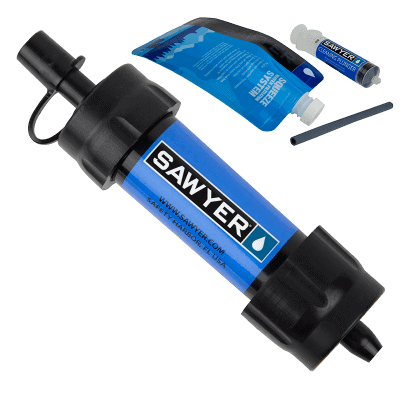 What it doesn't filter: Vruses – Doesn't filter Hepatitis A, Rotovirus and Norwalk virus
Filter Pore Size: .1 Micron
The Sawyer Mini is available on Amazon and at REI
What it doesn't filter: Viruses – Doesn't filter Hepatitis A, Rotovirus and Norwalk virus
Pore Size: .2 Microns
The MSR Trailshot is available on Amazon and at REI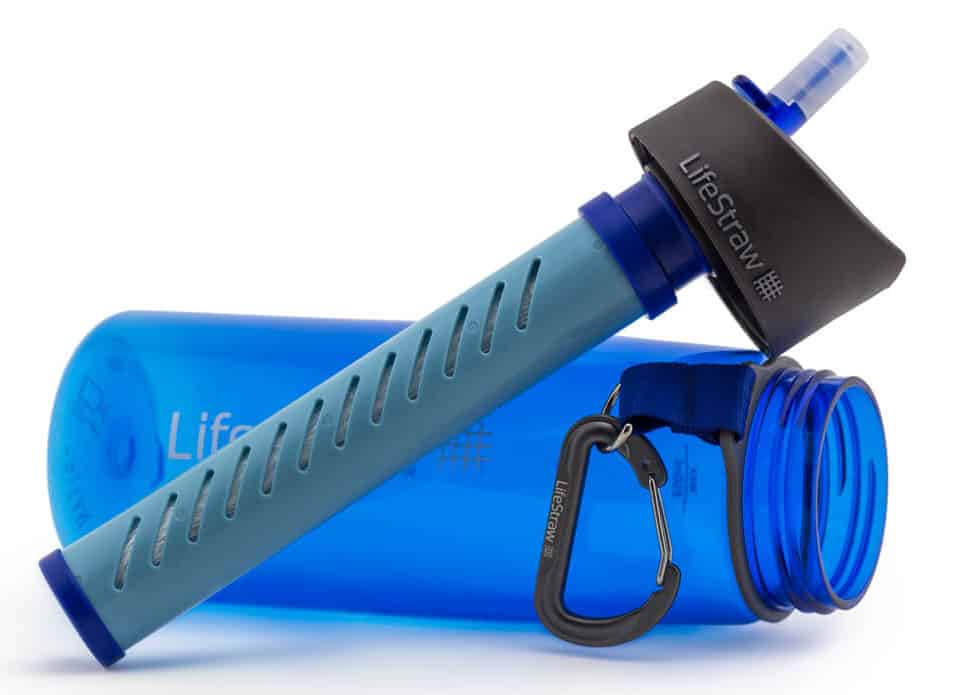 What it doesn't filter: Viruses – Doesn't filter Hepatitis A, Rotovirus and Norwalk virus
Filter Pore Size: .2 Microns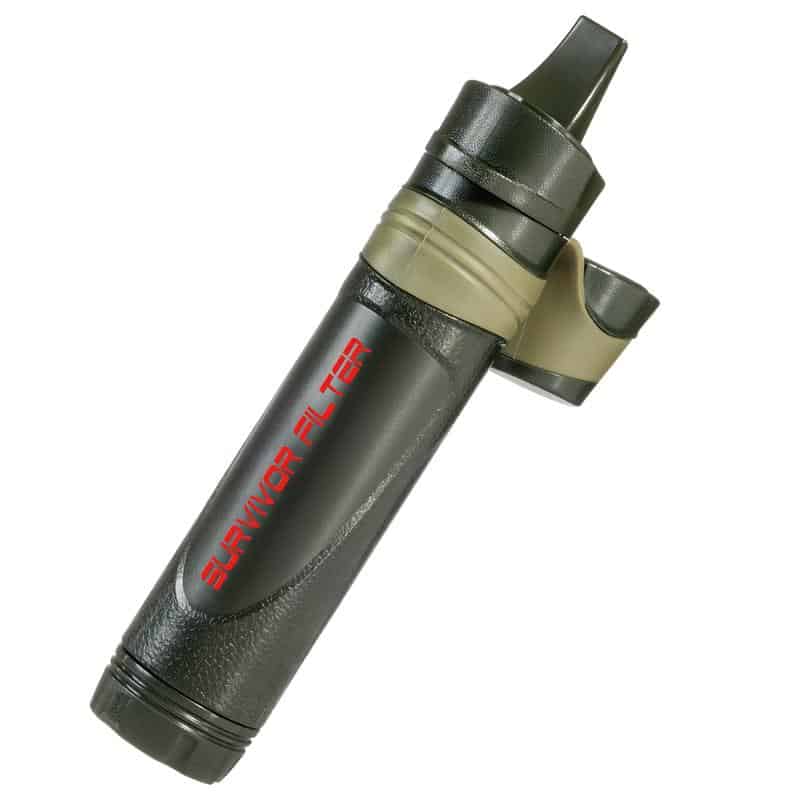 What it doesn't filter: Viruses – Doesn't filter Hepatitis A, Rotovirus and Norwalk virus
Pore Size: .05 microns
Other Portable Water Purifier Options (too cumbersome for "one bag" travel)
Lifestraw: Lifestraw Mission and Lifestraw Family 1.0
Katadyn
Moko
Potable Aqua: Water Purifier
SR (Miniworks)
[wd_hustle id="base-embed" type="embedded"]