Visiting Sri Lanka, known for being a present-day "Garden of Eden," is not just amazing because of the beautiful landscapes, but also because of the plethora of wild animals and rare species dotting the landscape. If you love the idea of seeing wildlife – Sri Lankan leopard, asian elephants, water buffaloes, wild boars, crocodiles, countless bird species – in the wild, you must do one of the Yala safari tours during your time in Sri Lanka.
The Yala National Park safari experience in Sri Lanka, is a highlight of any Sri Lanka itinerary, experienced via jeep (or tuk tuk) safari over a day exploring paths through the park and watching big and small game wander their home habit while you enjoy a visit to this exciting world.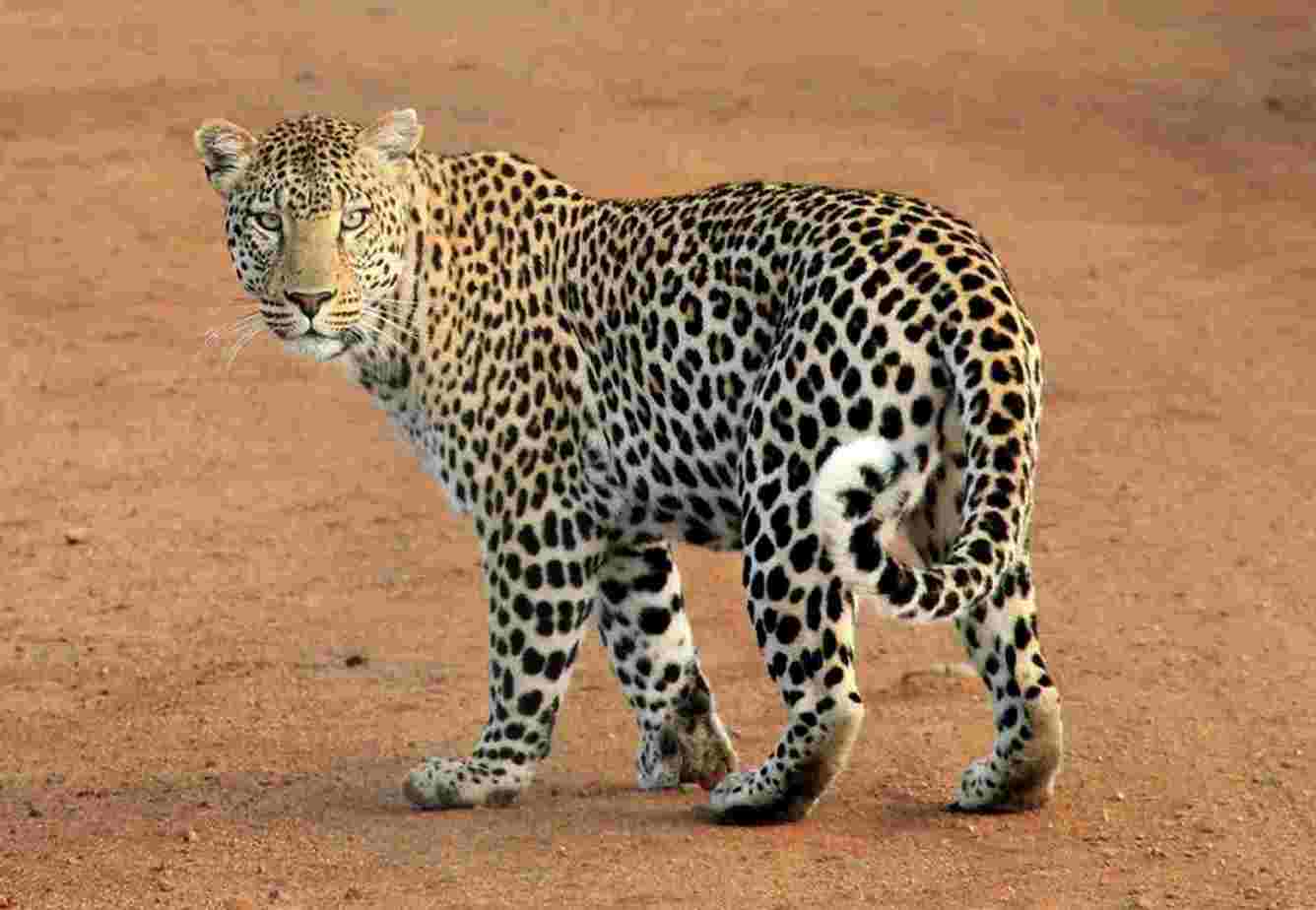 Contents of this Yala National park Safari Guide

For those on the budget end of the travel spectrum (as in, "not rich"), consider renting your own tuk tuk and doing a free "self-guided wildlife & tuk tuk safari". Sri Lanka and its famous Yala National Park are the easiest, best, and only places to make this happen in the world (that I know of).
The wildlife safaris and glamping opportunities in Sri Lanka are amazing, but the $50 to $200 per experience price tag can break the average backpacker's budget very easily. Lucky for the budget crowd, there's always a cheaper way that's just as much, if not more, fun.
Personally, I love independent adventures more than guided tours, and I was curious if, considering I was driving my own tuk tuk, there was a way to safari through of one of the best national parks in Sri Lanka (Yala). There was. In the end, on the experience of my own safari, I got more than my money's worth – possibly because it was free, mostly because it was lots of fun.
Where is Yala National Park?
Visiting Yala National Park, located in the southeast Sri Lanka, involves a quick and picturesue 4 hours and 15 minutes ride from Colombo, the capital (to the west), and 3 hours and 35 minutes ride from the surf village of Arguman Bay (in the east).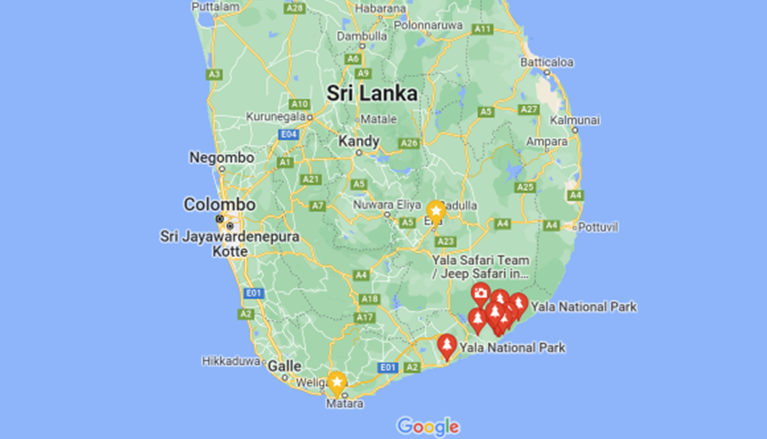 My Experience of Driving a Tuk Tuk Into Yala
Keep in mind on your tuk tuk safari Sri Lanka and its national parks are notorious for leopards and elephants, but there will be plenty of smaller animals wandering up to your tuk tuk and adding fun to the adventure. Because the road on this self-guided safari, the Tissamaharan to Sithulpawwa Monastery road, is so infrequently trafficked, you'll run into lots of smaller wildlife, guaranteed.
On the ride in, immediately passing the entry gates, I saw tons of smaller animals, like deer, wild boar, peacocks, and more than a handful of monkeys. As I got into the park I ran into tusked, bull elephants – which I actually didn't even get to see on the paid safari of Yala. More excitingly though, I got to feed the elephants by hand – against, the rules, yes, but it was a once in a lifetime experience I couldn't skip. Nobody's perfect.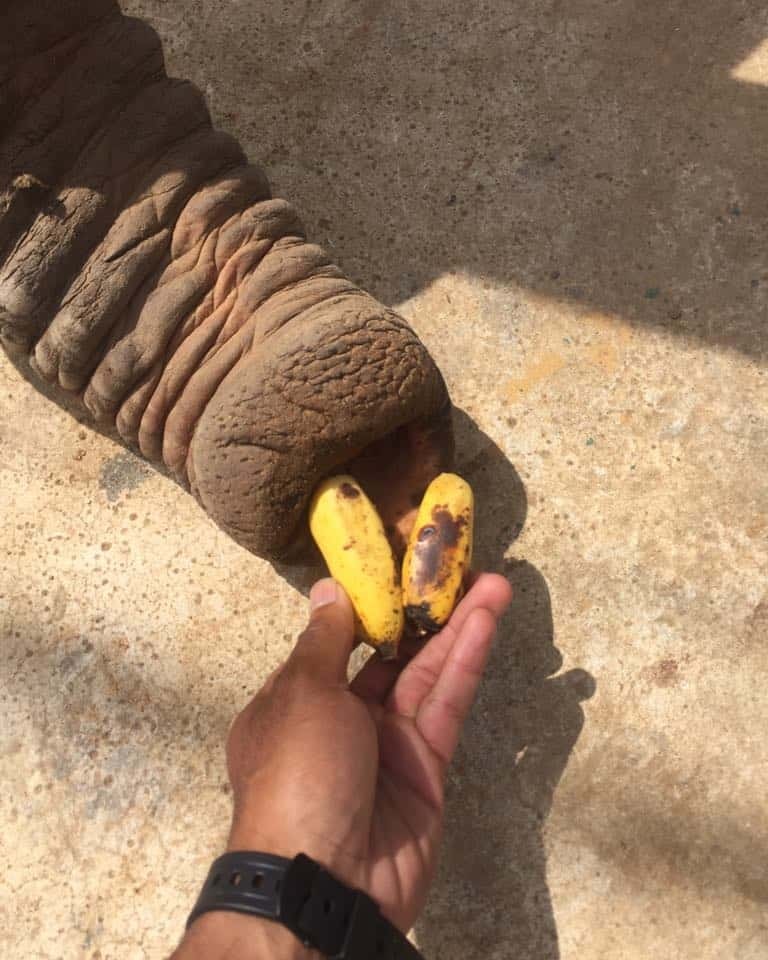 Now, the southwest side of Yala National park is dry brushland, which is where this road for the safari runs through, so you likely won't see any of the animals that live near watering holes. However, if you do go to the east side of Yala, self-guided by tuk tuk, you'll pass the watering holes where water buffalo and crocodiles congregate and see them there.
In addition to this experience, if you're driving your own tuk tuk through Sri Lanka, you'll no doubt encounter countless elephants on the road, water buffalo on the side of the road, and monkeys trying to raid your tuk tuk. Count that into your decision when choosing between this self-guided safari and a formal, paid, jeep safari.
How does the Self-Guided Yala Safari Compare to a Paid Safari?
Honestly, the paid safari is slightly better, but in my experience, it isn't better by much. I did a paid safari of Yala to compare the two and the major difference is that on the paid safari I did catch a glimpse (seriously, a small glimpse) of a leopard, and we saw crocodiles and water buffalo, but we saw no elephants.
On the self-guided safari, I didn't run into any leopards, but I had a very great, long interaction with the tusked, bull elephants (rare in Sri Lanka these days) around Situlpawa, along with a family of board, and I saw tons of smaller animals on the ride that came very close to my tuk tuk when I stopped.
In hindsight, I only enjoyed the free, self-guided safari more, so I recommend that for travelers on a tight budget. However, if you want to see hundreds of elephants in the wild, Udawalawe National Park is completely worth the $30-$50, as that is something you can't replicate yourself and aren't likely to see anywhere else.
Self Guided Safari of Yala National Park
The route for this solo safari starts in Tissamaharan, takes you into Sithulpawwa Monastery for a nice view, then out towards Kataragama, and up road B35 to pass a few more elephants on the way
A Map of the Two Self Guided Yala Safari Routes
Here's how to do your own free self-guided safari of Yala National park by driving your own tuk tuk, step by step:
Start in Tissamaharan and follow the Google Maps directions from Tissamaharan to drive to the Sithulpawwa Monastery (also spelled Situlpawwa) via "Kirinda-Situlpawwa Road"
Park in the parking lot at the Sittulpawa monastery and say hello to the wild pigs and elephants that hang out in the parking lot
Make the quick hike up to the Situlpawwa stupa (5-10 minutes) that gives amazing and expansive views of Yala National park
To leave Yala, take Situlpawwa to Kataragama route via "Kataragama – Situlpawwa Road" to exit via the other side of the national park
To continue your self-guided safari drive road B35 from Kataragama to Buttala. The road will be dotted with elephants and other animals
In the Eastern Portion of Yala National Park from Arugam Bay…
Continue the safari later, on the other side of the park for the more aquatic life…
Start from Arugam Bay and drive in on-road B355 toward Okanda, as far in as you feel comfortable. Around here, you'll find more wildlife that clusters around watering holes.

When is the best time to visit Yala National Park: Visit in the dry season for the region
You can access Yala national park year round, however the best the best time to visit Yala National Park is during the dry season, which typically falls between December and April. During these milder months, you'll have better chances of spotting the animals you've come to see, as they'll be out and about, and you avoid the issues of riding in an open top jeep (during the safari) over muddy terrain.
Additionally, the park closes for one month of maintenance each September.
Where is Yala National Park?
Yala National Park is located on Sri Lanka's southwestern coast, about a 4.5-hour drive from the capital city of Colombo.
How to get to Yala National Park
The best way to get to Yala National Park is by private car or taxi, as public transportation options are very limited in the area. Via private car the ride will cost ~$200 for a 4 person mini-van, bookable here at 12Go.Asia
You won't be able to take a ride all of the way in to Yala on your day of arrival. You'll have to book accommodation in Tissamaharan because Yala is only the national park, and has no accommodation other than luxury glamping.
The following day, either drive your tuk tuk into the park (like I did) or take a tour by 4×4 into the park, which will take you from Tissamaharan to Yala National park
How to choose between the Yala safari jeep tours and how much does a Safari in Yala National Park cost?
The average half day Yala safari costs between $30 and $40 and the average full day tour of Yala National Park with a meal costs roughly $110. Tour provider and quality changes over time and updated ratings are the most reliable reference for good tours, so I recommending clicking here to see the best prices on available tours with updated ratins.
Do you need a guide for Yala National park?
If you are driving your own tuk tuk around Sri Lanka you do not necessarily need a guide, you can simply take the back road into the park riding from Tissa (Tissamaharan) to the monastery.
However, if you are not driving your own tuk tuk, you will need to get a guide for a safari ride through the park.
Safaris, and guides, can be booked online (I recommend here) or at your guest house or hostel for the same price.
What are the Chances of Seeing A Leopard in Yala Sri Lanka?
From chatting with Yala tour guides, about 50% to 75% of tour groups in Yala do see the elusive leopards. The bright side (and slightly annoying side) is that when one safari jeep spots a leopard, or elephants, they radio to the other vehicles. Because of this teamwork, if any vehicle on the safari (there are usually 10 to 20+ vehicles on tour) then you will eventually get to see one as well.
What is the best time of day for a safari in Yala National Park?
During the best time of year to visit, December to April, afternoon safaris and into the sunset are the best time to visit. Coming just before nightfall, you will witness the many animals ending their day, as well as the nocturnal hunters that are just beginning their day immediately before sunset.
However, in the rainy season, a morning safari is a better choice, as the animals will emerge at sunrise to warm from the rainy night, making a leopard sighting more possible during the morning than other times of day.
How Many Days Should I Spend At Yala National Park? (One day is enough)
One day in Yala national park is more than sufficient for the adventure. During that one day you will tour the entire park and see most of the animals on offer. Additionally, the nearby town of Tissa doesn't have much going on, except being a launch point for safaris, thus leaving little to do if you stay for an extra day for your safari.
For the best itinerary, show up in the evening, take on your safari the following day, and depart on the third day

Best Safaris and Other National Parks to Consider
Udawalawe National Park: One of the best places in the world to see wild elephants
Horton Plains National Park: **
Bundala National Park: **
Kumana National Park: **
Gal Oya National Park: **
Minneriya National Park: **
Wilpattu National Park: **

Now that you know the best way to see animals in Sri Lanka and rack up some adventure points, what now?
I recommend checking out our other free Sri Lanka backpacking and travel resources. Our ultimate guide to backpacking Sri Lanka linked below is 100+ pages of free, well-researched Sri Lanka travel info.

MORE GREAT SRI LANKA CONTENT

NEXT UP IN THE SRI LANKA BACKPACKING SERIES