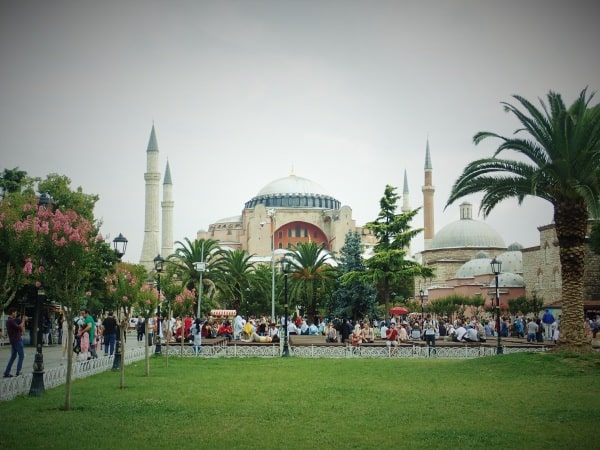 A country sitting between two worlds, the Middle East and Europe, with its capital bridging the two perfectly. Once home to empires (the Romans as well as the Ottomans), Turkey has fallen from power but still boasts plenty to lure in every kind of traveler.
Rich, hearty, and unique cuisine that has influenced countless countries to the east and west.
Otherworldly landscapes that can be experienced from above by hot air balloon and only witnessed in Turkey. The legendary Cappadocia.
Pristine beaches in Bodrum and along the coast.
Roman ruins in Ephesus.
Towering architecture in Istanbul, centuries old.
All to be had on nearly any budget.
Turkey is a destination you absolutely have to add to your bucket list.
Contents of this 10 Day Turkey Itinerary
---
10 Day Turkey Itinerary: How to Visit Turkey on a Short Vacation
Why Travel to Turkey?
Turkey is a destination that is easy to get to, cheap to experience, and rich enough in history, culture and outdoor adventures to fill as much time as you give it. So what is there to do in Turkey?
Experience the history of former empires (Ottoman, Roman, and Greek)
Some of the most well preserved Roman ruins in the world just outside of Ephesus, in Turkish wine country and near the strikingly liberal city of Izmir
Wander through Istanbul, a meeting point bridging Europe and Asia and blending the culture and architecture of the two interestingly well.
Taste rich, hearty, and delicious foods, made and grown locally (olives, cheeses, veggies, breads, honeys) and dishes that have influenced and spread throughout entire regions (cevapi, Turkish coffees and teas)
Understand a controversial and influential country on the world stage, and form an opinion of that country (and its people) for yourself…realizing that quite often, a country's leadership and politics don't accurately represent its people.
Do it all on a budget….cheap enough to accommodate every flavor of travel: food, outdoors,adventure, and relaxation – and to satisfy every traveler
10 Day Turkey Itinerary
(Scroll down for a detailed review of the itinerary)
Day 1: Arrive in Izmir
Day 2: Izmir
Day 3: Izmir +Ephesus
Day 4: Fly to Cappadocia
Day 5: Cappadocia by Hot air balloon
Day 6: Cappadocia -Tour
Day 7: Fly to Istanbul
Day 8: Istanbul -Europe side
Day 9: Istanbul -Asia side
Day 10: Depart
The Highlights of Turkey
Experience the landscapes of Cappadocia, by foot and hot air balloon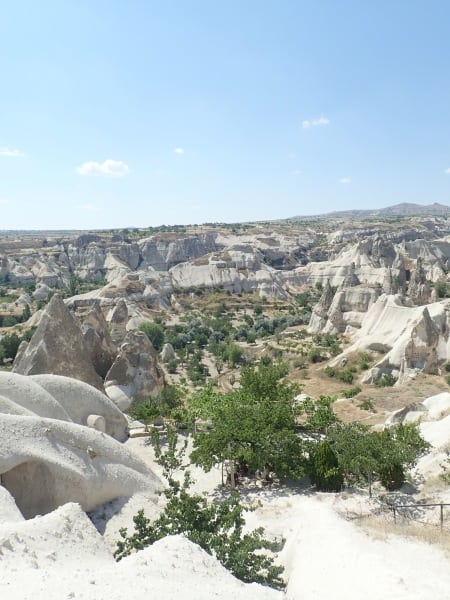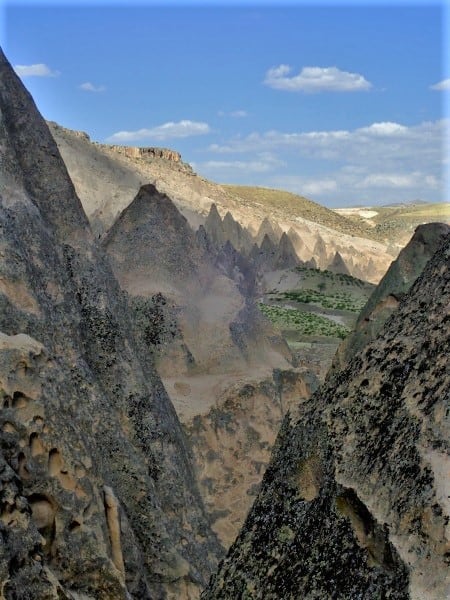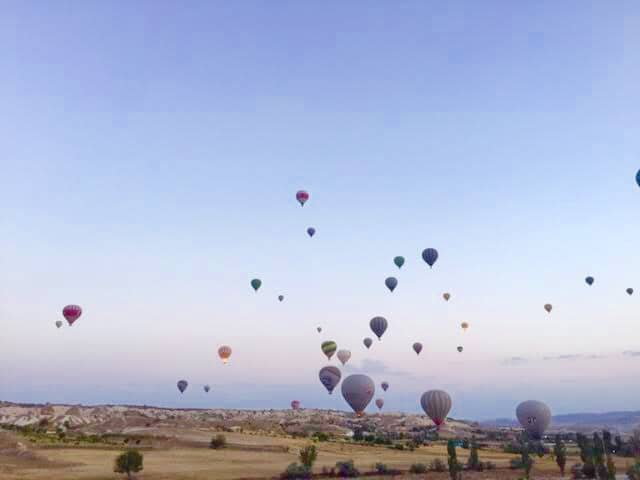 Walking for 45 minutes through the most well preserved Roman ruins in Europe
Experiencing Istanbul: A City between worlds, bridging Europe and Asia
Experiencing a controversial destination, and realizing…we're all more similar than different
A Walk through of 10 Days in Turkey
(Detailed Itinerary)
Day 1: Arrive in Izmir
Starting your Turkey travels in Izmir is perfect as it gives you a straight route to Istanbul with plenty of contrast, tastes, history, beauty, and culture along the way.
To get to Izmir, fly, likely connecting through Istanbul. Don't fret about the flight from Istanbul to Izmir jacking up your travel costs. Flights between virtually any two cities (with a reasonable airport) is cheap in Turkey. If you have more than 10 days, consider starting a little further south in the pristine, beachy, costal area that is renowned for its beauty, clear waters and all, but not trodden nearly as much as the islands and coasts of Greece.
Day 2: Experience Izmir
Izmir. You may not know the name, but if you're going to Turkey you should. Izmir is Turkey's "liberal capital", the equivalent to the US' San Francisco (without the multi-trillion dollar tech scene). Izmir doesn't offer anything extremely touristy, but given Turkey's reputation (or misperception) on the world stage, its absolutely worth visitng for perspective
What to do in Izmir:
Do a guided walking tour of Izmir to learn its history and how its people "political preferences" have my life in Izmir "interesting"
Have a traditional meal of Kebab/Cevapi, dolma, and the like.
Walk the waterfront by day
Visit the waterfront by night, when everyone comes out to have picnics and have a beer until 4AM
Day 3: Izmir + Train to Selcuk and Ephesus for Roman Ruins
After a day of exploring Izmir, take the train for a day trip to the epic city of Ephesus. On arrival, walk down the pathway of towering columns (ruins from old buildings) to main street and hop a cab to the Roman Ruins.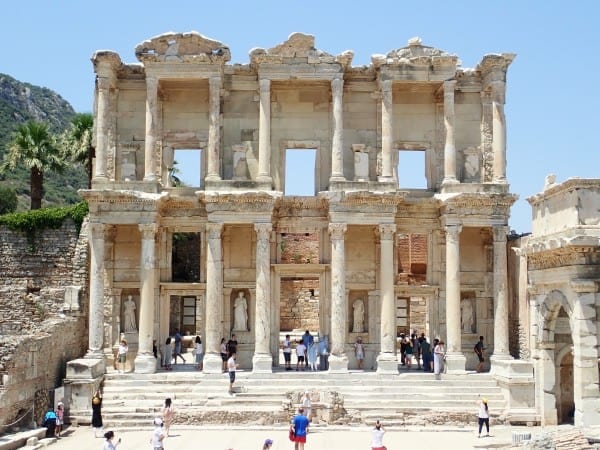 If you're famished and starving, stop by any restaurant or a traditional Turkish "breakfast" of an array of cheeses, honey, freshbreads, olives, grapes, and an array of fruits and vegetables that taste oddly more delicious than anywhere else. Finish it up with a Turkish coffee to fuel you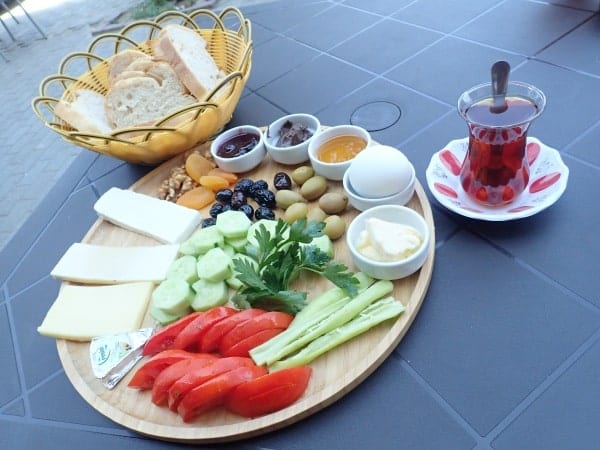 After your breakfast, hop in the cab to ride 10-15 minutes to the most well preserved Roman ruins in the world. This "city" of ruins will take about 45 minutes to walk through and is mind blowing. Once upon a time, this city was a port city, before the waters receded. When the waters did receed, they left the city covered by sand for centuries, preserving it…for you to enjoy now.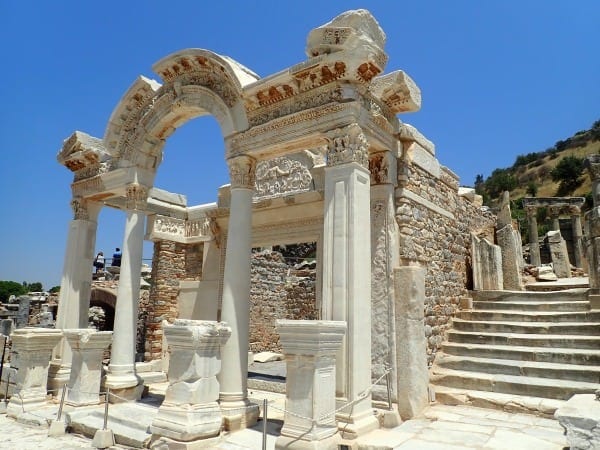 After wandering the ruins, head back into town to view the **temple**, the fortress and the amazing view any watch tower provides. From both sites you'll be able to see endless groves and vineyards, leading to the next attraction.
Before leaving Ephesus, try a glass of wine and consider doing a tasting at a local winery as you are in Turkey's best wine country
After the day is finished, head back to Izmir by train and get ready for your flight to Cappadocia the following day.
Day 4: Fly to Cappadocia + Experience a Turkish Bath
Wakeup and fly to the region of Cappadocia, specifically the city of Goreme. Here you'll witness extremely interesting geological formations that make the entire region look like something from a fairy tale.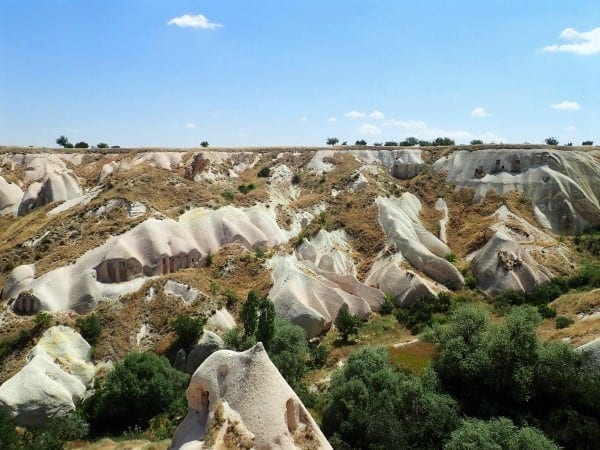 Make full use of your travel day on arrival by trying out the Turkish Bath house in town. Its a great use of your half day, and the experience is much cheaper (half the price) and less crowded than in Istanbul. There's only one bath house in town and the experience is very authentic. Just be sure to correctly read the signs (unlike me) to avoid walking into a room butt naked while everyone else is in their underwear. Honest mistake?
If you arrive before dark, hike up to the sunset point which gives an amazing sunset view with Goreme's thousands of stone spires on the horizon.
Finish the evening by hitting the main street for a traditional Turkish meal of something meaty and hearty with fresh bread on the side.
Be sure to book a room in a "cave hostel" or "cave hotel" for the best Goreme. Goreme and Cappadocia's soft stone and proximity to several persecuted populations made Cappadocia a great place to flee to. Those that arrived dug countless caves millenia ago to hide in, and people continued to live in them for centuries. Now, some of those caves are home to hotels and hostels. It makes for an interesting experience that I highly recommend.
Day 5: Cappadocia – Hot air balloon and Red Tour
Hot Air Balloon Ride over Goreme, Turkey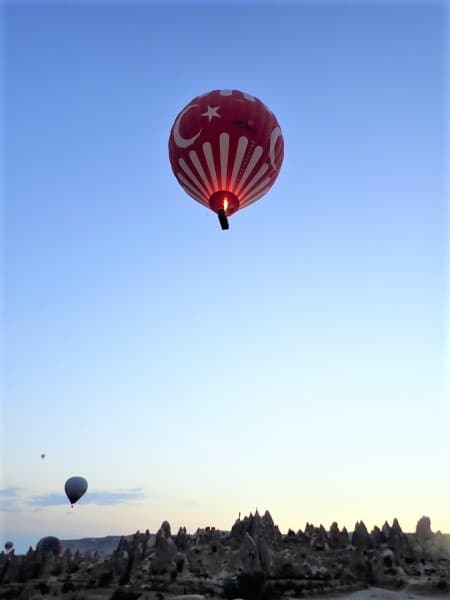 Make a booking with your hotel or hostel (the night before) for a sunrise hot air balloon ride. You'll thank yourself for waking up early when you're hundreds of feet above the ground as the sun crests over the horizon lighting the beautiful rock formations of Goreme on fire.
Flights generally launch at 5:00AM-5:30AM taking 1-2 hour flights, depending on who you book with. The whole experience takes about 3 hours total leaving time for breakfast and time to jump on the Red Tour of Cappadocia.
Cappadocia Red Tour Stops
Uçhisar panorama
Goreme Open Air Museum
Pasabag (Monk's Valley)
Cavusin
Devrent (Imagination Valley)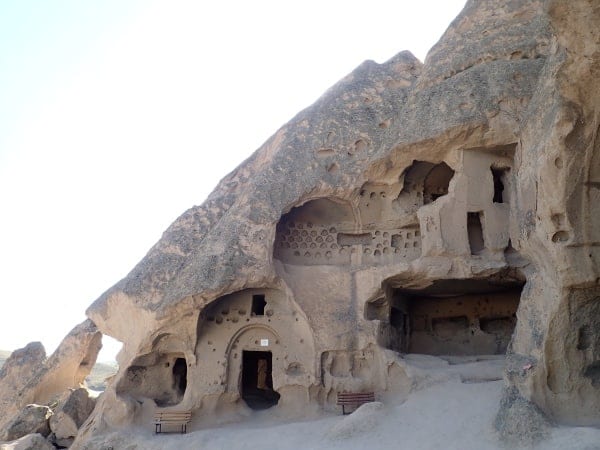 Departure Time: 9:00AM – 9:30AM
Price: $40 USD /35 Euros
Day 6: Cappadocia – Green Tour / South Cappadocia Tour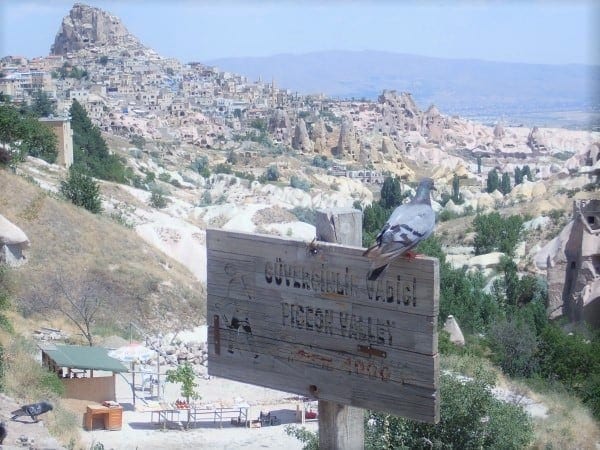 Cappadocia Green Tour Stops
Derinkuyu Underground City: Home to the Hebrews that fled after the death of Jesus Christ
Ihlara Valley Hike: A walk down and through a lush green canyon to a river and refreshments area
Selime Monastery: A former monastery and prospective site for George Lucas' Star Wars (though the Turkish government refused)
Pigeon Valley: An interesting valley filled with manmade caves and a fairy tale like hill and "cave castle" in the backdrop
Price: $38 USD /33 Euros
Start Time: ~9:00AM
Day 7: Fly to Istanbul

Once your adventure in Goreme, Cappadocia is complete, hop a relatively cheap flight back to Istanbul.
Flights landing on the Asia side at Sabiha Gokcen Airport will likely be the cheapest, but don't worry, buses run every 30 minutes to the Europe side of Istanbul making transport very easy.
Once you've arrived, make good use of your first afternoon and evening by grabbing a solid dinner and then heading to the waterfront for a sunset. The ambiance of Turkish families, couples and teenagers picnicing, swimming, and fishing by sunset is a very authentic and relaxing experience.
If you feel like you're in need of a workout, head a little further south along the waterfront (15 minutes walking) to the public open air gym and park and get in a workout, or just enjoy the ambiance
Day 8: Istanbul – European side
Pack this day full of relics, archecture and ancient culture by hitting these stops: • Hagia Sofia
• Blue Mosque
• Royal museum
• The underground water reservoir
• Palatium Cafe and Restaurant: A coffee shop built over Roman Ruins

Hagia Sofia: Start the day early and head to the Hagia Sofia around 7AMto beat the crowds, and make sure your camera is charged because this is one epic piece of architecture. The Hagia Sofia was originaly constructed in **400 AD** as an Orthodox church by the Greeks and was the largest structure ever built at the time. Later, the Turks regained control declaring the church a mosque. Finally, nearly a century ago, the structure was declared a museum and cultural site, being neither Islamic nor Christian.
Inside the Hagia Sofia the change of control is clear and beautiful as Islamic and Christian influences adorn the interior.
The Blue Mosque (Sultan Ahmet Mosque): In striking contrast that epitomizes Istanbul, directly across a beautiful courtyard lies the Bue Mosque – a structure just as huge and ornate as the Hagia Sofia, but it has always been and continues to be an Islamic place of worship.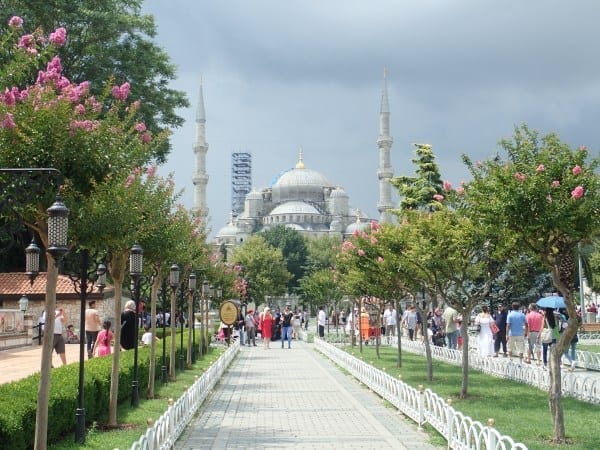 Topkapi Palace (Museum): Be sure to visit the royal museum which lies on the royal compound, giving you a chance to wander the complex and observe architecture and artifacts from different periods. The highlight of the tour is no doubt a high security room holding the sword of King David (yup, the "David and Goliath" David), artifacts from Moses, and artifacts from the Prophet Muhammad.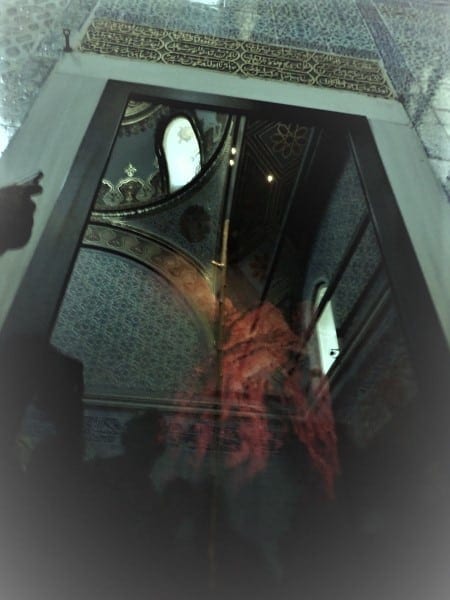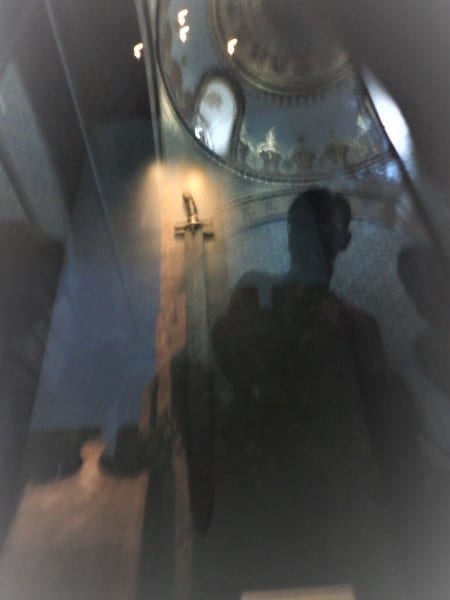 Palatium Cafe and Restaurant: After this, take a short walk to the a coffee shop (10 minute walk) for bean bags, coffee, hookah, and Roman ruins. During the construction of this coffee shop, ruins were unearthed believed to be a Roman palace. Instead of stopping construction or desroying the ruins, the owners chose to continue excavating the ruins and build the coffee shop and restaurant. Access to the ruins is free to the public, no purchase necessary…but they do have pretty good coffee.
Basilica Cistern
Sinan Pasha Complex: A former madrasa that is now a tourist center
Turkish "Hamam" (Turkish Bath):
Cruise the Bosphorous:
Grand Bazar
Church of St.Savior in Chora
Topkapi Palace
Day 9: Istanbul – Asia side
• Kadikoy District
• Uskudar District
• Wander the streets and feel the difference between east and west
• Maiden's Tower
• Camlica Hill (viewpoint)

Other
• Prince's Islands (nine car free islands) southeast of the city, off the souther coast of the Asia side
Day 10: Depart
Day 9: Istanbul – Asia side
Day 10: Depart
Other Places and Experiences to Consider Visiting in Turkey
Pamukkale: The "Cotton Castle" in Turkish is a unique natural site at which carbonate minerals left by the flowing volcanic waters have leftpure white and icy blue hues coating the hills and dried pools of Pamukkale
Bodrum: **
Getting around Turkey
Getting Around Turkey couldn't be simpler. Cheap flights between cities accommodate short itineraries and comfy, well-kept trains give amazing views for the slower traveler.
In town, robust and easy to navigate bus networks and metro rail lines get you anywhere cheaply, easily, and with a very local feel.
Linked below are the inter-city flight searches with some great deals via Turkish Airlines and Pegasus Air
Eating in Turkey (what to eat, where, and how)
Filling vegetarian breakfasts and hearty dinners forcheap with Turkish coffee and Turkish tea at the source. Be sure try as many of these treats in as many places as possible throughout Turkey
Adana Kebabs: Ground lamb and beef, seasoned and squeezed around a steel rod and grilled over an open flame
Iskender Kebabs: Ground lamb and beef, seasoned and squeezed around a steel rod and grilled over an open flame , slightly spicier than Adana Kebabs
Kofte Kebabs: "Turkish Meatballs", ground lamb and beef rolled into finger sized sausages and grilled
Siskebabs ("sheeshkebabs): Solid chunks of meet, placed on a skewer and cooked over fire
Doner Kebabs: Sliced sheets of chicken, lamb, or beef, seasoned, stacked, and slow cooked on a vertical rotating spit – similar to Greek "Gyros" and Arab Shawarma
Delicious cheeses: Honestly, I had no idea what cheeses I was eating, I just ate what showed up. I suggest doing the same.
Olives, veggies,and other treats: Too many varieties ofolives, delicious honeys
Ayran: A sour, yogurt like drink that some love and some hate, but everyone should try
Turkish coffee: This stuff is so strong its served in shot glasses to prevent over consumption…and could fuel a rocket launch. I think Elon Musk runs off this stuff. Fair warning – grains are in the bottom of your cup. Don't leave Turkey without trying Turkish coffee.
Turkish tea ("Chai"): Strong, liquid candy that you'll finish nearly every meal with.
Wine (Izmir andEphesus): Can be quite delicious, but heavily depends on the city and vineyard. When in Ephesus and Selcuk, take the opportunity to try their delicious wines as you'll find the best here
Arik: Anise liqueur, with a notable aroma and flavor of black licorice. Served over ice with water to dilute it…and the liquid entertainingly changes from clear to white when the water is added
Raki: A Grape liquor that comes in alcohol concentrates from 20% to 60% or higher. The lower alcohol concentrations are commonly aperitifs while the higher alcohol concentrations could fuel F-1 car.
Baklava: A dessert made from light pastry layers, flavored syrup, rose water, and pistachios. Deliciously worth the diabetes risk
Lokum
Sleeping in Turkey & what to expect
Expect cheaper accommodation that isn't as modern as what you normally find in Europe or as lively as southeast asia
Though hostels are less lively in Turkey, the crowd is still social, just more focused on adventuring than partying
For hostels and budget accommodation, Hostelworld and Booking.com
For private accommodation (BnB or apartment) try Agoda.com, AirBnB, and Booking.com
Turkey Hostel Booking Shortcuts
Getting to Turkey (cheap flights, and getting from the airport)
With Istanbul being a general hub for flights throughout the world, flights to Istanbul, and Turkey, are surprisingly cheap.
When planning your flight to Turkey, save money by routing through a European airline hub with cheaper flights.
For the cheapest flight options use the Skyscanner Explore function, Momondo,and GoogleFlights "explore" functions to identify the cheapest cities to travel from and the cheapest days of the weak to fly.
Cheapest Departure Cities for flying into Turkey
Cyprus ($46)
Russia, St.Petersburg (~$80)
Ukraine, Odessa($78)
Italy , Bologna(~$85)
Greece, Athens(~$95)
Hungary, Budapest($100)
Findmore departure options at Skyscanner
Turkey Visa Info
The Turkish e-Visa is a 90 multi-entry visa that costs $20 (for the e-Visa) and is available for most nationalities or $25 or visa on arrival for most nationalities . Visas to Turkey are available on arrival at any port of entry, but I advise applying for an online e-visa to save a few dollars and avoid potential hiccups by planning ahead.
The e-visa process is quick, consisting of a form that takes less than 10 minutesto fill out and an e-visa emailed to you as a PDF, usually within 24hours. Be sure to print out the e-visa,take it with you to the airport, and keep it with you at all times in Turkey.
Turkish Visa Costs and Online Application Process
Turkishe-Visa Cost: $20 USD (USA and Europe), $60 (Australia and Europe)
TurkishVisa on Arrival Cost: $30 USD (USA and Europe), $70 (Australia and Europe)
You can the website to apply for the Turkish e-Visa here. Visit the Turkishe-Visa Information Page for more information on the Turkish e-Visa.
Visitthe Turkish Ministry of Foreign Affairs' Visa page for the latest information on the standard visa.
Where to Travel after Turkey
As a hub for travel, virtually anywhere in the Middle East, eastern Europe, and the Balkansare cheap flights away. I recommend these four regions as they are short, cheap flights away, great value destinations, and filled with the sights, tastes, and experiences that make for fulfilling travel
Eastern Europe & The Balkans
With cheap flights from Istanbul to a handful of countries in Eastern and southern,the Balkans and Eastern Europe are great, underrated, and cheap destinations to head to after Turkey. Great food, complex yet interesting history and culture, beautiful landscapes, and ease of travel – accommodating visa rules and cheap travel – make this cluster ofcountries
From the awe inspiring Fjords of Montenegro, to the chaos and pristine beaches of Albania, to the Utopia like city of Kiev, this region is filled with travel gems that still aren't on most people's radars.
Ifyou have 10 more days available on your trip, checkout the Balkans
The Middle East
If you're in the mood for adventure and have the time – 10 Days to be exact – go to the Middle East. I highly recommend proceeding to either Jordan, Lebanon & the West Bank, or Egypt, and starting your "10 Days to Live the Middle East" itinerary, seeing the best that the Middle East has to offer in 10 days.
Visiting these four Middle Eastern states will give you a balanced perspective of thecultures of the Middle East – purely Arab (Sham/Khaliji), French influenced, African influence, and Jewish/Hebrew. Between the four states, the sights will be one of a kind and the experience will become more rich as you progress through comparing, contrasting, and better understanding the four cultures and their complicated histories
Iran
For adventurous traveler's whose passports (and home country's international relations) allow and prefer a truly unadulterated travel experience, consider traveling to Iran from Turkey. I have spoken with at least 20 travelers who have visited Iran via "package tours", motorcycle trips, semi-broken down vans, and on foot, and every single one of them loved Iran as a destination. Every traveler recommended Iran and would absolutely go back.
From welcoming people, to rich culture and amazing landscapes, Iran is a not often visited destination by westerners thesedays that will reward your adventurous travel choice with a delightfully unexpected experience.
Flights from Istanbul to Tehran can be had for less than $100 USD, and usually~$75. Check Skyscanner, Momondo, andGoogle Flights for the best flight options
The Greek Islands
Manyof the Greek Islands are a mere ferry ride away and await with warm people, clear waters along rocky coastlines, ancient ruins, and rich food.
Prior to Izmir, I was on the island of Lesvos volunteering with the refugees teaching Englishand hosting at a coffee shop, but outside of volunteering, Lesvos was a quaint, enjoyable, and cheap destination to relax in. Lesvos was a 45 minute ferry ride from small Turkish town of Ayvalik.
On Lesvos, the Ouzo factory (and tour), dinners by the waterfront, and crystalclear waters always provided something to do. If you are traveling long term and want to stop somewhere sunny, cheap, and welcoming, consider Lesvos.
If you're in search of something else, consider visiting these other Greek Islandsafter your tour of Turkey:
Popular Turkish Ports to Greece: Bodrum, Marmaris, Kuşadasi and Çeşme
Popular Greek Ports to Turkey: Rhodes, Kos, Samos and Chios
Safety in Turkey
Istanbul, Izmir, Cappadocia, and Bodrum are all very safe
Inthe major tourist cities of Izmir, Cappadocia, and Budrum, travel is very safe, with a low risk of violence or petty crime.
In Istanbul, the conditions are safe as well but keep an eye out for political demonstrations – these are the only true potential for calamity for tourists.
As a rule of thumb in any country avoid political demonstrations to stay safe, because if the government (e.g., police, military) decides to respond you may be caught in the "exchange of tension."
The War along the eastern Turkish Border is still happening but won't affect most tourists
The Turkish-Syrian border in the southeast is still a high risk area, as the war in Syria continues. Travel to this area is risky and not advised. Rest assured thatthe conflict in Syria and violence on the border have not affected security in the tourism hubs of Turkey (Istanbul, Izmir, Cappadocia, and Budrum).
The only "trouble" I had was having my ID and nationality check because they were worried I was a refugee without papers or someone traveling from border regions (aka war zone) but the police were quite polite and friendly about it through the entire interaction.
Always consult your home government's travel advisories page prior to visiting risky countries, countries with political instability, or countries bordering warzones. Often times risks are exaggerated by these sites but they are still a good way to stay informed, and if something does go wrong, they'll be the ones getting you out.
For US Citizens Traveling to Turkey check the State Dept's websites but take the advisories with a large grain of salt
Signup for the STEP Traveler Program, to have your trip on file with the US State Departmentin case of emergency
Visit the US State Department's Turkey Travel page for general info (visas, up to date security issues) and the Turkey Travel Advisories page for up to date information on specific travel risks and threats.
Turkey Travel FAQ
When to go to Turkey
What is the weather like in Turkey
Can I drink the water in Turkey? (A note on water filters)
Is Turkey safe to travel to?