Contents
---
Why Go to Cairo
Visiting the Pyramids of Giza is an easy and quick adventure that can be accomplished in a day, with several other sights as an added bonus. The pyramids are an astoundingly impressive sight, set against the backdrop of a city that's pure chaos and adrenaline just to navigate. Cairo is surprisingly Arab, African, and all its own rolled into one. With 18 hours free (and some luck with traffic) you can easily experience the highlights of the sights, tastes, and experiences that Cairo has to offer cheaply and easily on yor own mini Egypt & Pyramids tour.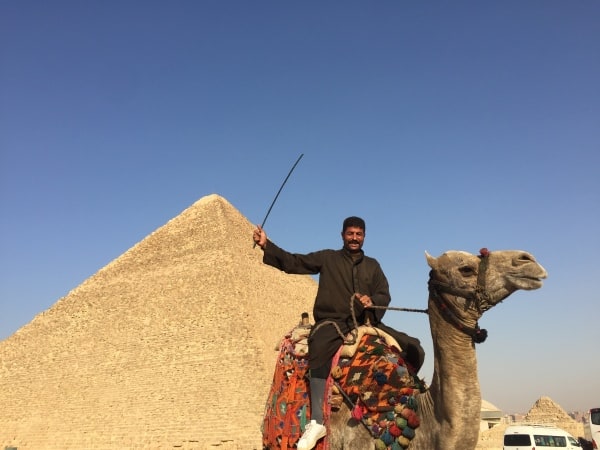 The Self-guided 18 Hour Cairo, Egypt & Pyramids Tour
Walk through the Khan al-Khalil Souk

Visit Al-Husein Mosque on the way
Have coffee at El-Fishawy coffee shop

Have a hooka and a coffee
Go catch a "football match" with the locals
Other Places to fill your time in Cairo
Haria Café to get an Egyptian Stella
Cairo Jazz Club
Visit the top ofthe Tower of Cairo
Go to a mosque (Al Hussein Mosque will be on the way)
Felucca down theNile
Overview of How to do 18 Hours in Cairo
Pay the $25 visafee for a visa on arrival at the Cairo airport
From the airport,take an Uber or Careem straight to the pyramids of Giza (180 Egyptian Pounds /$10 USD)
From Giza, take an Uber or Careem to the Museum of Cairo (70 Egyptian Pounds / $4 USD), 160 Egyptian Pounds / $9 USD EntryFee
From the Museum ofCairo, take an Uber or Careem to the Khan al-Khalil market (25 Egyptian Pounds/ $1.50 $USD) — on the way into the market, stop by the Al-Husseini mosquebriefly and in the market stop by the El-Fishawy coffee shop for a traditionalcoffee
Continue walkingthrough the Khan al-Khalil market to experience the chaos, heading towardsTahrir Square
Go to AbuTarek's or the nearest KoshariEl Tahrir to have a big bowl of Koshari
Head back towards TahrirSquare, get friendly with the locals, and ask to hear their perspective on therevolution in Egypt (~2011) and the Arab Spring
Fill the remainderof your time wandering around this downtown area by foot stopping by the CairoJazz Club, the Haria Café, or the Tower of Cairo
Take an Uber orCareem back to the airport (130 Pounds / $7.50 $USD)

The Sights of Cairo
4600 years old and an absolutely impressive sight to behold. One hour away from the airport, and your first stop on your itinerary through Cairo.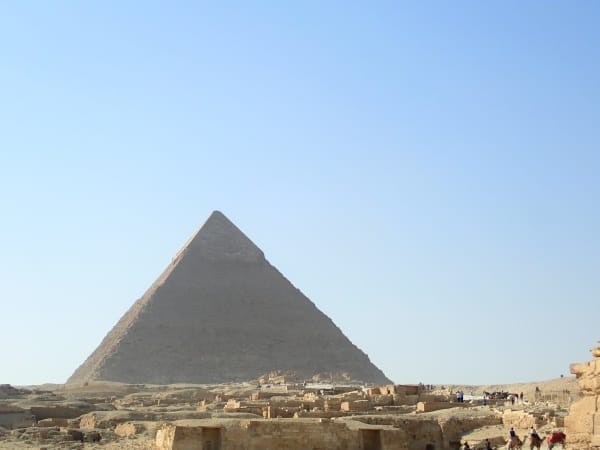 Visiting the Pyramids of Giza in an 18 Hour Layover
To get from the Cairo airport to the Pyramids of Giza, your best option is to use a rideshare app: either Uber or Careem, so download those ahead of time. From the airport the fare will be ~$11 USD, and from downtown the fare will be ~$4.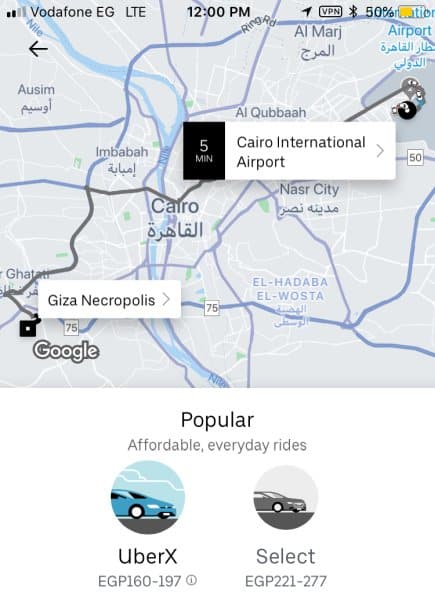 On arrival to the pyramids complex, run by a mini-mart in the neighborhood to grab water and potentially a few snacks if you're feeling a bit hangry. The neighborhood around the pyramids has plenty of vendors and shops where you can pick up odds and ends. The walk around the pyramids, the Sphinx, and the tomb can easily take 2 hours in the hot sun if you're searching for that perfect photo.
Pay the entry fee of 160 Egyptian Pounds (~$9 USD) and you're in!
On Entry to the Pyramids: A view of the sphinx and with the pyramids as the backdrop will greet and surprise you.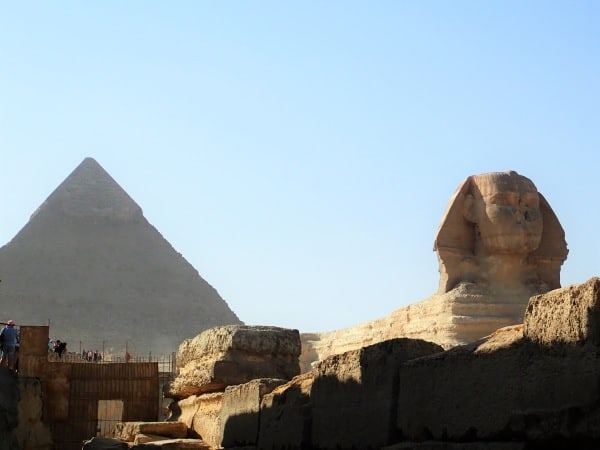 Follow the road to the left, toward the official entrance and the path
First You will see the Funerary Temple of Khafre
Continue on for a view of the Great Sphinx of Giza
…And continue on for a view of the great pyramids…
The first Pyramid you will see is the Great Pyramid of Khafre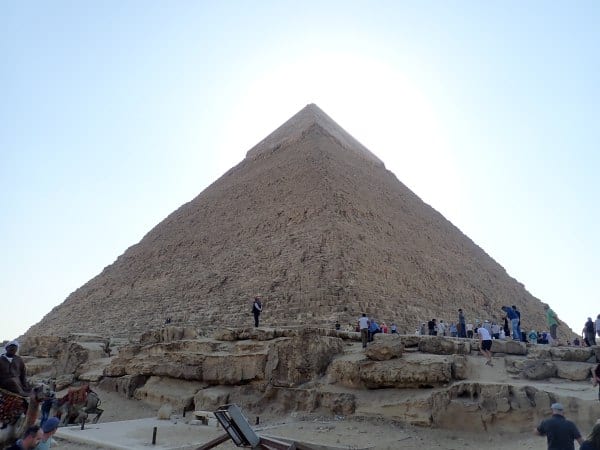 Whereas most visitors will walk onto the a platform guiding them, walk along the road, and veer off a bit just to where you can see behind the pyramids and you will have an excellent view of the Pyramid of Khafre and the smaller Pyramid of Menkaure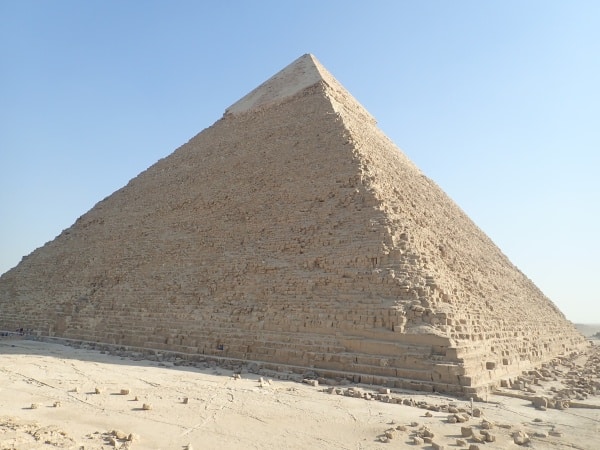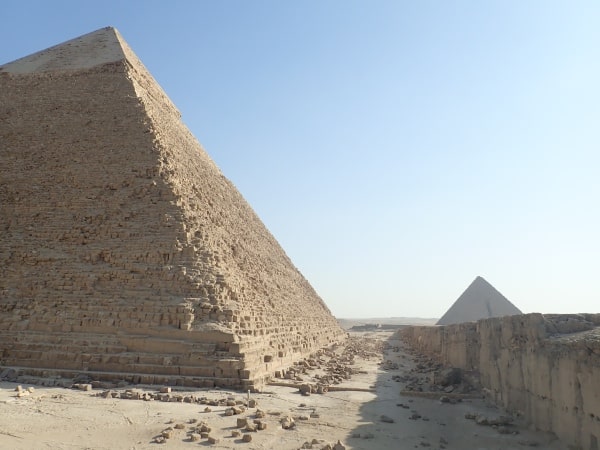 To the right is the Pyramid of Khufu. If you proceed toward southern side of the Khufu pyramid you will see a structure holding the ship (yes ship!) that brought the stones for the pyramids to Giza. On the west side of the Khufu pyramid, you will see two large holes that the ships were excavated from.
Though you can enter the Khufu pyramid, the price is now 360 Egyptian Pounds (~$20 USD) and the interior looks much like the Funerary Temple of Khafre, so save your money and enjoy the impressive views from the outside.
To put the grandness of the pyramids in perspective, this is how large each block is when you're standing next to it. Roughly 3 feet / 1 meter tall
Afteryou have satisfied your curiosity and grabbed the photos of a lifetime, grab anUber or Careem over to the Museum of Cairo.
Now that you've seen impressive views that still baffle archaeologists, make sense of it by visiting the Museum of Cairo, also know as the Museum of Egyptian Antiquities. With over 120,000 Egyptian antiquities on hand (not all on display) this experience is the perfect accent to witnessing the pyramids of Giza for yourself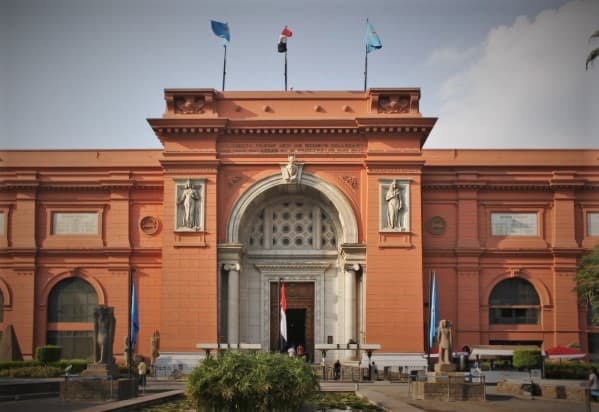 Diego Delso, delso.photo, License CC-BY-SA
Though the route seemsa little off, head straight over from the pyramids as the museum closes at 5pmdaily, and traffic across Cairo can take an hour or more.
Afterexperiencing the museum, head over to Khan al-Khalil market, which is great tosee any time, day or night.
If you're hunting for a guided tour consider a guided tour such as this tour through the museum and Tahrir Square
Hopan Uber or Careem and have the driver drop you off near the Al-Husein mosque tostart your Egyptian market journey. Uponentry, you will be in a square with foot traffic only and locals socializing,so enjoy the truly Egyptian ambiance. Admire the Al-Hussein mosque a bit and feel free to wander around. Just type in "Al-Hussein mosque" in Google Maps to find out where you'll start your wandering tour of the Khan al-Khalil market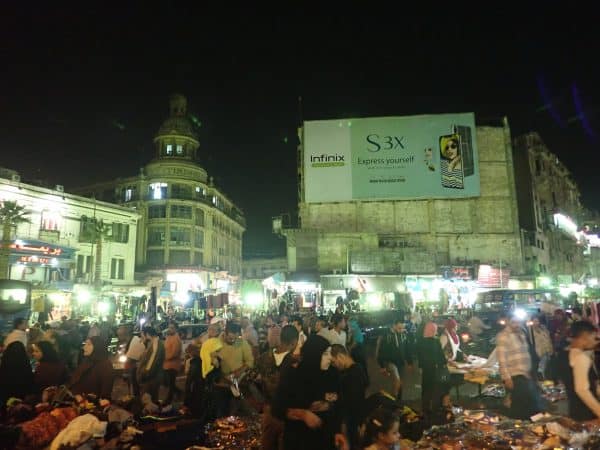 When you're ready, punch in "Tahrir Square" into your Maps.Me or Google Maps and meander in that general direction, crossing between streets and alleys. Along the way you will have a mind blowing experience with a slight touch of sensory overload.
On the way, be sure to stop at the El-Fishawy coffee shop.
If you see any local crafts that you find more impressive than average, drop in and talk the craftsman. I did this with a few pieces of interesting jewelry and decorative plates and the craftsman were very excited to share their work and how they go about it.
When your feet have had enough and your curiosity has been satisfied, hop another Uber and continue on to Tahrir square. Or if you are truly hungry for the feeling of Cairo, just keep walking as the route will take you through a slew of contrasting neighborhoods all scattered with variants of "daily life" in Cairo.
Visit Tahrir Square, the site where the Egyptian revolution tookplace not in 2011. For more perspective,watch the movie "TheSquare" ("Al Maydan" in Arabic), a documentary about the 2011 Egyptianrevolution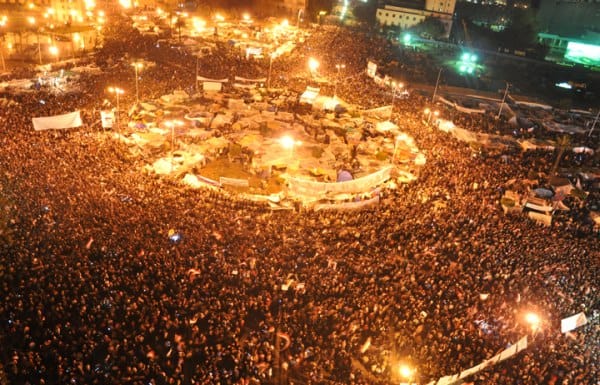 After Tahrir Square, eat…
After experiencing the vibes of Tahrir Square, continue on to enjoy the trademark and unique foods of Cairo and the region: Koshari and Kufta Kebabs.
What to Eat in Cairo
Ifyou only eat one thing in Cairo, make it Kushari. Kushari is not necessarily impressive, but itis a notoriously Egyptian dish. If you asklocals of Cairo for the best Kushari restaurant you have two main options:
Kushari Al Tahrir:The Fancy Kushari Place
Walk by any one ofthe Koshary Al Tahrir restaurants and you'll immediately feel the more upscalevibe. Rest assured though that thekushari is still authentic, notoriously delicious, and cheap
2. Abu Tarek: The"everyman's Kushari"
Located on a slightly out of the way street populated by street side mechanics, Abu Tarek's restaurant is absolutely the one locals will tell you to go to…and I will too. With a full "large" meal running less than a dollar, this is a good experience, for your taste buds and your pockets.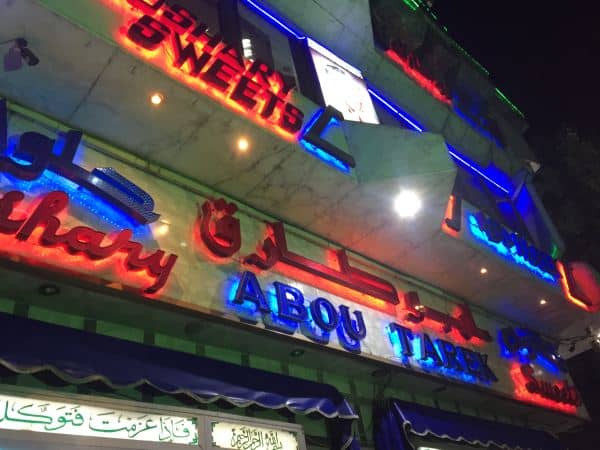 What is kushari anyways? (I had the same question on arrival)
Kushari is an Egyptian dish that dates back to the 1800's and consists of rice, macaroni, and lentils topped with tomato sauce, garlic vinegar, chickpeas, and fried onions. I'm not sure if I was extremely hungry and delirious from 8 hours of walking, but this pseudo Italian mashup was quite delicious.
What do with the remainder of yor time? Wander.
Because much more of Cairo's daily life and social scene takes place on city sidewalks than in the west, wandering through downtown Cairo ends up being much more entertaining than expected. From the chaos of Khan al Khalili market (which I expected) to sitting outside in the middle of the street watching a Premier Club Liverpool football match – because "Mo-Salah" (Mohammaded Salah), a proud Egyptian is their Forward – wandering the streets of Cairo is an experience in its own.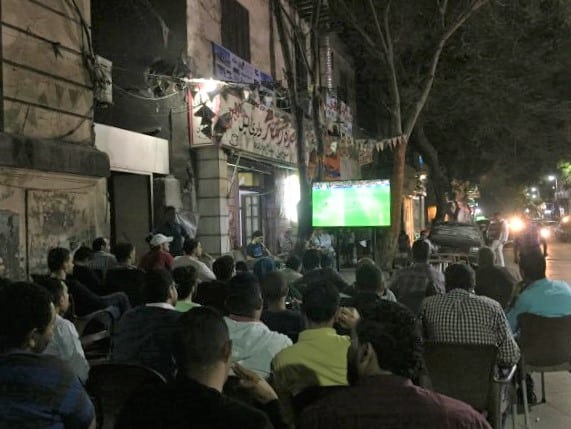 Where to Travel After Cairo, Egypt
Egypt is a convenient end to a "10 day tour of the Middle East" as it is thesouthernmost country in our 10 day journey. If you haven't visited Lebanon, Israel, or Egypt, look into those asfollow on destinations. If you havetasted the other countries in the region…
Head to Turkey for "10Days to Live in Turkey"
Other Destination Options in Egypt (for staying longer)
Getting Around Cairo
Ridesharing apps are the best options for moving cheaply and quickly (or as quickly as traffic will allow) through Cairo. Due to Cairo's economy, fares are cheap, and booking within the app prevents the standard haggling that takes place with taxi drivers in Cairo.
Your two rideshare options in Cairo will be Uber and Careem
Uber is the standard app you're used to and works the same way in Cairo. Beware that if you are attempting to catch an Uber while standing in a busy area (like Tahrir Square) you'll poay a significant upcharge. Walk a few blocks away to save a few dollars.
Careem is the local version of Uber and functions primarily via cash payment, which makes downloading and hailing a car a quick and easy propositin.
Stickto Uber or Careem to avoid price haggling. Be sure to screenshot your ride quote beforehand to know how much you should pay, just in case your driver "accidentally" cancels your ride while you're in the car. Yes, that did happen to me.
Note that once yo get into downtown Cairo, traffic is so dense that walking is as quick as driving, and you also benefit from a different perspective, soaking in Cairo. I preferred walking once I arrived at the Khan Al-Khalili market as it was a better way to experience the city and just as fast as driving through traffic at times.
Warnings: Staying Safe (and Sane) in Cairo
Cairo is a fairly safe destination and your biggest risks are being ripped off or witnessing a car accident. As such, still check the US State Department's travel warnings before arriving, as the Middle East and North Africa can be very "interesting" places at times.
Traffic
Traffic in Cairo is intense. Plan on literally taking 2 hours to move from the pyramids to downtown if you leave during rush hour. Also, know that full chaos driving is completely normal in Cairo. Just hang on and enjoy the experience. You'll likely see two full on car accidents while you're there (I did).
Hustles
Hustlers are everywhere in Egypt! Beware that anything you purchase will have an unofficial tourist tax and taxis will overcharge you.
For a taxi from downtown to the airport do not pay over 100 Egyptian Pounds and you are better off using Uber or Careem. Also, screenshot your ride price to avoid any "negotiating" if they "accidentally cancel the ride".
Currently, the Sinai peninsula is a more hazardous place to travel through, so review itineraries closely that will be passing through there.
All US travelers should register with the US State Department's STEP Program before traveling. Being registered in this system, with your itinerary and contact information, will allow them to notify you in case of emergency.
Additionally, check the US State Department's Egypt Travel website for safety and security recommendations, paying attention to travel advisories for Egypt, and any regions to avoid.
Cairo Travel FAQ
Is Egypt safe to visit?
Is Cairo safe to visit?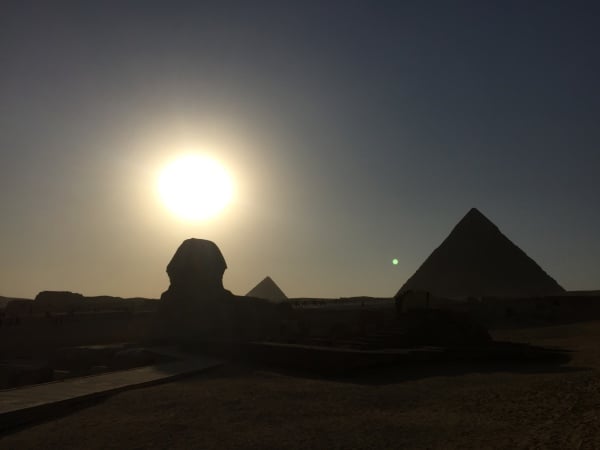 ---
If you found this article inspiring or informative, share the love with a friend