Petra, one of the new wonders of the world and ancient architectural marvel set in the deserts of Wadi Musa, Jordan. Over the course of hiking a few miles,through a ravine (wadi) carved into the ground of the red desert and up a few hills, you'll marvel at the legendary "treasury" and the "monastery", two structures carved into the red rock cliff sides of Wadi Musa. At the end of the hike, you'll be rewarded with an expansive view of the Arabian desert towards Israel. Petra and Wadi should be on every traveler's bucketlist.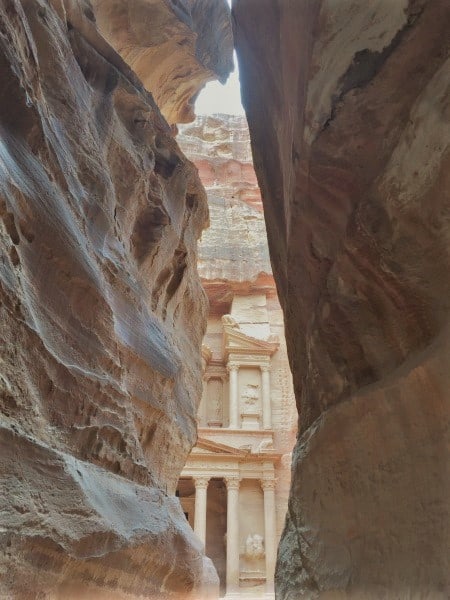 Petra, a mere 2-4 car ride from Amman, and 1-2 hours from Wadi Rum can be done in its entirety in a single day. It will take about 3 hours to sufficiently hike the entire national park, but an amateur archeologist could easily spend daysscouring the site. However long youspend in Petra, this site deserves a place on your bucket list

Contents of Inside Petra: How to Travel to Petra Independently (A Travel Guide)
Overview: What to See and Do in Petra
The Best Ways to Do Petra
The Experience of Petra and the Sites you Need to See
Petra Night Tours: The "Petra By Night" Experience
Your Options for Experiencing Petra
Entering Petra
Guided Tour Options for Petra
Planning and Logistics for Your Petra Day Tour
When to Visit Petra
How to Travel to Petra
Where to Sleep in Petra
Where to go after Petra: Wadi Rum or Amman
Best Options for Cheap Flights to Amman Jordan
The Cost of Doing Petra
How to save money on the Petra Experience
Additional Tips for Petra
Petra FAQ

Inside Petra: How to Travel to Petra Independently
A Little Background: What is Petra?
Petra is an ancient city settled by as early as 9,000 B.C. The Nabateans, a tribe of nomadic Arabs in the region, settled and developed the city, building structures and channeling water and developing agricultural cultural practices inside Petra to form an artificial oasis. This oasis eventually became a resting point and trading hub for traveling merchants. It is believed that by the 4thcentury B.C. Petra became the capital of the Nabataean Kingdom.
The city of Petra was annexed by the Roman Empire in 106 AD but later fell from memory as sea trade routes grew and earthquakes destroyed many structures. By the Islamic era (8th century – 14th century), Petra was forgotten by everyone but local nomads living inside Petra. In 1812, Petra regained notoriety as a Swiss traveler and geographer, Johann Ludwig Burckhardt, rediscovered and published his adventure visiting Wadi Mousa and stumbling upon Petra.
Petra is most known for the Siq, a long, beautiful, red-rocked Wadi trail, Al-Khanzeh, more commonly known in English as "the Treasury", and the "Ad-Deir",or "the Monastery" in English.
One feature in Petra (the Siq) was carved by nature over thousands of years while the remaining two (the Treasury and the Monastery)were sculpted by the Bedouin Nabateans (with architectural advisement from the Greeks), but all three sites should be on every traveler's bucket list.
What to see and do in Petra and Wadi Musa
Though the trek through Petra and it's the ancient sites would take a few hours if you moved briskly, there are only a handful of major sites to prioritize seeing(because they're amazing!!) and several smaller sites, alternate views of the major sites, and generally fun trails to wander on.

The major sites to see in Petra:
(Click each site link below to jump to that point in the tour of Petra with images and overview)

Petra Tours and Options

Petra by Night
Take a two hour guided tour of the Petra archeological sit at night lit by 1,500 candles (see more info)
(**Include pictures of the map and opening hours**)

The Experience of Hiking through Petra and the Sites You Need to See
The entire walkthrough Petra is quite simple, the main path passing between the major attractions (Siq, Treasury, Monastery) making a self-guided trip as simple as a hike.
---
Entering the ancient city of Petra
Follow the signs through the town of Petra to the Petra visitor center. After passing through the initial gates,you'll find a map of the entire protected area with major sights to see, and trails available. Behind the wall that the map is posted is the ticket office where you will pay your Petra Entrance Fees and receive your ticket. From here, follow the herd in the direction of Petra.
Just before entering the protected area you'll turn over your ticket at the security booth to have your Petra entrance ticket punched, and then proceed toward the archeological sites to come…and Petra.
It is unknown exactly when the city of Petra was established, but archeologists estimate that the city was settled as early as 9,000 B.C. by the Nabataeans. Petra was also once the capital of the Nabataean kingdom, as early as the 4th century B.C. But who were these Nabataeans?
The Nabataeans were nomadic Arabs, Bedouins, that roamed and eventually settled the city of Petra. Petra was chosen due to its locations on trade routes, making it a potential hub of commerce for merchants from afar. A series of channels, for routing and capturing water, were the first of many feats by the Nabataeans to take advantage of this natural fortress and convert it into an artificial oasis where merchants would converge bringing wealth the to the once nomadic Nabataeans. (Keep the adventure educational and read upon the PetraWikipedia Page)
---
The Initial Walk in Wadi Musa
The initial walk through Wadi Musa is flat, dusty, and filled with merchants peddling trinkets and men offering horse rides. Don't be disheartened or annoyed, a 15 minute walk will take you to some amazing views worth the trouble.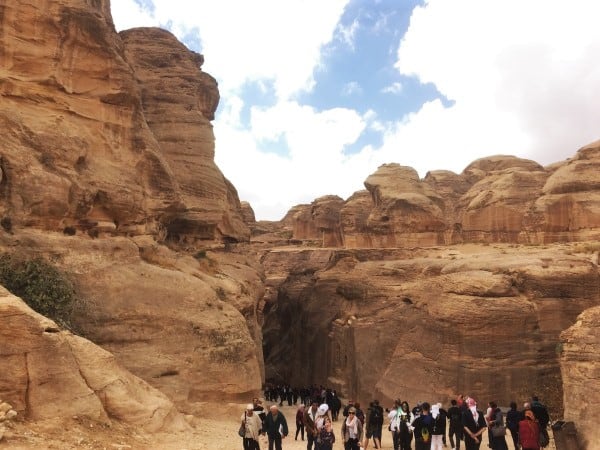 A horse ride on the approach to the Siq (~1 mile) is included in the price of the Petra Entrance fee, but I'm not a fan of riding animals – especially when they look as worn down as these as these animals, not to mention the handlers beat them fairly routinely. The horse rides are free and included in the price of the Petra admission ticket but as a personal favor to this guy I'd advise not taking the ride. You'll see most of these horses and donkeys are in pretty bad shape and not treated very well (you'll see them taking whippings later on). Save a horse. Ride a tuk tuk.
After a kilometer and 10 minutes of walking, you'll arrive at the Siq, the first of a few fantastic views in Wadi Musa.
---
The Siq
The Siq, an Arabicword mean "shaft", is a long path in a Wadi carved out by the rains overthousands of years. The 1.5 kilometer walk alongthe Siq is an interesting marvel, reminiscent of Zion national park andArizona, but still impressive in its own right.
Interesting note: along the base of the Siqs rock walls, flanking each side, you'll find carved channels. These were built by the Nabataeans as part of the channel networks that captured and routed the rainwater into Wadi Musa. These improvements helped make Wadi Musa an artificial oasis and eventual trading hub for traveling merchants and nomads. Trade means money, and money means a treasury…leading to the next location
The Treasury of Petra (Al-Khazneh)
By far the most well-known site in Petra, the Treasury is a towering structure and façadecarved into the red rock cliffs of Wadi Musa making it one veryimpressive piece of architecture.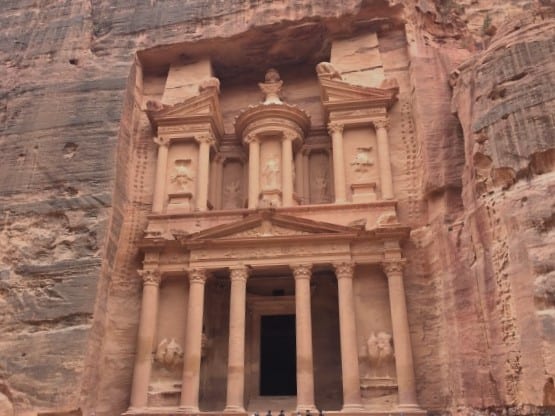 The Treasury isbelieved to have been built in the 1st century AD. and wasoriginally established of the Nabatean King Aretas IV. During the 19th century, thestructure was renamed "Al-Khazneh" (the Treasury) by the local Bedouin as they believed it contained treasure. Though you are not able to go into the Treasury, the view from the outside is still amazing.
Though the initial view is impressive, with a bit of a hike, there are several options for views from above. Download Maps.Me and the associated Jordan maps before heading into the park to see your hiking options when you arrive.
Note that here you will find several locals offering to sell you hikes to "better views" and "quicker hikes". I advise skipping the local guides' detours and continuing on the path toward the monastery and "the best view in the world" as the sights you'll see along the way are impressive enough and will easily fill your day.
After marveling at the Treasury, continue on for a more impressive site, the Monastery, with plenty of additional sites in between.

The Path to the Monastery of Petra: Grand Temple, Monastery, and Roman Ruins
Along the way tothe Monastery you will pass a handful of interesting sites: the "Bab al Siq" or"the doorway to the Siq", a very small bazaar, an ancient Roman pathway flankedby the ruins of buildings and temples, and an ancient Roman auditorium, and a royal tombs carved into the mountainside onthe right.
Here you will reach arest area and restaurant at which the path becomes steeper, crawling throughthe hills until you emerge at the monastery.
---
The Monastery of Petra
I'll save the infoon this one. Just know that I found theMonastery to be much more impressive than the Treasury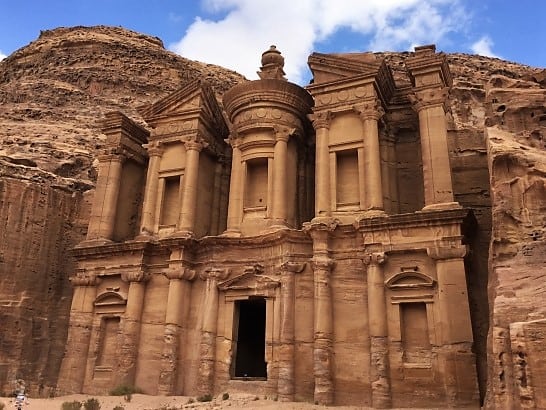 After the monastery, proceed up the hill opposite the monastery and behind the restaurant(directly across from the monastery) for an even better view. The supposed"best view"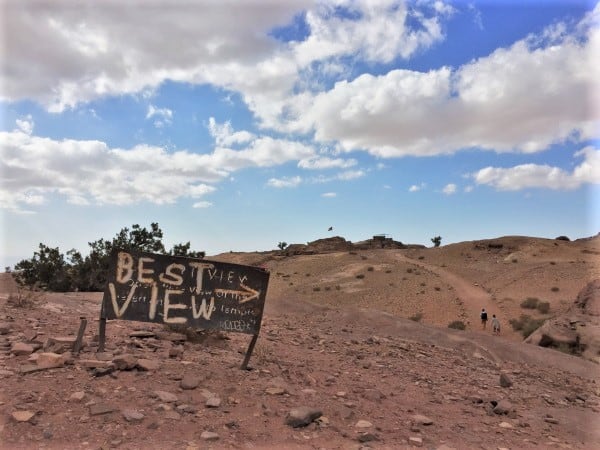 ---
"The Best View" in Petra
An expansive view of the Arabian desert between Jordan and Israel. You could easily spend 30 to 45 minutes wandering between the different viewpoints scattered along the 100-200 meters of trail that sit right on the edge of a towering cliff. The view looks out towards the rocky mountains and vast, flat, desert sands that sit between Jordan and Israel.

The way back
Take your choice of side hikes on the way back as there are plenty, and try not to be lured off course by even better views…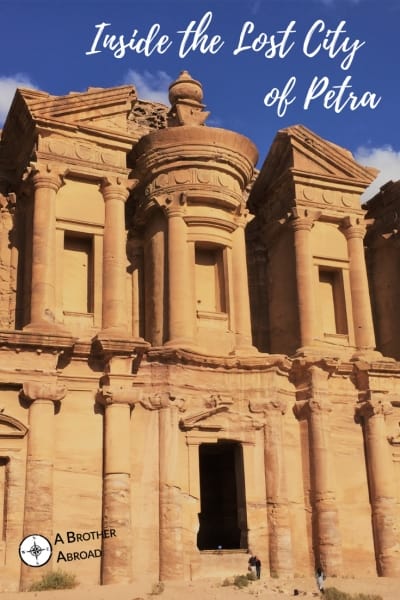 Overview of the Trails within Petra
The experience of Petra consists of severalimpressive sites scattered along various trails. Below, you'll find the list of trails,lengths, and what you'll see on each to effectively plan your trip to Petra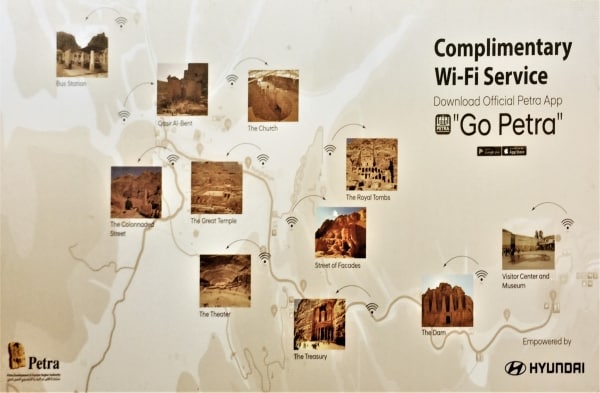 Trails of Petra: Times, Lengths, and Sites
Main Trail – (8km/5 Miles, 3.5 hours) – The Siq, The Treasury
Al-Khubtha Trail (3.5km/2.2 Miles,2.5 hours) – Royal Tombs
High Place of Sacrifice Trail (3.9km/ 1.9 Miles, 3.5 hours) – High Place of Sacrific
Ad-Deir "Monastery" Trail (2.5km/1.6 Miles, 2.5 hours) – The Monastery, The "Greatest View in the World"
Umm Al-Biyara Trail (4km/2.5 Miles, 3.5 hours)
Jabal Al-Haroun Trail (7.5km/4.7 Miles, 5 hours)
Sabra Trail (10km/6 Miles, 6 hours)
Al-Madras Trail (1.5km/.7 Miles, 1.5 hours)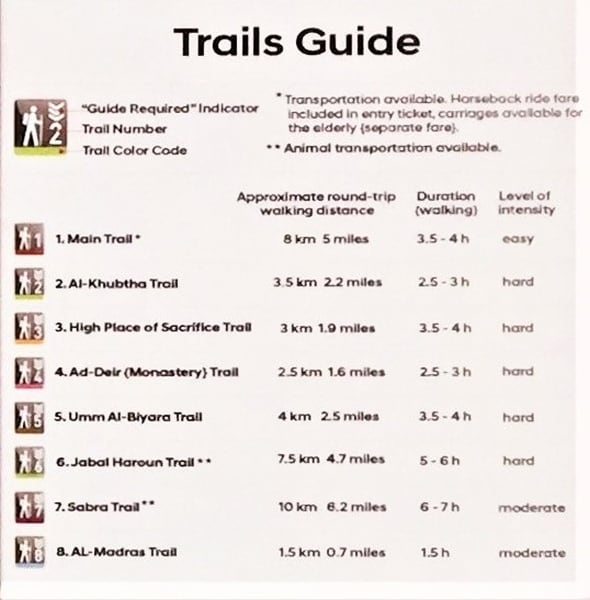 Formore on the experience of Petra, read our article "Experiencing Petra"
(**Coming Soon**)

Petra Night Tours: "Petra by Night"
Petra is astonishing by day, but during the organized Petra night tours, called "Petra by Night" you can experience the archeological site of Wadi Musa at night lit by over 1,500 candles strewn throughout the path.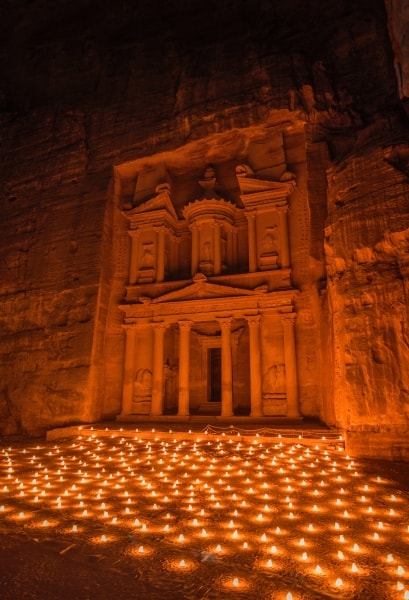 The Petra night tours run every Monday, Wednesday, and Thursday starting at from the Visitor center at 20:30 and finishing at 22:30. The entire experience lasts for 2 hours and you are accompanied by a licensed guide the entire way. Inquire at the Petra Visitor Center for more details. Petra by Night tickets cost 17JD ($24 USD/€21)
Find out more on the Petra by Night official website and read other traveler's views at the Petra by Night Trip Advisor page

Your Options for Experiencing Petra: Day Trip, Overnight, or Border Hop from Israel
BEST TIP!! I promise you'll thank me!! –>Before going to Petra and Jordan, get the JordanPass to save ~20JD at least: TheJordan Pass is only 70JD but allows you to avoid the Jordanian visa fee (40JD)and free entrance to Petra (50JD) saving you 20JD, as long as you stay inJordan for at least 4 days. You also getfree access to several other sites throughout Jordan
---
Day Trip to Petra: If you're on a quick trip through Jordan, consider arriving in Petra, touring the historic site, and moving on in a single day. This is possible the public bus (via JETT bus) from Amman arrives at ~10:30AM every day and the major sites of Petra and Wadi Musa can be seen in as few as 3 hours. (See More Info)
---
Overnight in Petra: For those with slightly more time, arrive in Petra on the early bus from Amman (arriving at ~10:30AM) and take your time touring the park until sunset then depart for Wadi Rum the following morning (~6:30AM) via shuttle arranged through your hostel or hotel. (See More Info)
---
Multi-Day Petra Trip with Bedouin Camp Experience: If you would like to spend more than a single day in and around Petra, consider staying in a Bedouin Camp in Little Petra to add more sites to your trip. If you will be going to Wadi Rum next (you should) forgo this option, as the Bedouin desert camp experience is much more robust in Wadi Rum (See More Info in the Guide "24 Hours in Wadi Rum"
---
Travel to Petra from Israel via Hostels: For those coming across the border, from Israel, doing a tour arranged through a hostel or hotel is likely the simplest and best option if you plan to return to Israel after Petra. Abraham's Hostel in Tel Aviv and Abraham's Hostel in Jerusalem, which I stayed at in Jerusalem and Tel Aviv, has great, hotel quality hostel accommodation and also offers tours from Israel (Jerusalem and Tel Aviv) to Petra and Wadi Rum.
---
Travel to Petra from Israel via Tour: Several providers offer tours from Tel Aviv, Eilat, and Jerusalem to Petra. For those trying to cram a lot of sights into a short period or nervous about traveling the Middle East, this is a reasonable option.
---
Travel to Petra from Israel: Plan on paying much more if you plan on coming to see Petra from Israel and leaving in a single day or plan to see Petra on your first day in Jordan. Your best option is to at least a couple of days in Jordan to avoid the extra charge (90JD vs 50JD for Petra entrance)
---
Guided tours from Amman are offered as a day trip, an overnight trip, or including an overnight stay in Wadi Rum. Read the "24Hours in Wadi Rum" guide for info on tours that include Petra and wadi Rum to learn more.

Entering Petra
The entrance to Petra, adjacent to the visitor, is located right next to the main bus terminal and many of the signs in town point toward Petra, making it very easy to find.
On arrival, you'll pay your Petra entrance fee, which varies based on how many days you'll be in Jordan, whether or not you came from Israel, how many days you will visit the park, and whether or not you purchased the Jordan Pass.

How much is the Petra Entrance Fee?
As of October 2018, the Petra Entry fee for a one day ticket to Petra costs 50JD ($70 USD / €60) and 5JD ($7 USD / €6) for each additional day up to 3 days.
For individuals entering Jordan from Israel for a single day trip in Jordan to Petra, entry will be 90JD. If the traveler returns to the Petra visitor center the following day, 40JD will be refunded
Entrance is free for those who have purchased the 70JD Jordan Pass, which also waives visa fees.
Entrance is free for children under 12 years old
Jordanian residents pay only 1JD for entry
Entrance to Petra by night is 17JD () per person and children under 10 enter free

Petra Entrance Fees as of October 2018
One Day Entry: 50JD
Two Day Entry: 55JD
Three Day Entry: 60JD
Single Day Entry for travelers coming from Israel: 90JD
Children Under 12: Free
Jordan Pass Holders: Free Entry to Petra
Petra By Night: 17JD (8:30PM to 10:30PM)
Petra By Night for Children Under 10: Free

Travel Hack for Saving 45JD on the Petra Entrance Fee:
Get a used ticket from someone who has already visited the previous day and pay only 5JD for entry to Petra.
Each ticket is single-use and is punched at the entryway, but, you can purchase a second-day entry with a used ticket for 5JD. Get a used ticket from someone and go to the park saying that you came the day before and would like to enter for the second day, paying only 5JD. Be sure to confirm that the person did not show their passport when buying the ticket. Some ticket sales attendants enter passport information while some (like mine) do not. If you get lucky and find one without passport info attached, you'll save quite a few Dinars.

Petra Opening Hours
Petra is open from 6AM to 7PM during the summertime and 6AM and 5PM during the wintertime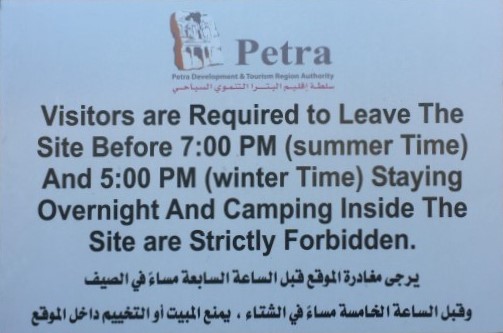 Guided Petra, Jordan Tours
If you have no problem getting to Petra, but want information with a local flare then hiring a guide Petra may be right up your alley. Licensed guides can be booked at the Petra visitor center and charge the following rates, for private tours and groups, varying depending on the distance of the tour and sites seen.

Guides in Petra
Hiring a guide for only the main trail will cost 50JD for the 4-kilometer hike along the main trail of Petra. Hiring a guide for Petra's main trail and the hike to the monastery will cost 100JD for the8km hike.
For nervous tourists, there are also several options for tours from Amman to Petra and other overnight tours including a visit to the deserts of Wadi Rum

Tours to Petra from Amman
If you would prefer to have your trip, transportation, and logistics planned, and also be in the comfort of other westerners, several tour packages are available starting in Amman, departing to Petra with guides, and returning to Amman. Other package tours that shuttle tourists from Amman, to Petra, and to Wadi Rum, and back to Amman.
---
Tours from Tel Aviv and Jerusalem to Petra and Wadi Rum
Catering more to the backpacker crowd, there are several tours departing from Tel Aviv and Jerusalem and covering the major sites in the region, to include the Dead Sea, the Red Sea, Petra, Wadi Rum, and several others. I always prefer to avoid the tours when traveling, saving cash and dialing up the adventure by navigating things solo or with an unguided herd – but – several friends had an excellent time with tours through Abraham Hostel.
Not only does Abraham Hostels offer hotel quality shared accommodation via a network of hostels, they also make it is to see the major sites in the region quickly and easily. If you're in Israel and pressed for time, give them a look.

Planning and Logistics for your Petra Day Tour
Food and Eating in Petra
I suggest packing a lunch, or at least bringing snacks. If you're feeling lazy, most hostels and hotels sell a boxed lunch to take into the park. Read below for a couple mini-marts I dropped by that had great sack lunch options.
WithinPetra there are two, small restaurant-cafes set up. The first lies after the long walk past Romanruins, just before the hike to the monastery becomes steeper and the stepsbegin. The second restaurant (which ismore of a café) sits just across from the Monastery with an amazingview. Though these options are availablein the protected area of Petra, they're pricey. I recommend eating beforehand in the city of Petra,near your hostel or hotel prior to entering the protected area for better andcheaper food
Eating in the City of Petra (Not the Archeological Site)
These options are quick, cheap, and satisfying by Jordan's very pricey standards
Rainbow Snack Bar: Shawarma + Soda = 3.50 JD ($5 USD / €4.35) – located near Petra Gate Hotel – a small Shawarma stop that serves up cheap quick food. Its not on the map, but is located across from Al-Wadi restaurant, on the traffic circle
Al-ArabiaRestaurant: Kufta Kabob + Hummus + Soda = 10 JD ($14 USD/€12.50)– located nearPetra Gate Hotel (Google Maps Link)
Outside of these two reliable restaurants you'll find plenty of dine in restaurants, mini markets, and even camel burgers, so head the direction of these two restaurants and wander for something that fits your tastes and budget

What to bring to Petra
Plan on the weather being hot during the day and cool quickly once the sun goes down. So, bring plenty of water and a jacket of sometime just in case
Also, if you're interested in getting the most from Petra and the many sites, bring a smartphone, loaded with Maps.Me and the maps for Jordan. This will allow you to see all of the trails to meander onto throughout the Petra. If you do plan on using your maps and GPS (via your phone) throughout the park, bring a portable charging block – the use of maps combined with weak cell phone signal will drain your battery fairly quickly throughout the day of wandering.
---
What to wear in Petra
Dressing for the experience and the climate…
Shoes: The experience of Petra involves walking between 3 and 10 miles on packed dirt and trails, so wear footwear that you feel comfortable walking long distances in, such as sneakers or hiking boots.
Clothes: Check the weather report before you go for rain, and check the average temperature, which can range between 57 in the winter to 96+ in the summer. Dress in layers accordingly to stay comfortable
Outer Layers: If you plan to stay in Petra past sunset in summer or winter, bring a jacket or outer layer as the desert naturally cools quickly once the sun goes down. If you'll be in the park during November to March, plan on the weather cooling off enough to need a jacket, but potentially being sunny enough to get you sweating
I brought a flannel shirt and windbreaker and was very comfortable in Jordan's fall.
Sunglasses – great for keeping the dust out of your eyes during wind gusts and the sun can feel oddly bright in the desert
Hat: A necessity, especially if you're sensitive to the sun
Sunblock: – you know who you are. If you burn normally, layer that stuff on here.
---
Dressing for the Culture
Jordan is a Muslim country and conservative by nature, but the town of Petra and the park of Wadi Musa are high traffic sites for western tourists. This means that most tourists won't have any issues within the main city or the main sites dressing modestly by western standards, but out of respect for the culture it is best err on the side of conservatism.
Dress in layers, with at least one layer to cover the arms and legs at will. Note that there are no mosques in Wadi Musa, so covering up will be up to your personal preference, not required. In my day in Petra and the archeological sites, I didn't witness anyone, men or women, having any issues with not dressing conservatively enough.

When to Visit Petra
The best times to go to Petra are in springtime, between February and May, or in autumn, between September and November, when the temperatures average between 62° (in February) and 87° (in May), and between 83° (in October)and 62° (in December). January is an option as well, with an average of 52° if you don't mind the cold.
During the summer of June to September temperatures average between 93° and 96° but can get much higher. You may have the views all to yourself, but you may not anything through all of the sweat.

Getting to Petra
The natural course of travel and sightseeing in Jordan is flying into Amman and seeing Amman's sights, traveling south to see Petra, continuing south to experience Wadi Rum, continuing on to Aqaba and potentially relaxing and SCUBA diving in the Red Sea, then returning to Amman for departure. If your timeline is compressed, skip sightseeing in Amman in favor of time in Petra and Wadi Rum, as those are by far the most impressive sights in Jordan.
If coming from the south after a trip from Israel, plan on starting in Aqaba, continuing north to Wadi Rum, then continuing to Petra, and finishing in Amman. Again, consider Petra and Wadi Rum the essential sights and all other sights "optional".
---
Getting from Amman to Petra
Petra is a major site in Jordan and because ofthis the Jordanians make it quite easy to get from Amman to Petra. Lucky for independent travelers. Whether you plan to take a tour, JETT Bus, or other shuttle, plan to leave early in the morningand book at least a day in advance. Buses to Petra only leave in the morning and book out quickly.
From Amman to Petra by Bus: Take the JETT bus from the "Abdali" JETT bus station in Amman to Petra. Tickets are 11 Jordanian Dinar and only one bus per day leaves every morning at 6:30AM. Ensure to purchase your ticket at least one day in advance, as they sell out often. Note that currently, the JETT website is down so your best bet is to drop by the JETT bus station to make your reservation.
If you miss the bus and have a tight schedule, shared taxis from Amman to Petra are an option as well for 30 Jordanian Dinar if the shuttle is full. Shared taxis leave later in the day and shared taxi drivers can be found lingering at the JETT bus station, especially in the early morning.
From Aqab to Petra: From Aqaba to Petra, the most common path is to first visit Wadi Rum – I recommend stopping off to see the Mars like desert for at least a half day tour.
To go from Aqaba to Petra by Bus: Take the JETT bus from the Aqaba JETT station. The bus departs at 8:30AM daily, with a 2 hour ride to Petra, and returns at 4PM. That 5 hours and 30 minutes in Petra is plenty of time to meander through and see the major sights. The cost of a ticket is 12JD one way from Aqaba to Petra and 20JD round trip.
The local bus leaving from the local terminal is another option, leaving whenever the bus is full for a small fee (~5JD but you'll have to negotiate)
Hiring a Car: If you insist on going directly from Aqaba to Petra on your own schedule, the most convenient option is to rent a car (~$40 USD per day according to Kayak.com), allowing you to pickup the car, drive the 2 hours and roughly 133km to Petra, see the amazing sights of Petra and Wadi Musa, then return the same

Where to Sleep in Petra
Wherever you sleep in Petra, absolutely book in advance as most good accommodation books out throughout the year and especially quickly during high season
For hostels and budget accommodations in Petra, searching Hostelworld for Petra is your best option. Most of the hostels are of similar quality, price, and rating, and located up a hill about one kilometer from the entrance to Petra. Don't count on anything too fancy and don't be shocked if the showers are cold as this is the norm with hostels around the Petra area.
For hotels and private rooms, searching Booking.com for Petra, Jordan is your best.
When moving on to Wadi Rum or Amman, any hostel should be able to book a shuttle or shared taxi for you so inquire at reception
---
Hostel Options in Petra
Petra Gate Hotel ($30 Private Rooms /$14 Dorm Beds) – decent rooms, comfy beds, and clean. Fair warning, there is a long (1km) walk to get to this hostel and the water was cold for the duration of my stay
Rafiqi Hostel (~$15 Dorm Beds) – New hostel with great staff and a nice Greek style breakfast (breads, cheeses, and veggies) although the hostel does not have heated water (recommended by some backpacker friends)
7 Wonders hostel (~$50-$55 Private Rooms) – A bedouin camp located in Little Petra and recommended by several locals. The logisitics of getting to the camp are a little confusing and not conducive to moving through Petra quickly but if you plan to skip Wadi Rum by night, consider this for the "Bedouin desert experience"
---
Budget Hotels in Petra
For budget hotels in Petra, search Booking.com for Petra for the best options. Accommodation types vary in amenities and price but booking.com has most listing available via the web and should have something to suit your likings and needs. Fair warning: if you are particular about where you sleep, book in advance. Though the types of accommodation area varied, there aren't too many hotels so you may be stuck with something less comfortable than what you wanted or more expensive than you planned if you delay too long booking a hotel.
For a Bedouin camp experience in Petra you will have to spend the night in Little Petra, not within the archeological site of Petra or the city of Petra. Seven Wonders Bedouin Camp is the most noted. I only recommend this option if you plan on staying two days or more in Petra, otherwise book more conveniently located accommodation and save the Bedouin experience for Wadi Rum.

Moving on: Where to go After Petra
After Petra, the best path is to proceed south to the deserts of Wadi Rum. There you'll have the chance to see unique rock formations dotting a red, sandy, desert landscape in a way that you only see in National Geographic.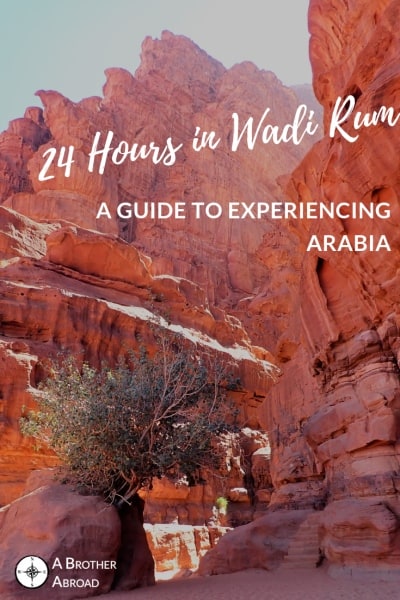 The best option for traveling from Petra to Wadi Rum is a 6AM shared shuttle that stops by each hostel and hotel to pickup passengers, but this shuttle must be reserved the night before by your reception staff.
If you miss the morning shuttle from Petra to Wadi Rum (like I did) taking the local bus from Petra to Aqaba, getting off the "Wadi Rum Intersection", and hitchhiking to the Wadi Rum visitor center is your next best option.
For more information on Wadi Rum, read our article "24 Hours in Wadi Rum"
For information on getting from Petra to Wadi Rum, jump to the section "Getting from Wadi Rum to Petra"

The Cost of Seeing Petra: An overview of the expenses for your day trip
As of June, 2019, 1JD (Jordanian Dinar) equals $1.41 USD and $1.24 Euro
Park Entrance Fee: 50JD but 90JD for visitors staying in Jordan only one day
Food Per Meal Outside of the Park: $5-$15
Transportation to Petra

From Amman (JETT Bus @ 0630): 11JD ($15.50 /~€14)

From Aqaba (Taxi): 25JOD ($35 USD /€31)

Transportation from Petra

To Amman (JETT Bus @ 1600): 11JD ($15.50 /~€14)

To Aqaba: (Taxi): 25JOD ($35 USD /€31)

To Wadi Rum: 11JD via shuttle through hotel
For more info on traveling via JETT Bus please see this unofficial JETT Bus Schedule

Best Options for Cheap Flights to Amman, Jordan
For the cheapest flight options, consider flying in through Cyprus with a short layover on the sunny island before flying in to Jordan. Most major European airports offer inexpensive options for flying into Cyrprus (usually Paphos airport, but sometimes Larncaca airport) and flights from Cyprus to Amman airport run ~$87 on Tuesdays, Wednesdays, and Saturdays.
Use the Skyscanner explore or Google Flights explore function to find the best dates and departure destinations for your flight to Jordan.

Additional Tips on Doing Petra
1. Save money with the Jordan Pass
The Jordan Pass is a great chance for travelers to Jordan to save money if they plan on visiting pretty. The 70JD ($99 / €87) pass allows a visa waiver into Jordan, saving 40JD, includes free entrance to Petra, saving another 50JD, and includes entrance to Wadi Rum, several museums, and several archeological sites throughout Jordan.
The Jordan Pass includes 40 attractions in total across Jordan. For more information, review the Jordan Pass at https://jordanpass.jo
2. Be aware that the Israeli stamp on your passport may restrict travel to some Muslim or Arab countries
Relations between Israel and several Middle Eastern or Muslim countries can be described as "strained" at best, and any evidence of visiting Israel in your passport will result in these countries denying you entry. I most recently experienced this in Egypt where they were screening me and asking my about my travels to determine whether I had visited Israel. I was also screened in Cyprus prior to flying out and in Lebanon upon entry.
Israel is very aware of this and as such does not stamp passports. Unfortunately, crossing the land border between Israel and Jordan can result in a stamp indicating the border you crossed – and leaving proof of travel to Israel in your passport.
Beware of this risk beforehand and ask the right questions when planning your travel to avoid being restricted from mny countries
3. Beware of additional costs for coming from Israel for Day Trips
Petra and Wadi Rum are both world renowned sites and worth the visit – many visitors to Israel realize this, coming over on day trips and leaving without sufficiently contributing to Jordan, in the eyes of the Jordanian government. As such, visitors crossing from Israel and coming to Petra are initially charged 90JD for entry to Petra. If the traveler returns the following day, 40JD of the 90JD will be refunded.
The Point: If you will be in Jordan for a day trip, plan on paying 90JD for the Petra entry fee. To save 40JD, stay at least one night in Jordan

Petra FAQ
Is Petra safe
Is Jordan safe
What should you wear in Petra
What should women wear in Petra
Where to eat in Petra
What hours is Petra open
How much does it cost to visit Petra
Can you visit Petra from Israel?
Can you go inside Petra?
How much does a Visa to Jordan Cost
What time does Petra Open
When to go to Petra?
How safe is Petra


Did this article inspire you? Then share this post to other travelers some love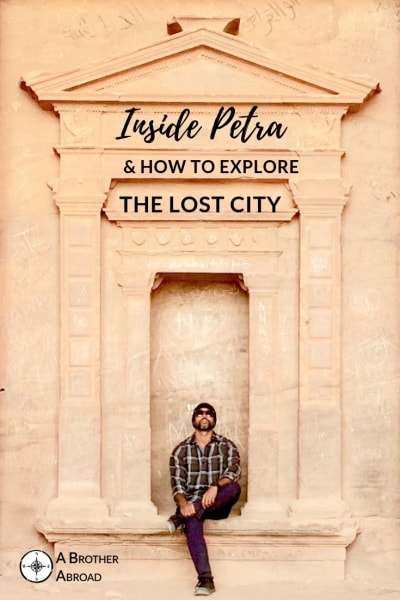 Disclaimer: I might earn some spare change from links in this post, which goes to fund more "research" and future stories, info, and guides at no additional cost to you. On the other hand..
If you've found this blog post helpful, please consider booking your next trip through the links on the Resources Page or through one of the links on this page. This keeps the content free, the stories passionate and entertaining, and (most importantly) keeps the advertising elsewhere.