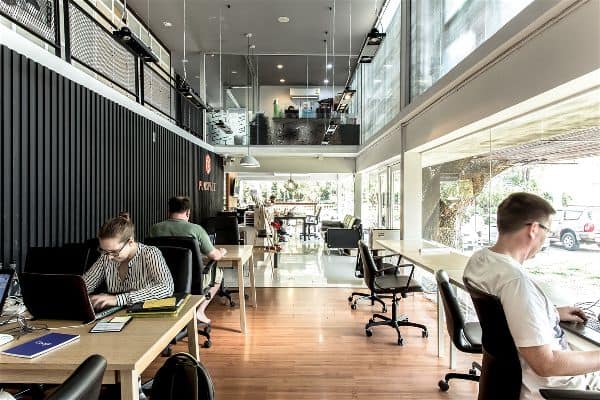 For digital nomads genuinely on their hustle to build something great and achieve goals, where you work and the neighborhood that "feeds your hustle" play heavily into how much you accomplish during your work sprints. It's impossible to underestimate how much a coworking space with a great ambiance, great food nearby, and plenty of amenities around your town can boost how productive your precious hours are. With a variety of cheap, accessible, and comfortable coworking spaces, Chiang Mai offers exactly that.
I routinely head to Chiang Mai for 3 week periods of intense work, dotted with street food market meals, Thai massages, and topped off with a solid gym routine and western style living, all on a backpacker's budget. Those work stints serve as much-needed resets while being my most productive work periods, writing and creating twice as much as I do anywhere else in the world.
From my own experience – for digital nomads that want a place to live easy and keep their heads down while working in comfort on the cheap, the Chiang Mai coworking scene is perfect.
Read on to discover everything you need to know – the best coworking spaces in Chiang Mai, best cafes friendly to remote workers, places to eat, perks to know about, my favorite gym to tie the productivity together, and more.

CONTENTS OF THE 15 BEST CHIANG MAI COWORKING SPACES

Chiang Mai is one of the most potent and effective towns in Southeast Asia for hustling nomads and remote workers aiming to make a mark and achieve goals via digital work. Cheap living, great infrastructure, awesome food, and a remote worker-friendly café, restaurant, and coworker scene make for an excellent environment for "getting' after it" on whatever goals and projects you have going on.
Plus, once you achieve those milestones you're aiming for, weekend vacay's to the Islands of Thailand and the entrancement of Bali are a cheap flight away (~$115 to Bali, ~$75 to the Thai islands).
All of this adds up to the perfect location for both work and play. Here are 10 reasons why Chiang Mai has been such an amazing place for me.
---
10 BEST REASONS COWORKING SPACES IN CHIANG MAI ARE PERFECT FOR YOUR NEXT REMOTE WORK STINT…AND ONE REASON NOT TO
Living Well is Cheap in Chiang Mai: I thrived on $50 a day. Other nomads have lived off $500 a month
Staying focused and energized is easy with an AirBnB walking distance from food, coworking, and entertainment
Everything you need is conveniently located and accessible neighborhoods with great food, gym, movies, markets, and more walking distance
Chiang Mai offers a high standard of living and quality of life from gyms to malls to healthy cafes, you'll find it all
Internet connectivity is great across Chiang Mai coworking spaces and cafes, making it easy to vary your workspace
The entire city delivers a welcoming atmosphere for digital nomads compared to other places in Southeast Asia as coffee shops, and restaurants don't mind you working away for hours
A great food scene, whether you prefer street food or upscale Asian fusion, you'll eat well
Great weekend getaway options: Pai, Bangkok, Krabi, and the Islands, all a bus ride away
Easy visa process, just arrive, and you have 30 days. If you want to stay longer? Visa run to Laos/Vietnam
---
THE ONE REASON NOT TO WORK IN CHIANG MAI…
Chiang Mai isn't the most social or "party" oriented city in Southeast Asia.
For whatever reason, Chiang Mai is perfect for hardworking DN's, as everyone is about their grind, focused on their next goal, not the next beer, happy hour.
But if you come with a plan and the intention to grind, you'll get a ton done.
My general suggestions for remote working in Asia:
If you want a more social atmosphere to remote work, consider Bali.
If you want a more western standard hub remote work, consider Kuala Lumpur.
If you want a city with more travel and adventure options remote work, consider Hanoi

A MAP OF THE COWORKING SPACES OF CHIANG MAI

---
15 BEST COWORKING SPACES CHIANG MAI HAS TO OFFER
My Favorites:
CAMP at MAYA
Wakeup Coffee Shop (Nimman)
---

---


CAMP COWORKING SPACE: "CREATIVE AND MEETING PLACE" (IN THE MAYA MALL)
The "CAMP" Coworking Space Chiang Mai sits in the Maya Mall is my favorite coworking space in Chaing Mai. A flexible option with plenty of spaces, great wifi, and convenient access to plenty of amenities – the mall (that it's located in), a movie theater, a great upscale food market across the street at One Nimman market, an upscale street food market that I love.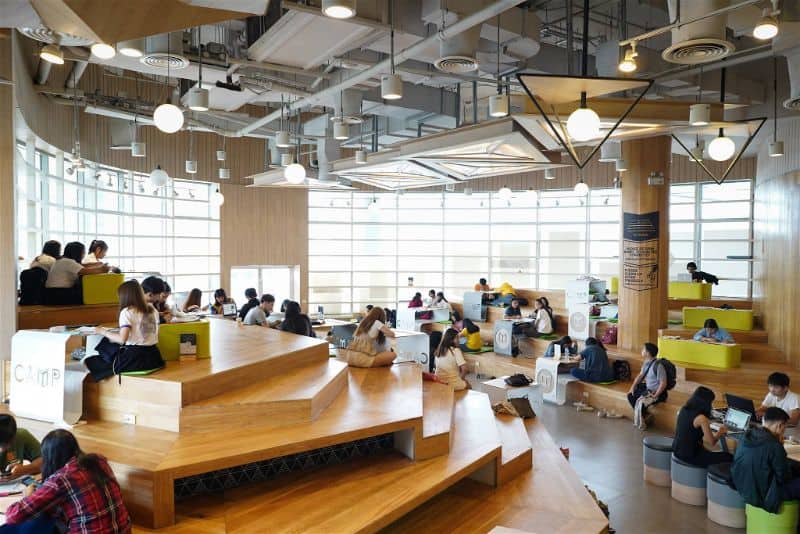 The space is on the top (5th) floor of a mall (right across from the movie theater) and has tons of seating and workspace with strong wifi and plenty of plugs.
Pro Tip: The CAMP coworking Space is open 24/7, though the Maya Mall (and most of its entrances) aren't. Afterhours, enter via the garage elevator entrance (on level B1), straight to the top floor, and enter after hours for a little extra quiet time.
What's Awesome: Easy access, conveniently located to entertainment, just grab a coffee and use the wifi code on the
Address & Location: C.A.M.P (Maya Mall) Huaykaew Road, Tambon Chang Phueak, Amphoe Mueang Chiang Mai, Chang Wat Chiang Mai 50300, Thailand
Opening Hours: 24/7
Membership Rates: 2 Hours free wifi with food or drink purchase of 65 Baht, or pay outright for 30 Baht
Food Available: Light snacks, sandwiches, and Pad Thai (and similar options) are available, but the food courts on the 4th and 3rd level of the mall have much better options
Coffee Available: Yes, a coffee shop on-site and buying a coffee gets you free wifi time. Also in the mall, downstairs is a food court with several other coffee shops…if you want something better
Connectivity: Great Wifi available throughout the space, fast, and free with the purchase of 50 Baht or more. Also, consider getting a local sim card for a wifi hotspot to continue using the workspace for free if you're on a budget
Plugs: Plentiful. Every workspace, seat, and desk I sat at had a dedicated plug
Amenities: Located in the Maya Mall with a cinema right across the lobby and full food courts that range from swanky to street food on the 4th and 3rd floor
WorkSpaces: Open spaces at tables with seating ranging from 4 to 10, stadium/auditorium-style seating, enclosed desks, meeting rooms, and even a Little Rascals styled "clubhouse."
Outdoor Space: An all concrete patio styled outdoor area which is a little small but overlooks Chiang Mai from the 5th floor of the Maya mall
Nearby food and amenities: Maya Mall (food court), One Nimman Plaza (super swanky market with food and live music at nights), Nimman neighborhood with plenty of other hip restaurants and coffee shops
Website: Facebook.com/pages/category/Library/CAMP-273293422846558/

MANA COWORKING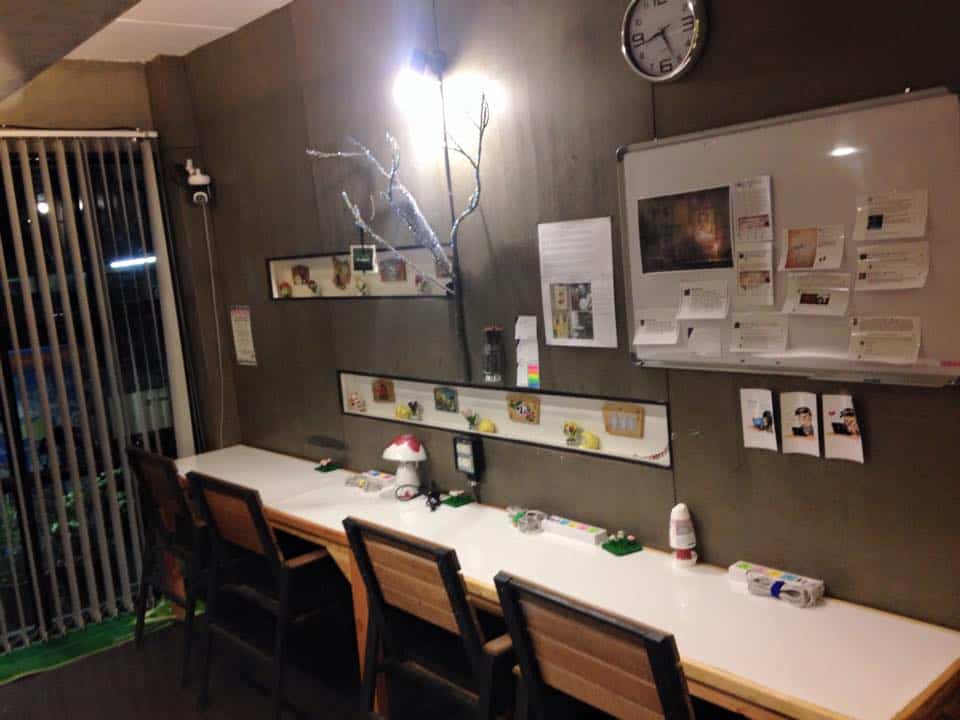 A cozy space located on a side street in the very developed neighborhood of Nimman. Desks and true office chairs (very comfy with back support) for ~15 people dot the coworking space that is walking distance from food, coffee shops, massages, and more.
Differentiator: Cozy, quiet, great location, and good veggie restaurants nearby. Not very westernized, but still great.
Address & Location: Nimmana Haeminda Road Lane 10, Tambon Su Thep, Amphoe Mueang Chiang Mai, Chang Wat Chiang Mai 50200, Thailand
Neighborhood: Nimman, Soi 13
Opening Hours: Monday to Friday: 9:30am-9:00pm; Saturday: closed; Sunday: 9:30am-7:00pm
Membership Rates: 19 baht/hour, or 99 Baht/day, 19 Baht/hour for a single person Skype room, 100 Baht/hour for a 4-5 person meeting room
Food Available: A great vegetarian restaurant (Anchan Restaurant) is located right above the M-A-N-A coworking space. Drinks and desserts are for sale in the space for ~50 Baht
Coffee Available: Coffee / Latte 40-60 baht, smoothies 65 baht. Tea provided for free
Plugs: Plenty of plugs throughout the space
Amenities: Lots of plugs, 2 meeting rooms for rent at 100 Baht/hour
Website: Facebook.com/manacoworkingspace/
Contact: [email protected]

BURI SIRI BOUTIQUE HOTEL (CAFÉ & COWORKING SPACE)
The Buristro at Buri Suri boutique hotel is a café and restaurant noted (by coworking nomads) for its pool. Pick up a day pass here for a luxurious and connected day of remote work.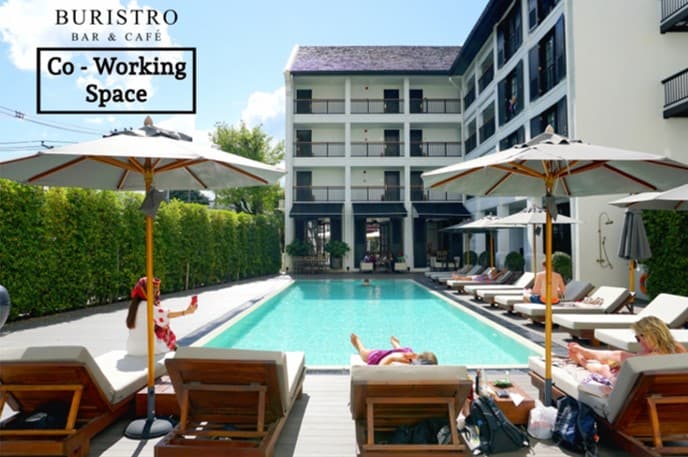 Differentiator: Classy, café style working with the luxury of a pool
Address & Location: Siri Mangkalajarn Road Lane 9, Tambol Suthep, Chiang Mai, Thailand
Opening Hours: 10:30AM to Midnight (restaurant open 7AM to 10PM)
Membership Rates:

10 Visits/Month: 1,700 (170 Baht/Day) (includes 1 drink, pool access and wifi for 2 devices)

Monthly: 3000 baht (100 Baht/Day) (includes 1 drink, pool access and wifi for 2 devices)

Food Available: Full menu of Thai food and fusion (Click here for full menu scroll down for menu)
Coffee Available: Yes, full restaurant with coffee and drinks
Connectivity: High-speed Wifi provided for 1 device with a day pass, access for 2 devices provided with 10 visit purchase or monthly
Amenities: Pool, hotel restaurant vibes
WorkSpaces: Open, café style workspaces. If private rooms are needed then contact staff, and they'll make arrangements
Website: Burisirihotel.com/restaurant.php
Contact: [email protected]

HEARTWORK THE SHARING SPACE (LOW KEY AND CHEAP)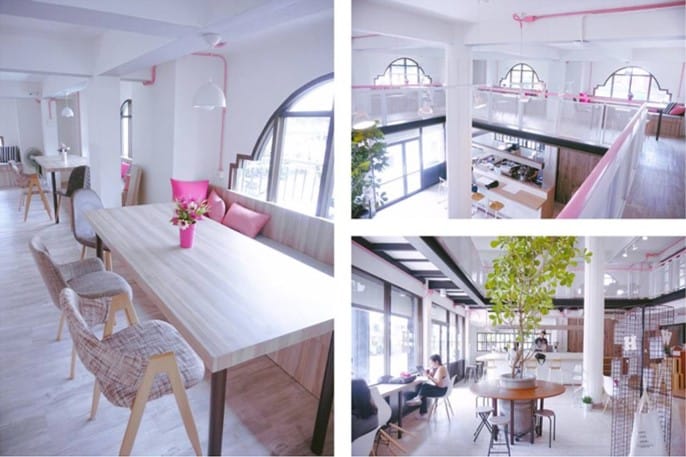 A cozy and comfy multilevel café and coworking space with café style seating downstairs and an open coworking layout (with tables and chairs) upstairs along the lines of a traditional, low key coworking space in an environment is filled with soft, mellow music.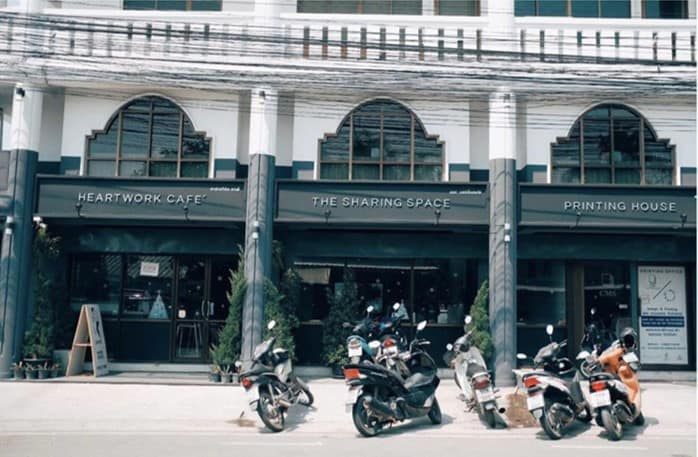 Differentiator: Comfy, quiet, and low key
Address & Location: 196 1-2 Kampangdin Rd, Chiang Mai 50100, Thailand
Opening Hours: 9AM to 6PM Monday through Sunday
Membership Rates

1 drink = 3 hours of unlimited HiSpeed wifi

1 drink + 80฿ = Unlimited HiSpeed wifi for the day

110฿ = Unlimited HiSpeed wifi for the day​

100฿/hour = Exclusive use of the Private Function room

Food Available: Light menu of entrees available (Click for menu)
Coffee Available: Full coffee menu (Click for menu)
Connectivity: High-speed wifi ranging from 1MB to 5MB
Amenities

Printer, scanner, photocopier

Work Spaces: Two levels: Café style seating downstairs, open style coworking space upstairs with standard tables and desk chairs
Outdoor Space: Yup – terrace.
Website Heartworkcafe.com
Reviews:

"lovely spot, serene, comfy."

Contact: [email protected]

THE BRICK STARTUP SPACE
A modern and sophisticated coworking space with an open layout with a startup and hustle focused community, all located in a swanky sector of the Nimman neighborhood, all surrounded by hip cafes, restaurants, and other sprouting coworking spaces.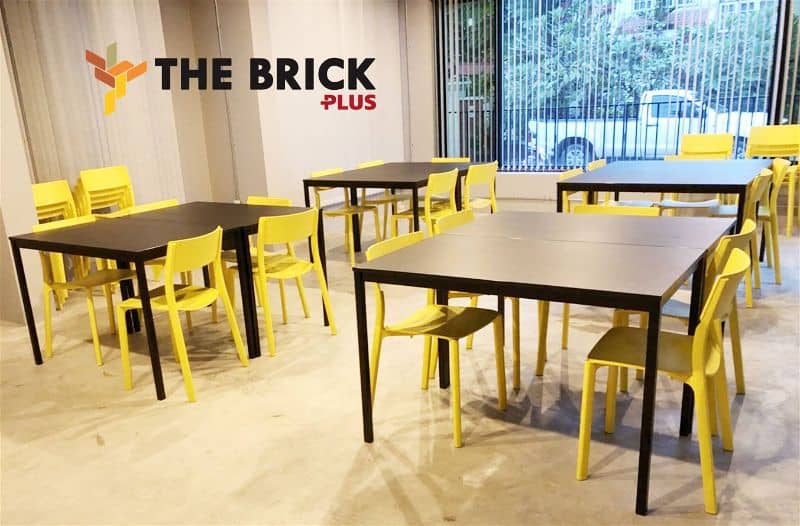 Brick is pretty official when it comes to the startup scene, supported by the Thai Ministry of Science and Technology and operated by Technology Business Incubation Department of the Science and Technology at Chiang Mai University. The Brick coworking space is truly designed and intended to incubate young companies with not only the environment but also the onsite startup incubation program.
For digital nomads looking to connect, frequent events in the space making socializing with like-minded hustlers easy, just check The Brick Startup Facebook page for upcoming events
What's so great: Very much an incubator and startup space
Address & Location: 31 Sirimangkalachan Rd. Soi 13, T. Suthep, A. Muang, Chiang Mai, Thailand
Opening Hours: 9AM to Midnight every day
Membership Rates

250 Baht/Day (valid 9AM to Midnight)

1600 Baht/Week (24-hour access)

3700 Baht/Month (24-hour access)

Meeting Rooms Available:

Hot Desking (50 Baht/Hour)

Private office (for 1-4 people) (9,000 Baht/Month)

Fixed Desk: Desk + locker with room for 12 people (3,900 Baht/Month)

2 Large Conference Rooms, 1 Small Conference Room

All equipped with projectors, whiteboards, and LED screens

Coffee Available

Yup. Free coffee. Small jackpot

Connectivity: High–speed wifi
Facilities

Standing desks and ergonomic chairs

Printers, scanners, and copy machines

Amenities

Community events every month

Nearby food and amenities: Just west of walled old town Chiang Mai between old town and Nimman, surrounded by cafes and restaurants, and easily accessible to both.
Contact: [email protected]

PUNSPACE NIMMAN, PUNSPACE THA PAE GATE, AND PUNSPACE
A well known, modern, and well-equipped coworking space with three different branches across Chiang Mai gives you three coworking space for the cost of one. Great events for various digital nomads, from yoga to social events, to training, are held at the three branches and worth checking out. If you have itchy feet and are scared to settle into a single coworking space and like plenty of "off hours" activities, a Punspace membership may be right for you.
---
Punspace Nimman
A 10-minute walk from the heart of one of the best, some call "hippest," neighborhoods in Chiang Mai, Punspace Nimman delivers a modern and stylishly designed coworking space of glass and steel surrounded by trendy bars, cafes, restaurants, and everything else you'd need to balance work and play with a little life in between. The courtyard in front is a nice touch.
Click to see more of the Punspace Nimman Coworking Space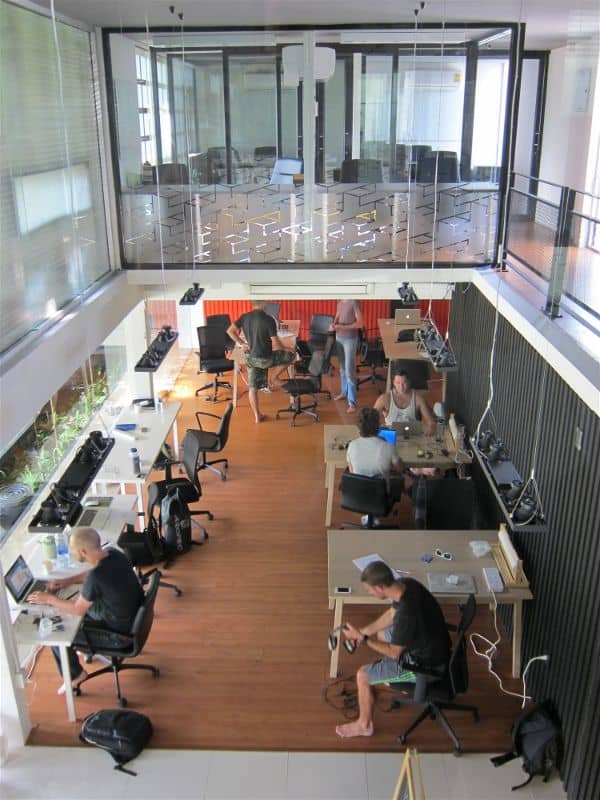 ---
Punspace Tha Pae Gate
"Spacious and peaceful," Punspace Tha Pae Gate sits in the oldest part of Chiang Mai with a great coffee shop (Nurkta Coffee) downstairs.
Click to see more of the Punspace Tha Pae Gate Coworking Space
Check out the activities at the Tha Pae Gate location, frequently updated Facebook.com/punspacethaphaegate/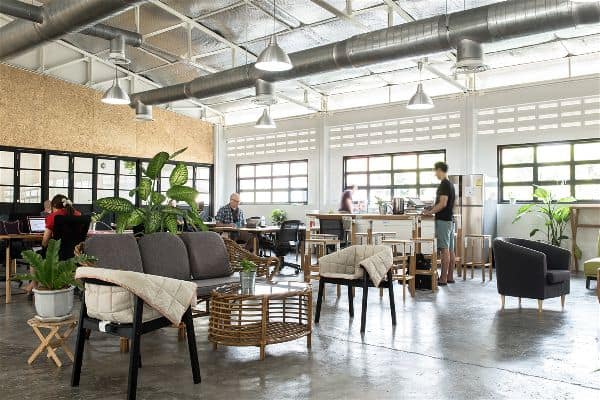 ---
Punspace Wiang Kaew – Quiet space surrounded by green
Located within the walls of Chiang Mai's Old Town, the Wiang Kaew branch is a remodeled soda factory turned coworking space that is more "close to nature" than other coworking spots. Plenty of trees surrounding the space counter the modern "glass & steel" feel of the other spots with a large green lawn to work on with hammocks, benches, and even a cafe.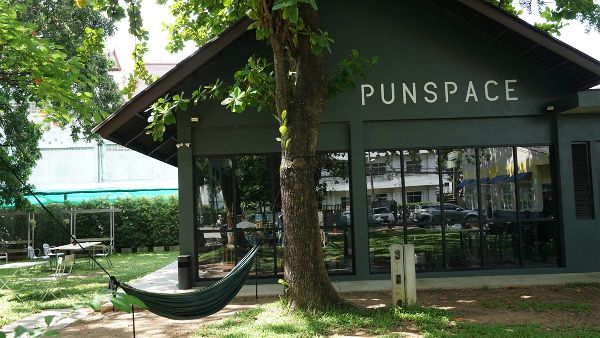 A perfect balance to have with the 3 coworking space membership. Great wifi and weekly networking lunches are a couple of the many perks that DN's appreciate.
Click to see more of the Punspace Wiang Kaew Coworking Space
Check out the Wiang Kaew FB page for events and preview pics of the Wiang Kaew branch space. Facebook.com/punspacewiangkaew/
---
What's so great about the Punspace options: Three different coworking spaces on a single membership, ranging from tucked into nature and sophisticated and modern
Address & Location

Nimman: 14 Sirimangkalajarn Soi 11, Chiang Mai, Thailand

Tha Pae Gate: Moon Muang Road Soi 3, Mueang Chiang Mai, 50200, Thailand

Wiang Kaew: 10 Wiang Kaew Road, Sri Phum, Chiang Mai, Thailand

Opening Hours:

The front desk is open 9AM to 6PM daily (for day passes)

Membership Rates

Meeting rooms available for hourly and daily rental

Amenities:

Skype rooms and meeting rooms

Website: http://www.punspace.com/
Contact: [email protected]

THE HUB COWORKING SPACE by ISDSI (SOCIALLY RESPONSIBLE COWORKING SPACE)
An eco-friendly coworking space run by ISDSI and made of 17 shipping containers that open into a green space with Rx Café that brews locally grown beans, all a coworking pet project of the International Sustainable Development Studies Institute.
This article by ISDSI does a great job of showcasing the coworking space and how eco-friendly it is thanks to the upcycling process – https://isdsi.org/connect/new-home-isdsi/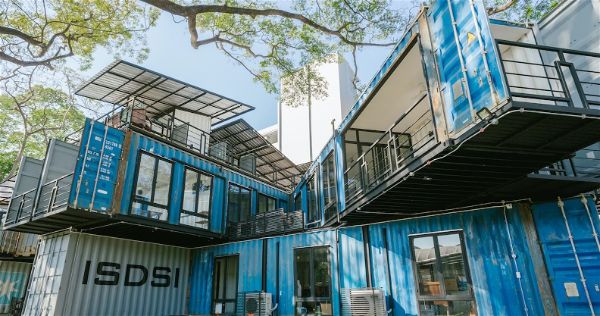 What's so great: An eco-friendly space made of shipping containers, tucked in nature
Address & Location: 47 Chotana Rd, Chotana, Muang, Chiang Mai 50300, Thailand
Opening Hours: 7:30AM to 7:30PM Monday to Friday, 8:00AM to 2:00PM Saturday, and closed Sundays
Membership Rates:
Food Available: Rx Café (next door) is your best bet for light food – mostly baked goods and pastries, but there are a handful of "muscle meals" aimed to fit the Crossfit gym next door
Coffee Available: Full café at the Rx Café, right next door
Outdoor Space: Open-air spaces and outdoor seating mesh the coworking space with the greenery and trees its nestled in
Nearby food and amenities: Coffee shop on-site right next to a Crossfit gym and hammocks in between
Website: Accurate info and updates can be found atFacebook.com/ISDSI.Thailand/ and learn more about ISDSI at ISDSI.org
Contact: [email protected]

IN THE CITY 24/7 COWORKING AND COLIVING SPACE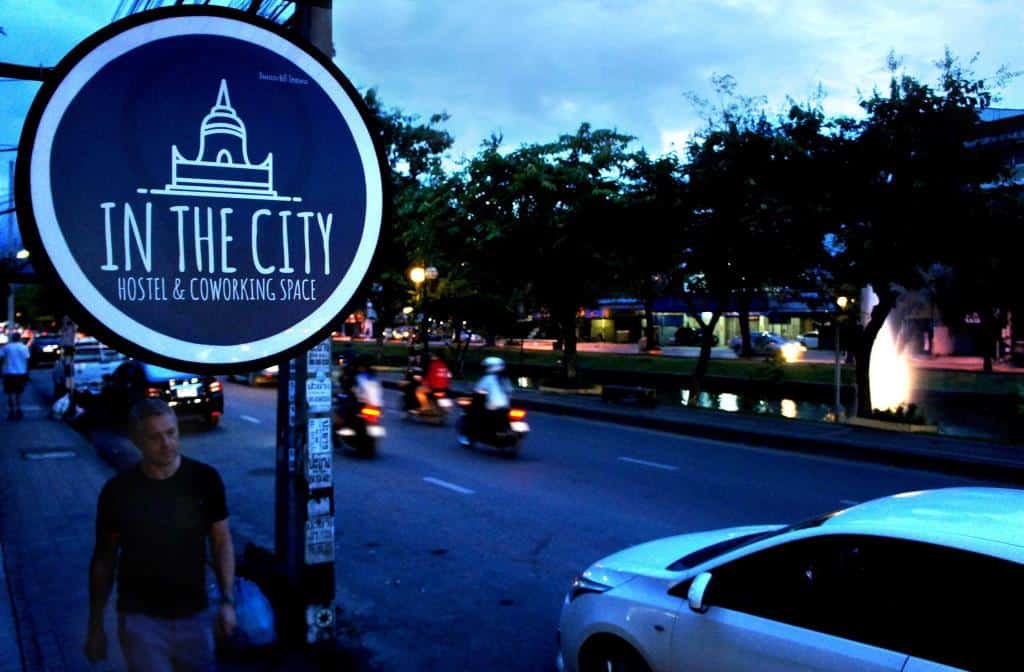 A new coworking and coliving space within Old Town Chiang Mai near the north gate, which puts you heavy into the Thai culture and near street food-filled night markets. An open layout with large tables and plenty of pillows and chairs, rooftop spaces for chilling and working, and convenient living spaces with both dorms and private rooms to make working and living in Chiang Mai easy.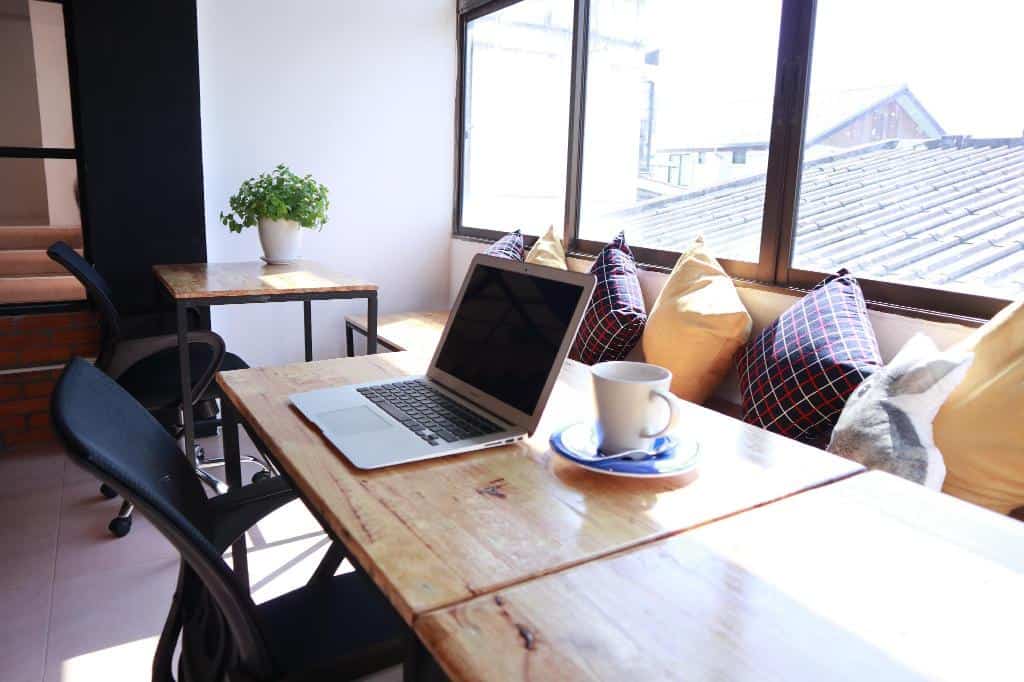 Though the coworking space does have daily, weekly, and monthly rates, you can use the coworking space free of charge if you stay at the coliving space.
What's so great: Coworking right next to affordable, comfortable accommodation
Address & Location: 62 Sri Poom Rd., Sri Poom, Chiang Mai
Neighborhood: Old Town
Opening Hours: 24/7 access for members
Membership Rates:
Coliving Spaces: (More info at In the City Hostel Accommodations)

6 Bed Dorm (~$10 per night)

Queen / Double Bed Private Room (~$20 per night)

Coffee Available: Yup! Free Coffee!
Amenities

Terrace and outdoor workspace

Outdoor Space: Yes, a comfy rooftop with bean bags and workspace
Nearby food and amenities: In The City hostel is located within the walls of the old town, at the north end. Head south a few blocks, and you'll bump into a handful of western cuisine focused restaurants. Keep walking for the best night-street food markets in Chiang Mai
Coliving Space: 6-bed dormitory and double bed private room with shared bathroom
Website: inthecityhostel.com
Contact: [email protected]

STARWORK
Well lit, open, spacious, and modern, the Starwork coworking space offers something for teams large and small with coworking space for solopreneurs and meeting rooms for budding teams. This space even has a nap room!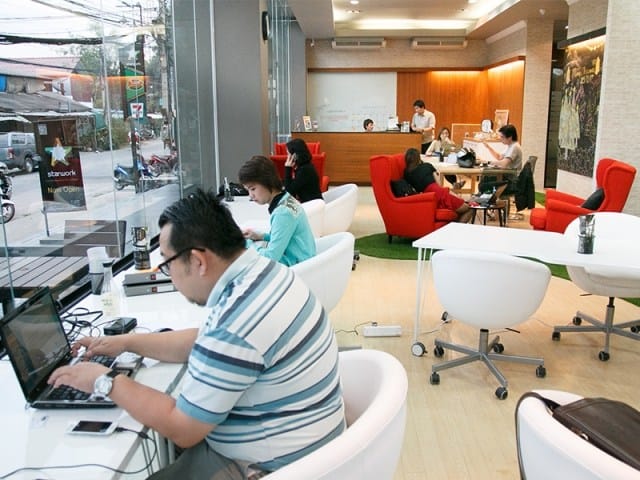 From hot desks to fixed seats, daily to monthly memberships, there are plenty of flexible options. Unlike many of the coworking spaces here in Chiang Mai, Starwork is filled with and caters more towards Thai entrepreneurs and companies – because of this, expect more Thais than international DN's, and a more "authentic" experience in Thailand as a result.
Address & Location: 87/9 Starwork, Tunghotel Rd., Watket, Muang, Chiang Mai, 50000
Opening Hours: 24/7
Membership Rates
Food Available: None on-site, but the space is located next to Café Amazon, 7 Eleven, and Santoku Japanese fusion restaurant.
Coffee Available: Not onsite, but next door at Amazon Cafe
Amenities:

Startup program that provides investment money, membership, facilities access, and mentor/SME access

Sleeping room for napping between work sessions

Facilities

Gym with basketball court

Work Spaces

4 different serviced offices

Outdoor Space: Yup, an outdoor terrace for working in the fresh air
Nearby food and amenities:

Café Amazon and 7/11 both right next door

Star Avenue Lifestyle Mall is nearby with plenty of shops and restaurants

A 10-minute ride from the railway station and Arcade bus station for easily getting into and out of Chiang Mai

Contact:

[email protected]

Reviews Say: "Mostly Thais working here and sometimes companies [renting the office space] use coworking space as a meeting area can get kind of loud."

HUB 53 COWORKING AND COLIVING SPACE
A comfortable and modern coworking and coliving space situated a 10-minute walk from the Maya Mall, One Nimman food market, and the rest of the trendy Nimman neighborhood filled with restaurants, cafes, and low key entertainment with the aim of balancing living options with quiet, comfy workspaces.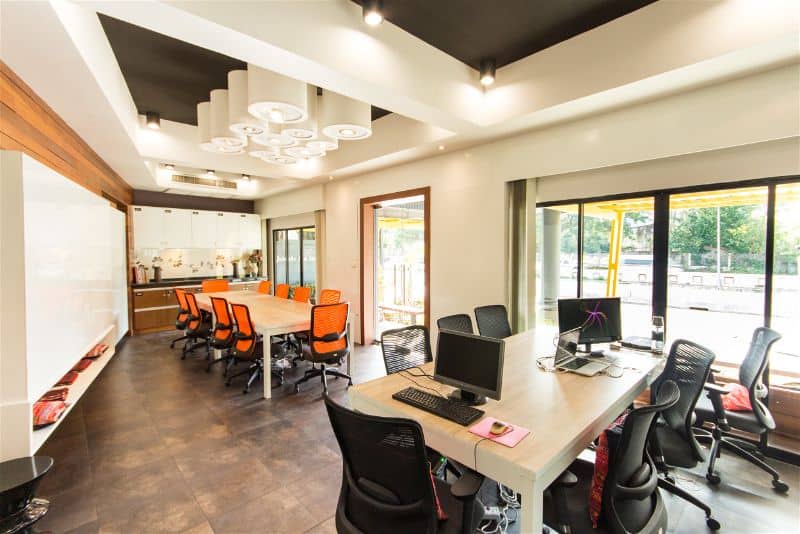 Plenty of open coworking style tables and office chairs dot the facility with floor seating, huge bean bags, and even mattresses for seating spread throughout the facility for comfort, desk alternatives, and the occasional nap. Each floor has its own kitchen if you don't feel like heading out. Skype rooms and meeting rooms are onsite as well.
Compared to the other great coworking spaces, Hub 53 has been described as "an introvert's paradise," quiet and low key to help you stay focused.
In addition to some pretty modern and swanky facilities, Hub 53 offers some great coliving options from 8-bed dorm rooms to queen and king private rooms and even apartments that range from 9000 Baht to 15000 Baht (~$300 to ~$5000 per month).
Address & Location: 53 Kan Klong Chon Pra Tan Road Suthep, Chiang Mai Mueang, Chiang Mai, Thailand
Opening Hours: Open 8AM to 8PM for the public but 24 hours for specific memberships and those staying at the coliving space
Hub 53 Membership Rates

189 Baht/Day (8AM to 8PM)

2699 Baht/Month (8AM to 8PM)

3299 Baht/Month (24 Hours Access)

20 Flex Hours /419 Baht (Valid for 14 days)

50 Flex Hours / 849 Baht (Valid for 30 days)

HUB 53 Coliving Rooms

Starting at 750 Baht per day

Starting at 3,500 Baht for weekly (7-day) rental

Starting at 8,850 Baht for monthly (30-day) rental

Apartments available for 9,000 Baht to 15,000 Baht per month

Superior, Queen, and King rooms available

Includes 24-hour access to the workspace

Food Available: Salad and smoothie bar onsite. If you want a western-style breakfast/brunch, check out Smoothie Blues two blocks away
Coffee Available: Espresso machine with free coffee onsite. If you want more legit coffee, Cervidae Café and Ristr8to coffee shops both offer a great cup of coffee
Website: Hub53.com
Contact: [email protected]

PLANTER'S SPACE
True to its name, the Planter's coworking space is a quiet, cozy (yet somehow spacious) environment with garden views inside and out. The café style set up with a rustic look and low key ambiance is a perfect balance to the modern and more upscale Nimman neighborhood that the space sits behind, a 10-minute walk away. Great value for the money compared to other coworking spaces.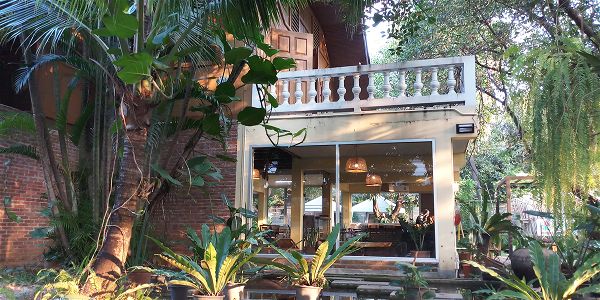 Accommodations are available upstairs so you can live where you work in the traditional, Lanna-styled hostel rooms.
Also, one day free trials are offered, so why not give it a shot?
Address & Location: 21/36 M2. Thorakamanakhom Soi 4, Chang Phuek, Muang, Chiang Mai, Thailand
Opening Hours: 8AM to 8PM every day
Membership Rates

Skype Room 80 Baht/Hour (Free for members)

A flexible 30-day option that can be split over 3 months (2,200 Baht)

Food Available: There is a kitchen onsite but no food service or coffee service. For a café with locally styled foods, head to Black Gooseberry
Coffee Available: No coffee shop onsite, so head to Blending Room a couple blocks away for a cup of coffee
Facilities
Outdoor Space: Yup, outdoor terrace to make the most of the greenspace
Nearby food and amenities: Black Gooseberry café for food, Blending Room for coffee
Website: https://planterspace.com/
Contact: [email protected]

CODE SPACE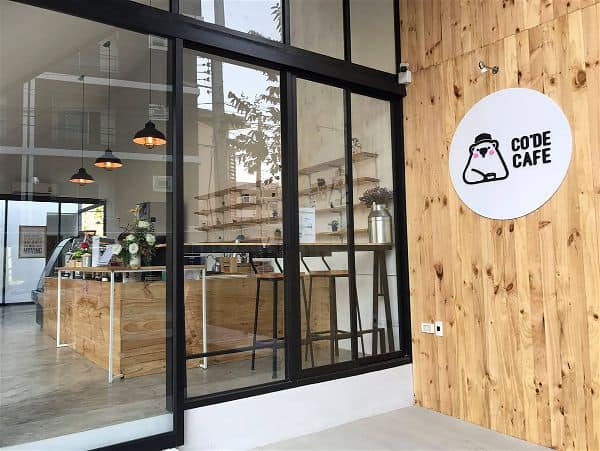 Code coworking space is a budget-friendly option designed specifically for working, set in a fairly quiet area. The coworking space and café are separate, but both are filled with nomads, students, and solopreneurs getting their grind on. The architecture of the place adds a great, clean, focused vibe with lots of light and calm yet energetic feel.

CLOSED COWORKING SPACES IN CHIANG MAI
KITNCABOODLE (KNC) (Permanently Closed)
Addicted to Work (Permanently Closed)
THIS Space (Permanently Closed)

OTHER "DISCONNECTED" WORKSPACE OPTIONS
---
ONE NIMMAN MARKET
Though One Nimman rarely gets recommend as a workspace, I loved it for lunches out and disconnected work.
One Nimman market is a small outdoor mall with plenty of shops, but the gem is hidden at the end of the market, on the east end – a cool food court with stalls serving up very nice Thai cuisine and other Southeast Asian dishes. Seating is scattered throughout, but my favorite "disconnected workspace" is on the second floor of the stacked seating area.
Note that this place isn't the quietest, doesn't have plugs, and can have mellow live music at night, but it's a great place for a working lunch, without wifi, as long as you don't mind a slight bit of noise.
Address: Suthep, Mueang Chiang Mai District, Chiang Mai

11 BEST COFFEE SHOPS FOR DIGITAL NOMADS IN CHIANG MAI
Coworking spaces aren't the only places to hustle remotely in Chiang Mai. The café scene not only delivers good coffee, comfort, and connectivity for cheap, it also caters largely to digital nomads creating a flexible option for wifi, a plug, a seat, and an environment conducive to working.
If you don't feel like paying for a full day's membership at one of the coworking spaces above, consider these 11 coffee shops that are perfect for digital nomads.
11 BEST COFFEE SHOPS FOR DIGITAL NOMADS IN CHIANG MAI

Wakeup (Nimman) (24 Hours)**

Wakeup (North of Old Town (24 Hours)**

Ember Coffee and Eatery**

MDL Bistro & Coffee Shop**

Fah Tha Nee Café and Bed Coworking Space (Small, quaint, a good change)**

Ristr8o – Not a place to work, they just have amazing coffee

WAKEUP COFFEE SHOP (NIMMAN)
Of all of these options, Wakeup Coffee in Nimman was by far my favorite. Convenient (one cup of coffee at ~60 Baht gets 4 hours of Wifi, and you can continue sitting as long as you want), plenty of space available, dead quiet and empty on the top floor, and fast wifi made this my go-to spot.
Plenty of plugs, normal restaurant-style booths, a quiet atmosphere, and cheap, flexible access make this coffee shop a great backup, or even primary, option.
The coffee is average (think Starbucks) and fairly cheap (69 Baht to 79 Baht), and each purchase gets you 4 hours of internet, but no one stays if you continue working wifi free.
You can click to read about the other great cafes, but this was my favorite for grinding and the one I recommend most as your backup.

WHERE TO EAT IN CHIANG MAI
Having a quick list of places to eat in Chiang Mai that are cheap and trustworthy can speed up the "settling in" process and help you get to work faster and be more efficient.
During my time in Chiang Mai, these spots were my favorite – convenient to many work spots, cheap, quick, and reliable. I recommend programming them into your Google Maps or Maps.Me app until you get the list of your own "go-to restaurants."
4th Floor of Maya, in the Food Market: A street food style market in the swanky mall, and plenty of other chain restaurants available (in Nimman neighborhood)
Esan Café: Great Asian fusion cuisine in a small, intimate space (in Nimman neighborhood)
One Nimman Market: An outdoor mall with a great food court at the end with ~20 stalls that deliver some fantastic meals (in Nimman neighborhood)
Smoothie Blues Breakfast: This restaurant has the best western-style breakfast options – waffles, pancakes, eggs and bacon, smoothies, etc.
Dom Café: A huge space next to Maya Mall that delivers some great food and doesn't mind if you hang around and get some work done
Streetfood along Nimman street: Next to Maya Mall, on weekends after, after 8pm, a food market pops up with pick your own bbq, Thai-Chinese dishes, fruits, and everything you could want for dinner
Old Town Street market: Within walled old town, this street market goes full-on every night. If you're willing to eat adventurously, you'll find a lot of amazing and cheap food here.
Ramen at Tomodachi Ramen: If you have a ramen craving, this place is the spot. Delicious and cheap
Delivery Options via Grab Food: For everything else in the city, Grab (the rideshare app) makes everything conveniently and cheaply available for those work session you can't peel yourself away from

WHERE TO HIT THE GYM IN CHIANG MAI
During my work-heavy stints in which I've nearly chained to a desk and my laptop, I still prioritize getting in a good workout for health, balance, and general stability.
For workouts, Gold Hillside Gym is my gym of choice. Memberships are flexible and cheap, the gym is well equipped, and its all walking distance from the Nimman neighborhood and Maya Mall.
Gold Hillside Gym is equipped with treadmills, plenty of dumbbells, barbells, and machines
Membership rates are 100 Baht per day or 1000 baht per month

WHERE TO SHOP IN CHIANG MAI
For any of your general needs in Chiang Mai, the Maya Mall is a great place to start as they have nearly everything, and most of it is high, western quality, though it is pricier. If you're pressed for time to find what you need, you should start here.
For small tech items and repairs, portable chargers, phone repairs, etc. head to the Manee Nopparat Rd. that borders the north wall of Old Town. On the westernmost portion of the road adjacent to the old town, you'll find several computer and tech-focused stores. "Computer City" is the best place to start with plenty of tech stalls, and if you can't find any tech that you need there, the reps can point you to wherever you need to go. Start with these two stores

GETTING AROUND CHIANG MAI
Getting around Chiang Mai is easy, cheap, and the ease of which is one of the reasons this city is great for digital nomads. Taking the collective "red taxis" (red, covered pickup trucks with bench seats) is the cheapest option with renting a motorbike being a great option if you know how to ride.
---
RED COLLECTIVE TAXIS
Chiang Mai has an awesome army of red pickup trucks fitted with tops and prepared to carry passengers in the back. The standard rate to go anywhere is 30 Baht, so don't bother negotiating…just jump in.
To make life easier either have a map up on your phone (Google Maps, Maps.Me) with the destination to show the driver (and get beyond the language barrier) or know the neighborhood and "soi" or "sidestreet" to tell the driver
---
RENTING A MOTORBIKE
If you're sufficiently comfortable on two wheels, renting a motorbike is my preferred method of getting around – cheap, convenient, and a lot of fun.
You'll be able to rent a motorbike easily anywhere with minimal issues. Renting near the Nimman area (near Maya mall) where things are more expensive will make for a more expensive rental. If you rent from sidestreets in Old City, the price will be a bit cheaper.
Expect the monthly rental price to be about 10x the daily price
Expect to be able to negotiate the post rental rate down to about 2/3 in the busier areas.
Understand that you will have to leave your passport or a copy of your passport and 3000 Baht, and receive it back when you return. This is a fairly common practice in Thailand
Where I recommend renting a motorbike
I had a good experience at Buddy Motorcycle Rental, renting a Honda MSX for 250 Baht ($8.50 USD) per day. You can find him at address 12 Huaykaew Rd. A.Muang Chiang Mai 50300
Rental Rates at Buddy Motorcycle Rental
Honda Click (Scooter): 250 Baht per day, 2500-3000 Baht per month
Honda MSX: 300 Baht per day, 4000 Baht per month
Smile Motorbike in Chiang Mai Old Town, around the corner from Coffee Club and Punspace, rents scooters for ~150 baht per day. Located at Rachadamnoen Rd Lane 2, Tambon Si Phum, Chiang Mai

GETTING TO CHIANG MAI
The best options for getting from Bangkok to Chiang Mai are: plane, train, bus
To book either the train or bus, I recommend using 12go.asia or going to the train station one day before as tickets can sell out unexpectedly
---
Getting to Chiang Mai by Plane from Bangkok
If you're in a rush and don't have any carry on baggage, this is a worthwhile option. I usually find the cheapest flights on Skyscanner, as the cheapest flights and airlines are different by day of the week and change between Air Asia, Thai Lion Air, and a few others.
From Bangkok, flights are usually ~$50 if purchased enough ahead of time (~3 weeks), ~$75 otherwise
---
Getting to Chiang Mai by Train / Night Train
For long term travelers, the overnight train from Bangkok to Chiang Mai is the most cost-efficient and convenient option. The ride is around 13 hours, so you spend the entire night sleeping comfortably as the train rocks you to sleep.
The Bangkok to Chiang Mai options are first and second class, but second class is fine for most – as it includes a foldout bed that you can lay down flat on in the main car. The first-class ticket includes an upgrade to a private room shared with one other passenger.
Price: Second class tickets for Bangkok to Chiang Mai are ~$20 to $30 USD, and the first-class tickets are ~$60
If you're not interested in spending any time in Bangkok, the train has a stop at the Don Muang international airport. If you land at BKK airport, there is a convenient shuttle and a train that can get you to Don Muang (DMK) International
12Go Asia travel booking is the most convenient site to look up train tickets and departures and get yourself sorted in advance. However, if 12GO says there aren't anymore trains for your desired departure, I recommend stopping by the Hua Lamphong Railway Station anyways as not all trains are listed on 12GO.
Click here to see train times and prices from Bangkok to Chiang Mai
---
Express Bus between Bangkok and Chiang Mai
Though I haven't taken the bus (I prefer trains to buses) tickets are available for ~$22 and can be booked through 12Go Asia
Click here to see express bus times and prices from Bangkok to Chiang Mai

GETTING TO THAILAND
If you're flying from North America or Europe, my first recommendation is absolutely travel hacking. Whenever I take those long flights that are normally $1500+, I always use my points from travel hacking.
If you're new to the concept, be sure to check out my travel hacking article demonstrating how I get 3 round trip intercontinental flights per year for free, with 30 minutes of work.
If you're flying from elsewhere in Asia, your best bet for cheap flights is Skyscanner. If you don't mind paying ~$5 – $10 USD more, I highly recommend picking Air Asia for flights within Southeast Asia. Of all of the budget airlines in Asia, they've given me the least trouble (as long as I sort out my baggage situation beforehand), and you can change your flight dates/times for free by buying "flex" tickets, just paying the difference. That flexibility makes it convenient if you need to buy a flight out for visa/immigration purposes but aren't sure of your actual dates.
I also highly recommend signing up for Scott's Cheap flight email to keep an eye on cheap flights from North America to Thailand. I've stumbled on some for as low as ~$400 USD
For the meantime, click here to check flight prices on Skyscanner for flights to Thailand

EXTRA TIPS ON LOGISTICS: SHIPPING OPTIONS
Whenever you decide to ship something home, there are plenty of options in Chiang Mai. The cost you pay will directly correlate with how quickly you need it to get home.
For less than 2 weeks of shipping time, go with higher-priced DHL.
For cheaper, slower shipping, go with EMS World International and Postal Service (across from the Coffee Club). Several travelers have recommended EMS, and they have shipping rates/speeds for 1-2 weeks, 3-4 weeks, and 2-3 months.
DHL has several locations throughout Chiang Mai, easily found on Google Maps
EMS Shipping is located across the street from Coffee Club – and there is also a DHL location on the other side of Coffee Club for price comparison purposes.

Other Great Content