Ten years into the "Digital Nomad Revolution" Chiang Mai is still arguably the DN community's global center, capital, and a place that Digital Nomads new and seasoned return to for good reason.
Whether you are a new nomad on a tight budget trying to figure out how to make things work, a seasoned nomad looking for a base to settle long term to leverage geoarbitrage, or a flashpacking traveler that needs a place to rest and focus, the great infrastructure and quality of living in Chiang Mai will allow you to relax, recover, and focus on whatever you'd like.
In this complete Chiang Mai digital nomad guide I'll share everything you need to know to prepare for your Chiang Mai stay, arrive, sleep, eat, and work in arguably the 1 place in the world for remote workers, online entrepreneurs, and digital nomads of all budgets, types, and styles.
This article contains affiliate links

Table of Contents of this Digital Nomad Chiang Mai Guide
The Complete Chiang Mai Digital Nomad Guide
Essential Logistics for Life in Chiang Mai

Chiang Mai is one of the most comfortable places I've ever been, where it is easily possible to get a nice apartment downtown, fast internet, and any food you're craving, all on a budget. Over the past 6 years I have "nomaded" (spent a month or more) in 20+ cities amazing cities, to include Hanoi, Canggu, Buenos Aires, Medellin, Quito, Split, Lisbon, Porto, and have returned to many more. Still, whenever I return to Chiang Mai is still feels like "going home." Here's why…
Why Chiang Mai – The Highlights
Chiang Mai's perks add up to an enjoyable and affordable place to live that easily supports focused work and decompression
Low cost of living, ~$1100 per month for most nomads
Walkable, livable, comfortable, and easy to navigate
Creature comforts meet or exceed a western standard
The "Land of Smiles'" cultural center in northern Thailand and charming locals deliver a welcoming vibe that'll quickly make you feel at home
A large digital nomad community is ready to socialize and meshes well with Thai locals
Great internet connectivity, Wi-Fi, and cell service virtually everywhere, makes working remote easy
Relaxed pace of life, despite it being the biggest city, and former capital, in Thailand's north
Great infrastructure (roads, facilities, and connectivity)
Why is Chiang Mai the World Capital for Digital Nomads?
The global Digital Nomad capitol delivers a livable balance, high quality of life, and easy to navigate daily life that simply make it easy, comfortable, and cheap to live in day to day.
Chaing Mai can quickly feel like "home" especially if you've been on the road for quite some time. The characteristic slower pace and almost quietness at points (compared to Bangkok at least) along with great infrastructure, plenty of coworking spaces, modern shops and malls, and range of affordable accommodation, will allow you to settle into the routines that are so valuable for productive work periods in digital nomad life. All of this without feeling that pressure to explore or party that comes with destinations like Bali, Tulum, and Saigon.
This perfect mix – of comfy, convenient, and accommodating – make Chiang Mai a perfect productivity and recovery place against the backdrop of a beautiful, budget friendly, and culturally authentic Southeast Asian country.
Chiang Mai has everything thing that a true nomad needs to be productive, healthy, happy, and entertained. Plus, all of these amenities are easily accessible (walking distance) despite the neighborhood you choose and within a monthly budget (~$1100) unmatched by cities with comparable quality of life, work spaces, food, little pleasures, infrastructure, and accessible visas.
Beyond working in the many coworking spaces and remote work friendly cafes, Chiang Mai offers cheap Thai Massages, digital nomad happy hours (organized by the expat DN community), everyday Chiang Mai life and nice, mellow social scene. Plus, a short flight or overnight train to the beautiful Thai Islands and arguably the hub and most legendary metropolis of Southeast Asia – Bangkok.
What does this mean for you as a new nomad in this peaceful hub of Northern Thailand?
Traveling around the world is a dream, but traveling and working, as many digital nomads do, requires an interesting balancing act. Sometimes we choose destinations that allow us to not only party, have fun and enjoy, but allow us to be productive and "recover" as well. Chiang Mai perfectly fits that need as a "recovery and productivity" destination.
The Bottom Line: If you are a digital nomad or remote worker and haven't been to Chiang Mai but are considering, and appreciate a slower paced, comfortable city, absolutely try Chiang Mai for a month or three.

21 Tips for making the most of Chiang Mai as the world's Digital Nomad Capital
Go to Chiang Mai at the right time (October to February) to avoid the region's burning season (March to May), rainy season (June to October), hot season (March to May), and high tourism season (November to March)
For a fun, relaxing change of pace getting to Chiang Mai, take the overnight train from Bangkok's Don Mueang (DMK) airport to Chiang Mai railway station: Fly into Bangkok's Don Mueang Airport (DMK) and walk to the train station next door to take the overnight train from DMK to Chiang Mai train station
For the overnight train from Bangkok (DMK airport) to Chiang Mai, take train #9 that departs at ~18:40 daily as it is the most comfortable train for the ride for the overnight train ride
Stay in the Nimman neighborhood of Chiang Mai for an easy first stay in Chiang Mai or in the Old City neighborhoods for a more "authentic Thai" experience closer to the backpacker scene
The places in Nimman you need to know are 1) Maya Mall, 2) Nimman One Plaza, 3) CAMP coworking space, 4) Yellow Coworking Space, and 5) Wua Lai walking street and street market (Saturdays) and the adjacent street food plaza and the 6) Chiang Mai Night Bazaar
For accommodation, first book one week of accommodation well before arriving in Chiang Mai, and then use Facebook, walk-ins, and agents to find a monthly apartment rental in person while in Chiang Mai for the best prices and value for your money
Escape to the hippie and backpacker enclave of Pai on a weekend a few hours from Chiang Mai, at least once. Pai is a beautiful backpacker town littered with scenic motorbike rides, swimmable waterfall pools, and hike worthy canyons
The sites you need to see in Chiang Mai are 1) Doi Suthep Monastery, 2) Old Town within the Old City Walls, 3) Wu Lai Walking Street, street market, and street food court (Saturdays) 4) the Ping River waterfront, park, and greenspace, and 5) the "Sticky Waterfalls and potentially the 6) nearby National Parks in the green hilly highlands of Northern Thailand
Make it easier to meet people and socialize in Chiang Mai by 1) smiling 2) using coworking spaces and 3) frequenting the same spots for lunch, dinner, and drinks** over the days and weeks you are there
The green "sticky icky" are easily accessible and legal in Chiang Mai and throughout Thailand. If you are a DN that would benefit from these, I highly recommend visiting Thailand as you can enjoy it here without the stigma or legal issues of Bali**, Malaysia, and elsewhere.
Eat plenty of Thai food and make an effort to try the many Michelin listed restaurants in Chiang Mai such as Yangzi Jiang and Kiew Kai Kai in the Nimman One food court
Get plenty of Thai massages and therapeutic massages as they generally run 300 to 350 Baht ($10 to $12) for a good 1 hour massage, but avoid the overpriced salons on the main streets **
Explore these other great places in Thailand: Krabi and Railay, Hua Hin, Koh Lanta, Koh Phangan, Koh Tao, and Hua Hin during your time in Thailand
Know that Phucket, Pattaya, and many of the renowned hubs for resorts will be overpriced and overrun by tourists and sexpats. Do yourself a favor and skip over those in favor of the recommended destinations above and here
For most travelers "relaxing" in Thailand, alcohol tends to be the most bloated expense. Take advantage of 7 Eleven's cheaper prices and happy hours to keep the drinking costs down, and beware of the mystery jungle juice in those buckets as it can be tainted
The Maya mall is an easy and convenient go to for groceries (basement floor), sim cards, ATMs, movies, coworking (CAMP), gym, and more.
7-Eleven is a great place for quick, budget meals and all of the essentials you will need to stock up on
(Jump back to Table of Contents)

The Complete Chiang Mai Digital Nomad Guide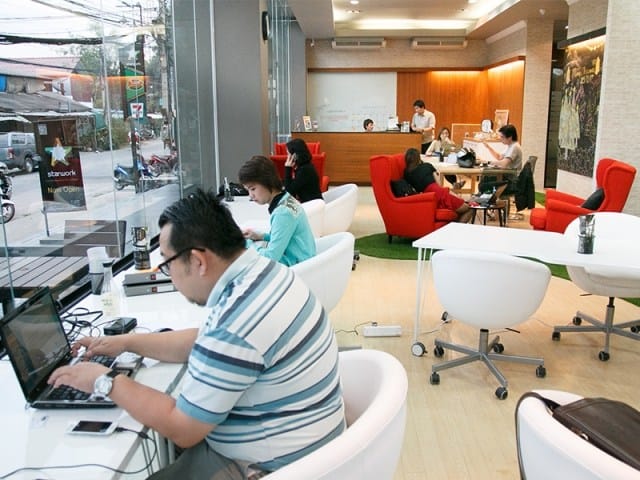 My experience as a digital nomad in Chiang Mai over 5 years: Where I started and where I always go back to for focus, recovery, and the feeling of "home"
One year into my journey of traveling around the world and nomading around the world I decided I didn't want to go "back" home. Like millions of other nomads who'd been in my shoes just figuring how to start this journey – of not only living abroad indefinitely but figuring out how to turn my passion into a paying profession – I realized I needed to take some time to buckle down, make a plan, and work.
But where?
Though I had so many places on my list to visit, I needed a very particular place. I needed a place with a low cost of living (to stretch my budget until my writing paid the bills). I needed a place with the creature comforts, so I could feel "at home" and comfortable enough to work. I needed a place with other nomads, to build community and stay motivated. Lastly, I needed a place that was on the doorstep to other adventures – so that in my free time I could hop a motorbike, or train, or flight, and quickly get to the destinations that I was in this life as a digital nomad for.
I remembered from my first year traveling, and passing through Chiang Mai, that I'd bumped into so called "digital nomads" frequently during my weeks wandering around the city, which was a good sign. If there were people there productively doing what I needed to be doing, maybe that was where I needed to be? So, I booked a one month stopover in Chiang Mai between traveling from Bali** to Sri Lanka. That experience, of making Chiang Mai a temporary home to recover and boost my productivity, was everything I needed and hoped for.
Thanks to the plethora of coworking spaces, cafes, and small conveniences, I accomplished 6 months' worth of work in a single month. Thanks to the small pleasures – massages, movies, impromptu concerts at Nimman, and the smiling Thai faces that became friends – I left not only relaxed, but recharged. Thanks to the low cost of living, I spent a fraction of my normal monthly budget, leaving more money splurge on a nice Tuk Tuk that I drove throughout Sri Lanka, which was a very cheap flight away.
At the point I understood why Chiang Mai is indisputably the digital nomad capital of Asia and arguably the world.
Since then, every year that I've been able to I return to Chiang Mai for relaxation, focused work, and simply to be in a quiet yet welcoming "home" during my travels.
(Jump back to Table of Contents)
What made Chiang Mai so great for me, from a digital nomad perspective? Smiles, walkability, and balance…
As you travel the world you will realize, almost every place has potent opportunity for enjoyable experience, but not every place is conducive to long term stays when recharging and getting work done is a priority. Thailand, and especially Chiang Mai, are.
In Northern Thailand, Chiang Mai truly is the land of smiles. After months of traveling to places where foreigners can easily feel like walking ATM's or unwelcome and still must try to be gracious guests, you'll be surprised how recharging it can be to interact with smiling faces that genuinely seem happy to meet you. This pleasantness goes a long way when it starts with the minute you grab your first coffee at a cafe and ends at the cool soup stall on your way home at 11pm.
Virtually every neighborhood in Chiang Mai is walkable, with everything you'd need for day and night within a 15 minute walk. This walkability adds a healthy level of simplicity to your day. Ready to work and need a change of pace? Just walk a block away to the coworking space. Hungry? Just walk downstairs for quick and delicious Thai food. Time to get in a workout? Walk 10 minutes to the gym. Burnt out and ready to end the day? Walk 10 minutes to Nimman One plaza for live music or to the movie theater in Maya Mall.
This level of convenience exists in every neighborhood I've stayed in Chiang Mai and makes it very easy to live, work, and recharge, without losing pace.
The true value of Chiang Mai is being in a place of balance and great weather, food, pace, and infrastructure, with a chill welcoming vibe, and no push for any single thing – such as partying or overworking – allowing for balance and for you to focus on whatever you want or need to focus on. Chiang Mai is rarely in the news for one extreme thing and that is because it is so balanced. Yes, if you want to find a party at 2am it is possible, but you'll have to hunt for it. On the other hand, if you want a couple beers and live music at 5pm before returning to work on your hustle, that is always available.
I've spent plenty of time in Vietnam, Bali, and the islands of Thailand, and the major downside of those locations for digital nomads, especially new nomads, is the energy and activity skews heavily toward one thing. That one thing may be all night parties, or day trip travel excursions, or a strong social scene, which can be amazing, but make it difficult to work, focus on goals (professional, health, personal) and stay balanced. Compared to these, Chiang Mai excels in that because of the nature of the city, balance and focus come naturally more than any other place in Southeast Asia.
(Jump back to Table of Contents)
Pros of Chiang Mai for the Digital Nomad Lifestyle: Nature, Nomad friendly, affordable, and livable
Amazing Food: From Michelin listed restaurants to world class street food carts and entire streets (near Wua Lai night market streets) Thailand's food scene is one of the best in the world and easily one of the cheapest as well
Excellent Coworking Spaces: Whether CAMP or Yellow in Nimman, or Punspace in Old Town, every neighborhood in Chiang Mai has great coworking spaces.
Plenty of remote work friendly, hip cafes: Plenty of great, interesting cafes, friendly to a few hours of working while sipping coffee are located in all of the recommended neighborhoods Nimman, Old Town, and Ban Sathaphon
Beautiful Nature near where you'll stay: From the riverwalk near the college, to the half day monastery hike, to nearby national parks and waterfalls, the green hill country of Chiang Mai offers plenty of nature to balance city life. Northern Thailand is green and beautiful, so take ful advantage of the hiking
Very Walkable: In all of the recommended neighborhoods, you are no more than a 10 to 15 minute walk from all of the essentials and entertainment you'll need
"Big yet small" feel: Though the city has a population of 1.2+ million people, the quiet mornings, relaxed pace, and friendly environment give it a small city comforting feel
Easy international airport access, from all over Asia, and train access from Bangkok: Cheap flights to all over SEA from Chiang Mai international airport
Perfect Weather (at the right time of year): During the best times to visit of October to February, the hilly north of Thailand brings dry sunny days, and comfortably chilly nights that are perfect to enjoy both the city and surrounding nature
Great Entertainment (beyond partying): Regular live music and free concerts, night markets, night street food courts, walking streets, national parks, and great food are all easily accessible and add "pleasure without partying" to the experience, if you want it
High speed internet and solid mobile data are available everywhere: Cafes and coworking spaces all offer great, high-speed internet, and SIM cards are easily available with cheap high speed data coverage
The Thai Government is friendly to DN's, expats, and remote workers: The Thai visa situation is very easy to navigate for short and long stays. Also, though remote work and online work isn't technically legal on tourist visas, as long as you aren't too chatty about your online hustle, the Thai Government mostly doesn't care.
Smiling, welcoming people: Thailand lives up to being a "land of smiles", welcoming, and lovely, especially if you are respectful, open, and try the a few words in Thai. On the whole, for me, Thais tie with the Japanese in terms of my favorite to live amongst in Asia
Low cost of living and cheap prices: In Chiang Mai, you can live far better than at home for $1100 to $1500, and live like a queen a king or queen on $2250 to $3000 per month
Balanced pace of life: Thais are insanely productive, but still, they know how to have fun and appreciate non-working time, allowing you to as well. This means, you'll find everything you need to work when you need to work, but there are also plenty of great places to eat and socialize, free live music and concerts, and plenty of nature to enjoy.
Accessible and easy and to get to from elsewhere in Asia or around the world by plane and train: Chiang Mai is accessible via cheap flights from Bangkok (~$25) or the comfy overnight trains from Bangkok DMK airport (~$25)
Easy to navigate: The language barrier is no problem in Chiang Mai and "Red Cars" make getting around easy
Easy visa situation: free 30 day visa exemption or free 60 day tourist visa with 30 day extension option
(Jump back to Table of Contents)
Cons of Chiang Mai: Air quality (between January and March), No Beach, and requires planning for your best quality of life
The Thai Language is difficult to learn: Compared to Spanish, Italian, or Indonesian, Thai is extremely difficult to learn, beyond greetings and conversation. Luckily, Thais are so friendly and open that, with the help of Google Translate, the language barrier is rarely a problem.
Air Quality from March to May is horrible due to the "burning season": The seasonal burning on biowaste in the rice fields surrounding Chiang Mai leads to dangerous air quality outside. Either plan to not be in Thailand during this time, or purchase an in-home air filter and spend most of your time indoors – but air quality is fantastic other times of the year
You have to come at the right time for the perfect experience: October to February is the sweet spot and avoids burning season (late February to late April), rainy season (June to October), hot season (March to May), and tourist season (November to March) – luckily, for long stayers, there is plenty to do inside during the less than ideal seasons, but aim for November to February for your first trip to get to know Chiang Mai
Far from the beach: 14 hour+ train or 1.5 hour flight to the beach from Chiang Mai, but, if you're coming to Chiang Mai accept the highland life (greenery and hills) and reserve the beach for weekend adventures.
Can feel lonely if you're not strategic about socializing and don't come with a partner: but follow these tips on meeting friends and nomads in Chiang Mai and you'll find pleasant company in Chiang Mai in no time.
(Jump back to Table of Contents)
Who is Chiang Mai Best for: Focused workers, introverts, and couples
For context – I am a digital nomad that prioritizes productivity but also loves to party and celebrate. I am mostly extroverted but at other times a little introverted. I've traveled through and lived in Chiang Mai as a single solo traveler, in a couple, and with a mob of backpackers for months on end. With all of those months of experience I can confidently say, Chiang Mai is a fantastic place for any nomads that desire a little balance and comfort to support their productivity, but would like to "relax and recharge" on a personal level, or build long term relationships with other nomads and travelers during a longer stay.
Chiang Mai is especially suited for the following types:
Solo travelers looking for a comfortable base
Nomad couples
Nomads focusing on work or a particular project sprint
Travelers or nomads who "need a break" or simple chill (I might even suggest Pai as a part time base)
"Budget conscious" nomads coming from a western country that would like to live in a lower cost location and maintain a high quality of life
(Jump back to Table of Contents)
Cost of Living in Chiang Mai, Thailand: At ~$1000 to $1500 per month it is among the lowest in Asia, with some of the highest quality of life
One of the major draws of Chiang Mai is that you can live a high standard of living at a very low cost. Here we'll give you the straight numbers about what a reasonable Chiang Mai budget looks like as a digital nomad and slow traveler.
Note on currency conversion: For these calculations we are using a historical average of $1 USD = 30 Thai Baht which has been a good gauge for quick mental math over the last decade. However, click here to check Google and see the Thai Baht currency exchange rate for today.
Monthly Budget: Averages $800 to $1500 per month for nomads staying for 30 days, and is most commonly ~$1100 per month
Average Monthly Cost of living total breakout: 30,000 Baht (~$1000) to 40,000 Baht per month + flights and visa fees
Housing: 8,000 to 15,000
Motorbike: 2,000 to 2,500
Food: 10,000 to 15,000
Coworking Space: 3,000 to 4,300 Baht
Note that this "average" budget is quite the average for newer nomads that insist on a close to western standard during their stay. However, with small lifestyle adjustments (a studio apartment, skipping the beer, option for free entertainment) one could reasonably get down to ~$750 per month and still live comfortably
Monthly Budget Breakdown
Accommodation Prices (Shorter than monthly): ~~$20 to $35 per day (600 Baht to 1000+ Baht per day)
Accommodation Prices (Monthly): 8,000 to 15,000 Baht for most options

Studio Apartment: 4,000 Baht (~$140/mo.)
1 bed, 1 bath apartment: 10,000+ Baht (~$340/mo.) in center of town
1 bed, 1 bathroom apartment in the outskirts: 7,000 to 8,000 Baht per month
Luxurious Apartment, City Center, pool, multiple bedrooms: 15,000 Baht – 20,000 Baht (~$500 to $700 / mo.)

Food

Street Food: $.50 to $2
Maya Mall Food Court (Thai): $2 to $3
Restaurant Meal: $5 to $10

Coffee and Drink

Cappuccino: $1.50 to $1.75

Alcohol

Mini Market Beer: $1.50
Cocktails/Wine: $5 to $10

Coworking Spaces

Monthly Membership: $50 to $300 (usually ~3,500 Baht to 4,500 Baht)
Daily use for 6 hours: $9 to $12 (~290 Baht to 350 Baht)

Transportation

Red cars (Songthaews): 35 Baht (~$1) per ride
Motorbike rental: 2,000 to 2,500 Baht per month or 150 Baht to 400 Baht per day
Grab ride (car rideshare) across Chiang Mai: 100 Baht (~$3) to 150 Baht ($5) to get across town

Gym

1,200 Baht per month for a basic gym membership
Budget Tips and Notes
Accommodation becomes far cheaper when staying longer than 30 days
Using the shared Red Truck taxi (Songthaew) for transport will save a lot of money
During the shoulder season, accommodation prices and tour prices are the only things that fluctuate. All other prices stay the same
Cooking food at home in Thailand is generally more expensive than eating out, so plan to enjoy eating out
(Move Down) ATMs, Banking, and Money in Thailand: ATM fees are high, so withdraw cash in large chunks
ATMs can be found most everywhere in Thailand, but when in doubt visit any mall. Your nearest mall will likely have ATMs from all of the major banks in Thailand. In Chiang Mai, and in the neighborhoods of Nimman and Old Town, Maya Mall will be the closest mall with ATM's from all of the major banks.
ATM fees are high, so withdraw more less often
Beware that ATM fees in Thailand are incredibly high (300 Baht / ~$8.50 per withdrawal transaction). Save money by withdrawing more each time you visit the ATM, and withdrawing less often.
Use a good credit card instead of cash (from the ATM) to avoid many of the fees (currency exchange, ATM withdrawal fees)
Save money (and accrue travel points) by charging purchases on a credit card that does not have international transaction fees, and always choose to purchase in the local currency (not your home currency). This will get you the best exchange rate available and will help you avoid the withdrawal fees at ATM's. From a personal finance standpoint, credit card statements will make it easier to track your purchases and travel budgeting as well.
Plus, a major bonus of charging to credit cards is accruing reward points for that next flight!
Currency Exchange
For those that are traveling with cash, currency exchange options are available all over Chiang Mai – in the airport (with the worst exchange rate), at the banks and in the malls (with a modest exchange rate but trustworthy), and small streetside kiosks far away from the airport (best exchange rate if commission free, but be careful).
Also, before departing Thailand, especially if you will be leaving Southeast Asia, be sure to change all your Thai Baht to either dollars or Euros before your flight, as the exchange rate from Baht to local currency in Europe and the Americas will be atrocious.
(Jump back to Table of Contents)
Where to Stay in Chiang Mai: Nimman, Old Town, or Ban Sathaphon Neighborhoods
Though its hard to go wrong with choosing your neighborhood in Chiang Mai, especially because the neighborhoods in the center of town are so close, I highly recommend nomads stay in one of these neighborhoods during their stay.
With that said, there is no "bad" neighborhood in Chiang Mai, however, some tend to be more centrally located, some are closer to the open country, and some have a more authentically Thai feel. Also, getting between neighborhoods is easy (walking, 15 minutes maximum) or cheap ($1 red taxi or $2 Grab), so if you decide to say outside of the 3 recommended areas (Nimman, the Old City, and Ban Sathaphon) don't stress too much.
First, let's look at the recommend areas
Nimman (Nimmanahaeminda Road Neighborhood)
The Nimman neighborhood is one of the most western feeling and developed neighborhoods in Chiang Mai, thus making it a perfect first stop or long term stop for nomads looking for something comfy without too much culture shock.
Nimmanahaeminda Road Neighborhood Location – https://maps.app.goo.gl/9wW2ft8m1Tn54rAR8
Nimman was universally known as "the expat neighborhood", filled with digital nomads and travelers pre-pandemic. However, now, the neighborhood is still just as welcoming to western nomads, but is also catering to increasing Japanese and Chinese tourists, mostly by adding new restaurants suiting those tastes and without losing its charm in the process. Nimman is my go to neighborhood when coming to Chiang Mai.
Here, you will easily be able to find a modern 1 bedroom apartment with a pool for a modest price**. Everything you need is walking distance through a pedestrian friendly neighborhood.
Places to know in Nimman Neighborhood
Maya Mall, is the biggest landmark and a useful location to know. In the Maya Mall basement you will find a full grocery store and food court. In the rest of the mall, you will find ATMs from all of the major banks, mobile phone stores selling and recharging SIM cards, CAMP coworking space, a movie theater and more. Click for Maya Mall Google Maps Location
Nimman One Plaza is an outdoor strip mall done up as an old-world European Town Square with kitschy shops, lots of restaurants (two of which are Michelin guide listed), and a beer garden style food court with several stalls cooking delicious traditional Thai food and street food all clustered in one spot. On the weekends (and some weekdays) the plaza fills up with events like concerts by local artists, flee markets, festivals, and more. Click for Nimman One Plaza Location in Google Maps
Nimmanahaeminda Road Neighborhood is the main, busy road that divides Nimmanahaeminda neighborhood, and you can find everything you need from Maya Mall to 10 blocks south, as well as in the eastern portion of the neighborhood, between Nimman neighborhood and the Old City
Coworking Spaces and Cafes in Nimman Neighborhood
Yellow Coworking Space: Arguably the best coworking space in Chiang Mai. Pricey, but worth it
CAMP Coworking Space: A classic and my favorite, on the top floor of Maya Mall and popular with the college students
Ristr8o (Café): Arguably the best coffee in all of Chiang Mai
Old City
The Old City is a must try, as it has a uniquely Thai flare and bleeds of traveler and backpacker delights. Here, accommodations will be more modest, but you will be surrounded by some of the essential sites, temples, museums, and street food experiences in Chiang Mai to make the experience feel more "travel" and less western.
Click here to go to Chiang Mai Old City in Google Maps
Accommodations in the Old City are more modest than Nimman, but make up for it in charm and experiencing more authentic Thailand.
Street food vendors are situated throughout the Old City, but you'll find the best Thai street food just outside the south wall of the Old City, in the park just next to Wua Lai walking street. Even if you aren't staying in Old Town, you should experience the street food scene south of the Old City and the Wua Lai walking street (only open Saturdays).
Coworking Spaces in Old City
Alt_Chiang Mai is one of the most lux and modern coworking spaces in Old City and in Chiang Mai, and offers coliving as well
Punspace Tha Phae Gate and sister coworking space Punspace Wiang Kaew are long time coworking spaces that are well thought out and offer everything you need
Ban Sathaphon
Ban Sathaphon is another great neighborhood option for nomading in Chiang Mai. Ban Satahaphon is slightly more local, authentic, friendly, quieter, and cheaper, but still 15 minutes walking from Nimman neihborhood and 20 minutes walking from the Chiang Mai Old City. If you've decided to stay in Chiang Mai long term and either want to save money or want something slightly more local, Ban Satahaphon may be a great upgrade.
Ban Sathaphon offers plenty of cafes, restaurants, and even coworking options, but most cater to more local tastes than international, are newer, and because of that come with a little more charm. Be warned that the taxis and red cars that frequently pass in Nimman and Old City are a little rarer in Ban Sathaphon, so you may be walking for 10 minutes to a main street to catch a ride.
If you're on your first trip to Chiang Mai, I recommend either Nimman or the Old City just to make getting familiar with and experiencing Chiang Mai a little easier. During that time, visit Ban Sathaphon and consider it as an option depending on your personal needs and preferences.
Ban Sathaphon Neighborhood in Google Maps
Hang Dong / Chang Dong
Once you've stayed in Thailand and realized, you love Thailand and Chiang Mai but want something quieter (and don't mind getting a car) consider moving to the suburbs of Hang Dong. Hang Dong is in the suburbs on the outskirts of Chiang Mai, 25 minutes from the Old City, and perfect for renting larger houses for longer stays.
Moving out to Chang Dong will allow you to go from a 1 bedroom 1 bathroom apartment in Nimman to a 3 bedroom (very nice) house in Hang Dong – suitable for families or friends splitting a house. However, know that as great as this neighborhood is, it won't be walkable, so you will need to look into renting a car or motorbike with the appropriate license.
Hang Dong Google Maps Location
Also consider these great neighborhoods:
(**HERE**)
Chang Phueak **
Chang Moi **
Chang Klan **
Wat Ket **
Santitham **
(Jump back to Table of Contents)

When to Go to Chiang Mai: October to February is best with October to early December being the hidden sweet spots
Chiang Mai can be a fantastic place to visit or live, but beware that timing is everything! For a few months per year, Chiang Mai and most of Northern Thailand are cool, calm, and beautiful. The rest of the year you can definitely find the same beauty, but you will be either dodging tourists, in the heat, or running from the air quality (by hiding inside). Because of this, plan your trip to Chiang Mai well ahead of time, or, if you're already on the way, read below for the best times to visit, and how to cope with the "other times."
Best time to visit Chiang Mai: October to February, avoiding the rainy season, the hot season, and the burning season
October to February (with October to early December being the peak "best months") is the best time to visit Thailand as the weather is cool and dry (no rain), and the tourist haven't come full force. With October and November being tourist shoulder season, you'll be able to enjoy the best temperatures, climates, and views without the crowds.
If you are coming to Chiang Mai for relaxation, October to early December are the best months for you.
Worst time to visit Chiang Mai: February to March/April during burning season,
Burning season is not to be underestimated as during these few months Chiang Mai's air quality tops charts as the worst in the world. If at all possible, avoid Chiang Mai during burning season.
Burning season is the period in which local farmers in the north burn their fields to remove biowaste and prepare for planting the next year's harvest. As a result, the air becomes unhealthy and outdoor experiences become miserable as the city's air quality reaches the worst in the world.
From firsthand experience, avoid Chiang Mai for these few months during the burning season, even if you will be indoors as the Chiang Mai Air Quality Index (AQI) and particulate matter count in the air (PM 2.5) reach dangerous levels. If you are forced to stay, plan on buying a secondhand air purifier on arrival from Facebook (groups or marketplace) or new from the Maya Mall and plan to resell it when you leave. Consult an air quality forecaster such as IQAir's Chiang Mai page to see current air quality and forecast before visiting.
Full List of Seasons to be aware of in Chiang Mai
Burning Season: February to ~April
Tourist Low Season: (April to October)
Tourist High Season: (November to March)
Tourist Shoulder Season: April to June + October
Cool Season: (November to February) Though there are the crowds, the morning chill of mountain air makes this my favorite time to be in Chiang Mai
Hot Season: (March to May) Following the tail end of the burning season, if you're not used to the heat this period can be miserable, but a place with good aircon midday fixes this, as long as your stay doesn't overlap with burning season
Rainy Season: (June to October, peaks in August and September) Fairly intense, and not much of a problem if you're stuck inside most of the time, but come mentally prepared and with proper rain gear if you visit during this time. June, July, and October are light rain months, but August and September always deliver heavy rains.
Chiang Mai Temperatures Year Round
Month Temp (H/L) Rain
January 29°c / 14°c | 84°F /57°F 0 days
February 33°c / 15°c | 91°F / 59°F 0 days
March 35°c / 19°c | 95°F / 66°F 1 day
April 36°c / 22°c | 97°F / 72°F 5 days
May 34°c / 23°c | 93°F /73°F 13 days
June 33°c / 23°c | 91°F / 73°F 12 days
July 32°c / 23°c | 90°F / 73°F 14 days
August 31°c / 23°c | 88°F / 73°F 17 days
September 32°c / 22°c | 90°F / 72°F 15 days
October 31°c / 21°c | 88°F / 70°F 9 days
November 30°c / 18°c | 86°F / 64°F 4 days
December 29°c / 15°c | 84°F / 59°F 1 day
Source: NOAA
Festivals and Events to Know
Chinese New Year
Any Events at One Nimman plaza (concerts, cultural fairs) posted on One Nimman social media accounts

https://www.facebook.com/onenimman
(Jump back to Table of Contents)

Transportation: Getting to Chiang Mai, Getting Around Chiang Mai, and Exploring Beyond Chiang Mai
(**IMAGE**)
Getting to Chiang Mai: Fly into Bangkok + Overnight train is best, flying into Chiang International Airport is easiest.
One of the many things that makes Chiang Mai a great location is how easy it is to get to Chiang from virtually anywhere.
Thanks to the Bangkok airports (both BKK and DMK) being major travel hubs to and throughout Southeast Asia, flying to Thailand is relatively cheap from anywhere in Southeast Asia or the world.
For getting from Bangkok to Chiang Mai there are plenty of cheap and comfortable options, with the 13 hour and 30 minute overnight train direct from DMK airport to Chiang Mai station topping the list for me (trains are something I love when traveling), as well as cheap 1.5 hour flights from both Bangkok airports (~$28) to Chiang Mai International Airport (CNX).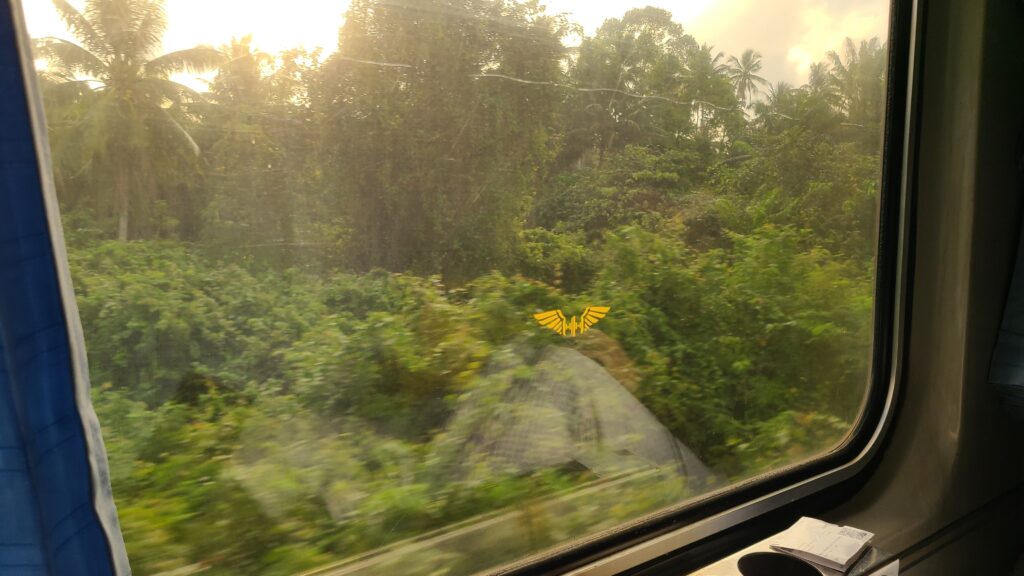 And if you're already in Southeast Asia (Vietnam, Laos, Cambodia, Malaysia, etc.) you'll be able to skip Bangkok and fly directly into Chiang Mai International Airport conveniently and cheaply
Option 1 for Getting to Chiang Mai: Fly to Bangkok and take the overnight sleeper train from DMK airport to Chiang Mai railway station
For those that love trains and want to indulge a little Wes Anderson movie style travel, I highly recommend the overnight train from Bangkok, which stops at DMK airport, and takes a 13 hour 30 minute ride overnight through to northern Thailand. The train isn't amazing, but it is nice, and an adventurous little way to see and experience more of the country.
Additionally, the train is conveniently located next to DMK airport. This means you can hop off your flight from anywhere in the world to Bangkok, grab some food in DMK airports' restaurant filled food court, load up on travel snacks at the 7 Eleven (in DMK's ground floor), walk to the train station and catch the ~6:30pm to Chiang Mai, and just enjoy the ride while the train rocks you to sleep. Then, wake up for a sunrise view of the northern Thailand countryside by train and arrive at 8am to Chiang Mai railway station.
Though the train costs just as much as the flight from Bangkok to Chiang Mai, I always opt for the overnight train because 1) its such an enjoyable travel experience and 2) I get to skip the baggage fees that Air Asia often sticks me with
Average price: ~$30 USD
Where to book: Book train 9 on 12Go.Asia well in advance or buy tickets directly at the terminal
Pros: The train is pleasant, clean, and gives the experience a more old school travel feel
Cons: The train costs just as much as the flight from Bangkok to Chiang Mai
Be sure to pick train 9 for your trip as this is the nicer sleeper train option
On arrival at Chiang Mai Railway station, to get to your final destination in Chiang approach one of the red car shared taxis (Songthaews) and the fee to get to your destination (likely Nimman or Old City) will be no more than 100 Baht.
Option 2 for Getting to Chiang Mai: Fly directly into Chiang Mai International Airport
For those that prefer planes over trains, simply book your connecting flight from either DMK or BKK to Chiang Mai International Airport (CNX), but don't forget to calculate in the baggage fees.
Average price: ~$28
Where to book: Directly with your preferred airline. Air Asia is the best airline for flying into Chiang Mai airport from Thailand or anywhere else
Pros: A quick flight, 1 hour and 15 minute flight
Cons: Bag fees
Upon arrival, either take a red shared taxi (Songthaew) into town for ~50 Baht or use rideshare (Grab rideshare app) to quickly get into town.

Getting Around Chiang Mai: Red Cars (Songthaew's), Grab rideshare, and motorbike rental + bring your International Driving Permit
The most important things to know about transportation in Chiang Mai are:
Use the shared Red Truck taxis ("Songthaews") for maximum convenience, the lowest cost, and a little adventure.
Bring your International Driving Permit if you plan to rent a motorbike
Instead of taxis, use the Grab rideshare app if you need a ride on demand
Know that Nimman is the most walkable neighborhood, with Old Town being the second most walkable neighborhood
Use the shared Red Truck taxis ("Songthaews") for maximum convenience, the lowest cost, and a little adventure.
The shared Red Truck Taxis, or "Songthaews", are a great way to get around Chiang Mai. This social construct uses different types of colored pickup trucks with seats in the back that drivers use to transport passengers on a "shared" route.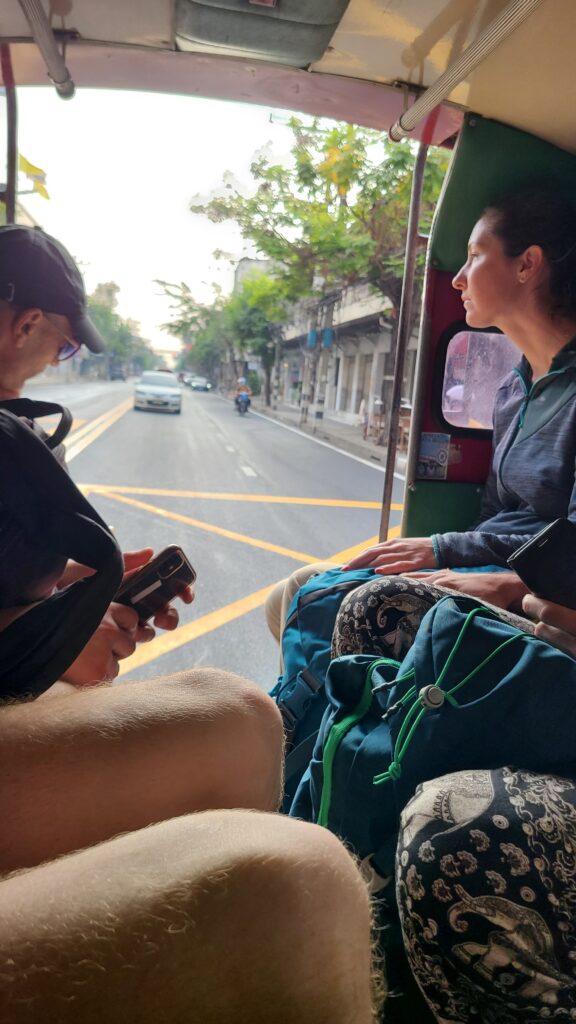 The red variant of these shared truck taxis are easy to spot and drive the route in central Chiang Mai, including between Old Town, Nimman, and around.
The result is a ride that lasts a little longer, and is shared with other passengers similar to an impromptu shuttle bus with multiple stops, but costs ~$1 per ride.
To ride, simply hail a red car, tell him your destination to confirm (or show him on Google Maps) and hop in. I prefer to pay my 35 Baht (the standard price) up front to avoid any surprises later.
Beware that at popular spots at night, unscrupulous drivers in the "taxi mafia" will crank prices to 200 Baht or more per person, so either negotiate the price before getting in, or walk a bit further from the popular spots and hail a different Songthaew.
Getting Around Chiang Mai by Motorbike and Renting a motorbike
If you have lots of places to visit in a single day in Chiang Mai, then renting a motorbike may be the best way to get around. However, beware that most motorbike rental places will not authorize you to leave the Chiang Mai area with their bike – so Pai and most National Parks would be off limits unless you explicitly request permission at the beginning and pay an additional fee.
Where to rent: Buddy's Motorbike Rental
When I rent a motorbike in Chiang Mai it is generally for a short period for specific errands and I frequently return to Buddy's Motorbike rental, on the main road between Old Town and Nimman neighborhood. I'll be honest, this shop is neither cheap nor friendly, however, I've not had any issues with renting with them over 4 years and they have always had bikes available at a cheaper price than most rental places in Nimman.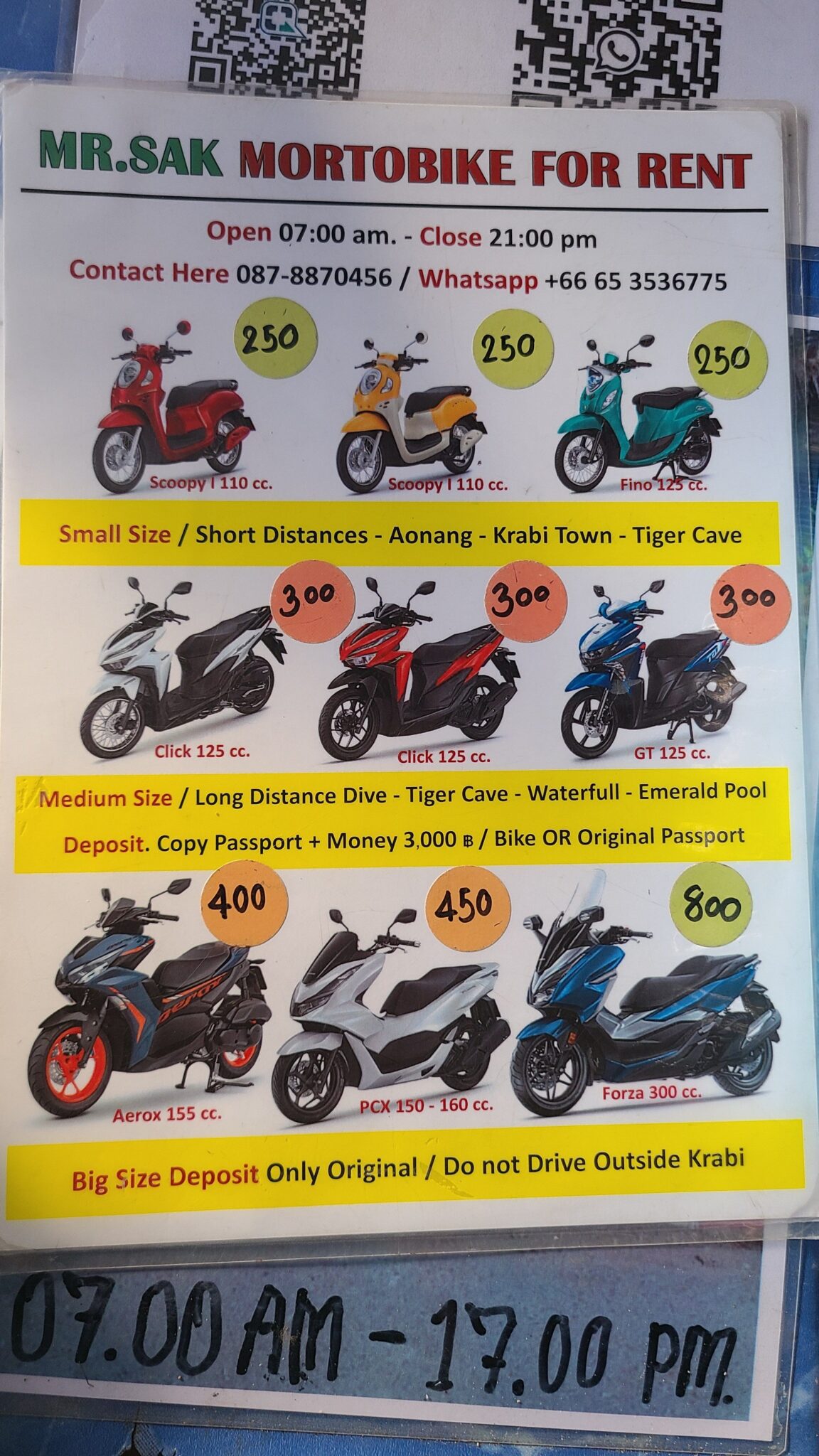 Mango Scooter rental is another option that frequently has bikes available and rental can be arranged remotely.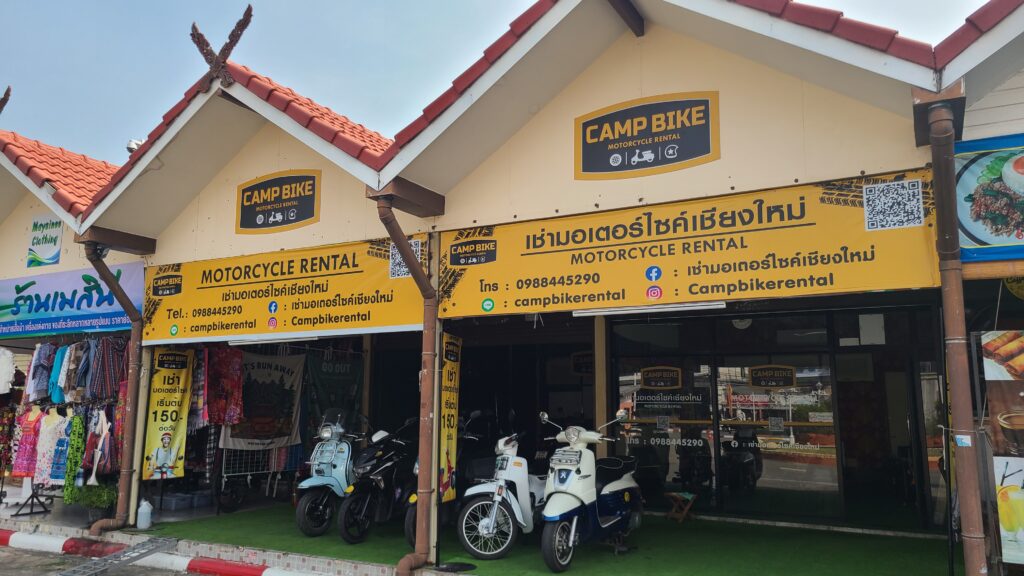 Motorbike rental Process
1. Leave a deposit – either 3,000 Baht or a passport (avoid leaving your passport)
2. You and the owner take pictures of the motorbike as proof of the condition on pickup, so that you are not unjustly blamed for pre-existing damage later
3. Get an emergency number from the motorbike rental place, to call if you need roadside assistance or have issues with the police
4. Pay for the rental, usually between Baht and 400 Baht per day, depending on the size of the bike and how new it is.
Tip: Again, void leaving your passport as collateral
Prices: 2,000 to 2,500 Baht per month, 250 Baht to 400 Baht per day
Note: You technically can't take the motorbike out of Chian Mai – to Pai or the National parks
If you plan to rent a motorbike Bring your International Driving Permit
In order to legally drive a rented motorbike in Thailand you need to have your home country driver's license and an International Driver's Permit (IDP) that can only be attained in your home country. Beware that police often set up check points in Chiang Mai and stop to check for proper licensing and documentation.
If you are caught driving without an IDP you will be fined 500 Baht but oddly you will be exempt from the fine again for the following 3 days, as long as you keep the ticket for the previous fine on you
Avoid taxis, use the Grab rideshare app instead if you need a ride on demand
Being honest, taxi drivers around the world have been the most unreliable group of people, in terms of running scams, and Thailand is no different. Because of this, I highly recommend using the Grab Rideshare app for any on demand rides. The rides tend to be extremely cheap, especially compared to taxis, and the rides are generally very pleasant.
Click to go to the Grab App in Android Store
Click to go to the Grab App in the Apple Store
Just Walking: Know that Nimman is the most walkable neighborhood, with Old Town being the second most walkable neighborhood
If you prefer just walking, know that if you plan ahead and live in Nimman or Old Town, everything will be walkable and you'll be a short $1 Red Taxi ride from anywhere else you'll want to go, such as Old Town, the Chiang Mai Night Bazar and street food park, and Wua Lai walking street.
Avoid Tuk Tuks, aside from the trying them one time for novelty, as they are a rip off
Tuk Tuks are actually very fun to ride, but other than the novelty of the experience, they are not worth it as the price to travel tends to be even higher than taxis. However, I will admit, a nice tuk tuk ride in the fresh air after the bars is an experience I highly recommend.
Outside of the "post-bar experience" Thailand tuk tuks tend to be expensive, slow, and the drivers tend lean toward the old "cat-calling" marketing which adds up to an all around annoyance.
Try the tuk tuk once, and then leave it to the cluster of questionable decisions made at night
Be very cautious of Taxis (and being ripped off) and opt for Grab instea
Taxis: Avoid these in favor of Grab, as prices are high and many are dishonest
If you do get in taxi, either 1) negotiate the price beforehand or 2) have them run the meter. Beware of the meter scam and how to avoid it upfront.
Getting Outside of Chiang Mai: Visiting Pai by shuttle van, Chiang Rai by Tour, and elsewhere by motorbike
Though I love Chiang Mai, you would be remised if you never left Chiang Mai and explored the north.
For nearby sites, such as the Doi Suthep Monastery or the night safari, Songthaew's offer shared transport to the starting point of the experience. For instance, Red Taxi's going to Wat Doi Suthep temple meet in front of Chiang Mai Zoo or Chiang Mai University, so you will need to leave from there.
For adventures that are further away, such as Pai and Chiang Rai, you will need to book a shuttle.
To book a shuttle, or a guided tour, simply stop by any of the travel service kiosks around Chiang Mai. These individuals act more as agents and will book you into an existing tour and arrange pickup.
(**IMAGE**)
When in doubt, join one of the Facebook Groups for Chiang Mai backpackers or Chiang Mai Digital Nomads and ask for the cheapest travel provider of the moment.
(Jump back to Table of Contents)

How housing works in Chiang Mai
Accommodation is cheap and comfortable in Chiang Mai, as long as you know how to approach finding a place. There are plenty of places to stay in Nimman, Old Town, and other great places – however not many of those apartments are listed on the popular booking platforms, like AirBnB or Booking.com. Because of this shortage of apartments on booking platforms, any apartment you find online will be far more expensive than anything you find offline, so plan accordingly.
AirBnB and VRBO exist, but are heavily overpriced, generally 2x to 3x the in person booking rate. Plus, you likely will not be able to extend (due to booking popularity) and will not be able to negotiate a discount because of existing demand.
Booking.com delivers good value, and the best values are available for 1 to 3 months plus but require paying utilities and a deposit and are still a bit more expensive than finding an apartment via Facebook or offline.
Most apartments in Chiang Mai do include a swimming pool, however, with the nature, eating, Thai massages, and social scene, you likely won't use your pool much
Tips for Finding Accommodation: Book one week well before arrival, and find a monthly rental after arriving in Chiang Mai
When first arriving in Chiang Mai, book a 1 week reservation well in advance on Booking.com or AirBnB (1 month or more before arrival is ideal) and then after arriving, use agents, Facebook groups, rental offices, walk-ins (to condominium offices) and posters, to find a much cheaper, comfortable, and better located monthly rental in Chiang Mai.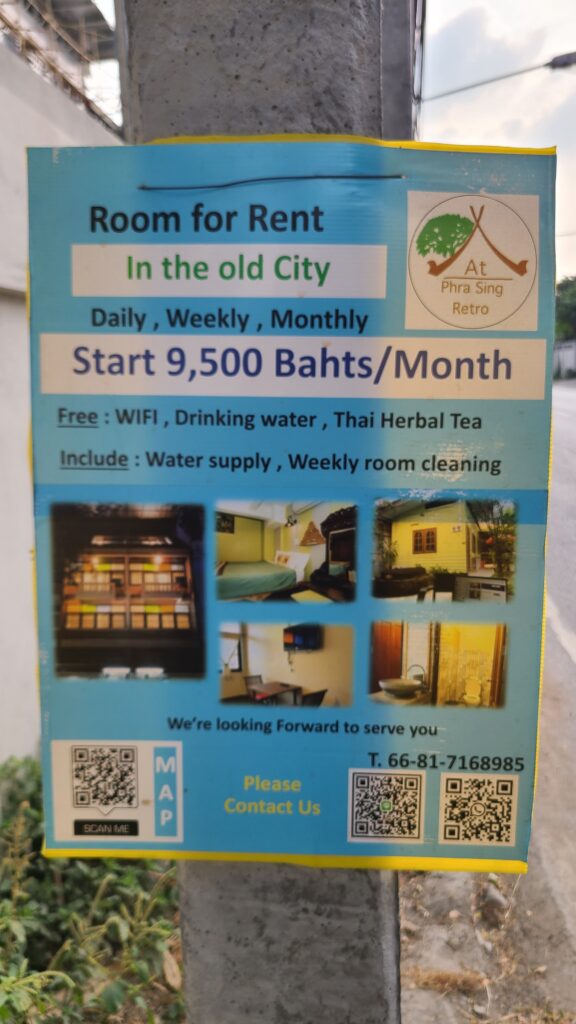 Be sure to collect phone numbers and email addresses for agents and apartment complexes so that you can contact them again before arriving next time.
Once you've arrived in Chiang Mai, your best options for finding apartments in Chiang Mai will be:
Facebook groups for real estate in Chiang Mai
Walk-ins
Real estate agents' offices
Posters flown around town, on light poles, in coworking spaces and cafes
For walk ins, many of the apartment and condominium complexes have staff that work at the front desk on the ground floor, and can provide you information on available rentals. So, if you see an apartment complex in a great location, simply walk in and ask about availability and pricing. To get started with he "walk-in" approach to finding an apartment, search "Hillside Condo" in Google Maps in the Chiang Mai area, and visit any of the Hillside Condo locations.
I recommend starting with Hillside Condo 3 which is cheap and centrally located on Nimman and Hillside Condo 4 which also has 2 apartment rental offices in the ground floor.
For finding apartments via posters, watch for posters and flyers for apartments in coffee shops and on electrical poles. Also, when you find a contact for the apartment ask what else is available because the posters are likely put up by an agent.
Facebook Groups for Rentals in Chiang Mai
The following rental groups on Facebook have been the most reliable for finding property
Accommodation Prices to Expect in Chiang Mai
Monthly rental booked in person or via Facebook (not AirBnB or Booking.com)
Basic apartment (studio): 4,500 Baht
Modern 1 Bedroom Apartment: 10,000 Baht
Lux apartment: 15,000 Baht to 20,000+ Baht
Note that cheaper apartments may not include air conditioning and will have a smaller space or outdated design.
More expensive apartments will included separate air conditioned bedrooms, will be newer, and will likely have a pool in the complex.
(Jump back to Table of Contents)

Chiang Mai Coworking Spaces and work friendly cafes
When it comes to the reasons why Chiang Mai is such a great place for digital nomads, the ability to work and focus (for remote workers) is high on my list. This is not only because everything else you need in life is so easy to access in this "little town", leaving you less stressed and with more free time, but also because the dedicated coworking spaces and remote worker friendly cafes are plentiful, well equipped, and very convenient, putting you in a flow state where more work is easy to do.
These are the most recommended coworking spaces in Chiang Mai
Coworking Spaces in Chiang Mai
Yellow Coworking (Nimman): Easily the most luxurious coworking space in Chaing Mai, popular with DNs and entrepreneurs
CAMP (Nimman – Maya Mall): Flexible, conveniently located, and my overall favorite, popular with Chiang Mai University students. Buying a cup of coffee gets you two hours of Wi-Fi here, instead of the membership model
Punspace – Tha Pae Gate branch (Old Town near the north gate): A classic coworking space in Old Town with a great indoor + outdoor setup, popular with travelers and backpackes
Punspace -Wiang Kiew brand (Old Town near the east gate): The sister classic coworking space that is all indoor, one of the quietest, and tucked in a quiet area of Old Town, popular with long stayers living in the Old Town area
Hub 53 (Nimman): Comfortable and modern coworking and coliving space situated a 10-minute walk from the Maya Mall
Alt_Chiang Mai (Old Town): Just as luxurious as Yellow Coworking, but including coliving and in an amazing location in the Old City. A fantastic coworking space.
Buri Suri Hotel (Café): The Buri Suri's café and restaurant offers a coworking package in which you pay for the day and receive a drink, access for the entire day (without ordering additional food) and access to the pool
Permanently Closed Coworking Spaces:

M-A-N-A (Closed)
Nimman Wakeup Café (Closed)
For more info, checkout this full list and review of the best coworking spaces in Chiang Mai.
Best Cafes for Work in Chiang Mai
The café scene in Chiang Mai is fantastic, with great, knowledgeable baristas, good quality coffee (local and import) and remote worker friendly vibe that's great for working 2 to 3 hours at a time. Just use proper remote work etiquette and keep the coffee and food coming while you work.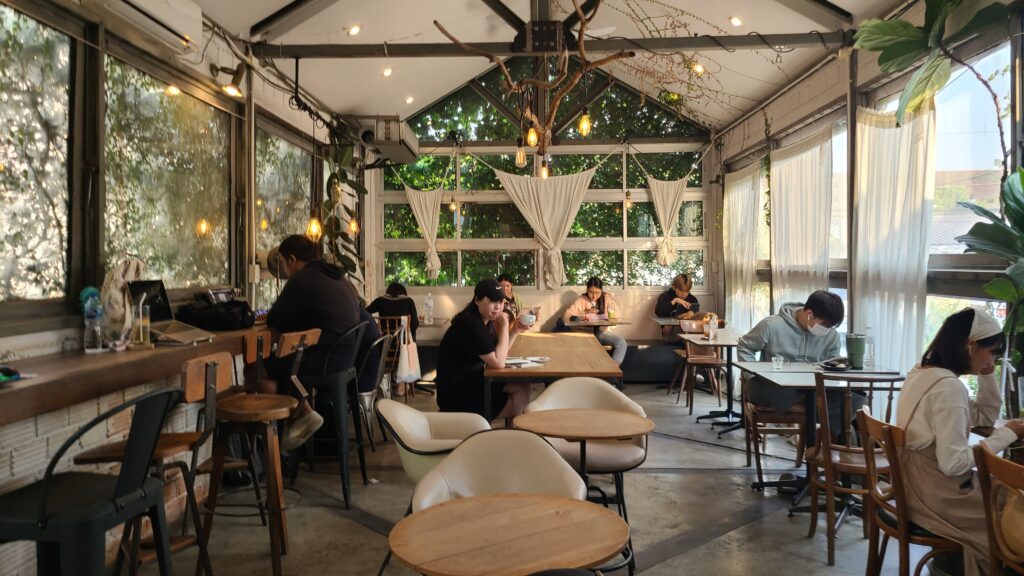 Zohng Coffee (Old City)
My Secret Café in Town (Old Town)
Analog Café (Old Town): Located just outside the south gate of Old Town
Artisan café (on Wua Lai street): Swanky and industrial, with a good setup for café work, located just outside the south gate of Old Town
The Barn Eatery and Design Café: A cool, hip café with great food off the beaten path south of Nimman, west of Old Town in the Suthep neighborhood and def worth a visit.
The Lab (Nimman): Cool, cozy, modern, and another solid spot for quick café work to breakup the day
Heartwork the Sharing Space Café (Southeast of Old Town): Another cool coffee shop in the Chang Klan district, out of the normal Chiang Mai DN bubble
Magokoro Tea House (East of Old Town): A café that focuses strictly on matcha and does an amazing job of it (Google Maps Location)
W8 X Viangpha Café: Located in the Old City (Google Maps Location)
Burkta Coffee**
Ma Chill
Mac Cafe (Ban Sathaphon)**
BoB Cafe (Ban Sathaphon)**
The Extraction Coffee (Ban Sathaphon)**
For more info, checkout my full list and in depth review, The best cafes in Chiang Mai for Digital Nomads and Remote Workers
(Jump back to Table of Contents)

The Chiang Mai Digital Nomad Community and Social Scene and how to meet people: Coworking spaces, Facebook communities, and plenty of happy hours
(**IMAGE**)
Socializing in Chiang Mai
Chiang Mai is filled with nomads, making it arguably the DN capital of the world – but the social aspect comes only if you seek it, making the situation perfect for extroverts and introverts alike.
Many digital nomads are specifically in Chiang Mai to grind and work. Other digital nomads are simply in Chiang Mai long term for the comfort and quality of life. But the beauty in the situation is, both groups are quite social. If you repeatedly visit the same places, recognizing familiar faces, and catch them in a moment between work wherein they're ready to connect becomes easy.
If you're not ready to wait for that "right moment" to make friends, simply join the online DN communities (listed below) to see when the frequent meetups and events are happening and drop in on one of the Chiang Mai Digital Nomad happy hours or coffee chats.
Tips for meeting people in Chiang Mai
Use coworking spaces
Frequent the same places – restaurants, bars, cafes
If that fails, visit Pai for a week and stay in a hostel or "social" hotel for some social time
Best Places to Meet people in Chiang Mai
FB Groups
Coworking spaces and coworking space events
You absolutely aren't the only nomad in Chiang Mai that wants to connect. Likely, the other nomads at your coworking space are feeling the same way. This adds up to one more reason to sign up for a good coworking space – the member events. You will have the chance to meet those faces you've been seeing on a daily basis, and you know you'll start the conversation with something in common – being nomads.
Chiang Mai Digital Nomad Whatsapp Groups
For every type of interest and reason to hangout – nature, happy hours, board games, food, shared interests – there is a Whatsapp group among nomads in Chiang Mai. However, because these groups change so often, its better to ask in the Chiang Mai DN Facebook groups (which stay fairly consistent) what the latest Whatsapp Group is for your interest.
How to make Thai friends , and make this city feel more like home
By far, the best way to make Thai friends is to frequent the place that Thais frequent, and then be open and sociable. That's it. If this place just so happens to be a place where Thais and foreigners evenly split, even better. For instance, CAMP at Maya Mall, the riverside near the university, and concert nights at Nimman One are places where sociable Thais frequent. But the key to making Thai friends is to go to the same places repeatedly and smile and be open when you do it.
Making friends, Thais or otherwise, can seem forced if approaching someone at first sight and trying to make a connection out of thin air. The awkwardness that ensues from conversation at first sight is logical because, what is there to base a potential friendship on if you've only seen each other once? By contrast, visit the same places over and over, that you enjoy, at least a few times and you'll tend to recognize the same crowd. Among that growingly familiar crowd, those who are socializing will make eye contact, which can naturally lead to a friendly hello, light chit chat, and conversation about the things you clearly have in common.
This same approach, of frequenting the same spots and simply being open, friendly, and genuine, and picking up on inviting social cues (eye contact, smiling, welcoming greetings) can be the start of some great friendships. Thai friends or otherwise.
Try virtually any place where people gather that you have a genuine interest in being. There will be plenty of potential Thai friends to connect with if you're open. Don't be afraid of going out alone at first either. Go to a bar and have a beer and bring a book or kindle. Go to live music solo and take in just take in the scene. Go to a café and don't work, just enjoy the coffee, maybe read, and soak up the surroundings. These kinds of activities will lead to the interactions that lead to genuine friendships.
To date, I have a handful of Thai aunties and local friends that I visit as soon as I arrive in Chiang Mai and I can assure you, the satisfaction of seeing them was well worth the investment of visiting the same places (that I liked) over and over and then just smiling!
And remember, Thais believe polite and courteous tourists and expats are always welcome. The ugly, demanding, drunkard will be shunned by locals, no matter what country you're in.
Chiang Mai Nightlife: Not a place for partiers, but most nomads will find just enough nightlife to stay entertained yet productive
Be warned that Chiang Mai's nightlife is not the strongest, as this is not a party city. Though you can always find a place to have a drink, weekdays tend to be quieter. However the entire city does come alive on weekends, with night markets, street food parks, and Wua Lai walking street on Friday nights.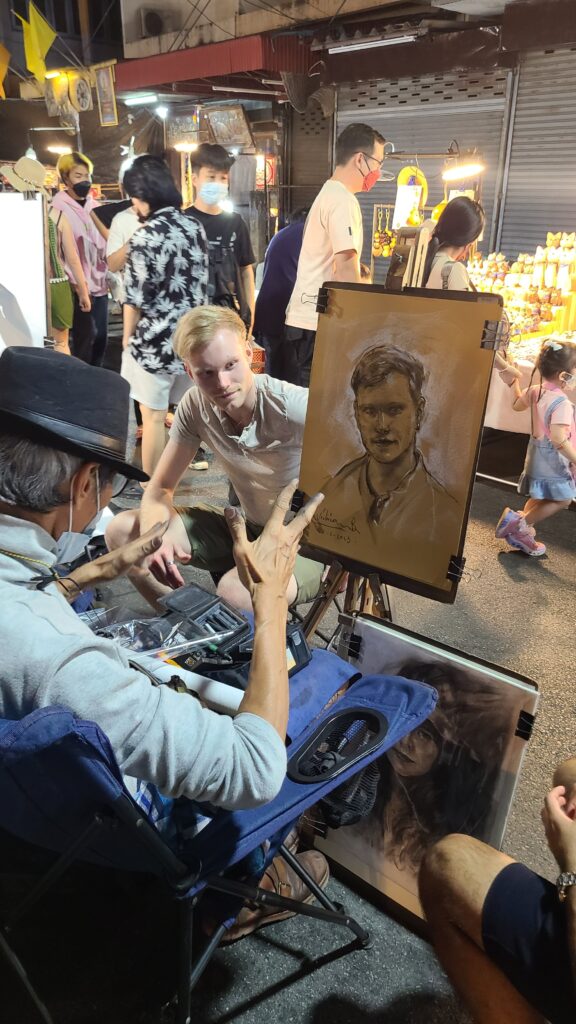 Watching a street artist practice his art on Wua Lai street, amongst street food vendors and crafts stalls
Any day of the week, if you're looking for a drink, company, or a party, try these spots:
Old City:
Nimman
Infinity Club
The Monkey Club
Maning Bar
Blar Blar Bar Pub & Restaurant
The East Bar
Riverside Bar & Restaurant
(Jump back to Table of Contents)

Best Thailand Visa Options for Digital Nomads: The 45 Day Tourist Visa + 30 Day Extension, the 30 day visa exemption, or 1 year education visa
Once you've decided you want to make Thailand a base for a while, its time to look into the visa situation.
Best Visa Options for Digital Nomads in Thailand
30 Day Visa Exemption: Free, not extendable, available on arrival (Learn more at the Royal Thai visa website here)
60 Day e-visa (tourist) extendable online or at immigration (60 days to 90 days) (Learn more at the Royal Thai visa website here)
90 Day multiple entry tourist visa, available only by visiting a Thai embassy before your trip
1 year education visa, offered for Muay Thai study, language study, and a few other options, but, can only be arranged after arriving in Thailand
To extend the 60 Day Tourist e-visa visit the Immigration Office (located here) to extend for 1,900 Baht
To apply for the 90 day multiple entry tourist visa, visit your local Royal Thai Embassy.
Thailand is an excellent choice because visas of 30, 60, and up to 90 days are extremely easy and cheap (read: free), via the free visa exemption (30 days received on arrival) or the 60 day tourist visa which is available online and extendable to 90 days online or at immigration.
From my experience, and the experience of many other nomads, the 90 days offered (with a tourist visa + extension) is a perfect amount of time to spend in a single spot as calm as Chiang Mai before you may need a break, making the 90 day mark the perfect time to explore surrounding Laos, Vietnam, Cambodia, or Myanmar on a "visa run".
After the visa run to another country (or just a little vacation outside of Thailand) you'll have no problem coming back by air as Thailand allows an unlimited number of visits on a tourist visa or visa waiver per year and you will receive a new 30 day exemption or extendable 60 day tourist visa on arrival. Note that entries to Thailand overland or by boat are only allowed twice per year.
The international airport in Chiang Mai makes visa runs easy and cheap to these airports:
Hanoi Vietnam: ~$62 from Chiang Mai airport
Ho Chi Minh City, Vietnam: ~$53 from Chiang Mai airport
Phnom Penh, Cambodia: ~$82 from Chiang Mai
Vientiane, Laos: ~$90
Yangon, Myanmar: ~$87
Visas for stays longer than 90 days in Thailand
Longer Stays via the education visa
For those who want to stay in Thailand for a year or more, and are not wealthy or remotely employed by a large company, the 1 year education visa will be the best option to stay in Thailand for up to a year. Education visas can only be arranged once you are in Thailand and is done via an agent (you will see flyers everywhere).
For most travelers and nomads, studying the Thai language and studying Muay Thai are the two most common paths to a 1 year visa.
Thailand Digital Nomad Visa News on the 5 Year Thai SMART Visa and Qualification Requirements
Another visa option for staying in Thailand for a year or longer that was creating buzz among digital nomads was the "SMART visa".
The latest Thai visa, commonly referred to as the "Thai Digital Nomad Visa" is the SMART visa. However, this visa is likely not suitable for most digital nomads, and one of the options of above (visa waiver, tourist visa, or education visa) will be cheaper, easier to attain, and convenient enough for longer visits.
Thai Digital Nomad Visa (SMART Visa) Requirements:
$80,000+ per year minimum salary
Work in a targeted industry
Working for the past 3+ years for a publicly traded company or company with over $150 million in annual revenue
Unfortunately, the Thai SMART visa won't be suitable for most nomads due to the high income requirements and strict employment requirements.
Thai Elite visa
A straight forward process of buying a long term visa for ฿500,000 Thai Baht (around $16,000 USD) for 5 years or ฿1 million Thai Baht (around $32,000 USD)for 20 years.
Is it legal for digital nomads to work in Thailand remotely and online?
Is remote work technically legal in Thailand if you only have a visa waiver or tourist visa? Technically, digital nomads in Thailand cannot legally work without a Thai work permit, even if the work is online. However, this law is rarely (close to never) enforced. Practically speaking, if you are prudent about who you share information about your work with (as in, other nomads and friends are ok) and none of your income is derived from Thailand, you will have no trouble working online in Thailand.
(Jump back to Table of Contents)

Essential Logistics for Life in Chiang Mai
(**IMAGE**)
Connectivity and Internet
Staying connected, via internet, Wi-Fi, or mobile phone, in Thailand is very easy, especially in northern Thailand. Most SIMs and e-SIMS have great high speed covered throughout the city, all cafes have high speed wifi, and all coworking spaces have even faster wifi.
Internet speeds are easily 25 MBPS on average and commonly a lot higher, and 4G SIM connection is available throughout Chiang Mai as a backup if the café's internet doesn't meet your standard.
Recommended Mobile Data Providers
All 3 of these preferred mobile service providers offer data only plans, prepaid plans, and e-sims. With any of the 3, you will be fine throughout Chiang Mai, Bangkok, and everywhere else in Thailand.
eSIMs: Recommended for ease of use, and to reuse when you return
I recently got hooked on e-SIMs (instead of keeping 5 sims inside my phone case) and love it! Luckily, e-SIMs are available locally in Thailand for the same price as a physical SIMs at the airport. Simply walkup, choose your provider, and the customer service representative at the kiosk will set you up with an e-SIM.
Additionally, if you want to have mobile data before you land, I highly recommend e-SIMs with Airalo. Airalo allows you to setup your e-sim in its app, before arrival. From experience, the data costs tend to be 20% higher, but Airalo is still great for ensuring you have mobile data on arrival until you find a sim. Airalo totals out to about $1 per day in Thailand, or $20 for 15 days of unlimited data with DTAC (perfect for hotspots).
Click here to check Airalo's rates for Thai e-SIMS
Physical SIM Cards: Easy to get, and better for transferring between phones
Physical SIM cards can be purchased and recharged easily (with cash) at the representative stores in Maya Mall or any mall throughout Bangkok, Phuket, Krabi, etc. as well as in the Chiang Mai and Bangkok airports on arrival, just keep the original paperword with your sim cards identifier information to make recharging easier,
The best SIM cards all provide minimum 4G connectivity throughout Chiang Mai, nearby remote areas, and consistently throughout the north are
Expect to pay these prices for a SIM card and data in Thailand:
30 GB for 1 month $9 USD
Unlimited data for 7 days $10 USD
Unlimited data for 15 days $20 USD
Unlimited data for 30 days $30 USD
WiFi and High-Speed Internet are Available Throughout Chiang Mai
Unlike in Bali and Laos, finding high speed internet, or the availability of Wi-Fi in cafes will never be an issue. Virtually everywhere that you are likely to work will have a solid internet connection.
The exception may be your accommodation. If you found your apartment offline or it leans toward the cheaper end of the cost spectrum, then when you are viewing the apartment ask to connect to the Wi-Fi and run a speed test to confirm it is up to your needs and standards – just to be safe. Virtually every apartment on AirBnB will come with highspeed internet (but it doesn't hurt to confirm). Booking.com accommodation is likely the same if rated well but check the reviews before your stay to avoid being stuck without good internet access for the duration of your stay.
(Jump back to Table of Contents)

Food, Eating, and Enjoying the Local Food
One of the best aspects of Thailand, and Chiang Mai, is the food scene. The availability of cheap, delicious, fast, and varied foods of all kinds means you can treat yourself to the best on a budget during your stay in Chiang Mai.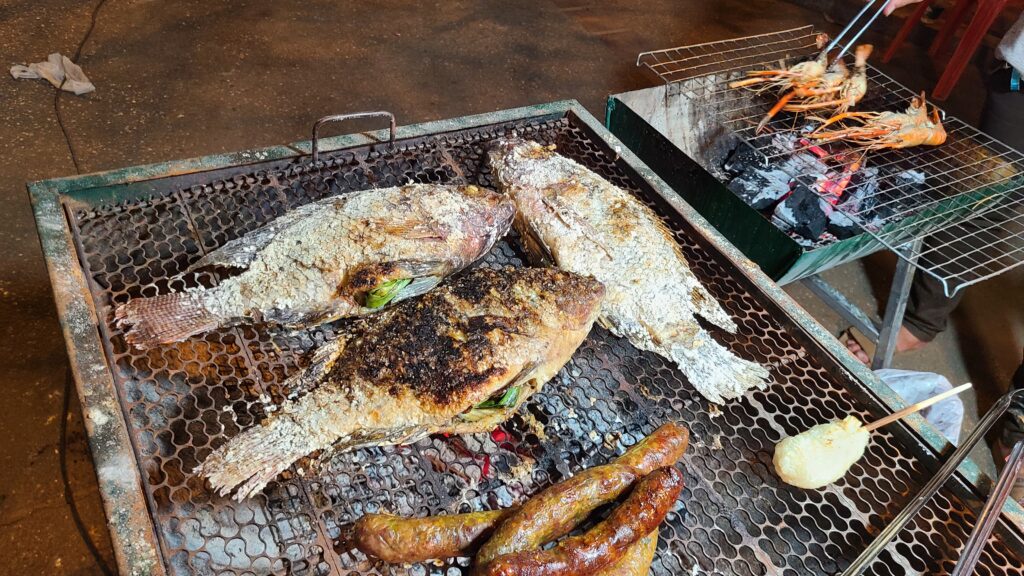 Recommended Restaurants In Chiang Mai
The first list you should visit for restaurants when planning your trip to Chiang Mai is the free guide to Michelin Listed Restaurants in Chiang Mai. Here you will find an up-to-date list of some of the world's best restaurants that just so happen to be in Chiang Mai. The restaurants range from slightly elevated in the Nimman One food court, to near street food style setup (but still delicious). I honestly don't think I spent more than $10 at an of Chiang Mai's Michelin listed restaurants and the food was amazing everywhere.
Essential Chiang Mai Restaurants
Everything in the Nimman One Plaza street food court
Kiew Kai Kai: Michellin listed restaurant in Nimman One
Auntie's Mango and Sticky Rice stall in Nimman One
86 Eighty Six Ramen: Authentic Japanese style milk ramen
Smoothie Blues: Best western breakfast in Chiang Mai in the Nimman area
Chern Doi Roast Chicken
Hong Tauw Inn
Khao Soi Maesai
Cat Graffiti Thai food and fried chicken stall
Salad Concept (Western)
Food4Thought (Western)
Accha (Indian)
Why Not (Italian)
Ongong's beef noodle soup
7 Senses Gelato
Neng Earthen Jar Roast Pork
Mit Mai (Chinese cuisine)
Midnight Chicken
Reform Café (Vegan)
Night Markets that are great for street food
Chang Phuak Gate Night Market
Student Market at Malin Plaza
Chiang Mai Night Bazaar
Warorot Market
Sun Phung Gate and Tha Phae Gate markets on Saturday and Sunday
Where else to eat
Food court in the basement floor of the Maya Mall
Street Food Market Park, just outside of the South Gate of the Old City
Along Wua Lai Walking Street on Saturdays
Essential Northen Thai Dishes to Try
Simple Chicken soup, streetside
Khao Soi (Egg Noodle Curry)
Pad Thai
Mango and Coconut Sticky Rice
Sai oua (Grilled herb sausage)
Nam prik ong / nam prik nume (Red Chili Dip / Green Chili Dip)
Gaeng hang lay (Burmese Style Sweet Curry)
Kanom jeen nam hgeow (Rice Vermicelli with soybean curry)
Tam khanun (Young Jackfruit salad)
Larb Kua (Pan Fried Spicy Meat Salad)
Gaeng Hoh (Mixed Curry)
Khan toke platter: A Lana small plate dining experience
Shopping Malls
Movie Theaters
SFX Cinema Maya Chiangmai (mall)
Major Cineplex Central Chiang Mai (mall)
Grocery Stores
Rimping Supermarket Maya Lifestyle Branch (in the basement floor of the Maya Mall)
Any 7 Eleven (everywhere): Fantastic for quick, ready to eat meals and most normal essentials
(Jump back to Table of Contents)

Gyms, Fitness and Staying in Shape in Chiang Mai
Staying in shape (or getting back into healthy shape) can and should be on your Chiang Mai agenda. These are the two most accessible and well equipped gyms near the Nimman and Old Town neighborhoods
Hillside Gym (In Hillside condo): Simple, friendly atmosphere, extremely cheap, but stocked with everything you need. My go to gym for a month membership when I visit Chiang Mai for only 1,200 Baht per month (Facebook Page)
Maxx Fitness: Lux, located in the top floor of the Maya mall in the Nimman neighborhood. Conveniently located, very modern, and personal training options are available
Best Yoga Studios in Chiang Mai

Traveling Insurance: Less essential on a daily basis, but recommended.
If you are a slow traveler or nomad in Chiang Mai that is essentially living a normal life with no crazy adventures, travel insurance is less essential than, say, during island hopping through Thailand and motorbiking Vietnam. However, keep in mind that foreigners do not receive free medical care in Thailand.
As long as I have a small nest to cover most medical issues, say, a couple thousand dollars in the bank, I generally do not keep travel insurance while in Chiang Mai, because life in Chiang Mai is so low risk.
However, if you plan to ride a motorbike, or travel to any adventurous places during your stay in Thailand then I highly recommend maintaining travel insurance as it is often cheaper than the cost of an accident.
My first travel insurance recommendation is hands down **World Nomads**. I've known quite a few travelers that held their coverage during accidents and loved their service. World Nomads comes highly recommended.
A budget travel insurance option is Safetywing. However, beware that with Safetywing you will likely have to pay out of pocket for the initial medical expenses and then file a claim to get the money back. I have heard from a handful of travelers they were unhappy with the process of filing and did not get all of their money back.
Last, for true nomads that plan to live outside of their home country indefinitely and will need routine medical coverage, I recommend Allianz. Though I haven't personally used Allianz, I have heard nothing but good reports from travelers, nomads, and expats in Southeast Asia that have been covered by Allianz and had to claim after accidents.
(Jump back to Table of Contents)

Essential Chiang Mai Facts and Thai Culture Notes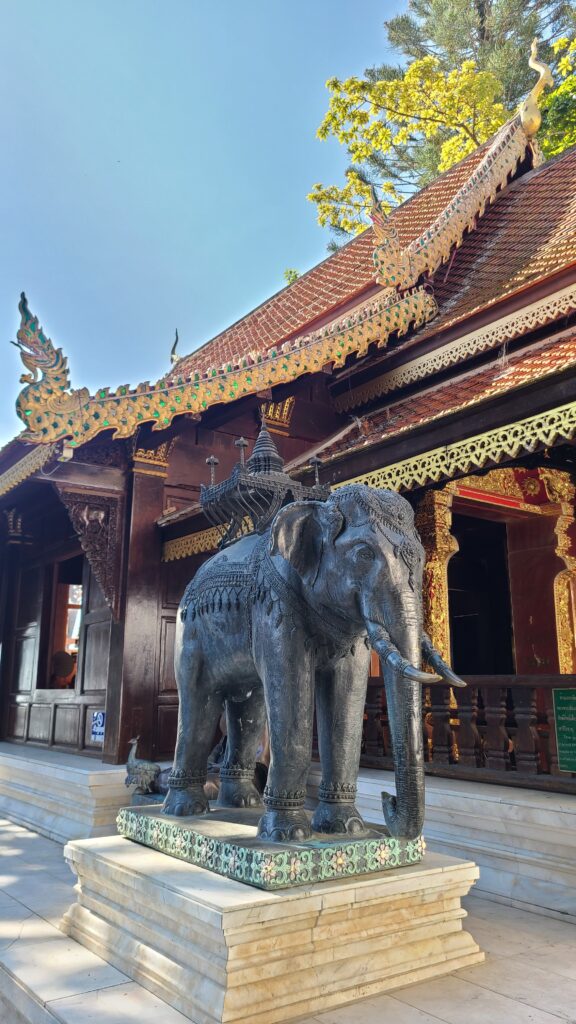 Chiang Mai is the former capital of the Lana kingdom, which dominated modern day northern Thailand. Today, the culture persists through Lana cuisine, Lana temples, and a pace of life that balances productive with pleasure.
Chiang Mai's population is 1.2 million with ~56,000 of those being tourists and expats
As the second largest city in Thailand but removed from the pollution and tourism of Bangkok and the islands, Chiang Mai is arguably the heart and soul of Thailand in a cultural sense.
Respect for the Royal Family is requisite throughout Thailand, so avoid badmouthing the Royal family at all costs.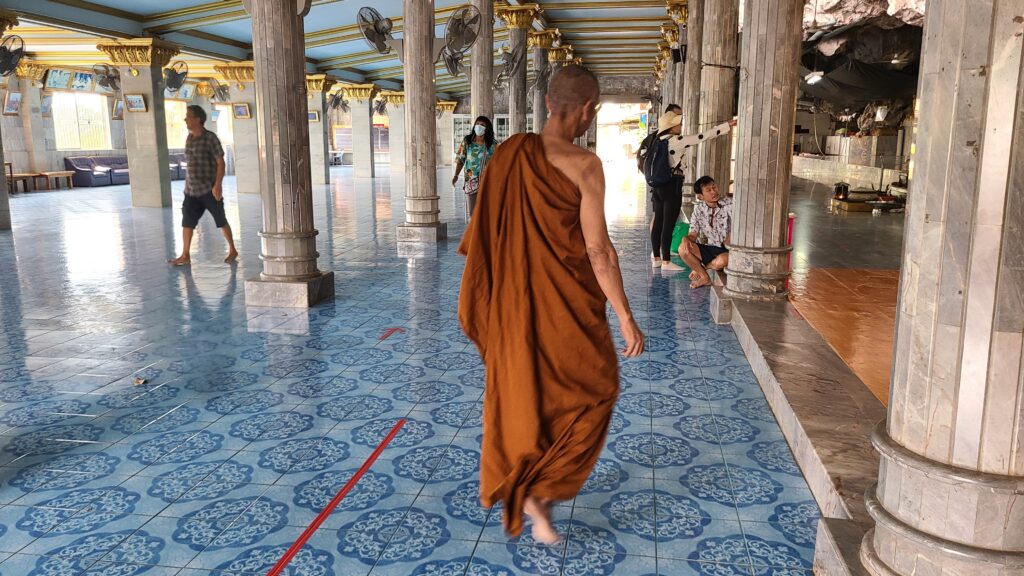 Essential basic words in Thai, to get you started
Sawasdee (Krub/Ka): Hello (for males/females)
Khob khun (Krub/Ka): Thank you (for males/females)
Chai: Yes.
Mai chai: No.
Kob kun mak: Thank you very much.
Mai pen rai: You're welcome/It's okay.
Sabai dee mai (Krub/Ka): How are you?
Sabai dee (Krub/Ka): I'm fine (for males/females)
Chai-yoh!: Cheers!
Lao jow: Sorry/Excuse me
I am vegetarian: Chan gin jay
I would like [dish]: Ao [dish]
Spicy: Pet
Not spicy: Mai pet
Water: Nam
Coffee: Gafae
Bill, please: Kep tang krub/ka
Stop here, please: Yoot tee nee krub/ka
How far is it?: Meua-rai
Where is the bathroom?: Hong nam yoo nai?
Can you take me to [destination]?: Dai mai ow chan dtang [destination]?
(Jump back to Table of Contents)

Top Things to Do in Chiang Mai
River walk and University park
Enjoy a luxurious movie at Maya Mall cinema or Central Chiang Mai Mall cinema
Walk Wua Lai walking street (Saturday nights) for street food and crafts
Chiang Mai Night Bazaar for an authentic street food experience(Google Maps Location)
Simply walk and wander through Old Town, viewing sites and temples
Enjoy street food on the weekend at Old City south gate street food park
Check for live music and entertainment events at Nimman One plaza
Visit all of the Michellin Listed restaurants
Enjoy Thai Massages (there is no "best" so try them all)
Visit and enjoy the serenity of the Thai Buddhist temples

Wat Chiang Man (in the Old City)
Wat Phra Doi Suthep (Temple)

Night Safari
Grand Canyon Waterpark
Thai cooking lessons: Grandma's Cooking School was highly recommended to me while I was there
Get a traditional "stick and poke" bamboo tattoo given by a monk. Do yourself a favor and research the Sak Yant and Yantra tattoos before arrival, to figure out the meaning behind the traditional tattoo you'll choose
4 day, 10 day, and 21 day silent meditation retreat and mindfulness training at Wat Doi Suthep monastery
Visit the many Thai cultural museums

Lanna Folklore Museum
Chiang Mai City Arts & Cultural Center

Attend a Thai Massage Training School (~16,000 Baht)
Watch an authentic Muay Thai fight

Things to do around Chiang Mai
Travel to Pai: a backpacker and hippie paradise
Chiang Rai + the White Temple
Plenty of tours, booked via the travel kiosks, for the national parks, Chiang Rai and the White Temple and more
Hike to the Sticky waterfall (Bua Tong Waterfalls)
Visit the National Parks (Cave National Park) **

Doi Suthep–Pui National Park
Doi Inthanon National Park
Chiang Dao Wildlife Sanctuary
Mae Wang National Park
Ob Khan National Park
Mae Takhrai National Park
Khun Khan National Park
Omkoi Wildlife Sanctuary
Chae Son National Park
Si Lanna National Park
For more details on the hiking trails around Chiang Mai visit: https://www.alltrails.com/thailand/chiang-mai/national-parks

Take on the hikes and trails around Chiang Mai

Doi Suthep Monk Trail
Wat Pha Lat Temple hike
Chiangmai University – Wat Phrathat Doi Suthep Temple hike
Buddha's Footprint Trail
Huay Tueng Tao trail to Dtaat Mook Waterfall
Phra That Doi Kham Temple South Loop
Mon Jing Loop
Galae Reservoir – Phalat Waterfall Loop
** Source with details: https://www.alltrails.com/thailand/chiang-mai **
(Jump back to Table of Contents)

Other great destination options for Digital Nomads to base around Thailand
Bangkok: The epic chaos and epicenter of Asia that is all hustle and bustle and perfect for those who want more pace and party than Chiang Mai offers
Koh Samui: The Thai peninsula's resort island
Koh Tao: Historically the backpacker and diver island, and the smallest and most peaceful of the "Ko Tao, Ko Samui, Ko Phang Nan" cluster
Koh Phang Nan: Home to the legendary Thai Full Moon Parties once a month, and the rest of the month a peaceful island home to yoga practitioners and nomads and also known as the "Bali of Thailand"
Hua Hin: A low key resort town that is popular with Bangkok escapees and rising in popularity with the Thailand and Southeast Asia digital nomad communities. A fantastic alternative to the once great but now overpopularized islands
Krabi / Railay: A quiet, chill, and growing city on Thailand's coastal mainland that is famous for rock climbing and water adventures such as kayaking and paddleboarding. The digital nomad and backpacker scene here is currently thin but the beauty and outdoor adventures are plentiful.
Koh Lanta: An island and nub off the western side of Thailand's peninsula that delivers the peace, quiet, and beauty that Koh Tao did in its quiet days, 10 years ago.

Other Destinations in Southeast Asia similar to Thailand for Digital Nomads
Hanoi, Da Nang, Hoi An, Vietnam **
Ubud or Uluwatu, Bali **

Chiang Mai vs. Vietnam and the Vietnamese Hotspots
Compared to Hanoi, Hoi An, Da Nang in Vietnam, and the other low key Vietnam hotspots to hang as a digital nomad, Chiang Mai is just as good for roughly the same price/cost of living and delivers an equally robust food scene as its Vietnamese counterparts. Thais tend to be more friendly than many Vietnamese (that are usually busy minding their business). Both locations have great infrastructure and are very easy to travel.
However, the nature around Hanoi, such as the mountains of Sapa and the Ha Giang loop, and the beautiful beaches near Hoi An and Da Nang can't be overstated. Chiang Mai is a fantastic place to stop and relax, but for backpackers stopping for a short period, the beauty and adventure of Vietnam (between work stints) may be more satisfying than three straight months in charming Chiang Mai.
Chiang Mai vs. Bangkok for Digital Nomads
Most nomads are split between their preference for Chiang Mai, because of the peace and quiet, and Bangkok, because of the party and chaos. Beyond the lower air quality and higher cost of living in Bangkok, Bangkok delivers the same infrastructure and convenience that Chiang Mai does, simply against the backdrop of a mega city.
I personally prefer the peaceful walkability of Chiang Mai over the parties of Bangkok – but – I recommend trying both for at least a week to see which suits your appetite better.
Chiang Mai vs. Bali for Digital Nomads
For digital nomads that want to focus and work, Chiang Mai is a far better option than Bali.
For digital nomads that want to party and adventure, Bali is a better option.
However, beware that currently, the cost of living on Bali is roughly 2x to 4x the cost of living of Chiang Mai, as compared to the once popular spots with nomads of Canggu, Uluwatu, and, increasingly, Ubud.
Also, beware that the Bali government has been cracking down on remote workers and "budget travelers" for some time. In my opinion, if you want to relax and party in Southeast Asia, Siargao, Philippines, the Thai islands, and Vietnam present far better options than Bali.
(Jump back to Table of Contents)

FAQ
Is Bali Cheaper than Thailand?
Currently Bali is far more expensive than Thailand. With villa rentals in Bali currently costing $1,000 to $3,000 per month, and increasing costs for motorbike rentals and food, on top of already heavily taxed alcohol, restaurants, and cafes, Bali today is far from being the high-quality budget destination that Thailand is.
Which is better Bali or Thailand?
For budget conscious digital nomads and backpackers, Thailand is far better than Bali. With the skyrocketing housing prices in Bali, ranging from $1,000 to $3,000 per month for accommodation, poor road infrastructure, decreasing air quality, and recently immigration task forces aiming to deport a minimum number of foreigners per month, Thailand is the cheaper, cleaner, and more pleasant option.

Any new businesses in Chiang Mai, please reach out to be added to this resource section, free of charge.
I consider Chiang Mai a second home and my heart broke to see the business landscape change Post COVID, with many of the restaurants, cafes, coworking spaces, and friends from before gone. But, I've loved seeing how the nomad capital of the world is recovering ad repopulating, and I'm happy to help with that.
If any business in Chiang Mai (new or old) would like to be added to this guide free of charge, email me at [email protected] with your business, the neighborhood it is in, what you offer, and what makes it great. If you're willing to added a free perk or discount to readers too, that'd be awesome, but we're just happy to get the word out for you.

Western world
local cuisine
excellent coworking spaces
beautiful city
wat chedi luang