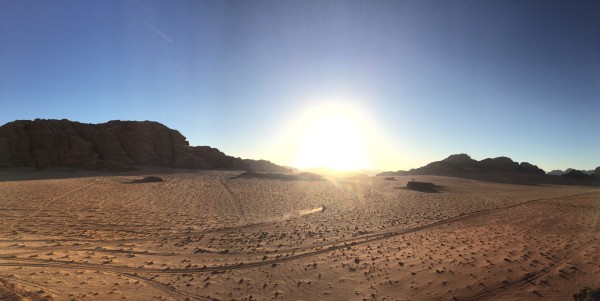 What do you see here? Is that cloud of dust in the distance a NASA rover, wandering the barren grounds of Mars? Not quite…its an adventure awaiting travelers bold enough to break from the well trodden path. A unique wonder of nature hidden in the expanses of the Arabian desert, nestled between war zones, ancient ruins, and millennia old cultures. That tiny pickup truck in the distance, on a tour of Wadi Rum and the Bedouin Camp experience, is your gateway into harsh, remote, landscapes and otherworldly, one of a kind travel. Welcome to the deserts of Wadi Rum
In the south of Jordan, near where Egypt, Israel, Jordan, and Saudi Arabia touch lies a vast, desolate expanse of desert more akin to Mars than earth. Here, littered with red rocks towering into the sky and hills of sand as far as the eye can see, you will find the desert of Wadi Rum.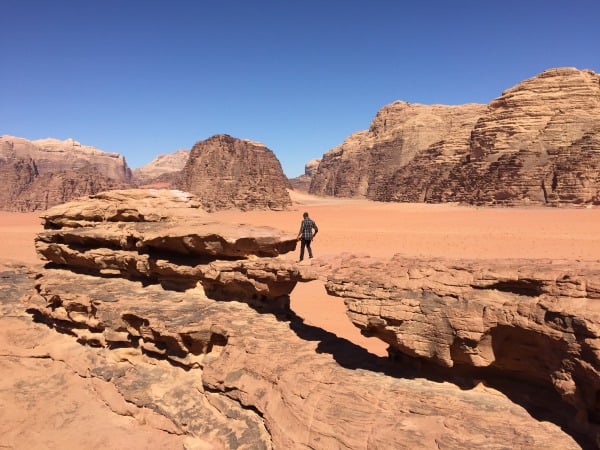 Before the times of borders in the Arabian desert, tribes of nomads,"Bedouin", roamed the deserts following water and animals. As borders were established and countries formed, these "Bedouin" tribesmen made the deserts of Wadi Rum their homes; a place where they now welcome you to a one of a kind desert experience.
Venturing to the deserts of Wadi Rum and seeing the landscape with your own eyes as you surf across the desert sands in a tiny 4×4 and then sleeping under the starry sky or in bedouin tents is a fantastic way to end a tour of the exotic Middle East before experiencing the calm and comforts of Aqaba, nestled next to the Red Sea.
24 Hours in Wadi Rum: How to Tour Wadi Rum and Bedouin Camps of Jordan
For a recounting of the adventure of Wadi Rum, read "Experiencing Wadi Rum, Jordan" (**Coming Soon**)
Contents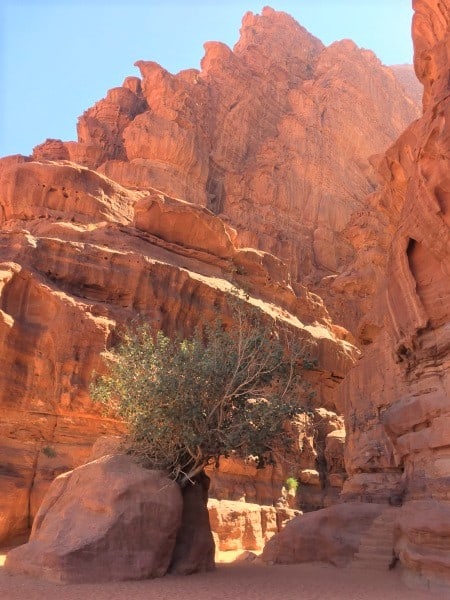 What is the Tour of Wadi Rum?
"Wadi Rum" is an expansive portion of the Arabian desert in Southern Jordan – filled with never ending hills of sand and dotted with tower red cliffs in between. The striking contrast it creates will leave anyone in awe.
Though there are several options for how to tour Wadi Rum (4×4, horse, camel, foot,etc.) all of the tours essentially show the same view of the desert at a different pace. The different tour options make it possible to save money by taking your time on foot, or make a lightning fast day trip through the wadi possible by an exciting 4×4 trip.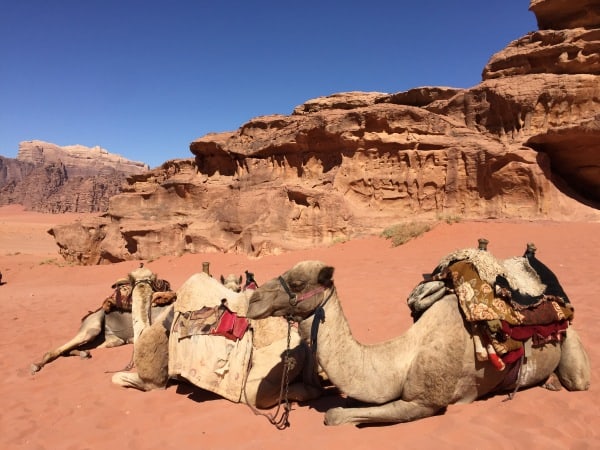 Each tour either begins at the Wadi Rum visitor center or your respective desert camp or guest house. From that start point, you'll surf through the sands between towering cliffs and interesting rock formations.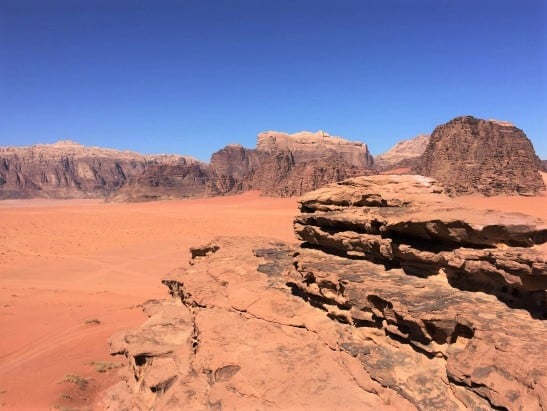 Along the way you might even to view some ancient carvings and wander between Wadis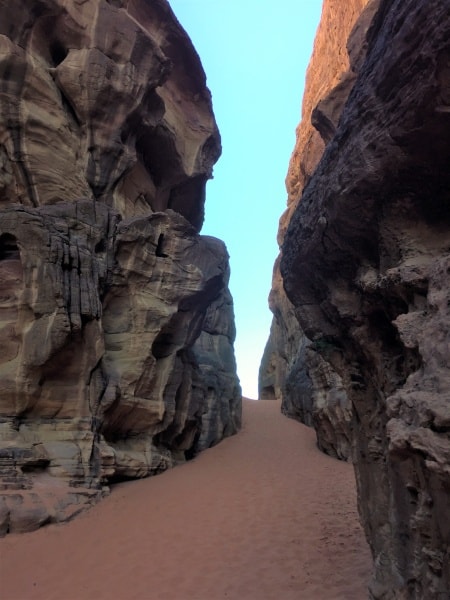 Finally, you'll end the day with a beautiful desert sunset.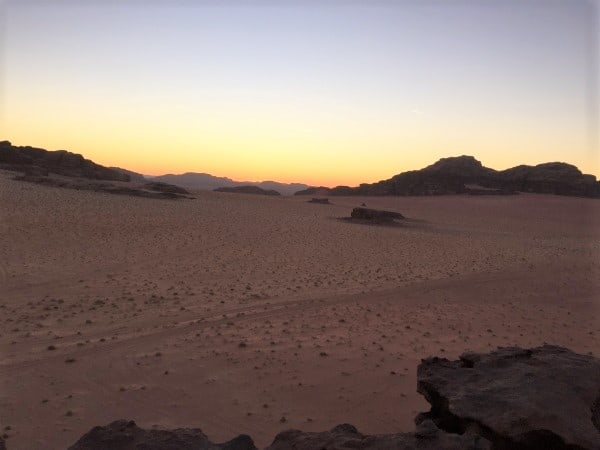 What is the Wadi Rum Bedouin Camp Experience?
If you opt to stay the night in the desert, I recommend staying in the desert for the Wadi Rum Bedouin Camp experience, instead of staying in a guest house in Rum Village. At the Bedouin camp you will spend the night as a guest with the local Bedouin tribe in a traditional tent enjoying traditional cuisine. If Arab culture is new and exotic for you, I highly recommend this experience and getting friendly with your hosts. Unexpected upside to this experience – the sky.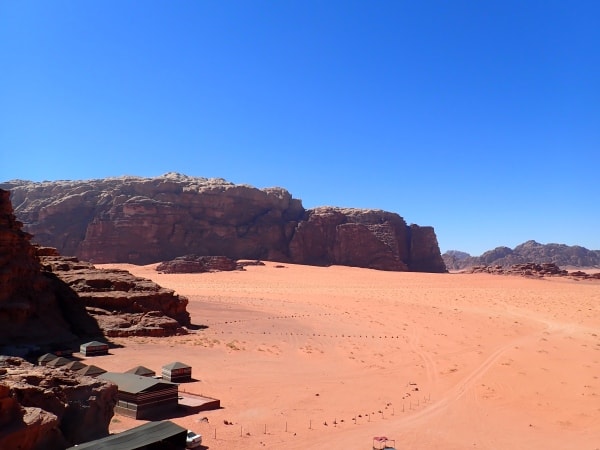 Each Bedouin camp in Wadi Rum is nestled beneath a towering cliff and out of view of any other camps, and even farther from Rum village or any other civilization for miles around.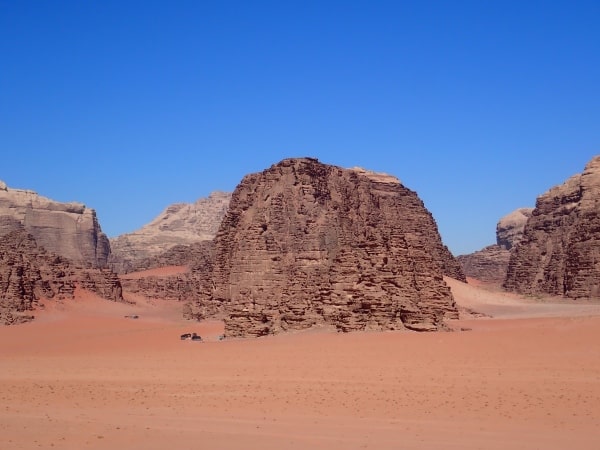 The Bedouin camps' isolation rewards you with a completely dark sky…except for the stars. Just after the twilight hours of dusk and before the moon rises, the Jordan desert sky is at its darkest and you'll likely see more stars than you've ever witnessed in your life.
That night, you'll fall to sleep early with the peaceful sound of nothing and sleep longer than you've slept in years…that, I promise.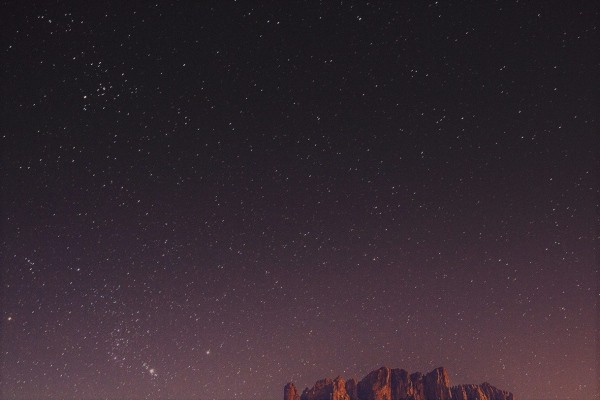 Sorry, not many pictures of the Wadi Rum sky by night. I guess you'll have to see for yourself…as you should…
Now, we tht have your appetite whetted for an adventure to the Arabian desert, let's talk about how to get to Wadi Rum and make a tour happen on a tight schedule.
---
How to Tour Wadi Rum in 24 Hours or less
For the longer tour, 4×4 tour the desert and overnight stay in a Wadi Rum Bedouin Camp:
Cruise in from Amman or Petra arriving around noon
Do a 4×4 tour (25JD) or hike through the deserts of Wadi Rum between the Mars like rock formations until sunset
Stay the night in a Bedouin camp (10JD-25JD) in the middle of the desert under the stars
In the morning, hop a taxi out to Aqaba the following day (25JD), potentially taking the JETT bus back to Amman (11 JD)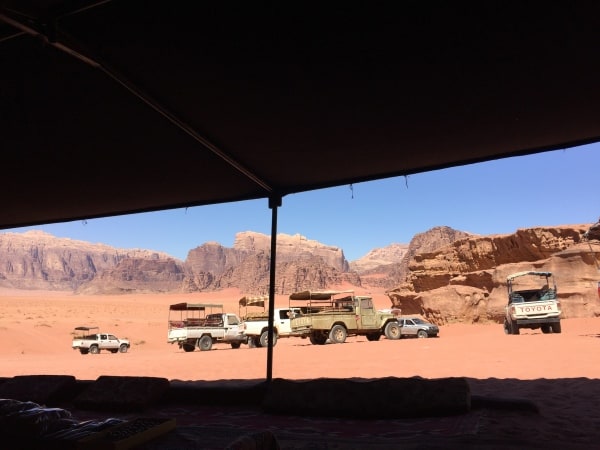 For the day tour of Wadi Rum (without an overnight stay) 4×4 tour and taxi on:
Ride in from Petra or Amman arriving around at the Wadi Rum Visitor Centeraround noon
Take a 4×4 tour (30JD) or hike through the desert of Wadi Rum between the rock formations (free)
Around 4:30 – 5:00 take a taxi down to Aqaba (25JD) potentially taking the last JETT bus from Aqaba to Amman leaves which leaves at 6PM
Wadi Rum Tour Options: 4×4, Foot, or Camel
The experience of Wadi Rum Protected Area is all about walking through sandy landscapes wandering between oddly red rock formations and scaling rocks that feel like they're more Marsian than not. The popular way to do this tour is by 4×4 truck, in which a local will drive you(insanely) over the sandy hills between the major rock formations. This will set you back 25JD-35JD if split between a group of four when booked in Wadi Rum.If you're on a budget you can simply spend the day walking between rock formations.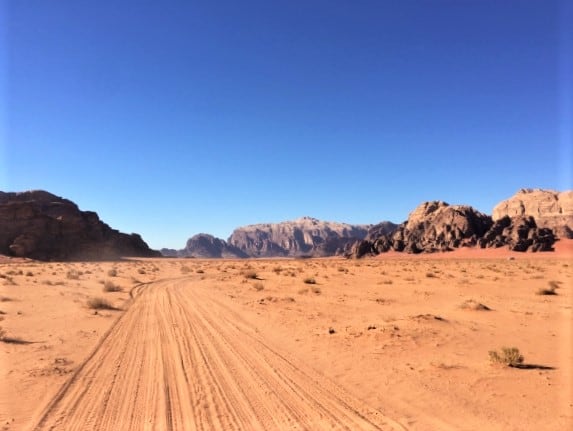 If you're concerned about having plans having locked in prior to arrival there are plenty of daytrip tours from Amman to Wadi Rum available, as well as daytrips from Aqaba to Wadi Rum, and multi-daytrips including both Wadi Rum and Petra.
For the 4x4tour, the best and most convenient option is to do the tour with your guesthouse or Bedouin camp for 30JD, as everyone in Wadi Rum offers a tour. This way, pickup and dropoff will be conveniently where you're staying. You should book your WadiRum accommodation ahead of time, so you can simply email your guesthouse or desert camp to ask about tours and prices.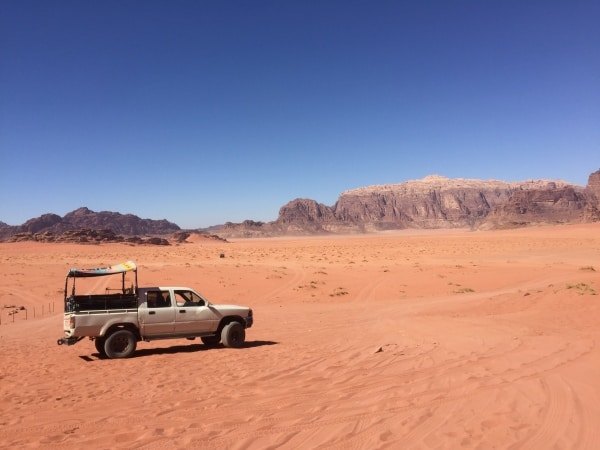 If you won't be staying the night, go to the rear of the visitor center (5km before Rum Village) and you'll see an army of pickup trucks waiting for business. Any of those drivers are up for hire, so chat around and take your pick. If you prefer to book in advance, several tour providers offer WadiRum 4×4 tour booking.
If you are interested in a guided tour of Wadi Rum but not by 4×4, most guesthouses and camps additionally offer hiking tours, horse tours, camel tours, and also half day (2 hour) tours if you will be short on time
Hike Wadi Rum by Foot
Though it may not be as varied and fast paced as a 4×4 tour, one can easily take one of many hikes from the visitor center to the surrounding rock formations, such as the Seven Pillars, to save money. Yes, you'll see less, but honestly after 2 hours cruising the desert in the back of a pickup, it all starts to look the same. Still impressive in a way, but repetitive (like a Michael Bay trilogy??). A hike through Wadi Rum is a great tour with a bit less adrenaline to consider if you're on a budget or have more than one day to experience the area.
If you look at Maps.Me and search for the Wadi Rum visitor, you will see several hiking trails snaking away from the visitor center. Most of these trails are flat and sandy, going directly between rock formations.
In the Maps.Me screenshot images above, you see the Wadi Rum visitor center (highlighted) as well as Jebel Makhras (Mount Makhras) which is part of the 7 pillars. Additionally, you see several trails leading away from the visitor center.
Zoom out (in Maps.Me) and you'll see the image below, showing the other 6 hills (the other 6 pillars) around Mount Makhrash, and your opportunity to hike between them. If you do decide to hike solo, PLEASE read the warning below, take the necessary precautions, and do not make this hike if yo do not have the fitness level or experience. The deserts of Jordan get ungodly hot and its not difficult to get lost on these sand dunes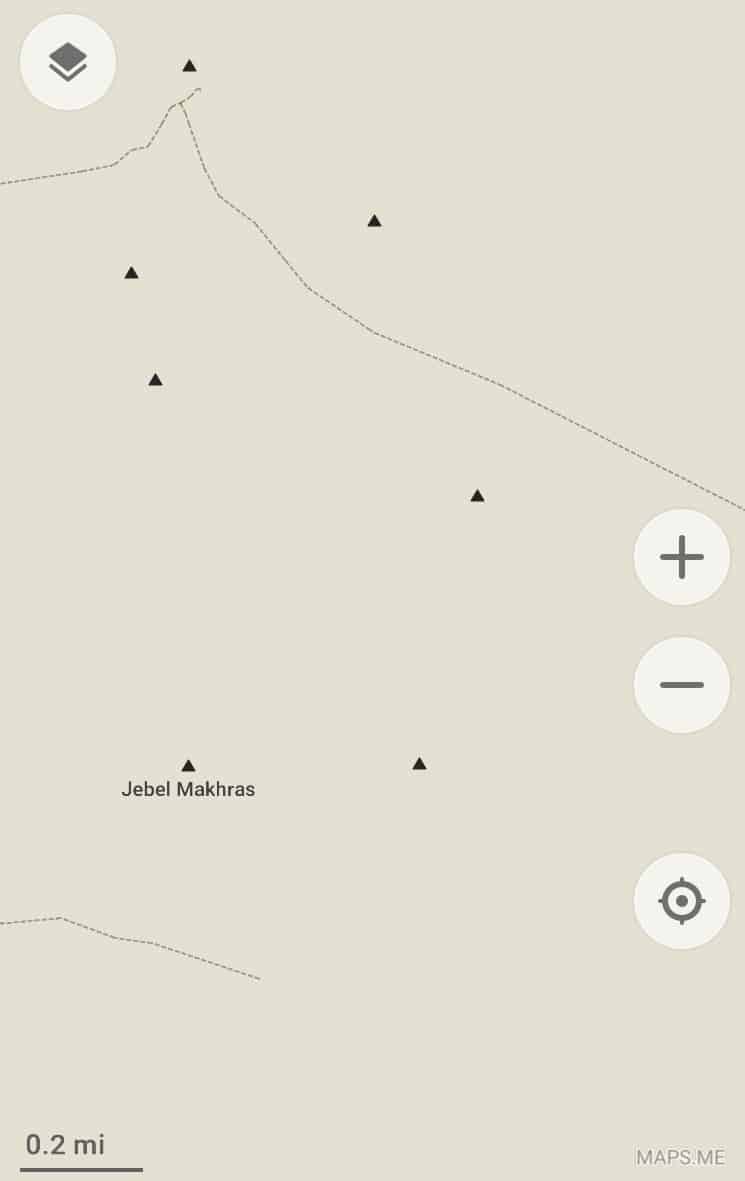 BEWARE – IF YOU DECIDE TO HIKE make sure you're up to the task, know the weather, and have the supplies. During summer, this desert can get hot as hell (I almost mean that literally). It may start out cool at 9AM but it can hit 40 degrees Celsius at noon. So, if you haven't hiked in a legit desert in the daytime (think Death Valley or Joshua Tree National Park) double check your plan before making this your first. I would absolutely do it…but I grew up in the desert. Yeah, I'm practically and American Bedouin.
Ensure to pack water (min. 2 liters) a phone with maps and a GPS, food, and sun protection. Additionally consider bringing a portable charger and a small flashlight just in case.
Tour Wadi Rum by Camel
As with anywhere in the Middle East, their is also the opportunity to tour Wadi Rum by the ubiquitous camel or horse. If your urge to cruise via hump is strong, find your camel tour through your guest provider or advance reserve a camel tour of Wadi Rum via Trip Advisor to make the experience smoother and quicker.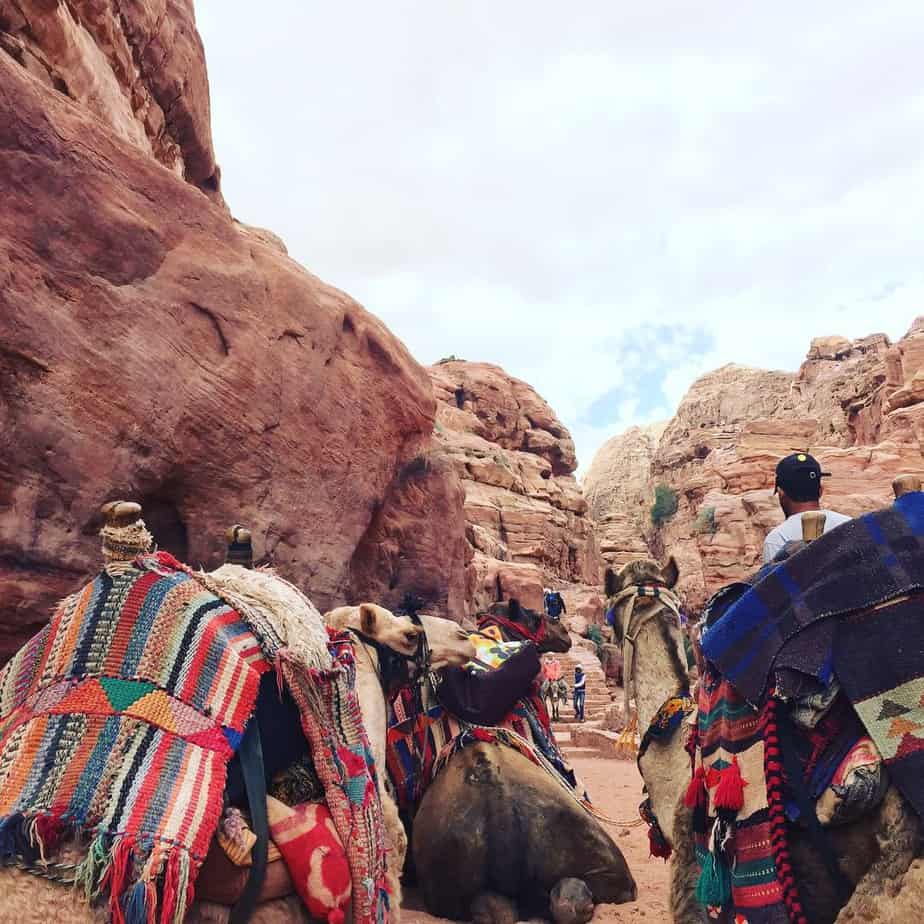 Prearranged Day Tour of Wadi Rum
For those nervous about going it solo, fear not. There are several daytour of Wadi Rum packages that can be prearranged, so that you'll know your time frames and what will happen the entire time. Everything from a 4×4 tour to a horse backor camel tour of the Wadi Rum desert are available.
Multi-day Tour of Wadi Rum from Amman
There are also several tour packages that combine Petra and Wadi Rum into a 3 Day tour leaving from WadiRum, which saves the issue of some interesting logistics (like having to hitchhike through Jordan the way I did).
Honestly, I love traveling solo, without a guide, and adventurously (or in a way where things can go wrong) but I absolutely think everyone should travel in whatever way their comfort level allows. Travel in all forms is amazing. So, don't be afraid to hop a tour through Amman,Petra, and Wadi Rum. Any way that get's you on the road is the best way.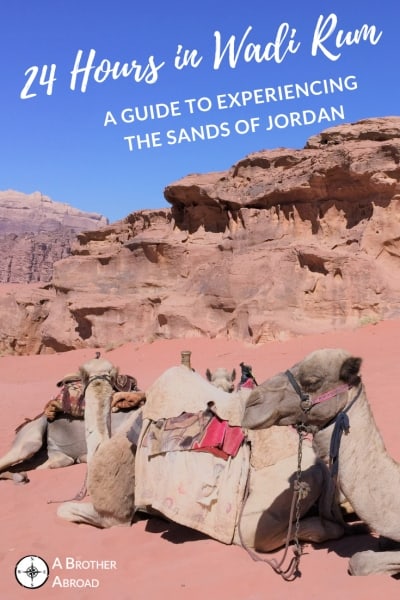 Accommodation: Staying at a Wadi Rum Bedouin camp in the Arabian Desert
…for the view of the stars and the unforgettable experience…
While staying in Wadi Rum, you have three options for sleeping:
Staying at a guest house or hotel in Rum Village
Staying in a Luxury Wadi Rum Bedouin Camp in the Desert
Stay in a budget priced Wadi Rum Bedouin camp in the desert (I did this option and had a great experience)
I recommend staying in a Bedouin Camp for the night. The experience combined with the views of the desert by day and the stars by night are quite unreal and unique experience. Waking up to walk out at sunrise and see the red rock towers "on fire" from the morning sunlight is indescribably beautiful.
The Experience of Staying in a Wadi Rum Bedouin Camp
Each one of the Bedouin camps of Wadi Rum is nestled beneath towering rocks reds standing like islands in the middle of the desert. With no lights in sight at night, in the empty desert, you can gaze at seemingly thousands of stars (unlike the guest houses located in the city) in away that truly makes Wadi Rum feellike Mars.
Most of these Bedouin desert camp experiences will include the option of a traditional (yet fancy) Bedouin style meal cooked over coals in a hole in the ground. Expect lots of hummus, baba ganoush, grilled meats, and blackened veggies while you dine, seated on the floor or on cushions, in traditional Bedouin tent.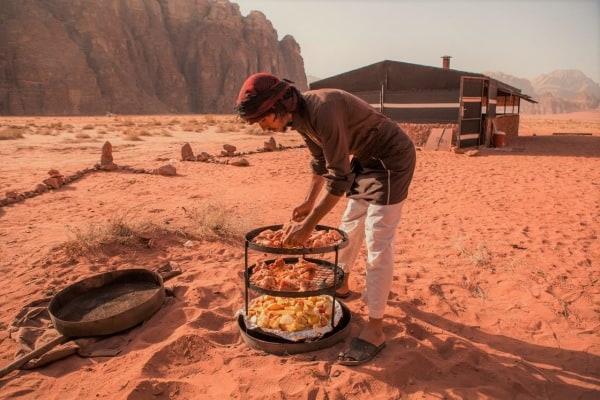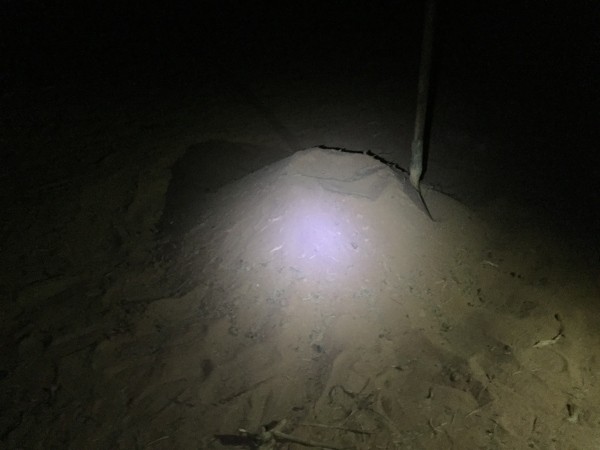 The accommodations in the Bedouin camps vary greatly…
..from traditional tents and sleeping mats under the stars (if the weather permits). Simple yet comfy summer camp style tents, such as at the Arabian Nights Bedouin camp (pictured below)…
..to luxurious yurts and futuristic living bubbles fit for Mars costing hundreds of dollars a night. Whichever option you choose, book in advance. The good accommodations fill up quickly, and there is no way of visiting the camps to compare on arrival as your hosts will have to pick you up and drive you into the deserts to the camp
Getting from Amman to Wadi Rum and Petra to Wadi Rum
There are several options for getting to Wadi Rum, depending on whether you're coming from Amman, Petra, or Aqaba…or your bus leaves you…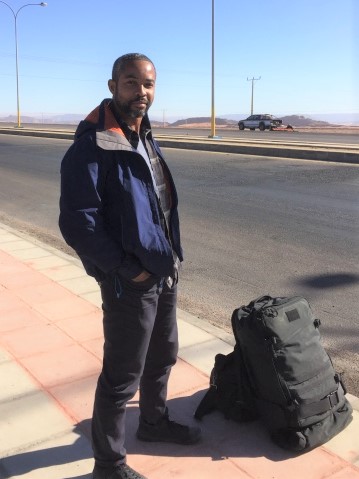 The most logical path through Jordan is to start in Amman, travel to Petra (by bus), travel from Petra to Wadi Rum (by bus), travel from Wadi Rum to Aqaba (by taxi), and then return to Amman from Aqaba (bus). By doing this you will seethe major, irreplaceable highlights of Jordan – Amman, Petra, and Wadi Rum.
Getting from Petra to Wadi Rum (Early):Early Shuttle Option from Petra to Wadi Rum: Book a shuttle from your hotel in Petra, arranged through reception. Note that these shuttles normally leave at 6:30AM and leave once per day (I learned this the hard way). This is the common and best choice for non-package tourists as it will take you all of the way from Petra to Wadi Rum with no issues.
Getting from Petra to Aqaba to Wadi Rum(Late): Late Local Bus Option from Petra to Aqaba and taxi from Aqaba to Wadi Rum Village: A local bus leaves from the Petra city bus stations at several unscheduled times per day to Aqaba for 5JD. Note that the bus leaves whenever filled,whenever that may be, so be prepared to wait. In Aqaba, hop a taxi to the village of Wadi Rum, for 25JD
Getting from Petra to Wadi Rum (Late) via shuttle plus hitchhiking: Late Local Bus to"Wadi Rum intersection" + hitchhiking: Take the local bus (5JD) as outlined above and inform the drive that you want to get out at the intersection of the main highway and the road to Wadi Rum – the local bus driver will know where this is. At the intersection, cross the highway and post up the concrete bus station looking structure on the opposite side of the intersection where you'll be dropped off. This point is about 12km outside of the village of Wadi Rum and cars frequently pass through here on the way to Wadi Rum.
On this map, at the intersection of "Al-Tariq Al-Sahria" (written in Arabic) or "The Desert Road" is where you to get off. The driver will let you off on the southbound lane (the road on the left). You'll cross over the two lanes and about 50 meters from the intersection you'll find a small bus stop like structure. That is the best place to wait for a ride – and is visible in the map above if you zoom in a bit.
Avoid paying ridiculous fees for this ride. While I was hitchhiking, the first car, a local Bedouin, stopped and asked for 20JD for the ride to Wadi Rum village even though he was going in the right direction. The next car that came by immediately stopped and said hop in, also refusing any kind of compensation – so don't feel obligated to pay anything if hitchhiking in the direction they're going , and if you do pay then don't pay too much.
Getting from Amman to Wadi Rum via Aqaba: To get from Amman to Wadi Rum in a single day, take the JETT Bus from Amman, from the Abdali JETT bus station, to Aqqaba. From Aqaba take a 25JD taxi ride from Aqaba to the Village of Wadi Rum where you will meet your accommodation host.
Note: If you wish to hitchhike from the intersection of Rum Road and "Tariq Al-Sahria" this is only possible via local buses as local bus drivers will stop wherever you need them to. JETT bus drivers are required by law to only drop you off at the agreed upon station (Amman, Petra, or Aqaba)requiring you to get a taxi. As such. Your best option for getting from Amman to Wadi Rum is via Aqaba with an additional taxi from Aqaba to Wadi Rum
How Much Does Wadi Rum Cost?
4×4 Tour in Wadi Rum (Split by 4 people): 30JD (~$43 USD)
Breakfast: Included free with stay at Bedouin camps
Lunch cooked on atour: 10 JD (~$15 USD)
Buffet dinnercooked in a Bedouin camp: 10 JD (~$15 USD)
Accommodation:Varies – 10 JD to 200JD per night (~$15 – $300 USD)
1 Liter of Water:2JD (~$3 USD)
Transportation Costs to Wadi Rum
Taxi from Wadi Rum to Aqaba: 25 JD (~$35 USD)
JETT Bus from Aqaba to Amman: 11 JD ($16 USD)
Shuttle from Petra to Wadi Rum: 11 JD ($16 USD)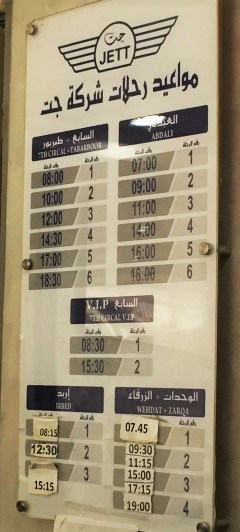 Did this article inspire you? Then share this post, to share the love with other travelers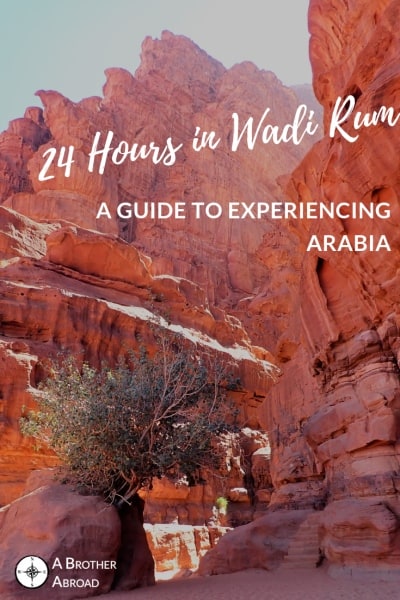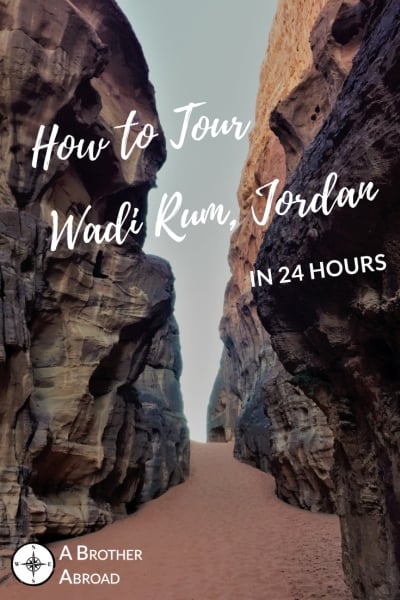 Disclaimer: I might earn some spare change from links in this post, which goes to fund more "research" and future stories, info, and guides at no additional cost to you. On the other hand..
If you've found this blog post helpful, please consider booking your next trip through the links on the Resources Page or through one of the links on this page. This keeps the content free, the stories passionate and entertaining, and (most importantly) keeps the advertising elsewhere.