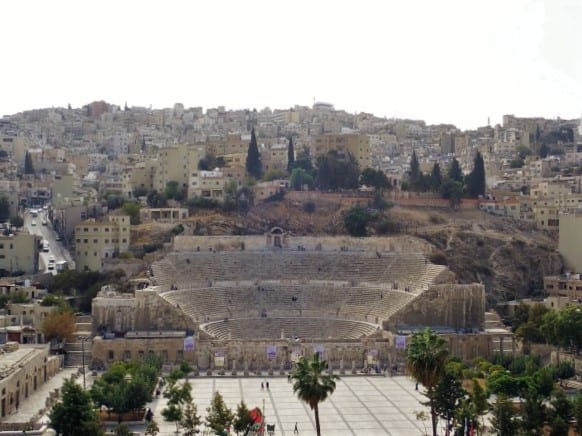 Contents of this Guide to Amman
---
Overview of Amman, Jordan
Amman,the capital of the Middle Eastern country of Jordan, nestled between Israel,Lebanon, Saudi Arabia and Egypt. Though Amman itself may seem less than exciting, the city is the gateway to some spectacular sites and a true Arabian experience. Petra, Wadi Rum, and experiencing Arabian culture in a safe country all make Jordan worth putting on your travel lists.
Thoughsome may visit the legendary sites of Petra and Wadi Rum from Israel, and alsovisit the Red Sea or Dead Sea from Israel, I highly advise traveling throughAmman for the cultural education. Ammanwill give you a very safe, palatable taste of what an Arab and Islamic nationis truly like and the opportunity to Arabs and Muslims in the Middle East toask questions and form opinions for yourself.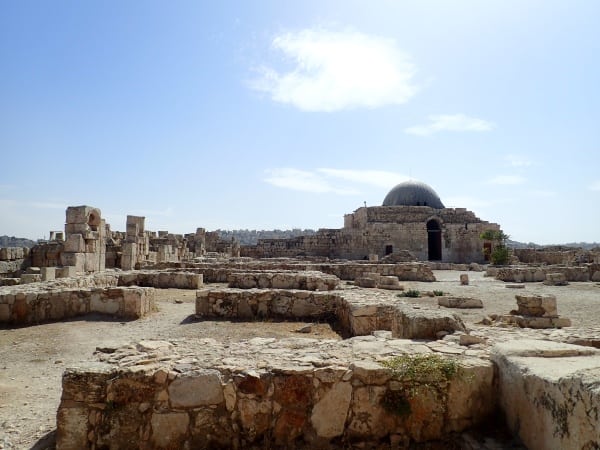 In an age of misinformation and unnecessary misunderstanding, Amman,Jordan provides the underrated opportunity to learn and experience Arabculture, Islam, and the Middle East for yourself.
Combined with quick visits to Beirut, Cairo, Jerusalem, and the West Bank, an Amman Jordan trip will give you a taste of how complex, contrasted, and interesting the Middle East truly is.
Rest assured that the boringly calm, yet culturally rich city of Amman pales in comparison to both Petra and Wadi Rum as travel experiences. If Amman is your first stop on your way through Jordan, the best is yet to come…
Why Go to Amman Jordan
Great start to a Middle East tour (including Lebanon, Egypt, and Israel)
Genuinely Arabian culture
Safe
Centrally located in the Middle East, with Lebanon, Israel, and Egypt
Easily Accessible via cheap flights from Cyrprus and Europe
Westerner friendly
Ancient ruins to explore everywhere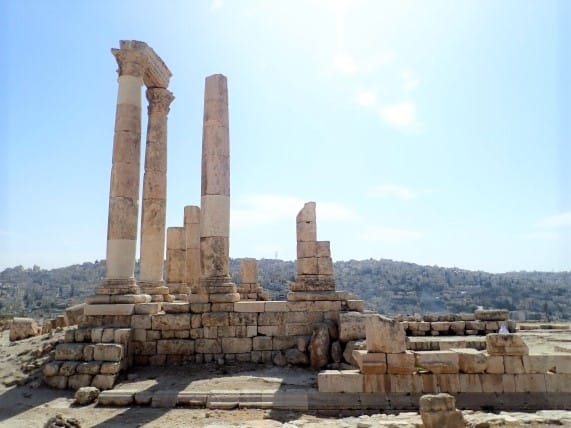 Amman's Genuinely Arabian and Islamic Culture Make it a Unique stop on the "10 Days in the Middle East" Tour
Whereas many destinations in the region boast culture that isn't "purely Arabian", Beirut has heavy French influence, Jerusalem and Tel Aviv are Jewish through and through, and Cairo has a uniquely Egyptian culture with African flair, Amman Jordan is very much Arab, very much Islamic, and more "modernized" in a Middle Eastern way than the other destinations in Jordan. In short, with the four major destinations on the "10 Day Middle East" tour, Amman will be the only purely Arab, Islamic, and modernized stop on your trip, and a good cultural education to boot.
Jordan is the Safest Place You'll Visit in the Middle East
The first thing I noticed in Amman is how safe and peaceful the city was. Lookup Jordan's history and you'll find less violence, civil unrest, and general discontent (about everything aside from the prices) than in most western countres. To boot, the residents love their king. This, combined with the proactive yet polite activities of the police and the defense forces put Amman, Petra, and Wadi Rum among the safest places you can visit in the Middle East or elsewhere.
For full, up to date information on safety in Jordan, check the US State Department's Jordan travel website for information.
Renowned sites are mere hours away by convenient JETT Bus
The 2000 year old archeological site of Petra and the other worldly red deserts of Wadi Rum are just a few hours down the road and a potential day trip away, making Amman a great starting point.
Centrally located to a balanced array of Middle East destinations
Israel, Lebanon, Egypt, the Dead Sea, and the Red Sea, a handful of bucket list worthy sights all surround Jordan and are all cheaply and easily accessible via air, by land (to Israel), and by ferry (to Egypt). This makes Amman a great point to add to a 10 Day itinerary of the Middle East.
Jordan is easily and cheaply accessible from Europe and Israel
Whether coming across the border from Israel via land, or hopping a cheap flight via Cyprus from Europe, Jordan and Amman are very accessible destinations
Jordan's government and people are historically friendly to westerners
A history of strong, healthy ties to the west and a very accepting populace eager to share their Arabian and Islamic heritage with outsiders while being curious about the cultures tourist come from make Jordan a very westerner friendly destination. Granted, Jordan is still an adventurous destination, westerners will find food, socializing and communicating, and customs (such as what to wear and what to do) very forgiving, making for a rich, engaging, and pleasant travel experience
What to See in Amman, Jordan
You've arrived in Amman, Jordan, so what should you see?
Unfortunately, Amman has suffered from a drop in tourism over the last two decades and tourism services and infrastructure aren't as widespread and readily apparent as in the west or in Southeast Asia. This means that "Free Walking Tours" and the like do not exist. But, this only makes for a more rich adventure.
Visitorsto Amman have two options for seeing the city.
Hire a Local: Thefirst is to hire a private, local guide, generally unlicensed and providingsmall group tours informally. Manytravelers have been very happy with this option, as they are not only guidedbetween the major sites, they generally stop for a Turkish coffee and localcuisine and discuss whatever interests you most – politics, religion, currentevents, history, daily life, etc. Ifthis interests you, check the forumsof Trip Advisor for latest and best unofficial tour guides thathave given travelers good experiences in Amman. Most of these guides college students or seasonal workers cyclingthrough "freelancing" as tour guides, so they may be a little tough to trackdown, but Trip Advisor will be a good start.
Wander the City Solo: My preferred option…wander the city between a list of the major sites,accompanied by Wikipedia articles, eating as much local food and chatting withas many locals as possible along the way.
With this approach, I discussed the security situation in Jordan, the Iraq and Syria wars, Jordanian history, local food, and a slew of other topics in depth with the people that know it best – the locals. I highly recommend this self-guided tour of Amman that I detail below.
The Self-guided tour of Amman
How to do a self-guided tour of Amman (in place of an Amman free walking tour):
Amman's backpacking and budget travel scene is developing, so don't count on any free walking tours in Amman. Your best options will be to follow the self-guided Amman Walking tour.
This is the list of main sites in Amman worth visiting on a walking tour of Amman. For commentary, history, and information on each site I found Wikipedia to be the best source consistently – one more reason to get a local SIM card when traveling the Middle East
To create your own tour of Amman, drop location pins on your map app with offline capability (I prefer Maps.Me with Google Maps as a backup). Then, follow this list of places in order, which will take you through a loop throughout the city of Amman. This path can be walked in a single day (just as I did) but don't be scared of getting a taxi as the weather can get really hot in Amman.
List of Sights for Your Self-Guided Walking Tour of Amman Jordan
Suq Suqr (Sugar Market) (Google Maps Location for Suq Suqr)
Suq Mango (Mango Market) (Google Maps Location for Suq Mango)
Al Sahel Al Akhdar Sweets (Confectionary) Stop by the sweets shop directly across from the amphitheater for a short snack (Google Maps Location)
Temple of Hercules (Google Maps Location for Temple of Hercules in Amman)
Museum of Archeology (Located in a Tiny building next to the Amman Citadel)
Ummayad Mosque, Residence, and Throne Hall (Google Maps Location for Ummayad Mosque Complex)
Walk back up Rainbow street (Google Maps Location for Rainbow Street)
Snacks and eating on your self-guided walking tour of Amman
Amman has some wonderful local sweets, usually made of fluffy sheets ofpastries, syrups, and chopped nuts. Lucky for you, Jordanian pastry shops are peppered throughout the cityand along this path, so, along the way stop at pastry shops randomly and try asmany of the pastries on this list. Ihighly recommend starting with the "Kunafa", which a delicious,diabetes inducing cheese pie dessert that goes very well with coffee.
When leaving the Roman amphitheater (#4) on your way up the hill to the Temple of Hercules (#5), walk across the street to find a pastry shop directly across from the amphitheater. Treat yourself to a great Kanafa or Baklava at the pastry shop directly across the street from the am before you go up.
For more of the recommended pastries, jump down to the "What to Eat in Amman" section
What to Eat in Amman, Jordan
Inall of the Middle Eastern countries I've been in (Jordan, Lebanon, Kuwait,Iraq…) the food experiences have been some of the most enjoyable andmemorable. To round out your visit toJordan, be sure to taste all of thesedishes and sweets before leaving. Some(like Mansaf) are unique to Jordan while others (like Knafeh) are simply donewith a flair, style, or presentation that other countries don't do. In any case, they're all tasty, so enjoy.
Jordanian Dishes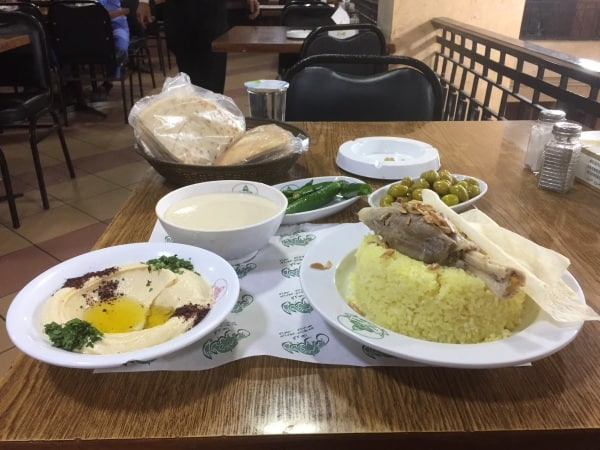 Mansaf( The National Dish of Jordan): Auniquely Jordanian dish of lamb cookedin and served with a yogurt sauce and on a bed of rice or Bulgar. Al-Qudsrestaurant (Jeursalem restaurant in English) is the bestand most convenient place to try this in Amman
Kufta(Kabobs): Minced lamb, beef, or a combination withquintessentially Arab seasoning, wrapped around a steel rod and grilled over anopen, wood fired flame. If you're anykind of carnivore, you'll love this dish. Served with fresh bread ("Khubiz" in Arabic) and veggies. Cheap yet tasty…and addictive.
Hummus and Pita: Ubiquitous throughout the Middle East but stilltasty in its homeland. Each country andregion does hummus with their own touch (e.g., more garlic, smoother, heavieron the olive oil) and varies their breads a bit, so this is worth tryingwherever you go. If you have a sensitivestomach, stay away from meat in Jordan and make Hummus and Pita bread yourdefault. Best tried at HashemRestaurant. Therestaurant is well priced, and is literallygood enough for royalty (as the royal family has eaten there).
Kibbeh:A dish made of crushed bulgur, minced onions, andfinely ground meat (lamb, beef, goat, or camel), shaped into footballs(American style) and fried. Deliciousand filling
Tabouleh:"Middle Eastern salad". A mixed offinely sliced vegetables, eaten by the spoonful or as lettuce wraps.
Falafel(Chick Pea or Fava Beans): Mashed and friedballs or patties of chickpeas, fava beans, or a combination of the two withsome amazing spices. Eaten solo or on apita. If you have a sensitive stomachand are avoiding meat, this is an excellent option.
Babaghanoush:Roasted eggplant which is then blended into asmooth, delicious treat. Eaten solo orwith pita. Even if you've tried this athome, be sure to try it in Amman. Theart of roasting the eggplant so that the skin smokes the inner contents issomething that eludes most non-Middle Eastern chefs, and makes a difference.Experience the real deal here.
Jordanian Desserts
Knafeh: A delicious "cheese pie" dessert. Normally I'm good with the foodie stuff, but all I can say is that this stuff is addictive and difficult to describe. Two layers of fine dough with a layer of cheese in between, incorporating pistachios, rose water, almonds, and other tasties along the way. Try it early in your trip so you can enjoy the addiction throughout your trip.
Baklava: A notorious desert from the Middle East of layers of fine pastry dough drenched in a sugary syrup. You've likely had good, authentic baklava at home. The difference between Baklava at home and in Jordan is that it is everywhere in Jordan and relatively cheap, thus tempting you at every city block.
Local Drinks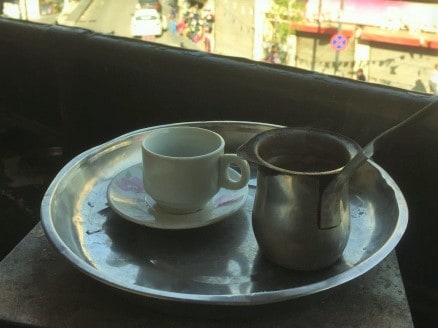 Turkish Coffee: Available for less than $1 USD every 10 feet. If you haven't tried it, try it at least once.
Turkish tea (with Mint): Delicious and likely served after every meal. Turkish tea, like the coffee, is concentrated tea drenched in sugar and served with a sprig of mint – and is oddly delicious. Give in to the diabetes risk and try it at least once.
Arik: The Middle Eastern equivalent of Ouzo, an alcohol fermented with Anise to give it a black licorice flavor.
Where to Eat in Amman, Jordan
Breakfast or Lunch in Amman
Hashem Restaurant: A reliable restaurant to enjoy some great hummus, pita, and falafel any time of day. This is also a very safe bet for tourists to avoid any stomach issues, as the restaurant is meat free and serves a lot of tourist traffic. Additionally, this is one of the cheapest meals you're likely to have in Amman. Hashem restaurant for Falafel, Hummus, Pita, and Mint tea (~4 JD)
Dinner in Amman
Al Quds Restaurant: A great restaurant to enjoy local, Jordanian dishes. The restaurant is a little on the fancier side for my adventurous tastes but its still great. Al Quds is notorious as being good for tourists that want to try meat dishes in Jordan without risking stomach issues – clean, tasty, and fairly is cheap is what you'll get. Start with the Mansaf, the national dish of Jordan, and explore the menu from there.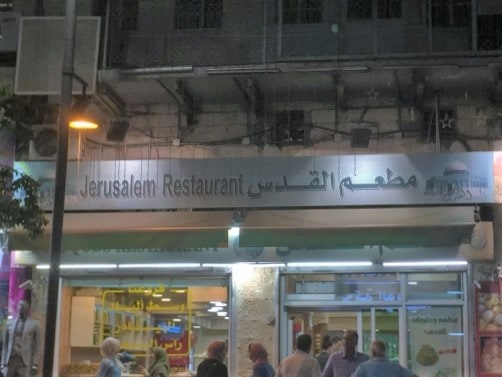 Keep in mind that tipping is in the dining culture and expected to counter the low wages of service staff.
Note on eating (meat) in Amman: Beware that in Jordan, food handling practices (specifically meat handling and refrigeration) may not be up to western standards. Restaurants popular with tourists tend to abide by a western standard for food (such as Al Quds) and are safer, but if you are susceptible to stomach bugs err on the side of caution and avoid meat.
For those avoiding meat for health or personal reasons, pita and hummus as well as falafel are plentiful and easy to find. Stick to those vegetarian options and your stomach will have a much easier time in Jordan.
Where to Sleep in Amman, Jordan
The budget travel scene in Amman, and the rest of Jordan, is still developing in the face of the decreased tourism over the last decade. As such, hostel options are much fewer, cost more, and are generally less "clean and fancy" than their counterparts in Europe and East Asia. With that said, there are some still great options in Amman.
I highly recommend Nomads Hotel and Hostel in Amman, as I've stayed with them twice. The facilities are fairly new (opened in August 2018) and very comfortable. Cushy, comfy mattresses, clean facilities, and a very cordial and welcoming staff. The hostel is also located a 10-15 walk from downtown and next to Rainbow Road, making it convenient for self-guided walking tours of Amman. I would absolutely stay again. (~$14 USD per night for a 4 bed dorm).
For other options, checkout Hostelworld, Booking, and Agoda
Keep in mind that higher ratings in Amman may not equate to the fancier, more modern facilities you may be used to from Europe and Asia, so aim a little higher when booking accommodations in Amman.
Where to Travel after Amman
From Amman to Petra
The natural course of flow, between the highlights of Jordan, will take you from Amman to Petra.
Petra is a one of a kind archeological site. A series of facades and buildings carved into the cliff sides of a wadi by Bedouin tribes of 2000 years ago and situated just down the road (2-3 hours) from Amman
Learn how to make the journey to Petra in "24 Hours in Petra"
And let the story of traveling to and through Petra inspire you in "Experiencing Petra"
Tours to the surrounding areas: Amman to Petra Tour, Amman to Wadi Rum Tour, and Amman to the Dead Sea Tour, Amman to Jerash
The most common destinations from Amman are Petra, the Wadi Rum deserts and Bedouin Camps, and the Dead Sea. Though I found it fulfilling to travel independently to each destination, there are plenty of options to visit each site via package tour from Amman. If you are weary of traveling the Middle East solo, don't be afraid to jump on any of these tours
Multi Day & Destination Tours from Amman
Getting to Amman
Getting from the Queen Alia Amman Airport to Amman
To get from the Amman Airport (the Queen Alia International Airport) you can take a taxi (~30JD), an Uber (~18JD), or a local bus (3JD).
Uber from Amman's Queen Alia international Jordan Airport to Amman: Uber's can easily and quickly be hailed inthe Queen Alia (Amman) airport and will cost ~17JD to reach downtown
The economy is not at its best, most Uber drivers prefer cash payment andmay cancel a ride after accepting if you plan to pay with credit card. If you don't mind paying cash, select cashpayment from the start in Uber to them a favor.
In other instances, drivers may accept your ride and then ask you to pay higher than the standard Uber rate. If this happens, tell them no and tell the driver to cancel the ride. Then, simply book a different driver through Uber.
Taxi from Amman's Queen Alia international Airport to Amman: Planon paying ~25JD-30JD depending on your destination
Public Shuttle Bus from the Airport: This is the budgetoption for getting from Amman airport to downtown Amman, for only 3JD perrid. Just after exiting from the arrivalterminal, the public shuttle is set just outside. Ask any of the security guards and they'llpoint you in the right direction. Afterarriving at the bus terminal you can take a cheaper taxi or Uber to your finaldestination.
Jordan's backpacker centric tourism scene is still developing (adding to the adventure of traveling through Jordan) and public transportation is lacking, making getting around Amman slightly more difficult, but still fairly easy.
Traveling from Amman within Jordan
The most common path through Jordan, which includes the major sights to see, is Amman to Petra to Wadi Rum to Aqaba, then return to Amman and fly out.
Traveling from Amman to Petra
If you only have one other destination in Jordan outside of Amman, make it Petra. The lost city of Petra is simply amazing and can be done in a single day. You can travel to Petra easily via the 6:30AM JETT Bus from the Abdali JETT bus station in Amman. For more information, read "24 Hours in Petra".
For travel within Jordan, from Amman to Petra or from Amman to Aqaba, the JETT bus service is cheap, convenient, and comfortable. The Abdali JETT Bus is the departure point for buses to Petra or Aqaba and the point of ticket sales.
Buses from Amman to Petra depart from Abdali bus station at 6:30AM daily and this is the only time of department. Be sure to purchase your ticket at least one day before departure as buses sell out quickly
Amman to Wadi Rum
If you only have one other day in Jordan, use it to visit Wadi Rum, which can also be experienced in a single day. Travel from Petra to Wadi Rum can be made easily via ~6:30AM shuttle from your hostel or hotel. For more info, read "24 Hours in Wadi Rum".
Leaving Jordan (by Flight)
If your next destination is international, you'll likely be flying from Queen Alia International Airport in Amman. Wherever you fly to next, consider making a stop in Cyprus to lower the price of your flights (and add in some low key beach time). There are plenty of cheap flights between Cyrpus and Europe and plenty of cheap flights from Cyprus to Amman
Cheapest flights from Europe to Cyprus (as a layover to Amman)
From Europe, there are several options for flights between $25-$30 USD (via Ryanair) from most of Eastern Europe, southern Europe, and the UK to Cyprus.
Cheapest flights from Cyprus to Amman
Flying from the Paphos, Cyprus airport (PFO) to Amman you'll find flights from ~$12 USD on select Mondays, Wednesdays, and Fridays via Ryanair
What is the Weather like in Amman, Jordan?
Generally, the summer months of June to September in Amman, Jordan are quite hot (~87° – 90°). Outside of those months the weather fluctuates between pleasant and cool. If you plan to be in Amman anytime from November to April, pack to stay warm as the deserts can get cool at night.
Curiouswhat the weather in Amman is like right now? Ask Google what is this week's weather in Amman, Jordan?
Average Temperatures in Amman, Jordan
| | |
| --- | --- |
| Month | High / Low(°F) |
| January | 55° / 39° |
| February | 57° / 40° |
| March | 64° / 44° |
| April | 73° / 51° |
| May | 82° / 58° |
| June | 87° / 64° |
| July | 90° / 68° |
| August | 90° / 67° |
| September | 87° / 64° |
| October | 80° / 58° |
| November | 68° / 49° |
| December | 58° / 42° |
| Source: NOAA | |
Staying Safe in Amman and Jordan
Petty crime and nonviolent crime are nearly unheard of in Amman as the police force is quite vigilant but women should take care traveling through the city alone during the darker hours and onto side road.
I advise female travelers to have a polite, candid discussion with their hotel and hostel staff (ensuring the staff member is an Amman local) to get the most up to date and information about traveling through Amman as a female. Female staff at the better hostels (such as Nomad's Hotel and Hostel, which I recommend) will be young, speak very good English, and be familiar with western culture enough to have a straightforward useful conversation about solo female travel in the city.
All US travelers should register with the US State Department's STEP Program before traveling. Being registered in this system, with your itinerary and contact information, will allow them to notify you in case of emergency.
Additionally, check the US State Department's Jordan Travel website for safety and security recommendations, paying attention to travel advisories for Jordan, and any regions to avoid.
Tips for Visiting Amman, Jordan
Save Money – GET THE JORDAN PASS!!!
Not getting the Jordan Pass was a mistake I made, missing out on quite a bit of savings.
What is the Jordan Pass?
The Jordan Pass is a 70JD pass that must be purchased at least 4 days before traveling and waives the 40JD Jordanian visa fee, allows free entrance to Petra (50JD), free entrance to Wadi Rum (5JD), and several other museums and archeological sites.
Avoid Crossing the Israel-Jordan border overland to avoid evidence of visiting Israel in yourpassport
Due to "strained" international relations, evidence in your passport of a visit to Israel will result in denial of entry to several Islamic and Middle Eastern nations, so be wary of getting the border crossing stamp in your passport
Jordan Visa Information
Single Entry visas are available on arrival and valid for one month for 40 JOD (approximately $56 USD)
"The Jordanian Government has waived visa fees for all non-restricted nationalities coming through Jordanian tour operators whether travelling individually or in groups. The visa fee is waived on the condition that the traveler/travelers spend a minimum of two consecutive nights in Jordan." (From the Jordanian Tourism Board)
Source: Jordanian Tourism Board
For more information, visit the Jordanian Visa Information Page of the Jordanian Tourism Board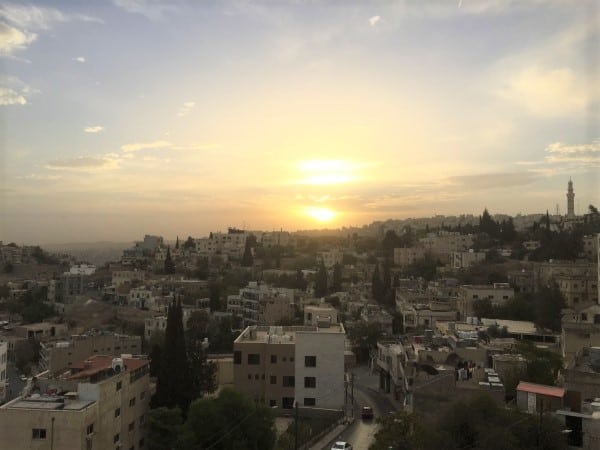 Disclaimer: I might earn some spare change from links in this post, which goes to fund more "research" and future stories, info, and guides at no additional cost to you. On the other hand..
If you've found this blog post helpful, please consider booking your next trip through the links on the Resources Page or through one of the links on this page. This keeps the content free, the stories passionate and entertaining, and (most importantly) keeps the advertising elsewhere.