Swimming with whale sharks in Oslob is one of the most sought after experiences in Cebu. For adventurous travelers and backpackers, the former fishing village of Oslob makes it possible to swim with these giants in their natural habitat for less than $25 USD. In this guide, you'll learn how to get to Oslob, Cebu, how to book a tour to swim with whale sharks in Oslob for cheap, and find the tips to ensure you're first in the water and have an amazing experience.
Contents
Whale Sharks Oslob FAQ
Is swimming with whale sharks in Oslob dangerous?
What are the rules and regulations for swimming with whale sharks?
Where to stay in Oslob
A Guide to Swimming with Whale Sharks in Oslob, Cebu
Overview of the Experience of Swimming with Whale Sharks in Oslob
Oslob is a tiny village on the eastern coast of the Cebu island in the Philippines. Once upon a time, the villagers here eeked by a living as fishermen, but in the last two decades they've harnessed their long time relationship with whale sharks making it possible for tourists to drop in for a nearly guaranteed experience of swimmin with whale sharks.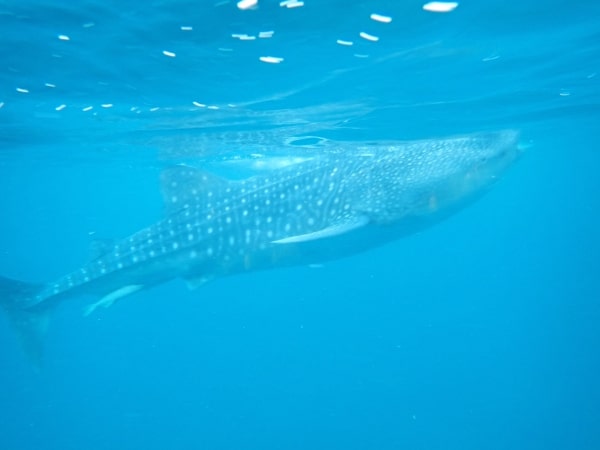 Whale sharks, the largest fish in the ocean, are nomadic animals known to travel thousands of miles in mere months migrating and followin food sources. Just off the coast Cebu, in the warm, crystal clear waters of the Phlippines, pods of whale sharks pass throuh regularly with clockwork like reliability. In an attempt to prevent whale sharks from getting caught in their nets, Oslob fishermen learne to lure the whale sharks away with handfuls of shrimp. This same practice of "luring" is now used to attract whale sharks to a small, monitored interaction area where snorkelers can watch in the water as the gentle giants swim through giving the experience of a lifetime.
Thanks to the serendipity of nature and the traditions and knowledge of the Cebuano fishermen, we now have the opportunity for a one of a kind experience with an animal in its natural habitat.
Quick Facts on the Whale Sharks Oslob Experience
The Price to swim with whale sharks in Oslob is 1,150 Pesos ($23 USD) when booked in Oslob
Up to 7,000 tourists a day participate in swimming with or observing whale sharks in Oslob during high season
Tourists hop in 5 to 10 boats (without motors) and are ushered to the ~40 meter wide ringed "interaction area" for 30 total minutes of swimming with whale sharks
Each nomadic pod of whale sharks hanging around Oslob is roughly 25 sharks
Only 2 to 5 sharks are selected to be lured for "interactions" with snorkelers each day
Interactions with whale sharks in Oslob are facilitated 364 days a year and happen from 6AM to 12PM in 30 minute blocks (so you have 30 minutes total to "play" with the whale shark)
Each participant is provided a snorkel, mask, and life jacket (rental of fins is optional and an extra fee)
So, as a traveler passing through Oslob, how can you swim with a whale shark?
How to Experience Swimming with Whale Sharks in Oslob
After arriving in Oslob, booking a tour and the experience of swimming with whale sharks in Cebu is quite straightforward.
To ensure your tour is the best possible, do your best to be the first ones in the water. This is best accoplished by arranging the experience through a tourism agent or hotel.
Though you could theoretically just show up to the bay, wait in line, and pay to hop on a boat, it is much more worthwhile to pay to have the experience arranged. The main benefit is having a local arrange the experience for you means you can arrive early and have them arrange for you to be on the first few boats out. This is optimal as 1) the whales are fresh qnd haven't been dealing with thrashing snorkelers for hours and 2) the operation is much more peaceful and organized on the first few boats.
I recommend arriving at 5am tobeat the herd and be in line to take the first 5 boats out. The first boats will depart the shower just after first light.
Before you depart, a marine biologist will give you a speech wuth instructions on how to properly interact with the whale shark
The experience will take place in motorless traditional Filipino canoes, which will head out in a group of 5 with rooughly 10 snorkelers on each boat. About 40 meters off shore, the canoes will stop an unload the snorkelers into a floating, roped ring which will be the "interaction area". A seperate guide, which will have already gone to lure the whale shark with shrimp, will paddle straight through the interaction area, luring the whale shark behind, and past you…starting the interaction. At this point, you will have 30 minutes in the water with the whale shark.
During the experience you will need to stay 5 meters away from the whale shark and do not follow it. I highly recommend renting a pair of fins in order to swi, down below the surface and under the shark.
At the end of the 30 minutes, you'll reboard the canoe and head to shore
Opportunities to SCUBA Dive with Whale Sharks in Cebu
SCUBA diving is available for 3000 pesos ($60 USD) and can be arranged through your hotel, yoir travel agent, or on shore. SCUBA divers are simply provided gear on shore then kit up and walk out into the water from shore
Tips for the Cebu Whale Shark Experience.
Be on the first group of boats of the day – which will likely require arriving at about 5am to depart at 6:00am on the first boats, and will require your guide/tourism agent makin the appropriate arrangements
Respect the distance rule by keeping at least 5 meters away from the whale shark
Don't wear sunblock or sunscreen, you'll be directed to wash off before entering the water if you've forgotten
Rent fins: The ability to move quickly in the water and swim down for better vanatge points will drasticly improve your experience
Bring a dedicated waterproof camera and pair up with someone before the experience, offering to exchange pictures
Take a Freediving course beforehand. Being able to swim down beneath the shark for a couple minutes will lend a great perspective that other swimmers won't get
The Moral Dilemma: Should you swim with Whale Sharks in Oslob?
That is an important question that depends om your views. In recent years, Oslob has recieved heavy criticism for the practice of luring whale sharks. Operations in Donsol in the north of the Philippines and Cancun are viewed as much better in a sustainability sense and most people recommend those instead – but they will run $70 – $150.
Personally I found Oslob to be encouraging, as Oslob has a longstanding positive relationship between whale sharks and fishermen and is also using the tourism profits to fund marine conservation programs and sustainable economic development. You can read all about it in my article:
Getting to Oslob
Thanks to cheap flights around the country and plentiful bus lines and ferries, getting to Oslob from anywhere is a straightforward process, but count on it taking a bit of time to hop between islands.
When planning, keep in mind that the easiest place to get to Oslob from is Cebu City, by public bus or private car. Gettng in from anywhere else is possible, but it will simply take longer.
Getting from Cebu City to Oslob
If you plan to head to Oslob and swim with whale sharks, flying into Cebu City (Mactan-Cebu International Airport) is your best bet. Being the Philippines second largest city, flights to and from all over the country are frequent and cheap. Plan on spending nearly no time here as there is little tourist value. Cebu City is a land of mega shopping malls and apparent poverty with little in between. There are better places to be in the Philipines.
To get to Oslob from Cebu City, go to the South Bus Terminal. Here, public buses leave whenever full for ~185 Pesos ($3.25 USD). The buses will have placards in the window labeled with their destination, but confirm the destination with the driver and toss your luggage under the bus. You'll pay for your ticket on the bus.
If you know your stop within Oslob, tell the driver and they'll drop you off directly in front of your destination (as long as its on the main road). Otherwise, tell the bus driver to drop you off in Oslob center and take a tricycle (motorcycle with sidecar) from there to your destination. The cost for the tricycle should be between 15 and 50 pesos, no more.
Getting from Manila to Oslob
To get from Manila to Oslob, simply fly into Cebu City and proceed south from there. Flights from Manila to Oslob are roughly $30-$40 USD. Flights will be cheaper out of Clark International airport.
Getting from Bohol to Oslob
If you plan on being in the land of the Chocolate Hills before heading to Oslob, transport will be easy. Take a ferry from the Port of Tagbilaran City direct to Oslob. Several ferries leave daily between 6AM and 5PM.
You will see several packages offering to take you to Oslob for the day to swim with the whale sharks and return, but I recommend avoiding these. The cost will be $100+ and for that price you can have a much better (and eco friendlier) experience in Donsol or Palawan. Taking the ferry on your own and arranging your own whale shark experience will only run $25 to $30.
Getting from Dumaguete to Oslob
From Dumaguete you will depart from the Sibulan Port (there are two so be sure you're taking the right one) to Liloan. From Liloan, take the public bus to Oslob, for ~150 pesos. Ask the team at the port where the bus passes (just say you're going to Oslob) and be ready to flag it down, as it won't stop otherwise. If you're pressed for time and in a hurry, take a tricycle for 200-300 Pesos up to Oslob center.
Prices for Swimming with Whale Sharks in Oslob and SCUBA Diving
Snorkeling: 1,150 Pesos ($23 USD)
SCUBA Diving: 3,000 Pesos ($60 USD)
Renting Fins: 150 Pesos ($3 USD)
Arranged through a hotel or tour agent, the price to swim with whale sharks will be 1,150 Pesos ($23 USD). Fins (which I recommend), will cost an additional 150 pesos ($3) to rent.
SCUBA diving with the whale sharks in Oslob is available for 3,000 Pesos ($60 USD) per dive.
Alternatives Cities for Swimming with Whale Sharks
It is hotly debated whether or not the whale shark tourism operation in Oslob is sustainable and whether the practice of routinely feeding the whale sharks alters their migration patterns (read more on that **HERE**). Educate yourself and if you feel uncomfortable with swimming with whale sharks in Oslob, consider these more eco-friendly options:
Donsol, Luzon (Philippines)
Palawan (Philippines)
Cancun, Mexico
Where to go after Oslob
The Philippines is a paradise with gems hidden everywhere among its 7,000 islands, which can make the "where to next" decision baffling. Here are your best options
Dumaguete & Apo Island: The most beautiful coral I have ever seen
Apo Island, also known as turtle island, is one of the most beautiful underwater places I've ever been, with large, dense forests of coral, hundred foot visibility and seemingly hundreds of turtles dotting the island. SCUBA or snorkel for an unforgettable experience. (30 min. bus ride and 30 min. ferry away)
Think I'm exagerating about how amazing the Apo Island experience was? Read the full story in **Chasing SCUBA divers on a single breath at Apo Island**
Siqiuijor Island, San Juan Village: White sands, turquoise water, and motorbike rides
A rustic paradise with amazing, white sand beaches and torquoise waters, glamping, and a road that hugs the entire coast of the island that great for renting a motorbike and exploring for a day. If you'll be SCUBA diving (or are on the fence about going) contact Sara at Mystic Dives about the amazing diving Siquijor has to offer, what else is good on the island, and the tours that her shop offers – btw, she's a traveler that followed her dream of opening a dive shop in paradise, so she's good company. (head to Dumaguete first and then make the hour long ferry to Siquijor)
Be sure to check out our article **Top Things to Do in Siquijor**
Bohol: Rolling hills, diving and one of a kind critters
Legendary amongst travelers for the Chocolate Hills, the oddly cute Tarziers, and lit beach night life
Badian: A hidden, beachy paradise on the opposite side of Cebu
A tiny village with amazing waters on the opposite side of Cebu. Its a secret off the tourist path. I'll let you research more on your own.
Where to stay in Oslob
Angler's Hub and Resort: Perfect for a great whale shark experience
I highly recommend staying here, at Angler's Hub and resort. Though the accommodations aren't the swankiest, the staff is welcoming and they have a good operation to get you to the whale sharks.
The site of the whale shark swimming experience is about 10 minutes south of this guesthouse (20 minutes from central Oslob). Being so close makes it easy to get there early and be the first in the water. The manager at Angler's Hub and Resort has a reliable system of getting the tour goers out by 4:20AM, registered and in line by 5AM, and on the very group of boats to swim with the whale sharks at 6AM. This improves the experience a ton!
Beyond Angler's Hub and Resort, check booking.com. With Oslob growing and developing, new options will arise soon. Be sure to book a week out if possible as the best places to stay book quickly.
Whale Sharks Oslob FAQ
Is swimming with whale sharks dangerous?
The biggest dangerous with swimming with whale sharks is not being able to swim. Whale sharks are docile creatures that it krill, plankton, shrimp, and small fish, but will swim around a human or large fish to avoid them.
In Oslob, the only casualties come from tourists that drown because they don't know how to swim but decide to get in the water anyways.
Whale sharks are not a danger to you.
What are the rules and regulations for swimming with whale sharks?
An rule violation will result in a 2500 pesos fine or up to 6 months in jail. Keep in mind that the Oslob guides, marine biologists, and tourist police are now using underwater cameras to record interactions, so that any dispute of rule violations will be decided based on video evidence so keep your distance.
The primary rule enforced for swimming with whale sharks is DO NOT TOUCH. Not only is this a bad practice with wildlife but touching, whether people or boats, can cause infections in the whale sharks.
Secondarily, maintain a minimum of 5 meters distance from the whale shark.
In Oslob, both of these rules are enforced by marine biologists monitoring the interaction with the whale shark. If you are caught touching the shark or invading its space, you will be fined and tourist police are on site to handle any issues. Underwater cameras are now used to avoid any argument after a rule has been violated, so smile…you're on camera.
Rinse of all sunblocks, bug repellents, and any other chemicals prior to entering the water.
If you are considering visiting Oslob to experience the whale sharks, be sure to read our article: