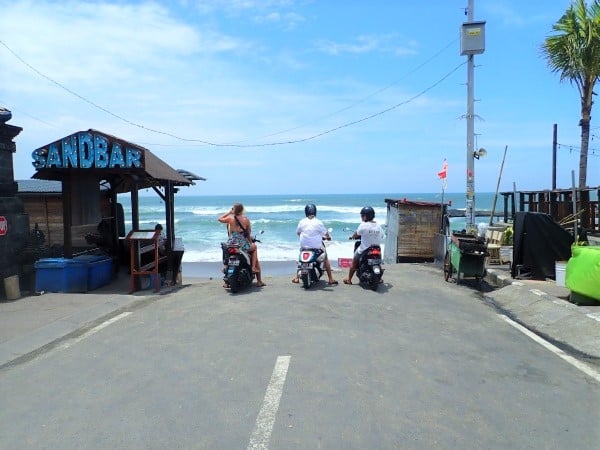 I know what the first thing that comes to mind is when you think of Bali, and Canggu is not that. This is not your "Eat, Pray, Love" Bali. Canggu was born waaaaaay after that era, and it shows. This place is about adventure, taste, culture, fun, and chillin' in between. It's a launch pad to mountains, jungles and beaches. This part of Bali is about surfing and diving by day and coconuts and cocktails by night. Things to do in Canggu range so broadly that anyone and everyone can find something here to fall in love with, and most who come will have a hard time leaving.
So, what's this "Canggu 'hood" all about anyways?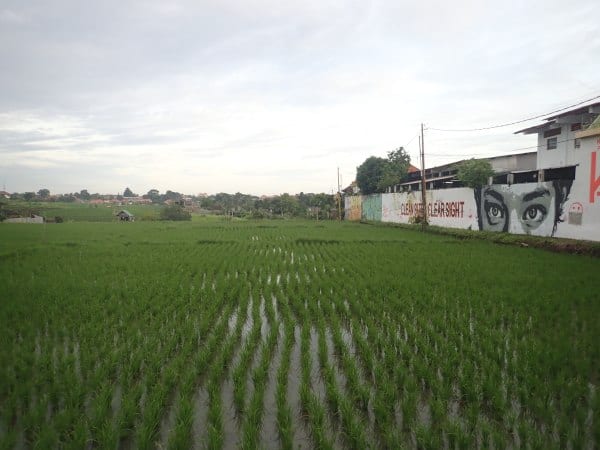 Canggu's about experiencing the best in life where time stands still and the outside world seems to fade away. It's about cruising a scooter between rice fields on a daytrip to temples perched on stones in the sea. It's about learning to surf followed by a beachside beer and a sunset. It's about eating the best, most creative, cheapest fusion food in Southeast Asia. Its about exchanging culture with a hip new generation of charming yet gentle and welcoming Balinese locals at every corner.
That, is why Canggu is the place to be. It doesn't matter if Canggu is a stop off on your way to chilling in the "Gilis", or a dive course in Amed, or is a rest stop after a tour of southeast Asia. Whatever your situation, Canggu is a must, and the 25 things to follow will fit perfectly into your itinerary helping you get to know the coolest place in Bali.
Welcome to Canggu.
25 Things to Do in Canggu that will make you want to stay forever…
Contents
Why Canggu?

The 25 Things to Do in Canggu (click any "thing" to jump into the list)
A few requests (to respect the Balinese)
Getting to Canggu
Getting around Canggu
Where to Sleep in Canggu
What to Bring to Canggu & What to Buy
Where to Go after Canggu
Why Canggu?
A few years ago, Canggu was an expanse of sprawling rice paddies nestled north of the more popular and urban areas of Kuta and Seminyek. In the time since Canggu first sprouted, the area has turned into a shockingly comfortable and welcoming beachside paradise that's defining trait is that you can just…chill. And that alone is addictive.
Once development started, the new places leaned toward edgy, fusion focused themes that combined the most hipster-ish things internationally (in a good way) and with Balinese culture and the nature of the island. The new generation of Balinese peeps that staff the coffee shops and restaurants all have their alternative interests and lives that draw them to the area, and most have plans head out internationally, to Australia, Japan, and Europe once they get their visas in order. That thirst for foreign culture and experience comes out in the food, music, tattoos and expression of their culture that they share with international guests.
Who's behind Bali's new style?
So who's building all of these new, swanky spots? It's a heavy mix. A few are expats from all over the world that have made themselves at home, but most are owned and run by two types of Balinese peeps: mixed nationalities, and those who have worked abroad and returned.
The mixed nationality Balinese are Balinese by birth and heritage and have mostly grown up on Bali but have also lived their lives with the influence of an expat parent that moved to and embraced Bali while also bringing their own culture. The result has been a scene of creative kids that combine the best of their "other" culture with Balinese ingredients, traditions, and style. The result is awesome and comes out in cafes like Give and Kind, both restaurants that are non-profit and give everything back to the community.
The second group of Balinese entrepreneur is just as interesting. Its no secret that many Balinese kids are dying to get a visa to work abroad for a few years and bring the cash back to start their own business in Bali. Sensorium, a new restaurant and café in Canggu is a great example. The owner, a youthful guy with a big, welcoming smile, worked as a chef in Japan, Singapore, and Australia for the last decade. He decided it was time to return home to express his passion and he setup his first project, Sensorium, in Canggu because he knew this was the area with Balinese and international guests that would appreciate his creations. (Sensorium is in the Batu Bolong area of Canggu, be sure to drop in for a coffee and some eats).
What does Canggu have to offer? Everything…
Beyond food, Canggu has everything else you could want. Want to learn to surf? Balinese surf guides await on the beach every morning to teach…or rent a board and teach yourself to surf. Want to get in shape? Hit a beach boot camp. Want to just relax? Go pull up a bean bag and a coconut on the beach at Kokoloko, or have a scooter delivered to your guesthouse to spend your day cruising between rice fields.
So, why Canggu? Because it has everything you need to forget reality.
Below, you'll find the things to do in Canggu that will leave you nearly satisfied, but bummed that you have to leave…and those are the signs of the best vacations, right?
25 Things to Do in Canggu
1. Relax and recover from your jet lag…next to the beach and with a massage or two
Bali is an amazing place, filled everything you may want to eat, drink, or do. For most visitors, their first instinct after their jetlag inducing intercontinental flight is to bolt off to the more well known parts of Indonesia: the "Nusas", the Gili islands, Uluwatu, Komodo (if you're lucky enough), but running away from Canggu too soon would be a mistake. Stop, relax, and get over your jet lag in Canggu.
Canggu is a microcosm of everything good, as you'll find out in this list, filled with great beaches, great food, friendly locals, rooftop bars, watering holes perfect for a sunset, chances to get your sweat on with a workout or yoga, and so much more. Whether you setup near "Berawa Beach", near Batu Bolong Beach, or in the rice fields near Echo beach, you'll find plenty to start your vacation/adventure off right…so don't disappear too soon.
Once you're recovered, go explore the rest of Indonesia, but be sure to come back to Canggu to recover and reminisce.
The Tip: Schedule a couple days in Canggu to unwind before your vacation starts or a few days after cruising through Indonesia. You can thank me later.
2. Visit Pura Tanah Lot Temple ("Tannah Lot") on a daytrip by scooter through rice fields
Rent a scooter and cruise 25 minutes northwest of Canggu, through the tiny villages and long expanses of rice fields flanked by 4 story tall coconut palms, and at the end that scenic ride you'll reach Tannah Lot Temple.
Aside from being an Instagrammer's paradise, Tannah Lot is Balinese Hindu pilgramage site and temple complex built on several spires sticking out of the ocean. To walk to and between them is extremely peaceful and the view without the backstory is extremely majestic in its own right.
Plan the Tannah Lot as a nice day trip, leaving Canggu sometime before midday (the earlier you leave, the better the light will be for photos) and return for a sunset beverage at one of the many places listed below.
Hot Tip: Contact Kadek at Kadek Local Bali. He's honest and trustworthy (my go to for scooter rentals), his scooters are in great shape, and he'll deliver them to your doorstep. I can't recommend him highly enough.
Notes: Scooter Rental ($3-$5 USD); 25 minute drive time one way
3. Eat…the amazing international fusion dishes created by the young, Balinese scene in Canggu
Canggu's food scene is unique in that it spans nearly every cuisine and budget imaginable. From amazing sushi at Ji and Tugu Hotel rooftop restaurant, to vegan and vegetarian dishes at Peloton Superhshop and Green Ginger Noodle shop, to the carnivore friendly burger joints of Burgerz and Panama, Canggu is filled with more food options than you'll likely be able to try in a single trip, and they're all pretty damn good.
Not sure where to start? Try these
Dinner
Tugu & Ji: Rooftop view with amazing sushi, Japanese fusion dishes, and a variety of cocktails
The Slow: Gourmet food cooked simply, presented well.
Nude, Easy Tiger, Two Fingers, District: Great options within walking distance of each other in "New Canggu" along the street "Jolan Pantai Berawa
Brunch
Canteen Café: A brunch spot that does everything well, from (my personal favorite) French toast with honey coconut sauce, avocado everything, and any coffee you can dream of done with coconut milk. One of the best brunch spots in all of Bali.
Vegetarian
The Green Ginger Noodle spot for veggie Thai food, or Peloton Supershop for "plant powered" food
Interested in more Canggu restaurant options? Check out our Guide to Restaurants in Canggu for a food list of the best food options in each area of Canggu
4. Eat local at a Warung, to experience the real Bali and Indonesia
It would be a shame to come all of the way to Bali, Indonesia and never experience the delicious Balinese or Indonesian cuisine, right? "Warungs" are local restaurants in Indonesia, and they range from street side shacks to fancy eat in restaurants…but they're all delicious.
Give Indonesian food a hefty try at these great Warung's
Warung Murah: Simple, authentic, and cheap. My favorites are the Soto Ayam (chicken soup) and Nasi Goreng (fried rice) with plenty of hot sauce with fried bananas and ice cream for dessert. Located on Jolan Pantai Berawa next to Puri Rama Homestay
The Piring Daun: A little too fancy to be a Warung (in my opinion) but the food is authentic and top notch. Arrive before 7pm, before the rush, to ensure they have the ingredients for the dishes you want
Interested in more Canggu restaurant options? Check out our Guide to Restaurants in Canggu for a food list of the best food options in Canggu
5. Experience Balinese Cultural Dances at Tugu Hotel Bali
Every Thursday night at 7:30PM the Tugu Hotel, the team puts on a traditional Balinese dance show. If you want to experience some real Balinese culture, this is a quick and easy opportunity. Tugu is located just across the street (2 mins walking) from Old Man's Bar and The Lawn, making this a great start or addition to any evening.
As a huge bonus, the Tugu rooftop is an excellent location to watch a sunset, with a drink in hand, and perhaps some very good sushi.
Jalan Pantai Batu Bolong, Canggu Beach, Canggu, Kuta Utara, Canggu, Kuta Utara, Kabupaten Badung
www.tuguhotels.com/hotels/bali/dining/
6. Hang out on a Canggu beach
Bali is known for its beaches, and rightly so. Canggu is earning its own reputation just as quickly. Warm waters, plenty of sun, cool air. All of that being walking distance from accommodation make Canggu's beaches difficult to not get addicted to.
Canggu's three main stretches of coastline are
1. Berawa Beach – the chill time beach
2. Batu Bolong Beach – the beginner surfer and party beach
3. Echo Beach – the other, quieter out of the way beach
Berawa Beach: Home to the (newly) legendary Finn's Beach Club and, on the opposite end of the spectrum, my favorite beach shack (Kokoloko). The waves come in full force here making this a more intermediate level surfing areas when its at its best, which makes catching sunsets on a bean bag with a cold coconut a relaxing yet entertaining experience.
Batu Bolong Beach: Notorious among the beginner surfers, thanks to a very beginner friendly break, and great for sunsets as well. Around 5pm, the non-surfers come out to enjoy, taking advantage of the 5pm-6pm happy hour at Old Man's bar and pouring into The Sand bar's beach area as live music blares. In between your time at Old Man's and Sandbar, walk over to countless great restaurants in walking distance, like Tugu, The Slow, the lawn, and several others on the "Batu Bolong Drag" — From early in the morning for surf and late at night for the fun, Batu Bolong is a must during your Canggu trip.
Echo Beach: Just west of Batu Bolong you'll find a place of peace devoid of the beach bars and beach clubs…just a nice place to set out your towel and enjoy…but still walking distance to the great, budding restaurants of the "Canggu Fields"
7. Watch a Sunset on the Beach…Everyday
On the beaches of Canggu you might not necessarily get the crystal clear waters of Gili Trawangan, Meno, and Aer, but in exchange you get a west facing coastline with great surfing opportunities, from beginner to advanced, and endless opportunities to experience amazing sunsets….or both at the same time.
I recommend that every evening, you go and watch the surfers out in the distance chasing waves as the sun falls into the ocean. I've spent months here of doing that every day, either watching from a beach bar or a surfboard, and it never gets old.
This is my go to list of beach places to watch the sunset from in Canggu:
Kokoloko beach shack & Surrounding Beach Shacks or Finn's Beach Club as a swanky alternative
Old Man's Bar – aim for happy hour from 5-6pm when drinks are buy 1 get 1 free
…yeah, that's it. The list probably should have been longer…but no ones perfect.
For more sunset food and cocktail options, checkout our lists of the best Canggu restaurants and Canggu bars
8. Surf (or learn to surf)
I came to Canggu having tried to surf some years before. "Tried" is the keyword in that sentence.
As of now, I have to fight the urge to put away my laptop and stop working to head out to Batu Bolong Beach for a "quick session" on the waves. I blame that on how easy it is to surf in Canggu, how warm the water is, and how welcoming the experienced guys on the beach are.
Canggu, and especially Batu Bolong, make it insanely easy to learn how to surf. The "breaks" (the things that make the flowing water turn into beautiful, surfable waves) are very beginner friendly, surfboards of all sizes are available to rent for about $3.50 USD for 2 hours, and if you're not comfortable just jumping in the water to learn, coaching by a knowledgeable instructor and surf guide runs $20-$25 for two hours, which is insanely cheap compared to everywhere else in the world.
My adventure began with just showing up, renting the longest board available, and paddling out, trying not to drown in the process. I'm so glad I did. Now, I make it a point to go out whenever the waves are at their tallest.
If you're coming to Bali but don't have the time, funds, or desire for a surf camp, read the article: Learn to Surf for $100 for a guide on how to teach yourself to surf by just showing up and renting a board.
If you need a little coaching, head to Batu Bolong Beach, specifically the parking lot in front of Old Man's Bar, and you'll find tons of surf shacks with knowledgeable coaches ready to help.
9. Visit the weekend markets
In Southeast Asia, the local markets are a great piece to add to any adventure. Though Canggu's mixed culture growth makes the markets less traditional than elsewhere on Bali, you'll still find great crafts and trinkets, food, jewelry, and anything else you would expect to find at a Southeast Asian market…just with a little more style. Beware that some are only open every two weeks or even once a month, so check the dates and hope to get lucky during your stay.
These are the highlight markets in Canggu
Sunday Market at LoveAnchor Canggu
Samadi Sunday Organic Market
Last Sunday of the month Market at Old Man's
La Laguna Gypsy Market
Semat Market
10. Shop at the Boutique shops lining every street
Along the three main streets in Canggu, Jolan Pantai Berawa near Berawa Beach, Jolan Pantai Batu Bolong near Batu Bolong, and Jolan Bat Mejan in the Canggu fields, there are plenty of boutique shops selling everything from custom sunglasses, to shirts and swimsuits, to natural and organic goods, to everything else you can think of.
If you're a shopper, and want something besides the malls and craziness of Kuta and Semenyek, head over to these three strips for some good boutique wandering:
Near Batu Bolong Beach: Start at Organic Café, right next to the Pit Stop burger joint, and walk straight down Jolan Pantai Bau Bolong ending at Batu Bolong Beach. Along the way you'll pass plenty of boutique stores, restaurants, and you just might be rewarded with a beachy sunset at the end
In "New Canggu" near Berawa Beach: Start around Bangkok Hustle restaurant and walk towards Berawa Beach. Along the way you'll pass plenty of boutique restaurants, coffee shops, and rice fields. You may want to detour down "New Canggu's" main drag (Pantai Berawa) to stop at one of its great restaurants.
11. Get fit with Yoga & Beach Crossfit workouts
Just because you're on vacation doesn't mean you have to get soft. Take on your choice of fitness style to start the day with a boost:
Yoga Studios: Plenty of yoga studios dot Canggu, but start your search at "The Practice Yoga" near Batu Bolong Beach or at Odyssey MVMT for morning yoga overlooking the rice fields on the shortcut between Batu Balong and Berawa
Bootcamp on the Beach: Fitness Boot Camps abound in Canggu, but the best (in my opinion) are on the beach…because how often do you get to get a workout on a beach paradise? Join a beach session with calisthenics, kettlebells, weights, and (productive) pain to start your morning right and keep your goals on track with the 2BEFIT beach bootcamps. Beach sessions go down at Batu Bolong Beach – 7:00-8:00 AM | Monday, Wednesday, and Friday
Hit a Gym for a Crossfit Class: Crossfit classes are much cheaper here in the US and a month of access will set you back about $100 USD. My gym of choice was S2S Crossfit, located on Jolan Pantai Berawa next to the shortcut
Surf…everyday: I am quite possibly in the best shape of my life right now. It might be the happiness…but it is probably the surfing every other day. If you hate gyms, just go grab a surfboard and have some fun.
For all of the best fitness options in Canggu, and full details on the ones above, checkout the Canggu gyms info and list in How to hit the gym, Canggu style
12. Explore the Canggu Café Scene
Thanks to the clear hipster DNA in Canggu, the coffee scene is on point. Strong enough that even an Italian would be satisfied with the coffee delivered at most of the Canggu cafes. So, the trick isn't finding good coffee, its about finding good coffee with an ambiance, a view, and food that suits you.
Here are 6 great Coffee Shops in Canggu to Get you started:
Canteen Café: Does coffees (Cappucino, Flat White, etc.) with coconut milk amazingly, and serves excellent brunch, in Cangg Fields
Hungry Bird Café: Hidden away, but has an excellent ambiance perfect for working
Ruko: Open early, so you can have coffee before your morning session, near Berawa beach
Nude Café: A low key spot that serves coffee well, but also does everything from brunch to vegan, to afternoon snacks
Toosi: A coffee stand near Berawa beach started and owned by local coffee addicts that are great to chat with. Perfect for a to go coffee on the way to (or from) Berawa Beach.
Vida Café: Good coffee and an amazing interior (with trees growing in it), near Batu Bolong Beach
For more info on the local coffee scene, and list of coffee shops in Canggu, and a map with all of them, checkout our Canggu Café Guide to find the perfect café (and munchies) for your location and mood
13. Explore the Smoothie Bowl scene
If you've never heard of a smoothie bowl, prepare to be scarred for life. Imagine a concoction of blended and frozen tropical fruits like dragon fruit and perfectly ripened mangos frozen and blended to the consistency of ice cream, poured into a hollowed out coconut, and topped with granola, seeds, and more perfectly ripened fruits.
If you're lucky, you'll get a few teaspoons of pure local honey too that is oddly so perfect you can taste the fruit that the bees hung out on. That is a smoothie bowl, and you need to have one. For about $3 to $4 USD a piece, they're probably the healthiest addiction you could pick up on your travels.
Some places in Canggu make a perfect smoothie bowl, and some places make a great smoothie wrapped in the perfect ambiance. I'll let you figure out which is which.
To get started on your smoothie bowl addiction, head for these 5 great smoothie bowl purveyors:
Sparkle: An unassuming restaurant with a dive theme and fish tanks for tables. Super cool. Aim for the "Divemaster" smoothie bowl or the "Rescue" smoothie bowl. I guarantee you won't be disappointed
La Casita: A Peruvian restaurant that serves much more than smoothie bowls, but the smoothie bowl is why I go. The rice field backdrop doesn't hurt either.
Kokoloko beach shack: This place keeps popping up for a reason. Simple. Relaxed. Perfect sunsets. Aim for the "Dragon Bowl" or the "Kokoloko Bowl" topped off with a cold coconut to sip on.
District Canggu: Part café, part co-working space, 100% amazing backdrop. Get the smoothie bowl and ask to check out the view from the third floor…it'll make you realize you're on vacation.
14. Rent a Scooter and Cruise through the rice fields (Pererenan Beach to Seseh Beach)
Though rideshares and taxis are good, I highly recommend renting a motor scooter. The ability to move around on your own will make it easy to pack in the best of Canggu and Bali as a whole.
When you do rent that Scooter, take it for a ride west out of Canggu, and follow the endless winding roads through the beautiful rice fields. Find your way to Pererenan beach, and then cruise to Seseh beach. A short, but beautiful, 20 minute ride. Then, consider riding another 20 minutes on to the Tannah Lot temple complex
Also, make it a point to experience the chaos of "The Shortcut" at least once while on motorbike, but not until you're ready.
15. Get a massage and live the spa life
At ~$7 USD (100k IDR)for a Balinese massage and ~$11 (150k IDR) for a deep tissue or Thai massage, its well worth treating yourself. Spas abound here, and I'm not giving away my secret spot (yet) so use that as an excuse to try quite a few places and find your favorite. Spas abound on the main drags of Jalan Pantai Berawa and Jalan Pantai Batu Balong.
Arrive early in the day (11am to 2pm) to get the best service
If you do get a massage I highly encourage over tipping. Most massage therapists only get 10% of the cost of a massage ($1 USD for 1 hour of work), so be generous.
16. Embrace the beach dog culture
There is an interesting dynamic with dogs on Bali…as in, they do what they want. Each morning, dogs with owners are let free and they all converge on the beach to meet their buddies ad catch up on the events of the past night.
On that same note, the "beach dogs", or dogs without owners that live on the beach" tend to show up too, to "chat". All of them are friendly and rarely bark at people – and if you're a dog person, just watching them from your beanbag is an entertaining spectacle.
17. Hit the beach shack scene for a cold coconut (instead of the beach club scene)
All along Berawa beach, past Finn's beach club, there is a vibe that says "we're in paradise and we need nothing else" and the beach shacks epitomize that vibe.
Show up, grab a coconut, and relax. To find it, navigate to Kokoloko on Berawa Beach, walk to the beach, and pick one of the 10 beach shack options find your little bit of paradise.
18. Take a moto-taxi
Motor scooter taxis, or "mototaxis" are just as common in Bali as taxis are in the US. They're notorious for being incredibly cheap and getting you anywhere you want to go insanely fast…because laws, and physics, don't apply to them.
Don't leave Bali without taking a backseat and riding a moto-taxi at least once…it'll be your adrenaline rush for the day.
Read more about mototaxis in the "Getting Around Canggu Section" below or just download the Go-Jek or Grab rideshare apps and start hailing them down
19. Have your favorite meal delivered via Go-jek
Go-Jek mototaxis – those guys are awesome. Not only will they get you to your destination in record time, they'll deliver any meal right to your doorstep…or the beach you're hanging out on. So if you've picked up a smoothie bowl addiction and you're stuck in your room for some reason, open the Go-Jek app and order that bowl delivered to your doorstep.
20. Go for a drink and enjoy the Canggu Bars
If you're in Canggu you're either on vacation or in the right mindset…and that deserves some time at the bars with good drinks and good music…and Bali has plenty of both
After 10pm, find your way across "the Shortcut" and move closer to Batu Bolong beach where the life continues into the night. These 5 bars should get you started and into the Canggu nightlife
Old Man's Bar: Start here during the 5pm to 6pm happy hour when all drinks are 2 for 1
The Lawn: Move here for a great view of the ocean from beanbags, beach beds, or the infinity pool
Deus Ex Machina: A solid restaurant wrapped around a motorcycle showroom with a music/performance venue in the back. When this place closes, follow the crowd to…well…you'll see…
Pretty Poison: A skate bar that centers around an empty concrete swimming pool where skateboarders bring everything they've got, to the music and for the crowd
Tugu Hotel rooftop: Perfect for when you're ready to start "adulting". Cocktails on Canggu's first upscale hotel are a solid way to start the night.
Need more Canggu nightlife ideas? There are plenty more where those came from. Just read our Canggu Bars Guide so you'll know your options well before you come.
21. Party…beyond Canggu
If you're really craving a Vegas/Prague level party you'll want to get out of Canggu and into Kuta and Seminyek. Aim for these reliable spots. If they're not jumpin', nothing is.
La Favela: I got lost here its so big. So many rooms. Soooooo many rooms!
Skygarden: All you can eat restaurant from 5pm to 9pm, 5 room club from 9pm to sunrise.
Potatohead Beach Club: Swanky and beachfront with a very Vegas by the sea vibe
Just hop a Go-Jek down for about $5 and you can experience the best that Kuta and Semenyek have to offer while still returning to the beachy paradise of Canggu
22. Do the "Mini Mart and Chill" thing
One of the shockers for me on arrival was how chill Canggu was. I know chill but this level of chill was new.
If you're partying on a budget or just want to meet new people, grab a drink at the mini-mart…and just drink it there. As odd as it sounds, several of the mini-marts have picnic tables and music setup outside for this specific reason. Join the club.
Aim for the Star Mart and Coco Marts…it'll be easy to find a welcoming crew from there…
23. Explore Canggu's street art
The Balinese are an artistic bunch and the quality comes out in two things: their tattoos, and their graffiti.
As you cruise your scooter around the rice fields, keep an eye out for the bits and pieces of graffiti. Not only are they beautiful pieces of art, a handful of them tell what's going on below the surface in Canggu and what's on the locals' minds. You'll have to keep an eye out and decipher that one for yourself.
24. Leave Canggu to the rest of Bali (so you have a reason to come back)
You already know that Bali and Indonesia as a whole are beautiful, diverse destinations. It would be a shame to come to Bali and only spend time in Canggu…so get out!
Spend time exploring other parts of the country, and when you've worn yourself out on exploration and adventure, come back to your new home of Canggu to recover.
There are many options to choose from in Indonesia…so I'll narrow your research down. If its your first time coming to Indonesia, consider these options as additional destinations for your trip, based on your own preferences. No matter what, you can't go wrong
Ubud: Mountain adventures, yoga, temples, and more traditional Bali
Amed: Snorkeling and SCUBA diving in a calm, reggae filled paradise (if you're around for 2 weeks+)
The "Gilis": Gili T (Gili Trawangan), Gili Meno, and Gili Aer: Three islands with white sands, clear waters, and not a single motorized vehicle. Vibes range from full party (Gili Trawangan) to peaceful isolation (Gili Aer)
Gili Asahan: Another "Gili" whose claim is eco resorts and a very rustic, natural feel
Nusa Penida & Nusa Lembogon: White sands, clear water, and resort style living
25. Connect with the young Balinese and Javanese crew on the island
One of the most underrated assets of Bali…are its people. Specifically, the young people. Thanks to a surplus of labor and weak economic position many take jobs in the service industry for low wages to make ends meet…but…that doesn't mean they're not rock stars.
The catchy quips you see etched around Canggu, the eclectic decoration, and the music playing are all influenced or picked by them. Many are artists, graphic designers, and hard workers with a digital trade. Much of the hip, catchy, and entrancing vibe in Canggu was contributed by them, and is what keeps them in Canggu over other areas. They all have aspirations…whether its to head abroad to make money, come back, and run their own restaurant, or spend time on their own real passion.
For example, my buddy that works at a café in Canggu hosts and serves with a smile by day, but works as a graphic designer at night. His goal is to incorporate as much Balinese culture as possible into his projects in a modern, artful way. This was my going away present from him. A notebook adorned with a drawing of a traditional Balinese dancer, a calendar of Balinese holidays (I'll be coming back for the day of silence), and the essential Balinese phrases. A great expression of his passion and his culture – and most of the Balinese cats are hiding something like this up their sleeve.
These are the kinds of people behind the awesomeness of Canggu. Engage with them, get to known them, and they'll make your experience in Cangg better. This is their home. Let them host you.
(If you're interested in a notebook or custom work, contact me and I'll connect you with my friend directly.)
Now that I've shared my secrets, I have a few requests…before I share everything else you need to know about Canggu…
Avoid single use plastics. With hundreds of thousands of tourists a year, the extra trash (and plastic) is overloading the country's developing infrastructure and ability to process trash. The quickest and easiest way to make an impact is avoid plastics. Use your backpack or a reusable bag instead of a plastic bag. Reuse your water bottles. Skip the straw. Sit down and drink your coffee like a person on vacation (instead of getting the plastic lid to go cup). Bali's making progress in the battle with plastic, and taking those easy steps will help a lot.
Respect (and be patient with) the Balinese staff: You're a guest in this Balinese paradise that is their home, have the self respect to conduct yourself like it. Remember that just because your currency goes further than there's and allows you to take trips like this (that many of them can't…yet) it does not give you the right to disrespect them in any way. Be patient, be cordial, and enjoy your stay. Respect the Balinese and Indonesians for letting you into their home.
Additionally, English isn't their first language. For most Balinese and Indonesians, English is a language they've learned without any formal schooling, just exposure. They've taught themselves English to a level of fluency that they can communicate with you. Respect that and be patient with it.
Embrace Balinese culture: as Canggu develops and more outsiders come in influencing the day to day life in Canggu…it would be nice if it stayed Balinese. Try to learn a few words, learn a bit about their culture, try some of their foods, and see a ceremony. Be curious and ask questions You'll leave a more enriched person if you absorb a bit while you stay…and they'll be more likely to welcome you back
Everything else you need to Know for a great visit in Canggu
For a quick list of the best of Canggu, check out these 4 articles:
Getting to Canggu and Settling In
Getting to Canggu
The Bali Airport, officially the Bali Ngurah Rai International Airport flying out of Denpasar, is 45 minutes away from Canggu by car or motorscooter. Your easiest, cheapest, and most efficient option will be to get a ride via the local rideshare apps Grab or Go-Jek.
With Go-Jek or Grab, a ride between Canggu and the Bali Airport will cost roughly 120,000 Indonesian Rupiah / ~$8.50 USD.
A note on taking a Go-Jek or Grab ride from the Bali Airport:
Rideshare drivers aren't technically allowed to pick up at the airport…but this is a small hurdle. Your driver will likely arrange to pick you up on the departures dropoff level (the top level), so it may be worthwhile to wait there while you arranged the ride
Go-Jek and Grab will be your main source of transportation on mainland Bali as the cars are much cheaper, fair, and reliable than taxis (read more below) and the "moto-taxis" can be a fun, cheap, and extremely quick way of getting around
To get yourself ready for Bali, download the free Go-Jek and Grab apps before you arrive
Download the Go-Jek Rideshare App free here
Download the Go-Jek Rideshare App Here
Getting around Canggu and off to Semenyek and Kuta
Canggu has plenty or restaurants, shops, beaches, and nightlife to explore, in addition to what Kuta and Semenyek have in store. It would be a shame to miss any of it. Lucky for us, there are plenty of ways to get around Canggu
Go-jek, grab (instead of Uber)

Renting a Scooter (or having one delivered)
Moto-Taxis
**video**
Go-jek, grab (instead of Uber)
Go-Jek and Grab are the Indonesian and Southeast Asian rideshare apps that took the place of Uber and let you hail a car or motorscooter taxi (aka "mototaxi") at any time. These are both much better options than the local taxis which will charge you as much as they can – usually 2x to 3x the "fair rate" according to Go-Jek and Grab
To use them, just download the app and you're set. All transactions happen in cash, so there's no need to add a credit card.
Keep in mind as well that Go-Jek delivers food from virtually any restaurant, which is great for those lazy days…or if you want some tacos delivered on the beach.
Moto-Taxis on Go-Jek and Grab
Within Go-Jek and Grab you have the option to choose a car…or a motorscooter taxi (mototaxi). I highly recommend choosing the mototaxi once for the experience. The rides are cheap, usually ~$1USD for even a 30 minute ride, and these guys are INSANE!!! They make my driving seem tame (as the video below shows).
Simply select the mototaxi option ("Goride") and your crazy (moto)taxi will be there within seconds.
Renting a Scooter (or having one delivered)
If you'll be around Bali for more than a few days, and you're comfortable on two wheels. Rent a scooter. Motorscooters are everywhere and with good reason: they're cheap, make it easy to get around the tiny streets, and add the option for wandering through Canggu's beautiful rice fields.
If you crave a bit of adventure by scooter, Ubud is only one hour away by scooter, and Amed (great snorkeling and a peaceful ride) is 3 hours riding away, and Singaraja (dolphins, waterfalls, and cliff diving) is only 2 hours and 30 minutes away.
Along the way to any of these destinations, you'll pass through the real Bali, sans tourists, filled with rice fields, cows, and ceremonies.
I highly recommend renting motorscooters to add some spice, authenticity, and adventure to your time in Bali.
Kadek, at Kadek Local Bali Scooters and Tours is the way to go. Kadek offers well maintained scooters at the lowest prices I've seen in Bali and he delivers the scooters right to you and picks them up as well, which is much more convenient than you think. Plus, he's a great guy. I like supporting great guys
Notes on Riding a Motorscooter in Bali
International License: Not necessary. Just be prepared to pay a few dollars bribe if you get caught doing something stupid
Avoiding trouble with the law: Be respectful of other drivers and wear a helmet. Follow these two rules and you'll have exactly "zero" problems.
Where to sleep in Canggu
No matter where you decide to sleep, Booking.com, Hostelworld, AirBnB, and Facebook groups are your best bets depending on the type of accommodation you're look for. I could list my favorites but Canggu is developing so fast that the recommendation would be outdated in 3 months. My recommendation: pick the area of Canggu that you want to stay in (Berawa Beach, Batu Bolong Beach, or Echo Beach) and the accommodation type you want (hostel dorm, private room, Villa), and pick your crash pad of choice from there. Read on for more details…
For the best options, book at least a few days in advance – Bali is busy all times of the year, and Canggu can't seem to build guesthouses quickly enough.
For Hotel Rooms, Guest Houses, and Homestays, use Booking.com
For private rooms, such as hotel rooms, guesthouses, and homestays in Canggu, your best option is checking Booking.com. From my experience in Canggu wandering around homeless, Booking.com has the widest selection and their star ratings make it easier to land a comfortable place.
If you're planning on staying for the long haul (longer than one month), I recommend checking out the facebook groups below for the most recent and fair options for rooms in shared villas or to rent your own villa.
Hostels
For the backpacker crowd, there is a very wide variety of budget and hostel accommodations. All of the best ones are available on Hostelworld and their ratings and reviews are reliably accurate. Book at least a few days in advance to get the best options. Here are my favorite hostel recommendations…
To Party: Stay at the Escape Hostel
Capsule styled private beds are comfortable and balance out the mayhem that happens every other night on the rooftop bar and in the accompanying pool. Crowds regularly amass and taxi down to rowdier Kuta and Semenyek for nightlife once Canggu goes silent
To Surf: Black Pearl Hostel
Comfortable, swanky, and walking distance from the beginner friendly surfing of Batu balong…as well as walking distance to Old Man's and Deus Ex Machina. If you're here to get wet by day (on a board) and get social by night, this is a solid option.
Renting Villas in Canggu
For short term Villas AirBnB (a few days to a week) is your best bet. The best villas are privately owned and rented, and AirBnB is your quickest way to accessing them without being on the island.
For longer term villa options, check Facebook (longer than a week). There are a ton of extremely well priced and luxurious villas available, just signup up for the "Canggu Community Housing" group and these other Canggu housing grops on Facebook:
Canggu Community Housing Facebook Group
What to Bring to Canggu
Thanks to the low cost of living and perfect climate, you don't need to bring much to Canggu. The most important things to bring are a desire to chill and a positive attitude. Beyond those important things, be sure to bring:
Sunscreen: Sunscreen costs a fortune on Bali (~$12-$15 a bottle) and the sun is brutal. Be prepared
Sunglasses/Hat: Again, Indonesian sun is plentiful and brutal. If you burn easily, come prepared
Reef Shoes: Though most of the beaches are sandy, some are coral and rock. If you're the type that has to explore every beach and you have reef shoes at home, bring them. These can be bought here cheaply as well. Berawa Beach, Batu Bolong beach, and the beaches in Amed are all sandy and welcoming, but Echo Beach and some of the fun snorkeling beaches on Gili T are rocky and reef. If you don't have space in the bag, don't sweat it, you can easily rent these on any rocky beach worth snorkeling.
Travel Insurance: Accidents do happen. If you plan on learning to surf or plan on adventuring by motorscooter, I recommend picking up good travel insurance. I'm currently covered by World Nomads and recommend them. If you're not certain about whether you actually need travel insurance then read my article: Do you need travel insurance? Maybe Yes. Maybe No…
What to buy in Canggu
Now, you know what to bring to Canggu…but what should you buy in Canggu?
Mosquito Repellent (Citronella, and plugin): Mosquitos can be horrendous here, luckily the Balinese have plenty of all natural mosquito repellents for cheap that work very well. Citronella extract based mosquito repellant is the best and most effective I found and you can pick it up at any mini-mart for about $1.
If you're particularly prone to mosquitos, I recommend buying a mosquito repellent wall plugin for your room – they're about $2 and work wonders so you can sleep in peace without mosquitos in your room.
Stay Connected in Canggu: SIM Cards, WiFi, and International Plans
How can use stay digitally connected in Canggu? Answer: very easily. To be more precise, local SIM cards and Wifi.
Balinese Local SIM Cards for Connectivity: Cheap and reliable
For about $7 you can pickup a local SIM card with 12GB of 4G data, which (at least compare to US prices) is a steal. If you plan on moving about the island and will need to order Go-Jek/Grab rideshares, look up maps, and research details on the road, I highly recommend buying a local SIM card
To use a Balinese SIM Card, just ensure that your phone is "SIM unlocked" and ready for use internationally and then purchase a SIM card at any kiosk. The kiosks will be stands on the side of the road, noticeable by the colorful banners with "3G" and "4G" written on them. Purchasing the card will take less than 5 minutes, guaranteed.
Wifi in Canggu: Fast and available everywhere
As a burgeoning digital nomad hub, with tons of hipsterized coffee shops, Canggu is noted for having fast internet access everywhere.
International Data Plans: T-Mobile and Google-Fi
If you're smart enough to be on T-Mobile One or Google- Fi then you'll have unlimited texts and data from the moment you touch down – although it will be much slower than the Balinese SIM card option. I prefer the Balinese SIM card, but you'll be able to get by with these plans.
————
Day Trips around Canggu
As great as Canggu is, it would be a shame to not visit other parts of the island. Now that you have your scooter available, consider visiting these day trip spots
Kuta: Shopping and eating by day, partying by night

Seminyek: Shopping and eating by day, partying by night
Uluwatu
Nusa Penida
Where to Go After Canggu
Outside of the day trips from Canggu there are plenty of places worth spending a couple of nights at least, depending on what you want from your trip. These top options will help you decide where else to go in Bali and nearby parts of Indonesia.
Ubud: Yoga, temples, and hill country jungle adventures
Tucked away in the cool hills of Bali, Ubud is worth a 2 day detour. Countless temples in walking distance, adventure activities (rafting, trekking, jungle ATV tours), and a plethora of yoga opportunities make this a worthwhile spot to check out for anyone. Level up by staying at one of the many swanky hotels with insta-worthy views of rice fields
Amed: Peace, quiet, reggae, and diving
Nestled in the calm waters of Balis opposite coasts, the tiny Reggae loving town of Amed is filled with SCUBA diving schools, Freediving schools, and spearfishing schools. You can also rent snorkel/mask for cheap and swim out to a Japanese WWII wreck to free dive and snorkel around.
Singaraja: Dolphin tours and waterfalls
Known for dolphin tours, waterfalls dotting the roads in and out, and some epic cliff diving a short drive away
The Gilis (Gili T, Gili Aer, Gili Meno): White sands and even more island paradise
White sand beaches, clear waters, and no motor vehicles define these three islands. The vibes range from party all night (Gili T) to complete chill and relaxed (Gili Meno) so they offer something for everyone at a cheap price. Insanely cheap SCUBA dives can be had for $25-$30 a dive, and great snorkeling opportunities wrap all 3 islands. If you can't choose between the 3, start at Gili T as the "public boat" makes moving between the 3 islands quick, cheap (~$1), and easy.
Gili Asahan: Eco friendly paradise living
As beautiful as the other "Gilis", but more desolate and geared towards eco-tourism
Nusa Penida:
Nusa Lembogon:
Java: Yogyakarta:
Lombok:
Since the recent earthquakes, Lombok's infrastructure has taken a huge hit, making the Gilis a generally better option. Also, trekking to summit the famed Mount Rinjani on a 3 day trek is less advised as the mountain has been volcanically active as of recent. But this island is still a beautiful place and worth keeping on your radar for the future.
Need more Canggu details to make the most of your trip? Checkout these articles to plan the best places to spend your time in Canggu:

Other Great Articles in the Moving to Bali Series
Other Great Nomad, Travel, and Expat Lifestyle Articles