In May 2022, Argentina unveiled an exciting opportunity for digital nomads worldwide – the Argentina Digital Nomad Visa. While the application process has officially begun, some details are still unclear, but we do know this is a fantastic opportunity for nomads hoping for an extended stay in the "Paris of South America" and beyond and citizens of all countries with visa-free access to Argentina are eligible to apply.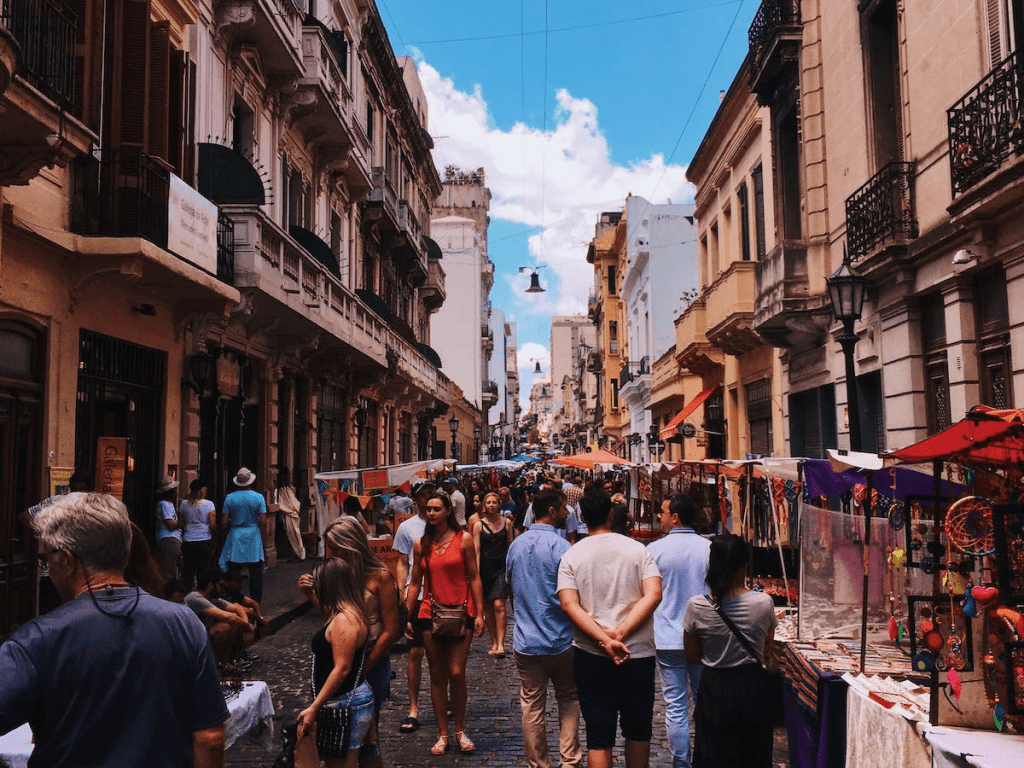 Argentina's Digital Nomad Residency permit visa allows for a 180-day stay in the country, with the option to renew for an additional 180 days as long as you've spent at least 90 days in Argentina during your 180 day visa validity period.
To prove your eligibility, you'll need to submit your CV, qualifications, and evidence of remote employment. While the government hasn't set a minimum income requirement, an estimate of around $2,500 per month is suggested for the proof of income
Argentina's Digital Nomad Visa comes with lots of perks
Furthermore, Argentina's government has sweetened the deal for digital nomads arriving via Buenos Aires airport, offering a package that includes a 40% discount on airport transfers, reduced rates on the first-night hotel stay, a free SIM card, a free SUBE card for public transport, and for nomads staying longer than 3 weeks, there is a $500 gift card to spend on food and drink throughout Buenos Aires.
The free 90 day Argentina tourist visa may still be the best option for short stay
Before the digital nomad visa was introduced, remote workers typically entered Argentina as tourists, which allowed them a 90-day stay. Those desiring longer stays often exceeded their visas unlawfully, incurring a flat fine of $106.
Last, Argentina offers a 2 year "Rentista Visa" for recipients of passive income, and a working holiday visa for travelers between the ages of 18 and 35, and from participating countries.
Choosing the Ideal Visa for Digital Nomads
The new digital nomad visa provides a simple way for nomads to spend up to a year in Argentina without worries of overstays or visa runs every 90 days.
While the visa fee is slightly higher than the overstay fine, at $200 for the initial application and $200 for the renewal, the benefits far outweigh this cost. Notably, the digital nomad visa is multiple-entry, allowing you to explore neighboring countries during your stay.
At the end of your year, you may switch to a different visa class – such as tourist, rentista, or investor – if you wish.
Is an Argentina work visa possible with the digital visa?
The Argentine digital nomad visa only allows for work, and income, sourced from outside Argentina, thus it is not possible to get an Argentina work visa as part of the Argentine digital nomad visa process.
However, individuals under the age of 35 and from the countries of Australia, Denmark, France, Ireland, or New Zealand are eligible for the 9 month working visa the "Working Holiday Program".
There are annual maximum quotas for the number of visas allowed for each nationality annually, but these visa maximums are very rarely met.
For details on how to apply based on the processes required for your country, contact the Argentine consulate in your country.
Official information for Argentina's Working Holiday Prom
https://cancilleria.gob.ar/en/service/work-holiday-programme/foreign
https://eirla.cancilleria.gob.ar/userfiles/Working%20Holidays%20Visa%20FAQ.pdf
Application Requirements for Argentina's Nomad Visa
To qualify for the Argentina digital nomad visa, you must provide the appropriate documentation proving that you are a remote worker with adequate income (earned outside of Argentina) to support yourself.
The application also requires a CV/resume and evidence of qualifications, although the acceptable professions are not specified. While there's no set minimum income, an estimate of around $2,500 per month is advised.
Additionally, you must hold a valid passport from a country that can enter Argentina visa-free and provide proof of good character by presenting a clean criminal record from the last three years of your residence.
Proof of Financial Self-Sufficiency
As part of your application, it is essential to substantiate your digital nomad status and financial self-sufficiency. Provide a cover letter detailing your earnings and income source, backed by bank statements, pay stubs, and a work contract. Submit an updated CV and copies of relevant qualifications.
Additional Documentation
While the guidance on the Argentine digital nomad visa doesn't explicitly list other required documents, past visa requirements suggest that the following might also be necessary:
Proof of comprehensive insurance covering medical expenses during your stay in Argentina.

Evidence of accommodation for at least the initial portion of your visit.

A clean criminal record from all countries where you've resided over the past three years.
Remember that non-Spanish documents require official translations and documents issued by foreign governments should be authenticated with an apostille.
Minimum Stay Requirement
Once you obtain the visa, there's technically no minimum stay in Argentina.
However, if you do wish to extend the nomad visa, you will need to have stayed in Argentina at least 90 days of the initial 180 days granted on your visa.
Applying for the Argentina Digital Nomad Visa: A Step-By-Step Guide
To start your Argentina digital nomad visa application process, follow these steps:
Step 1: Gather Essential Documents
Before initiating your application, make sure to collect all the necessary documents,
Passport

Cover letter explaining your remote work and income

Proof of income in the form of pay stubs or bank statements

CV listing qualifications

Proof of accommodation

Proof of health insurance

Apostiled report of a clean criminal record.
Note that you can apply for the nomad visa online before arrival, or after you've already arrived in Buenos Aires, and are staying on a tourist visa.
Step 2: Create an Online Account and Make Initial Payment
Visit the Migracion portal and create an online account, providing your personal details. You'll to pay the initial application fee of $120 using a credit card online via Provincia Net.
Step 3: Submit Second Payment
Upon completing the initial application, you'll receive a payment number. Use this to make the second payment, an $80 consulate fee, via a bank deposit at the designated bank.
Step 4: Validate Application and Upload Documents
Return to the application portal to validate your deposit and upload digitized versions of all required documents.
Step 5: Receive Visa and Travel to Argentina
After submitting your application, you'll receive an email notifying you of the visa status. Once approved, you are free to travel to Argentina. Print a copy of the email to facilitate entry.
Step 6: Obtain Your DNI
For stays exceeding 90 days or if you need to open a bank account or sign contracts, acquire a Documento Nacional de Identidad (DNI). This can be obtained at a Citizen Registry or online through the Mi Argentina App.
Timeline for Argentina Digital Nomad Visa Application: 10 to 45 days
After preparing your documents, the online application typically takes a few days. Once submitted, you can expect visa approval within 10-45 days. The DNI application, if needed, follows a similar timeline.
Cost of Applying for the Digital Nomad Visa in Argentina
Aside from costs associated with apostilles and translations, the application fees total around $200 – a $120 visa application fee and an $80 consulate fee. These fees are non-refundable.
Denial of Argentina Digital Nomad Visa
If you are unlucky enough to receive a denial, it is possible to appeal a rejection without incurring additional fees. Appeals may involve providing missing or rejected documentation. However, remember that all fees paid are non-refundable.
Living as a Digital Nomad in Argentina
Argentina, the largest Spanish-speaking country globally, offers a blend of stunning natural landscapes and a rich local culture. Explore awe-inspiring sights like Iguazu Falls, the vast expanses of Patagonia, and the coastal beauty of Puerto Madryn.
Immerse yourself in Argentina's "gaucho" culture, savor mouthwatering barbecues, indulge in local wines, and embrace the passion of Tango. Argentines are known for their friendliness, love of football, appreciation for antiques, and vibrant nightlife.
The country boasts a thriving digital nomad community, particularly in Buenos Aires, Cordoba, and Mendoza. English is widely spoken, and you'll find excellent internet connectivity and numerous coworking facilities.

Frequently Asked Questions about the Argentine Digital Nomad Visa
Frequently Asked Questions (FAQs) About Argentina Digital Nomad Visa:
Is There a Digital Nomad Visa in Argentina?
Yes, Argentina introduced a digital nomad visa in May 2022, allowing you to stay in the country for 180 days, with the option to renew for an additional 180 days. You need to demonstrate a source of income from outside Argentina.

What's the Difference Between a Digital Nomad Visa and a Tourist Visa in Argentina?
While tourists from approximately 80 countries can visit Argentina for up to 90 days without a visa, the digital nomad visa is available to citizens of those same countries. It permits a 180-day stay, renewable for another 180 days.

How Long Can You Stay with the Argentina Digital Nomad Visa?
The Argentina digital nomad visa initially allows for a 180-day stay, with the possibility to extend for an additional 180 days. If you secure local employment, you can transfer to other visa types.

Is It Possible to Extend the Argentina Digital Nomad Visa?
Yes, it is possible to renew Argentina's digital nomad visa for an additional 180 days. However, you must have spent at least 90 days of the total 180 days in Argentina, and you will have pay the $200 in fees again. Additionally, you can change to other visa categories if you qualify.

What Is the Processing Time for the Visa Application?
Once you've gathered the necessary documents (including apostilles and translations), you can apply online. Typically, you'll receive a response within 10-45 days. After approval, you're free to travel to Argentina.

Can You Apply for a Digital Nomad Visa While Abroad?
Yes, you can apply for Argentina's digital nomad visa online. You may also apply while in Argentina, on a tourist visa, but you will have to apply in person at the local Immigration Office.

In What Currency Should You Pay for the Argentina Digital Nomad Visa?
The visa application fees should be paid in the currency of the country where you're applying. The total cost is approximately $200.

How Can You Pay the Visa Fee?
The visa fee is divided into two parts. The first part, the application fee, is paid online via credit card during the application process. The second part involves making a bank deposit or using a money order as instructed.

Is a Refund Possible If Your Visa Application Is Denied?
Unfortunately, both the visa application fee and the consulate fee are non-refundable in case of application denial. You can appeal the decision and provide additional documentation, but fees remain non-refundable.

Can You Work for an Argentinian Company with a Digital Nomad Visa?
No, you may not work for an Argentine employer while in Argentina. The digital nomad visa is designed only for work performed for clients and foreign companies based outside of Argentina and income derived from outside Argentina.

Is Argentina a Safe Country?
Argentina is generally considered one of the safest countries in South America. However, it's important to be aware of occasional political protests that can disrupt daily life.

How Affordable Is Living and Working in Argentina?
Argentina offers an affordable cost of living, approximately 70% less than in the United States, making it favorable for remote workers. However, the local currency, the Argentine Peso, has faced depreciation.

What's the Minimum Monthly Income Required for the Argentina Digital Nomad Visa?
The Argentine government has not specified a minimum income requirement. However, it's estimated to be around $2,500 per month, based on similar visa programs.

Can U.S. Citizens Travel to Argentina Without a Visa?
U.S. citizens can visit Argentina as tourists for up to 90 days without requiring a visa.

Are There Alternative Visa Options to the Digital Nomad Visa in Argentina?
The best alternative visas for long stays in Argentina are the Rentista Visa, the Argentina Investment Visa, and the Working Holiday Visa (Working Holiday Programme) offered jointly with select countries.

Is There a Digital Nomad Community in Argentina?
Yes, Argentina has a very robust digital nomad community, with the strongest and largest community being 62,000 strong in the capital Buenos Aires, and equally tight-knit communities, Cordoba, and Mendoza. There are also very active online groups for sharing information and experiences throughout Argentina.

Are the People in Argentina Friendly to Foreigners?
The people in Argentina are known for being friendly and welcoming to foreign visitors. English is widely spoken, and locals are eager to share their culture.

When Is the Best Time to Visit Argentina?
Argentina offers favorable weather year-round, but April to June and September to November are considered ideal periods with pleasant weather and fewer tourists.

Do Neighboring Countries of Argentina Offer Digital Nomad Visas?
Yes, neighboring countries like Brazil also offer digital nomad visas, typically for a 12-month duration with specific income requirements.

Are There COVID-19 Travel Requirements for Argentina?
Currently, there are no specific COVID-19 travel requirements for Argentina. However, regulations can change, so it's essential to stay updated on the latest travel information.

Do recipients of the Argentine Digital Nomad Visa have to pay local taxes in Argentina?
Foreigners in Argentina that do not work for a company based in Argentina or do work sourced in Argentina and do not stay longer than 12 months are not subject to local taxes. Additionally, those with foreigner sourced income and staying on a temporary visa for not more than 5 years are not taxed on any foreign sourced income.
However, beware that if you are liable for taxes in Argentina – due to becoming a resident, or earning income sourced from within Argentina – your country may offer a foreign tax credit for taxes paid in Argentina.
Sources: