Sri Lanka is described by many travelers as being ripe with adventures and experiences that will blow your mind and the hikes in Sri Lanka live up to this reputation. From quick hikes that offer hundred mile views to treks to the end of the world, the hiking places in Sri Lanka are numerous and should be part of your experience in Sri Lanka.
Read on for the 5 best hikes in Sri Lanka and a handful of places perfect for outdoor wanderers and trekkers in Sri Lanka.

CONTENTS

THE 5 BEST HIKES IN SRI LANKA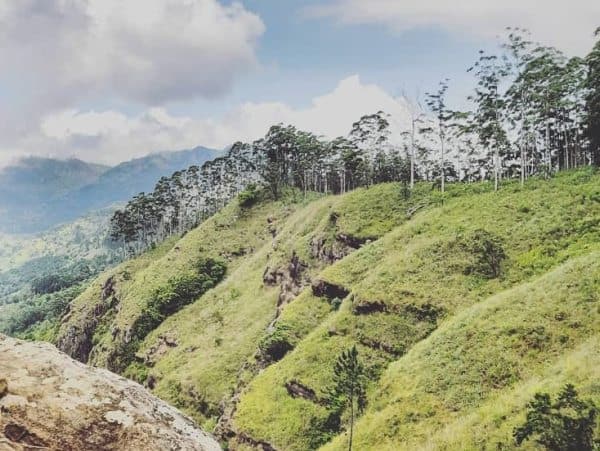 Horton's Plains and World's End (3 hrs; 9.5km): An epic hike to an 880-meter high cliff dropoff and amazing views
Adam's Peak (Nuwara Eliya; 7 hrs, 7 km): 5200 steps and 2000 meters in elevation game make this pilgrimage a great hike
Little Adam's Peak (Ella; 2 hrs): A short but pleasant hike that leads to some great viewpoints
Ella Rock (Ella; 4 hrs): Another short but pleasant hike near Ella
Piduranagala Rock (Sigiriya; 20 minutes): A short hike through a monastery and to the top of a towering rock that offers great views of the lion fortress and surrounding without the $35 price tag of Sigiriya rock

1. Horton's Plains and World's End
Hike to World's End in Horton's Plains National Park (3 hrs, 9.5km)
World's End is an aptly named viewpoint as it is a cliff face with a sheer 880-meter drop, making for one of the most dramatic views in Sri Lanka.
How to Get to World's End
Keep in mind that it tends to be chilly and wet at times in Nuwara Eliya, and it will be more so in Horton's Plains National Park and on the hike. Come prepared with a rain jacket and something to stay warm, especially if you're riding up in an open-air tuk tuk.
Leaving from Nuwara Eliya, the drive is 1-1.5 hours by tuk tuk (3,000 LKR / $20 USD) or private van (4500 LKR /$30 USD). If you're driving your own tuk tuk simply head to the park (using Google Maps), and after reaching the ticket station, then follow the signs another 15 minutes to the trailhead.
The entrance fee to the park will be roughly $25 per person
At the trailhead, start walking!
The entire hike forms a loop converging at a fork in the road ~10-15 minutes after you start walking. Going to the left is the faster, more strenuous route. Going to the right is the slower, easier route. Both trails connect back around the viewpoint.
On the way back, be sure to take the opposite route to vary your views on the walk home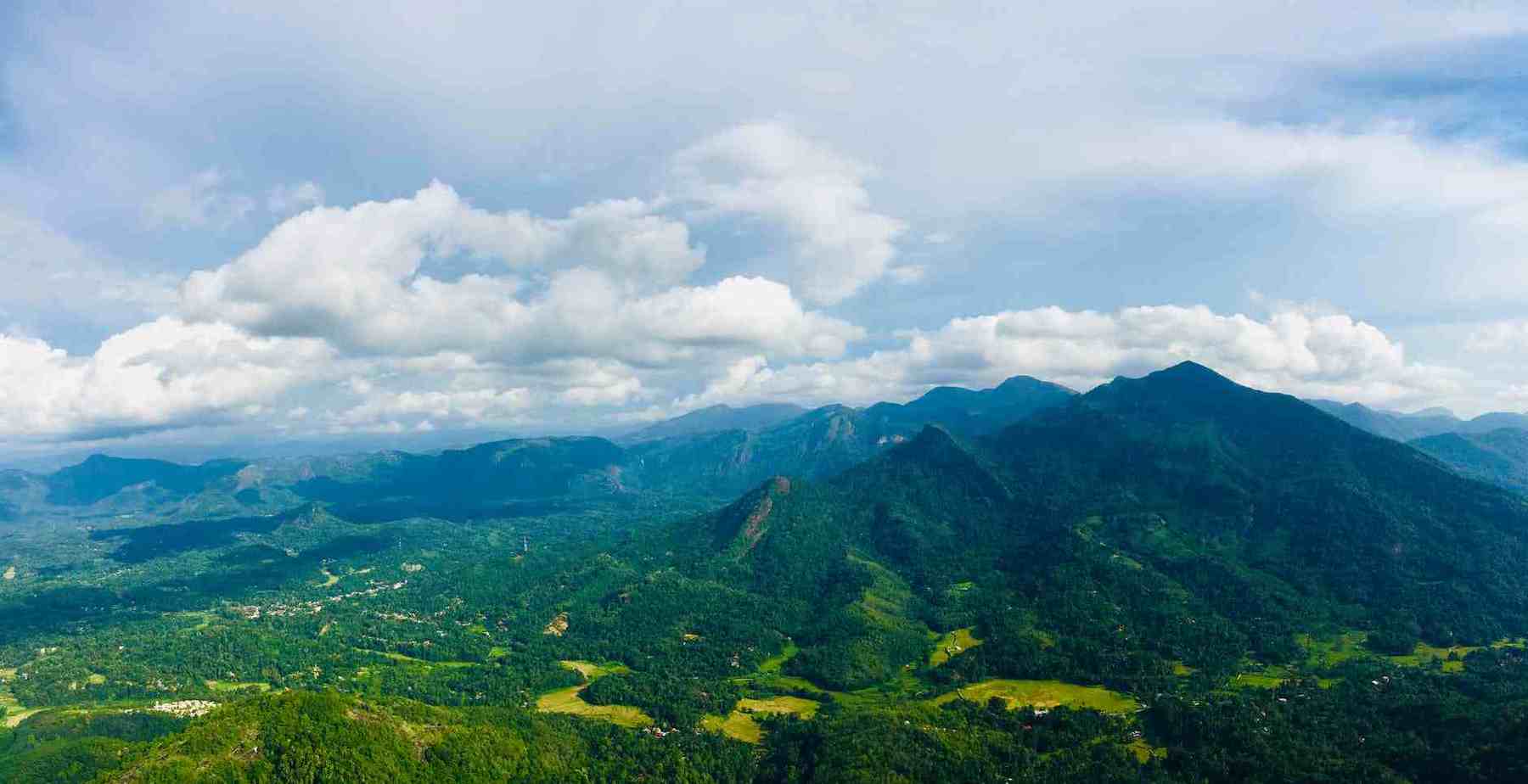 2. Adam's Peak
Adam's Peak Hike | Sri Pada Mountain (7-8 hrs round trip)
Adam's Peak is a religiously significant spot for Christians, Muslims, Buddhists, and Hindus, making it a point of pilgrimage for some 20,000 Sri Lankans each year.
Viewed from above, Adam's Peak bears a crater shaped like a footprint. Buddhists believe this crater is the footprint of the Buddha. Hindu's believe the crater is the footstep of Shiva. Christians and Muslims, however, believe this crater is the footprint of the first place Adam stepped after leaving the Garden of Eden – thus giving the mountain its name – Adam's Peak.
The 7 kilometers and ~8-hour hike takes you up 5500 steps. Most hikers start at the trailhead in the town of Delhouse/Dalhousie (Nallathanniya on Google Maps) around 2:30 AM, aiming to reach the summit by sunrise.
Getting to Adam's Peak: Dalhousie is a 3 hour 20-minute ride from Kandy and a 2.5-hour ride from Nuwara Eliya, so plan accordingly. If traveling to Adam's Peak by train take the train 2 hours and 45 minutes to Hatton station, then hop a local bus or Tuk Tuk from there. Train tickets are available online for the ride, so book in advance to ensure you have a seat.
When to Hike Adam's Peak Hike | Sri Pada Mountain: December to March is the optimal time. Outside of this window, expect bad weather in the form of cold, clouds, and rain. Though some adventurers with rain jackets may feel froggy, more rain makes those 5,000 steps a lot more slippery and treacherous and makes those leaches a lot more mobile on the hike. The tea and snack shops that normally provide warmth and respite also close down during this season.
Guides: Odds are people will try to sell you a tour or offer guiding service. Don't bother. The route is simple with one way up and one way down with plenty of other hikers/pilgrims on the trail.

3. Little Adam's Peak Hike (2 hrs)
One of the highlights of Ella, this quick hike is relatively easy and delivers some epic views in return. The starting point is a 10 to 15-minute ride outside of town making it easily accessible and something you can knock out before or after lunch.
A 1.5 – 2 hour round trip hike crawls over a ridgeline ending with unimpeded views through hill country and into the flatlands of Sri Lanka.
On the way hiking toward the peak, you'll pass zip-lining options if you want a quick bit of adventure.
Beware, there are a couple points walking along the steep mountainside which can be a little vertigo-inducing, but you can easily take the inside route (over the mountain) by walking through the blade grass.
The hike isn't too tough and is easily doable by most, just keep it slow and easy.
To do the hike, just look for the start point in Maps.Me and follow the hiking route in Maps.Me.

4. Ella Rock Hike (4 hrs)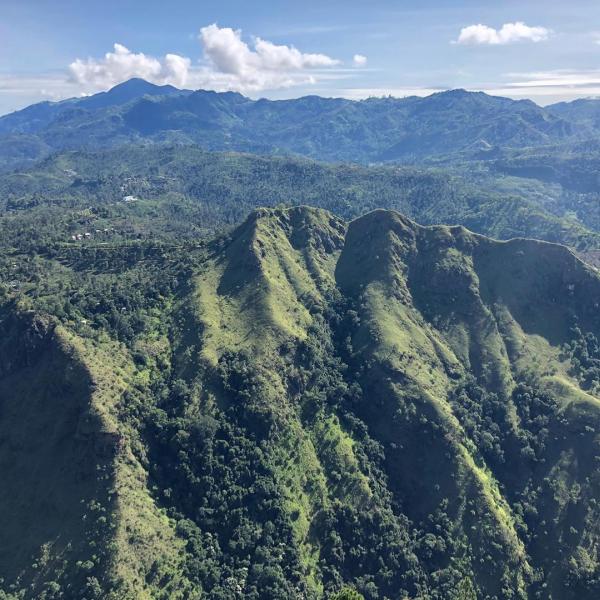 Another fantastic hike and a bit longer, this 4 hour round trip hike gives you more of the same – fresh, cool air and highland views.
To make the Ella rock hike, head to the Ella train station and walk south (along the tracks) past the bridge and towards the Kithaella train station. From here, continue walking along the tracks following the Maps.Me route to Ella Rock.
Expect the hike to take 4 hours round trip.

5. Piduranagala Rock Hike (30 Minutes)
The Pidurangala hike is short, sweet, and more about the destination than the journey. This 30 minute hike takes you from a Buddhist monastery and up a mountain to its peak for 360 views of the landscape. The hike ends at a view of the Lion Fortress, also called Sigiriya, a towering geological phenonomen on which a former price built a palace and fortress.
This hike, and its viewpoint, make a cheaper and more enjoyable alternative to the $30 entrance fee to Sigiriya paired with a 1.5 hour to 3 hour wait in line to inch to the top.
---
How to Do the Pidurangala Rock Hike
Start at the Pidurangala Rock Ticket Office (Click here for the Pidurangala Rock Ticket Office location on Google Maps), pay your $3.50 USD, and start walking in the direction they point you. Simple as that. The hike to the top of Pidurangala is between 15 minutes and 30 minutes you'll likely spend more at the top enjoying the views than you will hiking.
Note that the last 50 meters of the hike get "interesting" as you'll have to crawl through some precarious boulders and do a little yoga. Just know that if you reach that point, you're going the right way and you're about 3 steps from the top. Also know that its one of the best views in all of Sri Lanka.
Though many people say Sigiriya rock is a must, I prefer Pidurangala because the beauty of Sigiriya is in view.

6. (Mini)Hike to the 9 Arch Bridge (15 Minutes)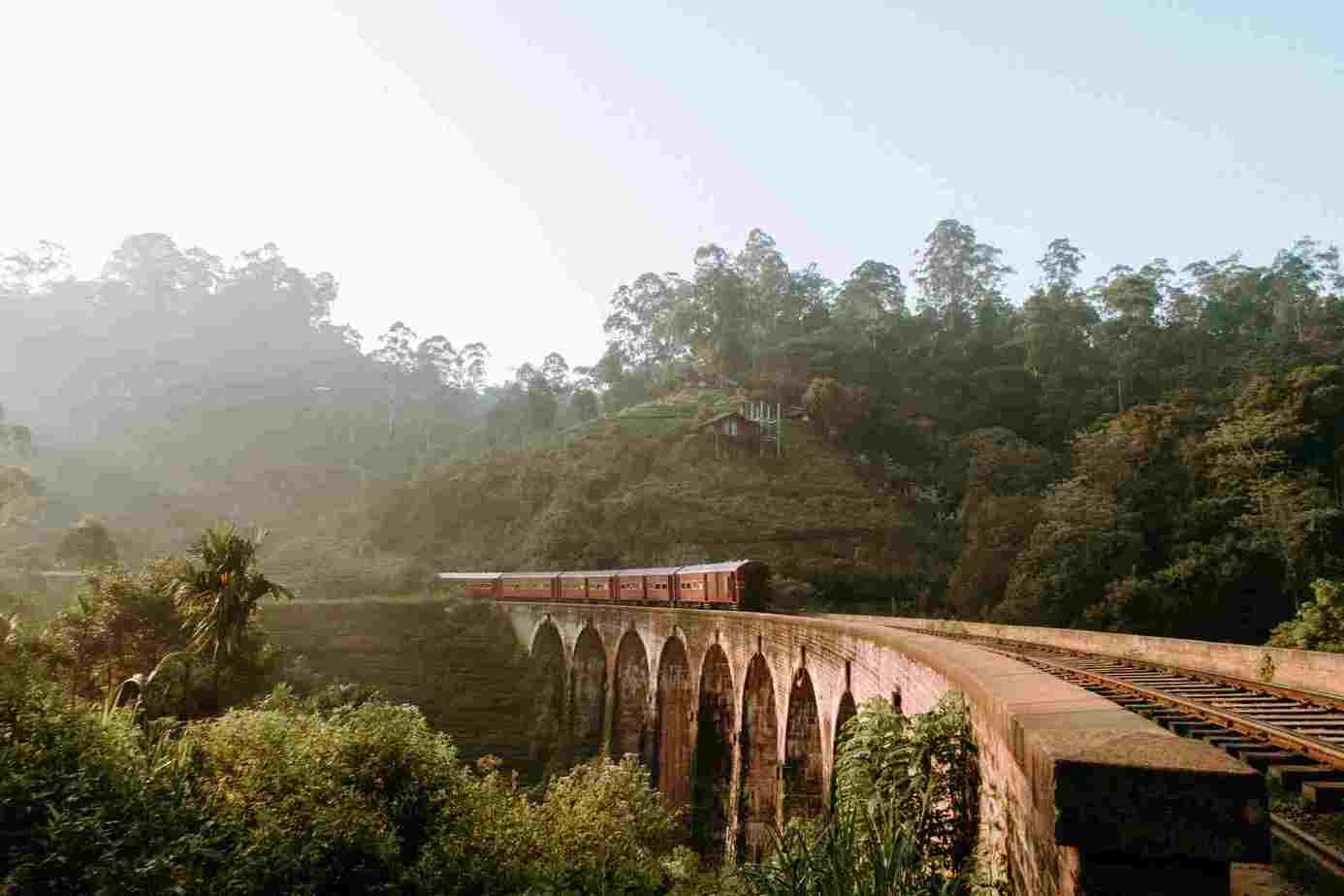 End the day by making a short hike to the 9 Arch bridge closer to sunset, allowing you to get amazing pictures of pretty epic view while the light is at its best. A 15-minute ride out of town to the hike start point and a 10-minute hike to the 9 Arch Bridge.
Grab a refreshing coconut from the shack at the viewpoint.

SRI LANKA HIKING TIPS
Bring a headlamp to make hiking in the darkness easier
For the leeches, do a quick search on how to remove leeches properly (with something flat, like a credit card)
There are many routes you can take to the top of Adam's Peak based on your starting point – check out the Ratnapura route, the Hatton route and the Kuruwita route as alternatives
Beware of leaches on the route as they're everywhere

MORE GREAT SRI LANKA CONTENT

NEXT UP IN THE SRI LANKA BACKPACKING SERIES