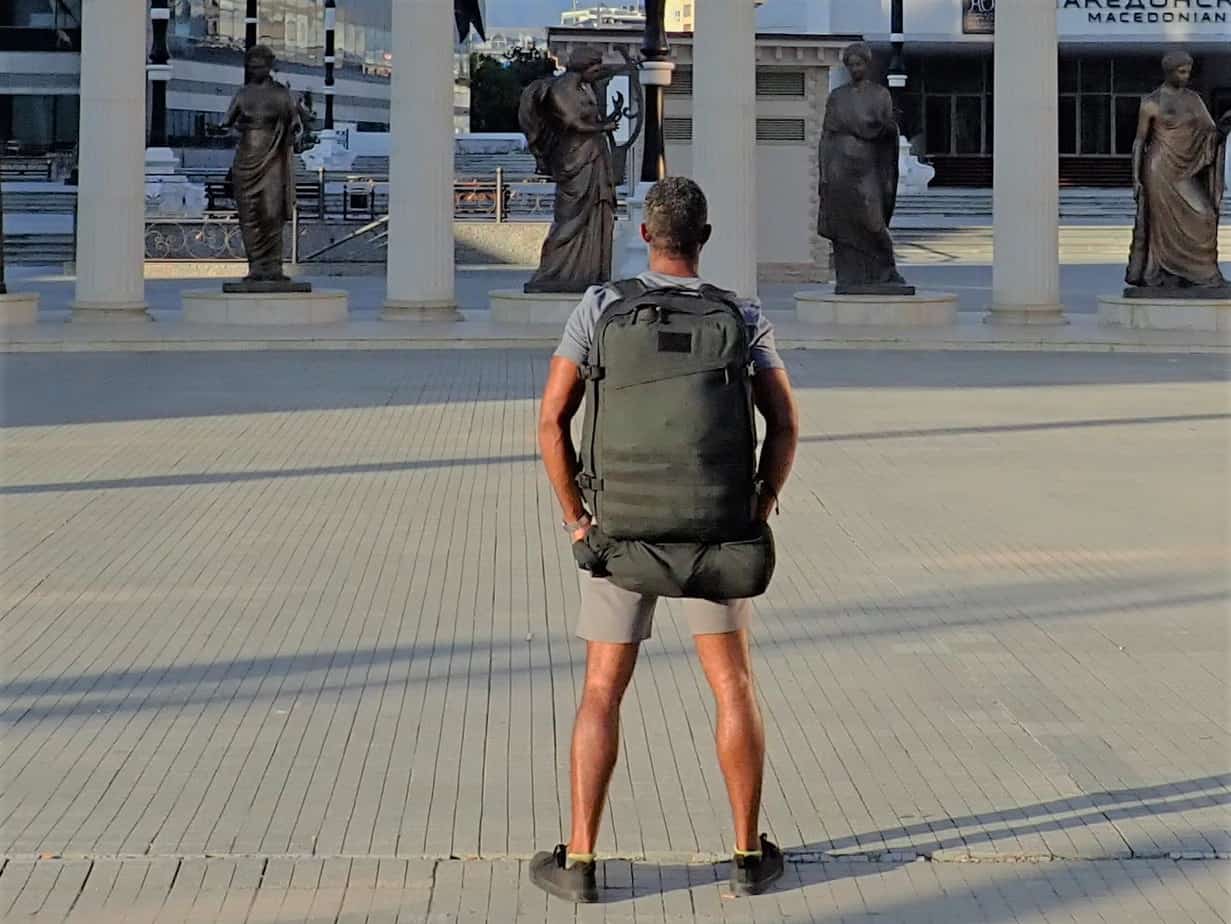 GORUCK GR3 Review (Updated – 6 19 Month Test): The best carry on backpack for durability, likely to last a lifetime of travel. 19 months of hands-on experience traveling have proven the GR3's tough build, simple yet well thought out design, and expandable yet carry on compliant size making it (in my opinion) the best travel backpack carryon I've come across in the heavy duty backpacks category
---
**Update** After 19 months of travel and countless countries wandered we're updating this Review of the GORUCK GR3 for adventurous, long term travel. The GORUCK GR3 travel ruck still shines as an awesome, long term travel ruck and that has been reiterated after another year of travel and abuse. Functional for daily use and daily life, durable enough for overstuffing, abuse, and hard travel, and convenient as a carry on bag for any airline I've traveled on. Read on to discover how or click here to jump to the 19 month update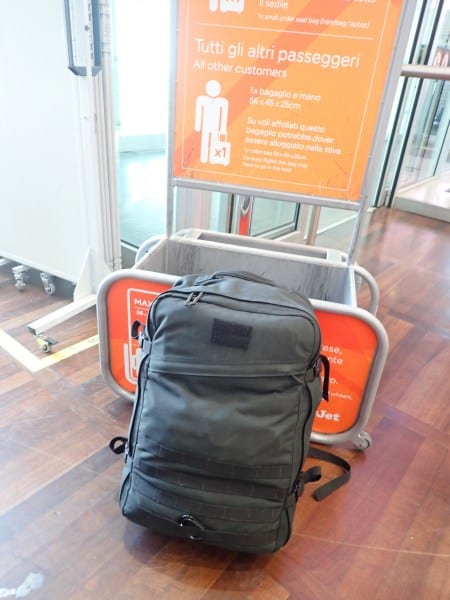 Contents of this GORUCK GR3 Review

After 19 months of travel by plane, train, boat, and bus through over 25 countries and countless cities, I can confirm that GORUCK GR3 s are heavy duty backpacks that are tough as nails yet still geared for travel. Despite being so beefy, they still blend durability and travel readiness better than most carry on backpacks on the market.
The GR3 does come in about 1-2lbs heavier than the average pack, however, in all of these months traveling with the GR3 as a carryon the airlines have only weighed it once, and the sacrifice in weight has been well worth the unmatched durability – making that extra couple pounds a non-issue (for me).
I've overstuffed this bag and walked miles through airports and cities between hostels and train stations…and I still love it. Combine the GORUCK GR3 with a few good, heavy duty nylon packing cubes to keep things organized and the 18 GORUCK Tough Compression sack for expandable storage between flights, and you have the best carry on backpack for the traveler that puts their gear through heavy use and still wants it to last a lifetime.
The fact that this backpack is first and foremost a "ruck" – intended for walking long distances with heavy while staying comfortable – means that I can using "rucking" as an impromptu workout. Whether than means trekking on trails just outside of town with a little weight, walking around town with my backpack on a layover, or speed walking laps around the airport (with exercise) being able to ruck adds a portable fitness option to my travel plans, and staying fit for adventures to come.
Beyond the possibility of rucking, the GORUCK GR3 is still an impressive backpack, perfect for adventurous, global travel.
Overall, the GORUCK GR3 is an excellent investment that I highly recommend (The following is a GORUCK GR3 review for travelers and "buy it for life" users)

The GR3 is a well-built travel backpack that boasts durability as its main selling point and delivers on the promise. As I continue to use and abuse the GORCK GR3 it shows little signs of wear (other than caked up dust and dirt) but continues to improve, as the materials soften and make "overstuffing" easier, zipping zippers smoother, and the shoulder straps and back paneling better molded to my body. This bag is about twice the price of other bags, but you get more than twice the backpack lifespan, benefits, and function in return.
Durability

Comfort

Performance and Functionality

Value

Price
GORUCK GR3 Review
Possibly the most durable travel backpack on the market. Functional, simple, and damn near bulletproof. The two downsides are a slightly sweaty back, due to a lack of airflow on the back panel, and a sky-high price tag – but – this bag has a lifetime warranty and just might survive longer than you do (with the help of the SCARS guarantee) justifying the price tag. All in all, for hard users and travelers venturing far off the beaten path, the GORUCK GR3 is a worthwhile investment.

Why the 19-month update after the initial 6 month update
To report on long term performance and durability of the GORUCK GR3…
Some time ago (~13 months ago) I wrote an initial GORUCK GR3 review based on some "light" travel. Considering this bag's selling points are durability and suitability for the long term and extensive carryon only travel, the only true measure is travel use and abuse to test the GR3's functionality and durability – so I am checking in. After 6 months of long term travel and abuse, this bag had performed better than expected and its real strengths (and few weaknesses) started to show.
But after 19 months on the road with the GR3, I've fallen in love with it as a travel ruck. This thing is damn near bullet proof, easy to pack, and perfect for nomadic travel.
In this review I'll highlight the unexpected ways this bag ended up being perfect for me…so you can figure out if the GR3 is (or isn't) the right bag for you and worth the (hefty) investment.

Verdict: A true travel ruck – conveniently simple yet well designed and insanely durable
---
The Clamshell design is great for staying organized: The lie flat/clamshell design with open main compartment pairs extremely well with packing cubes (particularly these packing cubes or the GORUCK packing cubes) and makes the GR3 feel like a dresser drawer that travels with you. Being constantly on the go, and easily forgetting things, this kind of organization has made life easier than you think and has been invaluable. When I setup for Bali for a month, I didn't even bother to unpack – that's how convenient it is.
Durability of the GR3 is still unmatched – 19 months and no problems: After 19 months of travel, I have no visible scrapes, busted seams, tears, or anything. The material and construction are absolutely up to GORUCK's proclaimed standard. I overstuff this thing constantly, have packed it with 50+ pounds, and have used it as a chair, it's fallen off the back of my motorbike a couple of times – with all of that there's still no damage and minimal wear. It's safe to say I won't need another ruck…ever.
The compressible tough bag is invaluable for temporary extra space while still meeting carry on restrictions: I highly recommend adding the bag. The 18 liter stuff sack that straps to the bottom of the bag quickly and easily and brings total capacity to 58L. So, when I was on Bali, I could easily load up with extra clothes and gear (temporarily) when I was riding around the island to freedive or check out a new surf spot, then ditch the gear before my next flight and fold down the tough bag.
The GR3 works extremely well as a carry on backpack: This bag has fit as a carry on every flight I've taken with no issues and even fit under my seat (just barely) in a couple pinches – one of which was on a Greek airline that ran out of overhead space. Though weight has been a concern for some, I've had my bag weigh once in 30+ flights.
Paired with a good daypack the GORUCK GR3 makes the perfect travel setup: Acompressible daypack (like the REI Flash 22) or a sturdier travel daypack (like the REI Ruckpack 28) if you carry a bit of weight and electronics makes the perfect travel setup giving what you need for every occasion. Don't forget the packing cubes and the Tough Bag mentioned above.
---
After 19 months does the GR3 seem like its worth the price?
Absolutely. Here's why….
This bag costs a small fortune at $545, (but you can get it on discount through GORUCK) but I think the GR3 is absolutely worth the price. Here's why
The GORUCK GR3 originally cost roughly 2-3 times as much as other travel backpack options. However, the travel ruck has lasted me 19 months of hard travel with no issues. As for other backpacks, my first backpack, from a big name brand (Gregory Backpacks), broke on me after 6 months of wandering with heavy loads. The split seems and busted shoulder straps could repaired once but broke again a month later. On the other hand, the GR3 has already lasted 3x as long with no signs of wear (other than dirt), seems like it will last a lifetime, and still has a lifetime warranty to replace (regardless of who owns it). To me, that kind of quality is worth the price. If you're a long term traveler, an adventurous traveler, or a hard traveler, consider the higher cost an investment in gear that won't fail you when it matters – and that matters
---
The Verdict after 19 Months of Travel: Is the GR3 worth it as a travel pack?
Absolutely. Pricey but functional and durable. If you're a long term traveler or nomad that adventures a bit and can be hard on gear, you'll appreciate investing in the GORUCK GR3.

I'm thoroughly appreciating the functional yet simple design as it makes the GR3 easy to live out of long term…
Three useful pockets lining the inner panel are surprisingly easy to access while keeping everything safe when on the move and forces me to "simplify my life" in a good way
Clamshell design with wraparound zipper and a fabric "lip" allow you to fully open the bag and access anything without taking out everything. Convenient in airports or in the lobbies of hostels/hotels
With a few packing cubes, living out of this bag while staying organized is surprisingly easy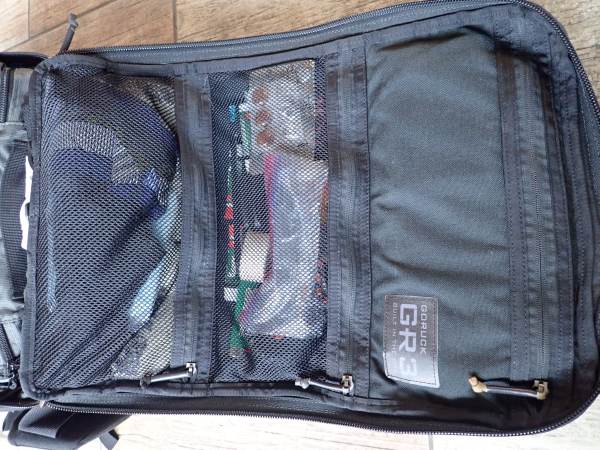 Durability: The bag shows little wear over 6 months of being thrown around, sat on, and used as an improvised desk. Threads have frayed and dirt is caking up, but nothing has torn, broken, snapped, or stretched in a way that bothers me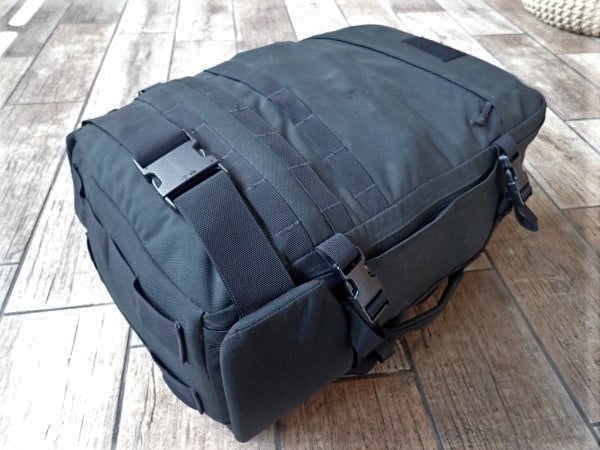 Lack of exterior pockets is good for safety and security and prevents being pickpocketed in cities and on public transport. A great plus for a "travel backpack"
The "Bombproof Laptop Compartment" is convenient, and works well and does a good job of protecting my tablet (and hiding things), even when I've sat on it and hiked around town with 40lbs of weight in the bag and my laptop inside, I've had no issues with my laptop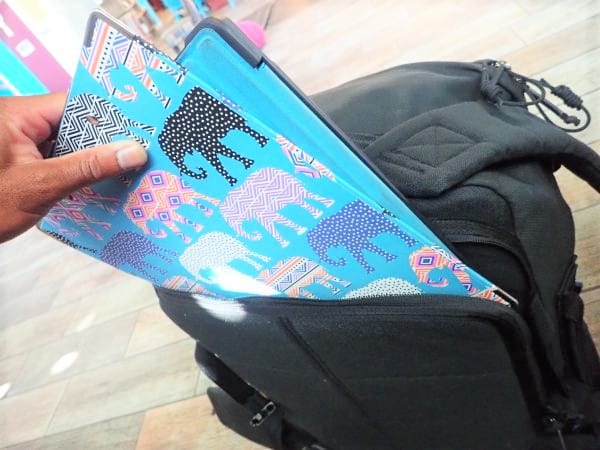 Comfortable shoulder straps, back paneling, waist belt, and padded handles make walking around with this pack and 30lbs -40lbs of gear a breeze, or as much as it can be
The struggle of staying under airline carryon weight limits is real– but the bags weight is rarely checked in my experience over the last 6 months, as long as it "looks" like it fits. I was only checked once in the last six months of travel through Europe on budget airline nine budget airline flights
High quality materials and construction. 1000 denier polyurethane coated abrasion and rain resistant Cordura Nylon fabric throughout makes an amazing difference. Mil-spec webbing and buckles at all cinch points. Heavyweight, high tensile strength nylon stitching to support loads tested to 450lbs. You can literally feel the high quality and heavy use focused construction of this bag every time you grab it, and I love it

Tips for using the GR3
Packing cubes are a must to keep things organized and make accessing gear throughout the pack very easy. Think of the pack itself as one large dresser, with the smaller packing cubes being the drawers in your dresser. It'll make traveling with this bag 10x easier
Absolutely get the 18L GORUCK Tough Bag, which straps to the bottom, adding 18L of storage when needed and collapsing when not in use – letting you make carryon limits with no issues. This "tactical tote" can also serve as leave behind storage. The way the two items work together is natural and great in a way.
OR
Get the GORUCK kit bag as a collapsible personal item and leave behind storage. It folds down flat and fits into the front pocket of the GR3 and can double as a personal item or improvised briefcase
Add a simple "security strap" and carabiner, tied to the carrying handles or MOLLE webbing, to make city travel safer, easier, and less stressful. This can be lashed to a foot or pole to prevent anyone from running off

Other Pros of the GORUCK GR3
Warranty and Customer Service: The "GORUCK SCARS Lifetime warranty" is pretty solid, in theory. What convinces me and gains my faith are my experiences with GORUCK's exchange process and customer service. GORUCK customer service with returns and exchanges has been a very smooth experience for me as I tested out the GR2 before settling on the GR3. I just emailed, printed, and sent with no issues. The reviews I've read online of the customer experience have been great too, so I'm confident that fulfillment of the GORUCK SCARS Guarantee will be just as solid in the future.
Hikes Well: Army Special Forces roots and hiking DNA come out in how comfy the GORUCK GR3 is on long walks. Yes, this bag is 1-2lbs heavier than ultralight bags, so if weight is a serious issue then skip this bag. If you can handle that extra weight, you'll appreciate the gains that come in comfortable, heavily padded straps and a comfortable back panel that molds to your body over time. The longest I've "hiked" so far with this pack was sightseeing for a day in Skopje, Macedonia. I walked about 5 miles over a few hours through the town sightseeing. The shoulder pads stayed comfortable and didn't make my shoulders tired at all.
The hip belt is well padded as well took the weight off of my shoulders well without digging into my hips. The hip belt does naturally sit a little lower than I'd prefer, on my butt a little bit, but it's not a terrible issue. Know that if you're on the shorter side, using the hip belt and shoulder straps at the same time might be an issue, so keep that in mind when you're testing it
The GR3 Ruckpack Gets better with use:
The 1000D Cordura fabric softens and becomes more supple with use, while staying tough and making overstuffing the bag easier
Shoulder straps and back panel padding mold to your body
Zippers get smoother with use, making overstuffing and compressing clothing in the bag easier

Cons of the GORUCK GR3
Price: ~$550 is steep for a backpack…but you get what you pay for. Don't get this as your first travel pack. Get to know your needs and then get this as your last travel backpack. If you need other ideas check out our list of the best carryon backpack options by category – List of best carryon backpack options
Weight (compared to my REI Trail 40) – ~1.5lbs-2lbs more than average packs, but all other packs feel flimsy compared to the GR3
No external water bottle pouches – these must be purchased separately
The Zipper pulls are tiny and if your fingers are tired can be difficult to grab, especially if you've slightly overpacked yor bag. I extended the zipper handles via 500 cord (paracord) tied in small loops via double fisherman's knots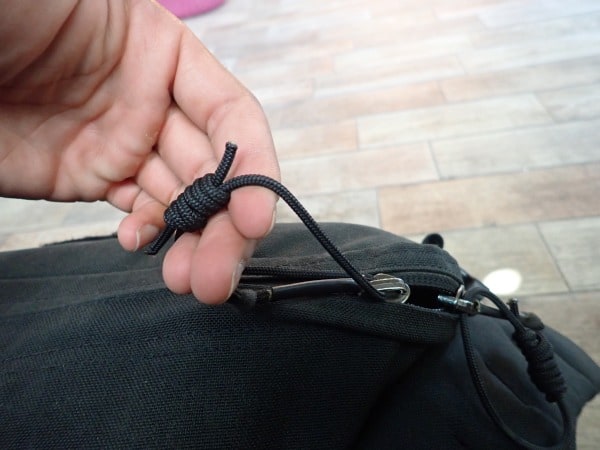 Sternum strap sold separately
Slight fraying of thread clusters on the MOLLE webbing and reinforcement points, but this is an aesthetic related critique – the integrity, strength and structure of the bag are still solid.
Doesn't make waffles for me in the morning, but I won't fault it…too much…

What kind of travel is the GORUCK GR3 best for?
Long Term travel when paired with the GORUCK Tough Bag for 18L of additional storage (Check out the GORUCK Tough Bag Review)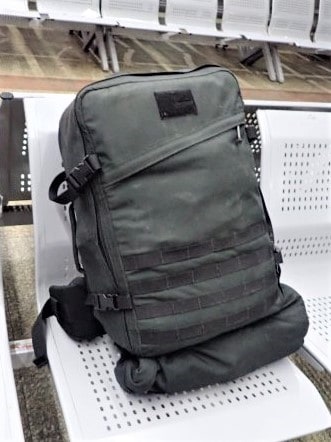 Travel backpack carry on but plan on being forced to check the bag 1 in 7 times, due to weight restrictions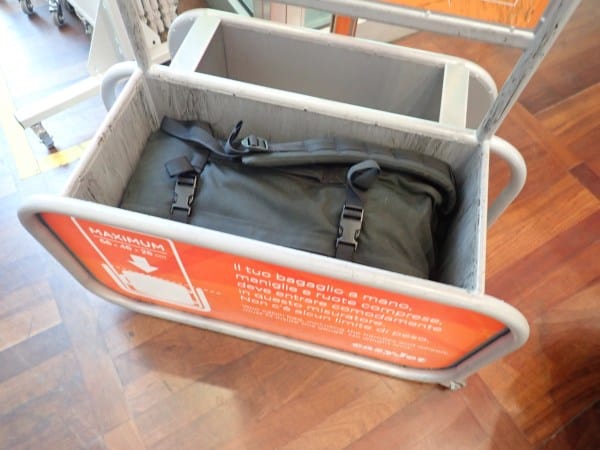 Hard users going through rough conditions and likely to put their bag through abuse (falling off of trucks, exposed to weather, thrown in storage under buses frequently)
Those going into environments where they can't afford to have gear failing
Workout Backpack in place of a weight vest: the GORUCK GR3 can hold some serious weight, which is a great opportunity for the fitness conscious crowd on the road. While traveling, I use the GR3 as a weighted pack (simply loaded with my belongings) in place of a weight vest.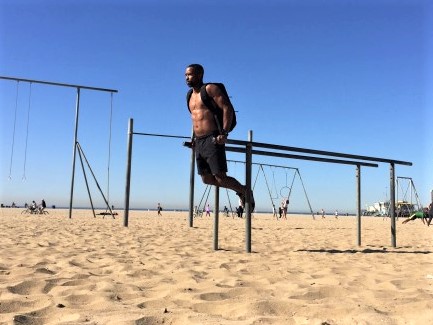 I do weighted upper body calisthenics such as pull-ups, pushups, and dips, and other gymnastics style exercises using the suspension trainer I carry, the Monkii Bars 2.
For lower body, I use the pack for weighted squats, weighted single leg squats, and weighted lunges. Sometimes, on long layovers in a city between bus rides I'll ruck slowly through the city with my fully loaded pack for a workout like I did for a day in Macedonia. Note that this is a huge upside of "onebagging", or carrying only a carryon with no additional daypack – the ability to explore a town on layovers and carry your single pack, ultimately letting you sightsee and explore while working out.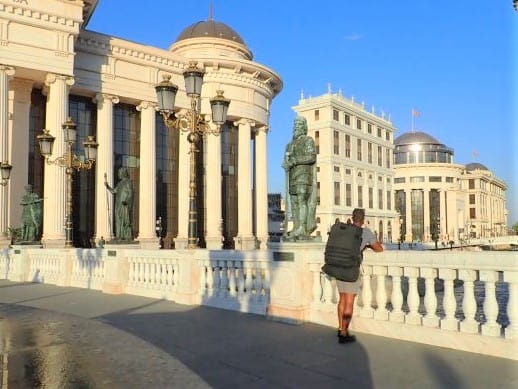 I realize that you can ruck during layovers like this with any backpack but the GORUCK GR3 has the added benefit of pairing well with GORUCK's "ruck plate" weights at home. These iron plates store easily in the GORUCK GR3, or any other GORUCK for weighted gymnastics, calisthenics, and hiking workouts. I have a few back home that I'll use as soon as I get back to Cali and head to the gymnastics rings of new muscle beach.

Verdict on the GORUCK GR3 Review
The GORUCK GR3 is one of the toughest, most well-built bags you can find that is equally suited for travel and urban adventures as it is for hiking and outdoor adventres. You give up 1lb-2lbs, but you get a "buy it for life" backpack in return. Yes, the GR3 costs twice as much as other quality backpacks, but this bag will last much longer than twice as long as the other packs. If you can handle 1-2lbs extra pound on your knees and feet, save up the extra cash and get this pack. You won't regret it.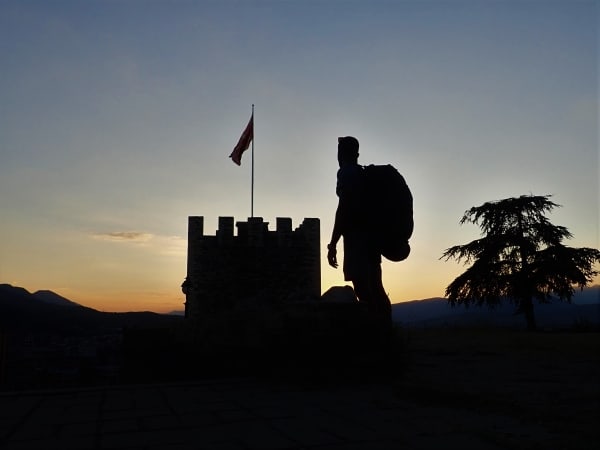 OR

If you're an ultralight traveler, you like to replace your backpack every few years, and you don't abuse your backpacks (much) I'll save you the trouble of reading…look elsewhere. There are much more suitable travel backpack carry on options for you
The GR3 is one of the best carry on backpack options for heavy use and durability: designed for carryon travel, but rooted in adventure…and its nearly bulletproof to boot. The GORUCK GR3 is a great backpack for the "hard user" crowd and those that want a travel backpack that will last for life. For extensive travel and abuse, I can't recommend the GORUCK GR3 enough.


GORUCK GR3 for Carryon Only Airline Travel
The size of the GR3 (22x14x9 inches / 56x36x23 centimeters) makes it a perfectly sized carryon for most budget airlines. Unfortunately, the overbuilt nature (1000D Cordura nylon, heavy padding, and heavy stitching) does eat into your normal 8kg carryon allowance by .5kg, but the tradeoff for a bag that will last a lifetime is worth it (for me), and in 6 months I've only had my bag weighed once.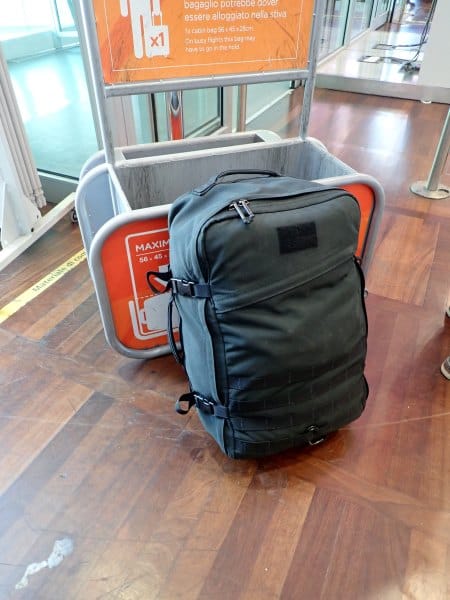 The GORUCK GR3's boxy shape with a fairly slick (no external pockets, pouches, and loose straps) external design and airline carry on size actually makes it look like a reasonable airline carryon (which it is). As such, there have been more than a couple times when I've walked up to an airline counter to an attendant who has been weighing everyone else's carry on luggage and the attendant glanced at my GR3 but didn't bother weighing it. A couple of times, an attendant even asked if I had any luggage. When I replied, "no, just my backpack" turning sideways to show the GR3. They normally nod and say "oh, ok," telling me that I don't have to remove my backpack. Only one time did the airline actually opt to weigh my pack in 10 flights on budget airlines, and at the time they were weighing everyone's bags. So here's a tip, when you go to the check in at the counter, have all of your documents ready and wear the GR3 to the airline ticket counter, instead of hand carrying the bag. They more than likely won't say a thing.
I had an interesting experience on Olympic Air (the little brother of the Greek budget airline Aegean Airlines) when the tiny overhead compartments were completely full and there was no space left for my GR3…overhead. Surprisingly, the GR3 still fit underneath the seat in front of me. Granted, the butt of my pack was sticking out a foot during the entire flight, it kept my travels moving by not having to check a bag and I didn't have to fuss with the flight attendants. Thankfully the Greek FAA's standards must be a more relaxed than the US FAA.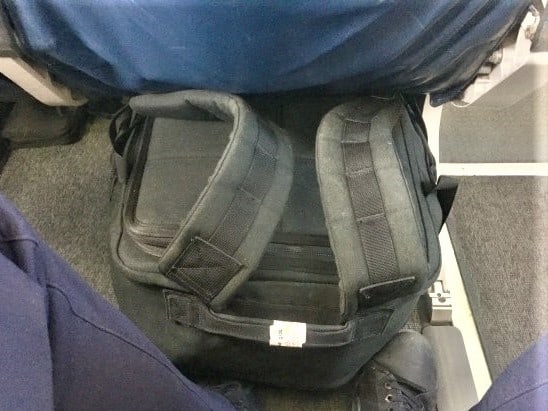 The open flat design that makes everything easily and quickly accessible is great. Between layovers in airports and hanging out in lounges before check in, or picking the wrong flight and sleeping in the airport for a night, being able to easily grab chargers, jackets, toiletries, and anything else in my bag quickly and without unpacking much is a huge benefit of the GR3. The clamshell design and pocket locations (on the inner side of the front panel) let you access items in the bag wherever you are quickly and easily.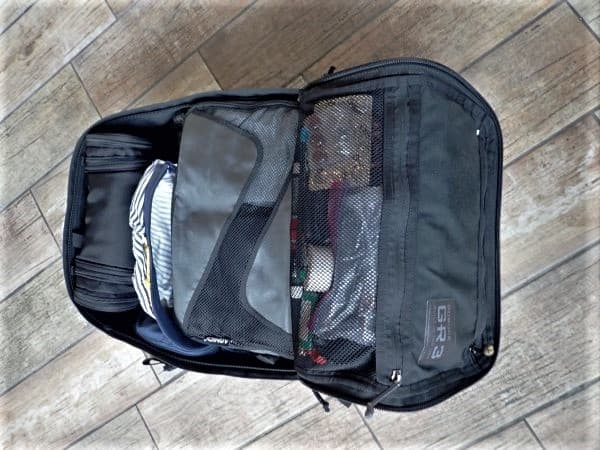 If you plan to travel with this as a carryon, then be honest with yourself and plan to get weighed (and penalized) 1 out of every 5-10 times, which means an additional 15 Euros/20 dollars to check the bag at the counter (over checking online). Not a bad tradeoff in my opinion. I fly about once or twice a month, and in between those flights I move by bus and train, so paying 15 Euros extra for an airline penalty once or twice every six months is worth the guarantee of a bag that will survive being thrown around between buses and trains. Still, be warned that this bag is 1-2lbs heavier than the norm, so if you're aiming for an ultralight backpacking experience this isn't the travel pack for you.
Bottom Line for Carryon travel: Simple design with a few clutch functions (clamshell opening, pockets on panel) make this bag great as a carryon traveler's "one-bag".

Urban Travel
The design of this pack makes it easy to use the space inside efficiently and keep things organized along the way.
Having a single, externally accessed front panel pocket keeps everything safe, secure, and nearly pickpocket proof while moving through cities on buses and trains. The Cordura Nylon is durable and thick enough that the bag is heavily slash resistant.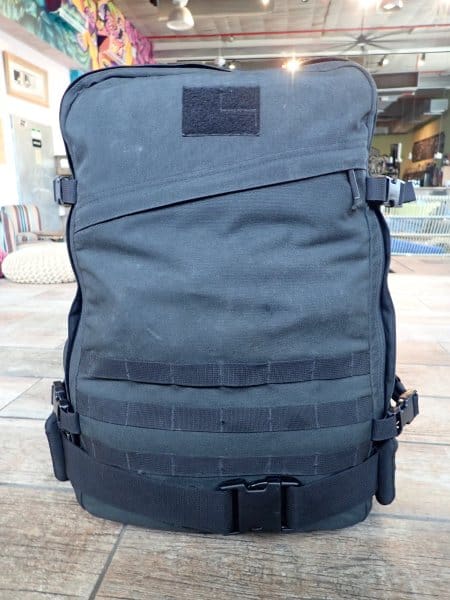 The profile and general size of this pack makes it great for moving from place to place without bumping into everything as you walk on metros and buses.
The padded handles are surprisingly comfortable and useful when moving short distances.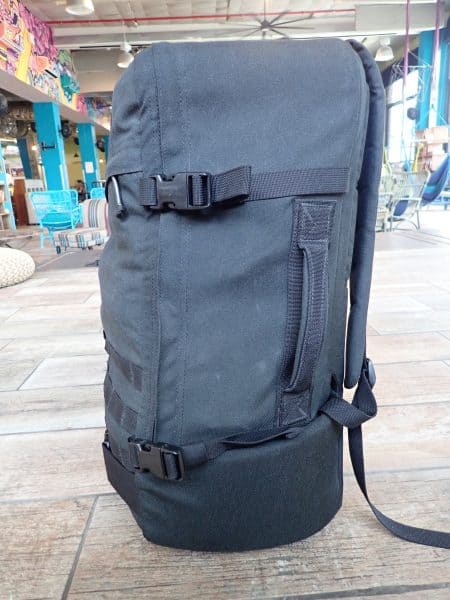 The handles (and MOLLE webbing) double as a place to tie a "security leash" to with a carabineer. When sitting at cafes or on buses, I'll clip the security leash to something (a table leg, a pole) or around my foot so that I don't have to worry about it getting stolen in a run-by incident, or the motorcycles riding by in Southeast Asia. The handles and webbing are sturdy enough that they can handle being leashed without the stitches popping if a thief actually does run by and try to grab the bag. Actually, I recommend doing this on any bag when traveling to places where run by thefts, or thefts from individuals riding by on motorcycles, are common.
During the urban travel on my trip, the bag's durability has been proved again and again as it stands up to the abuse of being thrown under buses, dragged by the straps or the MOLLE webbing, and being used as a seat regularly whenever I'm sitting in bus stations. The flat & rectangular design has also unexpectedly made it a very good travel desk. Through it all, the GORUCK GR3 handles the abuse well and simplifies urban travel.

Living out of the GORUCK GR3
Given the space and simple design, living and traveling out of this bag is convenient – much more convenient than the top loading style of summit bags and traditional backcountry focused backpacks I've used in the past. The wrap around zipper and clamshell design effectively makes the GR3 one large dresser, and the smart thing to do is use packing cubes like drawers in that dresser. This approach makes living out of the GR3 and staying organized fairly easy.
The cavernous size is more than enough space for long travels (especially with the 18L Tough Bag that straps to the bottom) but can turn into a bit of a mess, or a "gypsy camp" as the military types call it. One solution is to meticulously fold everything when repacking. That works about 1% of the time…when laziness doesn't win out. The better solution to use, the one I've been using with happy success and stated above, is using packing cubes – nylon ones with heavy duty zippers to be exact (available for ~$18 for a full set on Amazon).
The GR3 fits three medium sized packing cubes perfectly, to store pants & shorts, shirts, and jackets respectively, and then stack neatly into the lower portion of the bag. Even in the morning darkness of a hostel dorm, this makes finding what you need insanely easy. The smooth zippers of the GR3 ease the act of overstuffing the packing cubes and compressing the clothes in the medium sized packing cubes. Add a single long packing cube for socks and underwear, a minimalist hygiene kit on top of that, and an electronics bag and you have an awesome long-term travel setup.
The zippered mesh panel pockets hold loose essentials. I keep lighters, meds, duct tape, a flashlight, super glue, paracord, and other random small essentials in one pocket and loose snivel (warming) gear in the other pocket.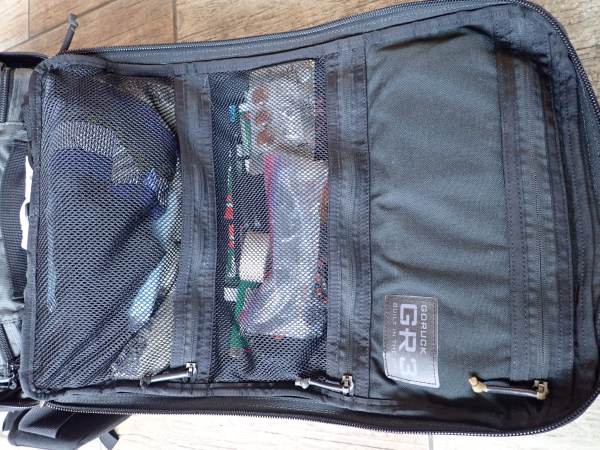 Finally, the most easily accessible pocket when zipped is where I conveniently store documents and valuables. This pocket is secure enough in a crowd to not worry about pickpockets, and easy enough to access quickly when the airline counter attendant asks for some random document that he really doesn't need.
With this setup, and the natural design of the GR3, I can get to my most frequently used items quickly, easily, and without excessive unpacking. I can get to my documents at the airportor access my hygiene kit and fresh undies as soon as I check into my hostel or in the midst of a long layover, and I can quickly and easily get to my first aid kit, meds, or that emergency Snickers bar at any time.
Add the 18L GORUCK Tough Sack, which straps to the bottom of the bag, to give a convenient place to store shoes and dirty clothes between washes or any other gear between traveling by air. If I know that I'll be overlanding (taking buses) for a few weeks, I'll buy useful groceries (dressings, butter, vegetables, grains to cook, small disposable Tupperware, etc.) and store them in this expandable storage, then discard them before flying again to meet carryon restrictions.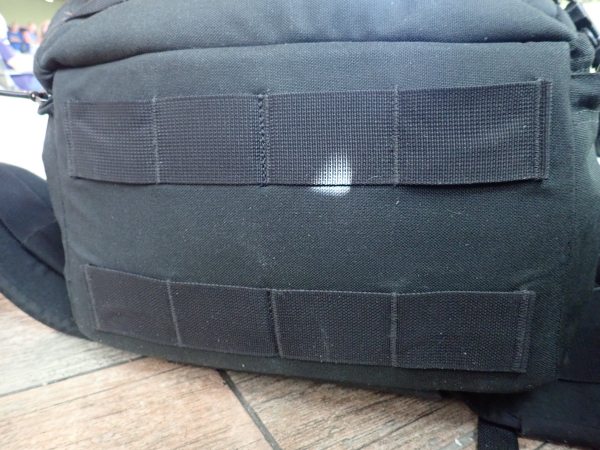 Living out of the GR3 takes a little adapting, but once you have it down it's a breeze and remarkably convenient. For long-term travel, I highly recommend the GR3 with a leave behind/overstuffing bag (e.g., 18L GORUCK Tough Sack, GORUCK duffle bag aka "GORUCK Kit Bag") and packing cubes.

Does the GR3's "Bombproof Laptop Pocket" work?
Yup. The GR3's bombproof laptop pocket has performed very well and proved to be very functional.
I carry a Microsoft Surface Pro 3 everywhere I go to get work done. The easy access "bombproof laptop storage" space is great. While on the move, to the airport and between hostels, I easily store my laptop without worry of it being stolen. I can still access my laptop easily, whether for a security checkpoint, or to knock out some work over coffee during a short layover.
As for how well the laptop pocket protects my Surface, I have had no issues with damage, or feeling like there was a risk of damage to my Surface Pro 3 that I stored in the pocket while traveling and hiking around – but I do use an urban Armor Gear case on my laptop for added protection. If you do have concerns, look into upgrading your pack with a Kydex frame sheet to create a more stable laptop pocket.

Hiking with the GORUCK GR3
This bag's DNA is rooted in the GORUCK challenges, meaning, it is designed to carry lots of weight comfortably while walking for hours at a time…or as comfortably as you can with such tasks.
Thoughts from the last 6 months of hiking with the GR3: I've walked more miles through cities and up hills with this pack than on legitimate nature hikes, but the impromptu urban hiking (through cities to switch hostels, buses, and trains, and on layovers to explore) has been more comfortable than expected. The well-padded back panel and shoulder straps stay comfortable but have noticeably adapted to my shape over the last 6 months.
The padded hip belt is as comfortable as any other bag I've used and does a great job of supporting the bag's weight on the hips and lower body, thus giving the shoulders a rest. When not in use, such as during airline travel, the hip belt stows conveniently beneath elastic straps at the bottom of the bag, or more conveniently just clips ot of the way wrapping around the back of the bag.
As long as you don't mind the extra ~1-2lbs created by the GR3's overbuilt nature, hiking and camping with this ruck is a comfortable experience. Though this bag does weigh a bit more than my REI Trail 40 and similar 40-45L backcountry bags, the GORUCK GR3 stayed just as comfortable despite the heavier loads and I appreciated the sturdier feel and comfier shoulder straps I get in return.
Another advantage of the GORUCK GR3's DNA based in hiking with weight, aka "rucking", is the opportunity for "impromptu rban hikes" on layovers. When you carry on only one bag with no additional luggage, a long layover in any city can easily become a sightseeing trip turned very practical and effective leg workout. Just load up the pack, and start walking. When traveling between Kosovo and Albania by bus I had a 5 hour stopover in Skopje, Macedonia, so I loaded up my GR3 (which was my only bag) and hiked miles and hours through town looking at an odd array of brand new statues and architecture. With the GR3 on my back, I was simultaneously sightseeing and getting a very practical workout.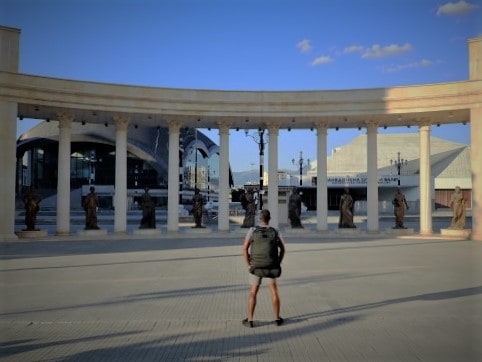 If you want to balance out your rucking workouts with an upper body workout then the GR3 is also great to use as a weighted pack, in place of a weighted vest, for weighted calisthenics and travel workouts. On the road, just use your normally packed ruck for weight. At home, I use GORUCK's specially designed "ruck plates", specially designed slim, square iron plates that slide into the GR3's pocket and range from 10lbs to 30lbs.
Because the GR3, and all of the other GORUCK backpacks, were designed to carry loads of 400lbs+ the GR3 holds the weight tight to your body and does a great job of keeping it from moving, making the backpack great for weighted upper body calisthenics. The possibility of weighted workouts is one of the main reasons I purchased this pack, to replace my gym. Interestingly, 45 pounds of ruckplates cost as much as two months at my old gym, so in two months of working out with the ruck plates they paid for themselves.
Bottom Line: As long an extra ~1-2lbs on your back won't bother you then you'll like the way GR3 performs when walking and hiking with heavier than average (or lighter than average) loads, and the GORUCK GR3 makes a great weighted backpack for exercise.

Design Review of the GORUCK GR3
Clamshell opening design opens completely flat, making anything in the bag easily accessible while the top "lip" keeps things from falling out when opened up. A great benefit over top loading bags and bags with wraparound zippers that are still missing the "lip" (such as my REI Trail 40). This open flat design essentially turns the bag into a dresser drawer which you place smaller drawers (packing cubes) in.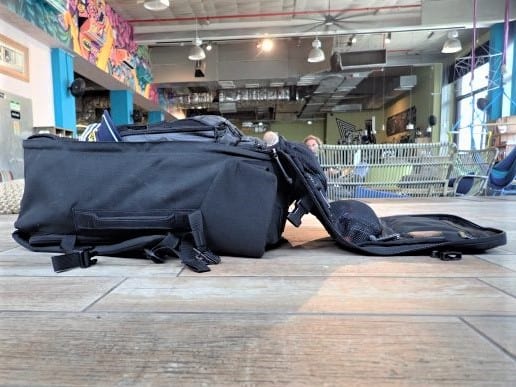 Two zippered mesh pockets on interior of panel make storing items securely easy while still making them quickly accessible
Bottom Mesh Panel Pocket: 13.5″x6″
Middle Mesh Panel Pocket: 13″ x 5.5″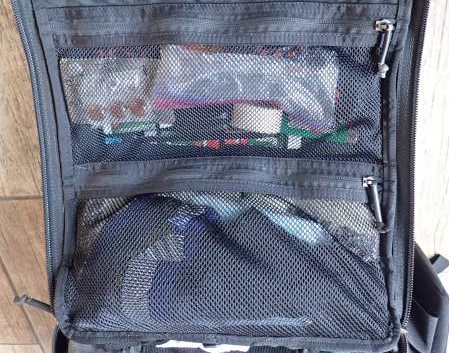 One Cordura covered, zippered document pocket on inner panel is great for storing small, important items
I use this more often than I expected for documents, credit cards, cash, and other small valuables that I quickly access frequently
Cordura Panel Pocket: 13″ x 5″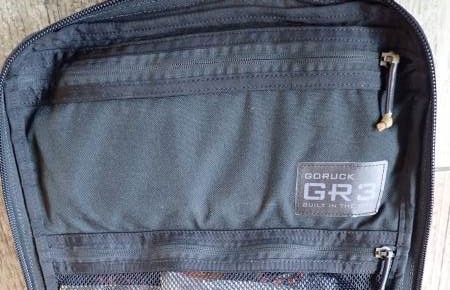 Zippered external slant pocket on front panel is great for storing a leave behind bag, light daypack, or expandable storage
Bombproof laptop pocket is a sturdy, secure way to store your laptop when moving. Well-padded and easily accessible
5″x13″ pocket, heavily padded with a "false bottom" so your laptop is protected from all angles
Heavily Padded Shoulder straps stay comfortable on long walks, even with regular loads of ~18kg to ~20kg. More padding (and more comfortable) than any other bag I've used and does a great job adapting to your body over time.
Padded carrying handles on top and sides make quick moves a breeze while traveling. Heavy padding makes carrying easy on the hands for decent distances.
Waist Belt is well padded, removable, and stores easily at the bottom of the bag or clipped around the bag. It is comfortable to wear and does a great job of shifting the weight of the pack to the hips.
MOLLE webbing on front Panel is great for clipping things to (sandals, anything drying) and adding a "security leash"
MOLLE webbing on bottom of bag is great for clipping a stuff sack to as expandable storage for shoes and temporary items. The GORUCK Tough Compression sack is perfect for this job
Side compression straps are useful for cinching down the bag to squeeze into those airline carryon measuring torture devices
"Rainproof" Materials that are abrasion resistant and water resistant as well and have stood up to ample abuse, thanks to 1000D Cordura Nylon
YKK zippers offer great durability and get smoother and easier to zip with use.
**Critique** The zipper pulls are awfully tiny and hard to grab especially if the GR3 is overpacked and you need to pull with a little extra strength. I improvised and created "zipper handles" with 550 paracord and double fisherman's knots to make my life (and over packing) easier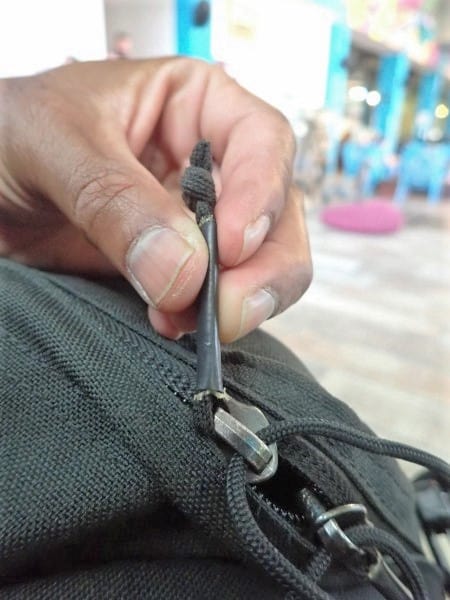 Durability of the GR3
Durability is the selling point of the GORUCK GR3 and, based on my 6 months of experience with this pack and countless months with many others, GR3s are absolutely heavy duty backpacks and their durability is unmatched in the "travel backpack" market. I seriously expect the GORUCK GR3 to last forever. Ok, maybe not forever but as close to that as a backpack can. The only backpacks that may survive longer would be rawhide leather bags constructed to be heirloom quality, such as Saddleback Leather, but beyond that, GORUCK is as close as you're going to get to "forever" from a travel backpack.
The high quality materials in the GR3, such as military grade buckles, heavy duty YKK zippers, 1000 denier Cordura Nylon all over, and heavy duty, high tensile strength nylon stitching make this the toughest backpack (military or non-military issued) I've ever owned.
All stress points (shoulder straps, carrying handles) are tested to at least 450lbs, so this bag is likely capable of carrying more than you are.
Considering the long term with the GR3 travel ruck, I've had great experiences with the GORUCK customer service team, which is a good sign they'll be there to help if this backpack actually does ever die. A few items I ordered from GORUCK just weren't right for me, and returning them was a breeze…even after a month of testing. Given the "GORUCK SCARS Lifetime Guarantee", and based on plenty of customer reviews, I expect it to be a smooth experience if I actually wear the GR3 out and need it fixed or replaced…if that ever happens.
GORUCK proudly states on their website that if there is a problem with workmanship, or if you actually ever manage to wear the bag out, they will fix it or replace the bag free of charge. Purchase date doesn't matter and you don't need a receipt either, so don't afraid to buy those secondhand GORUCK bags on ebay, or specifically the secondhand GORUCK GR3 bags on Ebay, if that suits your budget more.
In terms of wear, after 6 months, there are slight scratches and plenty of dirt, but no real abrasion to the actual fabric of the pack. There is slight fraying of the ends of the thread on the MOLLE webbing and on the ends of the threads at the reinforced material on the haul points, but the stitching hasn't loosened at all on any of those spots and the centers of the thread clusters are intact and looking good. For 9 months of abuse, the wear and tear looks merely cosmetic but the function of the pack remains unchanged.

GORUCK GR3 Size, Dimensions, and suitability as a carry on backpack
The GORUCK GR3 actually is a perfectly sized carryon, but a little (1-2lbs) heavier than other bags. Fortunately, in 6 months of European budget airline travel, my bag has only been weighed once.
At 22x14x9 inches / 55x36x23 centimeters the size of the GR3 is perfect for most budget airlines as a carryon, in Europe, North America, and Asia. Though it does exceed a few budget carry on restrictions by a few centimeters, just don't overstuff and the bag will fit just fine thanks to the soft, Cordura nylon outer fabric.
RyanAir Carryon Dimensions: 55cm x 40cm x 20cm, 10kg/22lbs — 21in x 15.6in x 7.8in, 22lbs weight limit
Air Asia Carryon Dimensions: 56cm x 36cm x 23cm, 7kg/15lbs — 22in x 14in x 9in, 15lbs weight limit
Spirit Airlines Carryon Dimensions: 56cm x 46cm x 25cm — 22 x 18 x10 inches , no weigh limit posted on Spirit Airlines site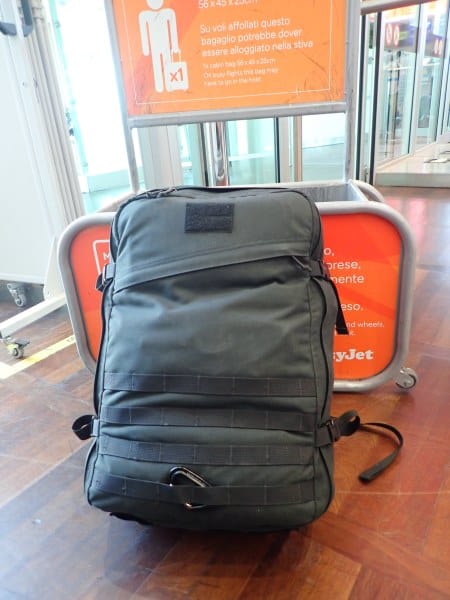 The GORUCK GR3's weight, at 4.6lbs (2kg) without the hip belt and 5.15lbs (2.3kg) with the hip belt does eat into your carryon baggage weight allowance (usually 8kg-10kg) but I've only had my carryon bag weighed twice in my years of travel. Once was in the last 6 months flying through Europe and the other was once on a no-name airline during a 6 month trip through Southeast Asia.
When wondering whether the GR3's weight is important to you, the most important thing to consider is if you would feel comfortable walking with those extra 2lbs during miles of hiking in exchange for the durability you get. Personally, I'm happy with it. I wouldn't take the GR3 for months of walking on the Pacific Crest Trail where moving light and fast is optimal, but I don't mind the ~2lbs for trekking and my current travels. The weight when walking (and trekking or hiking lightly) is worth having a bombproof bag. Beyond that, are you comfortable paying the checked baggage "penalty" once in seven flights? If so, this bag is good for you. If not, move to something lighter. Fair warning though, most "travel bags", such as the Tortuga Outbreaker, weigh just as much as this bag…so factor that into your carry on baggage plans.

GORUCK GR3 Specs
Very heavy duty backpacks (unmatched in carryon travel backpack market, in my opinion – rivaled only by Greenroom136)
Simple yet functional design makes organization and accessing bag contents easy (with packing cubes)
Airline carryon sized luggage (less a differentiator and more of a check in the box for travel packs)
Hiking focused DNA, emphasizing comfort through heavy loads and hard use
Intensely awesome warranty and (from my experience) solid customer support
Price
$545, "25% "earned service discount" for military veterans, firefighter, police, and emergency personnel
Taking into account the reliable, durable construction, the hard use GORUCK expects, and the lifetime warranty – though this bag is not cheap it is a great value and you get what you pay for.
Warranty
Lifetime: If anything goes wrong ever contact GORUCK and send the bag back to them and they'll fix or replace the bag and send it back to you for free
Size: 22x14x9 inches / 56x36x23 centimeters
Airline Carry on Restrictions – For Reference
RyanAir Carryon Dimensions: 55cm x 40cm x 20cm, 10kg/22lbs — 21in x 15.6in x 7.8in, 22lbs weight limit
Air Asia Carryon Dimensions: 56cm x 36cm x 23cm, 7kg/15lbs — 22in x 14in x 9in, 15lbs weight limit
Spirit Airlines Carryon Dimensions: 56cm x 46cm x 25cm — 22 x 18 x10 inches , no weigh limit posted on Spirit Airlines site
Weight: GORUCK GR3 4.6lbs, 5.15lbs with waist belt | GORUCK GR3 2.1kg, 2.3kg with waist belt
For Reference:
Tortuga Outbreaker 35L: 4.6lbs (2.15kg) (travel backpack)
Tortuga Outbreaker 45L: 5.1lbs (2.3kg) (travel backpack)
Osprey Farpoint 40: 3.15lbs (1.5g) (travel and adventure backpack)
Osprey Farpoint 55: 9lbs (1.8kg) (travel and adventure backpack)
REI Ruckpack 40: 4.2lbs (1.9kg) (travel and adventure backpack)
Design:
Clamshell opening with wraparound zippers lets backpack open flat for packing
One zippered external slant pocket
Three zippered internal panel pockets (mesh and Cordura nylon)
Detachable waist belt (included) stows in bottom of bag or clips around back of bag
Adjustable sternum strap (not included)
Isolated and padded laptop pocket
Side Compression straps (upper and lower)
Top and side padded carrying handles
Carryon size compliant for most airlines
Materials
Outer: 1000D Cordura Nylon
Zippers: YKK

Tips for using the GORUCK GR3
Consider buying the GORUCK Tough Compression Bag which attaches to the bottom as 18L of expandable storage. I picked it up and love it. Best stuff sack I've owned (thanks to durability and attachment straps). FYI, its not much of a true compression bag though (Checkout the GORUCK Tough Bag Review)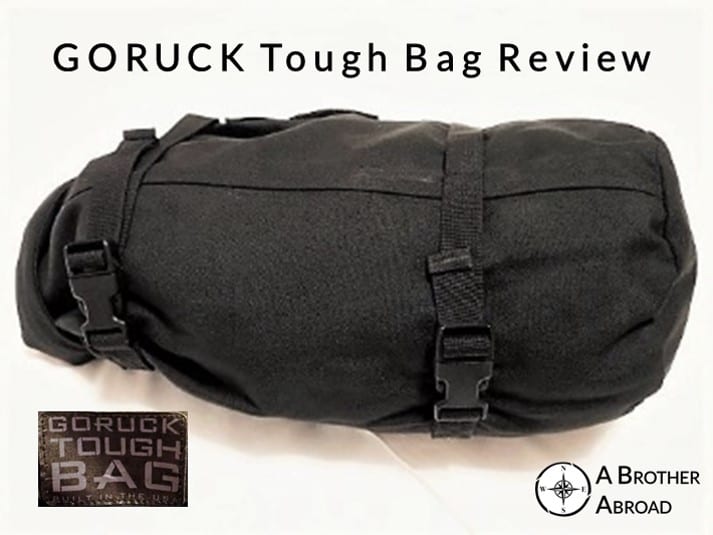 OR
Consider purchasing the GORCK 32L Kit Bag as an alternate storage expansion bag, personal item, and leave behind bag (Checkout the GORUCK Kit Bag Review for more info)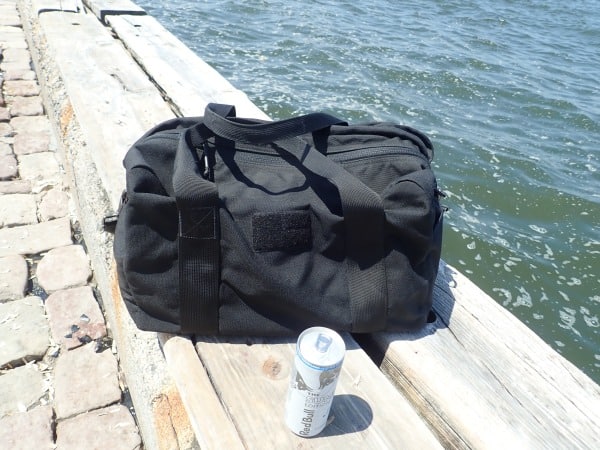 The GORUCK GR3 and other Travel Packs: Which backpack should you get?
There are plenty of other bags that would perform just as well in the area of just "holding things", many others that would do better in keeping the backpack organized (without packing cubes), and plenty of other bags that are lighter. If you are trying to optimize for one of those areas (staying organized, lightweight backpack) in purchasing the GR3, absolutely look elsewhere starting the with this list of 30+ great travel backpack carry on options. When buying the GORUCK, you're paying for comfort while hiking and durability in the long term.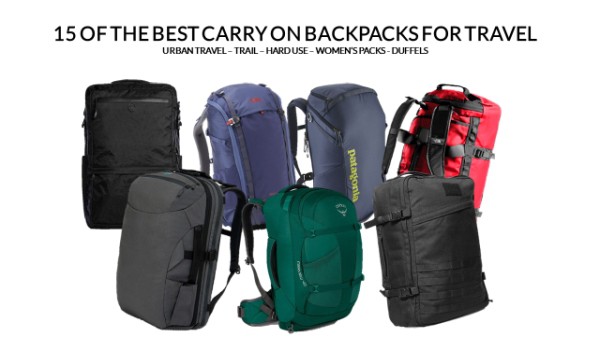 The GORUCK GR3 over performs in 2 areas – durability and comfort
The GR3's durability translates to this bag lasting for a very long time under heavy use and abuse as a versatile backpack. The Tom Bihn Aeronaut and the Standard Carry on Backpack both incorporate high quality construction and 1600D+ Cordura or ballistic nylon, meaning they will theoretically last a long time as travel bags – but – despite their materials, I would challenge whether either of these bags would still be in tact if worn frequently, with heavy loads, and thrown around quite a bit along the way. I would challenge the same of the Tortuga Outbreaker, the Aer Travel Pack 2.0, Nomatic, and all of the other big names. I doubt they would (which is fine, that's not what they're designed for) but that comparison shows where the GORUCK GR3 shines. The GORUCK will likely be the last backpack you need regardless of how you use it, and it is meant for both travel and adventure. Which leads to trait that sets the GORUCK GR3 apart from the rest of the "backpack pack".
The GR3 stays comfortable under heavy use: Many backpacks are designed to be comfortable…within particular load ranges, or for a specific period of wear. Once again, the Tom Bihn bags, the Tortuga Outbreaker, and so many other bags are meant to be worn comfortably, but within certain load ranges (likely less than 30lbs to 40lbs). Additionally, if you decided to wear these packs fully loaded for an entire day, it would be unreasonable to expect these bags to still feel good at the end. Each of these bags are travel packs, not adventure focused ruckpacks. Thus, this is the second area the GORUCK GR3 shines. The GORUCK GR3 is a true ruckpack, meant to carry heavy loads for an extended period and still be as comfortable as possible, while still being very suitable for travel.
If you won't be hiking much, if it's important to stay organized without packing cubes, if you want a lightweight pack, or you like to upgrade/replace/switch out packs every couple years, pick a different backpack than the GORUCK GR3.
If you actually want to use your pack to hike as well as travel and you want that same pack to last forever, get a GORUCK. If you are traveling for longer than a week (and definitely more than a month) get the GORUCK GR3.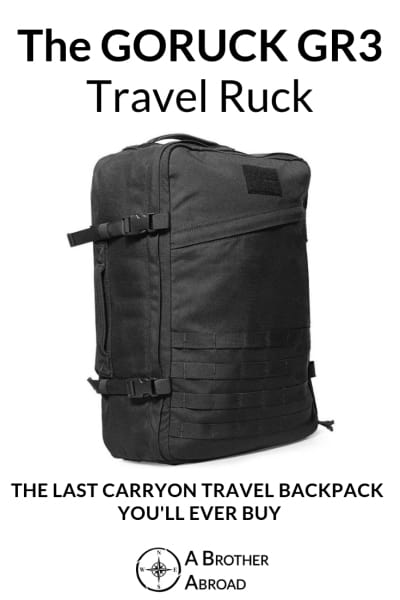 ---
The Verdict on the GORUCK GR3 Review (6 Month Test)…
A clearly pricey travel backpack whose claim to fame is near bulletproof durability while hiking well…and it delivers on all fronts. Extremely well built, comfortable on longer hikes with heavy weight, and destined to last for years. For hard users and adventurous travelers that want a bag that will last for life, the GORUCK GR3 is an excellent investment and the best carryon backpack on the market for balancing durability with travel conscious design. I highly recommend the GORUCK GR3.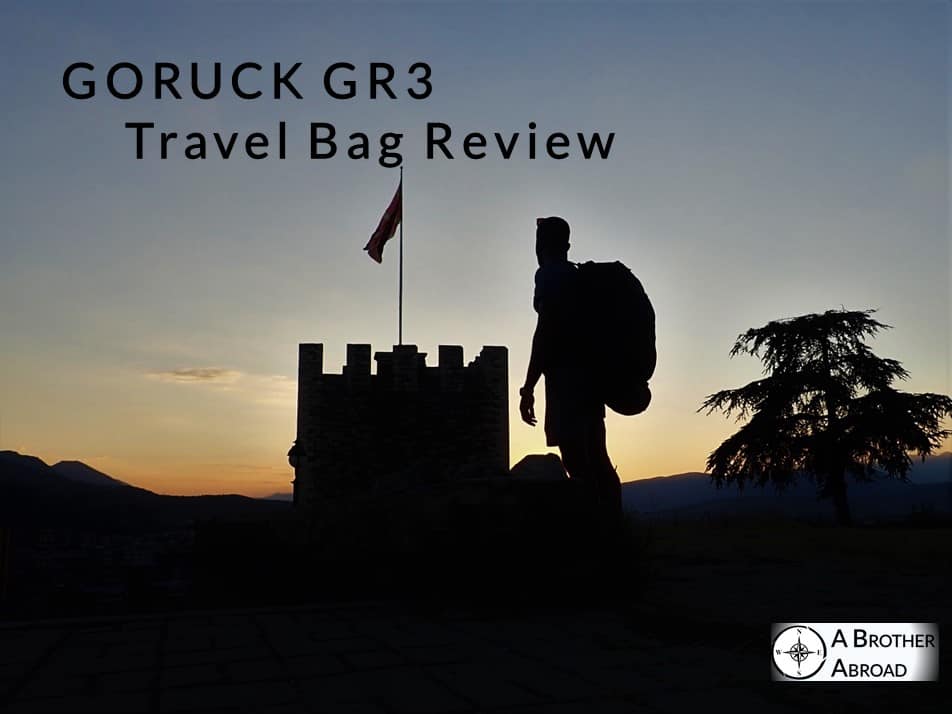 More Great Reads…
If you're still looking for the perfect, tough backpack for travel and adventure, and the GR3 is slightly to big, read our list of the 9 Best Backpacks for Rucking.

Great Related Articles