No trip to "Ceylon" is complete without a real Sri Lanka Safari tour. The wildlife safaris in Sri Lanka are so rich, varied, and affordable, that a traveler can see leopards, elephants, bears, crocodiles, buffalo, and more all in a single day, for less than $40. Additionally, seeing these animals free, wild, and in their own habitat is a perk that any responsible traveler could appreciate.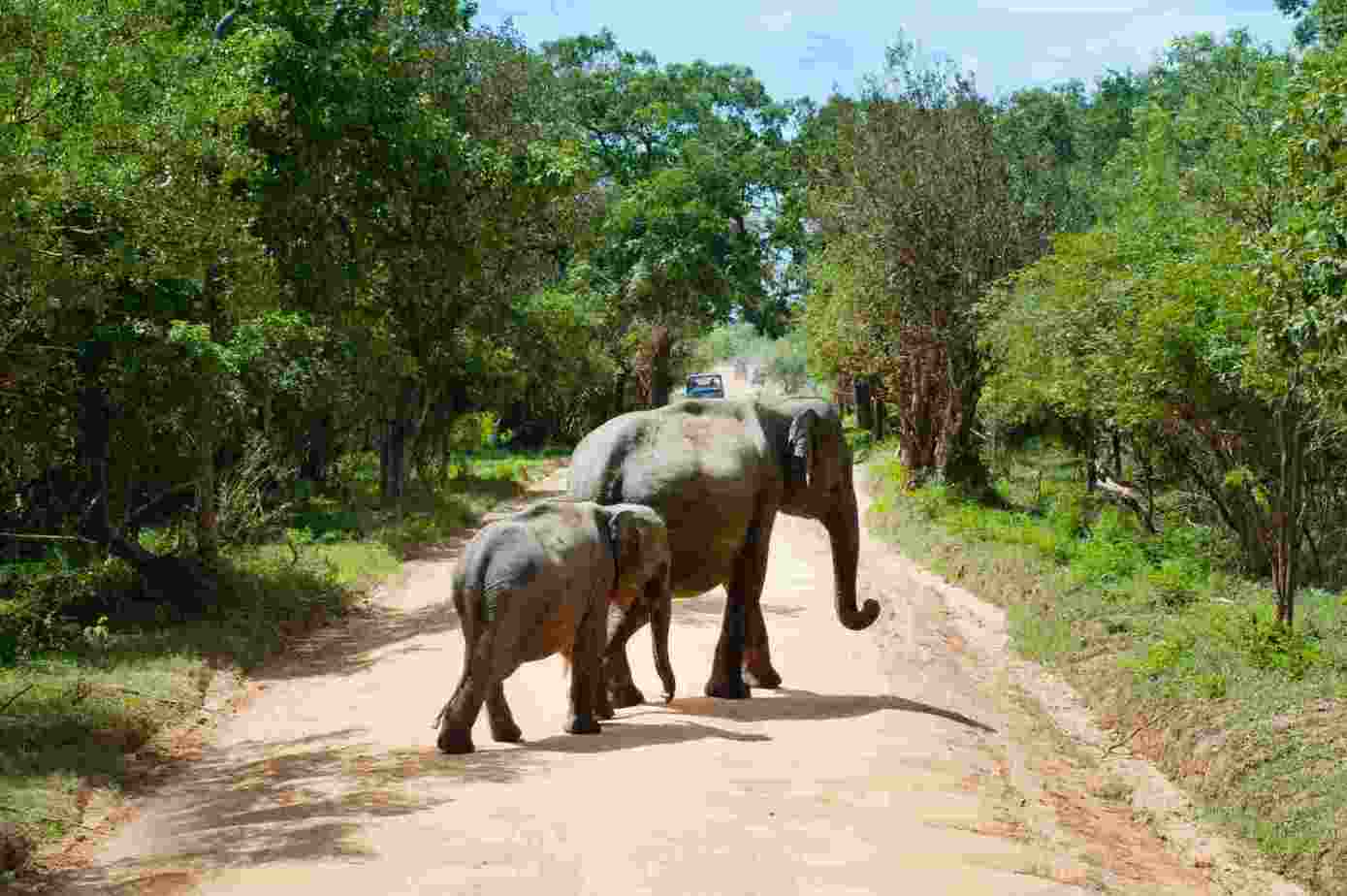 Unfortunately, with the many national parks in Sri Lanka, and so many other activities, picking the right national park and safari for your tastes can be a daunting task. Luckily, once again, A Brother Abroad has your back.
Read on for a quick guide to the best Sri Lanka wildlife tours, safaris, and national parks along with the animals you should expect to see to help you decide which safari is best for you.

CONTENTS

THE 6 BEST SRI LANKA SAFARI NATIONAL PARKS
AND THE ANIMALS YOU'LL LIKELY SEE
One of the most pleasant surprises I found in my 3 weeks in Sri Lanka was animals. Wild animals. Soooooo many animals. As a lover of BBC Planet Earth and an admitted Nat Geo binger, Sri Lanka offers a unique pearl for adventure enthusiasts in how many different opportunities there are to experience wildlife, unadulterated and free via the Sri Lanka National Park network.
The Sri Lanka National Parks are dotted around the diverse landscapes of Sri Lanka, meaning each national park offers a different landscape and experience. For instance, Yala offers dry brushland landscapes somewhat similar to the Serengeti, Udawalawe offers flat open green spaces dotted between jungles, and Horton's National park offers towering cliffs and views that extend for miles.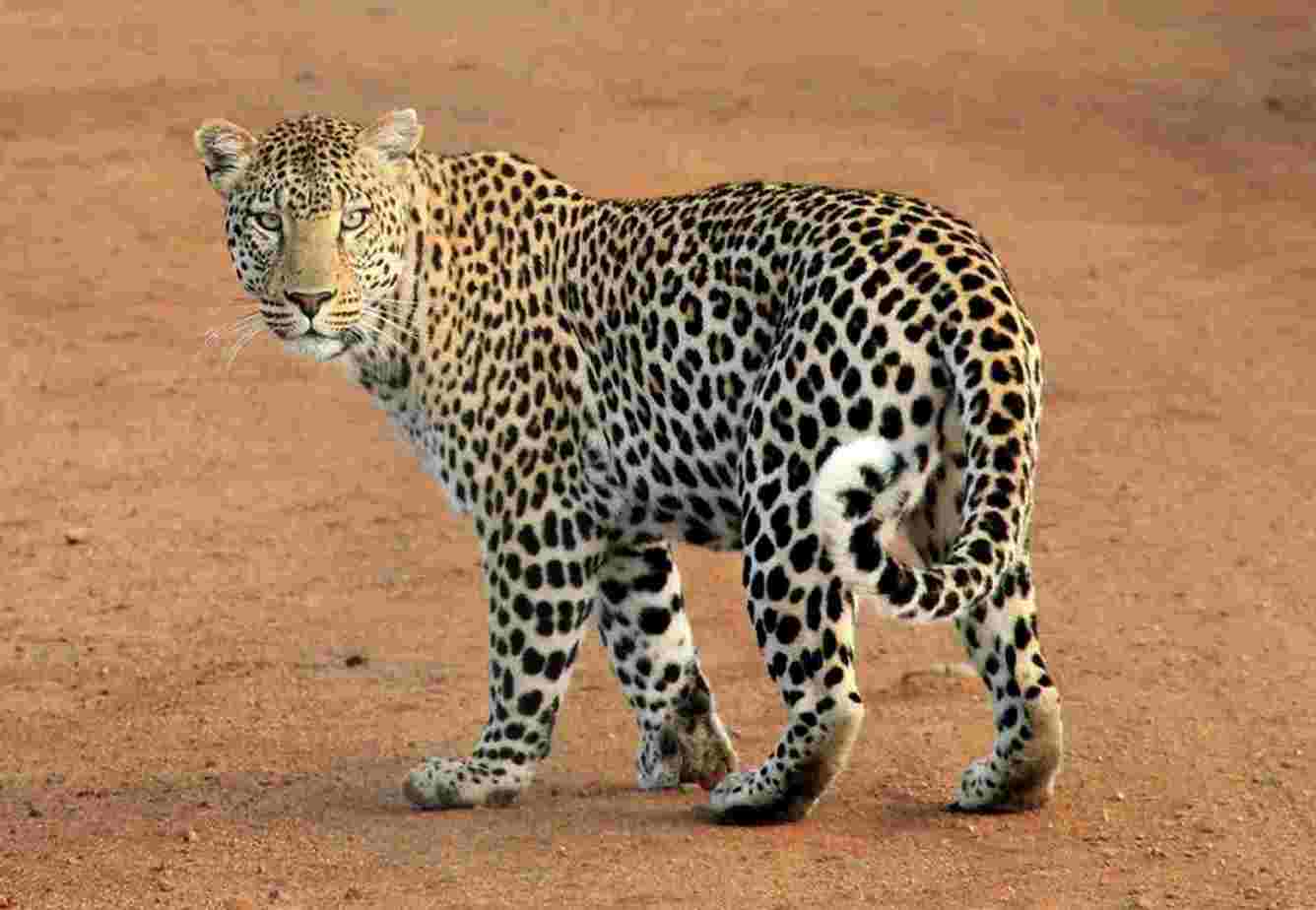 The best part is these varied national parks and their quintessential landscapes are home to different types of animals. Yala is home to a wider and more easily observable variety of animals, from leopards to crocodiles. Udawalawe's green spaces are home to literally hundreds of elephants that you can see roaming free and wild. And plenty of other parks to choose from offer birds, water critters, and many more animals to pick from.
Back home in the US, national parks are mostly about camping, hiking, and landscapes. In Sri Lanka, national parks are all about experiencing the animals.
---
So now that you understand why the Sri Lanka national parks are essential to any itinerary, let's help you figure out which national park (and safari) is right for you.
The best way to pick your national park and respective safari is by picking the animal you want to see the most, secondarily picking a national park that is naturally on your route through Sri Lanka, and then going from there. Read on for a description of each Sri Lanka national park to help you choose.
---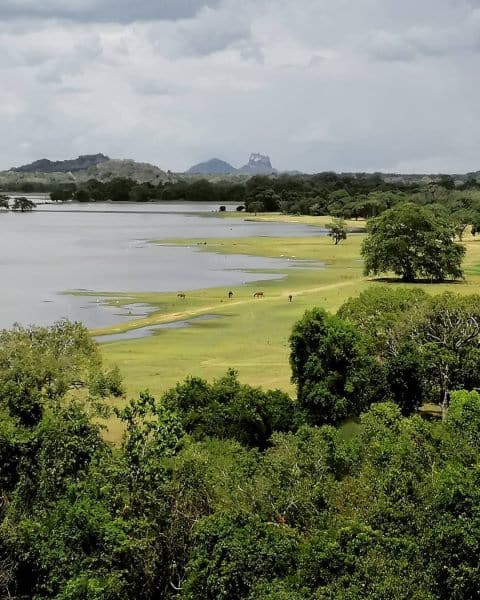 Yala National Park (Leopards): My favorite park for a Sri Lanka Safari offers a very "African Serengeti" feel, the opportunity to see Leopards, and the option to do a self-guided safari (with your own tuk tuk) make this park the best option for most. Yala gives the best opportunity to see leopards in the wild in Sri Lanka. Easily accessible from Tangalle, Arugam Bay, or Ella (Check out the Yala day trip options from Mirissa or from Ella to save time, ~$35)
Minneriya National Park (Elephants): A safari gives the chance to see elephants close up – easily done on a trip to Sigiriya or on the road to/from Polonnaruwa
Wilpattu National Park (Various Animals): Another great park with the chance to see varied wildlife, with leopards, elephants, and crocodiles being tops. There are ~40 known leopards in this park
Gal Oya National Park (Elephants, water animals, birds): Gal Oya is best for those animals that live close to the water (crocs, water buffalo, etc.) and plenty of birds. This park is easily accessible on the way to/from Arugam Bay
Kaudula National Park (Elephants): Easily accessible from Habarana/Sigiriya and Polonnaruwa, one of the largest known gathering points for Asian elephants.

THE BEST REASON FOR A SRI LANKA SAFARI: ELEPHANTS, WITHOUT CHAINS
If you spend enough time in Asia, you will no doubt be tempted by "elephant tourism".
What is elephant tourism?
Essentially, elephant tourism is any activity that allows tourists to pay for interaction with elephants. This can be as seemingly innocuous as visiting an "elephant sanctuary" wherein tourists can play with elephants, feeding them, and enjoying their company. At the other end of the spectrum, tourists ride elephants, covered in chains (literally, chains around their necks and shackles around their ankles to prevent escape), followed by a "gentleman" with a spear to keep the elephant in line.
Though the ethical nature of things like elephant sanctuaries is hotly debated, one thing is clear – the elephant is always kept captive against its will, and I personally think if the elephant had a choice then it would exist, in the wild, in a herd of other wild elephants, outside of captivity.
I'll skip over the lecture and debate to offer a solution to the problem of experiencing elephants (which everyone should) without supporting a miserable life for the elephant – go to Sri Lanka and experience elephants in the most humane way possible. In the wild. Few other places offer this.
---
In Sri Lanka, the national parks, and the wildlife in them, are treasured and protected. The large animals, like elephants and leopards, are monitored and counted (from a distance) to ensure things are going well in the animals' respective populations. At times, parts of each national park are shut down (and some are restricted continuously), to allow the animals to migrate to a place where they won't even see humans and can live as they would if humans didn't exist. A novel, wonderful idea for animal conservation.
Beyond this awesome national park setup, elephants are ubiquitous in Sri Lanka, yet feared and respected, in a very good way.
Elephants in Sri Lanka are ubiquitous in the sense that if you drive for more than a day you will encounter elephants on the road…and the experience is f***** awesome! Elephants are feared by locals in the sense that Sri Lankans recognize the power of an elephant, which could easily flip over a car or tuk-tuk. The kicker is that the elephants are respected. Despite the fact that the elephants constantly get in the road and can flip over a car, they're left alone. There's no campaign to move elephants to a different part of Sri Lanka, to fence them in, or to restrict them in any way. Sri Lankans just regard the situation as the driver's responsibility to keep a safe distance from the elephant, if the driver doesn't want any trouble.
That is why Sri Lanka is the best place in Asia for elephant tourism – because the elephants are just left alone, and it's our responsibility to stay out of their way. Sounds about right to me. They were here first, right?
Now, don't let my comments about "safe distance" deter you or make you think the experiences are watered down at all. Despite the respect and safeguards, your interaction with elephants will be rich. These gentle and majestic giants are just as curious about us as we are about them. That's how I ended up alone in a parking lot, hand-feeding a banana to a huge, tusked, bull elephant – one of my best experiences in Sri Lanka, hands down. Yes, you absolutely shouldn't feed the elephants…but what can I say? I honestly couldn't help it. Once in a lifetime experience. No one's perfect.
---
A Note on the "Elephant Sanctuaries" in Sri Lanka
There are operations in Sri Lanka that call themselves "elephant sanctuaries", aiming to take orphaned or injured elephants and rehabilitate them and offer tourists the chance to come to play with the elephants. Please avoid these. Though the intentions may have started out pure, as the elephants have grown older, there's no intention of reintroducing the elephants back into the wild. This means when the elephants breed, they will continue to keep the new elephants in captivity, perpetuating the same problems that exist in Thailand and elsewhere that regularly use elephant tourism. Do yourself a favor and just got to an Udawalawe safari. The proceeds from your entry fee will go to preserving the national park and conserving the wild elephant population.
Or just drive down road B35 in your tuk-tuk on your self guided safari to be stopped by the notorious "elephant security guard" looking for fruit.

PICKING THE RIGHT SRI LANKA SAFARI FOR YOUR TRIP
The Sri Lanka safari options and wildlife were possibly the most unexpectedly awesome part of my own Sri Lanka experience. Elephants, leopards, water buffalo, crocodiles, monkeys, and many other animals associated with African safaris and the Sahara can be seen easily, cheaply, and in a situation where the animals are wild, respected, and treated humanely during a Sri Lanka safari.
Aside from renting a tuk-tuk and creating your own safari like I did, joining a guided jeep safari through a national park is the best way to experience the country's wildlife. The biggest problem is that there are so many national parks in Sri Lanka, its hard to decide which national park is best for you based on your interest and time. I recommend picking your national park and safari based on the animals you're likely to see. The two best Sri Lanka safari options to consider are Yala National Park and Udawalawe National Park
If you want to see elephants by the hundreds, in the wild, go to Udawalawe National Park
If you want the chance to see a leopard or want to see a variety of animals, go to Yala National Park.
Visiting one national park is enough for one trip to Sri Lanka, so don't feel like you need to see them all as you'll see countless elephants, monkeys, peacocks, and water buffalo on the side of the road throughout your trip. Every traveler I met, especially those driving their own tuk-tuks, emphasized this point.
Here is a cheater list again of the main national parks in Sri Lanka, why to go, and what you'll likely see

7 GREAT TIPS FOR BOOKING AND ENJOYING YOUR SRI LANKA SAFARI
Book in advance during high season, as spots for Yala National Park and Udawalawe, fill up quickly. Klook offers some of the cheapest options for national parks
Book on arrival during low season, or if you have time to wait with your accommodation management for the cheapest tour
Hostels offer the cheapest safaris to their guests
This is the one travel experience where a zoom lens may come in handy, so if you want some great pictures, bring the DSLR (or mirrorless camera), a great lens, and hit multiple parks
Morning and evening safaris offer about the same experience, so don't sweat it if you can't pick one or the other
If you don't know which park to do, go to Yala National Park
If you're too broke to afford a safari but have a tuk-tuk, follow the directions for my free, self-guided tuk tuk safari of Yala National park

Price of a Sri Lanka National Park Safari
Booked in Advance
Yala National Park: ~$65 via GetYourGuide
Udawalawe: ~$35 via Klook
Wilpattu: ~$37 via Klook
Minneriya: ~$37 via Klook
---
Booking on arrival with a local
Absolutely the best and cheapest option if you have the time to wait, and price depends on the number of people in your jeep and which national park.
With only a few people in the Jeep, the safari can run ~$40, but with a full truck you can get a safari for ~$25
If you're trying to save money, stay at a hostel near your park, chat with the other guests, and jump on a tour with them. Most hostel owners also own a Jeep and run tours, thus will give a "group rate" to guests.

There you go! You're now ready to pick your choice of Sri Lanka safaris. What now?
I recommend checking out our other free Sri Lanka backpacking and travel resources. Our ultimate guide to backpacking Sri Lanka linked below is 100+ pages of free, well researched Sri Lanka travel info.
MORE GREAT SRI LANKA CONTENT
If you need something more easily digestible, just continue through our Sri Lanka Travel Blog series and we'll have you ready for adventure in no time. See you on the road!

MORE GREAT SRI LANKA CONTENT

NEXT UP IN THE SRI LANKA BACKPACKING SERIES