Patagonia – vast, beautiful, legendary. This epic land is filled with countless trails & vistas worth traveling half a world away to see. While you're exploring Argentine Patagonia, camping El Chalten and trekking the surrounding Parque Nacional Los Glaciares should be on your bucket list. It's a cheap, easy, and beautiful experience.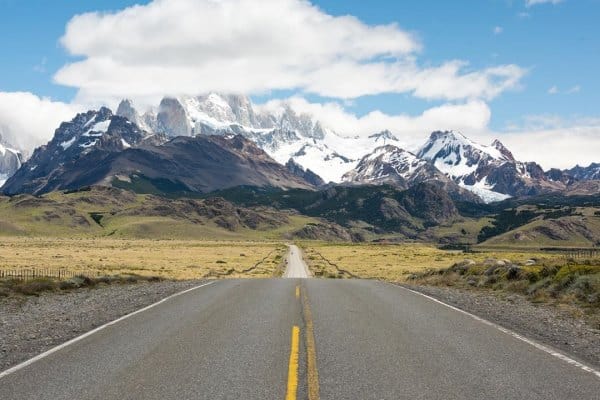 This tiny mountain town was founded only decades ago, to preempt a land border dispute between Argentina and Chile, but has since become a trekking and hiking hub for exploring Patagonia.
El Chalten offers remoteness and beauty as a small town on the edge of civilization with a robust network of day hikes from El Chalten and a series of free campsites. The trails that connect these pleasant campsites allow for easy multi-day treks around El Chalten while camping under the stars for far cheaper than elsewhere in Patagonia and Argentina – making it perfect for budget travelers and adventurous travelers alike.
If this outdoorsy Patagonian adventure piques your interests, read on for our guide to the best options for camping El Chalten.
Note: This article may include affiliate links that pay for the cost of writing, at no cost to you

Contents of this Guide to Camping El Chalten
---
A Note on the Imagery – I'm partnering with other travelers to share their adventures and stories through pictures, so feel free to learn about other adventurers and wanderers by clicking the picture credits!
---
Contents of this Guide to Camping El Chalten
---
Overview of El Chalten
Los Glaciares National Park is a great, cheaper alternative in Patagonia to expensive and highly trafficked Torres del Paines National Park. Though camping El Chalten doesn't offer the swanky refugios of Torres del Paine it still offers its own Torres (Cerro Fitz Roy), beautiful glaciers, and lakeside views that will make you want to overstay your visa.
El Chalten and the national park offer two great options for experiencing its outdoor beauty:
A Multi-day hike around El Chalten, camping at free sites and visiting the major sights along the way
Day hikes from El Chalten, camping in the city and venturing on hikes to Fitz Roy, the lakes, and glaciers along the way

Google Map of Campsites in and around El Chalten

Multi-Day Hike and Camping El Chalten (4 days, 3 nights)
A 4 day 3 night hike passes through the 3 free campsites in Los Glaciares National Park (Camp Laguna Capri, Camp Poincenot, and Camp Di Agostini) during which you see Cerro Fitz Roy, glaciers, lakes, and countless other wild, Patagonian views. This trek is a wonderful, budget-friendly alternative to the Torres del Paine W Trek and the O Circuit Trek.
Continue reading for more information about the free campsites along the El Chalten hiking circuit.
Or read this article for more information on the El Chalten trekking trails, itinerary and sites

The Campsites of El Chalten
(Free Campsites in Parque Nacional Los Glaciares for trekking)
---
Campamento Laguna Capri
Campamento Laguna Capri is located a 7 km, 2-hour hike from El Chalten and is the first campsite on the 4 day/3 night circuit around Parque Nacional Los Glaciares. The campsite is set off the beautiful shores of Lake Capri and has an impressive lakefront view of Cerro Fitz Roy and its surrounding spires. There is also a short ~1-hour side hike from the Cerro Fitz Roy Mirador, a rockier outlook with a different vantage point worth the walk.
If you don't make the morning hike up to Cerro Fitz Roy, either of these places (near the lake or at the mirador ~1 hour away)is great viewpoints for Fitz Roy by sunrise
Price: Free, booking not necessary
Facilities: A camp toilet is available, no showers or cooking facilities are available
Water: Potable water is available from the lake, but be sure to avoid taking from anywhere that people or animals may pass through.
Location and distance: 7 km, 2 hours hike from El Chalten with a large portion of the hike uphill on a small trail
---
Campamento Poincenot
Campamento Poincenot, located a 10 km hike from El Chalten and a 4.5 kilometer hike from Campamento Laguna Capri is normally the second stop (on Day 2) of the El Chalten Circuit. From here, trekkers drop their gear and take shorter hikes to the base of Cerro Fitz Roy and Lago de Los Tres, and the lake and glacier of Piedras Blancas.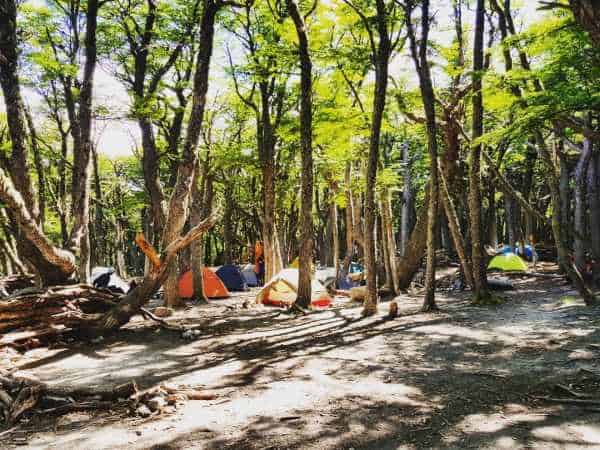 The campsite is located in a forested area which doesn't allow the impressive views nearby that the other campsites do, but does offer some wind protection. Toilets are available, showers and cooking facilities are not.
After completing the day hikes of Piedras Blancas, the Fitz Roy hike/Lago de Los Tres, backtrack slightly before continuing south to Campamento Di Agostini, near the mirador for Lago Torres
Price: Free, no booking necessary
Facilities: Camp toilets on site, no showers, no cooking facilities
Water: Potable water is available from a small river nearby
Location and distance: 10km from El Chalten, 4.5 km from Laguna Capri, 10.5 km from Di Agostini
---
Side hikes from Camp Poincenot:
Drop your gear at camp and make these hikes from Camp Poincenot with a light daypack, snacks, water, and a rain jacket.
Mirador Piedras Blancas, Laguna Piedras Blancas, Glaciar Piedras Blancas
Mirador and Laguna de Los Tres (~2km, ~1.5 hours)
Cerro Fitz Roy hike

Campamento Di Agostini
Campamento Di Agostini is the third and final stop (for Day 3) on the El Chalten circuit trek. The camp is roughly a quarter mile (half a kilometer) from Lago Torres and some amazing views. The camp is free and facilities are basic, with a camp toilet but no showers or cooking facilities.
Consider taking the short walk to Mirador Lago for sunrise to make the most of this campsite
During your stay at Campamento Di Agostini, be sure to leave your gear at camp and take a light daypack on the hike through Mirador Lago Torres, on the lake's shore, and on to Mirador Maestri for a view of Glacier Torre which peaks out of the southern Patagonia Icefield. The Glacier Torre view is not to be missed. Take a look at the glacier on the map (many times larger than the lake it pours into) if you're not convinced).
After the Mirador Maestri hike, pack up and walk the 9km back to El Chalten stopping at the last Miradors for Cerro Torre and Cascada Margarita on the way back, close to El Chalten.
Price: Free, no booking required
Facilities: Camp toilets, no showers, no cooking facilities
Water: A small river near camp provides fresh, potable water
Location and distance: 9km from El Chalten, 17km from Campamento Poincenot, 13 km from Campamento Laguna Capri
Side hikes from Campamento Di Agostini:
Mirador Lago Torres
Mirador Maestri (~2.5km), past Mirador Lago Torres on the north of the lake for a view of Glacier Torre
Views on the way back, from Campamento Di Agostini to El Chalten
Mirador Cerro Torre
Mirador Cascada Margarita

What to know about camping El Chalten and Patagonia
El Chalten and Glaciers National Park are the cheapest experiences available in Patagonia
The trail network is easy for beginners, allowing for hikes and treks as short or long as you want
Sunrises are the best for any of the viewpoints – especially Fitz Roy and Lago de Los Tres. Plan accordingly.
Bring the small, creature comforts from El Calafate or Bariloche, they'll be more expensive or unavailable in El Chalten
Bring a light (a headlamp), cooking equipment (and fuel). No electricity or cooking facilities are available in Parque Nacional Los Glaciares
Bring clothes for all seasons. The weather can get cold at night, the sun can burn during the day and it can rain in between
Start early, stake your tent early. Starting early, you'll have the trails and views to yourself. Staking your tent early, you'll get the tent sites with the best views and wind protection
Download Maps.Me and bring a recharging brick. The trails are well mapped and will keep you from getting lost
Avoid hiking alone due to the risk of Pumas. This is the puma's natural habitat.
If you enjoy the El Chalten camping experience and want more, go to Torres del Paine and do the "O" Circuit trek

Day Hikes and Camping in El Chalten Town
For those that are only interested in day hikes from El Chalten, but still want to camp in the evening, El Chalten offers a few options, all of them must be paid for. Be sure to reserve these sites well in advance.
---
Campamento El Relincho
A family-owned, private campsite located just outside of the center of El Chalten (but still walking distance)
Facilities: Campsites (as well as cabins with bedrooms, kitchens, and bathrooms) with 24/7 hot water and showers, real toilets.
Contact: www.elrelinchopatagonia.com.ar/info
---
Campamento El Refugio
A hostel and campground that's great for the budget crowd that's either day hiking or spending a night in El Chalten before starting the El Chalten circuit. There are plenty of campsites available, so don't worry about booking
Price: ~$3 USD per night
Facilities: Hot showers and cooking facilities available
---
Hostel del Lago (and Camping)
Not available to book on hostelworld, but Hostel del Lago does offer campsites. Just walk up and inquire.
Facilities: Full hostel amenities
Location: https://goo.gl/maps/bj3j2qcDC9cbvGyz6
---
Campamento La Forcida
Location: Remolcador Llao Llao 33, El Chalten, Santa Cruz, Argentina

Dayhiking from El Chalten
If you want to see the sites but sleep in civilization, there is the solid option of setting up camp (literally) in El Chalten or staying at hostel/hotel, and hiking out to the sights and returning in the same day. If you prefer to camp in El Chalten, El Refugio hostel and campground, Del Lago hostel and camping, and Camp La Forcida are in town campsites with varying amenities. By camping in town, you keep costs down, get that outdoorsy experience, and still eat in town saving you from carrying all that food and water – or maybe even treating yourself to a restaurant meal after a long day's hike.
Via day hike you have two main routes: Day hike #1, to Cerro Fitz Roy, and Day hike #2, to Laguna and Glacier Torre
---
Day Hike #1: The Cerro Fitz Roy Day Hike
The first-day hike route is from El Chalten to the base of Cerro Fitz Roy and Laguna de Los Tres.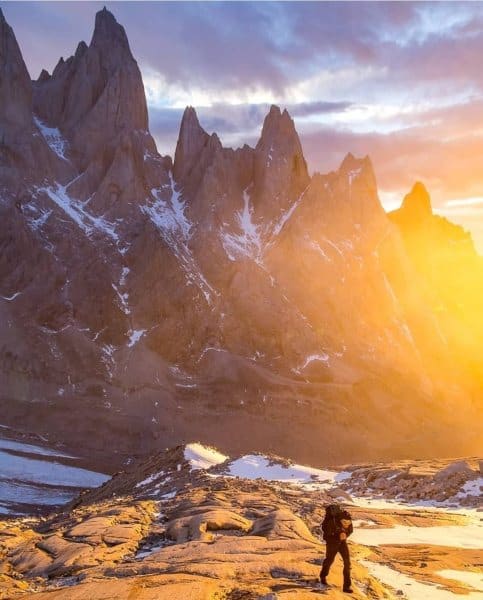 This 24 kilometer, 8-9 hour hike is a must do and takes you to the massive rock spires that were once the namesake of the national park (Cerro Chalten – "Smoking Mountain") and now recognized for being the emblem on the Patagonia label. Along the way, you'll pass peaceful meadows, flowing rivers, and rocky fields, all beautiful side views that make the trip more worthwhile.
If you have enough energy at the midway point, an additional 2 kilometers will take you to a beautiful lake viewpoint and another viewpoint for the glaciers at Piedras Blancas before returning to El Chalten
For more information see the day hiking section of our Guide to El Chalten Trekking.
---
Day Hike #2: Laguna Torre Day Hike
The second-day hike route proceeds 9.5 km and 3 hours to the southeast, from El Chalten toward (and past) Camp di Agostini for views of a pristine lake and peak into the southern Patagonian ice field.
Along the way, shortly outside of El Chalten, you'll pass an epic viewpoint for Cerro Torre and another for the Margarita waterfall (Cascada Margarita) before arriving later at the Mirador Lago Torres on the shore of Lago Torre. The Mirador Lago Torre will make a great place for a break and lunch, so enjoy the view. Then, proceed another 2.5 kilometers / ~1 hour around the north side of the lake for an even more spectacular view of Glacier Torre and the Southern Patagonian Ice Field before returning to El Chalten
For more information see the day hiking section of our Guide to El Chalten Trekking.
Day Hike #3: Pliegue Tumbado
The third day hike route proceeds 13 km and 8-9 hours south of El Chalten to a panoramic view of the entire valley at Mirador Pliegue Tumbado.
Whereas most of the other hikes go into the valley, this hike goes above, offering unparalleled views of Parque Nacional Los Glaciares
For more information see the day hiking section of our Guide to El Chalten Trekking.

FAQ
How do I get from El Calafate to El Chalten

Buses leave from El Calafate's main bus terminal run by three separate bus companies for $20 USD one way or $30 USD round trip at ~7:30 AM. The ride to El Chalten is about two hours long.

How do I get from Bariloche to El Chalten

Oooooh you're in for a ride! If you have the time, the most adventurous way to travel is by bus. The trip from Bariloche to El Chalten by bus via route 40 will be a minimum of a 24-hour ride, and overnight trip, if nothing goes wrong. My bus broke down and we were stuck in the middle of Patagonia on a dirt road for 18 hours, and other things such as flooding or rain can happen, so, make sure you have the time to flex for "adventure". This trip is run by the "Marga" bus company and runs ~$80 USD. If you decide to go this route, book your tickets ASAP in Bariloche as seats sell out, bus departures aren't often, and you'll likely be taking a ~6:30 AM bus.

Is El Chalten safe?

Absolutely. It is a mountain town and trekker's paradise. From my experience, in most places that revolve around exploring the outdoors (El Chalten included), most people can be trusted not to walk off with your belongings and engage with petty crime, but, still keep your valuables close.
On the trek, do be aware of pumas as they do live in these hills. Avoid walking alone to reduce the risk of being approached.
Where can I camp in Patagonia

Torres del Paine, in Chile, El Chalten, in Argentina, and San Carlos de Bariloche, in Argentina, are some of the best places in Patagonia to camp and trek

How long is the Fitz Roy hike

26km from El Chalten, 2km and 400 meters of ascent from Camp Poincenot (~1-1.5 hours)

How does El Chalten compare to Torres del Paine

El Chalten is cheaper, less trafficked, and harder to get to, but the views are comparable and just as beautiful. From glaciers to lakes, to towering rock spires, you'll experience just as much in El Chalten as you will in Torres del Paine