El Chalten – A tiny mountain town nestled in a beautiful corner of Argentine Patagonia. Whether you're looking for pleasant day hikes and comfy mattress at night, ormulti-day treks with camping under the stars, the El Chalten trekking and hiking options definitely offer your flavor and style of outdoor adventure.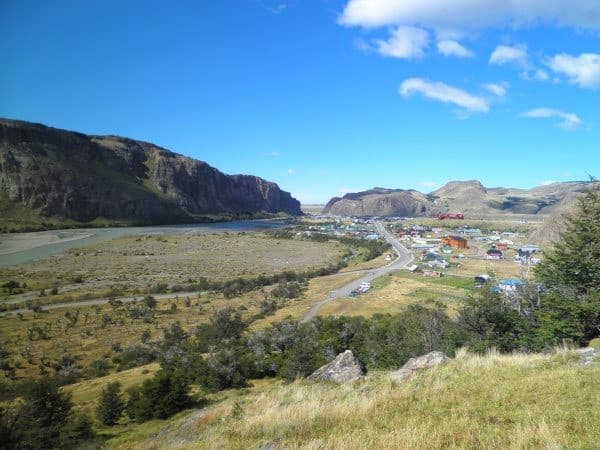 Unfortunately, with all of these accessible, free campsites, amazing trails to walk and beautiful sights to see, it can be hard figuring out which of the El Chalten hikes are for you and how to patch them together into your perfect trek. Don't worry, we're to help you plan your perfect El Chalten hiking experience – comfortably between mountains and glaciers, covered by pure, starry nights.
Read on to discover the best sites to see in El Chalten on your hikes, the best itinerary for trekking through Parque Nacional Los Glaciares, and everything else you need to know to make the most of your time in this little corner of Patagonia.
---
Note: This article may include affiliate links that pay for the cost of writing, at no cost to you

Contents of this Guide to El Chalten Trekking and Hiking
---
A Note on the Imagery – I'm partnering with other travelers to share their adventures and stories through pictures, so feel free to learn about other adventurers and wanderers by clicking the picture credits!

Map of the Major Sights in El Chalten and Parque Nacional Los Glaciares
---
The Major Sites to see during your El Chalten Trekking Experience:
All worthwhile hikes revolve around beautiful viewpoints, relaxing and peaceful campsites, and pleasant trails to hike between them all. El Chalten has all three in spades.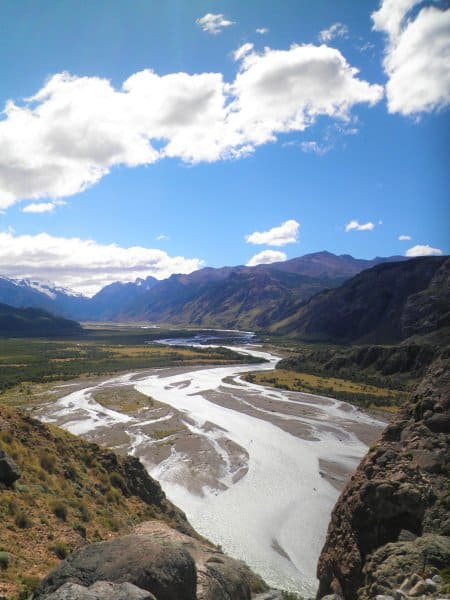 The three major, free campsites in the park (Laguna Capri, Poincenot, and Di Agostini) connect a network of trails that pass by a handful of epic "miradors" or viewpoints of quintessential Patagonian views of rock spires, pristine mountain lakes, and glaciers. This makes planning easy because you simply plan to hike to the viewpoints and between campsites.
The viewpoints for most of these sites lie along the trails between campsites with a few special viewpoints requiring side hikes, such as the Cerro Fitz Roy hike and the Lago de Los Tres hike.
The major sites to see in El Chalten Los Glaciares National Park are:
Cerro Fitz Roy and Laguna de Los Tres (at the base of Cerro Fitz Roy)
Laguna Capri
Laguna, Glacier, and Cerro Torre
Loma de Pliegue Tumbado

Cerro Fitz Roy & Laguna De Los Tres
The "must see" in Parque Nacional Los Glaciares, Cerro Fitz Roy is an epic and beautiful rock spire that has inspired many trekkers and mountaineers. These days, Cerro Fitz Roy is most notable for being the emblem for the brand Patagonia, butits beauty goes far beyond that.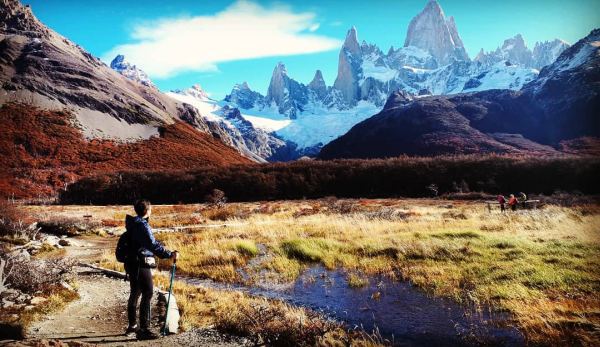 This mountain was previously the namesake of the park as "Cerro Chalten", meaning "smoking mountain". The unique topography of this Patagonian landscape combined with moisture and varying temperatures from the constant presence of ice and snow as well as the nearby glaciers cause steam and clouds to roll from the top off Cerro Fitz Roy, giving the appearance that it is smoking and giving the original name to the peak and the nearby town of El Chalten.
Next to Cerro Fitz Roy sit two other epic spires, Cerro Torre and Cerro Poincenot, ultimately making up "the three" or "the tres" and giving the name to the lake at the base of Cerro Fitz Roy, "Lago de Los Tres".
The view of these three legendary peaks from the shore of the lake is a site not to be missed in the park.
The Cerro Fitz Roy hike makes the El Chalten experience a great alternative to the more expensive and congested Torres del Paine Paine treks by adding similar views and hiking experiences at a fraction of the cost.
Jump to the Cerro Fitz Roy Day Hike or seeing Cerro Fitz Roy on a multi-day trek of El Chalten
---
Laguna Capri
A picturesque lake on the way to Cerro Fitz Roy with a pleasant campsite and peaceful views.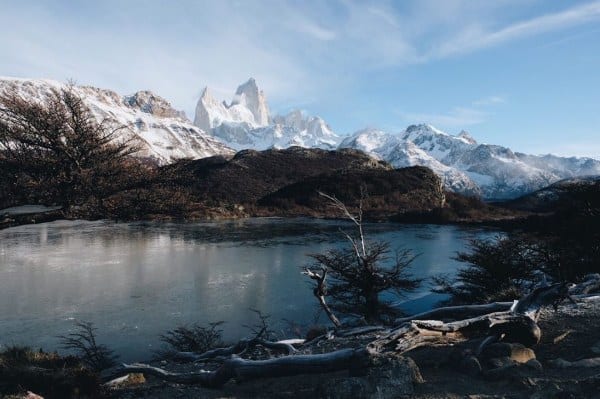 ---
Gacier and Lake Piedras Blancas
An optional side hike north of Campamento Poincenot (near the Cerro Fitz Roy hike) to a peaceful lake and glacier view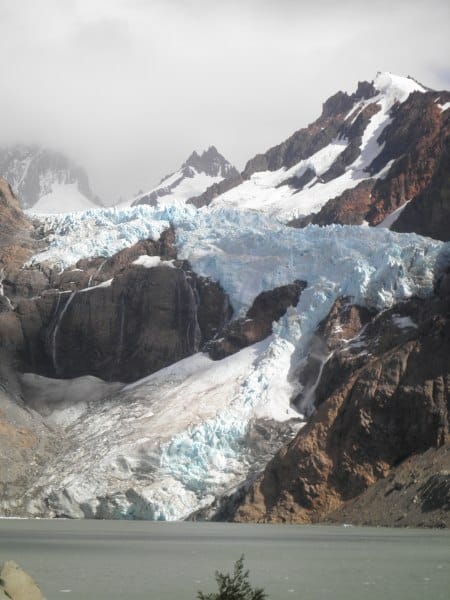 ---
Laguna and Glacier Torre Miradors
A view and hike that nearly equal the Cerro Fitz Roy hike. As the Cerro Fitz Roy hike offers epic views of mountains, these two spots offer beautiful views of the Glacier Torre and a "peak" into the amazingly huge Southern Patagonian Ice Field.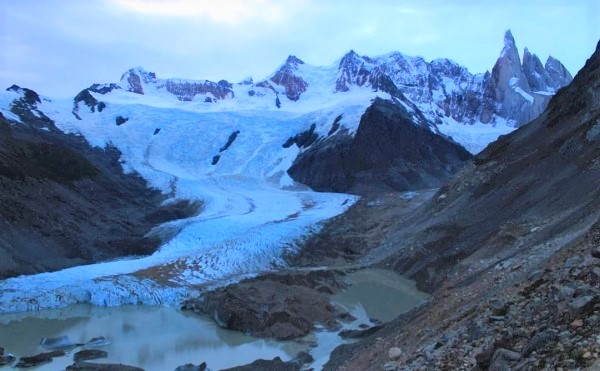 ---
Mirador Cerro Torre (Near Chalten)
A viewpoint on the way to miradors Laguna and Glacier Torre (from El Chalten) that is claimed to be the second most beautiful in the national park
---
Loma de Pliegue Tumbado
This view is an epic, panoramic view of the Parque Nacional Los Glaciares and the El Chalten area. Getting to this viewpoint takes you on one of the tougher hikes, one that does not go into the valley, but rewards with extraordinary views.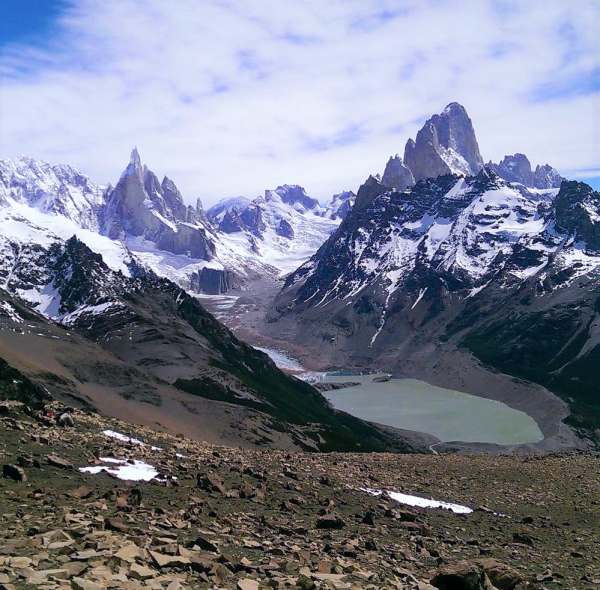 Read on for how to connect these viewpoints and campsites into a nice multi-day trek or separate them into the perfect day hike

How to see the sites around El Chalten
---
Camping and Trekking around El Chalten
If you're a fan of sleeping under the stars, opt for the multi-day trekking, camping around El Chalten in Parque Nacional Los Glaciares for 4 days and 3 nights of camping El Chalten.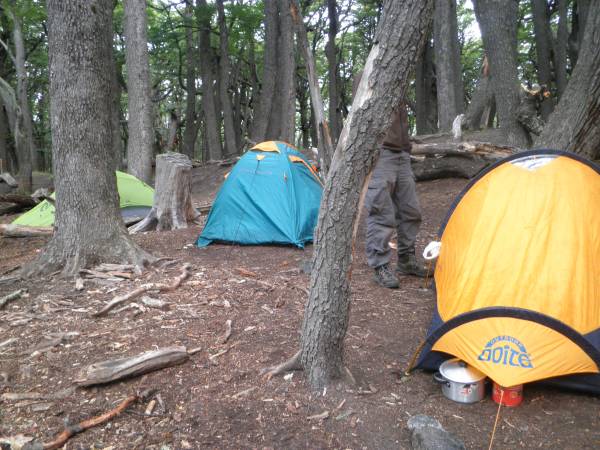 Tourist traffic is light, the nights are peaceful, and the extra time (not spent hiking back to El Chalten) makes for relaxing time around the fire with a book and "easier" hikes for sunrise to Cerro Fitz Roy and Laguna de Los Tres. The fact that the campsites are free will help also you save that hard earned cash too making El Chalten trekking perfect for budget travelers and a great, cheaper alternative to Torres del Paine National Park.
Learn more in our article "Camping El Chalten"
---

Day Hiking From El Chalten
On the other hand, if you prefer traveling lightly and quickly, and prefer to stay in town (or sleep on an actual mattress), day hikes are another perfect option.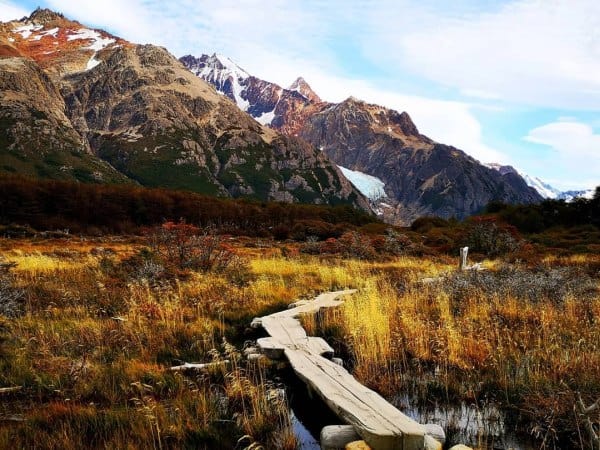 Campsites and viewpoints are roughly 2-3 hours from El Chalten making for a relatively easy, yet enjoyable and beautiful, round trip if you leave early. This will leave you the evenings to enjoy the creature comforts of electricity, real coffee in the mornings, and restaurants preparing delicious meals – like "cordero Patagonico" (Patagonian Lamb).
**Read on for the best plans for day hikes and multi-day itineraries**

The El Chalten Multi-Day Trek and Camping Itinerary

Day 1: El Chalten to Camp Laguna Capri
The first day of the El Chalten hiking circuit leaves from center of El Chalten to the east for Camp Laguna Capri, located just off the beautiful shore of Lake Capri. The hike will take roughly 2 hours over ~3 miles, going uphill a good portion of the way.
At Laguna Capri, just steps from the campsite, you'll enjoy a beautiful Patagonian lake view with Cerro Fitz Roy as its backdrop.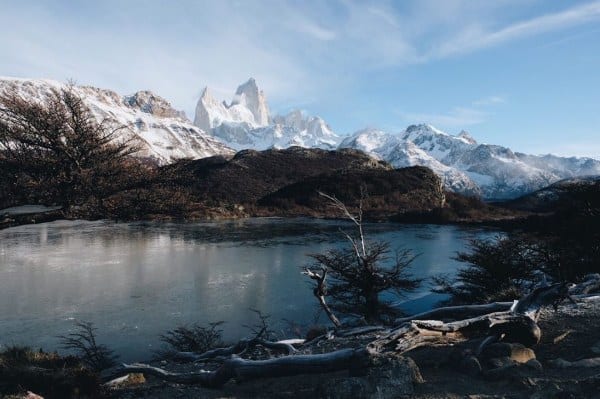 If you have time before sundown, drop your pack and set up camp, then hike ~1 hour on a loop to the north that takes you to another, rockier viewpoint of Cerro Fitz Roy, then continues back down to Camp Laguna Capri.
Camp Laguna Capri is a free campsite with camp toilets, but no showers or cooking facilities, so come prepared. Fresh stream water is available nearby
The following morning, hit the lakeshore Laguna Capri viewpoint for a Cerro Fitz Roy sunrise, then pack up and prepare to head to Campamento Poincenot, a great base camp for several short hikes to viewpoints, the base of Cerro Fitz Roy, Piedras Blancas, and other great views
---
Day 1 Rollup:
Sites along the way: Alternate Cerro Fitz Roy Miradors
Length: 2 hours and ~3 miles
Tips: Wake up early the following morning for sunrise at the Laguna Capri viewpoint
Read our Camping El Chalten for more campsite information
Side Hikes from Camp Laguna Capri: Mirador Laguna Capri, Mirador Cerro Fitz Roy

Day 2: Camp Laguna Capri to Camp Poincenot
Day 2, pack up in the morning after a Laguna Capri sunrise view and prepare to hike 1.5 hours and ~4.5 kilometers east to Campamento Poincenot. Though there are no particular side hikes along the way, the hikes from Camp Poincenot and the viewpoints they lead to are amazing. Camp Poincenot is somewhat of a "basecamp" for the hike up to the base of Cerro Fitz Roy/Lago de Los Tres making the trek up much shorter than from El Chalten, allowing hikers to catch Fitz Roy and her sister peaks by sunrise.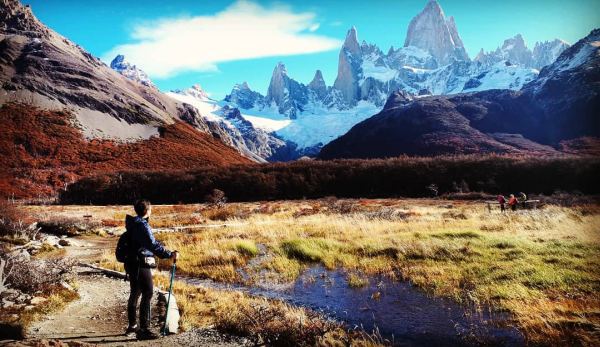 Once you get to Camp Poincenot, set up camp and consider hiking north to Mirador Piedras Blancas and Mirador Glacier Piedras Blancas, both beautiful views are only a 1.5 mile and 45-minute walk (one way) before returning to Campamento Poincenot for the night
The following morning, make the hike up "Sendero Fitz Roy" (the trail to Cerro Fitz Roy) to Lago de Los Tres at the base of Cerro Fitz Roy. This hike is only 2km long but the ascent is over 400 meters vertically, so plan for the hike to take 1 hour to 1.5 hours. Absolutely bring a headlamp (with extra batteries) to keep your hands free, and I recommend bringing a stove to make some coffee or hot chocolate during sunrise – its always a treat.
Once you've enjoyed your sunrise, hike back down to Campamento Poincenot, pack up, and head towards Campamento D'Agostini.
Length from Camp Laguna Capri to Campamento Poincenot: 1.5 hours, 4.5 kilometers
Tips: Bring a headlamp with extra batteries, plan 1.5 hours for the Lago de Los Tres hike, bring coffee
For more info read our Guide to Camping El Chalten: Camp Poinenot
Side Hikes: Laguna de Los Tres/base of Cerro Fitz Roy, Mirador Glacier Piedras Blancas, Laguna Torre, Mirador del Torre

Day 3: Camp Poincenot to Camp Di Agostini
For the final day of the trek you'll make the 11km, 3-hour trek down to Campamento D'Agostini. This campsite is lightly wooded and set back from the lake Laguna Torres.
When you arrive at Campamento D'Agostini drop your backpack, set up camp, and load up your daypack for a quick ~2.5km hike to two "miradors".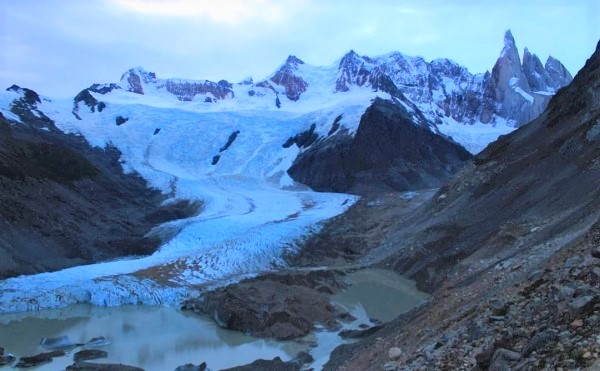 The first stop on your hike will be Mirador Lago Torres, offering a great view of Lake Torres. After a brief stop, continue on 2km to Mirador Maestri, on the north side of the lake, for an otherworldly view of Glacier Torres, which peaks out from the Southern Patagonia ice field. I highly recommend looking at a map to get an idea of how big this glacier and ice field are.
After some great pictures, pack up and head back to Camp D'Agostini and call it a night.
Consider waking up to catch the mirador you passed earlier, Mirador Lago Torres, by sunrise.
Length from Campamento Poincenot to Campamento D'Agostini: 3 hours, 11 kilometers
Tips: Do the short Mirador Maestri hike
For more info read our Guide to Camping El Chalten: Camp D'Agostini
Side Hikes from Camp D'Agostini: Mirador Lago Torres, Mirador Maestri

Day 4: Camp Di Agostini to El Chalten
The final day of the El Chalten trekking circuit takes you back to El Chalten over a 6 mile, 3-hour hike with another mirador of Cerro Torre and the Mirador of Cascada Margarita (Margarita Waterfall) along the way.
The Cerro Torre viewpoint on the way back to El Chalten is said to be one of the two best views in the whole park, so be sure not to miss it.
Sites along the way: Mirador Cerro Torre, Mirador Cascada Margarita
Length from Camp D'Agostini to El Chalten: ~6 miles, 3 hours
Tips: Wakeup for Mirador Lago Torres y sunrise

The El Chalten Day Hikes
For those that prefer to travel light (leaving their heavy bags, food, and gear at home), or prefer to spend their nights in civilization, the El Chalten day hikes are perfect. As long as you don't mind starting early and an ~8-10 hour day of walking, you can experience the best of El Chalten and Parque Nacional Los Glaciares in two single day hikes. Whichever day hike you opt for, be sure to start no later than 7AM-8AM to avoid the need to rush or arriving back in El Chalten after nightfall.
---
Day Hike 1: Cerro Fitz Roy and Lago de Los Tres
---
This is the must-do hike of El Chalten. The base of rock spires, at Lago de Los Tres, offers the best view in the park of Cerro Fitz Roy, one the namesake of the park as "Cerro Chalten" (smoking mountain) and made famous by the Patagonia brand. If you have another 45 minutes/1.5 miles in you (one way), be sure to add the Mirador Glaciar Piedras Blancas for glacial views on your day hike.
To make this trek, plan to leave early as you'll be hiking for 8-9 hours over ~24km. Leave via Avenida San Martin, where the city of El Chalten ends.
Time: 1:00 Hours
From here, you'll hike for about uphill until reaching a river valley view of the De Las Vueltas river. This image is burned in my mind as one of my quintessential moments, experiences, and views in Patagonia…so enjoy it for me.
Time: 2:30 Hours
Approximately 1.5 hours later you'll reach a viewpoint of the entire valley with Cerro Fitz Roy as a backdrop, and an information placard indicating Cerro Fitz Roy and the sister peaks.
Time 4:00 Hours
Approximately 1.5 hours later you will reach Camp Poincenot and nearing the start of "sender Fitz Roy" the hike up to Lago de Los Tres and the base of Cerro Fitz Roy. The path will ascend for 400 meters for a ~1-hour hike to Laguna de Los Tres
Time 5:00 Hours: Arrive at Laguna de Los Tres
Estimated time to return to El Chalten: 3 to 4 hours

Day Hike 2: Mirador Lago Torres
This day hike takes you to the southeast of El Chalten. Start by leaving El Chalten and following the trail (available on the Maps.Me app) toward Mirador Cascada Margarita, then on to Mirador Cerro Torre which is supposed to be one of the most amazing in the whole park.
From here, continue on to Mirador Lago Torres, just past campamento D'Agostini and on the shore of the lake Laguna Torre.
If you have enough energy and daylight remaining, consider continuing the hike another 2.5 km to Mirador Maestri for an exceptional view of Glacier Torre and Southern Patagonia Ice Field

Day Hike 3: Pliegue Tumbado
This day hike takes you to the south of El Chalten for a panoramic view of the entire valley that is unmatched. Whereas as all of the other hikes go into the valley, this hike climbs above, and the view rewards accordingly.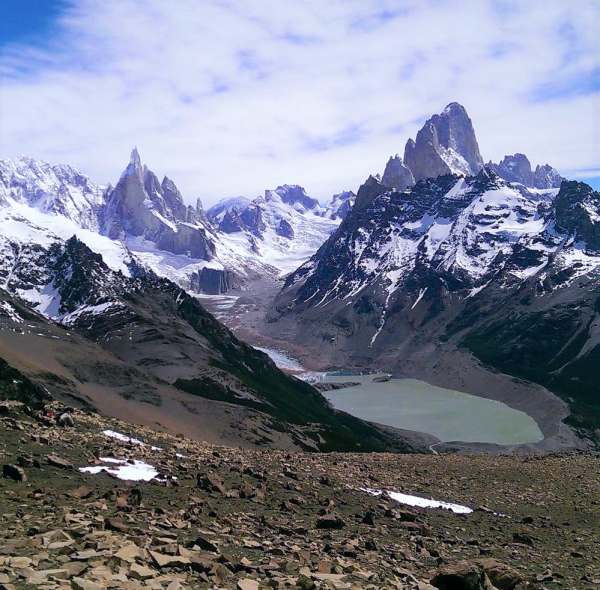 To make the Pliegue Tumbado viewpoint hike, leave the city toward the west past the National Park Ceferino Fonzo Visitors Center. Take the trail to the right that leads towards Pliegue Tombado and Laguna Toro / Paso del Viento.
The trail ascends most of the way with views toward Mount Huemul, the Viedma Lake, and the Andes at points.
Due to altitude in certain places, is exposed to weather and wind so bring a rain jacket and insulation layer accordingly.

Guided tours around El Chalten
There are several guided hikes and treks around El Chalten. If you are interested in an organized experience, inquire about these specific treks and hikes.
Glacier Viedma Trek
Piedra del Fraile
Hemeremul Circuit – known as the toughest hike in the region

The Packing List for El Chalten: What to bring, buy, and rent
---
What to Wear & Bring Hiking in El Chalten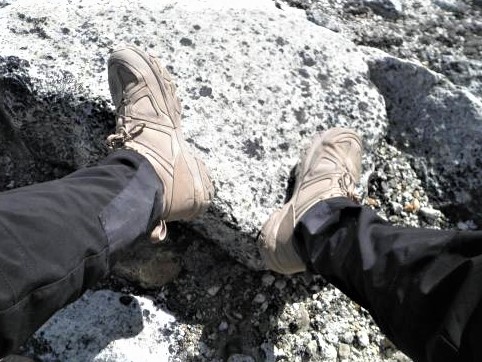 Whenever you're hiking, for a single day or multiple days, there are a few items you want to always have on you just in case the weather changes or you lose your way and get caught out after dark or have an accident. Having these items on you, and in your day pack will keep you warm, dry, safe, and comfy
Rain Jacket (waterproof, windproof)
Hiking boots or athletic shoes suitable for walking 10+ miles
Sweat-wicking base layer
Trekking pants – breathable and quick drying
Midweight fleece or insulation layer
Watch
Smart phone with Maps.Me map app
Small first aid kit (band-aids, sanitizer, blister strips)
Hat
Sunblock
---
Other Essentials
---
Camping Equipment
If you plan to stay overnight in the park at one of the campsites, don't forget these essentials which can be brought (if you have them), purchased in Chile or Argentina, or rented at one of the many outdoor stores.
Tent (2 person, lightweight)
Sleeping Bag (Synthetic Insulation)
Camp Stove with sufficient Fuel
Mess Kit
Headlamp with extra batteries
**Optional** Sleeping bag for warmth and comfort
---
Renting Gear in El Chalten
As El Chalten is a mountain town built around trekking and tourism, finding gear for camping, trekking, and climbing is not much of an issue. Your only issues may be finding quality gear (no holes, not overly used) during high season, or paying fairly high rental prices.
There are a handful of shops that both sell and rent out gear, so ask around for the best place to get the particular item you're looking for.
If you are planning a fairly long and outdoorsy trip through Patagonia, to Bariloche, Torres del Paine, and other National Parks, I highly recommend buying or bringing camping gear (tent, sleeping bag, and stove) as rental fees can add up. On the other hand, if El Chalten is your only stop, you'll have little difficulty renting the gear you need on arrival

Getting to El Chalten – from El Calafate and Bariloche
---
From El Calafate
Buses leave from El Calafate's main bus terminal run by three separate bus companies for $20 USD one way or $30 USD round trip at ~7:30 AM. The ride to El Chalten is about two hours long.
---
From San Carlos de Bariloche (the adventurous way)
Oooooh you're in for a ride! If you have the time, the most adventurous way to travel is by bus. The trip from Bariloche to El Chalten by bus via route 40 will be a minimum of a 24-hour ride, and overnight trip, if nothing goes wrong.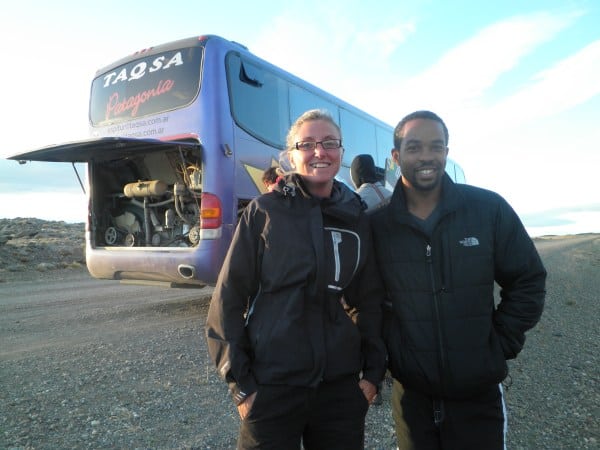 My bus broke down and we were stuck in the middle of Patagonia on a dirt road for 18 hours, and other things such as flooding or rain can happen, so, make sure you have the time to flex for "adventure". This trip is run by the "Marga" bus company and runs ~$80 USD. If you decide to go this route, book your tickets ASAP in Bariloche as seats sell out, bus departures aren't often, and you'll likely be taking a ~6:30 AM bus.

Notes, Tips, and Info (ATMs & Cash, Water, Gear Tips)
ATMs in El Chalten
El Chalten has a single ATM which, during high season, can run out of money or have issues suddenly. Stay on the safe side by carrying plenty of cash on you
---
Water in El Chalten
Water in the park from wild sources (flowing streams) is potable and can be consumed without purifying – just ensure you're collecting water from a place far (~100 meters or more) from where people bath, walk, or cross, and ensure you're upstream. Beware that there still may be animals upstream contaminating the water though.
I prefer to err on the side of caution, bringing water purification tablets that are cheap and easy to use.
---
Food in El Chalten
When buying camp food, think simply to avoid overspending. Don't worry about getting the "specialty "dehydrated camp food", just get meals that are simple, easy to prepare, and light, such as noodle cups, rice, canned fish, etc.
Plan on grocery store prices to be higher (up to double) what they'll be in El Calafate and Bariloche, as El Chalten is a remote outpost. Also, plan on the selection to be much thinner. If you can buy your food for trekking/cooking closer to civilization, buy the special items (particular candies, chocolates) and the more expensive items then – they might either be more expensive or unavailable in El Chalten.
---
Gear for Camping & Trekking in Patagonia
If you have your own gear, such as sleeping bag, tent, and stove, bring it for a better experience in Patagonia. If you will be traveling the area for some time and camping for more than a week, I recommend buying a tent and stove at least to save on costs.
Argentine and Chilean branded gear can be purchased for a decent price (new or used) and is relatively good quality – I bought a tent in Bariloche in 2011 and still have/use it.
If buying gear doesn't sound like your style, no problem. El Chalten, Puerto Natales, and Bariloche all of have plenty of outdoor gear shops with ample gear and are easy to rent from.

Where to after El Chalten
If this taste of hiking and camping in Patagonia has you excited, I highly recommend proceeding to Puerto Natales in southern Chile and Torres del Paine National Park for the W trek and O Circuit trek, which rivals El Chalten and Parque Nacional Los Glaciares as the best park in Patagonia.

FAQ
Can I rent camping equipment in El Chalten

Yes, there are plenty of shops to rent all of the camping you'll need in El Chalten

Are there ATMs in El Chalten

There is one ATM in El Chalten that breaks down from time to time, so come prepared with plenty of cash

Can I buy camping food in El Chalten?

There are small grocery stores in El Chalten where you can buy food, but the prices will be higher than in El Calafate and Bariloche and the selection won't be as good, so keep that in mind when prepping to come.

Are there restaurants in El Chalten?

Yes. There are plenty of restaurants, nice, cheap, and convenient, and you'll have no problem finding a good cappuccino in El Chalten either.

Like it? Share it!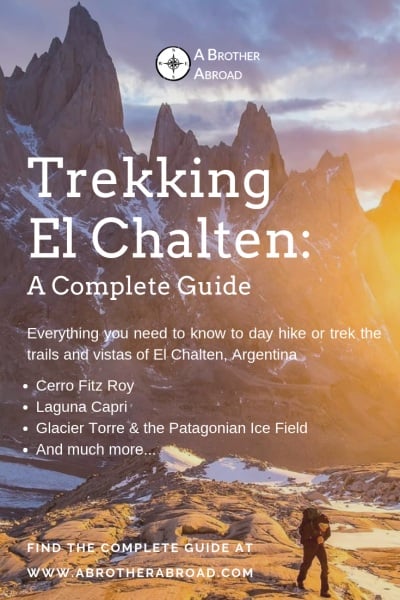 Also, check out our other great content on Patagonia: