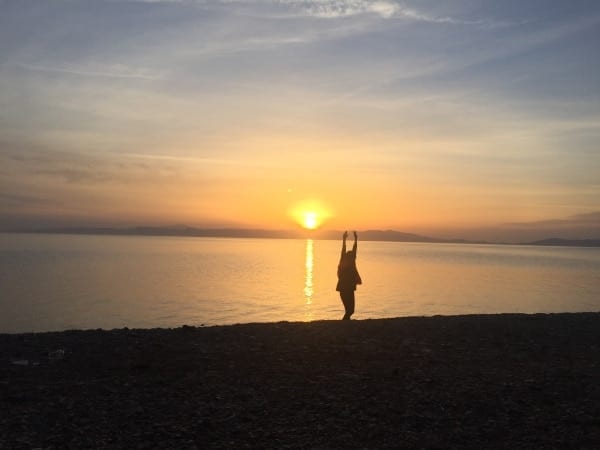 The sun was shining bright, reflecting off the concrete ground and walls of the port as I walked through the port city of Mythilini for the last time. One more stroll through its tiny streets. One more overpriced espresso at the corner coffee shop I had become familiar with.
As I passed through passport control, the Greek official said "May 15" pointing to my entry stamp in Athens. I nodded, saying "yeah," shocking myself slightly. It was July 12. I had only planned for 3 weeks in Greece, but I had been on Lesvos for two months helping refugees, teaching English, running a cafe, translating, and solving all kinds of chaos in between my duties. Leaving, and realizing I had been here 2 months, felt bittersweet. I'd made so many amazing relationships and had so many perception altering experiences…but it was time to travel again. Time to get back to what I do. Time to explore.
Damn near 2 months. 2 months very well spent.
"Afkharishto" I said (Greek For thank you) as I accepted my passport and walked towards the boat.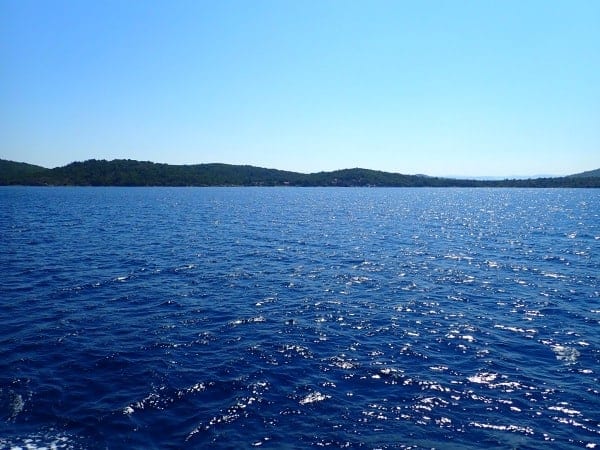 From Greece to Turkey | Backpacking Turkey (Part 2)
I took a seat on the upper deck, sat back, and we were underway.
The water was beautiful and there wasn't a cloud in the sky. The shoreline and mountains cresting above the horizon in the distance as I floated between Lesvos and the Turkish mainland.
It was hard to believe I was peacefully enjoying a place in the sea where a handful of people I know were once clinging to life aboard a small rubber boat. Same place. Same water. It's amazing how many stories each place we pass through has that, most likely, we'll never know.
Arriving in Turkey
As I crossed through passport control with the stamp of my 35th country…I felt great. I was on the road again. I was traveling somewhere new. Even if I didn't know how to get there, I was fine with that.
With no ATMs, currency exchanges, or information booths in site. I walked behind all of the Greek and other European tourist to reach the first travel office I could find.
"Train to Izmir?" I asked in English, just broken enough to make it easier for the travel agent to understand
"No, only buses. You have to take the mini bus to the Garaj" the man said, as he pointed to a public bus stop. The stop for the bus that was going in the opposite direction of the mob of tourists I had just followed. I was on my own again.
Perfect.
I sprinted across the busy Main Street to the bus stop, dodging traffic and flagged down the first bus that drove by.
The bus driver opened the doors as I stepped in halfway and said, "uuuuh, garage? Buses?"
Without missing a beat, the bus driver says "no!" Then drives off, with me hanging halfway out of the door with my backpack on.
I caught on after a few meters and realized he wasn't going to stop as I jumped off the moving bus into traffic and then sprinted (or moreso hobbled) off the road.
I couldn't help but laugh, that was pretty damn funny I think. Had I survived this long just to be hit by a bus?
As I was questioning how much luck I had left, a travel agent was outside of his shack smoking and laughing at me good-naturedly. He realized what was wrong, and that I was on the verge of becoming road kill, so he decided to help me out. He came and stood in the middle of the road between the two lanes of traffic going in opposite directions saying "no. No. Not this one. No". I'm just astounded that this guy is being so helpful and still entertained so I'm not mad about anything. Then finally, the sixth bus to pass was mine. My travel agent and now travel guide waved goodbye and wished me a good trip as I sprinted onto the bus.
"To the garage? Bus?" I asked in sufficiently broken English again
"Yes" the bus driver replied
"Euro?" I asked, to see if he accepted euros
"No, Lira" he said as he started to speed up
Once again I had to hop from a moving vehicle while half hanging out with my backpack on. I was getting better at it though. Maybe I'd try to tuck and roll the next time.
My travel guide came back laughing.
"What happened this time?"
"No Lira…"
He laughed as he exchanged some money for me…Euros to Turkish Lira.
Then, we repeated the process and I finally got on the bus. Then, the Turkish experience finally started. Again.
The Turkish Experience begins…
The Middle East, or places like it, have unique smells that I can recognize with my eyes closed. Hot ground. Certain spices cooking. Even the smells on people's skin.
In the crazy mini bus I was on…it was Sandalwood scented incense. This smell welcomed me to Turkey and let me know I wasn't in Greece anymore. The last time I remembered this adventurous feeling was when I was in Vietnam a year prior, riding motorbikes and hopping buses along the Ho Chi Minh Trail. It was good to be back.
After 30 minutes of twists and turns we finally arrived at the "Autogar", Ayvalik terminal for long term buses.
The place was oddly new. Only half of the desks and offices were filled by bus operators and most of the convenience store stalls were empty. The whole terminal was clean with a pristine white, and large, brand-new scrolling marquee with destinations and times.
I had to admit…this isn't what I was expecting from Turkey. Especially for a town as small as Ayvalik.
After managing through the language barrier, I finally had a ticket to Izmir, I grabbed the only drink available at the tiny convenience store and ran for the departing bus.
Turkey so far…full of surprises
As I sat on the bus, sipping this interesting beverage I realized it was actually a tiny surprise, nothing like I imagined, and likely indicative of things to come.
The soda was actually coffee, carbonated, sweetened, and oddly delicious. I didn't expect it, but I liked it.
Outside the window of my bus seat, plantations and pastures sped by.
The Turkish countryside near the coast is beautiful, peaceful, and sprawling. An oddly dusty, light brown earth interspersed with dry, yellow grass but somehow still covered with greenery. Olive and palm trees were packed densely into square plots of land, flanked by what seemed to be corn and green grass and shrubbery for feeding livestock – all against a backdrop of gently rolling hills. The vista was as peaceful and relaxing as the ocean, I had spent the last month next to each morning.
My Favorite means of Exploring: Food
When it comes to travel, I have three aims. The first…we won't talk about. At least not now. The second is to expose myself to the exotic and adrenaline inducing experiences as much as I can stand without getting a heart attack. The third…is food. Any food. All food. So after a crazy taxi ride, I dropped my bag at the hostel, and headed for the nearest "Taksma". The food adventures began.
A group of streets crowded jammed with tiny restaurants, smoke pouring out of their tops and the smell of roasting meats and veggies everywhere. The storefront windows glowed with kebabs sizzling on steel rods, and cafes lined with tables out front filled with old Turkish men slamming chips onto backgammon boards and sipping cups of overly sweetened tea from tiny glasses. Yup, this is absolutely the kind of place I like to eat.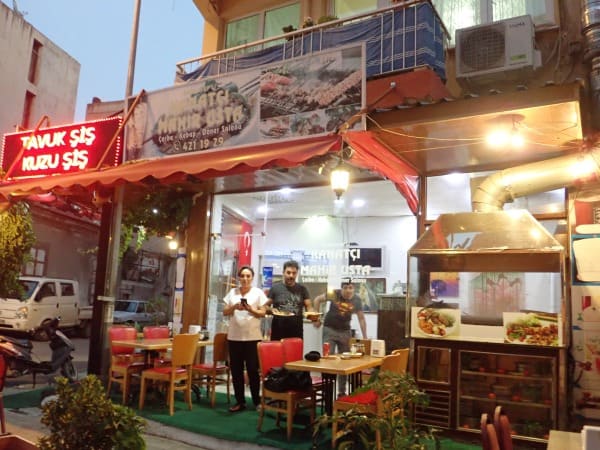 I wandered into a few shops and looked behind the counter to check out their goods – which I learned quickly was welcomed, as they handed me pieces of food to try at each place.
Freshly rolled dolma sat stacked in plastic takeaway trays. Peppered minced meat wrapped in lettuce wraps was handed to me as I passed by. Stewing seafood broths with chicken added at the last minute were poured over plates of buttery, olive oil drenched rice and handed to the old backgammon players.
Storefront after storefront specialized in Baklava, stacks of hundreds nearly touching the ceiling. I stayed far away from those. I know my weaknesses.
After four blocks of wandering, I meandered into a tiny shop where the chef was shuffling between cast iron pots and skillets…with a smile. Seafood. Chicken. Some pastry dish. All at once, in view of the window, and he was enjoying it as he sang to himself in Turkish. This was absolutely going to be my joint for the night.
I asked for a menu and he merely replied "English?" I nodded yes. "Get the beef!" He bellowed as he pointed for me to sit down outside then continued singing. That sounded like a solid plan.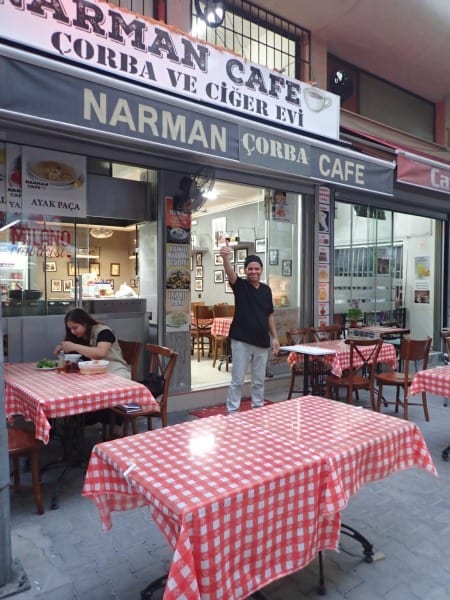 First came the salad. Simple, insanely fresh leaves stacked, Arugula I believe, so flavorful that all I had to do was squirt lemon on top and it was perfect.
Then, the beef the chef made me order. Kufta. I haven't had this made correctly since my last time in the Middle East.
Think hamburger meat, but in smaller discs, mixed with lamb for flavor and seasoned in a way I haven't figured out after a decade of eating. Perfectly charred on open coals with a fatty meat, good coals, and mint as the keys to perfect kufta. Made well, they're so delicious you can eat them on their own or bite for bite with fresh bread.
Kufta is an interesting animal. Any reasonable person would ask "why would you travel halfway around the world for exotic foods and eat tiny hamburgers?". For one it's delicious. For two, every "Kuftace" makes their kufta in a subtly different way. Different spices. A little fattier with less char. Cooked on iron sometimes. Pierced by steel to char the center in the last moments. It's interesting. Kufta is definitely worth traveling around the world for.
As I cleaned everything off my plate, the Kufta, the salad, and the rice drowned in butter and fresh olive oil, I rushed to pack my things and leave as I saw the place was getting busier with old men slamming backgammon chips onto tables with controlled fury.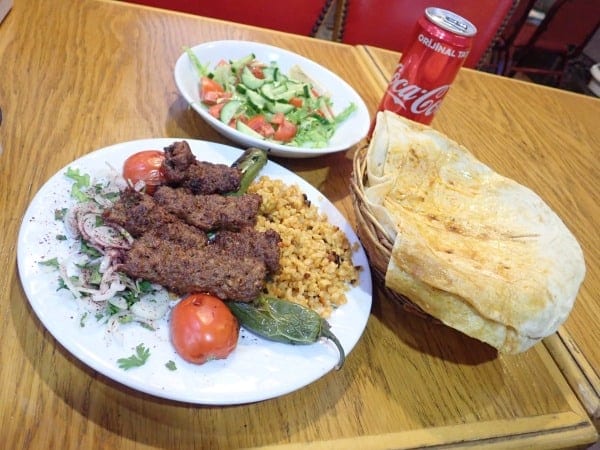 In the US, we realize that servers and waiters make their money (tips) by turning tables.
Everywhere else in the world, they actually let you enjoy your meal in peace and add a little pleasure on top.
As my host, a white haired man with a welcoming demeanor, walked up I handed him a 50 Lira note as a sign that I was ready to pay. The old man replied shocked, "you don't want tea?"
Of course I wanted tea. He smiled and returned with a tiny, hourglass shaped teacup filled with a strong and flavorful tea with sprigs of mint and a handful of sugar cubes dissolving. I sat there and read my book with my tea in the busy restaurant for the next hour as the owner dropped by to smile and say hello occasionally, each time telling me he was glad I came.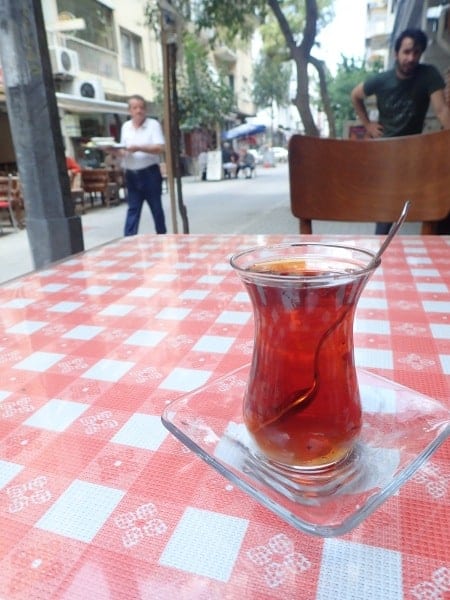 As I finally got up and paid to leave the man smiled and said in broken English "I hope you enjoyed the food and come back tomorrow." If this is what the real Turkey is like, I could get used to this.
I skipped the party that evening in favor of an "early to bed early to rise" situation.
The following day, I would take the train across the Turkish countryside to the wine country of Selcuk and a self guided Ephesus Tour, through the most well preserved Roman city in Europe.
---
As rich as my experience in Turkey and Istanbul was, I didn't nearly get to see everything. If you're planning to go, I recommend reading my 10 Day Turkey Itinerary filled with everything I did and loved, and all of the things I wish I had done as well