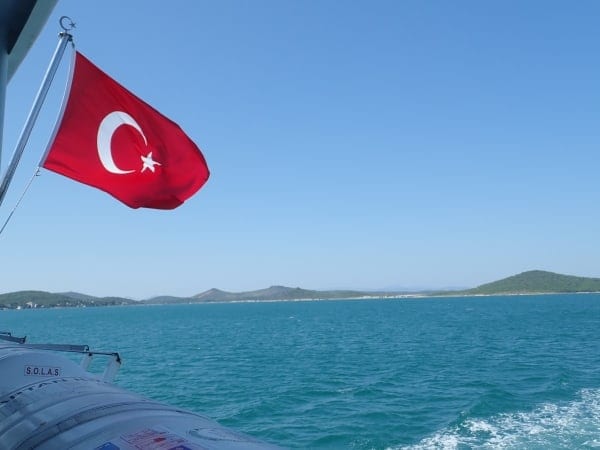 As my time on the Greek island of Lesvos neared a close, I was contemplating where to go next. For nearly two months, I volunteered with refugees by teaching English and translating in the refugee camps of Lesvos, but it was finally time to move on and backpacking Turkey emerged as a viable option.

Backpacking Turkey (Part 1): The Decision to Go from Greece to Turkey

I always think of my travels in 6-month increments built around objectives from my bucket list. For May to November 2018 I only had three items on my to-do list. First, I wanted to observe, understand, and help (if possible) with the refugee crisis somewhere in Greece. Second, I travel through the Balkans. Third, I would travel through and attempt find a new perspective on the Middle East.
With these objectives in mind and only a few weeks left on my visa in Europe I received a nice message from a cousin that I love. She's bold, more adventurous than I am, and her famiglia would be going on vacation in Italy for a month, so they were interested in meeting up. Oddly, of the 35 countries I had been to, the US is the only one I've spent time with family in, so without hesitation I decided to plan that in. But, I wouldn't be there for two weeks and I needed to leave the EU to keep time on my Schengen visa. In case I needed to get out of Africa or the Middle East quickly, I wanted the EU as a short-term escape option.
So the question: where could I go?
I had been staring at a potential answer across the Agean sea for nearly two months.
Turkey.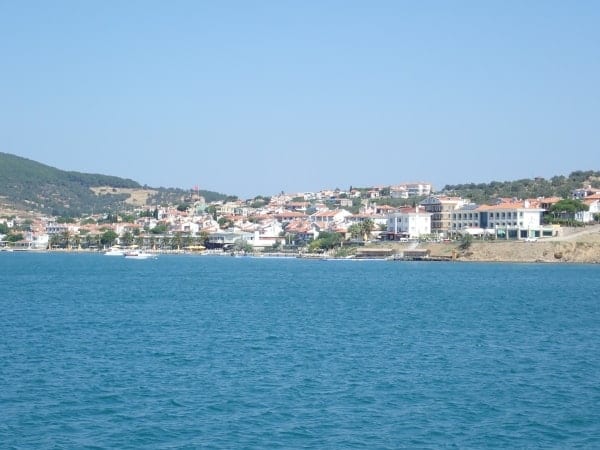 The same place that the refugees I helped had risked their lives to leave. A place that on a level of 1 to 4 in terms of danger for travelers (as the US State Department assesses countries), Turkey was a "3"…a country categorized as "reconsider travel plans" and one step above a travel ban for US citizens. A country that bordered Syria and Iraq – two notorious war zones that were still very hot in terms of combat and terrorist activity. A country that, according to western government reports, had very active elements of the Islamic State working within its borders. A place that has (according to western media) jailed US citizens and refuses to release them. A place that recently had a bombing at an airport that I would have to fly into and out of. But…
Turkey is also a place on the cusp of two worlds, with the capitol of Istanbul resting in both the Middle East and Europe. A place that is home to the Ottomans that, at one point, held an empire. A place that sits at the center of much international policy debate, due to its precarious position geographically and figuratively. A place between growing economic unions and war zones, between the hypocritical pressures to improve the living conditions of refugees and asylum seekers and the economic compensation to keep the refugees from leaving Turkey's borders, between the pressures of conservative religion and the liberal influence with progressive sway that comes from modernism.
Turkey. Such a complicated and diverse culture-scape, right across the water from where I was in Lesbos, Greece. A 30-minute boat ride away.
Home to Istanbul, the city on two continents and Ephesus, housing the most well preserved ancient city in the east.
But oddly, backpacking Turkey crosses so few travelers' minds.
What to do? Should I go to Turkey?
I didn't know any Americans that had been to Turkey recently, so it was hard to get the perspective of what travel would be like for an American getting off the beaten path. But my French and Italian friends, lovable hybrid hippies of the traveler variety, had visited Turkey recently. In their words, Turkey was lovely and enthralling. Their best description of Turkey was that you would find as much trouble as you put your mind to, but the same applied to culture, safe travels, and welcoming people.
One way or another, I had to leave Lesvos in two days. What to do…?
Go. Always go.
So, I was going. Now to plan.
Planning for Turkey
I woke up the next morning, relieved that I'd made a decision even though I still had no plan.
I looked at the scrawled notes on my index cards from Federico and Olivier, the French-Italian team. Across the water from Mytilene, the main city and port on Lesbos, was the city of Ayvalik on the Turkish mainland. Until now I had known this city to be home of the coastline where human smugglers organized crime networks launched boats full of refugees headed for Europe…and this would now be the city that I launched my next adventure from.
From Ayvalik, I could take an insanely cheap (~$25) flight to Istanbul, but not before exploring Portuguese architecture in Izmir, and fairy tale like landscapes in Cappadocia.
Then there was Ephesus.
An ancient city on the sea dating back to the days of the Romans, just a day trip from Izmir.
To top it off, all 3 of my sites to see were on the west coast, far from the fighting and war so many people were weary of. I liked my prospects.
So my plan was formed. Leave Mytilene by boat for Ayvalik just across the water, find my way to Izmir, visit the ruins in Ephesus, see the mystic landscapes of Goreme in Cappadocia, and fly to Istanbul to explore before departing to Milan to meet family.
However, there was one problem. Google maps couldn't map a way between any of those places without renting a car. Rome2Rio didn't do much better. I was running out of my "standard" travel planning options very quickly. This Turkey trip was turning into a nice adventure already
Last of the Logistics
When I realized that so much of my once solid travel plan was now fuzzy, I jumped up bolted for a travel agency.
"No, I can't do that, I'm unable to book you to Izmir," the travel agent replied. "We only book travel to Ayvalik. We can't book travel in Turkey. I can only get you to Ayvalik"
Things had just gotten weirder. It was like the universe was trying to keep me from planning anymore than one step ahead.
It would be stupid to go blindly into a country with such a high travel warning. I said thank you and made my decision to leave, then walked out the door.
Then something hit me. This is why I travel. This was the travel I live for.
I went back inside and handed the lady €8.
"Ayvalik. One way".
I was going to Turkey.
The following day, I would hop a boat and find my way to Izmir, backpacking through Turkey., back to really traveling again.
I was looking forward to it…
---
As rich as my experience in Turkey and Istanbul was, I didn't nearly get to see everything. If you're planning to go, checkout my 10 Day Turkey Itinerary filled with everything I did and loved, and all of the things I wish I had done as well.