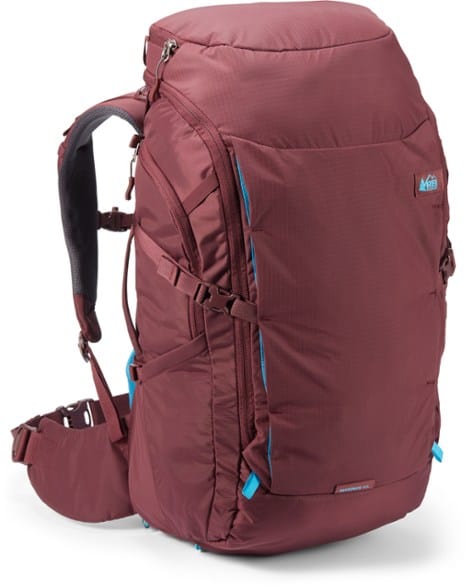 The REI Ruckpack 40 is REI's (fairly) new travel backpack carryon that is airline ready and aimed at "backpackers" and adventurous urban travelers that may venture out of the city and onto the trail from time to time. (This is an REI Ruckpack 40 Review for carry on travel)
If you're considering the Rei Trail 40 vs Ruckpack 40, keep in mind that the Ruckpack 40 emphasizes features for airline and urban travel, like zip away pockets and straps and a sleek exterior, making airport and city travel easier as pickpocketing and snagging straps on something (like a conveyor belt) less likely.
This article may contain affiliate links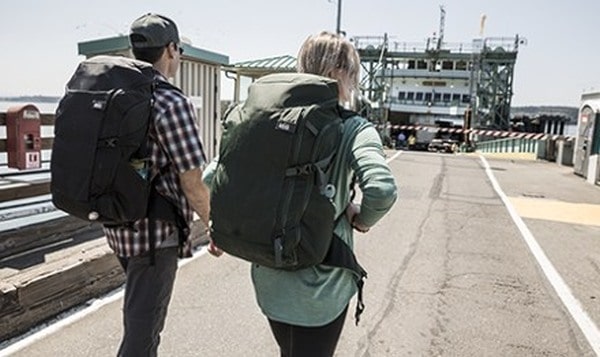 ---
The REI Ruckpack 40: A near perfect carry on travel backpack for new travelers on a budget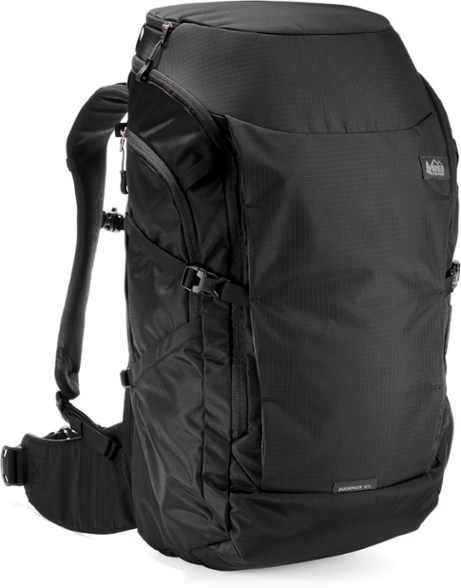 The REI Ruckpack 40 dimensions do slightly exceed some budget airlines carryon restrictions by an inch or two, which you can solve for by not overpacking. If you a perfectly sized carryon is what you're looking for consider the REI Trail 40 which, in my experience, is the best carry on backpack at the price that is trekking and trail ready, or consider the Osprey Farpoint 40 for one the best carry on backpack options for urban travel at a great price, perfect for new travelers.
As long as size isn't an issue, given the reliability, of this brand and REI, and the price (~$140) I highly recommend this bag for first time travelers and adventurous urban travelers aiming for a good travel backpack in this price range.
Also consider the Osprey series Farpoint 40 and Osprey 55 (Osprey Fairview 40 and Faireview 55 for women) and the Osprey 46 as multi-purpose backpacks for first timers.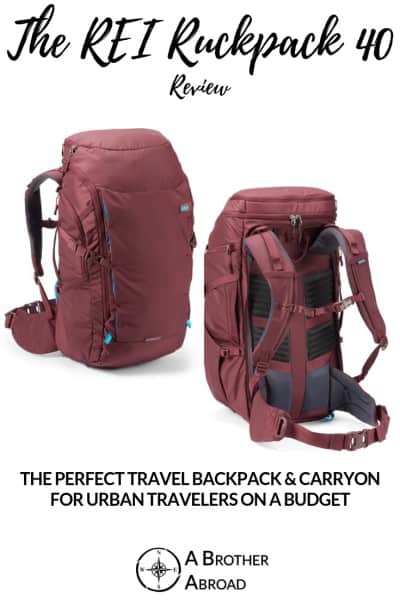 REI Ruckpack 40: REI's urban travel carry on backpack
Checkout out the full REI Ruckpack 28 Review and the REI Trail 40 Review for details on my full experience with these bags
The REI 40L Ruckpack is REI's travel backpack carry on for urban adventurers that still want to hike beyond the city limits from time to time. With abrasion resistant nylon, a zippered back panel that hides straps during stowed travel, and shoulder/hip straps taken from "technical" (i.e., hiking and coamping focused backpacks) this is the best carryon sized backpack for urban travelers & mild adventurers you will find for this price.
If you will be hiking and trekking more than not, consider the REI Trail 40 due to the improved pocket layout and easier access to items anywhere in the bag (instead of top access only), along with the REI Trail 40's lighter weight.
Best use of the REI Ruckpack 40: Urban travel and with a touch of adventure
This urban travel pack is small enough to fit most airline carry on restrictions (as long as you don't over pack) yet large enough for a 3-day camping excursion, or a months of backpacking through Europe or Asia. All accomplished in a very affordable package.
Who the REI Ruckpack 40 is best for: First time travelers and budget shoppers taking only one bag for their adventures.
First time travelers aiming for an airline ready travel backpack. Carry on travel is the way to go to reduce the cost of flights, and the hassle of getting around – from waiting for bags at baggage claim, to navigating buses and trains, to simply moving down the busy streets on the way to your hostel or hotel. In the REI Ruckpack 40, you get a cheap yet reliable and generally well performing carry-on sized bag that lets you "test the waters" of the travel universe, and traveling with a single carry on backpack.
After a couple of adventurous years with the Ruckpack 40 you will understand what function you truly need in a backpack before jumping on the higher dollar models like GORUCK, Tortuga, Tom Bihn, and the rest of the very well made, but very pricey and niche travel backpack carry on options on the market. This backpack will perform reliably in all areas but is cheap enough that you won't feel guilty upgrading when the times comes. Some look to the urban traveler focused Tortuga line and others (like me) go for the durability of GORUCK later on, but until you know what you want this is a good option.
Checkout the How to Choose a Carryon Travel Backpack Section of our Best Carryon Travel Backpacks Review to learn more about choosing the best carryon travel backpack for you
Travelers on a budget aiming to travel with only a carryon sized backpack. In terms of bang for buck, you can't beat the quality, durability, and function of this bag. Also check out the Trail 40 if you plan on more adventure travel (hikes, motopacking, trekking) than urban, as that bag is a better trail performer and cheaper.
Urban Travelers spending significantly more time in the cities than on the trails. The packs design, with zip away external pockets, makes it more pickpocket resistant when on the road. Zip away shoulder and hip straps accompanied by top and side carry handles make it easy to move and travel without getting snagged on anything (like a conveyor belt).

Pros of the Ruckpack 40
Price & value. For the price (~$140), this bag can't be beat and makes it an excellent starter option for those getting into "onebagging" (aka carryon only travel) as this bag is a suitable carryon size for most airlines
Cons of the Ruckpack 40
One size fits all approach. The REI Ruckpack 40 comes in a single size. If you won't be hiking or walking with this pack much, this won't matter enough to care. If you do plan on hiking and trekking and you are shorter/taller than average, or your waist/shoulders ratio is different than the norm, checkout the Trail 40 which has small, medium, and large heights. The different versions of the Trail 40 will make wearing the pack a much more comfortable experience for long hikes. The pack does come in a Men's Ruckpack 40 and a Women's Ruckpack 40, so be sure to try out both.
At 4lbs 3oz, the REI Ruckpack 40 is heavier than the REI Trail 40 by 1.5lbs. This matters if you're hiking long distances or planning for budget airlines, which usually restrict bag weight to 8kg/17.6lbs. If you plan on taking budget airlines with 8kg limits, checkout the Trail 40 instead as well…though, in my experience, airlines will only opt to weigh your bag 1 in 5 times.
The Ruckpack 40 exceeds some budget airline carryon restrictions by a couple of inches. At 24x13x10 inches / 61x33x25.5, the REI Ruckpack 40 exceeds Spirit Airlines by 2 vertical inches and exceeds Air Asia's carryon restrictions by 2 inches in length and 1 inch in width. The obvious solution is to avoid overpacking as to fit the backpack in the carryon check contraption (aka backpacker torture device) but know this going in as it takes some restraint. I get checked for bag weight and size every 1 out of 5-10 flights on average
REI Ruckpack 40 Dimensions: 24x13x10 inches (61 x 33 x25.5 cm)
vs.
(Southeast Asia) Air Asia Carryon Guidelines: 22 x 14 x 9 inches (56 x 36 x 23 centimeters)
(Europe) Ryan Air Carryon Guidelines: 21.5 x 16 x 8 inches (55 x 40 x 20 centimeters)
(South America) Avianca Carryon Guidelines: Can't exceed 45 inches (115 centimeters) or 22lbs (10 kgs)
(North America) Spirit Airlines Carryon Guidelines: 22 x 18 x 10 inches (56 x 46 x 25 centimeters)
Verdict on the Ruckpack 40: Perfect newbies and budgeters traveling through urban terrain
Excellent value pack for urban focused travelers that adventure on the side
Great dual purpose (urban to backcountry and travel) carry on sized backpack based on size, weight, and performance
Would absolutely recommend – as a reliable, high performing carryon only bag on a budget
Great option for the first time buyer

Full REI Ruckpack 40 Review
My Experience using the REI Ruckpack 28L for 3 months as a substitute for the Ruckpack 40
Full disclosure: I have not used the REI Ruckpack 40 for travel – but – I have specifically tried out the Ruckpack 40 in store several times for an immediate assessment of fit, comfort, weight distribution, and construction. I have used the comparable siblings,the Ruckpack 28 and the REI Trail 40 extensively. I used the REI Ruckpack 28 heavily as my daypack for 3 months and the REI trail 40. Both experiences are very useful for assessing the design and ergonomics of the bag as well as the materials and construction (which is fairly consistent across REI's bags). In addition to these experiences, my assessment of this bag is based on close examination of the materials, construction, and design of the bag compared to bags I have used in the past. I have also used the reviews and opinions of others to confirm the "pros" of this bag, but I've made an attempt to list every "con" I could find. If you have any questions about this review, feel free to email me at [email protected]
Checkout out the full Review of the REI Ruckpack 28 and the REI Trail 40 Review for details on my full experience with these bags
The Ruckpack 28 shares the same general design, materials, shoulder strap system, and pocket setup in a smaller package (12L smaller). The primary thing that the Ruckpack 28 lacks is the wrap around, U-shaped zipper (giving the Ruckpack 40 a 1-up).
The Ruckpack 28, which shares the same design and setup with the Ruckpack 40, was my everyday carry backpack for cycling around town and running errands, dayhikes between 2-7miles with 10 -20lbs. The shoulder and sternum strap system kept everything in place with minimal movement, no discomfort, and without my shoulders getting tired.
I also used the Ruckpack 28 regularly (once weekly) for weighted calisthenics workouts carrying 20lb-40lbs steel plates. Over that period, nothing ripped or frayed and all seems appeared to handle the loads very well
The REI Trail 40 shares the same materials and construction with the Ruckpack 40, but is designed for a more outdoor and adventure focused experience, with the addition of external mesh water bottle pockets, a zippered front mesh pocket (for storing dirty and wet things), and a permanent shoulder strap and waist belt system that don't stow away.
This technical review is based on my experiences with the Ruckpack 28 (in daily life) and the the Ruckpack 40 (in store), the design of the Ruckpack 40, and the materials used in the Ruckpack 40. Beyond these small differences, the 3 packs are quite similar. So now, onto my technical review of the Ruckpack 40
Design of the Ruckpack 40: Simple yet functional
Think of this is as a cavernous 40L hole with three pockets (under the top flap, zippered on the left side, zippered on the right side) with hidden daisy webbing on the front. All of this mounted on a frame with comfortable performance and breathability and comfortable shoulder and hip straps. Packing cubes will be required to keep this bag organized and best use this space as a travel pack.
Design is clearly focused on aesthetics, aiming for a simple, old-school Ruckpack look while maintaining the slick (snag proof) exterior that makes backpacks more suitable for airline travel and the hazards of checked baggage. Though it is less functional than the REI Trail 40 (due to fewer easily accessed external pockets), the simple design, and fewer potential fail points mean the Ruckpack 40 will likely last longer.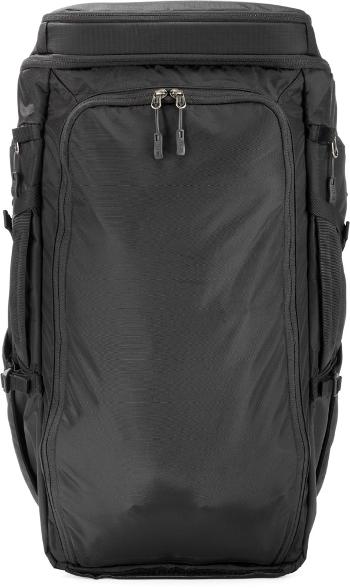 Zippered back panel hides shoulder and hip straps when stowing as luggage to optimize for travel.-
Side and top handles make traveling easy while the shoulder and hip straps are zipped up
Purely minimalist yet ergonomic design translates to not as many pockets on the Ruckpack 40 as on the REI Trail 40 and external pockets that can be cinched away to prevent snagging, while checked, on conveyor belts, and navigating public transportation.
Daisy chain webbing is hidden on the front panel, allowing you to clip on gear with carabiners (I recommend keeping some the small, climbing grade Metolius ones around). I used this often for clipping a hat, rock climbing shoes, or sandals to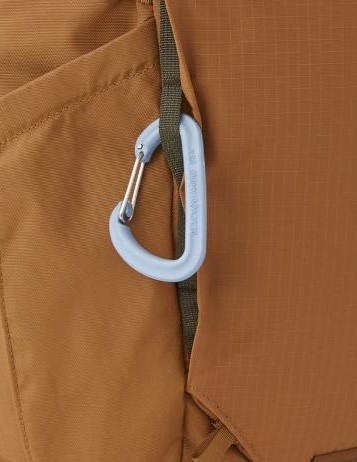 Two side pockets accommodate water bottles and electronics. One of these pockets is lined with a soft fabric for electronics and cell phones. Both pockets zip up to maintain the sleek look when not in use and avoid damage when stowed as baggage.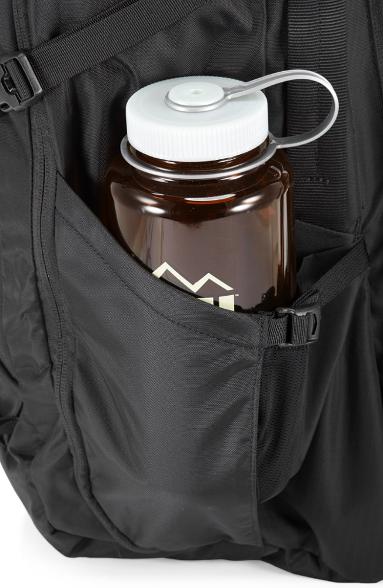 Laptop Compartment accommodates a 15 inch laptop and is accessible via side zips on the bag. This compartment also doubles as a water bottle bladder pocket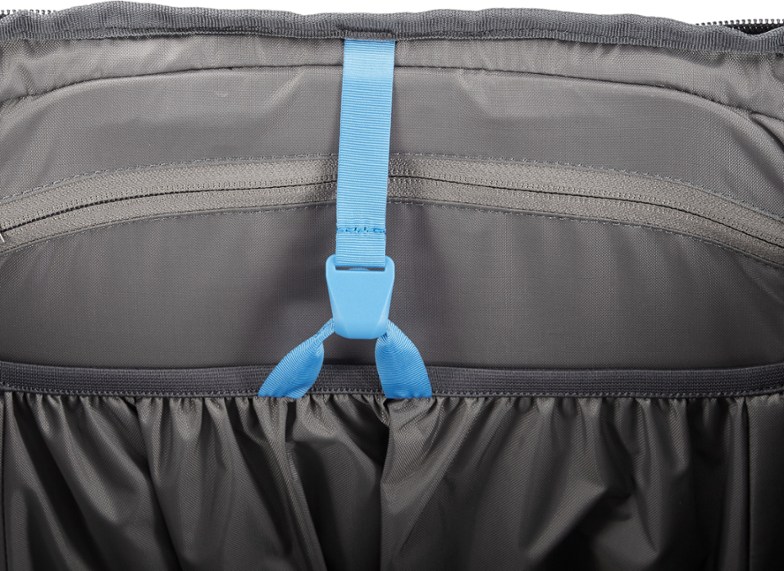 Side zip access to the laptop compartment – The side of the backpack has a zippered access point to the interior of the pack, allowing you to access the laptop pocket while the pack is full
Water resistant but not waterproof – if you plan on being caught in the rain, plan on anything inside getting wet. Ditch the rain cover that comes with the backpack and line the bag with a trash bag / compactor bag instead for full waterproofing + use ziploc bags for documents and electronics. (Learned firsthand with both the Ruckpack 28 and Trail 40)
The wraparound zipper makes it to access anything in the pack at any time, perfect for digging documents out of the bottom of your bag at the airport
Pockets:
Top zippered pocket for quick access of items is great, but if you forget to zip it, its quite annoying when you lean forward and everything falls on the street
Small, mesh zippered pocket on inner top are useful for storing valuables, smaller items, and charging cables
Water Bottle Pockets
Two (one on each side) fit a wide mouth Nalgene just fine
Padded shoulder straps were comfy and performed well when I used the Ruckpack 28L with ~15lb – ~20lbs of books and groceries and stayed firm to my back while weaving in traffic on a bicycle. When tested in store, the Ruckpack 40's support system felt similar and just as good. The Ruckpack 28 was comfortable to hold on my shoulders through an entire day of walking and riding through town and on errands. Given similar materials and design, I would expect the same performance from the Ruckpack 40
Breathable Mesh Shoulder Straps and Back Panel worked decently on the Ruckpack 28, but not enough for me to get excited about. I would still get off of my bike or finish my hike with a wet shirt back, so I won't count this as a plus.
Durability Review of the REI Ruckpack 40
210 denier ripstop nylon – good enough for most uses and equal to what is used in most 40L+ backpacks under $250 but don't expect it to last forever. Take care of this material and it will last a while, but if the baggage handling crew drags this bag on the concrete a few times, you will end up with holes eventually.
General construction is the great quality common to REI brand backpacks including stitching and construction good enough to last as long as the materials do.
Expect a 2 year lifespan with hard use (20kg+ loads, constant travel), longer with lighter loads and less frequent travel
Shoulder straps will likely be the weakest points if packing heavy loads (20kg+) and cinching the straps tightly. In my experiences, and the reviews I've heard from others, though REI's backpacks are great the shoulder straps tend the weakest points in construction of REI packs.
What others are saying about the REI Ruckpack 40
Users have said overwhelmingly that they like this bag. It isn't perfect, but they're enjoying using it during everything from vacations to hiking the Pacific Crest Trail and it is quickly becoming their go to bags for travel. In over a year of use, I've seen no reviews complaining about the durability or performance of this bag (as long as it fits the wearer correctly, so check that first).
The primary criticism has been the one size fits all approach, with REI providing one size for men, and one size for women, with no other options – so if you get this bag, ensure you try it on it, throw some weight in it, and test it extensively, and if you don't like it then take advantage of REI's guarantee and take it back without hesitating.

Specs of the REI Ruckpack 40
What is the REI Ruckpack 40: An urban travel focused carryon sized backpack (40L pack) for travelers on a budget that will likely end up camping, hiking and adventuring between city adventures
Purpose: Urban travel with carryon only and potential for hiking
Price: ~$140
Warranty: 1 year no questions asked warranty through REI
Size: 24x13x10 inches / 61x33x25.5
Capacity: 40liters, 2,440 cubic inches
Weight: 4lbs 3oz / 1.9kg
Design: Wraparound zipper
Materials: Outer: 210 Denier Ripstop Nylon, YKK zippers
Suggestions for using the REI Ruckpack 40
Pair the Ruckpack 40 with a lightweight, compressible daypack, such as the REI Flash 22, giving you a great pack t travel with and an equally great pack to use during the day that fits inside your main pack
Use nylon packing cubes with heavy duty zippers for the most efficient use of space and to easily stay organized when traveling
REI Ruckpack 40 Review Verdict
Great option for newbies and budgeters traveling through urban terrain, just be conscious of the budget airline restrictions, and be ready to pay a penalty once in a while
Excellent value pack for urban focused travelers that adventure on the side
Great dual purpose (urban to backcountry and travel) carry on sized travel backpack based on size, weight, and performance
Would absolutely recommend – as a reliable, high performing carryon only bag on a budget
Great option for the first time buyer
And if the REI Ruckpack 40 doesn't quite fit your needs, check out these highly recommended packs…
---