Wireless headphones are one of the most useful and practical accessories for exercising, running, travel, recovery, and life in general, to stay productive, motivated, and generally in a good mood. However, it can be difficult finding a pair of tough headphones, perform glitch-free, and stay in place through dynamic movements and sweaty activities can be tough. I've tried, broken, and become pretty frustrated with plenty of Bluetooth earbuds – until I found the Jaybird Vista 2 wireless, noise-canceling headphones.
In this Jaybird Vista 2 review, I'll share how over the past few months I've abused and come to love these tough, solidly performing headphones, and used them daily for workouts, recovery (sauna, ice baths, and floating), motorbike adventures, meditation, and more.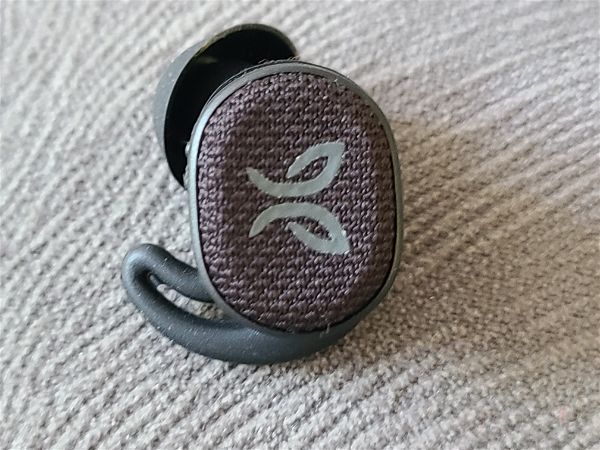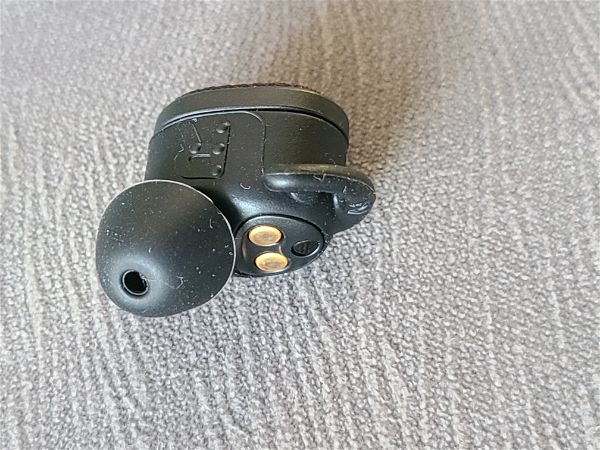 For those like me – fitness enthusiasts, runners, adventurous travelers, and hard users that need a pair of headphones for fast-paced HIIT workouts and Crossfit, running, daily use in a harder than normal way, and "harsh conditions" like 175-degree saunas and 35-degree ice baths – the Jaybird Vista 2 wireless noise-canceling headphones are great. They have overperformed as my favorite headphones – tough enough for adventure and hard use, comfortable enough to stay in place and almost be forgotten, and still delivering high-quality sound and glitch-free performance.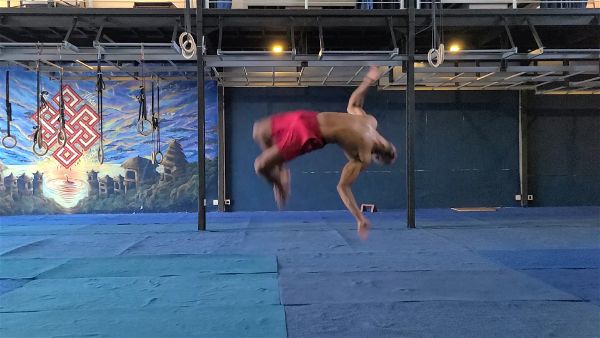 There are plenty of reviews of the Jaybird Vista 2 by audiophiles on the stellar quality of the sound compared to other headphones. Though the sound from the Vista 2's is amazing, this review is not about sound. This review is about the Vista 2's suitability for fitness and hard use and, quite frankly, how well they performed in adventurous and hard use situations. As a Crossfitter and fitness enthusiast who uses music to stay pumped, a writer who constantly listens to podcasts to stoke creativity on long motorbike rides, an adventurer who gets caught in the rain on the regular, and someone who needs the headphones to stay put and perform glitch-free, I am reviewing these headphones for that – how well hard users can rely on them, and if I recommend them.
If that's what you're after – to learn how truly "tough and ready" these headphones are – read on to discover more in this Jaybird Vista 2 Review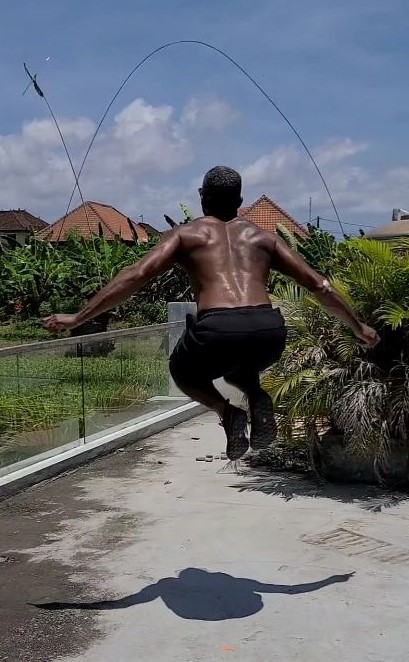 (This article contains affiliate links)


QUICK JAYBIRD VISTA 2 REVIEW
I've spent the past four years traveling the world, as a minimalist packer and adventure seeker, and having a pair of good wireless headphones is great – whether sleeping in an airport thanks to noise cancellation and listening to the sound of the ocean, motorbiking hours across an island in the rain with Google Maps in my ear, or doing a sweaty and fast-paced sandbag Crossfit workout on the beach with motivational music, snuggly fitting wireless headphones are an empowering accessory. But when a pair of headphones can perform beyond these travel needs, we're on to something.
For instance, the "earth proof" design of the Jaybird Vista 2 wireless earbuds uniquely allows me to wear them for recovery in a way I've tried but can't with other headphones, sweating in a 175 degree Fahrenheit sauna, freezing in a 35-degree ice bath for minutes, or floating for an hour in a pool as a makeshift deprivation tank – all with my timer ticking in the background in my ear, motivational music or an educational podcast playing, my smartphone safely stowed away, and no damage to my earbuds. These perks are why I've come to love the Jaybird Vista 2 headphones, taking them everywhere from the beach to the co-working space, to the gym, and any passenger transport I've been on.
Let's quickly review these highlights of the Jaybird Vista 2.
PROS| CONS
| | |
| --- | --- |
| PROS | CONS |
| Excellent fit – the headphones stay in place during lots of movement, despite sweat and jerky movements | Noise-canceling white noise may "feel weird" to some users – same as any noise-canceling headphones |
| Water and sweatproof build make these headphones workout and weatherproof | |
| Auto pause feature that kicks in when the headphones are removed is very convenient | |
| Crushproof design works very well | |
| Connection distance is very good and works through walls | |
| Very durable – survived daily trips in the sauna, ice bath, and makeshift "floating | |
Click here to learn more at Jaybird Sport or check prices on Amazon
GREAT FOR USE DURING EXERCISE: CROSSFIT, GYMNASTICS, RUNNING/SPEED ROPING, MOTORBIKING

Exercise: Stays put in dynamic movements, even when sweaty, and is almost unnoticeable

My workouts of choice are either High-Intensity Interval Training style workouts, with many fast and dynamic movements (such as Crossfit), or gymnastics and calisthenics movements that are equally dynamic, with muscle-ups, handstands, and everything in between. When I work out, music and headphones are nearly a requirement. Music, as science has shown many times, improves mood and can increase the intensity at which we work. Additionally, having a pair of headphones in allows me to avoid distraction and – selfishly – avoid conversing with other gym-goers. Last, headphones allow me to use apps for timers that keep my workout on track, for Tabata workouts and Crossfit WODs, without disrupting other gym-goers.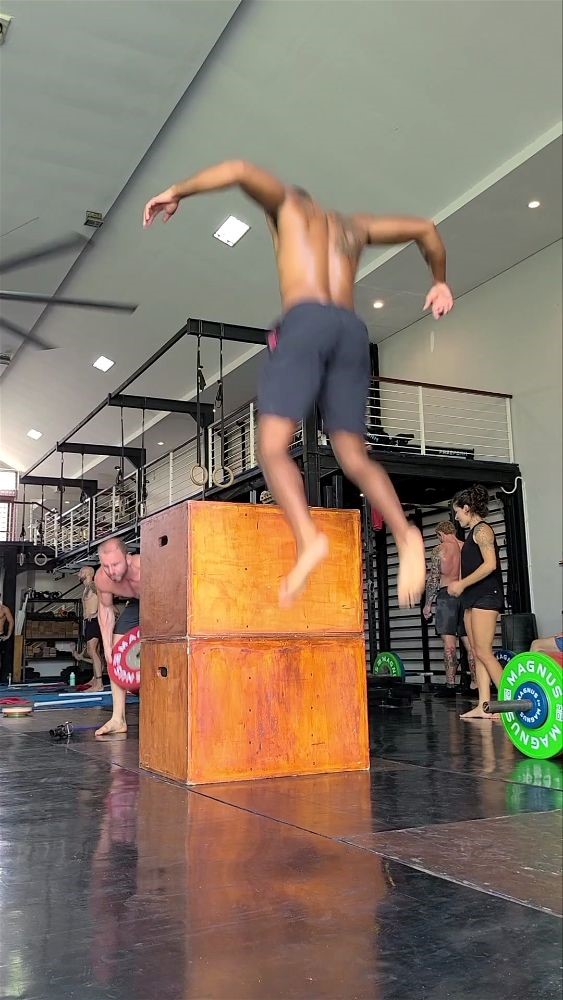 Though I always loved those classic, wired white Apple ear pods, having a wire always restricted my workouts, thanks to the requirement of having the phone on me. Doing a burpee Tabata, man makers, or muscle-ups is nearly impossible with wired headphones in your ears and a phone in your pocket – which meant that during my most intense exercises, wherein I need a little extra motivation, could never be done with my personal music in. Additionally, for timer-driven workouts, such as Tabatas when I do a fast, high-intensity exercise for 20 seconds and rest 10 seconds, playing a timer allowed always felt rude and intrusive in the gym.
The Vista 2's did a great job of fixing all of these problems as workout perfect earbuds.
The Jaybird Vista 2 headphones allowed me to keep my music pumping in my ears while doing fast-paced and intense exercises, and to keep personal timers (with alarms) going without disrupting the entire gym.

FIT: STAYED SNUG THROUGH FAST MOVEMENTS, AND SWEATY ACTIVITIES

I'll get into this more later but the earbud's fit, thanks to the great design, made the earbuds stay in during fast exercises, like thrusters, rope skips, and box jumps, which was great and previously a problem I had with other headphones. During the entire workout, I almost forgot about the earbuds because they were so light, fit well, and didn't move at all.
This, staying in place and not being intrusive, was a major upgrade over wired headphones which I always pulled out.
On the many cheaper and inferior wireless headphones I tried, the non-contoured (simply round) fit never stayed snug enough to stay in through an entire workout. However, the curved shape on the Vista 2's fits well into the ear. The unintrusive ear guard locks the earbud in place even when sweaty is one of the tiny details that make these buds superior to other earbuds for fast-paced exercises and sweaty workouts.
PERFORMANCE: THE VISTA 2 EARBUDS STAYED CONNECTED AT VERY LONG DISTANCES FROM THE PHONE, AND I HAVEN'T HAD ANY TECHNICAL ISSUES

The sound quality of these headphones is undoubtedly amazing, but the performance that appreciated most was the great extended range, allowing the earbuds to work through walls and over long distances. Better than every other wireless earbud I've tried.
The application of this range was being able to leave my sensitive cell phone in a locker two walls away while still connected to the much more rugged Jaybird Vista 2. This range allowed me to take my music into the sauna, helping me stay calm during 30-minute sauna sessions at 175 degrees while leaving my cell phone outside
Additionally, I was able to leave my phone in the middle of the track and sprint hands-free during wind sprint workouts and 400 meters of lunging.
DURABILITY: WATERPROOF, DUSTPROOF, EARTH PROOF

The IP68 waterproofing rating, which delivers 1.5 meters of water submersion for 30 minutes, and the MIL-STD-810G military standard rating deliver crushproof, drop-proof, and dustproof performance – which I have thoroughly abused.
Great for ice bath recovery, floating, and saunas

Not only did I use these headphones for extended periods at 175 degrees, but I also wear them daily during my ice bath recovery thanks to their waterproof design.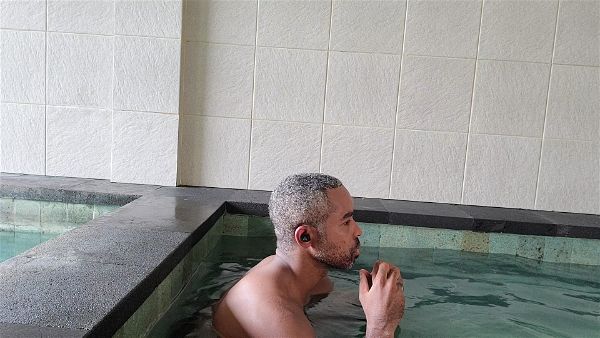 Though the headphones can't sustain a Bluetooth data stream while submerged (thanks to physics, no headphones can) I would wear the Vista 2 earbuds as I soaked in 35-degree water for 2.5 minutes – and I can honestly that I could not make it through my regular ice baths without motivational music and the timer alarm chiming in my ear. Though I've had other wireless earbuds that theoretically could work, I've dropped these headphones in the ice bath twice already which would have resulted in 2 sets of ruined headphones. However, thanks to the IP68 waterproof rating, I simply picked these buds up and kept icing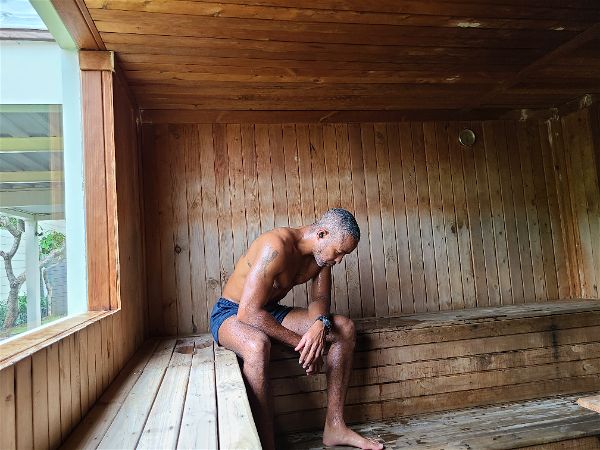 Toughness: Ran over them with my motorbike

In Southeast Asia, where I'm currently "nomading," life is lived on motorbike. Daily errands, weekend adventures, and simply getting around all happen by motorbike. In the "wired headphones days," using a phone for maps navigation or music while riding was risky, because either 1) someone could ride by and snatch an exposed phone or 2) rain could show up as a surprise during a ride and destroy an exposed phone. Adding Bluetooth headphones was an excellent upgrade as it allowed me to tuck my phone away securely.
On a motorbiking trip, and a brainless day, I accidentally discovered how crush-proof the Jaybird Vista 2 headphones are. I was riding my motorbike and attempted to remove the headphones when I dropped them and then ran over them, with a motorcycle! I panicked and stopped thinking I might have broken them – only to realize the headphones were 100% fine. Not even a scratch. That's when I went back and read the manual to discover the military standard MIL-STD-810G crush-proof rating. I then went on to (accidentally) test the headphones again by dropping dumbbells on them and stepping on them. While I don't recommend this kind of use, I recommend these headphones to abusive users (like me) because of what they've survived on my brainless days.
Active Noise Cancellation and Surround Sense: Full and Semi-Noise Cancellation to give you great uninterrupted sound, while letting in important noises for safety

Additionally, when motorbiking for long periods, I love the quality of the sound because of the active noise canceling feature, however as an avid motorcyclist who hasn't crashed in over 20 years of riding, I was wary of using headphones that would dull my awareness.
Fortunately, the Surround Sense feature which processes and amplifies important sounds was an excellent addition while riding. It balanced having excellent, immersive audio with the situational awareness necessary to be safe while riding – a feature that is AMAZING if you are a cyclist or motorcyclist. Be aware that due to the white noise feature for Active Noise Cancellation and Surround Sense, the feature takes a moment to adapt to as it does feel weird to the inner ear at first, especially if you are using the headphone in only one ear – so start slow, and take the sensitivity of your balance and inner ear into consideration when considering these headphones. If you are sensitive to noise-canceling headphones and don't like the effect white noise has on your inner ear and balance, you may not like the Vista 2's – however, if you do like the popular noise-canceling features, you will likely love the ANC and Surround Sense on these.
Perfect for deprivation tank "floating" at home

A recent recovery activity I've gotten into is "floating" in a deprivation tank. The process involves getting into a futuristic-looking pod filled with high salinity saltwater – so high that when inside your body "floats" on the surface. Within the tank, you only hear the music you've selected and have a feeling of weightlessness. The result is a mind-clearing and generally relaxing experience that resets you completely. The only problem is a single float experience runs $50, so I decided to recreate the experience at home with these waterproof earbuds in my pool.
I set a couple of pool noodles underneath my legs, hips, and upper back so that my body was partially submerged floating on top of the water in my pool, floating around under the warm Bali sun. I then put on a blindfold, popped in my Vista 2 earbuds, turned on the sound of ocean waves, and floated around for a full 30 minutes. The experience was fantastic and much cheaper than the float experience, so I started repeating the "homemade float" every week.
The earbuds stayed above the water for most of the experience but occasionally dipped below the water level with absolutely no issues.
You could possibly do the same at home with a bathtub, without the fully "floating" experience, just skip any soap in the water to avoid damaging the seals on the headphones.
ANOTHER GREAT FEATURE: AUTOMATIC PAUSING

The Vista 2 has a feature in which it pauses music when the earphone is taken out of your ear and restarts the music automatically when you put it back in. As small as this feature is, the convenience of it is awesome and a game-changer. Think of the number of times someone taps you on the shoulder during a podcast or the part of the song you like. You either have to take the moment to pause it or let it run and rewind later. The auto stop and restart added some satisfaction to my workouts in that I never had to touch my playlist during my workouts, other than to skip.
FUNCTION
Charging: Only needed to charge once per week on average
Lanyard: Build in lanyard on charging case, that slips easily onto a key ring, makes toting and stowing
Charging: Easy and quick (within 2 hours), carrying case holds a charges and charges buds on the go – 8 hours of listening plus 2 recharges from the case
One of my worries with wireless ear buds was the potential inconvenience of charging – potentially getting an hour or two of use and then being "audio stranded" until I could get home. This couldn't be further from the truth.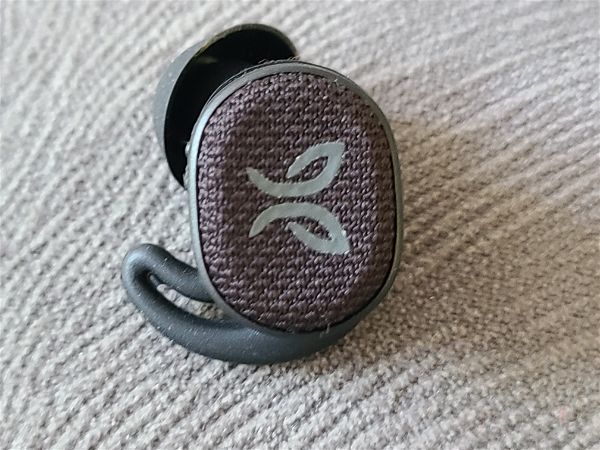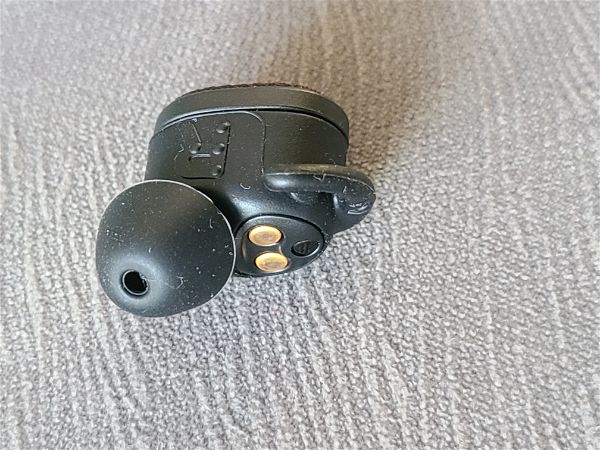 The buds charge within the carrying case, which additionally holds a charge. This means that every time you remove the earbuds and put them back in their case, the buds begin to charge. One full charge of the carrying is generally all I do for an entire week, and it gets me through all of my activities, from the gym, to wearing the earbuds at work, to listening to podcasts while I ride. One charge of the case varies between 1 to 2 hours to full recharge both the case and the buds.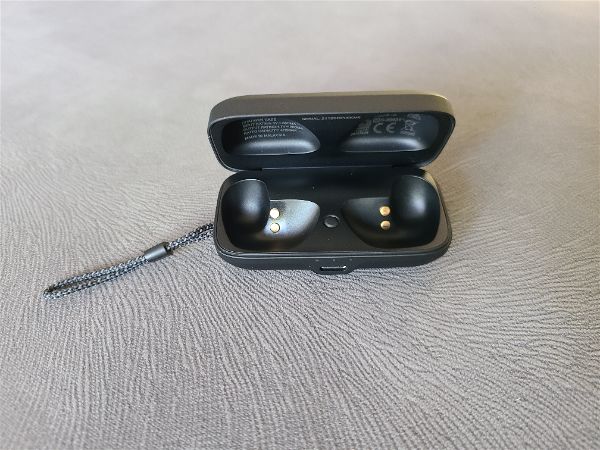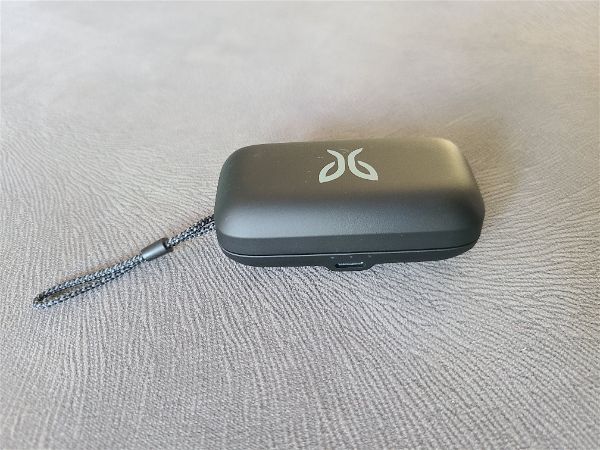 According to Jaybird, one full charge of the ear buds will give eight hours of playback time, and I've found that be accurate as to the amount of time I can go before popping them back in the case.
The earbuds case, which has its own battery, can give you 2 more full charges, or 16 hours of playback, when fully charged.
The carrying case and keyring lanyard: Fit easily in my pocket and are easy to keep track of
One small feature that made a big difference was the lanyard built into the case, which easily hooks to a keyring. I've owned a few other pairs of wireless headphones, and lost them – either the carrying case, the buds, or both – because the case was too big to fit in my pocket and too hard to keep track of.
The Jaybird Vista 2 case is small enough to fit in my pocket, taking up no more room than a pair of keys. Even better though, the built in lanyard clips onto my keyring carabiner easily. Because I never lose my keys, and I always take my keys, I always have my ear buds nearby and I always remember to bring the case.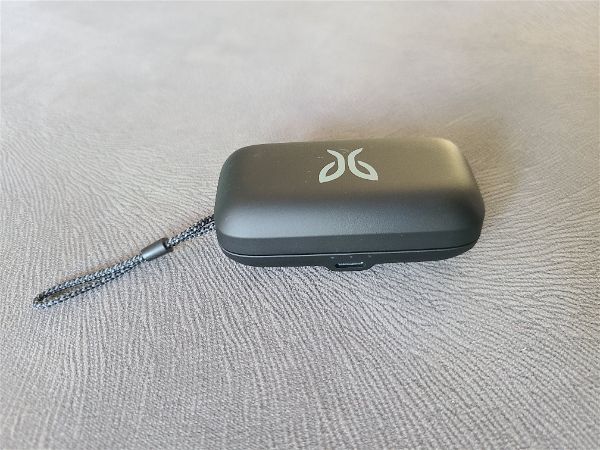 QUICK VERDICT ON THE JAYBIRD VISTA 2 HEADPHONES

With the trend of wireless headphones being the only option, we'll all have to purchase a pair eventually. For fitness enthusiasts, runners, adventurers, and travelers, and can't recommend the Jaybird Vista 2's enough. If you're a person that frequently listens to music or podcasts, or uses timers (for working or workouts) and doesn't want to disrupt anyone, but you need the same headphones to survive rain and sweat, to take a little abuse, and to stay in place through lots of movement, the Jaybird Vista 2's are a great choice.
At only $70 more expensive than the Apple Airpods, the functionality hard users get in return is well worth the investment. As an adventurous traveler and fitness enthusiast, I highly recommend the Jaybird Vista 2.
QUICK RATING

JAYBIRD VISTA 2 QUICK RATING

Total


4.8/5

VALUE: At ~$70 more than the Apple Airpods, the crush-proof, waterproof construction of these buds is worth the markup because of how much more you can use these without worry4/5

4/5

QUALITY | CONSTRUCTION | DURABILITY | RELIABILITY:
The waterproof, crushproof, dustproof design lasted pools, saunas, ice baths, and sandy beaches with no issues 5/5

5/5

PERFORMANCE: The headphones never lost connection, kept connection, lasted for a very long period between charges 5/5

5/5

CHECK AVAILABILITY OF THE JAYBIRD VISTA 2 HEADPHONES AT JAYBIRD SPORT


OR AMAZON.COM