Staying stylish yet not packing too much while traveling, just enough to fit in a carry-on bag, is tricky. Finding the right pair of shoes that are stylish with Chinos, shorts, or jeans is even tougher, and finding the same pair of shoes that pack small, dry quickly, look stylish, and feel good walking is near impossible – until now with Glyph Shoes.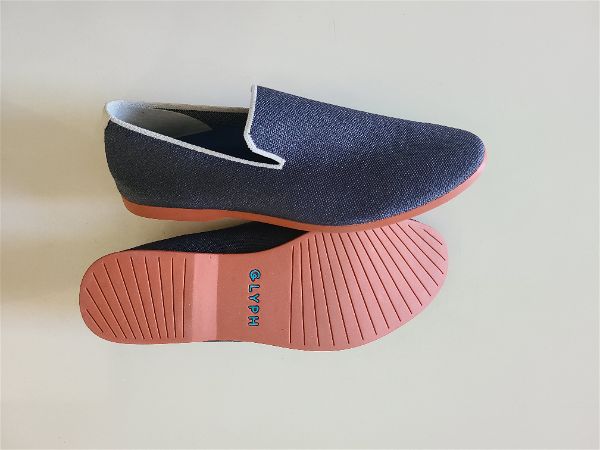 Over the last few months, I've been wearing and testing a packable, travel-friendly, digitally knitted loafer that actually feels really good and looks so stylish its something I would (and do) absolutely wear whether I'm traveling or not. Minimalist, foot-friendly, techy, and stylish. Glyphs is doing a great job of making a single shoe that could be your one shoe. On top of that, the company is super green! All shoes produced can and will be recycled if sent back, and their next-gen shoe creation process naturally eliminates waste.
If you are an urban landscape-dwelling traveler you seriously need to check out these next-gen, lazily stylish loafers. In this review, I'll share why the Glyph Shoe has become my favorite daily wear shoe throughout Asia, and the single pair of shoes I keep wearing out with my Chinos to upscale bars night after night
CONTENTS OF THIS GLYPH SHOES REVIEW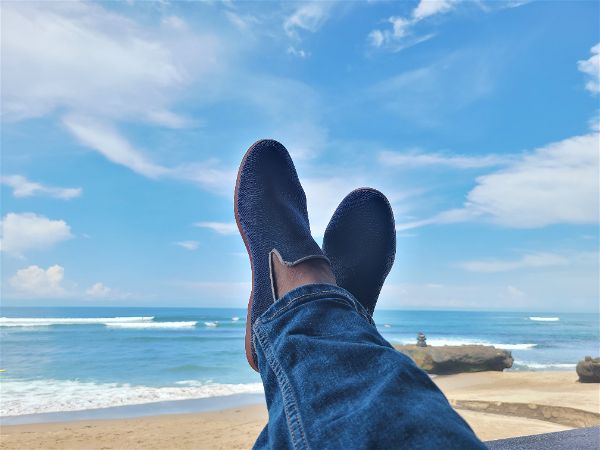 QUICK REVIEW OF GLYPH SHOES
Everything you need to know about whether Glyph Shoes are right for you, or not, in less the 5 minutes.
MY EXPERIENCE WITH GLYPH SHOES
I've been traveling around the world continuously for more than a few years, and my weird quirk is a two-part problem. 1) I only travel with a single carry-on-sized backpack – which means I don't carry much regardless of the adventure and 2) I still want to look good wherever I'm at in the world.
Whether I'm walking around Kathmandu after a trek or Tokyo looking for sushi, I need the shoes on my feet to be comfortable foremost and still look good. Then, when I switch back into my hiking boots, these "perfect shoes" need to pack into my bag unnoticeably small. I've tried tens of shoes over the years, and wearing the Glyph Shoe over the last few months is the closest I've ever really been to that ideal.
For the last few months, I've been stuck in Bali where the weather is hot and humid, sometimes rainy, and can start in a café, move to a beach, and can end at a nice beach club for the night soaking up a show or nightlife. Through it all, these super flexible, comfy, and techy loafers have excelled through it all and are quickly becoming my daily wear shoe of choice for urban adventures.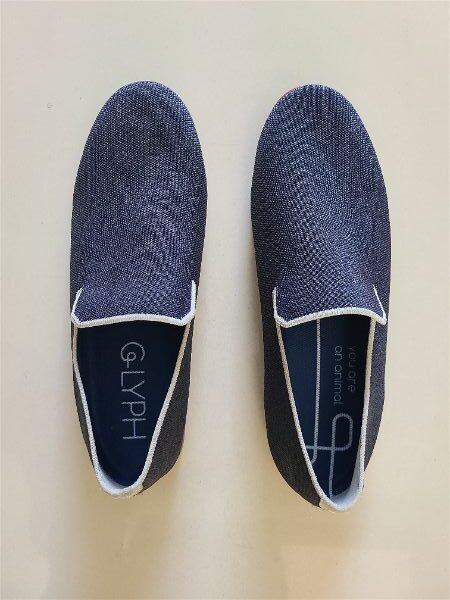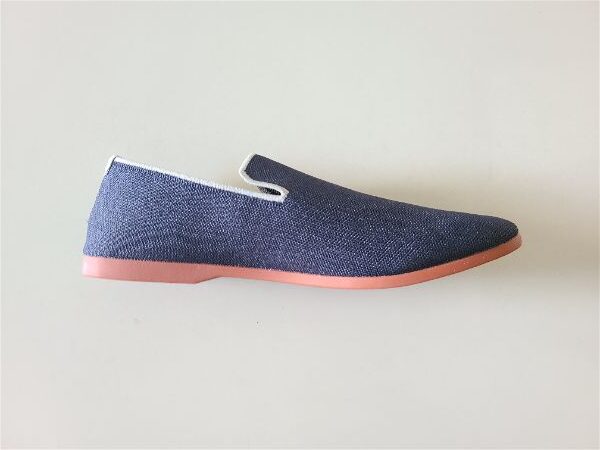 DAILY WEAR
Breathable, comfy, easy on, easy off
Southeast Asia has a couple of unique things that make footwear a problem. First, it's hot and humid, which adds up to sweaty feet in thick shoes, and sometimes wet from the rain. Second, whenever you enter a home or a temple in Southeast Asia, the shoes must come off – that's not a problem it means unlacing a couple of times a day, but 15 to 20 times is the norm. With both of these catches of the constant on and off and the potential for sweaty uncomfortable feet, the Glyph shoe loafer design slips on and slips off and the breathable uppers have kept my feet as comfortable as flip flops in 100-degree heat.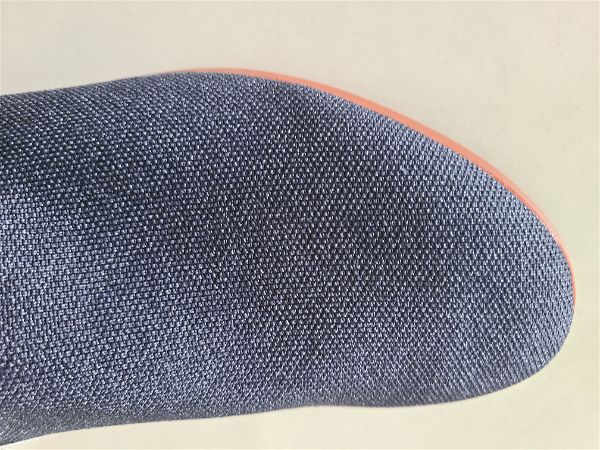 At the same moment, the fit of the shoe is so comfortable snug, and hugged to my foot, I could very easily sprint in them (I've tried) so wearing them as a shoe for motorbiking and light activewear is reasonable.
Stylish enough for a night out
In "the real world" away from this travel paradise, when it comes to choosing a stylish shoe option that borders between casual and snazzy, smart, cleanly cut, narrow loafers are a versatile no brainer and will get you into places that flip flops and sneakers won't work.
So, here in Bali, I love that my favorite shoe to wear by day with jeans and nice shorts works pretty much anywhere else by just adding chinos or slacks.
The style and fit of these shoes would work perfectly for an upscale restaurant or traveling Europe as well – absolutely.
PACKABILITY
Given that my home is on my back, considering how much space the shoes take up is important, which is great because they don't take up much at all. When I'm in full flip flop mode or hiking, the Glyph Shoes easily fold flat and are low profile enough to fit into a water bottle pocket, or unnoticeably in the bottom of your bag.
TRAVEL READINESS
That compactness and comfort under extended wear add up to the Glyph Shoes being amazing and one of the best shoes I've seen for commuter flyers, weekend trips, or traveling around the world.
If you simply pass-through airports often and need a shoe that is functional and comfortable enough for the trip and wandering the airport but looks good enough to wear into a work meeting, these are it. Along the way, the slip-on slip-off style makes passing through security a breeze, as well as taking your shoes off easily on the plane if that's your thing. Ultimately, the shoe is comfy and makes everything you'll do in the airport seamless.
If you're traveling for the weekend, on a short vacation to New York, or visiting family, again, these could be your only shoe. Pair with a set of flip flops and you'll be equipped for beach life and bonfires to walking the Boulevard at night before having a nice dinner. Or, skip the flip-flops completely and just enjoy the beach barefoot.
If you're traveling around the world, the Glyphs will be hard-pressed to beat because this one pair of shoes can be worn for anything besides hard, rocky hiking, and workouts perhaps. Flip flops are always a good accessory, and workout shoes if you're a fitness junkie (which will double as hiking shoes) but, for minimalists aiming for a single shoe in a single bag, in my opinion, the Glyph shoe performs better, is more versatile, and looks better than any other option.
WEAR AND COMFORT
Thanks to the digitally knit uppers, the Glyphs breathe very much, allowing sweat moisture to escape from your foot, keeping it dry. Additionally, the knit hugs the foot lightly all around which makes the performance rubber sole feel like it sticks to your foot, instead of being part of a shoe. The resulting feeling is very freeing, almost feeling barefoot as the loafer and your foot move as one, with a bit of wind flowing through, and your foot feels really dry.
Herein lies the one warning – Glyphs do fit very snuggly, and it is part of their charm, but be sure to go ½ size up, be sure to trim your toenails (seriously) for a correct fit, and wear the shoes inside to test them before fully committing to the size you've chosen. Once you've checked off those boxes and found a good fit, if you like the aesthetic of the shoes, I expect you'll like them overall.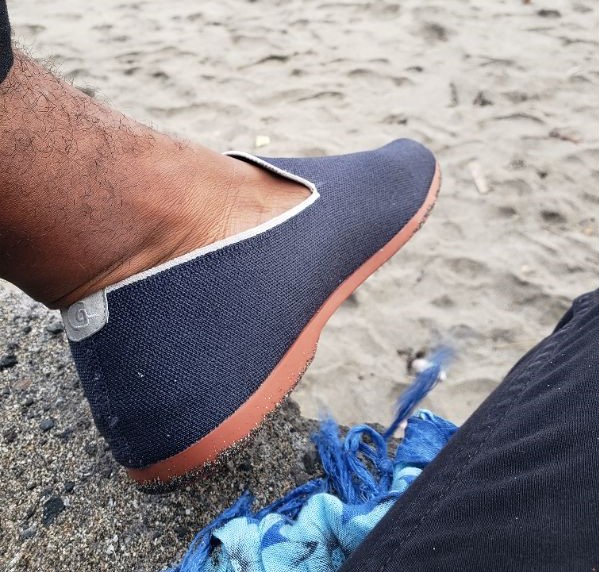 Wearing these shoes for walking in urban environments, with concrete sidewalks and spending lots of time on my feet, has felt good. I generally lean towards minimalist shoes over cushiony and these are a perfect balance. The soles give a good bit of traction on lightly wet streets, just enough cushion to be comfortable walking on concrete to, and a very durable feel that has held up well to months of daily use. Overall, the soles feel well rounded, balanced between comfort walking on concrete sidewalks, and durable enough to last years, and the experience of wearing these shoes ultimately felt and (I think) looked great over the last few months.
STYLE
Aesthetic versatility is the Glyph's strength: Ready for almost any occasion – great with jeans, Chinos, Chinos shorts, or even slacks
My favorite part of the loafer's style is how classy and versatile they are – I'm not the type to wear basketball shoes on a nice night out, despite how comfy they are and how great they are for training.
The beauty of the Glyphs Shoes is how they took the most versatile and stylish fashion footwear staple, the loafer, and built it to be comfortable and durable enough for daily wear, around the world. And if you are wearing these shoes, I'll argue they're the best-looking shoes there.
PROS & CONS OF GLYPH SHOES
| | |
| --- | --- |
| PROS | CONS |
| Loafer styling and minimalist coloring look great for everything from dressy to casual | Run about ½ size small, so checking sizing carefully before wear |
| Soles feel good after lots of urban exploration and deliver plenty of grip | |
| Breathable uppers and anti-funky sole Great for hot weather and Southeast Asia | |
| Easy machine washing makes the "refresh" process easy | |
| Eco-friendly – made from bottles, 100% recyclable | |
Ultimately, balancing the pros and cons, there are a whole lot of points about Glyph Shoes to love. Whether the small, debatable details, such as price and style, suit you is what your daily goals and end goals are as well as your own style. If you love loafer styles as much as I do, and want something practical and functional enough to travel in, the price is worth it – from a standpoint of being a minimalist and owning just a couple pairs of shoes. Pay for the value, and only pay once, that is my goal, and these shoes deliver.
Again, the aesthetic and whether it is for you depends on your prefeered style of shoe. I prefer loafers, boat shoes, and old school canvas sneakers like Chuck Taylors, so the Glyph Shoe is right up my alley. However, if you prefer Allbirds or trainers, these may not be your type as your primary shoe.
All in all though, if the points to love suit your preferences, these are clearly a shoe worth loving.
GLYPH SHOE QUICK RATING

~$135

Read on to discover more about my experience with the Glyph Shoe.

Or, visit Glyph Shoe to view all styles.

Total


4.8/5

VALUE: Though these shoes cost more than other options, they are "minimalist in ideal" allowing you to replace other shoes, wear these as your only shoes, and get a much longer life out of these shoes 4/5

4/5

MATERIALS AND CONSTRUCTION: Comfortable, durable, and solidly performing soles combined with well made "digital knit" helps these shoes breath, dry quickly and stay comfy 5/5

5/5

DESIGN, AESTHETIC, AND FUNCTION: Loafer styling, and minimalist and neutral color styling make these shoes look great. Narrow cut and clean lines add a more luxuriously "Italian Shoe" look to the design 5/5

5/5

DURABILITY | RELIABILITY: TBD, but with miles of walking and months of wearing, no fraying, no unwanted loosening and no unnecessary sole wear is in sight 5/5

5/5
---
QUICK VERDICT ON THE GLYPH SHOES FOR TRAVEL AND MINIMALISTS
If your priority is to look good and pack light or reduce your belongings, the style, function, and comfort of the Glyph Shoe are one of the best options to do that, all while being great for the environment. I'm wearing them from here on out, and I recommend them.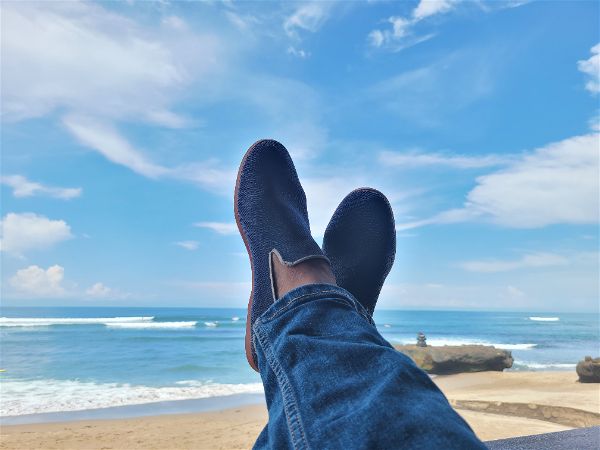 Head to Amazon.com to purchase the Glyph Shoe with Prime free shipping, or visit Glyph.Earth to learn more and see available styles
---
FULL GLYPH SHOES REVIEW
WHY GLYPH SHOE FOR TRAVEL AND URBAN WEAR: PACKABLE, COMFY, VERSATILE, AND STYLISH
Simply put, the "minimalist" idea behind Glyphs is that you can have fewer pairs of shoes that do more. Having a comfortable, durable pair of shoes to wear normally that are stylish and fashionable enough to wear to work or a nice restaurant, but also a walk in the park, a weekend festival, or anywhere else is Glyphy's idea of minimalism.
You should get Glyphs if you're looking for that "do it all" pair of shoes, and when it comes to "looking good" you prefer loafers over Allbirds, Chuck Taylors, and Altamas.
DESIGN, AESTHETICS, AND STYLE: ITALIAN LEATHER LOAFER INSPIRATION MAXES OUT GLYPH STYLE
Clearly, Italian loafer-inspired with a thin, low profile sole, narrow toe, and uppers that hug the silhouette of your foot. These cues are what differentiated cheap and chunky loafers from the handcrafted, high-quality shoes that you'd expect to see in a banker's office.
The resulting loafer, with Glyphs, makes almost everything look better – jeans, chinos, chinos shorts, and slacks too. Virtually everything except boardshorts.
Thanks to the antimicrobial insert and breathable uppers (both washable) are sure to wear these shoes sockless as not to destroy the style.
COLOR VARIATIONS: NEUTRAL, VERSATILE, AND STYLISH, MAKE FOR AN EASY MINIMALIST WARDROBE
With an eye on true minimalism, Glyphs designed their shoes, and every color option, to consist of solid colored, very neutral tones that do look great but are neutral enough to wear with any "standard" color of jeans, chinos, or slacks – black, grey, charcoal, blue, etc.
Beluga (white)
Marlin (Blue uppers with gum colored soles)
Panther (Black uppers with grey colored soles
Rhino (Grey uppers with black colored soles)
Mustang (Brown uppers with brown soles)
You can't go wrong with any of these colors, but if you want spice and variety while you're traveling, aim for the color that will coordinate and contrast with the pants you'll take and wear most often, or wear most often where it matters
FEATURES AND SPECS
Water resistant – suitable for wear in light rain
"Digitally knit" to form to any shape of foot and shape better over time, stitched by computer from a single piece of thread
Breathable, quick drying uppers, allow moisture to escape and make them great for hot weather and dry quickly thereafter
Uppers can be thrown in the washer to wash easily, and the antimicrobial uppers can be washed by hand
Designed to be worn sockless thanks to an antimicrobial coating on the insoles and highly breathable uppers
ENVIRONMENTAL FRIENDLINESS
Glyph Shoes are made of recycled fibers and materials
Environmentally friendly: Send your Glyph Shoe back to Glyphs and they'll recycle the shoe as well as give you a 25% discount on your next pair
No animal products or testing
VALUE
At $135, for the traveler or minimalist, these shoes are well worth the price. A pair of normal, leather loafers of the same cut and good quality will run in the $90 to $135 price range and will require resoling about once a year – which I don't expect with Glyphs. Beyond this comparison, there is the function of having a daily wear shoe that is packable.
Most travel shoes that are comfy, breathable, and functional sacrifice something – either size, aesthetics, or quality – to achieve the goal of a travel-friendly shoe.
Glyphs are one of a kind in this space, taking a stylish design, placing it in a small, packable size, and adding the durability and breathability that makes it good for versatile, extended wear. Additionally, the company prioritizes eco-friendliness by making the shoes from recycled plastic and building in the infrastructure to recycle any Glyph Shoe into the next set of shoes. Those perks of style, comfort, durability, travel friendliness, and eco-friendliness make these shoes a good value at $135.
Admittedly, some customers will not like this price tag, and I believe the "value" they see in the shoe depends on the purpose of use. If you plan on buying lots of shoes, yes, $135 is expensive. However, is this will be the one shoe you purchase for the next two years and wear every day (one of three perhaps) then this $135 is worthwhile for the function you get in return because not many other shoes can be used like that. As a minimalist, and a traveler with a single bag, and not many shoes, the pricetag is worth it for me.
DURABILITY
Time will tell as I have only worn the shoes for a few months, but with lots of walking, getting caught in the rain, and plenty of sand. In that time, the soles have barely worn, and the uppers have stretch, but simply molding to my feet, but still staying snug enough to sprint in them with no issues.
The only semblance of wear are two single loose threads on the back of the shoes that could easily be seared with a lighter.
ABOUT GLYPHS
Glyphs, the company, is cool because it fully represents what its products are from the ground up with its expressed goal of helping you live better with fewer things, and to make our products more environmentally friendly
FINAL VERDICT ON GLYPH SHOE
For travelers and minimalists that needless to do more, and in that package need a pair of comfy shoes that look good at night and wear all day long, Glyphs is a great option. I'll be keeping my Glyphs in my backpack and highly recommend them.
Head to Amazon.com to purchase the Glyph Shoe with Prime free shipping, or visit Glyph.Earth to learn more and see available styles