The Merino wool hoodie is arguably one of the most versatile, functional, and comfortable pieces of clothing to add to your wardrobe for cool weather travel, minimalist wardrobes and comfort in everyday life. Combining the 100 year old classic hooded sweat shirt (zipper or pullover), with the low maintenance and high performance of ultrafine and soft on the skin Merino wool is the perfect way to add function, comfort, and classic style to your wardrobe.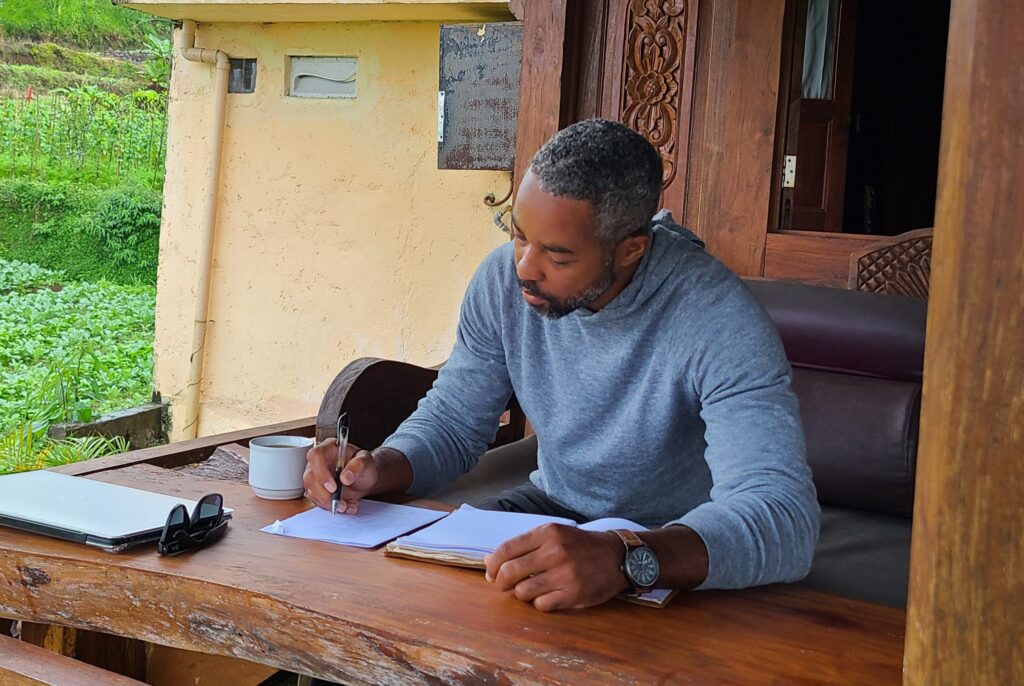 Finding the right woold hoodie with a fit that matches your style and the fabric type (thickness for warmth and technical design for durability) will keep you comfortable lounging at home, commuting to work, hiking through the mountains on a brisk day, or under a rain shell on your next adventure around the world.
Unfortunately, with the hundreds of brands peddling subpar products and the admittedly high price of a good Merino sweatshirt, it can be tough figuring out which hoodie will perform the way you need and fits your style and is worth your hard earned cash.
Rest assured, in this ultimate guide to the best Men's Merino Wool hoodies, we will break down the best wool hooded sweatshirt options – pullover, zippered, heavy weight, activewear, and more – to help you pin down the best option on the market for you.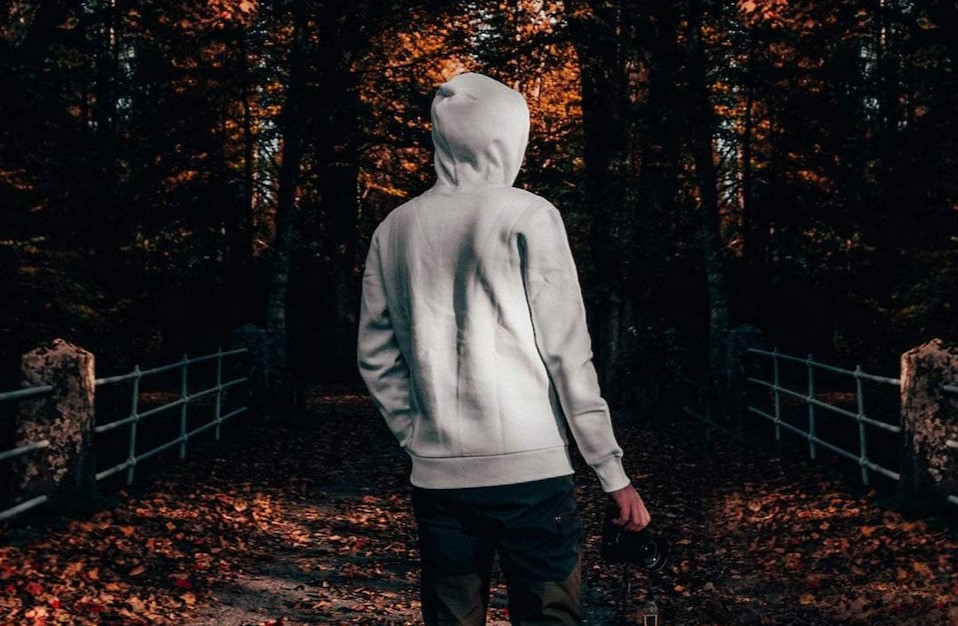 Read on to discover the 28 best men's merino wool hoodies and discover the perfect hoodie for your style and next adventure.
This article contains affiliate links

Contents of this Guide to the Best Merino Wool Hoodies
Our List of the Best Merino Hoodies (By Category)

Quick List of the Best Men's Merino Wool Hoodies
ALL AROUND BEST MERINO WOOL HOODIES AND CLASSIC HOODIES
BEST FOR TRAVEL AND MINIMALIST WARDROBES
Click here to skip the additional information and jump straight to our full list

What you need to know to find the best Merino wool hoodie for you
Top Notch Wool hoodies have the following:
250 GSM to 400 GSM (grams per square meter) weight Merino wool fabric, with heavier hoodies generally bringing more warmth and durability
Fabric using Merino wool thread less than 20 microns thick, to increase softness on skin and reduce itch
Garment fit is closer to skin to increase how well the garment keeps you warm – unless, for style reasons, you are intentionally choosing a different fit
The brand has a return guarantee for you to initially try the garment and for care later
Click to jump back to the Table of Contents

Merino sweaters and hoodies have been a staple piece of gear in my travels around the world for years and the minimalist wardrobe I maintain when at home because of the comfort in all conditions, versatility, and small footprint in my bag/closet
For the last 5 years I've been traveling the world with a very minimalist wardrobe that fits in a single carry on sized bag. Because of this minimalist approach, every piece of clothing I carry needs to be useful and functional enough to warrant the space in my bag, and durable enough to last years of adventures – ideally a lifetime, which is why I've long carried a Merino wool hoodie.
Whether in an airplane, a movie theater, or in the surprisingly cool highlands of Bali in Vietnam, or a night stroll through the city streets of Lisbon, Portugal, there always comes a time when a nice, warming mid layer adds a little comfort to the adventure and may be essential. The common approach is bulky polyester sweaters, which don't insulate, breath, or resist odor as well as wool, or cotton, which dries slowly and sucks the heat from your body when wet, unlike wool which always breathes and insulates to regulate body heat perfectly.
But, for minimalists and lightweight travelers, we need something that performs all around a bit better.
Enter – the Merino wool hoodie as the perfect minimalist and travel friendly mid layer.
Why Merino Wool (for all climates): Because Merino Wool deals with cold, sweat, wet heat, and odor amazingly well.
Merino Wool Moisture Wicking: Wool naturally removes any moisture, whether sweat or rain, from your skin, and to the outer layer of the fabric so that your skin stays dry and the fabric dries quickly
Merino Wool dries quickly: Whether after a slight rain or a quick wash, wool dries far quicker than cotton
Odor resistant (rarely requires washing): The structure of Merino Wool is antimicrobial, preventing the growth of bacteria from sweat and normal wear, and reduces odor between washes, beating out cotton, polyester, and nylon for how fresh wool smells between washes and heavy wear
Insulates even when wet: Even in the middle of a downpour, wool will get wet but will still insulate
High breathability makes wool temperature regulating: The structure of wool allows vapor (from sweat) to escape, creating a cooling effect when you get hot, but still insulating and trapping warmth in when temperatures outside and inside stop
Stylishly classic: Merino wool is the original tech fabric and has been used for ages, but requires a structure and manufacturing process that creates a fabric that looks, feels, and is both high quality and classically stylish
Merino Wool ultimately helps you stay comfortable in nearly any temperature or conditions, hot or cold, wet or dry, making it a perfect travel packing list addition for your next trip or layering system for your daily wear in cool to cold climates
Why Merino Wool in Hoodies? It creates a versatile, low-maintenance clothing layer that you'll keep going back to.
While you could opt for cotton, polyester, or nylon, the combination of warmth (even when wet), odor resistance, moisture wicking, and durability that Merino wool delivers will make your new hoodie the "do everything layer" you need delivering high warmth and comfort, with low maintenance.
Upgrading the classic hoodie, whether pullover or zippered, with super fine Merino fabric adds a level of comfort (soft on the skin with no itch) function (insulates even when wet, and cools your body in the heat) that makes the hoodie perfect not only for cold days, but wet conditions, active conditions, sweaty conditions, and conditions wherein you may not be able to wash that hoodie for a while.
The classic style of a hooded sweater makes it a versatile piece of clothing in terms of style.
The design, fitting close to the body and covering the head as well keeps you warmer and comfier without additional pieces of clothing
Last, the Merino wool upgrade beats cotton, nylon, and polyester hands down for warmth, function, and odor resistance in the longer term
Yes, Merino wool will likely be pricier than other fabric alternatives, but you will only need one, you will wear it more often, and you'll be more comfortable when you do in a variety of conditions.
This performance, versatility, and comfort is why a Merino wool hoodie is an essential piece for your wardrobe.

What to look for in a good Merino Wool Hoodie
Materials and Construction Quality
High percentage of wool: Though 100% wool is generally indicative of top quality, blends such as wool + nylon strategically add durability and wool + polyester can make for quicker drying garments while being cheaper
Thin thread diameter: For a softer, less itchy feel on the skin, a lower thread thickness is better with 17.5 microns being the best of the best
Fabric thickness: The finished Merino wool fabric measured in GSM (Grams per Square Meter [of fabric]) with 150 GSM being on the very light side and 400 GSM on the bearskin rug heavy side, dictates how thick/heavy and consequently how warm and durable a wool garment will be. Aim for thicker fabric for more warmth and durability.
Seam Construction: Seam thread thickness, construction, and placement will affect how the hoodie wears (under a backpack or jacket for instance) and the durability over the whole garment over its life. When you receive your hoodie, give the threads a check and a tug to make sure they meet your durability expectations.
Fit, Cut, and style
Fit types (Athletic, semi-fitted/fitted, classic, relaxed): How a hooded sweater conforms to your body and how closely it naturally rests on the skin is not only affect the style (urban, casual, minimalist) but performance in how the hoodie insulates and how suitable it is for high movement activities (skiing, running, climbing). Though "best fit" is dependent on personal tastes and style, take your planned activities and how you want the hoodie to perform in account when purchasing.
Hood fit: whether slim fit or loose, hood fit is not only a matter of comfort preference but also affects how comfortably the hoodie will fit under a snowboarding or motorbike helmet. Consider the range of activities you want to use your hoodie for, and how the hood plays into your chosen headgear
Comfort
Itch: With lower fiber thickness making for (potentially) less itchy wear on bear skin, keep in mind how you prefer your clothing fabrics to feel and purchase accordingly aiming for lower than 20 microns, and realizing that 17.5 microns fiber thickness will deliver maximum softness
Warmth: If you are wearing your hoodie in very cold conditions and expect performance, buy a heavy (higher GSM) fabric hoodie accordingly. If you plan for casual wear and mild temperatures, don't overdo the weight with 200 GSM being a sufficient "lightweight wool hoodie" and 400 GSM being what you want if you will consistently be in very cold conditions.
Features: Zippers, pockets, thumbholes, and integrated masks are all preference specific, but, on a garment you wear a lot, these can take the experience of wearing from great to awesome
Brand Reputation
Return policy (so you can return it if you do find it itchy) and warranty: Good brands have good reputations for a reason – ideally because of lots of use buts lots of users reporting rave reviews. However, consider what happens if the garment underperforms for you or becomes damaged.
Click to jump back to the Table of Contents

THE BEST MERINO WOOL HOODIES FOR MINIMALISTS AND TRAVELERS
If you are traveling or living in cooler climates, there is a Merino Wool hoodie that would be the perfect investment for your wardrobe – but that all depends on your style, the climate you live in, and the activities you plan to use your hoodie for. Will you be in Alpine terrain for the winter? Are you backpacking through Europe in autumn and need a warm yet compact layer to keep in your daypack in cool nights in Portugal? Or are you simply adding a perfect, versatile, and comfy warmth layer to your everyday wardrobe for work and play?
In this section, we've divided the best hoodies we can find by style and use to help you find the one hoodie that's perfect for you.
List of hoodies by category:

ALL AROUND BEST MERINO WOOL HOODIES AND CLASSIC HOODIES
Outlier Warm Form Hoodie
65% Merino Wool + 27% Nylon + 8% Elastene | 17.5 microns | 460 gsm | Classic Pullover fit | ~ $248
Luxurious, durable, and perfect hoodie for a functional, minimalist wardrobe
Outlier delivers some of the toughest yet versatile minimalist clothing on the market, and the Outlier Warm Form Merino hoodies keeps their track record.
Ultrafine 17.5 micron Merino wool delivers warmth, softness, and the function of wool. Combining with nylon delivers durability without compromising warmth, sweat wicking, or quick drying properties. Last, a little elastane ensures the hoodie moves well, with a little stretch, and keeps shape through the activities and the years. Classic cut and fit with ample space in the hood round this hoodie out as a potential wardrobe staple from fall to spring and a great comfort layer for travel.
Though the price tag seems steep, I own several Outlier pieces and assure you, this hoodie is worth the price for the durability, comfort, style, and use you'll get out of it for years to come
Available at: Outlier.nyc
Click to jump back to the Table of Contents

BEST FOR TRAVEL AND MINIMALIST WARDROBES
For minimalists looking for a hoodie for either one bag / carry on travel, or a compact "capsule wardrobe", the best hoodies will balance quality, warmth, and durability with compactness, packability, and versatility. Ultimately, travel friendly and minimalist Merino hoodies will be lightweight to midweight, so they can easily be worn under a rainshell or jacket, and packable, so that they can pack into the bottom of a daypack or drawer unnoticeably
These are the best travel friendly and minimalist Merino hoodies.
Unbound Ultralight Packable Hoodie (Pullover) | Best Pullover for travel and minimalist wardrobes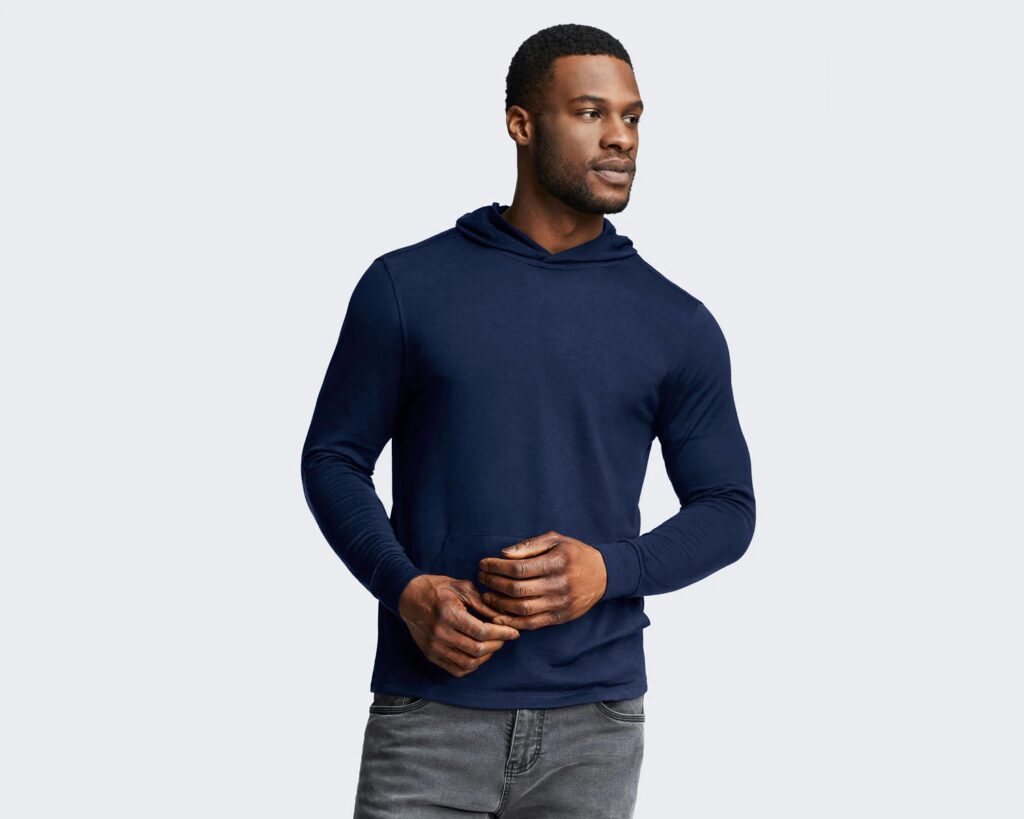 81% Merino, 12% Nylon, 7% Elastane | 21.5microns| 180gsm| Slim Fit with Stretch | ~ $145
Thinner than most hoodies – so packs down smaller but performs best with a windshell
Perfect travel midlayer to pair with a windproof layer
Packs down small
Love the hood on this one
Minimalist design with a classic, stylish cut and look makes it a versatile wardrobe piece
A slimmer fitting, minimalist Merino hoodie that combines Merino wool with the durability of nylon and a little stretch (elastane) for a form fitting pullover that packs down small and performs well.
A 180 gsm, this pullover is thinner and lighter than most options which makes it great as a mid-layer under a jacket or flannel. Additionally, the form fit not only looks stylish but adds to the warmth you'll get out of a small package.
From a style and minimalism standpoint, Unbound Merino delivers a very modern cut that lies flat against the body, for a more modern and refined look over casual, making this a more stylish and versatile clothing piece in minimalist and travel wardrobes.
From my experience, the wide knit does allow the breeze through, but pairing this travel hoodie with a **rain shell** or windbreaking jacket will trap the heat in and you'll be covered well down to lower temperatures.
All in all, I love and recommend this hoodie for travel and on the go lives.
Unbound Merino offers a 90 day no questions asked return policy allowing you to try before you fully commit.
Available at: Unbound Merino
Or, read my full review on the Unbound Merino Compact Travel Hoodie here!
Unbound Men's Compact Travel Hoodie (Zip Up)
(Best Zip Up Pullover for travel and minimalist wardrobes)
97% Merino, 3% Elastane | 21.5microns| 250gsm| Slim Fit with Stretch | ~ $175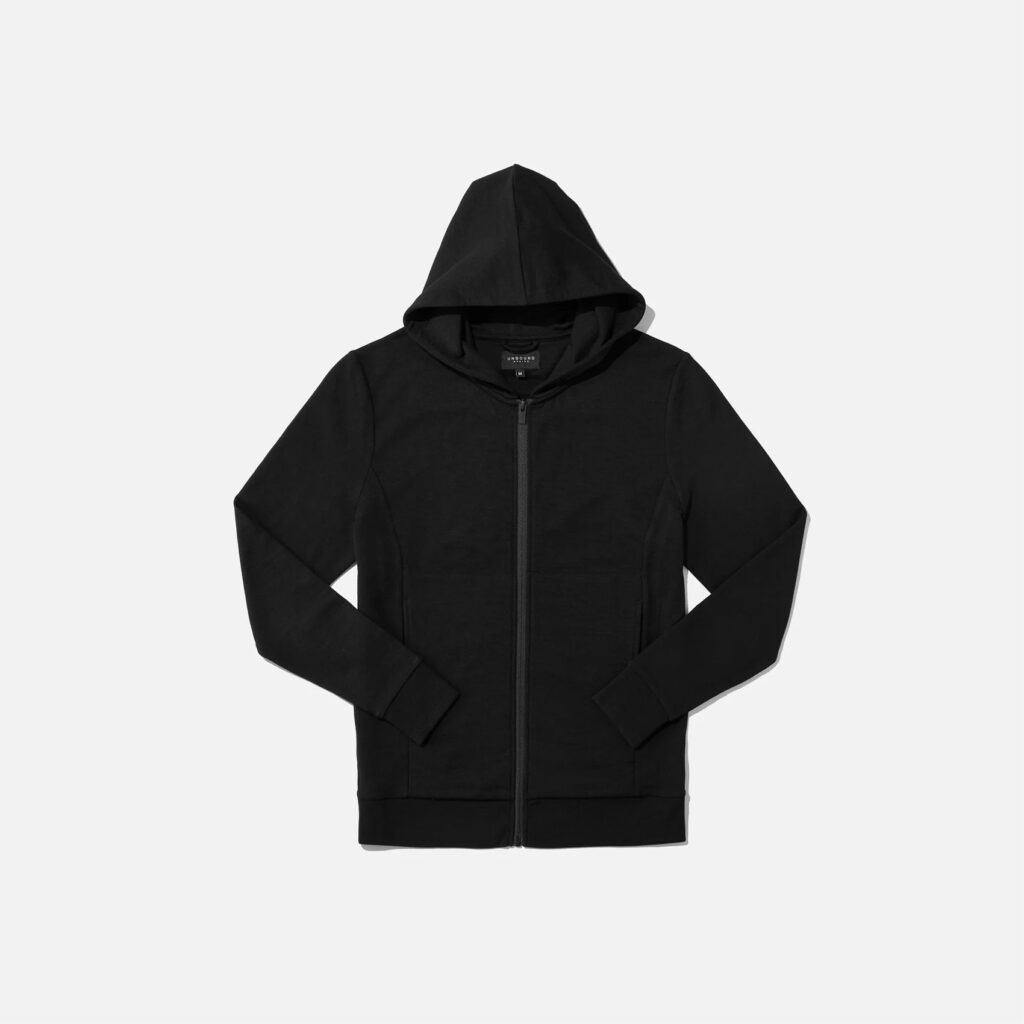 Heavier, zippered twin to Ubound Merino's Merino pullover
Packs down smaller and performs best with a windshell
Perfect travel midlayer to pair with a windproof layer
Packs down small
Love the hood on this one too
The Unbound Merino Compact Travel hoodie performs just as well as a travel friendly Merino Hoodie and minimalist wardrobe piece, with the added function of a full front zipper and slightly heavier Merino Wool.
Like the Unbound Merino pullover, this zip up hoodie is slightly lighter than most hoodies, which allows it to be compact (and fit into the bottom of a daypack) and pair perfectly under a rain jacket or windproof shell. I've traveled with this hoodie for months before my girlfriend stole it from me and claimed it as her own permanently.
Unbound Merino stays consistent with a minimalist look, with no logos, and a clean, slim fitting cut that makes the style of this hoodie just as versatile for minimalist wardrobes.
The difference between this zippered hoodie and the pullover is just about a matter of zipper preference, but the Unbound Merino Compact hoodie is among the best on the market for travel and a great investment.
Available at: Unbound Merino
Or, read my full review on the Unbound Merino Compact Travel Hoodie here!
Click to jump back to the Table of Contents

HEAVYWEIGHT HOODIES
Whether you're trying to stay stylish and functional in the great white north in low temperatures, ir just like the "buy it for life" durability, heavyweight Merino hoodies are a fantastic and comfortable investment.
With fabric weights ranging from 300 gsm to 400+ gsm and denser knits, plan on these hoodies delivering more warmth and more wind resistance while, with the right care, lasting a lifetime.
Minus33 Expedition Kodiak Brushed Wool Fleece Hoodie
95% Merino Wool + 5% Spandex | 20.5 microns| 400 gsm | Regular Fit | ~$305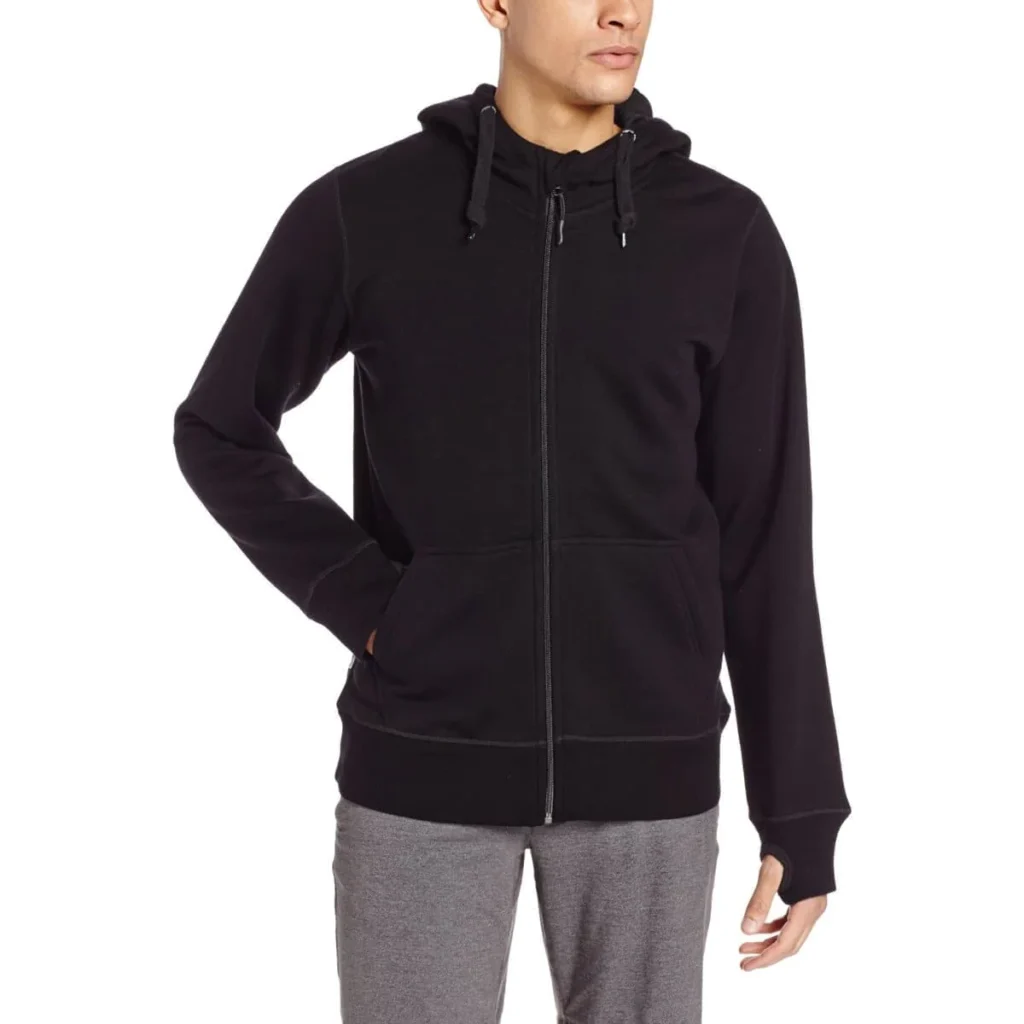 Additional: UPF 50+ rating | 1 Year Warranty
Heavyweight and warm
Very durable and well-constructed
Tested in the arctic
Fleece interior for a no itch, soft on skin feel
This expedition weight 95% Merino wool zip up hoodie is made extremely tough, intentionally for cold, harsh environments and hard use with 5% stretchy spandex to allow plenty of movement when you need to.
Thoughtful additions like thumbholes, hard use worthy YKK zippers, and soft brushed lining add up to a hoodie that can be your only heavy mid layer in light use or "adventurous conditions".
Available at: Minus33.com
Minus33 offers a 30 day no questions asked return policy and an automatic 1 year warranty on gear with a 2 year extended warranty offered for free if you register your gear. Learn more about Minus33's warranty here.
Duckworth Powder Hoodie (Second Best Pullover)
50% Montana Merino + 20% American Polyester + 30% Acrylic | microns| 300 gsm | Relaxed Fit | ~ $175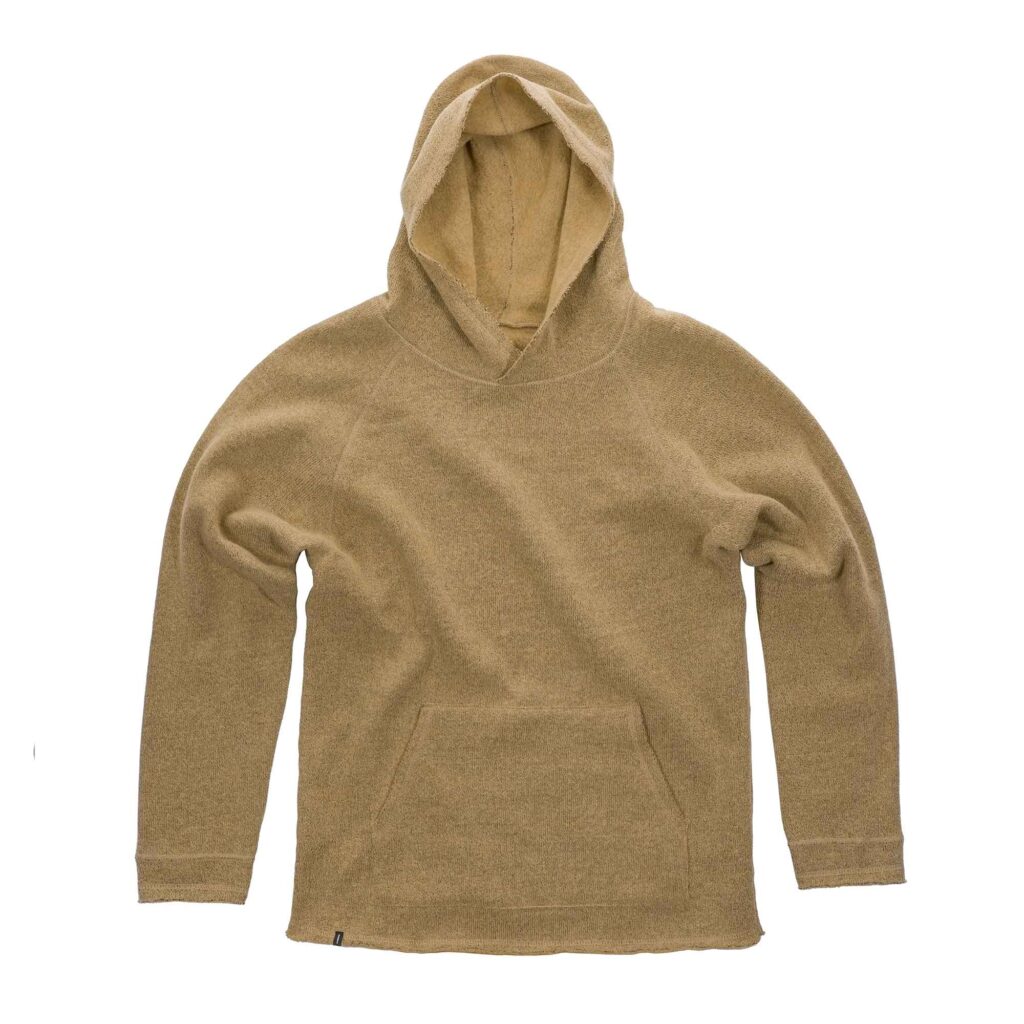 A heavier weight, super soft fabric hoodie with great on skin feel and a relaxed fit that casually fits over shirts and baselayers easily
A simple hoodie with a classic fit and synthetic blends for slightly more durability (for wearing and washing more often)
Brushed fabric interior feels soft next to skin
Just a chill, simple, everyday wear pullover hoodie at a great price
Materials sourced and manufactured in the US
Cons: No drawstring for hood
Available at: Duckworthco.com
Duckworth Comet Hoodie (Second Best Pullover)
100% Montana Merino Wool Outer+ 100% soft polyester lining | microns| 275 gsm | Relaxed Fit | ~ $169
Duckworth takes a great approach to wet and cold weather warmth with the comet hoodie.
The Duckworth Comet Hoodie combines a thick and heavy 100% Montana Merino Wool outer, for maximum insulation and knits it with a 100% softer, polyester lining for softness, insulation, and just as much moisture management. The result is a heavy weight, heavy warmth hoodie that will do you well on the coldest of days.
Available at: Duckworth
Outlier Hard/CO Merino C2 Hoodie (Pullover)
(For insanely cold, but dry conditions)
32% Merino Wool (Inner Lining) + 68% Cotton (Outer Shell) | 19 microns | 460 gsm | Classic Cut with Slimmer Fit | ~ $375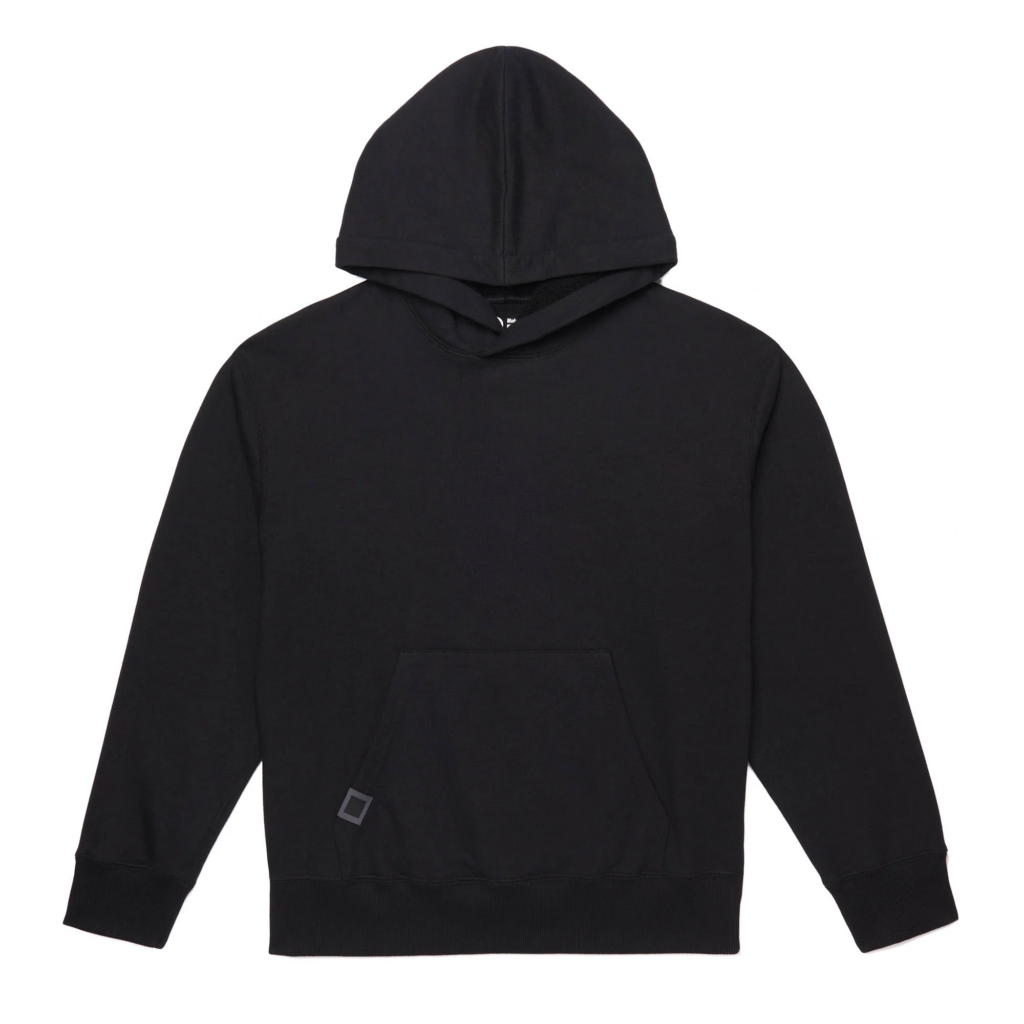 Insanely high durability, practicality in construction, and warmth. As long as you don't get it wet, it's hard to beat. Perfect for cold city life.
Though I generally NEVER recommend cotton in any travel or minimalist clothing, Outlier's Hard CO Merino Hoodie and Zip Hoodie deliver heavy durability, warmth, and comfort in stylish package – as long as you have no intentions of getting it wet.
Cotton is generally frowned upon as an insulator because if cotton gets wet it stops insulating and dries insanely slowly. However, few materials deliver the durability long term that heavyweight, high quality cotton does.
Outlier strategically breaks the rule (of avoiding cotton for insulation) by using a heavyweight cotton outer lining for insane durability and an equally heavyweight Merino wool inner layer for the warmth and sweat wicking technical performance that we want and need to stay warm and dry. The result is a seriously tough, warm, minimalist, and stylish hoodie great for cold urban environments and snowy yet dry adventures.
Pullover Available at: Outlier.NYC
Outlier Hard/CO Merino Twoway (Zip) Hoodie (Zip-Up) (For insanely cold, but dry conditions)
32% Merino Wool (Inner Lining) + 68% Cotton (Outer Shell) | 19 microns | 460 gsm | Classic Cut with Slimmer Fit | ~ $375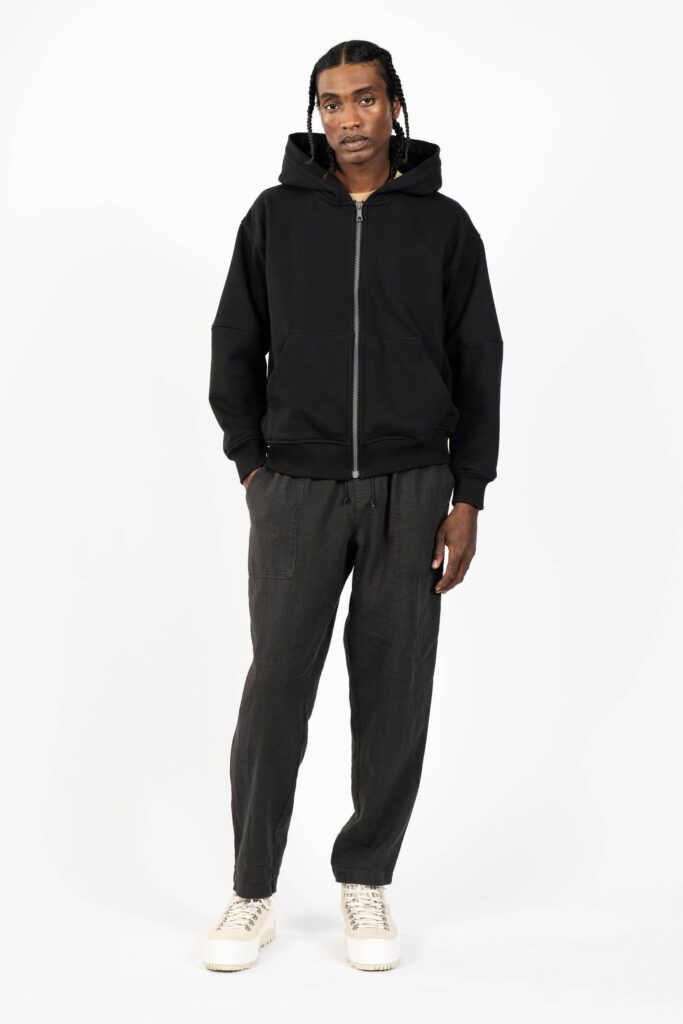 The Outlier Hard/CO Merino Twoway (Zip) Hoodie follows the same tough yet warm idea of the Outlier Hard/CO Merino hoodie and adds a two way zipper (up and down) for convenience.
Zip Hoodie Available at: Outlier.NYC
Sheep Inc – The Hoodie and The Zip Hoodie
100% Merino Wool | 19.5µ microns| gsm | Fit | ~ $250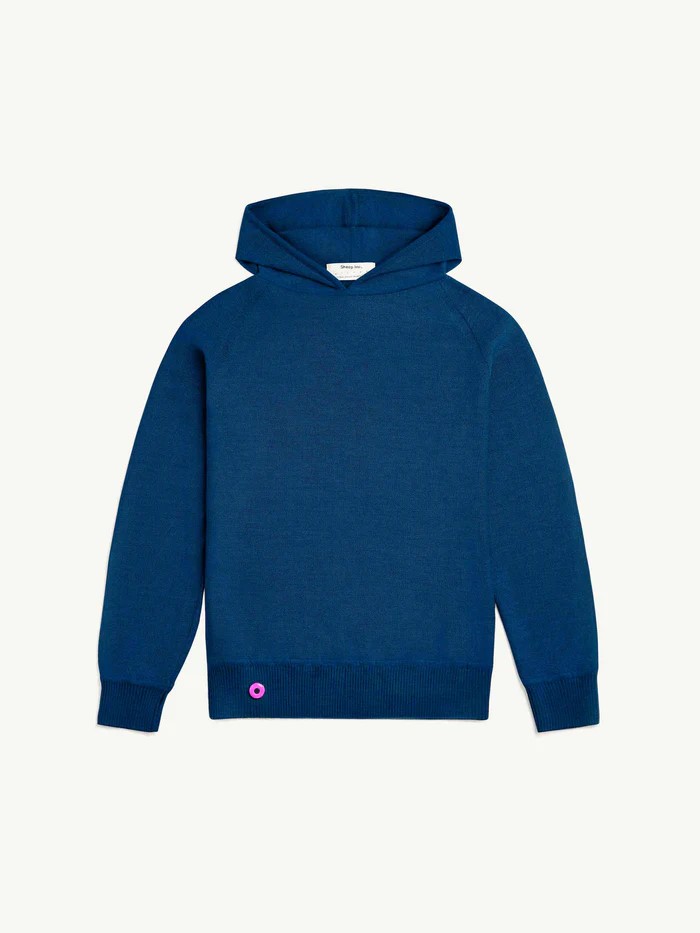 Simple, straight forward, and high quality hoodies (pullover and zippered) from a company focused on sustainability and quality.
Responsibly sourced 100% New Zealand Merino wool from regenerative farms, manufactured in Portugal
Lifetime warranty on care and repair
Classic hoodie style and fit
Available at: Sheep Inc.

ACTIVEWEAR AND FORM FITTING
When you need a hoodie to follow you and perform as you move – whether running, snow sports, trekking, or any other adventure – you need a hoodie designed for activewear conditions.
Slimmer fits, tailored hoods, and knits/fabric combinations designed for breathability and drying fast without so much bulk that they slow you down.
These Merino hoodies are the best for sports and adventure.
Icebreaker Zoneknit Merino Insulated Long Sleeve Zip Hoodie
100% Merino | 18.9 microns| Active Fit | ~ $330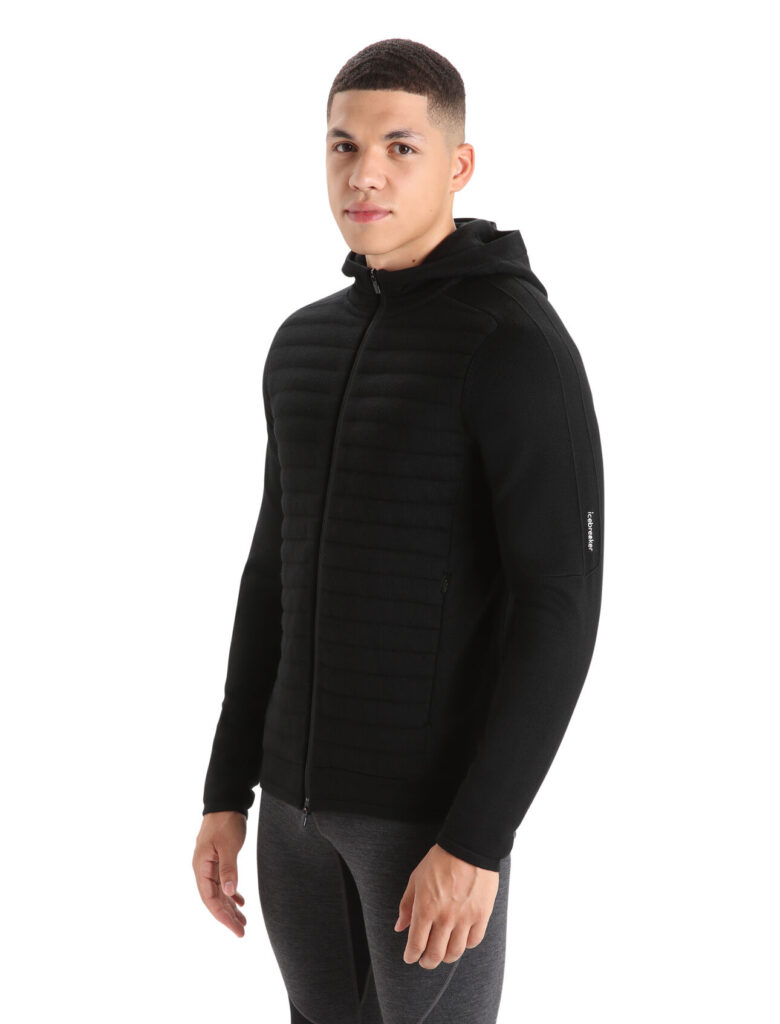 A highly breathable, form fitting hoodie designed to insulate most where we lose the most heat
Quilted, insulated panels trap heat
Insulated hood
2 way zip
Internal pockets, for keeping gear safe while moving
Activewear cut fits perfectly under a shell or additional layer
60 day, free, no questions asked returns
Available at: Icebreaker
Icebreaker Quantum Merino III Hoodie
100% Merino | 20.9 microns| 260gsm | Slim Fit | ~ $220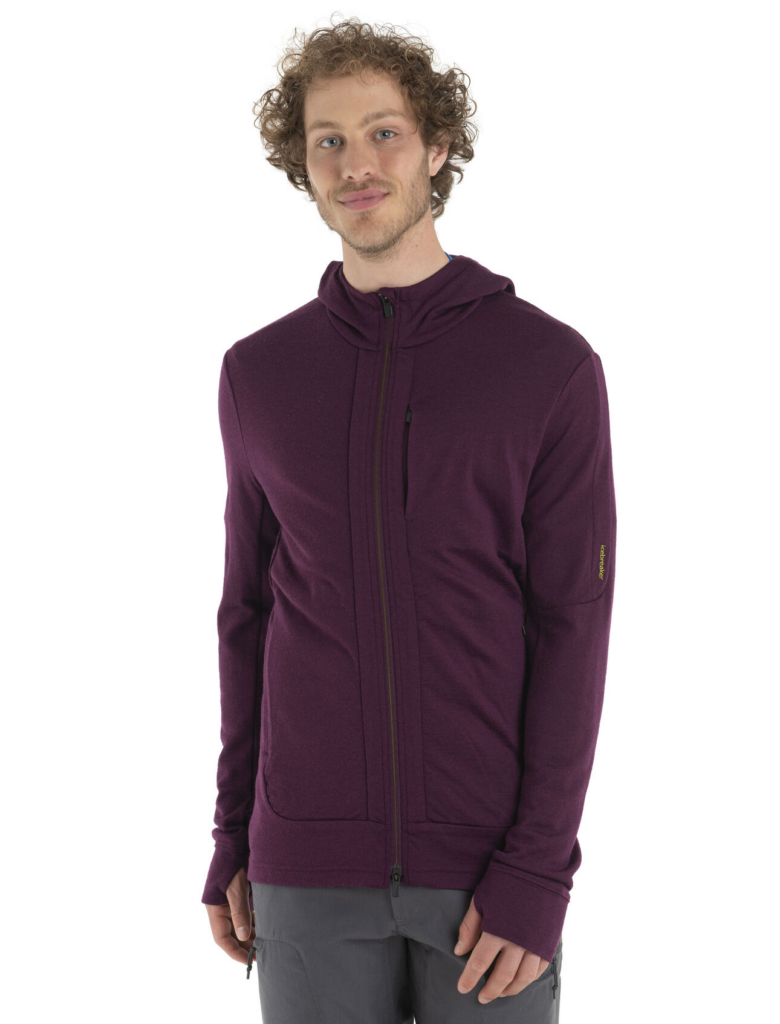 Icebreaker's slightly less insulated and form fitting 100% Merino hoodie is designed for mountaineering and technical adventures, with thumb holes, tailored hood for fitting under a helmet, and the slim fit that will keep you warmer and fit easily under a shell. No seams on the side and raglan sleeves allow for more and easier movement with less restriction and rubbing
100% Merino Wool
Lightweight mid layer
Full zip
Thumb holes
Available at: Icebreaker.com
Ibex: Indie Hoodie
100% Merino | 18.5 microns| 185gsm | Fit | ~ $170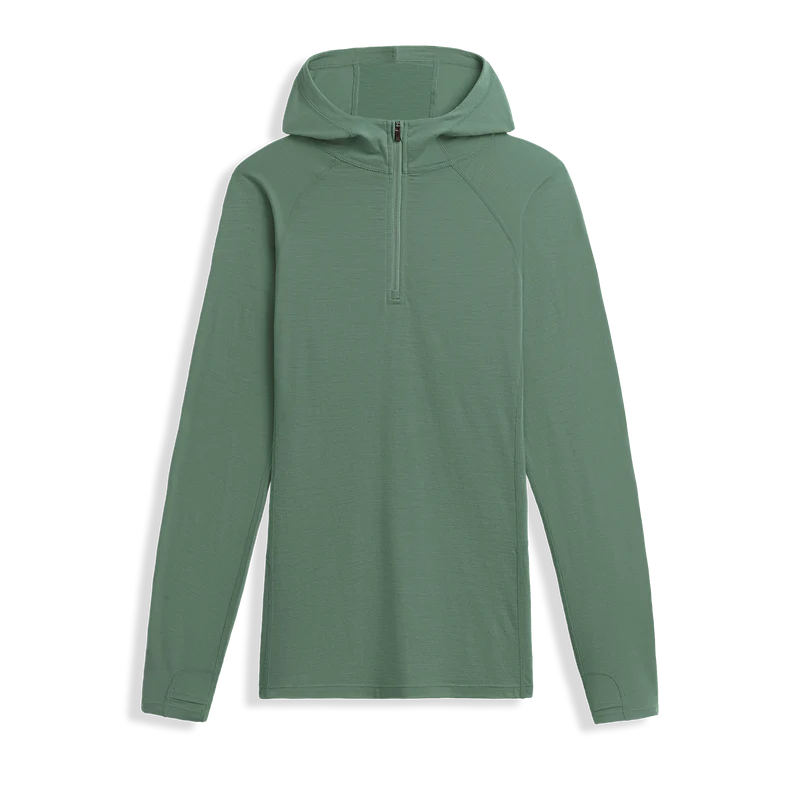 A 100% ultrafine (18.5 microns) Merino wool hoodie focused on technical adventure performance yet still soft and comfortable hoodie that's durable enough to make it out and back easily.
Technical, functional, durable, and perfect for adventures outdoor
Lighter weight, but maximizes warmth via good technical design
Raglan seems placed for maximum comfort when carrying a backpack and to avoid chaffing, rubbing, and irritation at strategic points on long hikes with a pack
Slim fit cut and quarter zip style maximizes warmth and stays close to the skin (keeping warmth on the skin)
Slim fit hood fits under a helmet and locks in more heat by staying closer to the head.
Quarter zip
Cons: Lighter weight, pricier for weight, and not sufficient alone for super cold conditions
Available at: Ibex.com
Smartwool Activewear Hoodie
56% merino wool + 44% polyester | Active Fit | ~ $100
UPF 20 sun protection | 1 year warranty via REI.com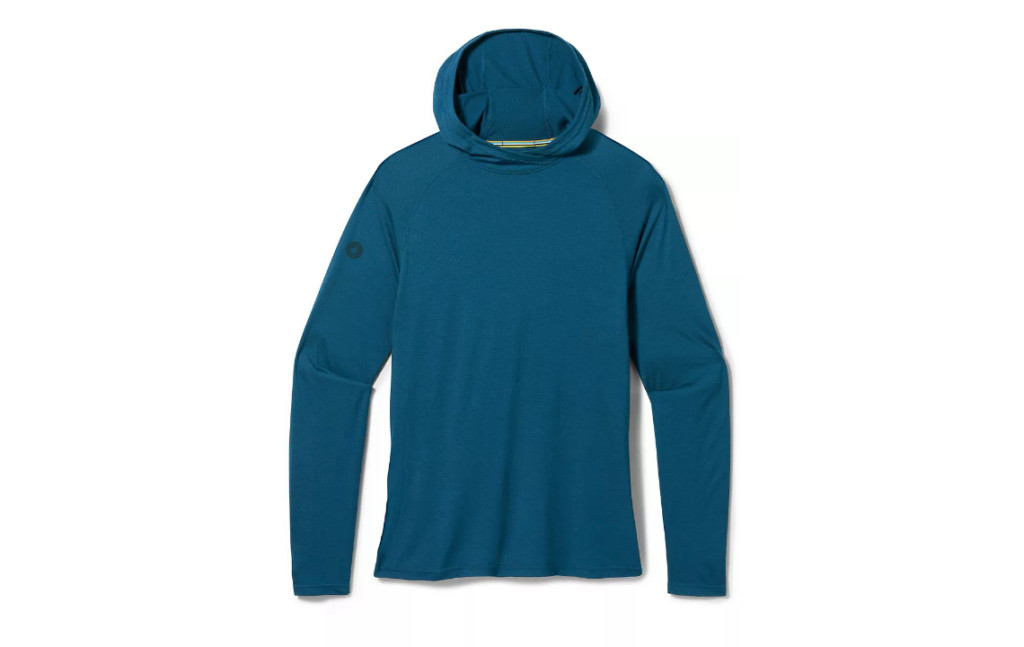 A lighter weight, sun protection delivering activewear hoodie that combines Merino wool and recycled polyester to max out on warmth, breathability, quick drying properties and temperature regulating properties. This hoodie is a solid option for low to medium intensity sports – such as hiking, mountain biking, and climbing, wherein you can go from sweating at high intensity to cruising at low intensity and need a layer that can keep you warm but quickly manage sweat and moisture while keeping you comfortable.
Available at: REI.com
Duckworth Vapor Hoodie
38% Montana Merino Wool + 50% American Polyester + 12% Modal (beech wood pulp) | 150 gsm | Active Fit | ~ $119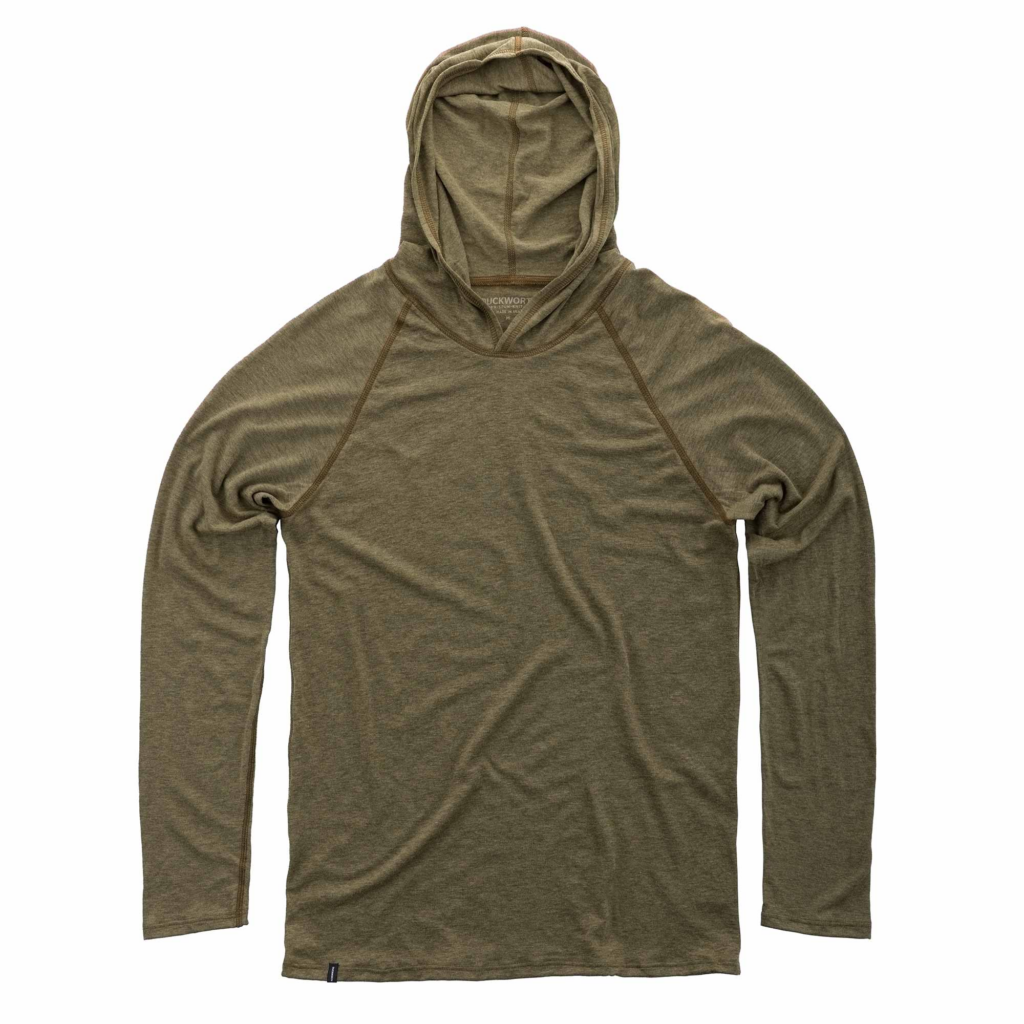 A lighter weight, thinner, yet high-performing (insulation and moisture management) activewear hoodie designed for high-intensity snowsports and performs equally well as a base layer or lightweight active mid layer
Available at: Duckworth
Chrome Industries Cobra 3.0 Merino Hoodie
53% Merino, 44% Polyester, 3% Spandex | microns| Lightweight | Athletic Fit | ~ $185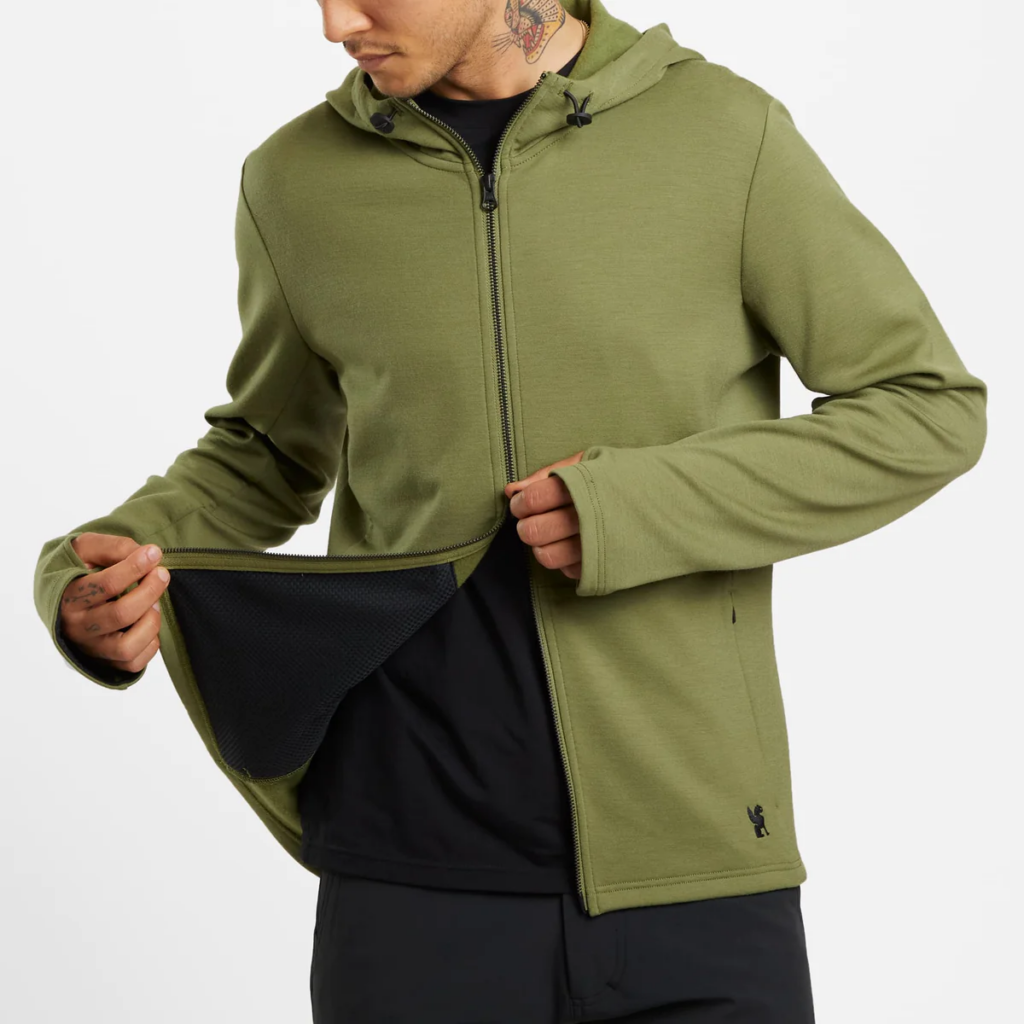 A warm and form fitting wool mid layer with a cut and design focused on the cycling crowd, but functional enough for virtually any active lifestyle
Lightweight, stretchy hoodie designed for lots of movement, quick drying, weather resistance and high activity sport (like cycling and running)
Thumb holes
Two way zip
One year warranty
Available At: Chrome Industries
Helly Hansen Lifa Midweight Hoodie (Best for Snowsports)
57% Merino Wool, 43% Polypropylene | microns| 225 gsm | Athletic Fit | ~ $100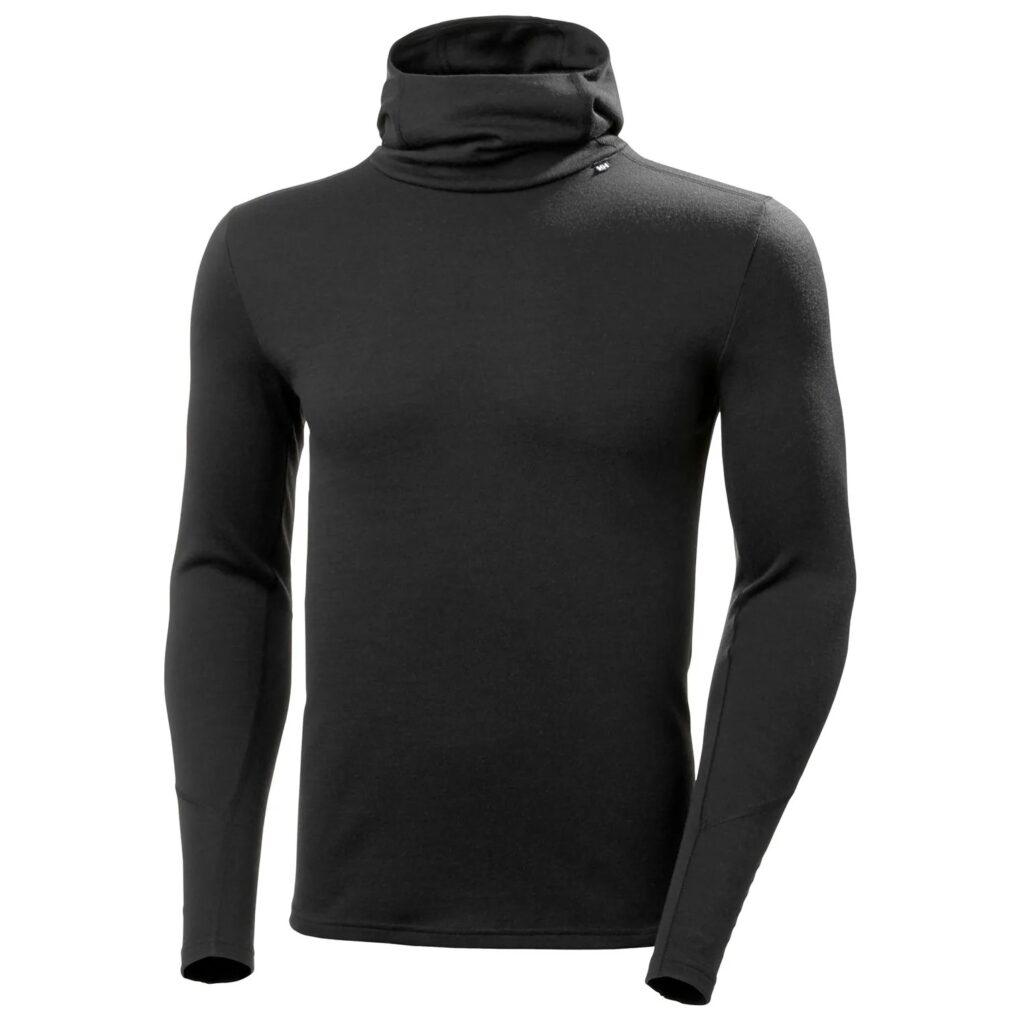 With a 100% merino wool exterior shell and 100% LIFA® sweat wicking interior lining, this form fitting hoodie is specifically designed for higher intensity sports in cold environments
Snuggly fitting hoodie blends quick drying and insulating synthetic fabric for a high performing option that equally breathes and insulates
Will fit snuggly under a waterproof/windproof layer
Snug fitting hood adds warmth and fits under a ski/snowboarding helmet
57% Merino Wool, 43% Polypropylene | 225 gsm | Athletic fit
Available at: Amazon.com
Click to jump back to the Table of Contents

BASE LAYER HOODIES
The closer a garment is to your skin, the warmer it will keep you, the more sweat it will wick, and the better it will perform. For these reasons, slim fitting and stretchy wool base layers, worn alone or under a windproof shell, are an excellent and efficient way to stay warm and dry when need and pack away unnoticeably small into a pocket or backpack later.
These are the best Merino wool base layers on the market…
Smartwool Classic 100% Merino Baselayer Hoodie
100% Merino | microns| gsm | Slim Fit | ~ Price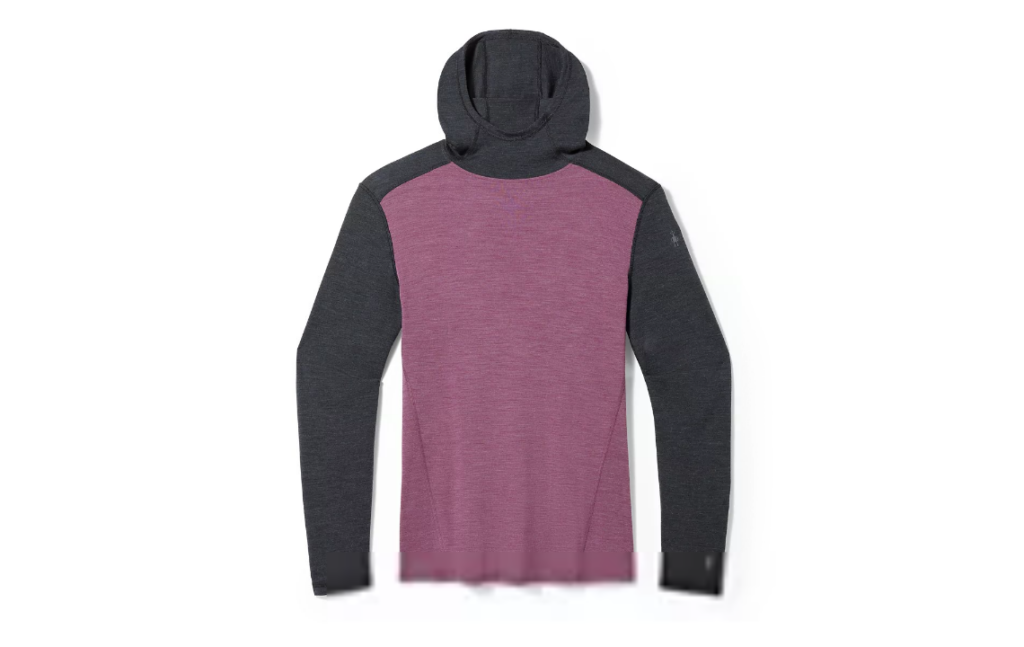 A lightweight base layer from a trust brand that specializes in wool and Merino wool. Though this baselayer definitely doesn't top our list in price form or function. Smartwool is notorious for their gear performing at a 7/10 or 8/10 (depending on preference) with nothing super special but reasonable durability. However, this base layer is an excellent option to keep in mind because it is sold in stores and you may encounter it at a discount. If you do, give it a buy and a try because, at a reasonable price, you won't be disappointed.
Available at: Smartwool.com
Click to jump back to the Table of Contents

LIGHTWEIGHT HOODIES
A good, useful wool hoodie doesn't always need to be thick, burly, and ready for the arctic. A nice lightweight Merino hoodie is essentially a functionally designed long sleeve shirt that will shade you from the sun, wick sweat away to keep you dry, and offer a little warmth as the day cools off.
If you will travel to anywhere that the temperature swings wildly between day and night and you can count on getting a lot of sun – such as the desert, high altitudes, or even the scattered showers of the tropical rainy seasons – the sun protection and light warmth of a lightweight hoodie may be a nice piece to add to your travel and adventure kit.
Ridge Merino Solstice Hoodie
87% Merino + 13% Nylon | 17.5 microns| 145 gsm | Fit | ~ $84.95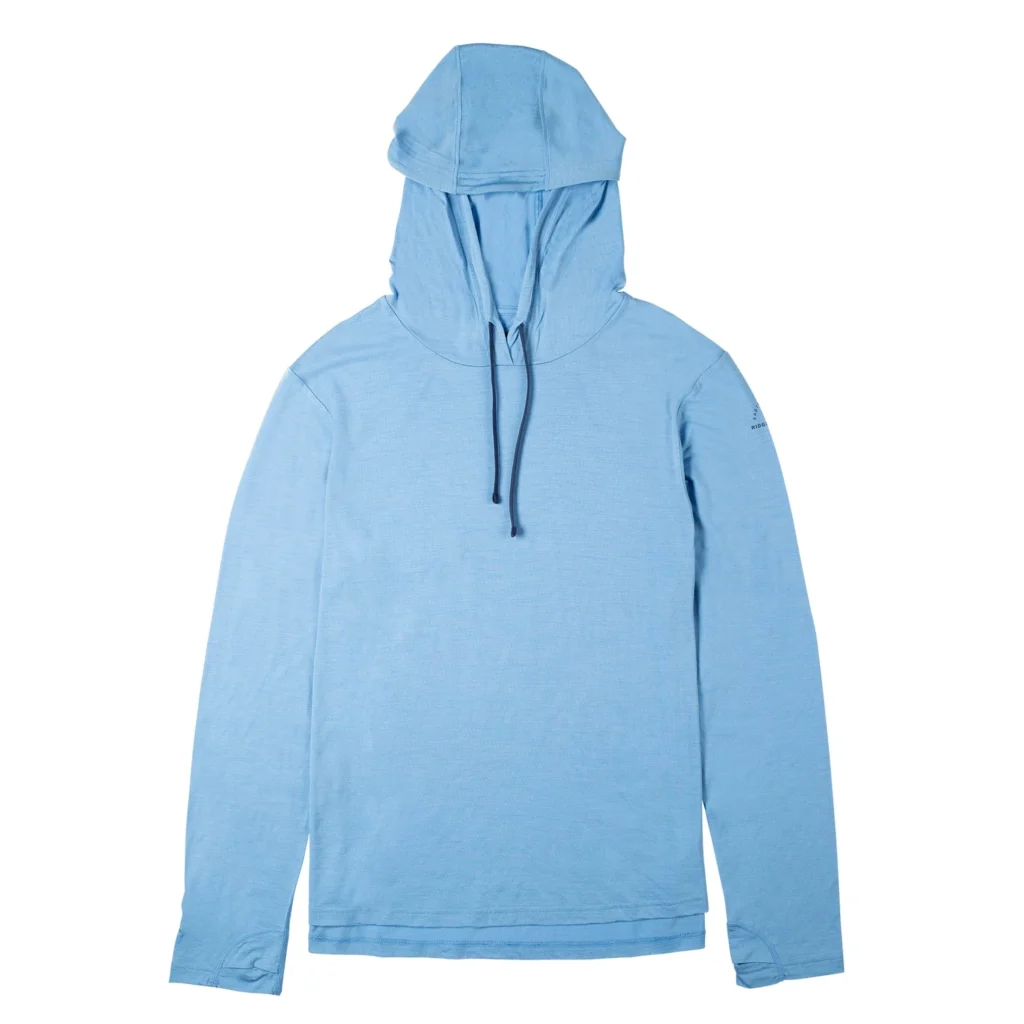 A super lightweight and loose hoodie for summer days to block the sun to essentially become a lightweight temperature regulating sunscreen layer that wicks sweat to keep you dry, blocks sun to keep you cool enough, and leverages the awesomeness of wool to keep you warm in the shady spots of your rock climb or hike.
Super durable with Ridge Merinos (m) Force core spun technology in which warm, wicking, and quick drying wool is wrapped around super strong nylon threads as the core of the knit, delivering durability and quick dry nature. The result is the long lasting durability of synthetic fabric with the warmth and performance of wool
Think of this hoodie less an insulation layer and more as a super techy long sleeve shirt for travel and adventures. It offers a little warmth on cool nights and in the heat of the sun it does its job providing shade and keeping you cool. Over a few years of travel, I highly recommend it as an extra long sleeve shirt to keep on hand.
Thumbholes
Super fine wool of 17.5 microns feels great next to the skin
UPF rating of 30+ UV protection
Intended for rock climbing and hiking, but generally a great lightweight, breathable, swaet wicking, and sun blocking protective layer.
Available at: RidgeMerino.com
Also checkout the great hoodies at Ridge merino: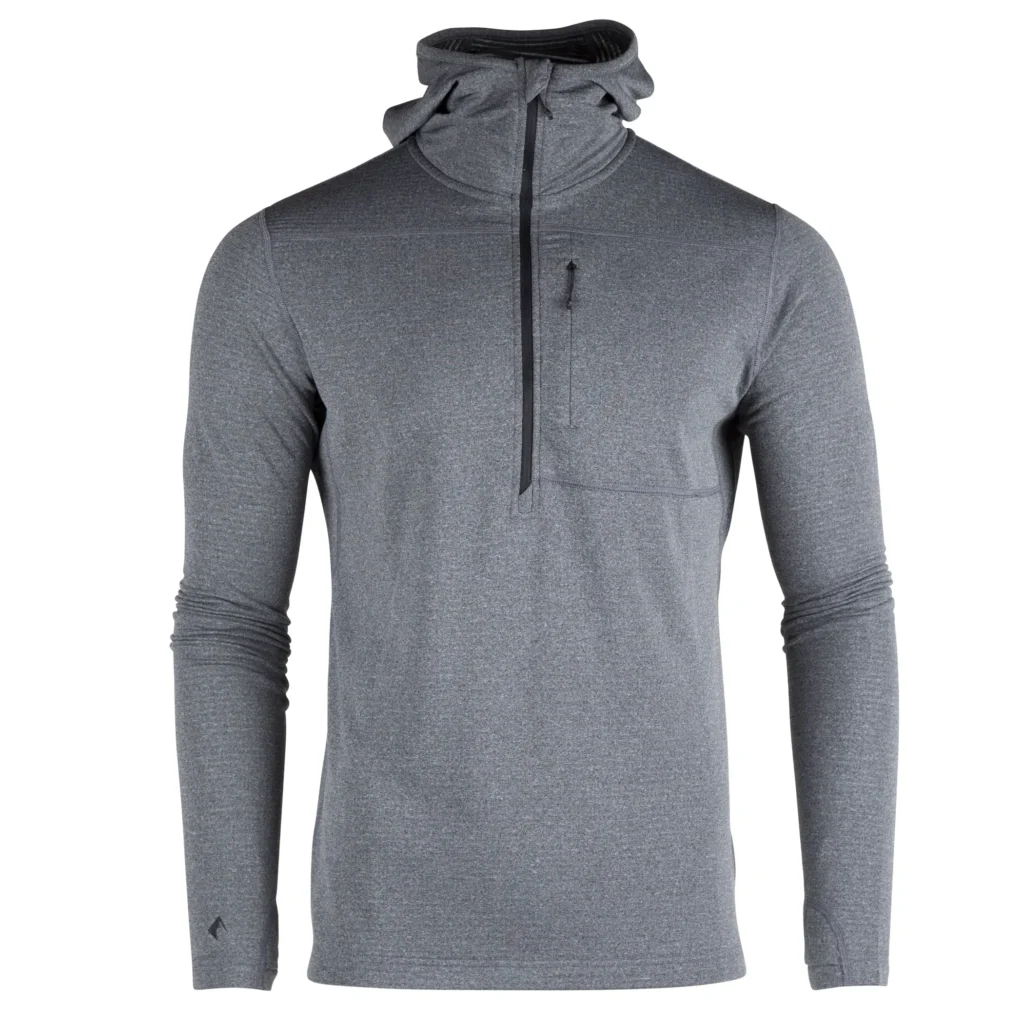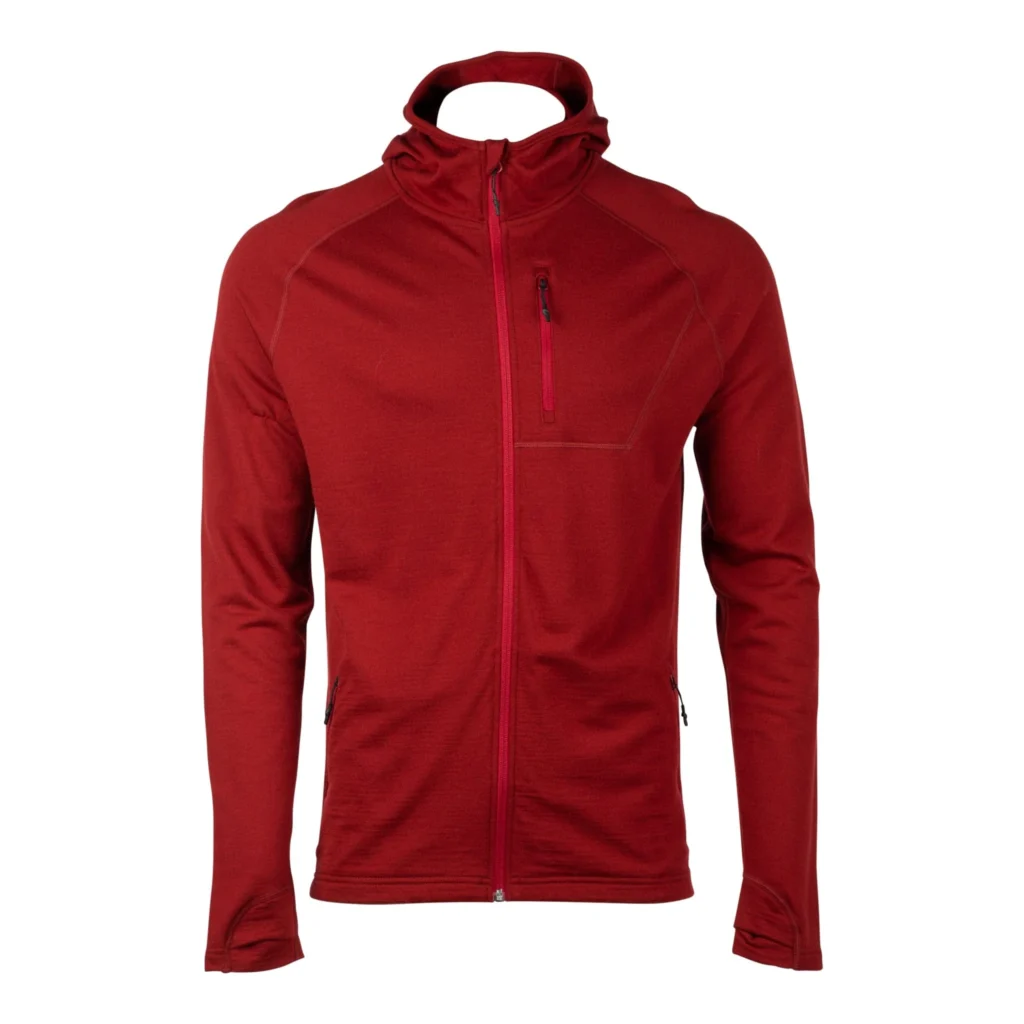 Click to jump back to the Table of Contents

Cheap Hoodies
Sometimes, we need a solid warmth layer without breaking the bank.
These hoodies are the cheapest yet highest quality and best value on the market
Woolly Henley Hoodie (Best Value, Stylish Henley Hoodie)
100% Merino | 18.5 microns| 190 gsm | Slim Fit | ~ $99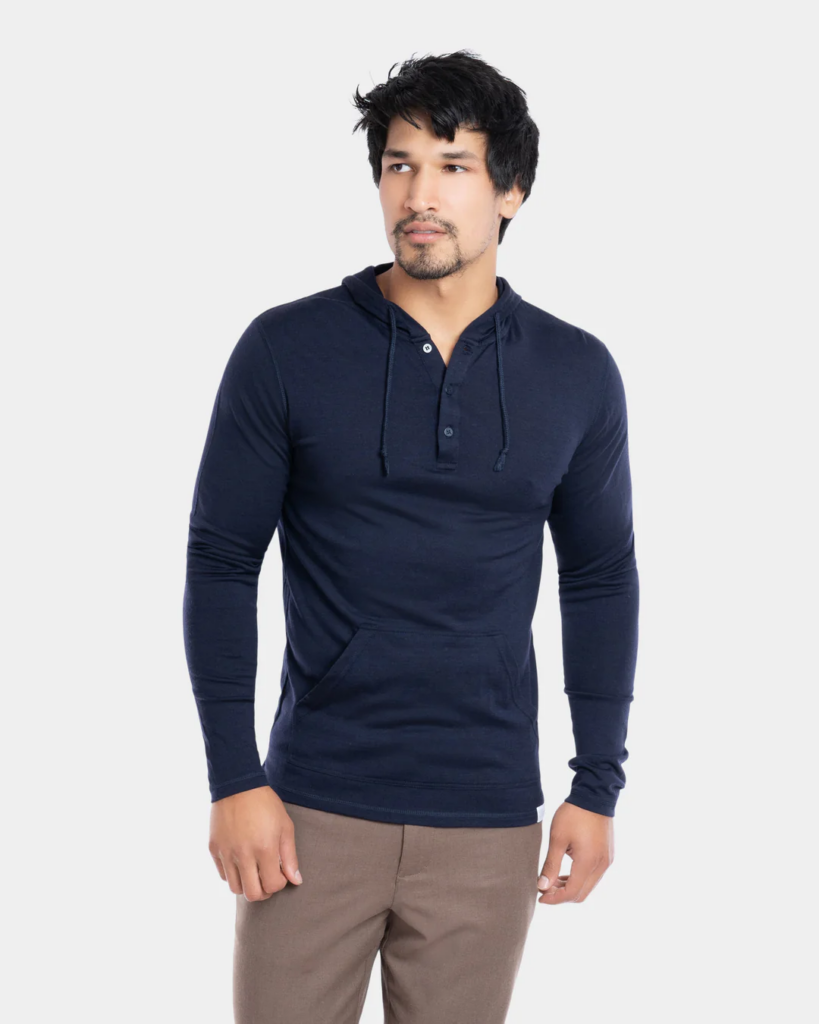 A simple, and uniquely stylish ¼ button up Henley hooded sweatshirt which brings all the function you need in a Merino hoodie, from a minimalist wardrobe and travel standpoint, at a price that makes it a good value investment,
Fashionable, versatile, stylish, and classic look withe performance function of a wool hoodie
Lightweight and soft everyday wear hoodie (although not as durable as the heavier hoodies and synthetic blends on this list)
Pros: Full kangaroo pocket, no zippers means less to break, inyeresting yet classic style
Three button closure approach to the "quarter zip" design
Available at: Amazon.com and Woolly.com **
Additionally, check out these other great, cheap hoodie options from Woolly
Woolly Pro-Knit Zip Hoodie |
100 % Merino | 18.5 microns| 250gsm | Slim Fit + Full Zip | ~$120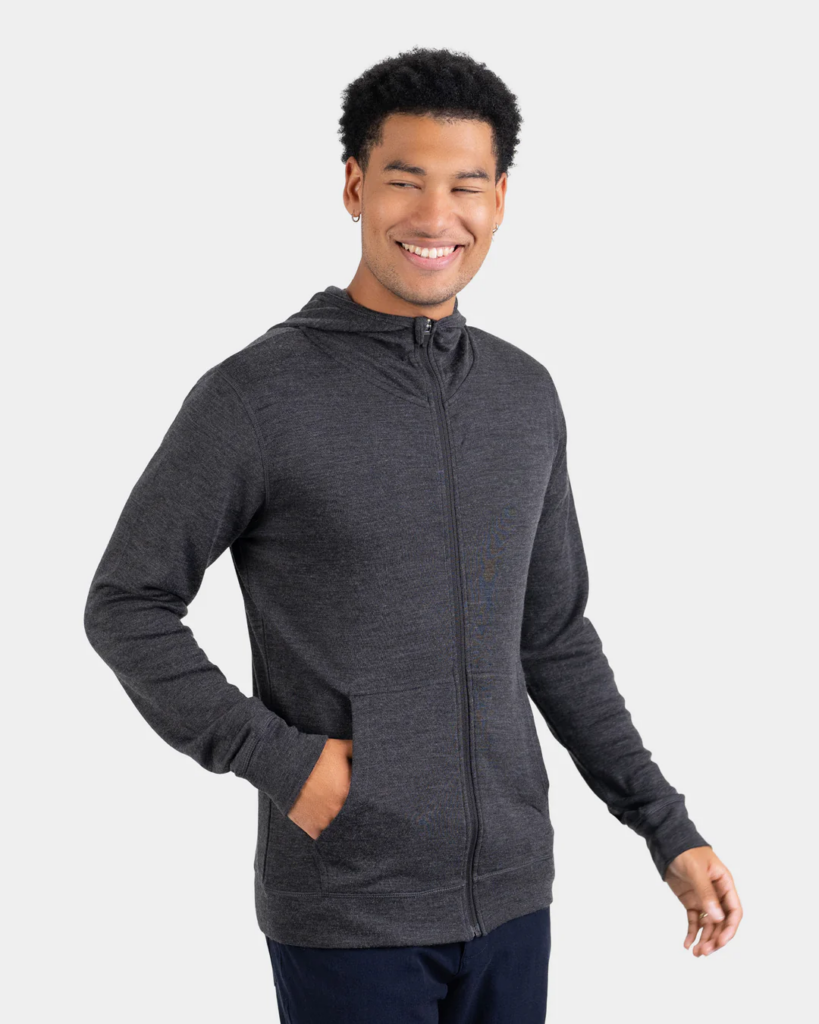 Available at: Amazon.com and Woolly.com **
Woolly Pro-Knit Pull Over Hoodie
100 % Merino | 18.5 microns| 250gsm | Slim Fit + Pullover | ~$120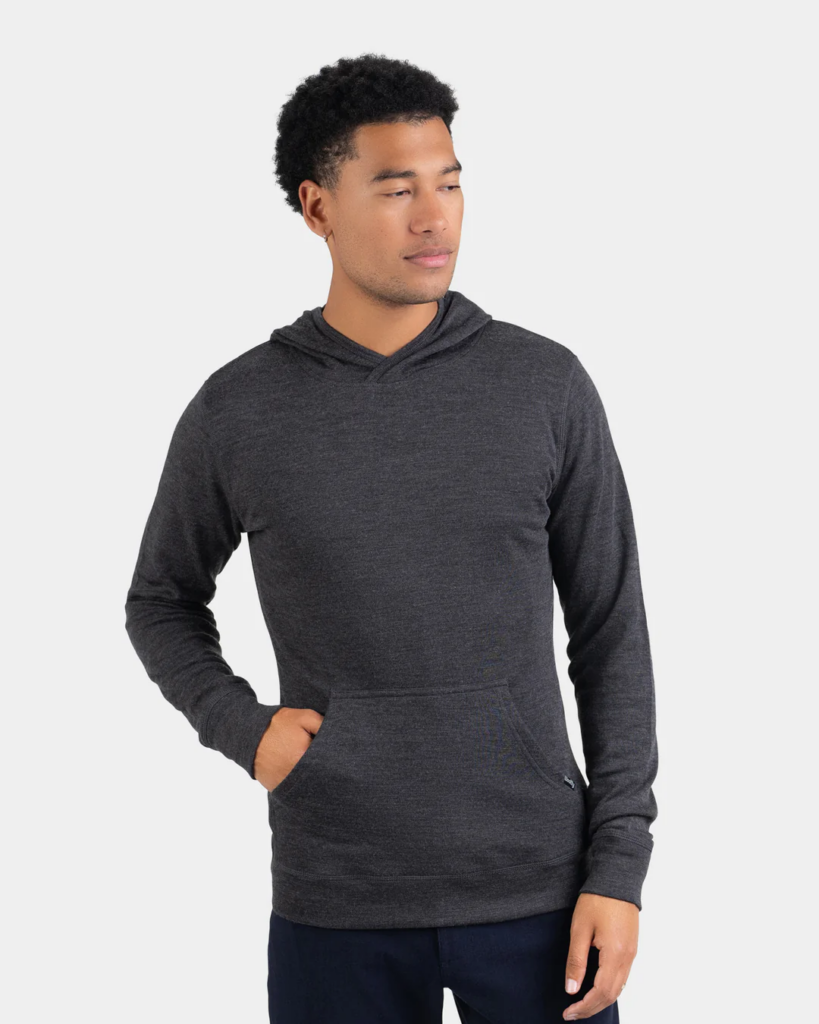 Available at: Amazon.com and Woolly.com **
Woolly MerinoAire Hoodie
100 % Merino | Lightweight | Athletic Fit + Pullover | ~$99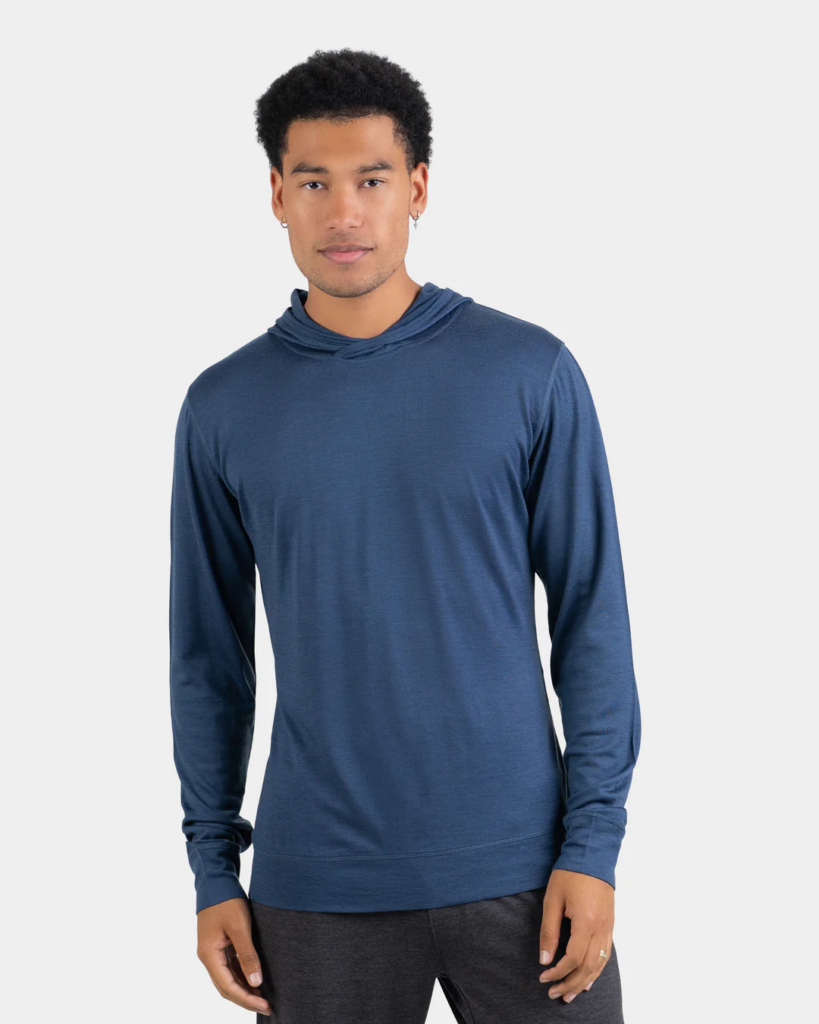 Available at: Amazon.com and Woolly.com **
Meriwool: Men's Baselayer hoodie
100% Merino | 16.5 microns| 190 gsm | Slim Fit | ~ $55
A super lightweight base layer hoodie at a very cheap price
Slim Fit
Quarter zip
Great value and budget option
100% Merino wool | 190 gsm | 16.5 microns | Slim fit
Available at: Amazon.com
WoolX Merino: Basecamp Hoodie (Pullover)
85% Australian Merino Wool, 12% Nylon, 3% Spandex | microns| 150 gsm | Slim Fit | ~ $100
A simple, minimalist, and functional lightweight hoodie for a solid price, produced by a family business in upstate New York.
If you are looking for minimalist basics for your wardrobe that wear well, take a look at the WoolX Merino Basecamp Hoodie
Available at: WoolX.com
Also checkout…
WoolX Merino: Boulder Hoodie (Full Zip)
85% Australian Merino Wool, 12% Nylon, 3% Spandex | microns| 150 gsm | Slim Fit | ~ $100
The full zip counterpart to the budget friendly Basecamp Hoodie
Available at: WoolX.com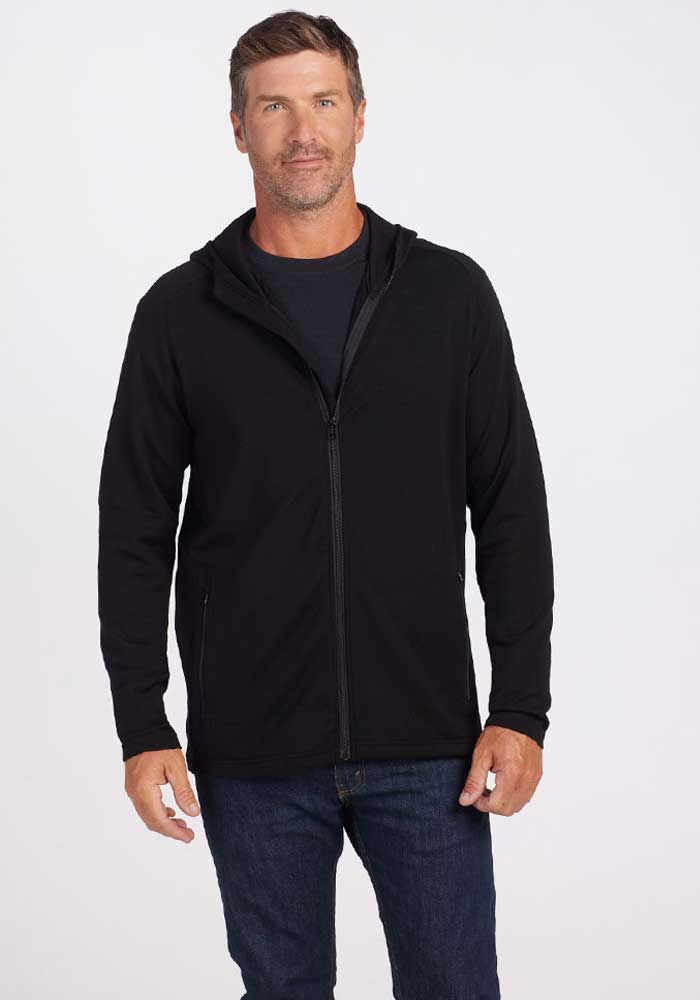 Click to jump back to the Table of Contents