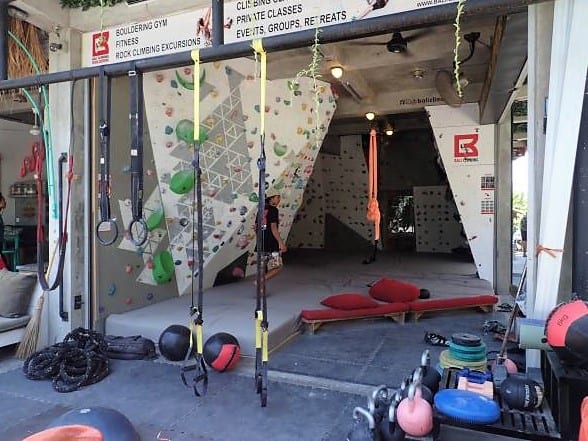 Whether you're passing through over a weekend or stranded on the island paradise of Bali for months, the electic options of Bali's coolest neighborhood make it easy to hit the gym Canggu style but still get the workout you want. The gyms in Canggu range from the predicatble yoga studios to minimalist crossfit gyms and beach bootcamps, to MMA and blended classes. Regardless of your tastes, you'll find a great option to stay fit for the adventures and skimpy beach lounging to come.
List of Gyms in Canggu Contents

An Overview of the Canggu Neighborhoods for Gym Goers
Canggu is roughly divided into three neighborhoods, each with a very walkable cluster of bars, restaurants, cafes, and of course an optional gym. Due to the varied type and scarcity of gyms in Canggu you'll likely have to venture out of your own neighborhood to find your preferred option, so it pays to know the neighborhood. Knowing the options available for type of gym, Canggu scene its surrounded by – so that after your workout you can easily find that recovery smoothie bowl or snack, or move on to a cafe to chill and take in the views – and which gyms cater to weekend vacationers versus Bali long termers will make deciding a gym much easier.
Your neighborhood choices in Canggu are the Berawa Beach area, the Batu Bolong Beach area, and the Echo Beach area, each with its own gym selection an flavor.
---
Berawa Beach area
Closer to the urbanized party chaos of Kuta is what I call "New Canggu" as coffee shops and restaurants are sprouting up faster than bamboo. In this area, you have the benefit of being a 5 minute drive to a nice beach (Berawa Beach) filled with beach shacks offering cheap cold coconuts (~$1), reliably fresh and tasty tuna poke bowls and solid smoothie bowls (~$2.50), all great as post workout snacks. Even better is the view, as the beach shacks are right on the ocean.
If beach shacks aren't your thing you'll find tons of great restaurants and cafes for food within walking distance as well as cheap (~$10) 1 hour deep tissue and sports massages to relax and recover.
If you prefer Crossfit and functional fitness, most of the gyms in Canggu for you are located here in Berawa, as you'll read below
---
Batu Bolong area
Batu Bolong is the heart of the entertainment and vacation action in Canggu and is arguably the center of nightlife as well. Luckily for you, During the day it has plenty of health friendly food and fitness options. Whereas most cafes in the area have health options (like cafe organic) Motion cafe caters to fitness, with tasty high protein breakfasts and lunches as well as hearty salads and veggie dishes. If your workout ends here, you'll have no shortage of things to do.
My favorite routine, and the routine that got me into the best shape I've been in since I can remember, was a morning surf session at Batu Bolong Beach followed by a self guided workout at my Crossfit gym (S2S) and finished off with a smoothie bowl as a recovery treat. In hindsight, having my entire routine in either Batu Bolong or Berawa would have been perfect…and I highly recommend adding surfing to your workout.
If you're looking for a beach bootcamp, yoga studio, or fitness classes, Batu Bolong will have your preferred gym. Canggu does have options in other areas, but the options in Batu Bolong are reasonably priced, rated well, and conveniently located to fit in a vacationer's schedule.
---
Echo Beach Area
Located further west in an area thats still transitioning from rice fields to hip, cafe laden village is the Echo Beach area, or what I prefer to call the "Canggu Fields". This area is dense with healthy cafes and restaurants with high protein or vegetarian options. My favorite routine in the area was, before surfing, dropping into Canteen Cafe for a coffee with coconut milk and coming back afterwards for a smoothie bowl (no extra sugar added).
If your workout ends here and you're famished, you'll find more than a handle of breakfast and lunch spots with delicious, healthy options for cheap
If you're looking for cheap or offbeat, head to the Echo Beach area home to a nice Bouldering Gym and cost effective Victory Fitness Club.

Where to hit the Gym | Canggu Edition
---
Berawa Beach Area Gyms in Canggu
---
S2S Crossfit
Crossfit Gym, Personal Training
S2S Crossfit is a tiny with just enough equipment and space to get in a good, functional workout without that pretentious vibe common in most any gym. Canggu has an interesting and eclectic mix of expats, but I always find the ones that come here to be pragmatic yet personable, smiling and saying hello and being considerate of others in the gym, without losing focus on their workout. If you're self motivated and just need a good set of tools, the open gym here is perfect. If you need motivation but something effective, the crowd and coaches during classes are a refreshing bit of support and comradery while still getting the job done.
The tools are minimalist yet perfect: Olympic bar, 45lb bumper plates, heavy kettlebells, pull up bars, rings, and even recovery gear such as bands, foam rollers, and pvc pipes. If you're the type that comes in to get in, get down, and get out, you'll like this place. The staff is very friendly as well.
Normal Crossit and cardio classes are offered from 7AM until 10AM daily and from 4:30PM to 6:30PM while open gym hours are from 10AM to 4:30PM.
Weekend hours 8AM to 10AM for classes on Saturday, and 10AM to 3PM for Open Gym sessions while Sundays are open gym from 8AM to 3PM
Classes: Crossfit, Cardio, High Intensity Interval Training (HIIT),
Rates: Monthly Membership – 1,500,000 IDP / ~$100 USD, Monthly Open Gym Membership 850,000 IPDP / ~$60 USD, daily, weekly, and "holiday fitness" packages are also available
Location: Walking distance from the main street in "New Canggu"
Jl. Raya Semat No.1, Tibubeneng, Kuta Utara, Kabupaten Badung
---
Canggu Nest
Functional Fitness, Boutique Gym, Personal Training
An accurately self named "boutique gym" that is built on functional fitness without being crossfit. This gym is a wide open space of rubber matted floors with rowing machines, heavy bags for boxing & MMA work, kettlebells, olympic bars and bumper plates, and plenty of pull bars for you to use during a class or get after it with solo.
Classes: Strength Training, TRX, Interval Training, Cardio Classes, Cardio Boxing, Personal Training
Rates: 1,600,000 monthly with unlimited classes (~$115 USD), 1,200,000 monthly for access only outside of classes (~$86 USD)
Hours:
7AM to 6:30PM daily
7AM to 3PM Saturday
8AM to 2PM Sunday
Location: Perfectly located on New Canggu's main street near Berawa Beach (3 minutes driving) and tons of healthy eating options and massages
Jl Pantai Berawa no. 105.5 level 2, Tibubeneng, Kuta Utara, Kabupaten Badung
---
Crossfit Wanderlust
Crossfit Gym
Bali's largest Crossfit box and a mega gym by Bali standards. This gym is completely dedicated to Crossfit with mounds of great equipment, two separate workout areas, and even a dedicated cafe and restaurant. The gym is located a bit of a hike (10-15 minutes) from the more popular parts of Canggu, but if you live for your workouts and enjoy Crossfit or functional fitness Crossfit Wanderlust will be worth the drive.
Classes: Crossfit, "Movement", and Metcon (Cardio)
Rates: 1,700,000 monthly unlimited pass (~$115 USD), daily and weekly options available
Hours: 7AM to 8PM daily, 7AM to 7PM weekends
Location: Still in Canggu, but a 10-15 minute scooter ride from Berawa beach and Batu Bolong
Jalan Raya Padonan No.6, Canggu, Kuta Utara, Tibubeneng, Kuta Utara, Kabupaten Badung

Batu Bolong Beach area Gyms in Canggu
---
The Canggu Studio
A mashup of a gym with tons of classes
The Canggu Studio specializes in entertaining fitness classes,offering a wide array of classes from your standard strength and toning or yoga, to dance, and martial arts. If you need variety and motivation to stay fit, this is a great place to consider
Classes: Boxing, dance, strength and toning, cardio, martial arts, yoga
Rates: 1,950K IDP (~$140 USD) for an unlimited monthly pass or roughly 100K IDP (~$7 USD) for a single pass purchased in packages of 1, 5, 10, or 15 with discounts for larger packages
Hours: 8:30AM to 7:30PM daily, 8:30AM to 12:30PM Saturday, close Sunday
Location: Tucked on a backstreet near Batu Bolong Beach making it further than walking distance but a short scooter ride to everything in Batu Bolong
Jl. Nelayan No.32, Canggu, Kuta Utara, Kabupaten Badung
---
2BEFIT Beach Bootcamp
Beach Bootcamp
This beach bootcamp is perfect for vacationers passing through as you just need to show, pay, and join in for these hour long functional fitness sessions. Don't forget the towel and water
Classes: Bootcamp style group workouts on the beach that combine strength, cardio, and interval training using sandbags, ropes, tires, and bodyweight
Rates:
Hours: Monday, Wednesday, and Friday at 7AM
Location: Meet on Batu Bolong Beach
www.2BeFitBali.com/Group-Sessions
---
The Practice
Yoga Studio
A centrally located studio that still maintains a quiet and peaceful atmosphere and takes thaeir 'practice' seriously
Classes: Hatha Yoga classes, meditation, and seminars
Hours: 7AM to 8PM
Location: In Batu Bolong, 5 minutes walking from Batu Bolong beach
Jl. Pantai Batu Bolong No.94, Canggu, Kuta Utara, Kabupaten Badung
---
Odyssey Mvmnt
Yoga Studio
A yoga studio set on the second floor of a building overlooking rice fields and also offers fitness classes to mix things up.
Classes: Vinyasa Yoga, Hatha Yoga, Yin Yoga, Interval Training, Resistance Training
Rates: $130 USD monthly unlimited pass, $11 USD single class pass
Hours: 7AM to 8PM
Location: Located at the midpoint of the "shortcut" between Berawa Beach and Batu Bolong Beach, about 10 minutes from both. If you cross between both areas, the studio is a conveniently located option
Jl. Subak Canggu, Canggu, Kuta Utara, Kabupaten Badung

Echo Beach Area Gyms in Canggu
---
Bali Climbing Gym
Bouldering Gym
A single story climbing gym with overhanging walls covered in holds and a large crashpad covering the floor. Once you're done climbing, kettlebells and olympic weights (barbells and bumper plates) are available to get in a strength workout. The single downside is sessions are only purchased daily or in books of passes and there are no monthly memberships.
Rates: 2 hour climbing gym access 150k IDP (~$11)
Classes: 1 hour climbing classes for adults and children – 200k IDP (~$15 USD)
Hours: 8AM to 9PM
Location: Midway between Batu Bolong Beach and Echo Beach and a 5 minute ride from both, but surrounded by walking distance food and drink options…healthy and otherwise
Jalan Munduk Catu, Batu Bolong, Canggu, Kuta Utara, Canggu
---
Victory Fitness Club
Just a gym. Simple. Effective. Affordable
Tucked away in the less touristy part of east Canggu is Victory Fitness. Simple, straightforward, and cheap (~$10 per month). This gym has everything you need: weights, machines, punhcing bag, etc. Be warned that the weight plates only go up to 25lbs so you'll have to stack them on, but work around that and you have a reasonable, affordable gym option
Classes: None
Rates: 150k IDP monthly (~$11 USD) or 20k IDP daypass (~$1.75 USD)
Hours: 7AM to 8:30PM
Location: A 10 to 15 minute ride from Berawa Beach and Batu Bolong, but its a nice quiet ride through rice fields and traditiona Balinese neighborhoods away from the traffic and crowds
Jalan Pantai Pererenan No.89, Pererenan Canggu, Pererenan, Mengw
---
Other Canggu Content You May Enjoy…