In this Unbound Merino Hoodie review, discover how this compact and high performing hoodie is equally suited to keep you warm, comfy, and stylish as a near-perfect mid-layer for adventurous travelers and minimalist wardrobes
For Travelers, there is a constant struggle between packing enough clothing to stay stylish, comfy, warm, and dry — and keeping bags light enough to travel easily (ideally, with just a 40-liter carry-on bag).
I had the same problem the first year of travel – taking the right gear to be ready for trekking and adventure but feeling out of place in the stylish centers of Milan, Portugal, and urban nightlife scenes.
Luckily, I've discovered a handful of perfect wardrobe pieces that pack small, keep my bag light, and keep me equally ready for the cool hikes of the Himalayas or a night of live music and wine in Lisbon.
Read on to discover home the Unbound Merino hoodie combines the high performance, adventure-ready properties of Merino wool with the urban styling of the classic full-zip hoodie. The result is a pajama level comfy yet still stylish mid-layer that will keep you as warm as any techy hiking gear through cool, rain, and snow.
---
THE QUICK UNBOUND MERINO COMPACT TRAVEL HOODIE REVIEW
UNBOUND MERINO HOODIE REVIEW

~$75

A stylish and functional recreation of a classic piece of urban wear, made more suitable for travelers thanks to an ultra-compact design (packs super small), and the natural insulative and odor resistant properties of Merino wool


The Unbound Merino Hoodie is a solid option as a mid-layer. Paired with a good waterproof/windproof shell, you'll be ready for winter travel in most places.


I love everything about this hoodie – design, comfort, packability, and function.


The only aspect I'll reserve judgment on is durability. Merino wool is an excellent yet tricky material, and an average sweater receives a lot of abrasion. I haven't had any issue with the hoodie, and I trust the Unbound Brand, but I'll wait a few more months to report on durability fully.


As is though, I would purchase the hoodie for daily life and travel

4/5




Style | Fit – Urban style looks good, accented with a modern fit



Performance – Resists odor for months, dries quickly, compared to traditional hoodies, stretchy fit goes well under a rain shell



Price | Value – $165



Comfort – Felt super soft, even to the skin, and the fit lightly hugs the body. Despite how stylish it is, this hoodie feels comfy like pajamas



Durability – TBD. Will report after three months of use

(TBD)

Material | Construction – Great quality Merino, and the knit (natural elasticity, good loft) makes use of it. Stitching is solid as well


PROS | CONS OF THE UNBOUND MERINO HOODIE
| | |
| --- | --- |
| PROS | CONS |
| Packs small – smaller than any other hoodie | Long term durability under hard use (trekking, high abrasion) TBD |
| Stylish in an urban – means you'll wear it a lot | |
| Extremely comfortable – feels like pajamas | |
| Performs well as a mid-layer under a shell (warmth, moisture management) | |
QUICK VERDICT ON THE UNBOUND MERINO HOODIE: HIGHLY RECOMMENDED FOR MOST TRAVELERS
The Unbound Merino Hoodie lives up to the title of being a "compact travel hoodie" while maxing out on the benefits of Merino wool – making it another perfect piece for travelers who want to stay stylish and travel light.
I love hoodies, especially the urban look and comfy feel. The more modern, stretchy knit construction and slim-fitting design of the Unbound Merino hoodie levels up in a practical way that makes it an item you'll use a lot and enjoy in cold climates. Between wears, it packs down so small it is worth the space you'll sacrifice.
The Merino wool finishes this off as a high-performance piece – keeping me warmer than cotton, polyester, or nylon through cool and wet weather.
Note that I haven't tested this piece for durability against abrasion, so if you plan on crawling around on your knees and elbows, wear a jacket over this to avoid holes. Additionally, follow the recommended care instructions – avoiding tumble drying, harsh detergents, fabric softeners, and bleach – to avoid destroying this beautiful piece.
The bottom line: If your travelers are 100% hardcore adventure, like a three-week trip to Everest base camp or backcountry camping in Patagonia, you may want to get a dedicated, hard use mid-layer. The same applies if you plan to roll around in a way that may abrade the knitted material. For all other travelers, the Unbound Merino hoodies package of comfort, function achieve via Merino wool, design, and style are hard to beat a make this a piece of travel gear I highly recommend.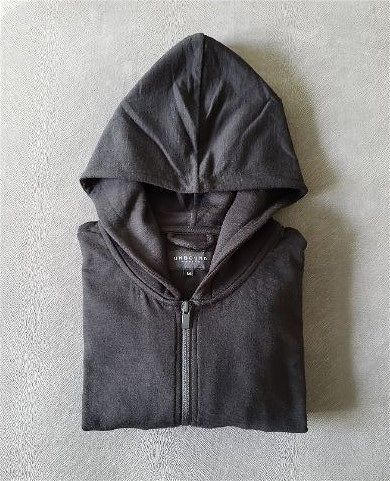 FULL UNBOUND MERINO HOODIE REVIEW
The Unbound Merino Hoodie is an awesome piece of clothing that combines style, packability, function, and design in a great way. However, as with most Merino wool gear, the price can be shocking for first-time travel gear buyers at $165. Though this price may be higher than the price of the average hoodie, the price is worth it for most travelers.
In this full review of the Unbound Merino Hoodie, we'll go over the details that make this hoodie awesome, who the who is best for, and who should aim for a different travel mid-layer
The major benefits of this hoodie are its combination of style and function. The style of this hoodie makes it a cool piece that can be worn virtually anywhere. The function of this piece makes it great for cool, wet conditions, especially when paired with a windproof/waterproof shell. Of all the mid-layer insulation options – lightweight and synthetic down sweaters, polyester quarter zips, and fleeces in general – this Merino Hoodie insulates the best while performing in all conditions and still looking good.
WHO THE UNBOUND MERINO HOODIE IS BEST FOR
THE UNBOUND MERINO HOODIE IS A GREAT MID-LAYER FOR EVERYONE BUT HARD USERS

Suppose you are a hard user and easily scrape holes in your clothes. In that case, I'm thinking about my rock-climbing days and scratching holes in jeans on the crag and sleeping on the rocky ground during treks – I might consider other, more durability-focused options such as the old school M-65 field jacket.
For the rest of us, whose shirts and sweaters don't get much friction, with proper care, this hoodie will fit well into our repertoire and last a while – please note I will update on the durability of this sweater for average use in a few months.

This hoodie looks good when worn alone and layers well under a shell for the wind and cold.
LAYERING CLOTHING: WHAT, WHY, HOW?
Layering clothing is the process of dressing with layers that can be added or removed to dress for slightly cooler or slightly warmer weather and adjusting for rainy or windy conditions.

In contrast to layering clothing, most people in daily life bring "a big coat" or a big coat that is waterproofed and then have a light jacket for other situations. Though this is possible in the normal world, when we have a huge closet, carrying so many jackets or specialized pieces of clothing (cool, very cool, rainy, snowy) isn't possible – so – travelers create the same insulation and situation and climate-specific outfit by "adding up" the clothes they have to achieve the same comfort.
Being able to layer clothing properly – starting with a base layer, adding a mid-layer for warmth, adding an additional heavier "loft layer" for colder climates (like the Himalayas), and finishing with a "shell" on top to keep the wind and rain out – depends on having the right pieces. Most travelers won't need a loft layer to be prepared for most climates, but pretty much everyone should take a "mid-layer."
WHAT IS A MID-LAYER, AND WHY IS THE UNBOUND MERINO HOODIE A GOOD ONE

Though I live daily in t-shirts in jeans, when the temperature drops below 65 degrees Fahrenheit / ~17 degrees C, I reach for a warm layer to add just a little insulation to keep me comfortable. This layer is a lightweight to midweight fleece, midweight sweater, or hoodie for most people. This layer will likely keep most people comfortable to about 50 to 55 degrees, depending on personal preference
WHY MERINO WOOL IS PERFECT FOR TRAVELERS
MERINO WOOL BENEFITS
Unbound Merino's approach brings the most out of wool via design, construction, and quality control – as some wool brands fall short. But to fully appreciate Unbound Merino's products and understand what makes them well worth the price tag, you have to understand the raw power of Merino wool.
Merino wool is the original performance fabric. In the long-term, Merino wool outperforms synthetics (polyester, nylon) and cotton by far in insulative properties, how it dries, and how it resists odor.
WOOL VS. COTTON

Over cotton, Merino wool wicks and dries sweat quickly while also insulating when wet. So, if you get caught in a cool rain, wool will still keep you warm, while cotton fabrics will suck the heat from your body. Additionally, wool will dry quickly while you wear it. Cotton, on the other hand, is very slow to dry, especially while wearing it.
Additionally, cotton t-shirts need to be washed after almost every wear, while Merino wool shirts can be worn 10 to 20 times between washes. After washing (by hand, perhaps if you're traveling), a cotton shirt could take 12 to 24 hours to dry properly, while Merino wool can dry as fast as a few hours or be worn damp and allowed to dry
WOOL VS. NYLON, POLYESTER, AND OTHER SYNTHETIC FABRICS

Compared to synthetic fabrics, Merino wool resists odor far better between washes and over its lifetime.
Synthetic fabrics will need more washes between wears (2 to 3 wears between washes for shirts) which is better than cotton. However, synthetic fabrics progressively hold more odor over time. Though the shirts may be cheap (roughly half the price of Merino), extended wear between washes will cause the shirts to stink permanently.
THE STRAIGHT BENEFITS OF MERINO WOOL

Those points above are the major benefits of Merino wool, but there are still plenty more benefits that make Merino the best performance fabric for travelers and adventurers
Keeps you cool in the heat: Merino wool will cool you in the heat thanks to sweat-wicking properties and quick-drying properties
Keeps you warm in the cool: Dry or wet, Merino wool still insulates and keeps you warm
Antimicrobial and odor resistant: Merino wool naturally resists odors allowing you to get 10 to 20 wears from a single Merino shirt between washes
Keeps you dry/Dries more quickly: Sweat/moisture wicking and fast drying nature keeps you dry whether you're coming out of a workout or out of the rain
Soft, "worn cotton" feel makes this a shirt you'll want to wear: Ultrafine Merino wool is naturally soft and not itchy, giving the softness of worn cotton from day 1
Great for "travel washes": Quick-drying (for wearing in the rain, or wash + dry overnight) (dried in minutes, absolutely within 24 hours)
Anti-wrinkle: Merino wool naturally resists wrinkles, letting you stay classy without an iron
Maintains "slimming fit" between washes: Naturally, elasticity in the knit and fabric make the clothing feel and fit like just out of the wash, even after weeks of wear
WHAT MAKES THE UNBOUND MERINO HOODIE BETTER THAN OTHER HOODIES?
Compact: More compact than other hoodies, better for traveling light, and built for minimalism
Urban Style: Functional enough for the outdoors, stylish enough for the city
High quality and ultrafine Merino Wool

Tech/performance traits of Merino wool: Odor resistant and lots of warmth even when wet

Soft as a worn-in cotton tee shirt

Breathable releasing sweat vapor and preventing overheating

Extremely effective temperature regulation (warm in the cool and cool in the heat)
Fast-drying perfect for washing in the sink and drying overnight

Anti-microbial and odor resistance allows for long wears between washes

MY EXPERIENCE WITH THE UNBOUND MERINO HOODIE
Here's a snapshot of my experiences wearing the Unbound Merino Hoodie over the last two months:

Cool night rides through the Bali high country
Nights out on the town
General daily wear as a "comfy layer" when moving from the Southeast Asian heat to heavily air-conditioned movie theaters and malls
Worn as the "comfy layer" on cool airplane rides
This Merino wool hoodie has performed very well during these two months of testing, with my favorite traits being how compact the hoodie is followed by its softness, fit, and style.
When folded is so compact, the hoodie's size only takes up the same space as a couple folded t-shirts, making it easy tote in a backpack daily and perfect for minimalist travelers and one baggers.
Merino wool's natural stretch and the hoodie's high-quality knit give the hoodie a slim fit that feels great and adds to its style. Also, the skin-hugging fit makes the hoodie easy to wear underneath a rain shell or jacket.
The hoodie was warm enough to be comfortable during cool nighttime motorbike rides and under a jacket made for a lot of warmth
The softness of the Merino wool in this sweater is fantastic right out of the box and makes it incredibly comfortable and easy to wear.
My only unanswered question about this hoodie is durability. I will report back in a few months as to how the hoodie holds up to normal wear. I anticipate that with proper washing and care, the hoodie will last quite a long time. However, I would be wary of wearing the hoodie for any activities that would involve lots of friction or abrasion. City dwellers should get a lot out of this sweater; however, if I planned to keep this sweater in mint condition, I would wear it under a rain shell or jacket if I was trekking and expected to walk through trees or bushes and between rocks
The bottom line: The Unbound Merino hoodie is super comfy and kept me warm and stylish through plenty of daily wear and adventures.

WHO IS THE UNBOUND MERINO HOODIE BEST FOR?
URBAN DWELLERS AND MINIMALIST TRAVELERS
For travelers, the Unbound Merino hoodie makes a stylish, warm, and extremely comfy mid-layer that packs down tiny, making it perfect for one bag and carry on only travel. Pair the hoodie with a good jacket, like the Bluffworks Field Jacket or the Patagonia Torrent Shell, and you'll be covered for the coolest climates and places.
However, if you plan on crawling in the dirt or trekking heavily with a heavy pack, either use your jacket over the hoodie to protect it from abrasion or opt for a tougher mid-layer – like the M-65 field jacket liner or polyester fleece.
For minimalists aiming to build a small yet multi-functional wardrobe, the Unbound Merino hoodie is perfect for city dwellers – warm, stylish, comfy, and versatile. City dwellers have less of a risk of ripping a hole in the knit or breaking down the hoodie due to abrasion and, as a result, will get a lot more use and utility out of the bag than travelers.
FINAL THOUGHTS ON THE UNBOUND MERINO HOODIE
Merino wool is the perfect material for travelers' base layers and insulation layers. Using Merino wool in one of the most time-tested pieces of clothing – the hoodie – is a no-brainer to achieve maximum style and function. Unbound Merino brings it all together with great materials, high-quality construction, and design cues that make this hoodie even more wearable than any I've owned.
I highly recommend the Unbound Merino hoodie as a mid-layer for travel and a stylish, warm layer for city life.
[adinserter block="2″]