Surfing is an amazing experience. Whether you've been at it for days, months, or years, the experience of catching waves is unlike any other activity. It's healthy, cheap, builds an amazing body, gets you outside, and (if you're a traveler) can take you to some amazing places.
One of the few things better than a great surf experience and learning to surf, is surfing in an exotic, adventurous, and new destination. With the new Olaian surfboard , it's possible to find a good, cheap, and fun surfboard virtually anywhere in the world.
In this Olaian Surfboard review, we'll help you find the best Decathlon surfboard for your surf experience and surf travels.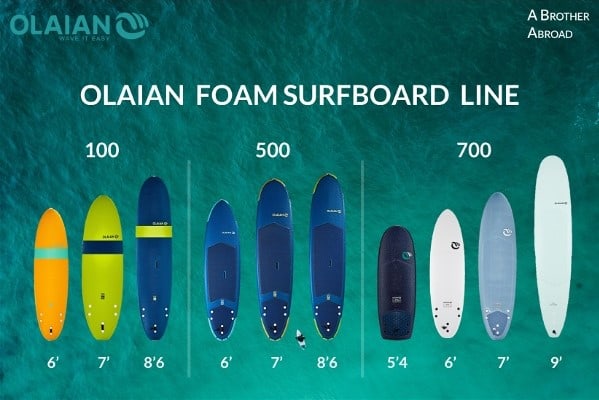 Unfortunately in learning to surf and surf travel, the cost of flying around the world for a surf camp or the hassle of bringing a delicate board to adventurous destinations – like Sri Lanka, Morocco, and the Philippines – can make the experience more costly and annoying than it is worth. That is, until now. Thanks to the new Olaian foam surfboards.
Decathlon's Olaian foam board series presents some great options. These surfboards aren't just perfect for beginners aiming to learn to surf at a home break. The Olaian surfboards are also perfect for travel – they have just enough performance, are tons of fun, and won't get dinged or cracked on Air Asia and United.
Over the past two years shifted my life from travel to surf travel, and the Olaian series has been the perfect addition. Whether you're dropping into Sri Lanka, Malaysia, or Morroco, there's absolutely a Decathlon (and a cheap yet fun board) in reach. Read on to discover why these quirky little boards are beyond perfect for surfing, travel, and all around fun in this Olaian Surfboard review.

CONTENTS OF THIS OLAIAN BRAND DECATHLON SURFBOARD REVIEW

WHAT IS OLAIAN?
INTRODUCING THE FOAM DECATHLON SURFBOARD LINE
Olaian is the new surf brand developed by Decathlon sports stores, and delivers a full line of foam and hardtop surfboards, wetsuits, rash guards, and everything else you need to get surfing. All of the Olaian gear comes out of the dedicated research and testing center in Hendayer, on France's surf break rich Basque coast.
The Decathon Olaian team at their global design center is pretty impressive and files 10 patents per year:
100 engineers, designers, model makers, prototypers and products managers.
1000 prototypes created every year
Year round, the team designs, tests, and iterates surf gear in the global design center labs and tests them next to customers on France's local breaks next to customers before iterating again.
After all of that R&D, the final products are some awesome and affordable pieces of surf gear that are available around the world.
In this guide, we'll dig into Decathlon's foam surfboard line.

WHAT MAKES THE OLAIAN DECATHLON FOAM SURFBOARD SERIES SO GREAT?
The foam surfboards in Decathlon's Olaian surf brand are an excellent option for new surfers, travelers, and intermediate surfers looking for a low-risk board for playing in short break for these reasons:
Price & Value: Half the price of other performance foam surfboards, quarter the price of hard tops
Performance: They catch, turn, and ride great for foam surfboards, and for the price
Function: 500 and 900 series great for progressing beginners, travel, and fun shore break
Global availability: There's a decathlon in every country with a good break, making it easy to find an Olaian surfboard anywhere it matters
Portability: Lightweight and soft, these boards are easier to transport (especially 7′ and 6′) with little risk of damage
---
PRICE: GREAT VALUE & PERFORMANCE FOR $99 TO $250
Olaian's foam surfboard's range from $100, in the play and ultra-beginner ready 100 line, to $250 for the 500 and 900 lines, designed with more performance and durability in mind making them great for progressing beginners and intermediates.. This pricetag ($250 at the top end) makes a solid foam surfboard suitable for most levels and available to everyone.
Not only does this make surfing affordable, but it also makes it low risk. Instead of buying a $700 to $1000 surfboard and risking damage on a flight or road trip, that $250 for almost as much fun makes for a much less stressful investment
---
PERFORMANCE: CATCHES AND RIDES AS GOOD AS MANY HARD TOP FUNBOARDS
I've ridden a handful of "foamies" and soft top surfboards and though they're great (and recommended) for the first few lessons, they quickly feel heavy, hard to turn, and mushy making them less fun overall.
The Olaian 500 and 900 series delivers some great performance, even relative to many hard top funboards I've ridden.
Read my Olaian 900 7′ Review and you'll see I had a ton of fun because of how well it performed. These boards catch waves insanely easily (making them great for beginners) and thanks to a more performance oriented shape (rocker, nose, and tail) they ride and turn in a way that makes it fun to surf anything from ankle biters to shoulder high, not just whitewater waves pushing you to shore.
---
FUNCTION: PERFECT FOR BEGINNERS, TRAVELERS, AND INTERMEDIATES (FOR FUN)
Soft top, foam surfboards are generally great for two reasons
Foam surfboards less likely to hurt you when they (inevitably) hit you
Foam surfboards are less likely to get damaged or dinged when they're dropped or packed improperly
The "safe for you" aspect makes them great for beginners but also fun for intermediates, if you're surfing in shallow water or close to the shore, where if you take a tumble and aren't underwater the board is likely to smack you if you don't get out of the way.
They same softness that is safe for you is actually safer for your board too – when traveling. Airlines don't put that "fragile" sticker on to protect your surfboard, its actually a disclaimer saying that if they break it (which they will eventually) its not their fault. As long as you have a cover on your foam surfboard, its unlikely to get damaged. One kid said that on a long flight his Olaian surfboard actually got bent – he just left in the sun for a day and it returned back to its old shape, good as new.
---
GLOBAL AVAILABILITY: THERE'S A DECATHLON IN EVERY COUNTRY WITH A GOOD BREAK, MAKING A GREAT SOURCE
In some of the best places to surf, like Sri Lanka and the Philippines, finding a good surfboard to rent will either be difficult or costly.
With Decathlon sports store locations in all of the countries that are legendary for their surf breaks, you can simply show up and buy a relatively cheap board for your adventure.
---
So now that you're sold on the Olaian surfboards, let's look into the line a bit further to see which Decathlon surfboard best fits your need and your adventures

OLAIAN SURFBOARDS LINE OVERVIEW
The Decathlon Surfboard line is divided into 3 tiers, making it easy to identify the level that suits your needs – from there, simply pick the size that fits you
---
OLAIAN 100 SERIES FOAM SURFBOARDS
The Olaian 100 series is a great, low commitment beginner board. Think of it as an oversized boogyboard to have fun on for the rare occasion that you go to the beach, ideal for families and kids.
The simple "100 Tribord Board" is the lowest commitment foam surfboard I've seen, at only $99.
Each board includes a leash and silicon wrapped plastic fins (for safety) designed for foamboards.
Sizes in the Olaian 100 Series are as follows: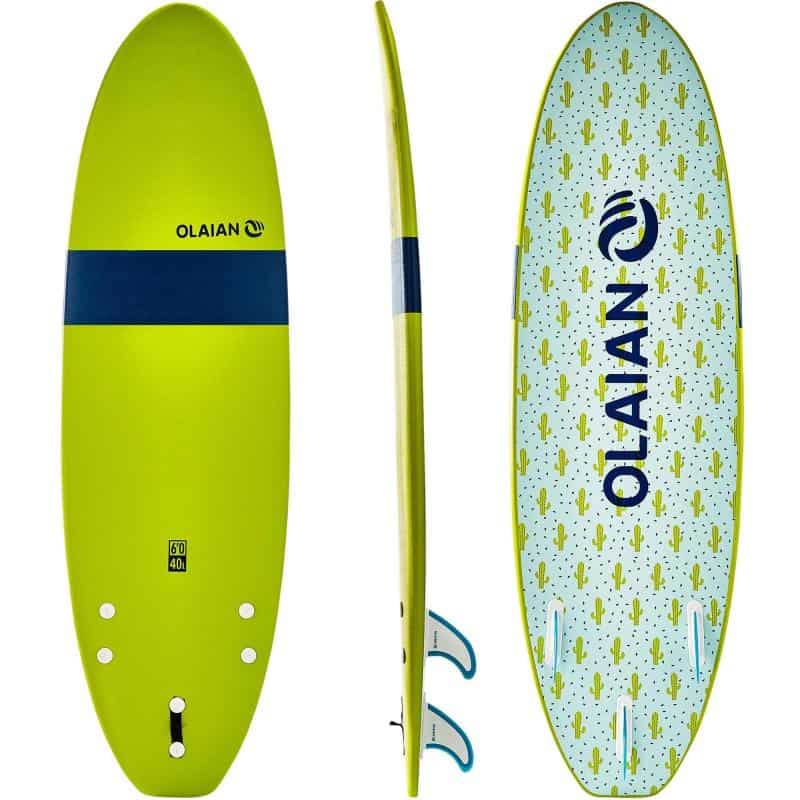 If you plan to surf very often or want a board that will last through your progression, opt for the more durable 500 series

OLAIAN 500 SERIES FOAM SURFBOARDS
If you plan to get serious about surfing, the 500 series is a great starting point. More durability and performance than the 100 series make this line ideal as boards that will last through your progression
Additional foam wrapping the tail and nose as well as a reinforced core add durability over the 100 series.
Additional foam mats on the tail and center provide grip without the need of wax
Includes three "foam surfboard fins" and leash
7 ft, (60L) – New surfers up to 60kg
8 ft, (60L) – New surfers up to 80kg
8 ft 6in, (60L) – New surfers up to 100kg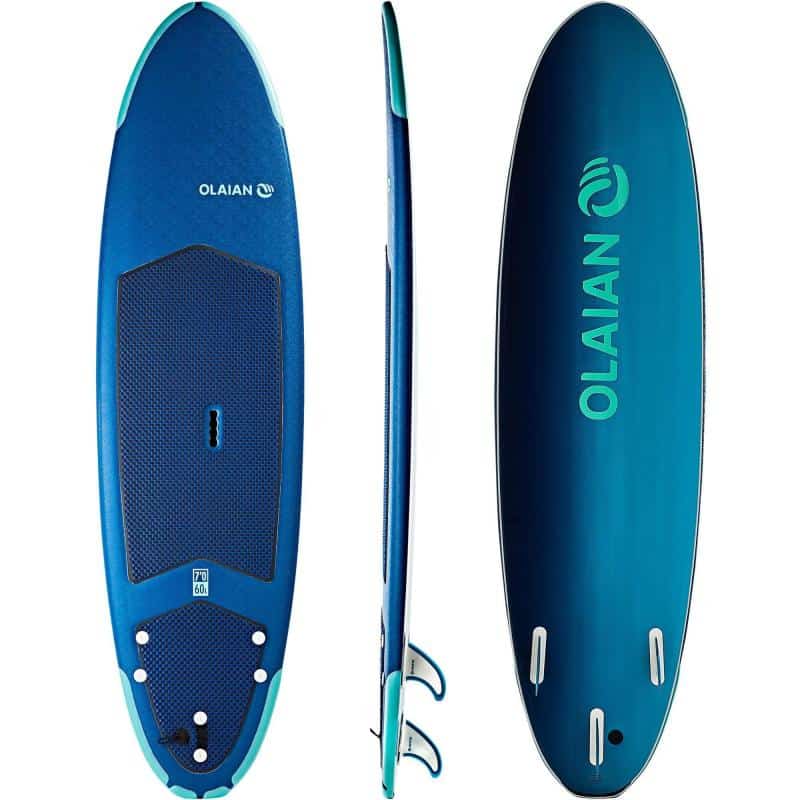 ---
OLAIAN 900 SERIES FOAM SURFBOARDS
If you're an intermediate surfer, or a progressing beginner shopping for a more "long term" board, the Olaian 900 series is what you want.
The 900 series adds shorter and longer foam surfboards with "FCS compatible" fin boxes, allowing you to add "real" fins for a more reactive, performance ride.
The wider lineup of surfboards (short and long) make it easier to find a soft top surfboard suitable for your ride style and the fun you're looking for
---
OLAIAN 900 SERIES SURFBOARD SIZES:
The Olaian 900 line is my favorite for fun and travel and I recommend these boards most. Read on for a surboard by surfboard review of the Decathlon Olaian 900 series.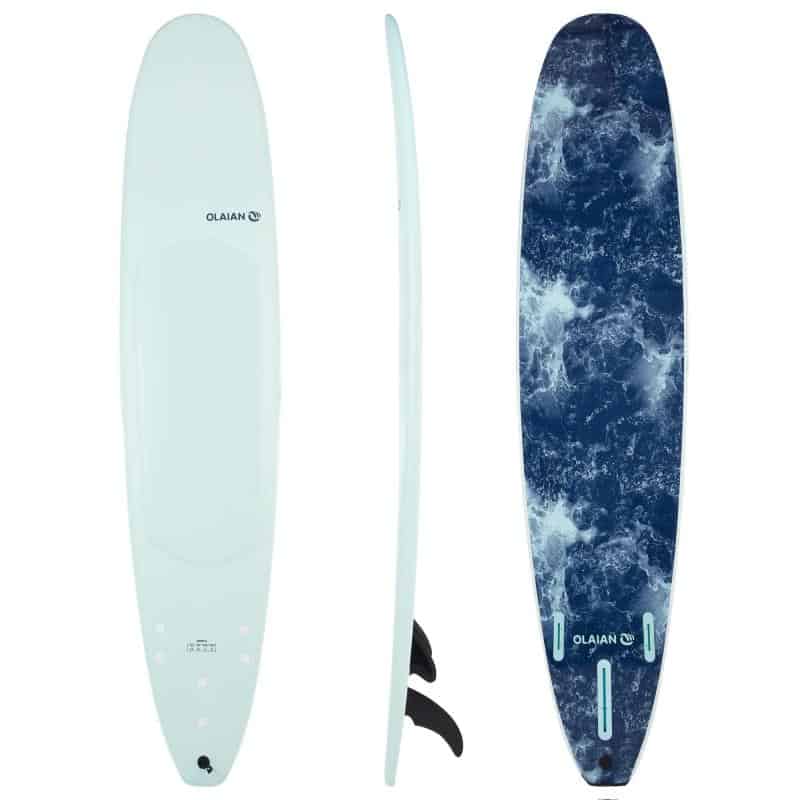 ---

THE OLAIAN 900 SURFBOARD SERIES REVIEW
Generally, the 900 series is the one I recommend the most, whether you're a beginner surfer, intermediate surfer, or a traveler with a surfboard. Here's why…
---
OLAIAN 900 9' LONGBOARD
3x wood stringer, 3 Fins (2+1 – 2xFCS, 1xLongboard Fin) ($350, $250)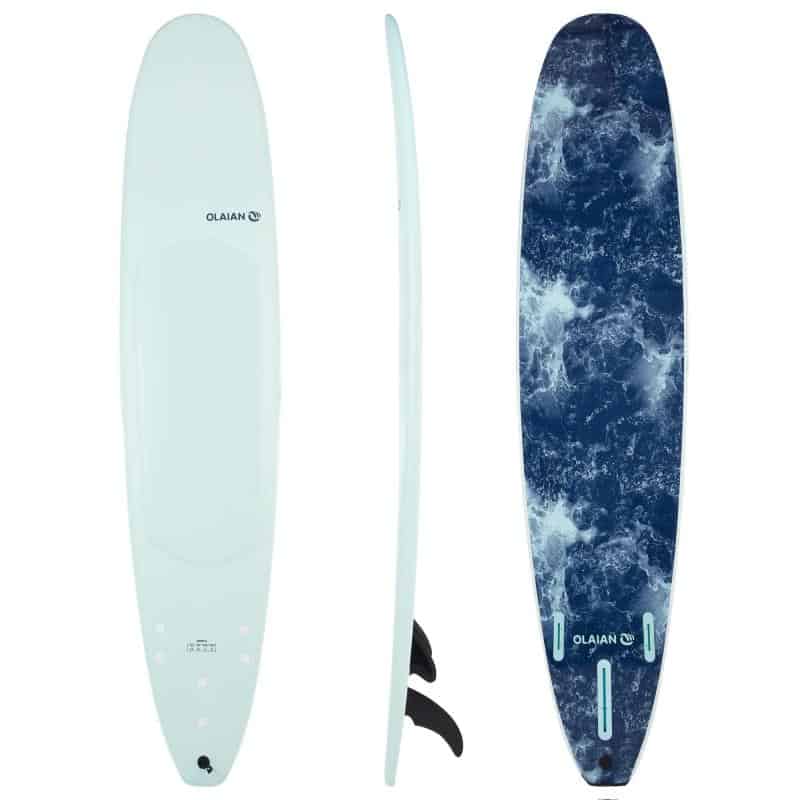 For beginner surfers, this foam surfboard is hard to beat. The classic noserider, longboard shape with 100L make it easy to paddle and catch waves on and stable enough to ride. Once you do learn to surf, you might discover that longboarding is all the fun you need in which case it'll be a long time before you outgrow it.
The 2+1 fin setup allows for a true longboard fin, for better maneuverability and control over most foam boards, and two "side-biter" FCS I compatible fin boxes, to use real fins on as well.
For experienced surfers and longboarders, the Olaian 900 9ft adds up to a travel friendly longboard surfing option, or a cheap option to purchase mid travels.
Dimensions (inches): 9′ X 23″1/2 X 3″
Dimensions (cm): 275 x 59.7 x 7.6
Weight: 8.2kg / 18lbs
---
OLAIAN 900 7' FUNBOARD (60L)
Double wood stringer, 3 Fins (Thruster, FCS compatible) ($269 , $160)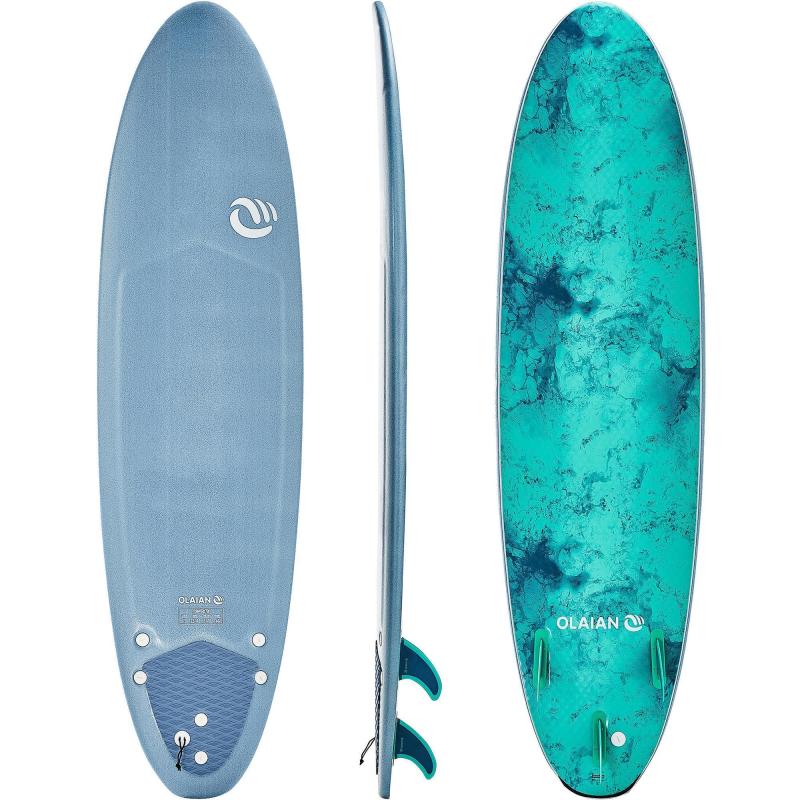 For more experienced surfers and bigger conditions, this foam surfboard is a great option. Lightweight yet voluminous, this board is easy to maneuver, easy to paddle, and easy to catch with. I was actually still able to duck dive it (but with the longboard duck dive technique, not the shortboard duck dive technique).
As an all-around surfboard, for smaller and bigger conditions, this is a great option. Though 7ft may be pushing it for travel, you'll be ready for most conditions
Dimensions: Inches 7″ x 22 5/8″ x 3 5/8″ |
Dimensions (cm): 215 x 58.7 x 9
Weight: 5kg / 11lbs
Click here to read the full Olaian 900 7ft foam surfboard review
---
OLAIAN 900 6' SHORTBOARD (46L)
Double Wood Stringer, 3 Fins (Thruster, FCS I compatible) ($235, $150)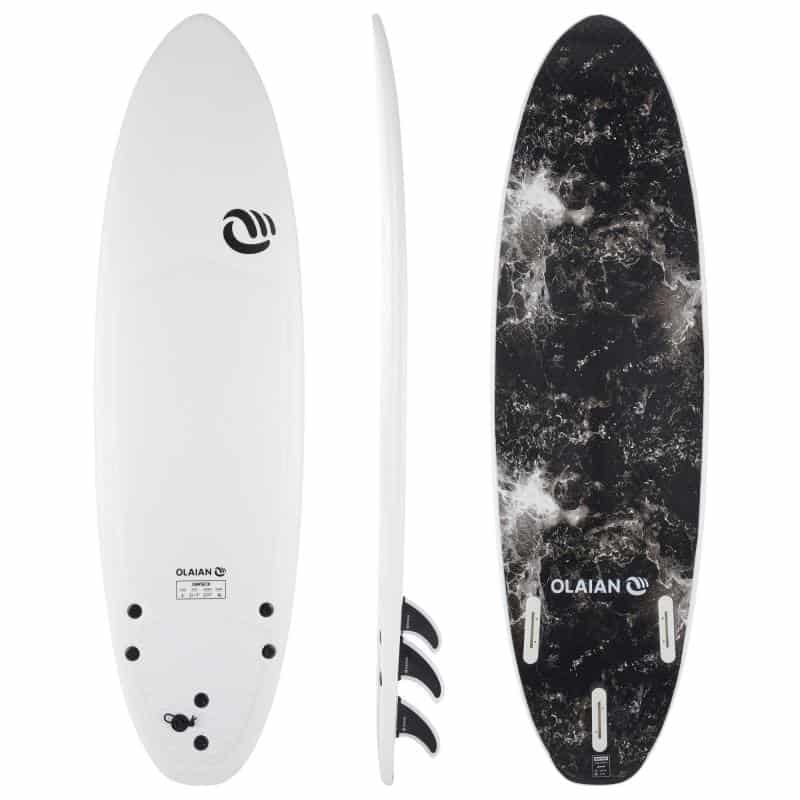 For the experienced surfers and shortboard crowd, the 46L, 6ft Olaian foam board delivers the same upgraded performance, FCS I fin boxes, and a more travel-friendly board (shorter)
Dimensions (inches): 6″ x 21″ 1/8 x 2″ 3/4
Dimensions (cm): 184 x 54.8 x 8.5
Weight: 3.3kg /
---
OLAIAN 900 5'4″ "MINI SIMONS STYLE BOARD
Double Wood Stringers, 2 Fins (Twin, FCS I Compatible) ($229, $150) (44L)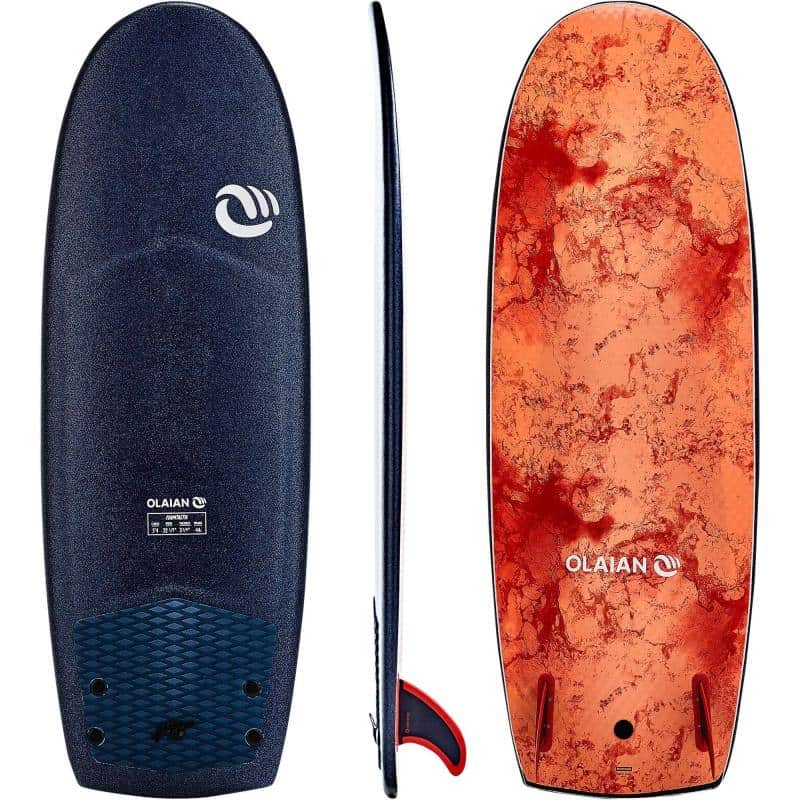 For the true shortboarders that love to play in the shore break, the Olaian 900 5'4″ delivers the foamboard version of the fun and performance that comes with a Mini Simmons, but with a lower pricetag and more portability. Fast and loose, these boards may be a great option for you.
Dimensions (inches): 5'4″ x 22 1/2″ x 3 1/4″
Dimensions (cm): 164 x 58.2 x 8.2
Weight: 3.8kg / 8.4lbs

Which size surfboard should you get?
Now that you're familiar with the Olaian surfboard line, which should you get? Depends on your experience what you want to do, but here's a great guide.
---
Beginners & New Surfers
Intermediate Surfers: Looking for a fun beater board & travel board
Shortboarder
Longboarders
Travelers

WHAT NEXT?
Now that you have a potential surfboard in mind, what next? Check out this great content to learn how to surf, find the surf destination for you, and plan your own surf & travel adventure.