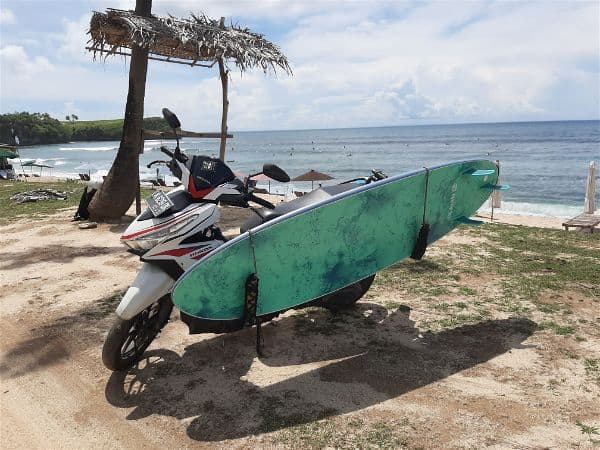 Surfing is an amazing experience. Sitting atop a peak in the ocean as it thrusts you towards shore is an exciting yet chill rush that's unlike many other experiences in life. Better yet, it's healthy, (fairly) cheap, and takes you some of the most beautiful places (and beaches) on our planet. Thanks to the new Oliana 900 Decathlon surfboard series, it may be even more possible to travel, surf, and explore with a decent surfboard (for cheap) that won't get mangled in the travel process – or the process of learning to surf.
One of the major hassles with learning how to surf, and surfing in general, are surfboards – buying them, transporting them, and finding a good one. These interesting pieces of art can be at once a prized possession and the bane of a surfer's existence. Many good surfboards are not only expensive (costing upwards of $1000 USD) but also delicate, getting dinged just taking them out of your house or even worse, as luggage checked underneath an airplane. Therein in lies the two biggest conundrums – finding a surfboard for learning to surf and progress and finding a surfboard that will survive the rigors of travel (without risking $1000+ in the process).
Luckily a great solution just arrived.
The Olaian brand Decathlon surfboard series is a full line of foam surfboards ranging from learner boards for beginners (the 100 series), to well shaped foam boards for intermediate surfers to travel and have fun with (the 900 series). Foam noserider longboards, funboards, and even foam shortboards – all ranging from $100 to $250 with tons of features that make them great "fun surf" tools, and perfect for carefree travel.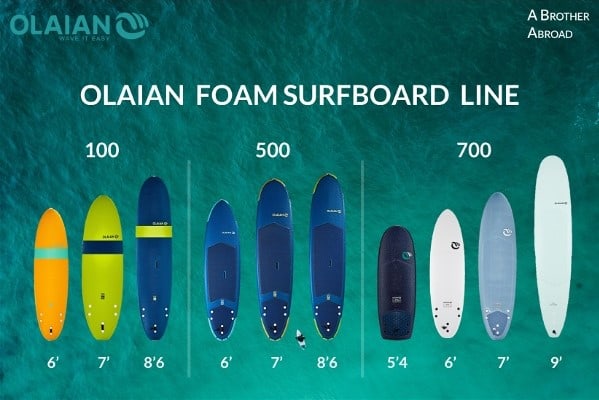 Do I have your attention? Great!
Read on to discover your potential next surfboard for travel in this Oliana 900 7' Decathlon surfboard review and an overview of the entire Decathlon Oliana surfboard line.
---
Note: Some of the links in this article may be affiliate links

CONTENTS OF THIS OLAIAN 900 7' FOAM FUN BOARD REVIEW

MY TRAVEL SURF STORY: IT ALL STARTED IN SRI LANKA…CHASING SURF IN A TUK TUK
Last year, after a year surfing on Bali I needed a new adventure, and two specific adventures fit the bill perfectly. Surfboards and tuk tuks.
The first adventure was renting and driving a "tuk tuk" across Sri Lanka, seeing animals and amazing beaches along the way.
The second adventure, was ending the first adventure (the cross-country tuk tuk ride) at legendary Arugam Bay, in Sri Lanka – a tiny beach town so short you could walk its length, with an epic point break that gave barreling 500 meter long rides in the bathwater warm Indian Ocean.
The only problem, was the surfboard. Boards for rent in Sri Lanka look like they've seen war and barely survived. Instead of wasting such a great ride (the wave) by renting a subpar board…I decided to bring my own.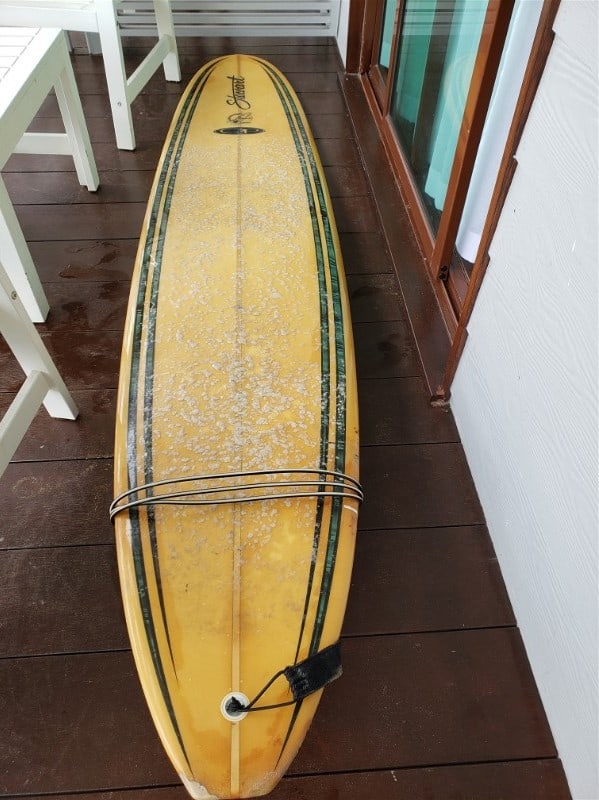 As great as that point break was at Arugam Bay, the hassle of bringing my beloved, and delicate, surfboard was a pain. From the dings and cracks that air Asia delivered by tossing my board around (despite the fragile sticker) to the monkeys (literally) that decided to jump on my board as it sat in the rack atop my tuk tuk, the adventure was absolutely worth it, but I wish there was a better option in terms of traveling with surfboards – a board with enough performance to make it worth lugging around, and enough forgiving durability to last through travels without being double wrapped and carried by a butler name Winston for the entire trip.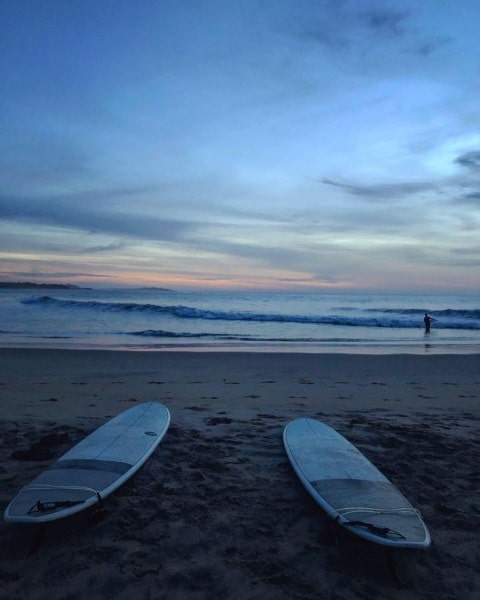 All of a sudden, my prayers were answered when I stumbled on the Decathlom Surfboard line, Olaian 900 surfboard during a surf trip to Cherating, Malaysia. The new travel surfboard of choice – a 7 foot foam board with a bit of rocker, 3 fin thruster setup, and a rounded nose and tail that balanced easy paddling with fun turning. This board pretty much seemed like the perfect funboard in softop version.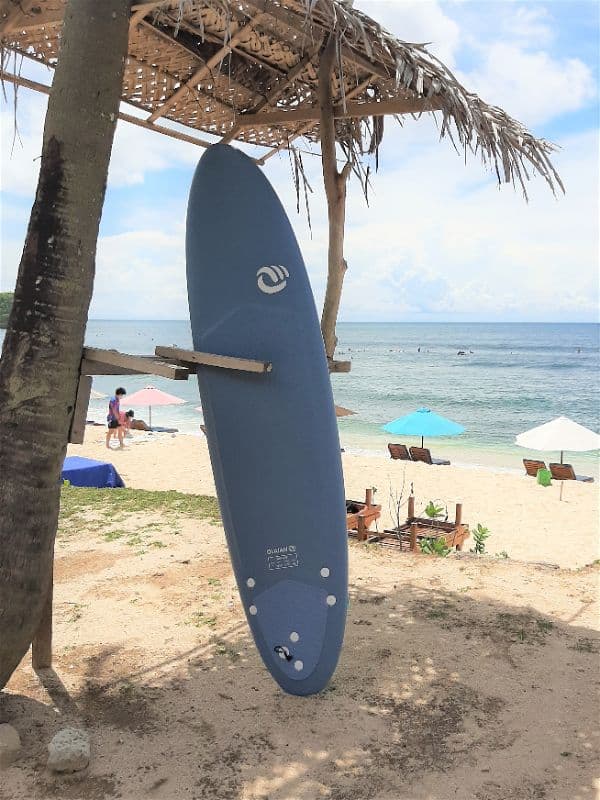 WHY YOU SHOULD CHOOSE A FOAM SURFBOARD (FROM DECATHLON) FOR TRAVEL AND LEARNING TO SURF
Southeast Asia is filled with some amazing surf opportunities – Sri Lanka, Malaysia, Indonesia, the Philippines. However, if you want to get the most of it by exploring off the beaten path, having your own surfboard is a necessity. If you're in Malaysia, paying $25 a day to rent a board can add up quick. If you're in Sri Lanka, being stuck with a board so shoddy the fin literally just falls out while you're surfing (happened twice) can mess up the experience.
The remedy to bad and expensive surfboard rentals is to just bring your own surfboard…or buy one!
---
DECATHLON'S WORLDWIDE LOCATIONS MAKE IT EASY TO BUY A CHEAP, RELIABLE SURFBOARD ANYWHERE
Thanks to Decathlon's new Olaian foam surfboard, you can literally show up to almost any country with great surf, go to the main city, buy a good, performance foam board for about $200 – the cost of 8 surfboard rentals – and proceed to travel and surf to your heart's contentment. That's not only easier than bringing your own board, but cheaper and less hassle, especially if you're still learning to surf.
Plus, if you're on too much of a budget to afford a surf camp, you can just grab one of these Decathlon surfboards for cheap and spend a week with this guide "Teach Yourself to Surf" for a pricelessly fun experience
The new Olaian Decathlon Surfboard line is available at Decathlon Sports Stores globally, which are in all of these cities:
Sri Lanka
Kuala Lumpur, Malaysia
Singapore
Java, Indonesia
Hanoi, Vietnam
Ho Chi Minh Sity, Vietnam
Manila, Philippines
Lisbon, Portugal
Huelva, Spain (on the coast, near Malaga), Basauri
Rennes, France
(Click here to jump to links for each country's site)
If you look at this closely, you'll notice is meshes some great adventure travel and backpacking destinations with places that have some of the best, most fun, and most beginner friendly surf breaks,
---
After the trip you can easily sell off your Olaian foamboard to surf schools or other backpackers, recoup your money, and essentially have had a wonderful surf trip for free. My first two sessions in the water with the Olaian 900, two surf coaches offered to buy it off of me when I finished with it. — But this is specific to the Olaian 900 7′, which I'm reviewing here, so let's talk about generally why a foam surfboard is solid for travel and beginners…
---
THE DURABILITY AND FORGIVENESS OF A FOAM SURFBOARD MAKES OLAIAN FOAMIES PERFECT FOR ADVENTUROUS, CAREFREE TRAVEL
If you're traveling adventurously, driving your own tuk tuk across a country, or sneaking into a wild animal park to make your own safari – having a delicate epoxy surfboard that dints and dings when harassed by little monkies can be heartbreaking and annoying AF.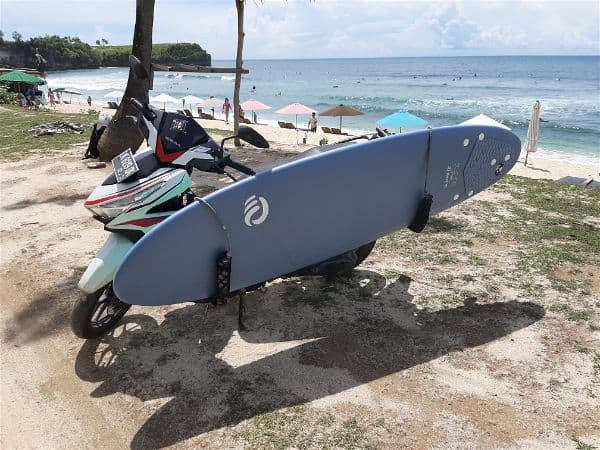 The solution (that I found) is getting a "performance" foam board. The shape, size, and volume are sufficient to still have fun, and the foam/soft top composition means no dings, cracks, and all that other stuff when transporting a surfboard by plane, car, tuk tuk, or motorbike.
I love taking my own epoxy surfboard to surf in Sri Lanka, but it absolutely got dinged along the way, thanks to monkeys jumping on my tuk tuk and garbage bag handling on Air Asia.
---
FOR BEGINNER SURFERS, FOAM SURFBOARDS (OVER "HARD TOPS") ARE THE EASIEST, SAFEST, AND BEST CHOICE
As for beginners I always recommend starting with a foam board or "soft top". Soft tops are safer to use when learning to maneuver the board – when you risk getting smacked in the face with your own board or (worse yet) running over someone. On top of that, the tons of volume and flotation, and the stability, make the process of catching waves and learning much easier on a foam board than a hard top, epoxy or fiberglass board.
So we know foamboards are best for beginners, but with all of the options – catch surf, wave storm, and other surfboards on Amazon – what makes the Olaian decathlon surfboards so great?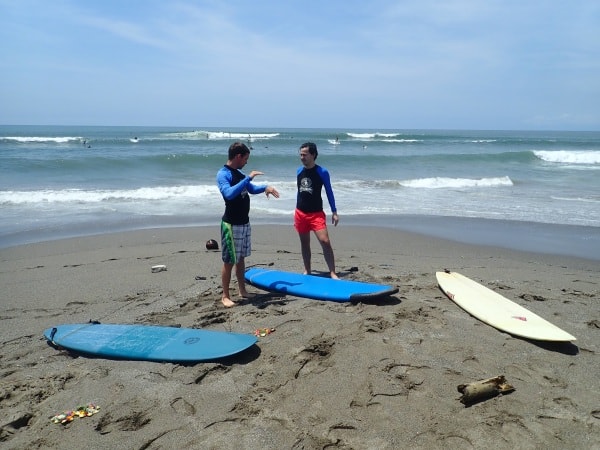 Simply put, they're awesome for the price, cheap, and perform so well upfront that you'll be able to learn and grow into the "performance foamboard" 900 series
At $200, you wont be able to buy a wave storm, catch surf, or hard top for the price, and the $200 will last you a long time because you wont need to upgrade unless you want to bump up to a performance longboard or bump down to a short board.
As a beginner, you cant lose with the Olaian 900 Decathlon surfboard…but more on that later…

DECATHLON'S OLIANA SERIES AS AN OPTION FOR A FOAM SURFBOARDS FOR LEARNING, TRAVEL, AND FUN
Now, we know that foam surfboards are a great option for new surfer's to learn on because the soft tops and flexible fins make it less of a risk when the board inevitably gets away from the beginner and fly back at them or (possible worse) another surfer.
We know that that durable and forgiving build of soft top, foam boards make them easy to travel with, avoiding the dents and dings that come with checking surfboards in airline travel, or cramming them into a tuk tuk.
Last, we know a good performance foam surfboard is solid for intermediate surfers that want something fun to play around with carelessly, especially when waves are breaking in shallow, sandy bottom waters or close to shore.
But, any foam surfboard would do right? With the Catch Surf boards and wave storms out there, what does Decathlon's surfboard line have to add?
OLAIAN SURFBOARDS ARE CHEAPER THAN MOST SURFBOARDS
First, they're cheaper than other Foam surfboard Options – roughly half the price and (based on my experience) deliver some solid performance.
---
OLAIAN SURFBOARDS CAN BE BOUGHT IN NEARLY EVERY COUNTRY WITH GREAT SURF, MAKING IT A CHEAP CONVENIENT ALTERNATIVE TO BRINGING BOARDS OR RENTING LOCALLY
From Southeast Asia to Southern Europe, Decathlon is everywhere with a dedicated website for each country. This means you can fly in, buy a good surfboard for $200, wander and surf, sell the board (or take with you) and go home.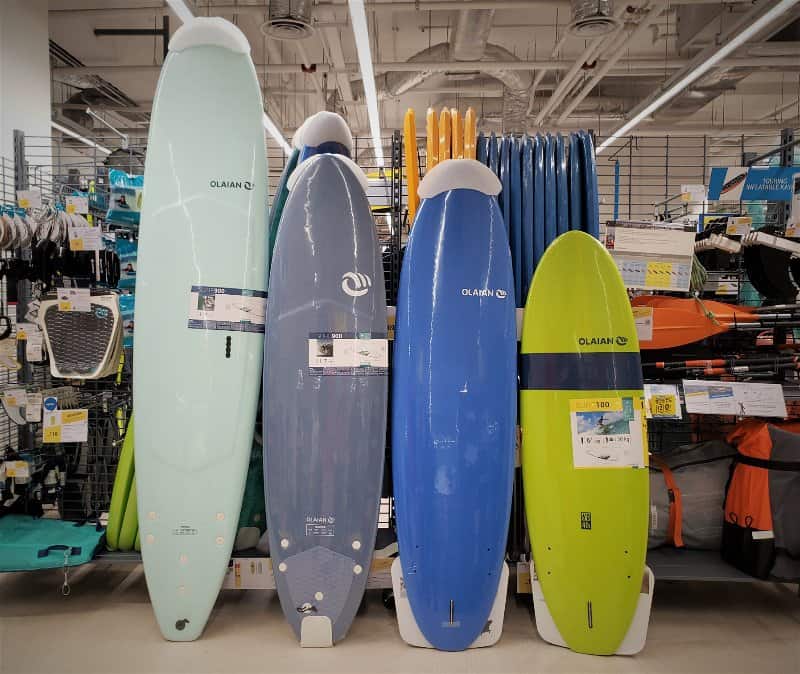 Click here to jump to the country by country website list
---
THE OLAIAN SURFBOARDS HAVE THREE GREAT LINES: ONE FOR BEGINNERS AND TWO MORE DURABLE AND PERFORMANCE ORIENTED DESIGNS FOR INTERMEDIATE SURFERS
Additionally, Decathlon has three solid lines – the 100 series, the 500 series, and the 900 series – that deliver exactly what's needed for every single level – from brand new surfers, to families playing around, to intermediate surfers just looking for a fun "beater board".
Now, let's gloss over the three lines to help you decide if the Olaian 900, 7′ or otherwise, is up your alley, or if something different is better for you.
– If you want a full, deep dive into the Olaian surfboard line, that covers the differences, how they perform, who they're for, construction, and what to expect, be sure to read our Decathlon Surfboard Guide

THE DECATHLON SURFBOARDS IN OLIANA'S SERIES
100 Series Olaian Surfboards: Beginner surfboards closer to boogey boards/ bodyboards. Suitable for children or family fun
500 Series Olaian Surfboards: Sturdy beginner boards with more performance oriented shapes, suitable for all beginners to learn and progress
900 Series Olaian Surfboards: Performance foam boards for intermediate surfers and progressing beginners. Sturdy, great performance, and compatible with FCS fins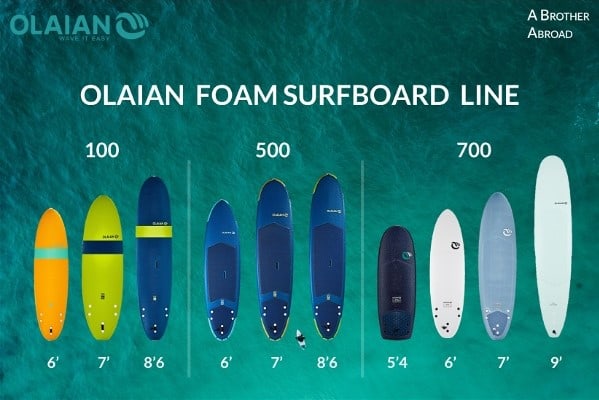 ---
100 SERIES: FUN BOARDS FOR KIDS AND "JUST PLAYING AROUND"
The Olaian 100 surfboards are the base model beginner surfboards and very cheap (~$99). Think of it as a boogey board you can surf with that's suitable for kids to play with or non-commital family fun adventures.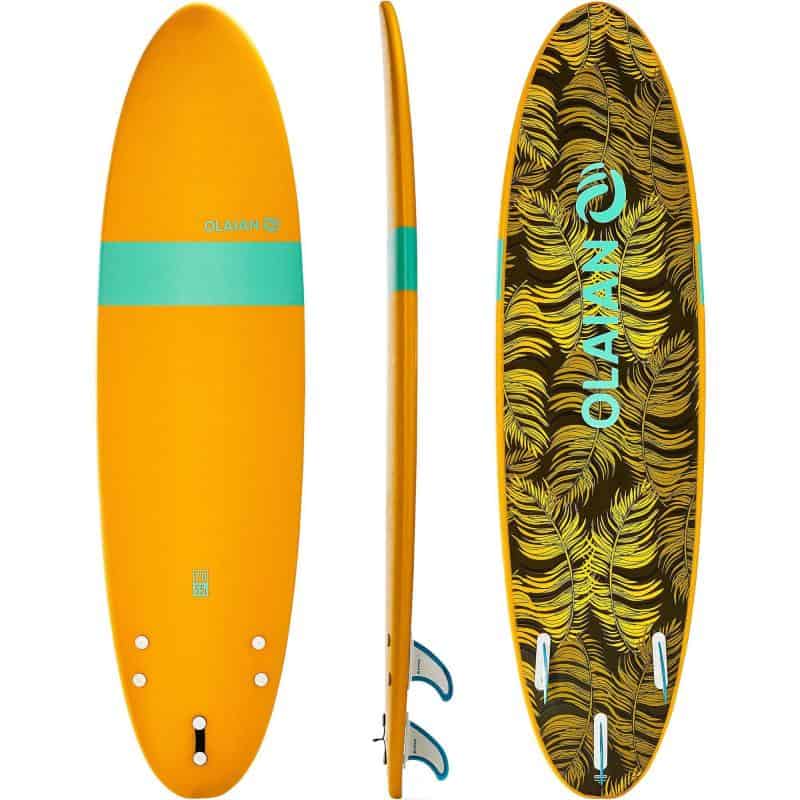 Available Surfboards in the 100 Series:
6ft, fins + leash ($80)
7ft, 3 fins (silicon wrapped) + leash
8ft 6in, 3 fins (silicon wrapped) + leash
Read more about the Olaian 100 Series in our Olaian Decathlon Surfboard Guide
---
500 SERIES: DEDICATED BEGINNER SURFERS
The Olaian 500 series surfboards are great boards for new surfers to learn and progress, and recommended over the 100 series for new surfers that are committed to learning and progressing. The added performance, upgraded carrying handle, stiffness from double stringers, heftier construction, silicon wrapped fins, center and tail grip pad (for no waxing) make this a board you can learn the basics on, but still have fun on as you progress to intermediate level skills and waves.
This is a great option for learners as the board will suffice until they're ready to upgrade to a hard top longboard or shortboard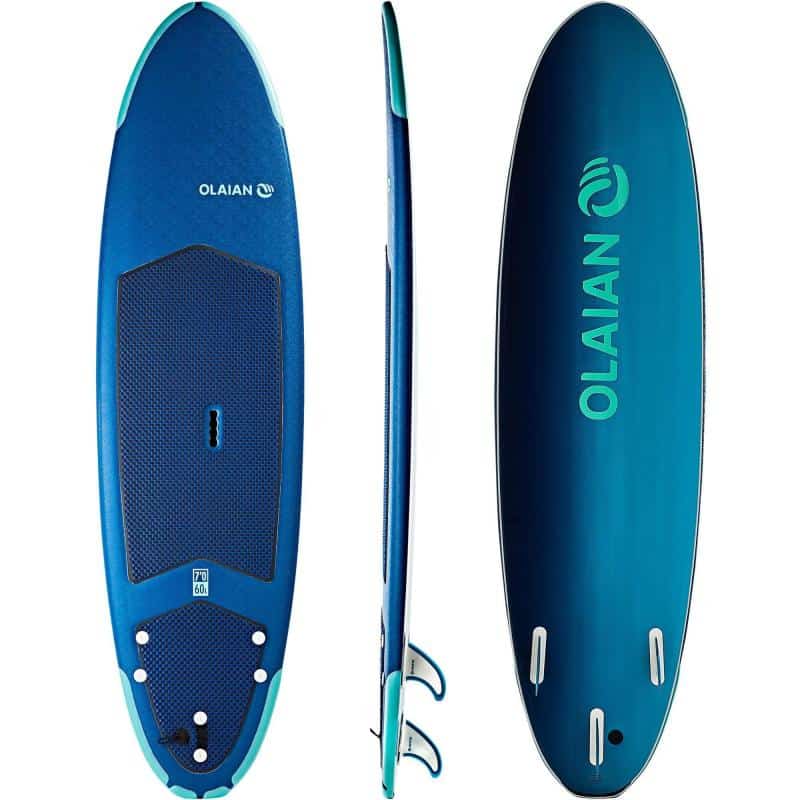 The 500 series Olaina foam surfboards are great options, friendly to new surfers dedicated to learning, with board lengths of 7', 8', and 8'6".
Available Surfboards in the 500 Series:
7 ft, (60L) 3 fins + leash, carry handle, tail pad (for grip), center pad (for grip), carrying handle, foam wrapped tail and nose
8 ft, (60L) 3 fins + leash, carry handle, tail pad (for grip), center pad (for grip), carrying handle, foam wrapped tail and nose
8 ft 6in, (60L) 3 fins + leash, carry handle, tail pad (for grip), center pad (for grip), carrying handle, foam wrapped tail and nose
Discover more about the Olaian 500 Series in our Olaian Decathlon Surfboard Guide
---
900 SERIES: PERFORMANCE FOAM SURFBOARDS FOR INTERMEDIATE LEVEL SURFERS TO ENJOY SHORE BREAK AN TRAVEL CAREFREE
The performance shape and hefty construction, in addition to the FCS compatible fin boxes, make the 900 series an excellent "fun board" to add to your quiver for shallow, sandy bottom breaks close to shore, and for those travels you don't feel like risking the damage to a board on.
The 900 Series is essentially the Olaian 500 upgraded with FCS fin boxes and center grip pad removed (so you'll have to wax it). Best for intermediate surfers looking for a board to have fun with in shore break without worrying about snapping a board and for traveling without risking the dings and cracks that come with moving and checking a surfboard.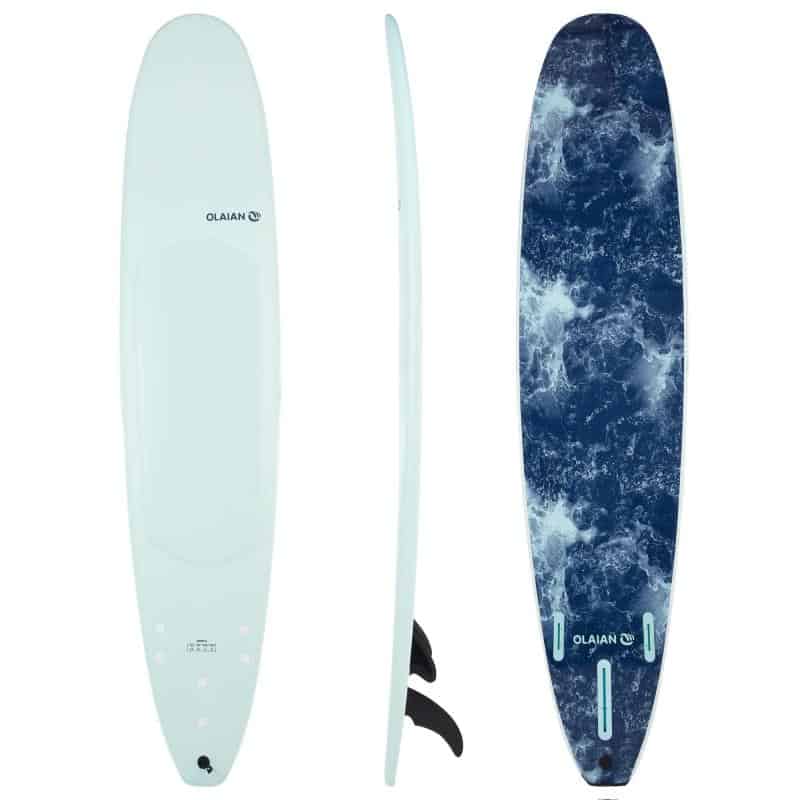 Available Surfboards in the 900 Series:
5'4″ ($150)
6ft – double wood stringer, 3 fin (thruster) ($150)
7ft – double wood stringer, 3 fin, FCS fin boxes ($269 , $160)
9ft – , 3 fin (2+1)(2xFCS, 1xLongboard Fin), 3x wood stringer
Discover more about the Olaian 900 Series in our Olaian Decathlon Surfboard Guide

THE OLIANA 900 7 FOOT SURFBOARD REVIEW: FOR TRAVEL, LEARNING, AND FUN
My hunch that the Olaiana 900 7′ surfboard would be great for beginners and travel was a good one. Not only is this board easy and painless to transport, because its soft and light with no risk of dings, but its easy to paddle, catches waves amazingly well, and turns pretty awesomely for a foamboard.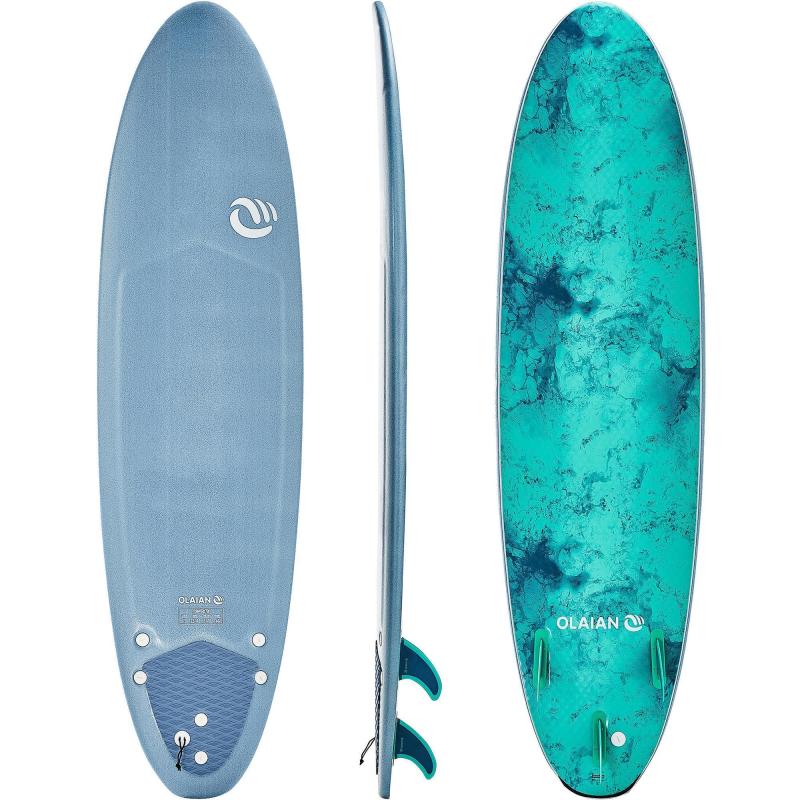 In the end, when I travel to the Philippines and Sri Lanka this year, the Olaiana 900 is the board that I'll take for more waves and less stress.
For beginners and new surfers on the hunt for a board to learn and progress with, the Decathlon's 900 series surfboard is a good bet. It has enough volume (60 liters) to make learning easy, has a lot of stability for learning to pop up, and turns well without being too sensitive or twitchy. This board would be great for kids or medium sized surfers (I'm 155lbs / ~70kg), but I'd recommend that larger types new to surfing step up to the 8′ Olaian 500 (80L volume for newbies up to 175lbs), the 8'6″ Olaian 500 (100L volume for newbies up to 240lbs), or the 9′ Olaian 900 (100L volume for newbies up to 240lbs).
Now, let's dig into why I recommend the 7′ Olaian 900 so much…
---
TOP FEATURES OF THE OLIANA 900 7′
The Olaian 900 series 7 foot and 6 foot surfboards are packed with some great features for
Real FCS fin box – Allows you to replace the already cool, silicone wrapped fins (included) with real FCS fins, for a better ride
2x Wood stringers – Add durability and a stiffness & responsive to your ride
Lightweight – ~4kgs / 9.7lbs makes it easier to surf for newer/smaller surfers, and is on par with my 6'3″ hard top fish surfboard
Great "funboard" shape: Makes paddling, catching waves, and controlling the board in waves (turning) easy
Dimpled bottom for Speed: Similar to what makes a dimpled golf ball glide faster, the dimpled bottom creates less resistance and makes a faster paddling experience
Foam Tailpad included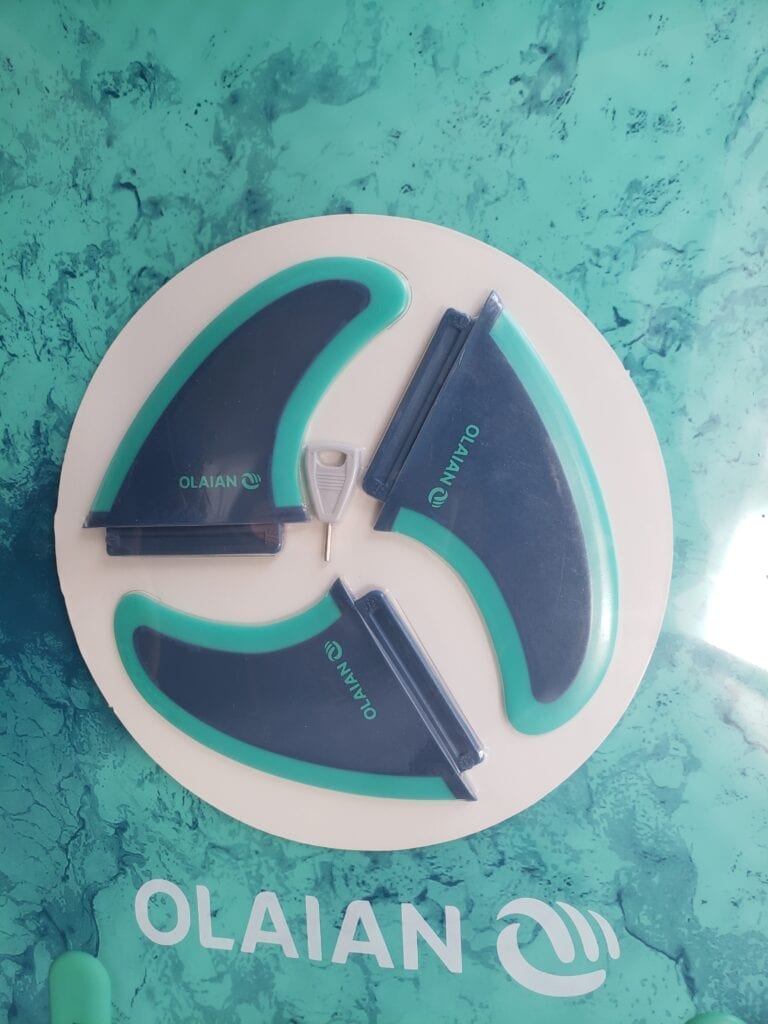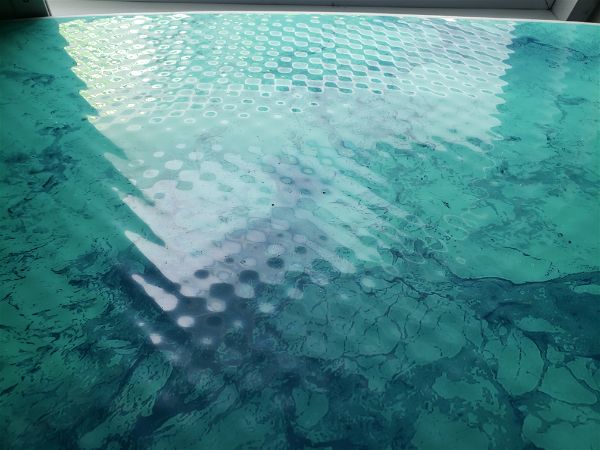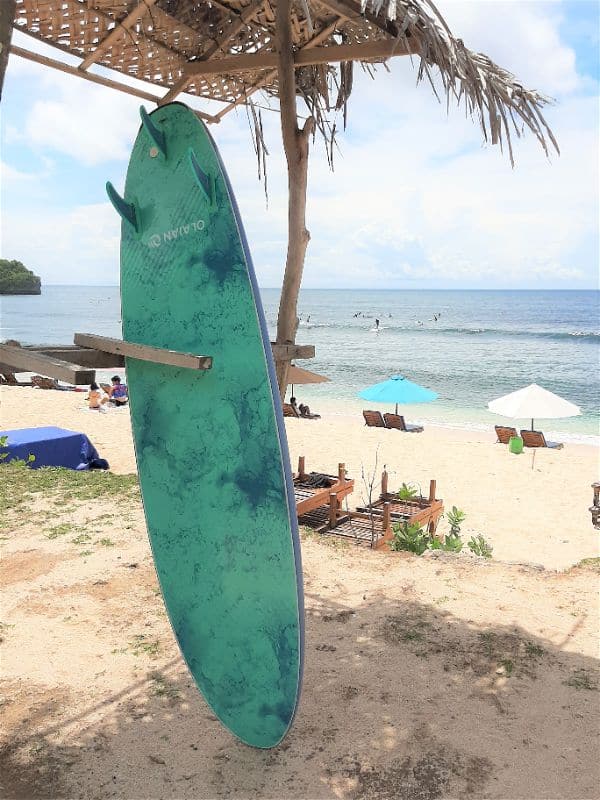 Now, you may be wondering what the differences between the Olaian 100, 500, and 900 series are. Of course the 100 is a less durable line for beginners, but what about the 500 vs. the 900?
Olaian 500 Features that the 900 series doesn't have
Center grip pad: you don't have to worry about wax)
Carrying handle: makes transport easier for smaller surfers
Extra protection (foam) on nose and tail: for those inevitable drops, bumps, and bails near shore
Note that the 500 series does not have FCS compatible fin boxes, which is the major plus of the 900 series
---
SPECS
Length: 7'1″
Volume: 60 Liters
Weight: 9.7lbs
Fin Setup: 3 fin "thruster" setup, with FCS I compatible fin boxes
Nose Shape: Rounded Nose, for more paddling speed and better buoyancy
Tail shape: Rounded, for a balance between control, speed, and maneuverability
Dimensions: 7'1″ x 23.1″ x 3.5″ Dimensions (cm): 215 x 58.7 x 9
Construction:

2 x wooden stringers and reinforced foam construction
Woven, high density plastic for increased durability
FCS fin boxes (screw in, fit any FCS I fins)

MY EXPERIENCE SURFING THE OLIANA 900 SURFBOARD
My first time out riding the Olaiana 900 7 foot surfboard was a fun little dream (I with I had pictures). It was a 3 foot day in Bali at a fairly shallow reef break with a decent between of curl to the waves and most of the action happening on the inside. I planned for a 1 hour session but stayed out for two just because I was having so much fun. Because it was a small-ish day I ended up catching quite a few more waves than others at the crowded break, and a local surf coach offered to buy the foam board off me (to teach with) whenever I got sick of it and he was very shocked at the price that I bought it for in Kuala Lumpur ($200). Not gonna happen.
Let's break down the whole experience by what matters…
---
PADDLING
Paddling on the Olaian 900 was a breeze – simple and easy. I'm 155lbs and the ample amount of float (60L), the rounded nose, and just enough rocker made paddling out as easy as it would be with any other hard top fun board ~8ft, and easier than most 7ft hard top fun boards I've surfed. In other words, paddling with the Olaian 900 is easy and you pick up speed quickly. The ease of paddling is on par with a good 8 ft hardtop funboard
Once you're on the outside, the light weight of the board makes it easy to whip around and hop into a wave a little late. On the off chance that you do actually do things correctly, that same paddle prowess makes it insanely easy to get into and hog waves (if you want to be that guy/girl)
---
CATCHING WAVES
Getting into waves Olaian 900 is just as easy as paddling it.
The high amount of buoyancy and lightweight make it very easy to catch the whitewash with barely paddling, if you're a full newbie.
For intermediates, getting into green waves is nearly just as easy. The volume distribution (which is everywhere on this board) makes it easy to paddle in with your weight perfectly situated to catch the wave without much "adjusting" to the board.
---
RIDING & TURNING
After the pop-up, the board is so responsive yet stable it makes hitting the initial left or right turn fairly brainless and easy, delivering a perfect amount of maneuverability and stability for advancing beginner surfers (learning to turn and keep their balance) while still keeping it fun for intermediates.
For the more advanced surfers trying to pull quick cutbacks, don't expect that level of responsiveness from this board, but expect to work the face enough to have fun, top to bottom.
I honestly can't wait for a good, sandy shorebreak session to get the most of this board.
---
TRANSPORT AND TRAVEL
Given its acceptable size (7 foot 1 inch) the board is easy enough to move around. Getting from Kuala Lumpur to Bali, I was able to rideshare an SUV and pack two of these boards just fine.
As for checking these as luggage – no issues. After the initial purchase I attached a layer of cardboard to the nose and tail, taped the boards together and checked them as a single piece of luggage (~$15 fee), and checked them. In Bali I picked them up with absolutely no issues. I can't say that has ever happened on a flight with any other board. No surfboard bag necessary.
Here on Bali, I throw the board on my scooter fear free, and I've become completely careless with it. I accidentally dropped it off a hill, and I've but into walls at least 15 times (that would have otherwise dinged my epoxy board) – and no issues with my foamie.
Though the Olaian 900 performance is hands down not as good as my epoxy performance longboard and shortboard, the tradeoff of durability and the amount of fun that I can have on this board without treating it so delicately, makes it a worthwhile "funboard" addition to my quiver.

WHO IS THE OLAIAN 900 FOR: PROGRESSING BEGINNERS, INTERMEDIATES IN SEARCH OF FUN, AND TRAVELERS
From my experience, I highly recommend this board to beginners, intermediate surfers, and travelers.
---
REVIEW OF THE OLAIAN 900 FOR BEGINNER SURFERS
---
For Beginners: If you're searching for a board to learn on (after your initial surf lessons) that you can progress but still have fun on, the Olaian 900 is a great option. If you are beginner surfer without much money, the Olaian 900 is an even better option.
---
REVIEW OF THE OLAIAN 900 AS A TRAVEL READY SURFBOARD
For Travelers: If you've already taken your initial surf lessons (or plan to) and want a board you can haul around to surf anywhere, without worrying about surfboard quality, or paying $25 a day, the Olaian 900 is a worthwhile investment. I highly recommend this board if traveling to Sri Lanka, Indonesia, Malaysia (Cherating only), and the Philippines. If you can surf 8 sessions, the board will pay for itself.
---
REVIEW OF THE OLAIAN 900 AS A FUNBOARD FOR INTERMEDIATE SURFERS
For intermediate Surfers: If you want a funboard to catch waves in windier and smaller conditions, and don't mind sacrificing a bit of performance, this is a worthwhile board to get – in exchange you'll save at least a few hundred dollars, and this board will tolerate a good bit of abuse.
Additionally for intermediate surfers, if you're looking for a surfboard to play in potentially fun, shallow shore break that might damage a hard top, this is a great option.

FOAM SURFBOARD ALTERNATIVES
STORM BLADE AND TRUE BLADE… NOT WAVESTORM
Wavestorm foam boards are as much of a classic as foam boards can be. They're ubiquitous in the US and if you started learning in the US, you probably started on a wavestorm. But I'm not going to recommend a Wavestorm. Skip the Wavestorm. They're cheap and available at Costco (which usually means AWESOME!!) but they're also relatively flimsy, not durable enough, and not shaped for the needs of a progressing beginner.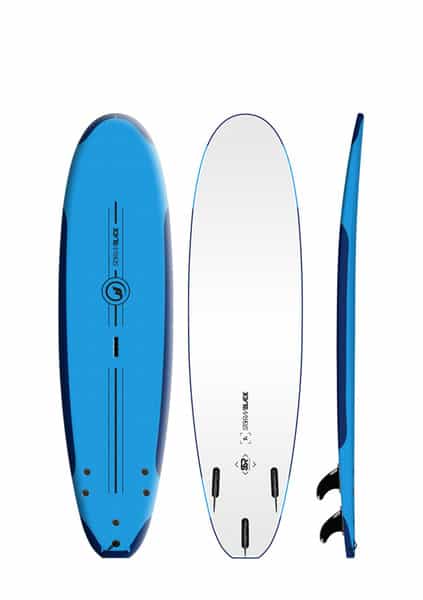 Instead, opt for the Storm Blade or the True Wave foam surfboards from the same parent company.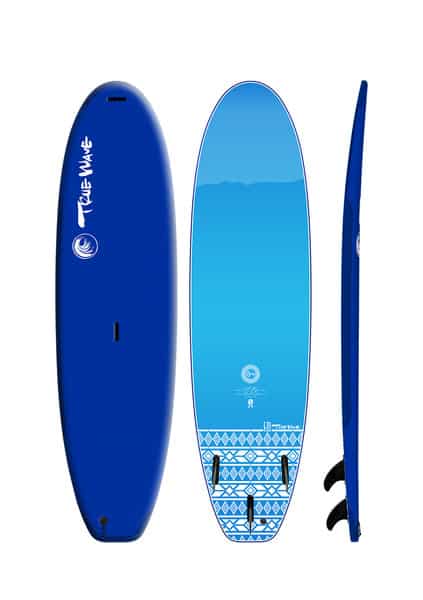 The parent company that makes the Wavestorm, Agit Global, has some other impressive surfboard lines in the foam surfboard department. The boards I recommed are:
Both boards are available in the
Both the Stormblade and the Truewave foam surfboard lines are durable enough that they're used by surfboard rental companies, and have enough performance yet forgiving design that they're great surfboards for beginners yet solid funboards for the intermediate's quiver.
Also Consider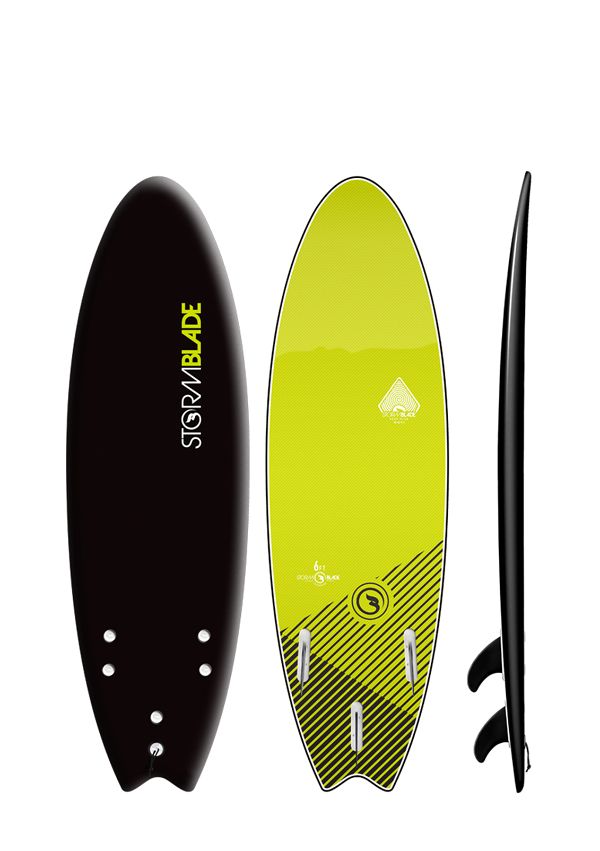 ---
CATCH SURF
Catch Surf has done a great job creating foam surfboards that area actually shaped for fun and performance beyond those first couple learning sessions.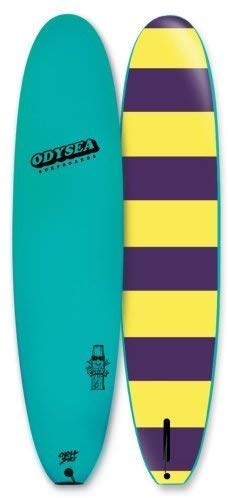 Compared to the Olaian 900 7′ surfboard, Catch Surf's Odysea 7′ Log is the closest competitor. A 7 foot board with a wide, nose rider setup and a squash tail make for an equally fun board to buy if there is no Decathlon near you.
The Odysea Log 7'0 sports similar FCS compatible fin boxes, a bit more volume (12 liters more at 72 liters), and a wider noserider longboard style nose.
Expect the Olaian 900's more performance rounded nose and tail to perform, turn, and surf with more agility, while the wider nose and extra 12 liters of volume in the Odysea 7'0″ make the Catch Surf board easier to paddle faster.
Triple wood stringers offer a little more durability and stiffness over the Olaian 900's double wood stringers. All this comes at a price of $349, between $100 and $125 more than the Olaian 900
Between the Olaian 900 and the Catch Surf Odysea 7'0″, I would personally choose the Olaian as a travel and beater board. Cheaper, a slightly more performance oriented. However, I still highly recommend the Catch Surf boards – they're fantastic starter and fun boards.
Boards from Catch Surf I also Recommend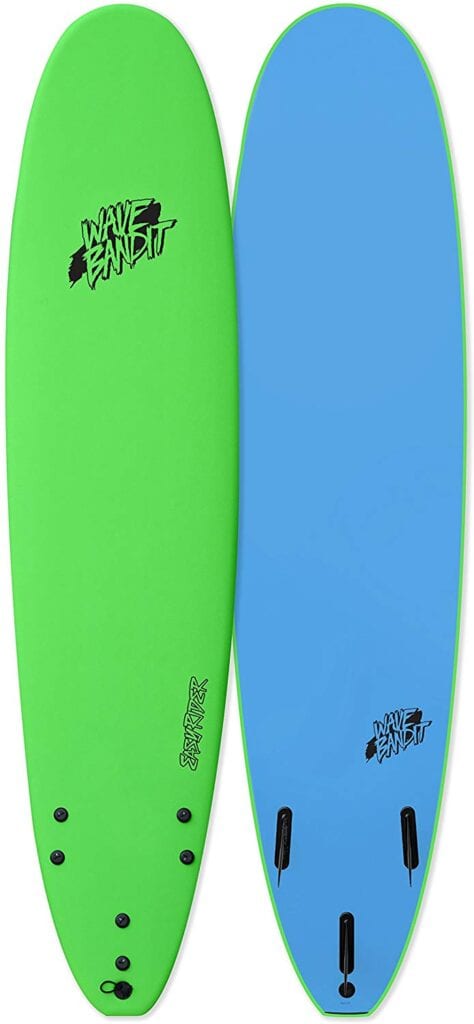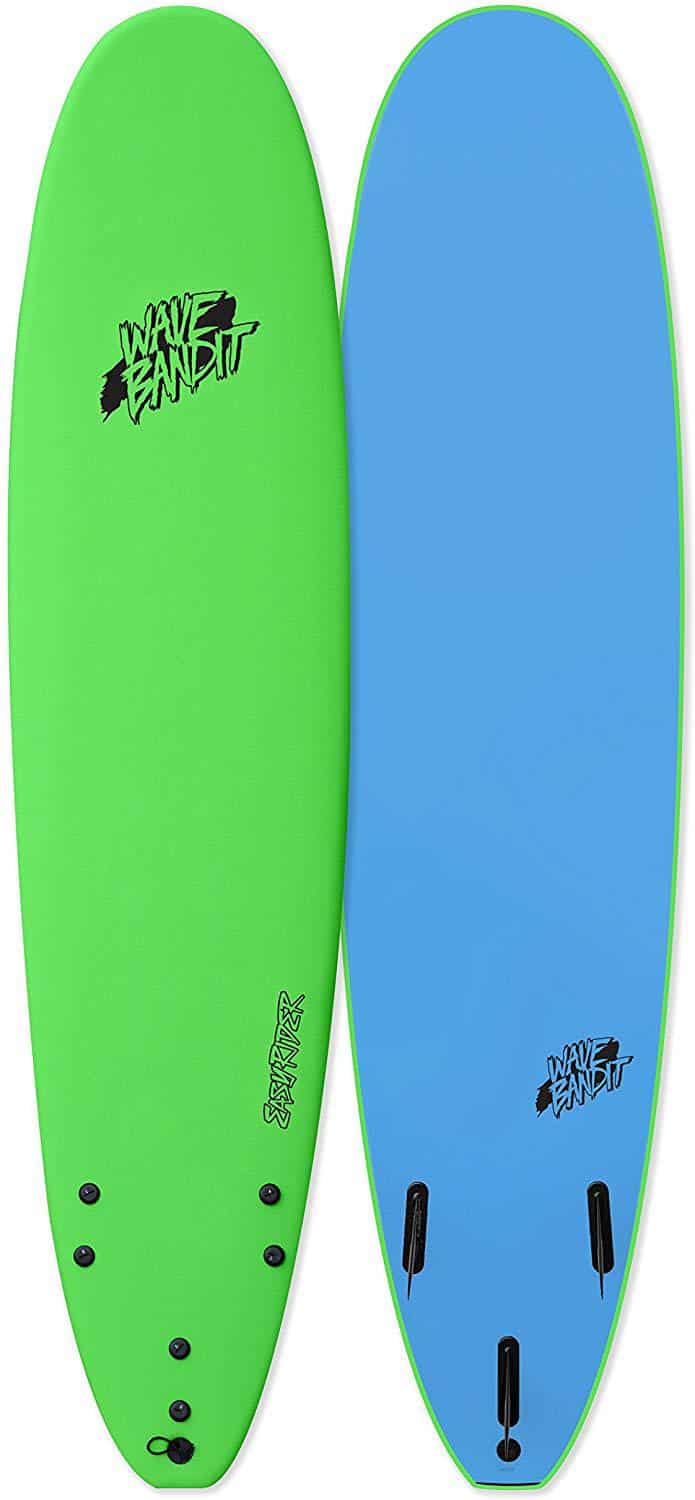 WHERE TO BUY OLAIAN SURFBOARDS
---
IN THE US
Decathlon has launched in the US, so you have two choices.
Go to your nearest Decathlon and purchase in store.
Or, for a wider selection purchase online and have the surfboard shipped to you anywhere in the US. To my home address shipping is ~$100, so add that factor in. You can also order online and pickup in store at Decathlon for free. This is handy if you see a specific board you want that isn't available in your local store…yet.
---
Outside of the US Decathlon's reach is expansive, making it relatively easy to pickup a cheap, yet reliable foam surfboard anywhere – avoiding crappy boards and rental fees. Let's be honest, the $200 for a board isn't going to pay for a fraction of the camp. The ability to check inventory online, order a surfboard in advance, and pickup in store for free once you've arrived is clutch.
The problem with this plan is navigating through the sites for each country.
Here is what I suggest – pick the country you're traveling to that potentially has some surf. Hop online for that country's Decathlon site and check availability of boards. Reserve/purchase online. Pickup when you arrive in the capitol. Surf. Be Awesome. Be happy.
Below you'll find the city's abroad with surf that have a Decathlon store, and the site for Decathlon in the respective country
---
IN EUROPE
The best surf you'll find in Europe will be Portugal, followed closely by France and Spain. You can make it an excellent, budget friendly adventure by buying a surfboard and surfing as you feel (for $200 on your own board), instead of paying $25 a day for a surfboard – and after 8 sessions, the board has paid for itself
Just read my quick guide on teaching yourself to surf, take a lesson or two, then use your own board to have fun and keep learning.
Head to the following country by country decathlon sites to buy a board and reserve to pickup.
---
SOUTHEAST ASIA
I think the ability to buy a decent surfboard for cheap in Southeast Asia is where the Decathlon surfboards come in handy. If you're backpacking around for months on end (like me) and want to pick up a durable board so you don't have to rent everyday, this is a great option.
Given Decathlon's expansive group of stores and online presence, if you're headed to a surf destination you can order online and (if the board is available in the store) pickup in store en route to the waves
The Decathlon stores (and linked websites) you should note are in the following cities you can stop into on a layover:
---
IN AFRICA
Decathlon even dots the coast of Morroco and oddly there are a few near some of the popular surf spots near Temara, Casablanca. If you want to get in a session while in Morocco, just stick to the plan ( https://www.decathlon.ma/)
In the Canary Islands as well, there are a few Decathlon stores, so if there's some swell, you know where to grab a surfboard.

WHAT NEXT?
Now that you have a potential surfboard in mind, what next? Check out this great content to learn how to surf, find the surf destination for you, and plan your own surf & travel adventure.