If you're looking for a great gym for boxing or Muay Thai in Bali, with perfectly sized classes, plenty of great instructors, top-notch and clean facilities, and a solidly fun and energetic vibe and community, Soma Fight Club in Bali is the place you've been looking for.
Whether you are just bored of your normal gym routine, you're tired of gimmicky overpriced classes, or you just genuinely want to learn how to throw a punch or a kick and train in boxing and Muay Thai, it can be tough finding a good gym, with great facilities, and boxing or Muay Thai classes that really teach you how to fight while getting in a balanced and intense workout. Usually, boxing and Muay Thai classes are run by posers who have never been in a fight, are overpriced, and are generally a waste of time.
I've been there.
I spent months in Bali looking for a great gym for an intense workout and martial arts classes to boot. The boxing instructors lacked technique, the other Muay Thai gym was all about cardio and looking like Muay Thai – not functional at all. And the price for the facilities was insane.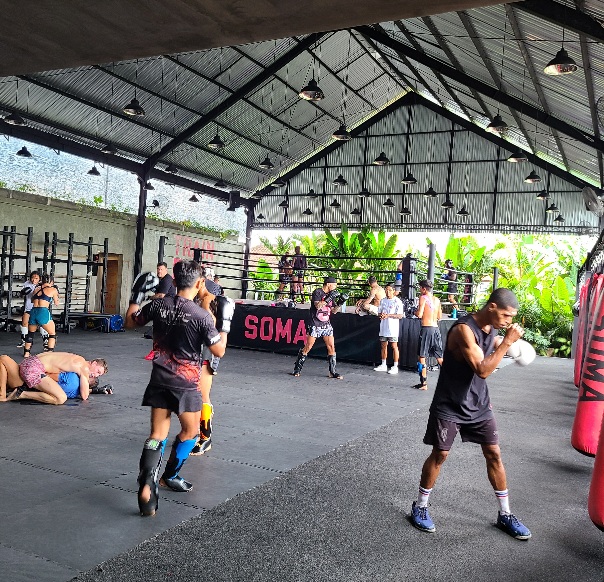 Then I found Soma.
Soma has delivered on all levels, being a true fighter's gym that welcomes anyone – from beginner to advanced – for daily workouts, destination fight training, and more with the best training for boxing and Muay Thai in Bali. Hands down. Outside of classes, the community, fight nights, and recovery center add to Soma's rep as the best fight gym in Bali and are making it the best destination fight club in Asia.
Read on to learn why Soma is my new home gym and the best gym for boxing, kickboxing, and Muay Thai in Bali, and my experience getting back into, and humbled by, this great gym.
This review was written independently and I received no compensation for the article.
Here at A Brother Abroad, I make it a point to recommend only the best to travelers, and that is why I'm writing this review of Soma Fight Club, easily the best boxing gym in Bali. If you are looking for a destination fight club in Asia, Soma Fight Club should be the first place you check out. If you ever pass through Bali, you'd do yourself a disservice not dropping in for a session.

WHY SOMA?
Easily the best boxing gym and fight club in Bali thanks to top notch equipment and recovery facilities, great class structure, and great staff (pad holders and coaches)
As a destination fight club, Soma gives the lifestyle of Bali with the 1 month fight training experience Thailand is famous for
Just as great for beginners as serious fighters. Newbies will feel welcomed and will be trained by the same team that preps and trains One FC (Southeast Asia's UFC) contenders
SOMA FIGHT NIGHTS!! The fanfare and excitement you get fro UFC is now available on Bali thanks to the fight nights (soon to happen monthly) that Soma organizes and that you could participate in as a competitor, if you're up for the challenge…
Bottom Line: If you're on Bali and the idea of a boxing class or kickboxing class catches your attention, do yourself a favor and drop into Soma for a day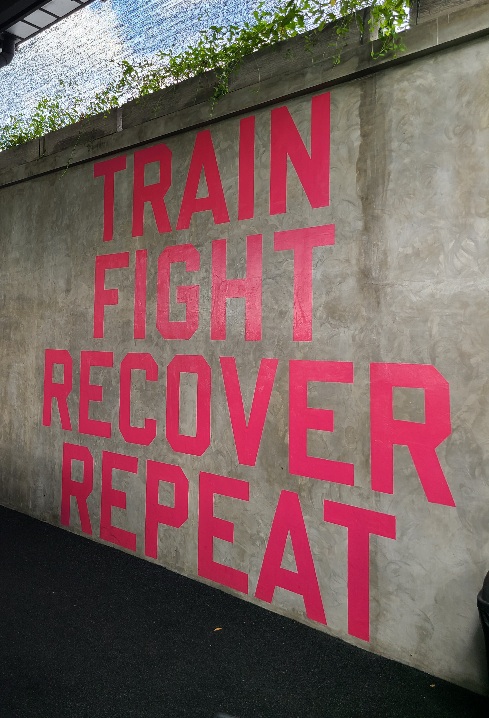 Contact Soma: +62 877-5611-8691 on Whatsapp, [email protected], or on Instagram at @somafightclub and tell them Carlos sent you…

TABLE OF CONTENTS

ESSENTIAL SOMA DETAILS
Schedule | Pricing | Contact Information | Facilities Overview | Fight Scholarships | Soma Community
SOMA MUAY THAI AND BOXING CLASS SCHEDULE
Note: Sundays are open gym only, 6am to 4pm
| | | | |
| --- | --- | --- | --- |
| | Monday | Tuesday | Wednesday |
| 6-7 AM | Open Gym | Open Gym | Open Gym |
| 7-8 AM | Fight Strength | Open Gym | Fight Strength |
| 8-9 AM | Boxing Pads | Beginner Boxing / Footwork | Boxing Pads |
| 9-1030 AM | Muay Thai Pad Work | Muay Thai Pad Work | Muay Thai Pad Work |
| 1030 – 1130 AM | Fight Team Trng | Fight Conditioning | Fight Team Sparring |
| 12-4 PM | Open Gym | Open Gym | Open Gym |
| 3-4 PM | Mobility Training | Open Gym | Mobility Training |
| 4-5 PM | Boxing/Drilling | Boxing Pad Work | Boxing / Partner & Pads |
| 5-6 PM | Beginner Muay Thai | Fight Team Training | Muay Thai Drilling |
| 5-6 PM | High Intensity Boxing Circuit | Beg. / Int. Muay Thai Sparring | High Intensity Boxing Circuit |
| 6-8 PM | Open Gym | Open Gym | Open Gym |
| | | | |
| --- | --- | --- | --- |
| | Thursday | Friday | Saturday |
| 6-7 AM | Open Gym | Open Gym | Open Gym |
| 7-8 AM | Open Gym | Mobility Training | |
| 8-9 AM | Beginner Boxing / Footwork | Boxing Pads | Boxing Pads |
| 9-1030 AM | Muay Thai Pad Work | Muay Thai Pad Work | Muay Thai Pad Work |
| 1030 – 1130 AM | Fight Conditioning | Fight Team Training | Fight Team Sparring |
| 12-4 PM | Open Gym | Open Gym | Open Gym |
| 3-4 PM | Open Gym | Open Gym | Open Gym |
| 4-5 PM | Boxing Pad Work | Boxing / Drilling | Closed |
| 5-6 PM | Fight Team Training | Fight Conditioning | Closed |
| 5-6 PM | Beg. / Int. Muay Thai Sparring | | Closed |
| 6-8 PM | Open Gym | Open Gym | Closed |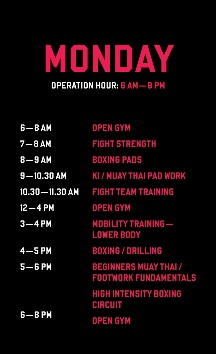 ---
PRICING FOR SOMA MEMBERSHIPS
UNLIMITED MEMBERSHIP PRICES
Weekly – 900,000 IDR (~$63 USD)
Monthly – 1,800,000 IDR (~$125 USD)
Quarterly – 4,750,000 IDR (~$330 USD)
Yearly – 10,000,000 (~$700 USD)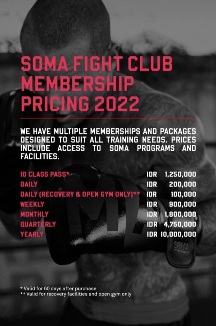 DAILY GYM PASS PRICES
10 Class Pass – 1,250,000 IDR
Daily Class Pass – 200,000 IDR
Daily Recovery and Open Gym Pass – 100,000 IDR
---
SOMA FIGHT CLUB CONTACT
---
SOMA FIGHT CLUB FACILITIES OVERVIEW
Competition boxing ring
Fitness space
High Quality and Clean Fitness Equipment: Barbells, bumper plates, kettlebells, dumbbells, resistance bands, cycles, and squat racks)
Locker room with lockers and showers: well maintained and clean
Ice bath
Sauna
Restaurant and café.
---
FIGHT SCHOLARSHIPS FOR LOCALS
Soma aims to give back to the Bali and Indonesian community and does so by awarding "fight scholarships," training and coaching local talent. These recipients not only work as coaches and staff but compete around Indonesia in hopes of creating Indonesia's first homegrown One FC champ.
LOCAL PAD HOLDER TEAM
Many of the coaching and pad holder staff are locals, part of the Soma family, trained and groomed by Mike Ikilei and Gianni Subba from beginner to coach in an attempt to give back to and develop the Indonesian fighter community
SOMA "FAMILY DINNERS"
Every week, the Soma community (members and staff) partners with one of the many top-notch local restaurants for a Soma family dinner, to build community and share good vibes inside and outside of the ring.
FIGHT WATCH EVENTS
The Soma fam lives and breathes kicks and punches, so outside of Fight Nights, if there's a big UFC fight, One FC fight, or boxing match happening, the Soma crew pull sup coaches and a projector into the gym and the whole Soma fam is invited to come, watch, and cheer.

WHAT IS SOMA FIGHT CLUB?
A WORLD CLASS BOXING AND KICKBOXING GYM, THAT AIMS TO TRAIN THE FUTURE "BEST FIGHTER IN ASIA" AND FIRST ONE FC CHAMP GROOMED IN INDONESIA
Imagine a gym, designed to create world-class fighters – in boxing, Muay Thai, and kickboxing – aiming to train the first Southeast Asia MMA (OneFC) champion trained in Indonesia.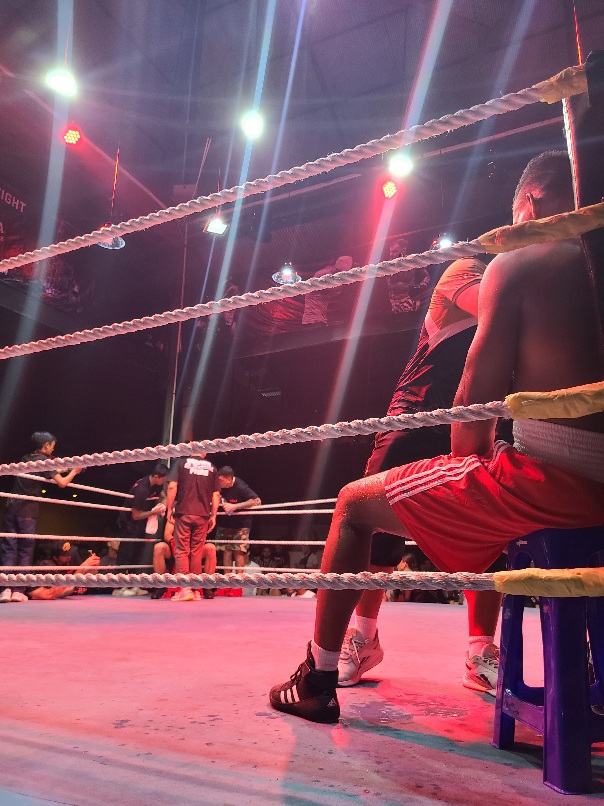 Now, imagine the high-quality boxing and kickboxing coaching you'd need to train and learn quickly and efficiently to achieve that level as a pro fighter
After the hours per day of training boxing/kickboxing technique, strength, and stamina, imagine the kind of methodical nutrition (restaurant and supplements) and high-quality facilities (sauna, ice, mobility and recovery classes, attentive and professional staff) those pro fighters would need to stay healthy and recover as quickly as possible.
Then, imagine this gym is located 10 minutes from sunny beaches and beautiful culture and in the heart of one of the most popular and bohemian surf villages in Asia (Bali, Canggu) – essentially located in paradise.
**1**
Beyond the locale, imagine that fight club is built like a family, not only bringing in and giving back to the local community, but known for pulling couches into the gym to watch UFC fights together (members, coaches, and staff) and setting up weekly "family dinners" with local restaurants that anyone can join.
That is exactly what Soma Fight Club is – an all in one great facility for fighters – from beginner to pro – to train at a world class level, recover, eat, enjoy and repeat.
SOMA FIGHT CLUB IS THE NEW "DESTINATION FIGHT GYM" IN ASIA THAT WILL SOON DETHRONE THE STAPLE NAMES IN THAILAND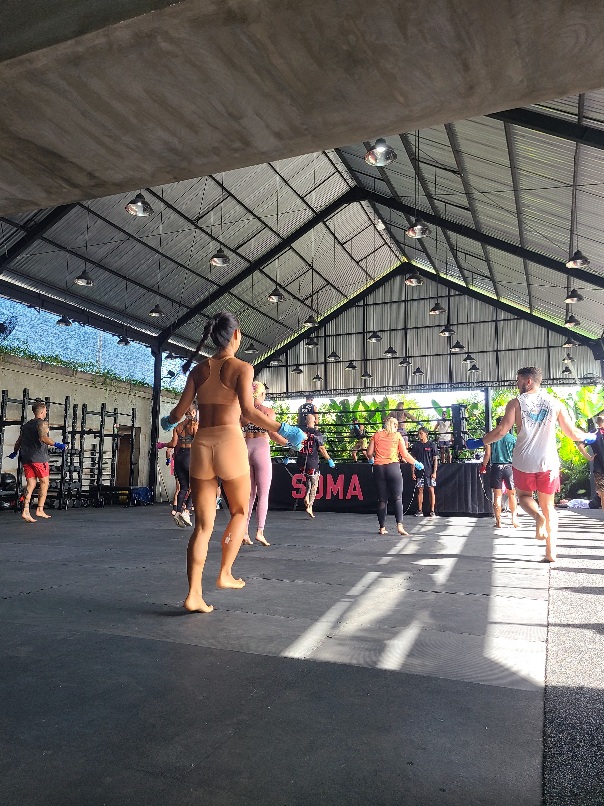 This concept, an all in one fight club providing intensive training in Muay Thai and boxing is popular in Thailand – the home of Muay Thai – but recreating this concept in Bali, specifically in the backpacker and digital nomad hub of Canggu filled with coworking spaces, cafes, beach clubs, international cuisine, and the epitome of the bohemian lifestyle in Southeast Asia naturally puts Soma in a class of its own.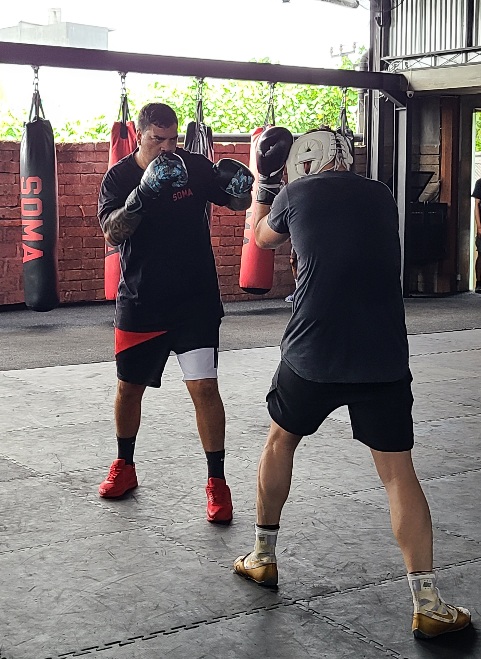 Mike Ikilei and Gianni Subba – Soma's co-owners and head coaches – have created a perfect storm by creating a top notch fight club and fighter community a few minute's ride from one of the most popular vacation destinations in Southeast Asia for backpack packers, tourists, surfers, and digital nomads alike.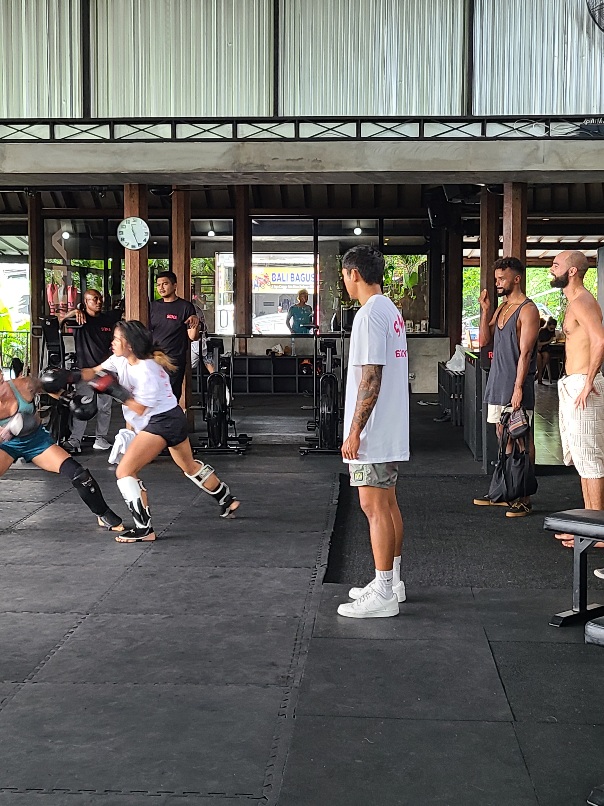 The result is not only a great fight club in a great place, but also, actual fights to watch!
The high energy fight nights Soma has become known for – with Las Vegas level production and fanfare – add something tourists to experience during their island vacation.
At the same time, Soma's process of continually grooming fighters (new and pro) for fight nights in the same gym you'll train in gives you the chance to train alongside world class MMA fighters, on the same training regimen and recovery plan that they do, in the paradise of Bali.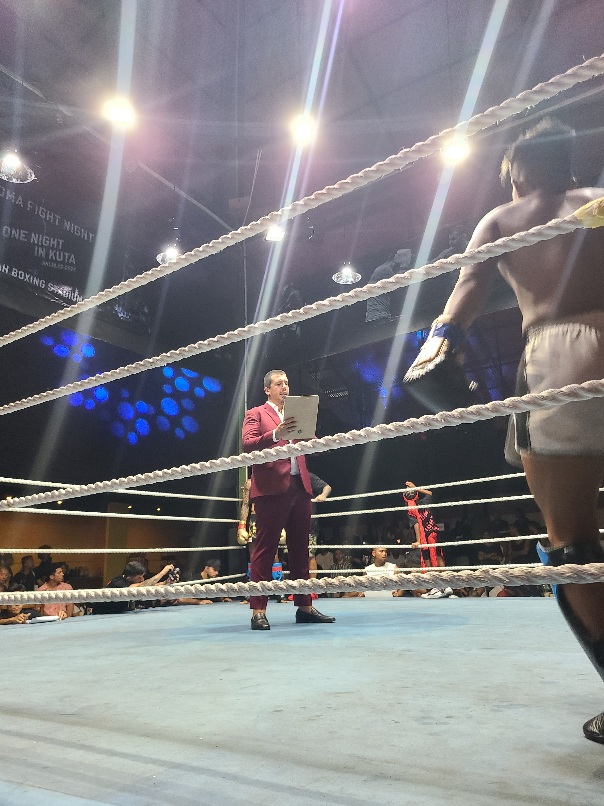 We'll talk about the addictive "Soma fight nights" later, but first let's talk about why, no matter your boxing level, Soma is a gym you need to check out.
SO SOMA IS A GREAT FIGHT GYM. WHAT DOES THIS MEAN FOR YOUR FIGHT EXPERIENCE AS A BEGINNER BOXER, BEGINNING KICKBOXER, OR GYM GOER?
Soma is first and foremost a fight club. So, why should you go?
What if you are new fight culture, boxing and kickboxing?
What if you are looking for a gym to stay in shape?
Soma fight club is likely still your gym. If you want intensity in your workouts, a challenge, to learn something practical (self defense), and to workout and recover in (literally) world class facilities, Soma Fight Club is one of the best options in Bali, one of the 5 best gyms in Bali, and absolutely the best boxing club and fight club in Bali
If:
You are interested in learning to throw a punch or a kick, and using that experience to stay fit
You would love to learn to fight for an intensive training period – a month perhaps – and then step in the ring for a Soma Fight Night.
You're interested in learning to box or kickbox
…then you can't lose going with Soma.
The future OneFC (Southeast Asia's version of UFC) is training at Soma now and you'll be training alongside him/her with his/her trainers.
The road to becoming a pro fighter is tough and requires amazing coaches to teach technique, great recovery facilities, and healthy eating and nutrition to refuel, recharge, and recover. Training at Soma, you get all of that – the same as the pro fighters. If its enough for them, it will be more than enough for you and I haven't found anywhere on Bali that provides better – if you're interested in health and optimal performance.
But read that again – you get trained by the same coaches as pro fighters!
Mike, Gianni, and their coaches are the ones that plan and lead the boxing and kickboxing classes, and these are the same coaches you see ringside coaching the pro, One FC contenders that you'll see dropping bombs during Soma fight nights (and on tv in plenty of international fights).
Though the Soma plan is designed to groom pro fighters, the gym, classes, and community is just as welcoming to beginners.
Mike made it clear – his goal is to train the first One FC champion to come out of Indonesia but he also wants to attract and groom new talent. In that process, he wants Soma to be a place that anyone (with the heart) can come and have fun, get a sweat on, and learn to throw a punch, coming from knowing absolutely nothing to being able to honestly call themselves a competent boxer or kickboxer.
And he has created exactly this.
For example, my girlfriend went from being scared of the idea of throwing a punch to loving fight nights and hittin the pads and bag at classes everyday.
I jokingly called her "the mouse" sometimes – tiny, shy, and cute. She had never thrown a punch in her life. Keyword, "had."
She was lucky enough to grab tickets from a friend to the first Soma fight night, and something primal clicked in this girl!
She decided she loved watching the fights – primal, high energy, and sporting – but was too intimidated by the idea of actually going to a gym. Like I said, she had never thrown a punch.
Then she heard Mike's pitch that Soma was just as welcoming to newbies as it was to seasoned fighters.
So, my timid lady showed up for a class, knowing nothing about throwing a punch. One of the coaches helped her put on her wraps, the staff kindly set her up with gloves, and throughout the manageably sized class the head coach and pad holder staff coached her through the fundamentals of boxing and an amazing workout. She was hooked.
Now, she excitedly hits a few boxing classes a week and eagerly watches Instagram for the next fight announcement. It's all because of Soma.
The bottom line: Soma is a gym for pro fighters in Southeast Asia, and its equally a gym for beginners to train too – settled in paradise. As promised.
Even better: This destination gym offers the setup to come, train intensely and eat right for a month, and end with your first bout in a Soma fight night – all on the paradise of Bali.
A step beyond my girlfriend's new addiction to boxing training as a workout is flying to Bali to live in paradise for a month, committing to an intensive boxing or kickboxing program, and ending with your first bout in a Soma fight night against the best names in Indonesia.
Yup, you read that right – end your intense one month stint on Bali with an actual fight.
In Thailand, especially around Phuket, "destination fight clubs" are common, offering a two week Muay Thai training package and ending with a fight to test your transformation. However, anyone who has been can tell you that the facilities for Muay Thai training camps in Thailand are generally "local quality," austere, and spartan – great for bragging rights perhaps, but not ideal if this adventure is eating into your annual vacation.
Soma offers that same proposition – high quality kickboxing and Muay Thai fighter training, sufficient to get you fight ready in a month for a real fight – except, in the vacation destination of Bali, and in the famous digital nomad hub of Canggu where Soma is based, famous for a bohemian café scene, lux beach clubs, and a quality of life that will make you want to runaway forever – which is exactly what fighters are doing. So, inside and outside of Soma, life is as good as it gets.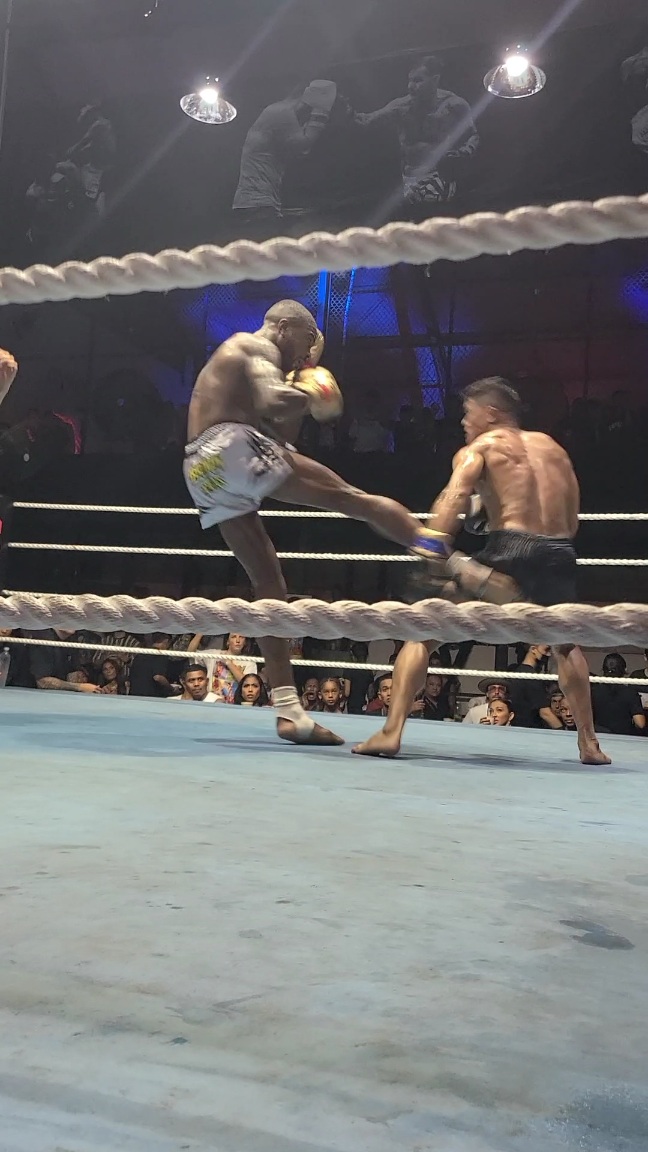 So, if you've been milling around the idea of flying to Phuket to train Muay Thai for a couple weeks – do yourself a favor. Skip that, contact Soma Fight Club, and come to Bali instead.
Thank me later
Why Bali over Phuket? Bali is known for lux beach clubs, vacationing, and a digital nomad lifestyle
Bali is known as a vacation destination with the best beaches in Southeast Asia and a very lux lifestyle – with expansive beach clubs like La Brisa, The Lawn**, Potato Head Beach Club**, Cafe del Mar**, and more, Michelin star level restaurants like Aperitif** in Ubud, Mozaic**, Merah Putih**, Locavore**, and more, some of the best surfing and beaches** in the world around Uluwatu (in the Bukit) and beyond. So, unlike fight clubs in Thailand, outside of the gym you can choose to experience the best of everything, at a much higher quality than in Thailand – or easily live just as cheap, backpacker style.
Within Soma, the facilities – sauna, ice bath, and café – deliver that same level of quality that nomads and vacationers on Bali have come to expect. No more grimy locker rooms and broken equipment, just top notch everything so you can keep up your training tempo and recovery.
You get the level of martial arts training Thailand is famous for, with the living, facilities, and creature comforts that Bali is notorious for.
Additionally, the "village" of Canggu where Soma fight club is at sprouted up as a surf village that began catering to digital nomads and long term expats. Rewind back 10 years and Canggu was just a sprawling cluster of rice fields in front of a surf break. As more backpackers and digital nomads dropped in, more and more cafes, co-working spaces, guesthouses, and trendy fusion restaurants popped up creating a village tailor made to the desires and needs of long term travelers, backpackers, digital nomads, and workcationers – in a way that one ups Chiang Mai and the Thai islands. So, if you work remote and need the infrastructure to support that while you do 30 days of fight club training, Soma + Canggu Bali make up one of your best options in SEA.
(**1**)
Soma Facilities and Equipment: Great sauna, ice bath, locker room, and showers, all top notch and kept spotless
In any great gym, the facilities and equipment (floor matting, pads, weights, and accessories) should be high enough quality that they enhance the traing experience and keep the flow of training moving, and Soma delivers exactly that.
If you need to rent boxing gloves, Soma's are great quality and only 50k a session while hand wraps and towels are free and all are great quality. Pads and training equipment are all in great condition, pro quality (to train technique, not just suffice for "cardio boxing), and thoroulghly cleaned and maintained after each class.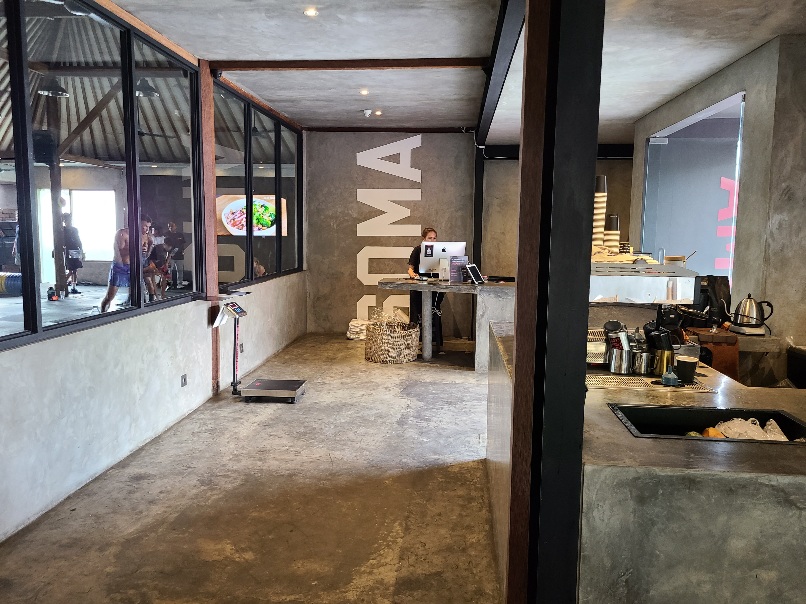 The free weights – barbells, bumper plates, dumbbells, kettlebells, jump ropes, resistance bands, and anything else you'll need for resistance training – are in great condition and well stocked. I've never had to wait for anyone else to finish using equipment there.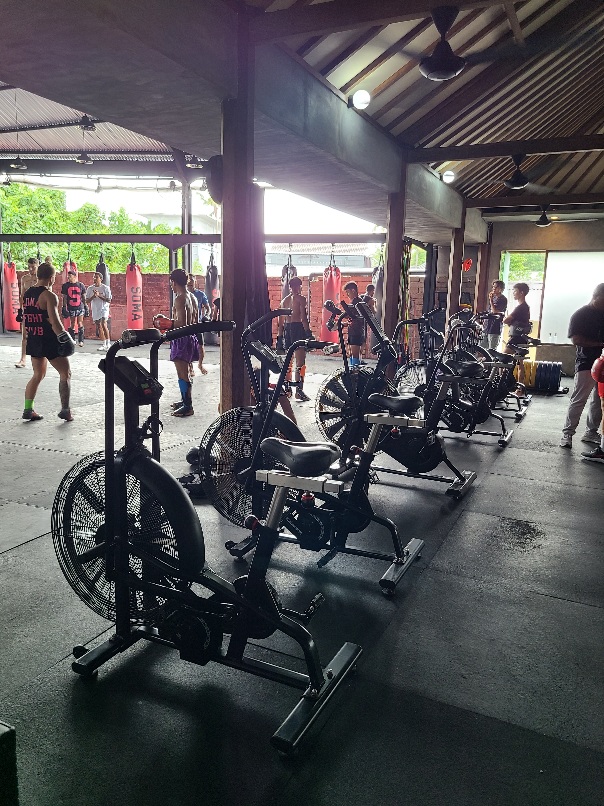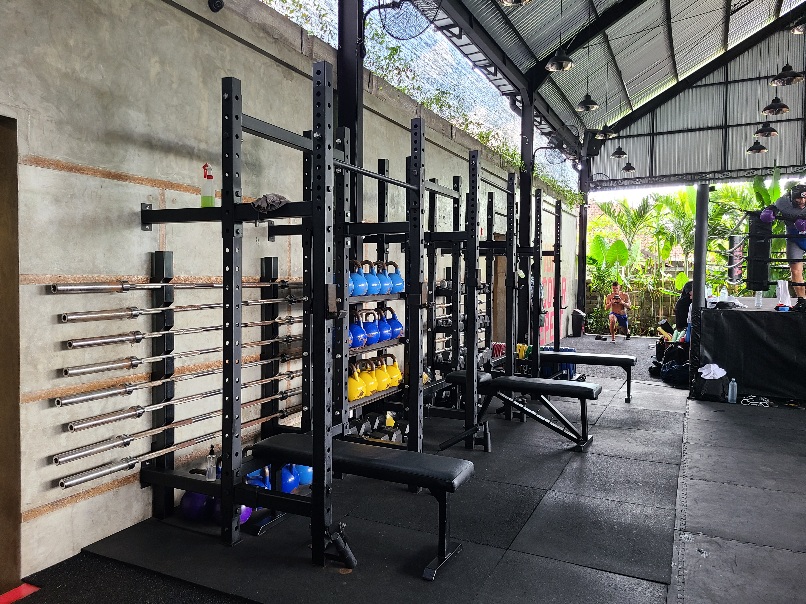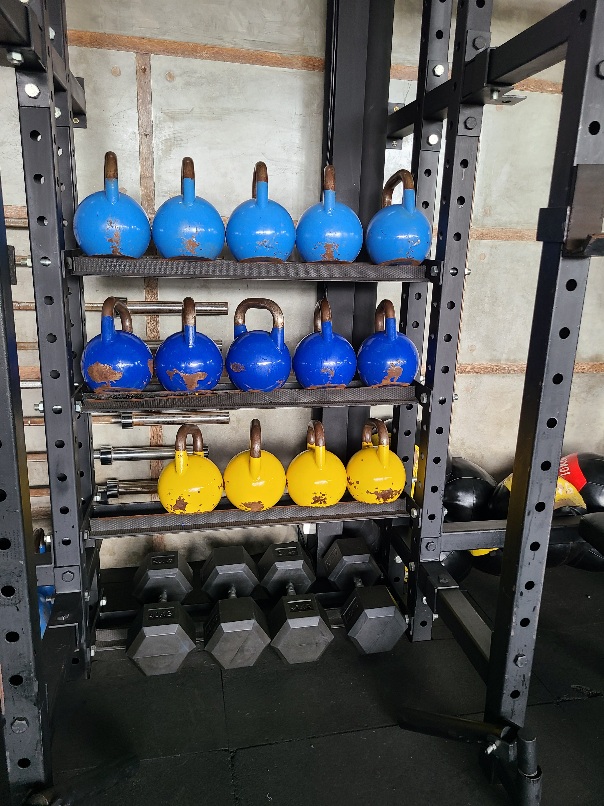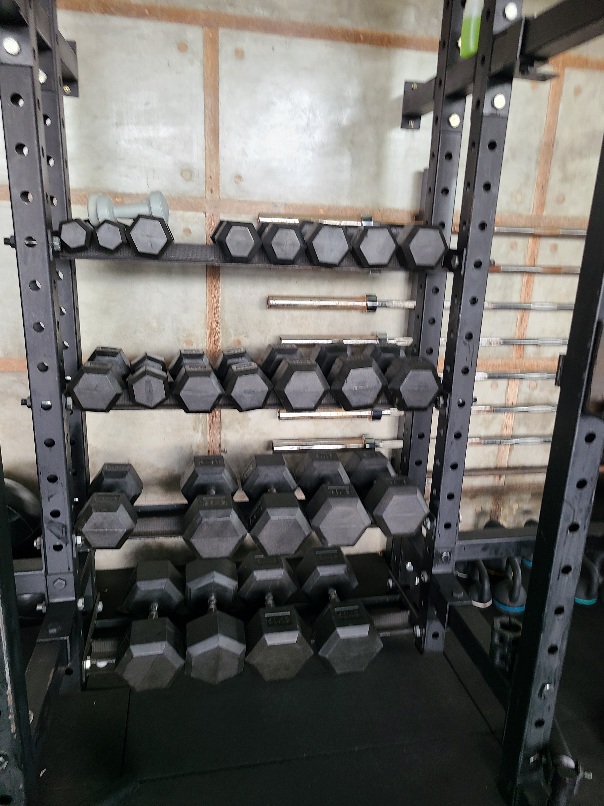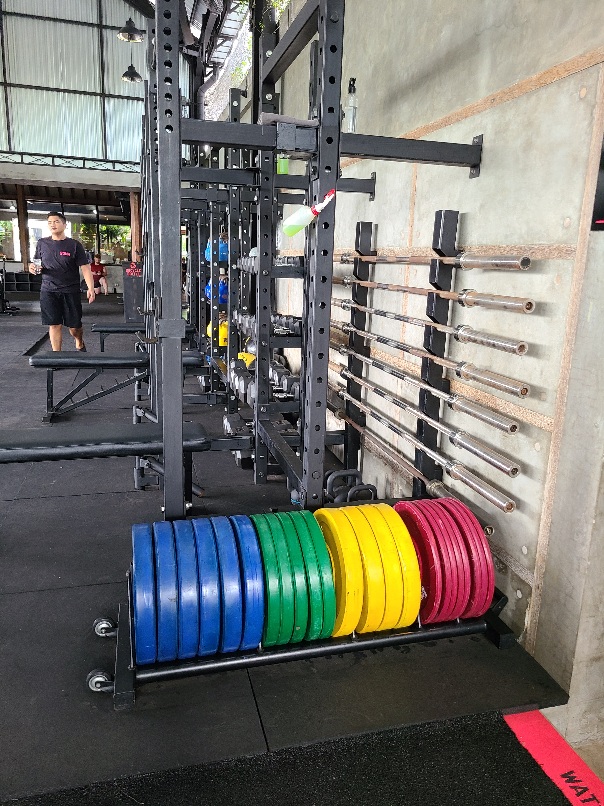 The staff are constantly cleaning – whether mopping up mats after a class, mopping the locker rooms, tidying the sauna floor, and mopping walkways to the ice baths – so the facilities smell good, and stay pristine.
And the recovery facilities are some of the best in Bali.
The sauna is hot enough to push your limits and so large there are never any issues when half a class of kickboxers rolls in.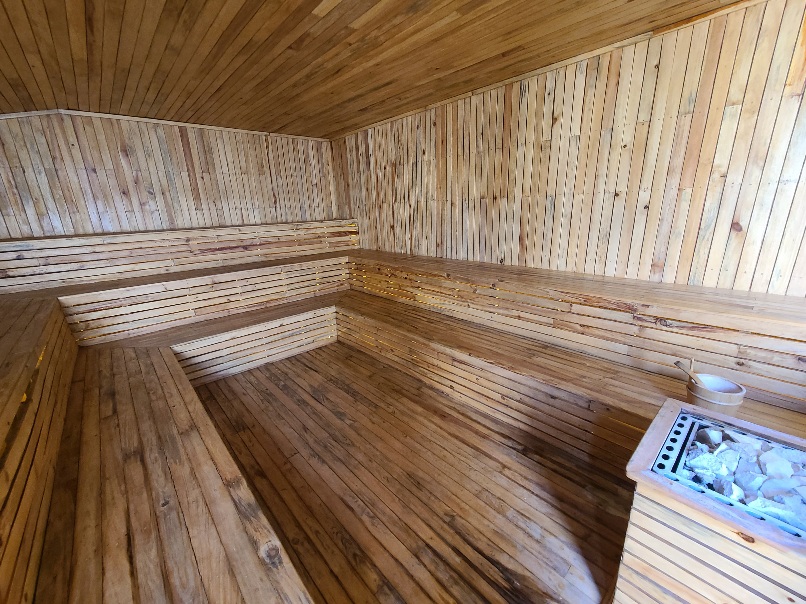 The ice bath is exactly that – as the staff routinely dump ice into the bath to give it a little extra boost. The coldest I've seen it at was 2 degrees Celsius and its commonly at 4 degrees celsius.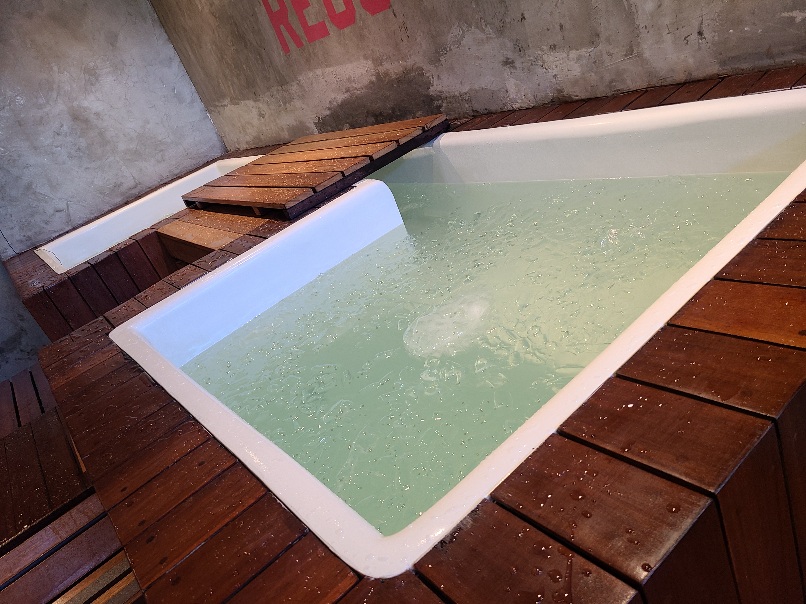 Last, once you've finished the fantastic abuse of training and recovery, the Soma café delivers a fully stocked menu to get in a healthy meal.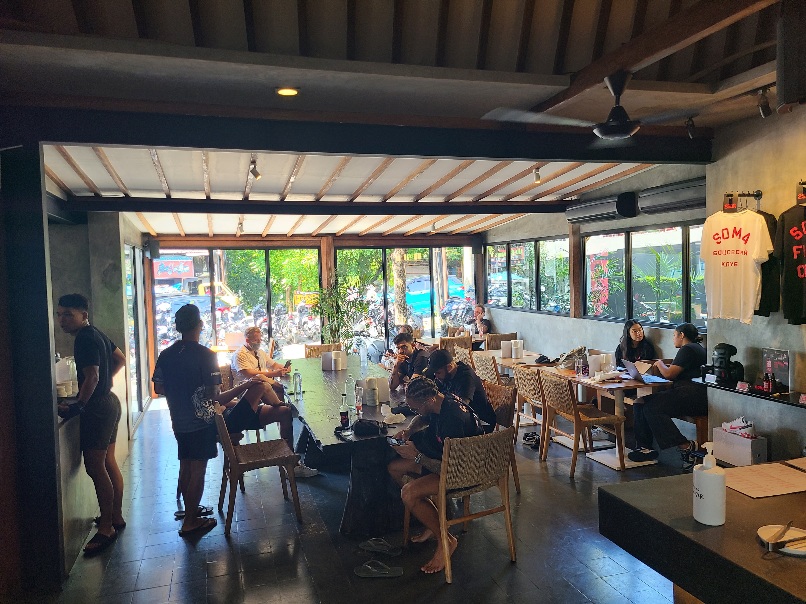 I can't overstate this enough – if you are serious about training and want a top notch spot with everything you need, Soma is hard to beat.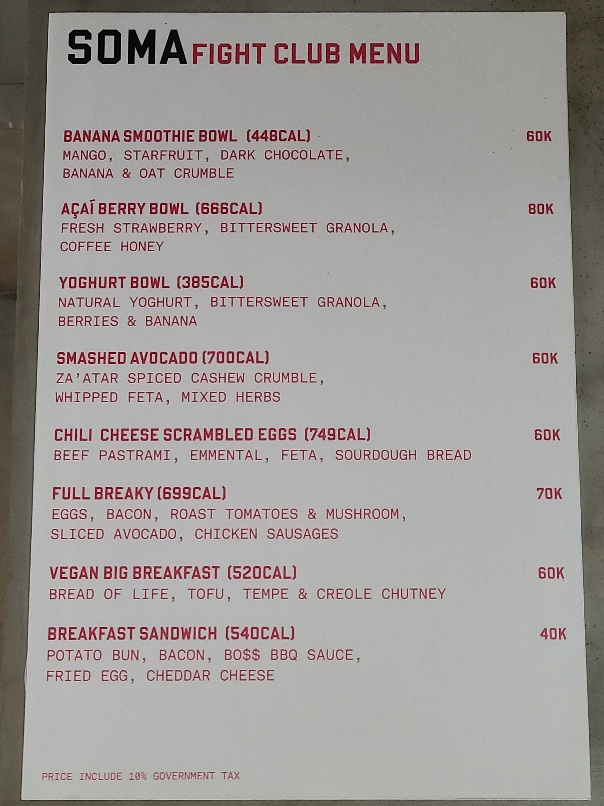 CLASSES: BOXING, MUAY THAI, STRENGTH TRAINING, AND RECOVERY: WELL STRUCTURED AND PERFECTLY SIZED
The Soma team limits the number of participants per class to 25 to 30 which fits the facilities, equipment, and support staff (coaching and holding bags) well. The result is the classes are social and packed enough for a good vibe, and the perfect size so that coaching (on technique) happens just enough on an individual basis. In addition to the size, the classes themselves, the techniques being taught, and the curriculum how individual techniques build into effective combinations are all structured very well.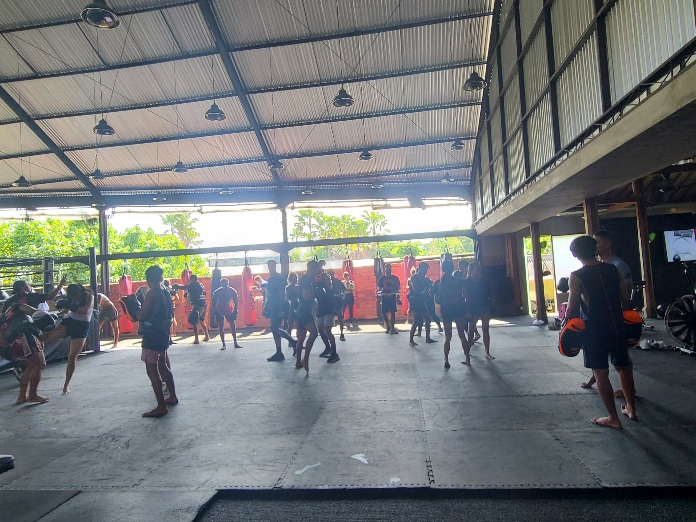 Each class – whether boxing pads, fundamentals, beginners, etc., is structured to start with individual basics – for instance jabs, crosses, and hooks.
As the class progresses, techniques are added, such as footwork and defensive movements, into combinations that you start practicing lightly first with partners in the class, then more intensively with staff holding pads and coaching or on heavy bags.
Each class culminates with going all in, high intensity on pads or baga, applying the techniques delivered during the class and intense enough to deliver a heart pumping HIIT (high intensity interval training) workout. These Crawl, walk, run, at its best.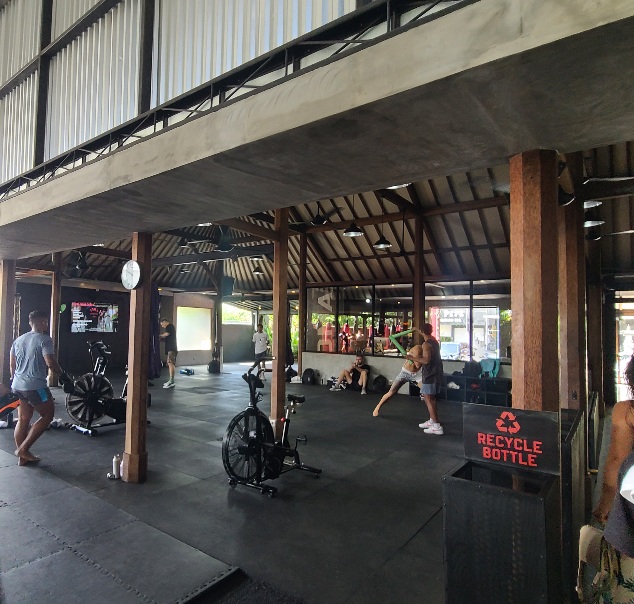 The result is that every class is welcoming to beginners or worthwhile for experienced fighters aiming to learn technique and still delivers a top notch workout in a combination that is better than any fight gym – jiu jitsu, muay Thai, Kali, or boxing – that I've been to.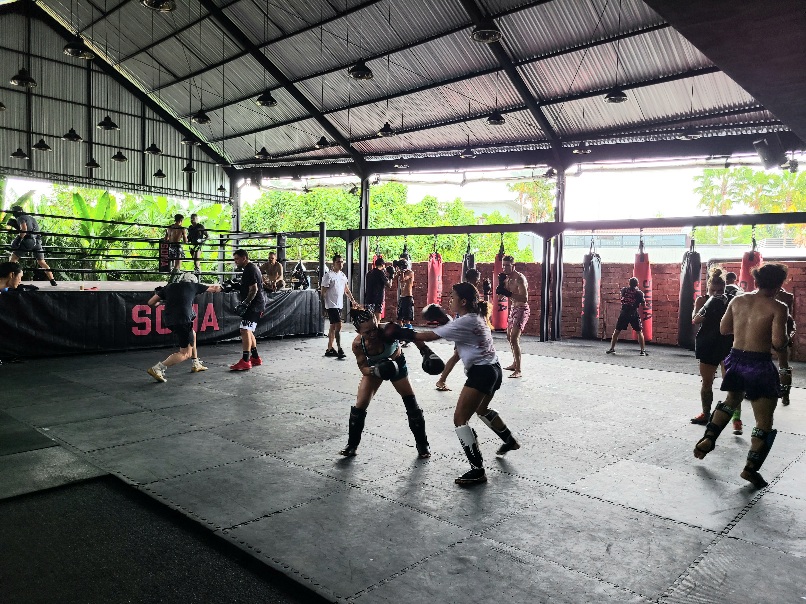 Throughout the class, the vibe, from the head coach, the staff, and partners in the class, has always stayed fun, productive, and supportive, which mimics the overall vibe of Soma. One more factor that makes this a place you have to visit
And when you're ready to step it up, sparring sessions happem everyday.

SOMA FIGHT NIGHTS: A HIDDEN GEM ON BALI
One of the highlights of Soma that makes it the best kickboxing and boxing gyms in Bali are the Soma Fight Nights. Whether you are a spectator or an aspiring competitor, the adrenaline filled fanfare of these entertaining competitions is something you will probably get addicted to.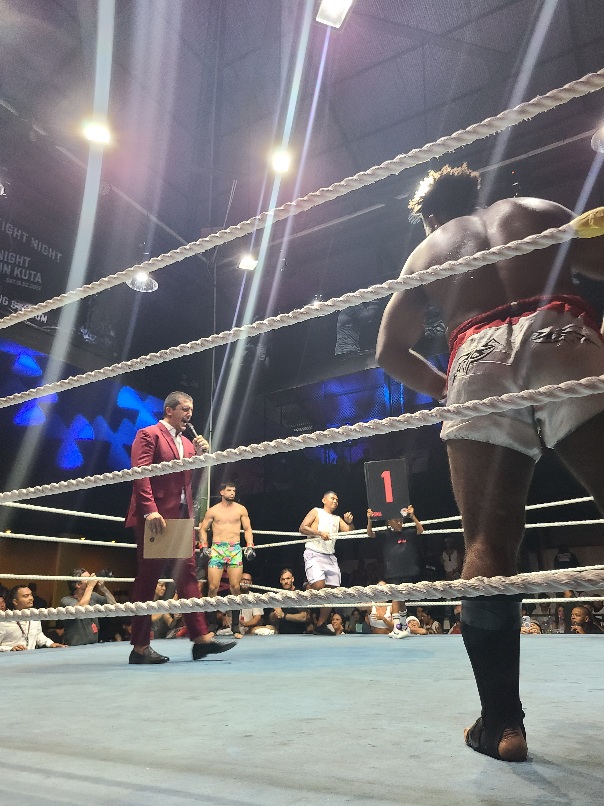 Soma Fight nights are prepared and structured like full Las Vegas style boxing nights or UFC fights, high energy, vip tables with bottle service, fun cheaper seats, and A LOT of entertainment. I've been to a handful of Muay Thai fight nights in Thailand, and the intensity, professionalism (of the staff and fighters), and entertainment value of the Soma fight night was by far better.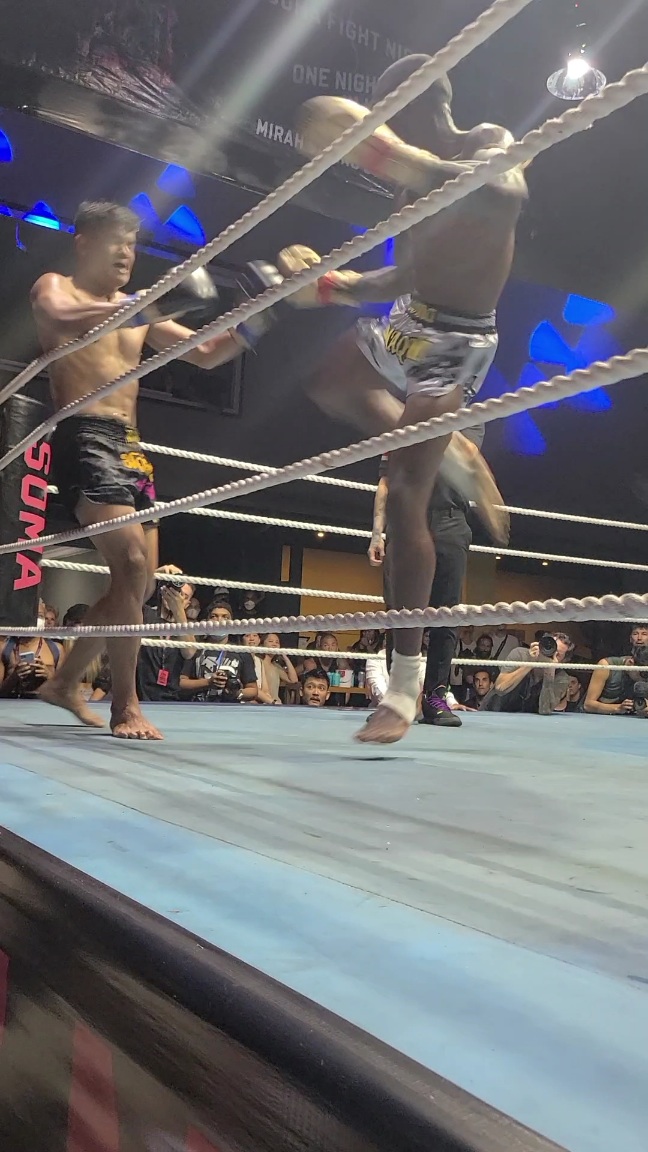 Though Mike and team have been hosting one fight night every few months, Mike aims to host one big fight night every month. Every fight night so far has been sold out months out and fully packed with fighters. So hosting a fight night on Bali once a month means no matter when you show up you'll be able to watch or participate in a fight.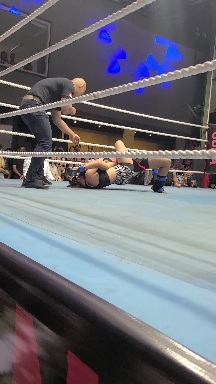 So, if you're on Bali and not yet ready to train kickboxing I highly recommend buying a ticket for a fight night.
But, what if you are training boxing or kickboxing and really want to test yourself?
Then, plan to fight in a Soma Fight Night.
Part of Mike and team's goals for Soma is to grow Soma into "the" destination fight gym in Asia – where anyone of any skill level can fly in for a month, get into amazing shape, and train boxing, Muay Thai, or kickboxing to the next level. But that kind of crucible wouldn't be complete without an optional final test to culminate with a bang. The chance to end a month long training stint with the rounds in the ring, under the lights is exactly that.
The Bottom Line on Soma Fight Nights: Amazing entertainment for anyone who loves MMA, these adrenaline filled nights, stacked with fights, bring a new form of entertainment to Bali while giving fighters a real chance to test what hey're made of.

THE SOMA FIGHT COMMMUNITY: AN ESSENTIAL PART OF THE EXPERIENCE
Any place where you spend a lot of time can be made better or worse by the people you bump into often and the community that is built, and Soma's community acivities add to the tight knit fight club camaraderie.
Whenever there is a noteworthy UFC or ONE FC fight, part of the gym is sectioned off, couches are brought in, and everyone is invited to come in and watch the fights.
(**9**)
Weekly, "Soma Famiy Dinners" happen, partnered each time with one of the many great restaurants in Canggu to cater a large dinner open to anyone in the club.
Outside of classes and fights, the longer you stay the more welcomed and at home you'll feel.
Though there are some very talented, capable, and scary fighters, everyone is very respectful, welcoming, and accommodating toall skill levels.
Chat outside of the classes – in the cafe, sauna, and exercise areas – is friendly and egos feel like they've been checked at the door.
So, if a friendly cordial vibe matters to you, and you appreciate extra opporunities to hang with and ge to know the people you're training with, Soma's community is another high point.

GIVING BACK TO THE INDONESIAN COMMUNITY – PART OF THE SOMA MISSION
All of this awesomeness happens on Bali, Indonesia – meaning this gym is filled with foreigners living their dreams in a place they are either visiting or staying in as guests. Mike an team are very aware of that and constantly give back.
First off, Mike has said repeatedly that his goal is to create the first ONE FC champ to come out of Indonesia – but – he also wants an Indonesian One FC champ to come out of Soma. To meet this goal, Soma gives "fight scholarship" opportunities to talented Indonesian locals, giving them the chance to come and train in world class facilities and be trained by Pro level coaches for free.
You even benefit from this, as many of these Indonesian pro fighters then pickup the pads and also take a job as coaching staff in Soma, meaning you get even better coaching (from real fighters) and the local fighters get a chance to live their dream – making a living fighting, made possible by Mike and teams' training and fight scholarships.

MY SOMA FIGHT CLUB EXPERIENCE
I'm no slob. I value staying in shape. Even through the pandemic I set plenty of time to get a sweat on, so I'd been looking for a way to mix things up.
From a fitness standpoint, I'm a Crossfit trainer and calisthenics enthusiast that maintains a high level of fitness to travel and explore well (for my writing) surfing, diving, mountaineering, uninhibited by physical performance.
From a fighter standpoint, my formal training in the martial arts is thin at best, and most of my experience comes from my time in the Marine Corps, training our version of martial arts (similar to Krav Maga) – which is more of training street fighting, cheap shots, and how to take a few punches than a martial "art". Beyond the military, I've dabbled (less than a year of training) in Kali (knife and stick fighting) and Jeet Kune Do.
I say this to imply, that prior to Soma I could hold my own in a street fight and I'm in decent shape – but my technique in throwing a punch wasn't pretty at all…which I (and my ego) found out repeatedly. No matter how I progressed in the classes the coaches were always able to keep me learning new elements of throwing a punch and cranking up the intensity from a workout standpoint – and the coaches saw that I liked it and kept cranking it up.
I can't remember a single day going to the gym and thinking "that wasn't bad" as opposed to "holy sh**, I'm just glad I didn't throw up."
From day one, I got my butt kicked and learned every second of each class.
Class Structure
Every class opened with a warmup and review of the fundamentals we'd focus on during that class – combinations, techniques, footwork – then drilled with a partner. This part was a surprisingly great experience as there were boxers in the class with years of experience offering tips in a sporting and friendly way as we exchanged punches, and the coaches were constantly showing up critiquing form in this "light phase" of the class. Everything from punch technique, to body mechanics, to footwork, and beyond were quickly and effectively taught and critiqued at an individual level by wandering coaches in a way better than I'd experienced in any martial arts training class.
Additionally, the workout had already started. Even throwing light punches to practice technique with a partner quickly turns into a cardio workout, getting your heart pumping.
From here, the head coach kicks things up a notch, cranking up the intensity and speed and going for more of a traditional fight structure. The coach brought out staff that specialized in pad holding and divided us in two groups with one training on pads with the Soma staff and the others drilling on heavy bags in bouts of 3 to 5 minutes witg 30 seconds rest allowing the coach and pad holders decide whethered we'd slow down and focus on technique or maintain throwing combos and moving continuously like im a real fight.
THIS was where the pain really started, and the Soma team shined.
During my first week at Soma I was lucky enough to be paired with a "pad holder" named Mateo – and by "pad holder" I mean Mateo was a professional boxer that traveled throughout Indonesia as a fighter, and on the side, trained lops like me. With every single punch, Mateo offered great, instantaneous feedback, wherein I felt like I was learning to box way more than what I'd paid.
Every time I thought I had a punch down, Mateo added a combo. When I though I'd learned a combo, Mateo slapped me on the chin to remind me to keep my guard up. Every step of the way, every minute of the hour, Mateo provided high quality feedback and coaching – the only hurdle to learning and performing was, honestly, me. Mateo was awesome.
Even better, all of the trainers I've had at Soma are like Mateo – clearly knowledgeable fighters that train fighters and fight in their own time.
This wasn't cardio kickboxing or a class aimed at getting my heart rate up and that's it. This was a functional class aimed at learning to throw real punches.
This was truly world class fighter training, coming from world class fighters.
This was awesome.
By minute 50 of the hour I felt like my heart was going to explode. When I was on the heavy bag, Mike (the head coach) yelled in his fun loving way to keep going and kept the tempo up. When I was back on the pads with Mateo, he coached me through throwing powerful combos that made my muscles feel like I'd been pumping weights in a Crossfit workout, then had yelled for speedy punches that made my heart feel like I was going to explode.
This may sound intense. It absolutely was. But here's the thing…that's what I wanted. That's what I needed.
As I looked around, other coaches walked other beginners through techniques at a slower pace, suited to their fitness level, their comfort, and their level of masochism.
In the end, my punches felt crisp, I had tons of fun, and I got in an amazing workout.
The quality of training was so good, and fun, that there were morning I woke sore from workouts (in a good way) and my body wanted to rest…but I couldn't. I had to go in, hit the pads, and keep progressing
OUTSIDE OF CLASSES, THE FACILITIES AND EQUIPMENT FOR TRAINING ARE GREAT
Midway through my abusive love affair with Soma, I had two weeks wherein I wasn't able to go to the morning classes and had to "settle" for open gym, training by myself – and the experience was just as good.
Thanks to the well stocked and great quality equipment – great barbells, true bumper plates, fully stocked dumbbells, kettlebells, bands, and mobility equipment – I was able to go in and do a great solo Crossfit workout (following the Crossfit open workouts 22.1, 22.2, 22.3), interspersed with training on the heavy bag, and ending in a clean and well tended sauna (super hot) and ice bath (super cold).
After the workout, the locker room and showers are well appointed and clean – a pleasant place to hide in the air-conditioning and lick your wounds.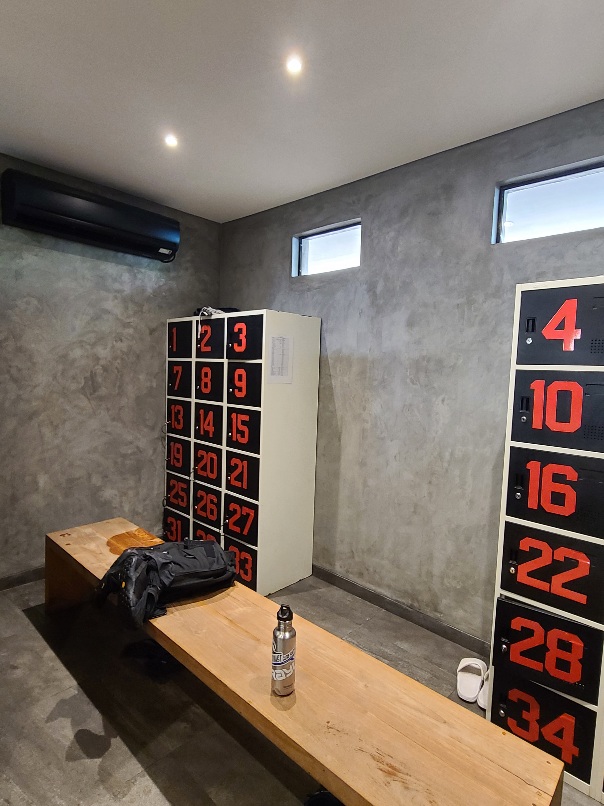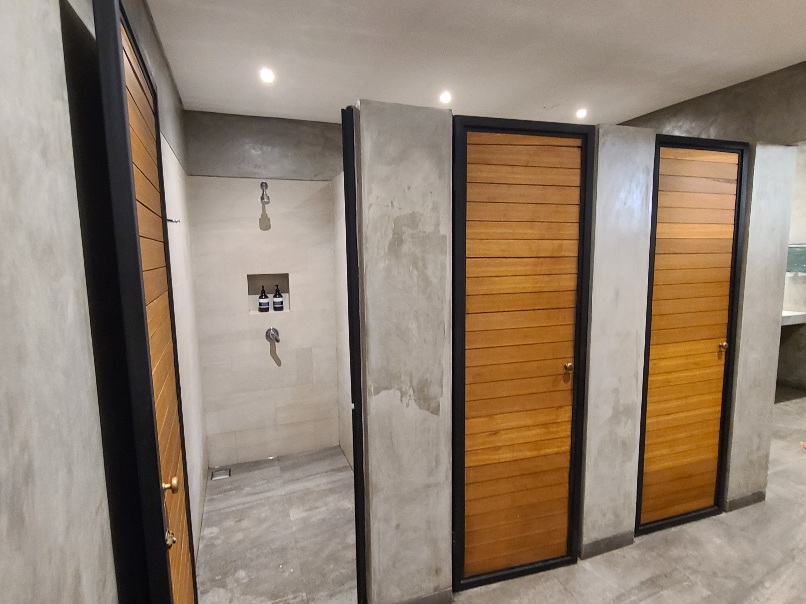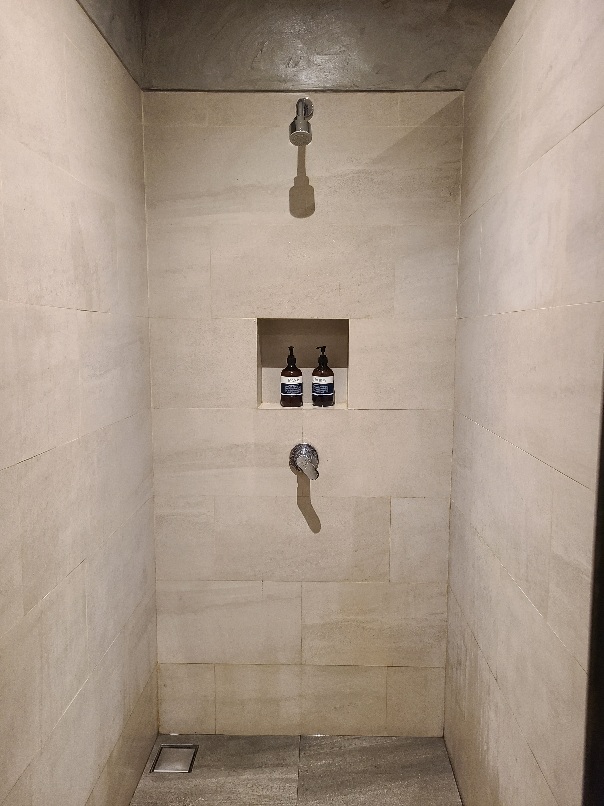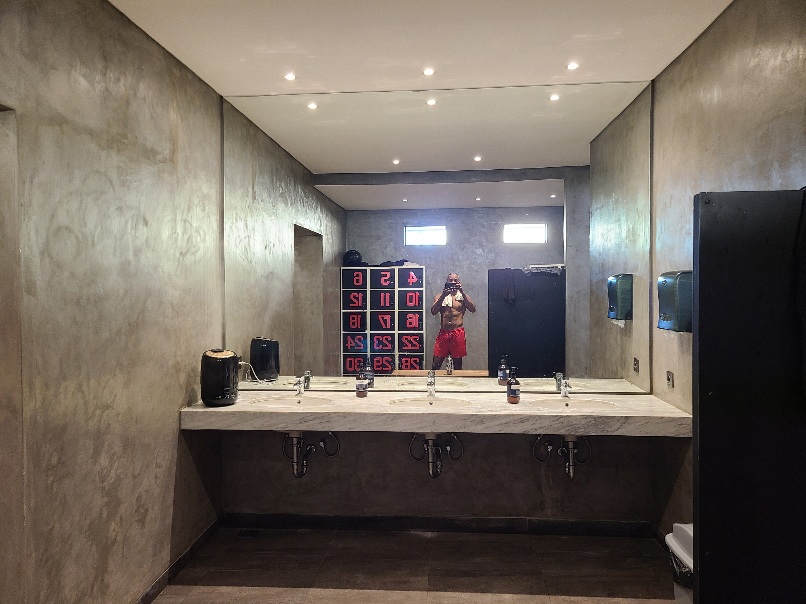 WHO IS SOMA FIGHT CLUB FOR?
Beginners interested in boxing and Muay Thai for fun with a heavy dose of exercise on the side
"Vacation fighters" looking for a destination fight club to do an intense fight camp for a month or so, then (possibly) fight
Aspiring pro fighters looking for coaching and facilities to take their skills to the next level
I loved my experience at Soma, but is the experience for you?
Very likely, yes. A month or two of daily boxing and Muay Thai classes at Soma is a perfect way to break the boring rut of other gyms, get in really good shape, and learn to throw a punch (or a kick).
If you're already on Bali, Soma is a great option as simply a gym to get in amazing shape in some great facilities and your best option if you're looking for a boxing gym.
If you are not on Bali and are looking for a "destination fight club" in Southeast Asia to learn and train (like in Phuket) contact the Soma team, as this place is a great option. Thailand is well known for "destination fight clubs" in which you sign up for two solid weeks of Muay Thai training and go from zero to hero. Unfortunately, most of these fight clubs are in Phuket which, as far as Southeast Asia destinations go, is one of the worst. And often, the destination gyms, facilities, equipment, and recovery support are barely adequate if you're maintaining a high training tempo.
Bali on the other hand, whether in Canggu, Uluwatu, Ubud, or Kuta/Seminyak is easily one of the best destinations in Southeast Asia. Thanks to the well-stacked team – with head coaches Mike handling boxing training and One FC fighter Gianna Subba handling Muay Thai training, and being surrounded by actual pro fighters, Soma delivers the same quality of training (from an equally experienced team), with the backdrop of Bali, making Canggu and Soma an easy winner as a better alternative to the standard fight club in Thailand.
Also, Soma's Fight Nights, the newest addition to Bali's entertainment scene, deliver's that UFC style spectator experience with an added bonus for fighters training on Bali – the chance to get in the ring.
Soon, fight nights will be once a month and Mike said very clearly the aim of monthly fight nights is to not only bring awesome entertainment to the island but to also give fighters that have worked hard a chance to test their skill in the ring. What better way to end a one month vacation training experience than with the peak of entering the ring and testing your progress?
That's definitely a bucket list item of mine…
If you're already a fighter and aiming for pro, at Soma you'll be in the company of other pro fighters and One FC fighters.
Yes, you will have the option of classes, however, Mike and team train the Soma Fight Team throughout the day, running sparring sessions and one on one training to continuously groom them.
Outside of the training I watch, I enjoy seeing that the Soma Fight Team are a tight nit group, coming in to train, recover, and relax together – meaning through your struggle and shared misery you'll find comradery, a solid welcome, and the vibe and environment that is easy to love.
So, whether you're a newbie (like me), just coming for a good workout, planning to train for an intense month, or want to make fighting a career, Soma is the best boxing gym on Bali for you and possible the best in Asia for destination fighters.

WHAT NOW?
If you're in Bali now, head over to Soma and, at the very least, grab a day pass to experience for yourself.
I recommend hitting a beginner class, then dropping into the sauna and ice bath before grabbing some healthy eats at the café before heading back to Canggu for some epic nightlife.
(Google Maps Link) Canggu, 7 mins from Berawa and Batu Bolong beaches (Jl. Raya Canggu, Tibubeneng, Kec. Kuta Utara, Kabupaten Badung, Bali 80361)
If you're interested in coming to Bali to train in boxing or Muay Thai intensively, shoot the team a message via Whatsapp (+62 877-5611-8691). They'll be able to answer all of your questions and you'll understand very quickly why you should head to Bali over Thailand for your vacation. Mike and team will be able to structure a one month (or more, or less) experience of training, both technique and fitness, and recovery to your needs and end goal – whether that is a certain level of competency or actually getting in the ring.
Follow Soma on Instagram to get a solid perspective of what training at the club is like and reach out with any questions.
Or, contact them via Whatsapp to get all of the information started that you need to plan a destination fight club experience
Of course, if you have any questions about my experience, as always, feel free to reach out to me at [email protected]

HOW SOMA COMPARES TO OTHER GYMS IN BALI
With Bali's beach culture, from surfers strutting the beach to backpackers and nomads trying to look their best, there are plenty of options for great Canggu Gyms, you can see the top gyms in Canggu in this post. So, how does Soma compare?
As a fight club and boxing gym, Soma is hands down the best the Bali has to offer – with great coaches and training and facilities that are better than most gyms in the US.
Compared to non-fight club gyms on Bali, Soma is still one of the best. The price for a membership is extremely reasonable, considering what most charge in Bali. In return, the equipment (cardio bikes, weights, mobility training tools) are as good as or better than every gym I've seen in Bali. Open gym times give plenty of space and equipment to get in any workout you want, and strength + mobility classes empower you to achieve any fitness goal. Plus, if you find a tougher workout than boxing, let me know!
Now, let's see how Soma stacks up to the other top gyms in Canggu and Bali
Soma trains standup fighting – more practical, lower risk, and easier for beginners than BJJ in my opinion.
Soma also offers amazing recovery facilities and great resistance training equipment (weights, bands, recovery rollers and tools) that Bali MMA doesn't, all at a very reasonable price.
Soma's onsite restaurant and café with healthy food are a solid bonus that Bali MMA doesn't have as well. The vibe is noticeably more fun and welcoming at Soma as well. All in all, I choose Soma over Bali MMA for facilities, vibe, coaching, and value.
Soma vs. Nirvana Strength: Different gyms, both great and complementary in what they deliver
Nirvana Strength is a fantastic gym they focuses on calisthenics and mobility. The classes at Nirvana Strength are extremely low intensity (my heart rate probably never went above 90) but excellent for rehabbing old injuries, recovery, mobility, and flexibility.
As such, the two gyms complement each other very well with Soma delivering high intensity, heart pumping workouts and Nirvana training for recovery and longevity. I would highly recommend, if each of these aims fit your goals signing up to both – if you are only on Bali one month, splurge and do memberships in both.
If you're on Bali longer, start with a month or two at Soma, go to Nirvana for a month, then go back to Soma. You'll be in the best shape of your life after that.
If someone was in Bali and couldn't handle boxing continuously but wanted to leave the island with a physical transformation, I would recommend one month at SOMA (for intensity) and one month at Nirvana (for recovery and "movement education").
Soma's classes are intense in a fun way and better than many you'll find around the globe, while Nirvana Strength's classes are noticeably the opposite of intense and focused on slow movements and recovery. Pairing these two is a recipe for an amazingly healthy body.
Body Factory is known for being "luxe" and reasonably so, however, Body Factory serves a very "different" crowd. Body Factory is known for serving the high paying influencer crowd and offering classes such as "booty classes" and the like.
On the other hand, Soma aims to teach a very practical skill (throwing kicks and punches), training your stamina to handle a fight, and training power to deliver solid punch or kick – and then kicking you into a great recovery center. The recovery facilities in both places are equally great, but the experience, intensity, and outcome you want make the difference as to which is best for you.
Bottom line: Body Factory and Soma are both notoriously fantastic gyms that serve different purposes. For me, as a traveler, adventure, and someone who loves an exciting way to stay fit, I would choose Soma every day of the week (and actually do)

Need more ideas for the best gyms in Bali for your goal? Yoga? Crossfit? Mobility and calisthenics? Surfing?
We've got you covered, just check out our review of the best gyms in Canggu to find the perfect gym in Bali for you.