Over 4 years traveling the world with only carry on backpack I've test several packs to find the best for digital nomads, long term wanderers, outdoor junkies and more. Of the thousands of dollars worth of the packs I've abused, the REI Trail 40 backpack is absolutely the best hiking pack for the price.
The REI Trail 40 doubles as a travel pack small enough to carry on flights from South America to Southeast Asia handling the city streets of Bangkok and the trails of Patagonia equally well. This unassuming yet awesome bag earned a permanent place in my heart after a lightning fast trek from Lukla Airport to Everest Base camp carrying my own gear and just this bag.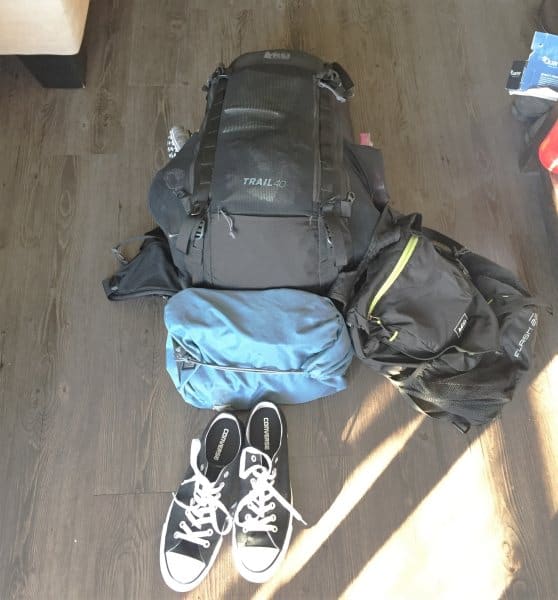 If you're looking for a perfectly comfortable and light yet durable hiking bag under $150 that travels by plane equally well, read on to discover all in this REI Trail 40 backpack review.
This article may contain affiliate links
The REI Trail 40 is a 3-day pack designed for backcountry adventures and performs amazingly well for hiking, travel, and everything in between. This perfectly sized travel backpack carry-on has a durable build, well-thought-out pockets, and simple, lightweight design. The Trail 40 is one the best carry-on backpack options for adventurous souls that want to travel with only a carry on through urban destinations and continue into the wild.

Quick REI Trail 40 Review
On my adventures around the globe, I always prefer to mix the best of cities with the best of the wild, and do so without lugging too much along the way…and I hate overpaying for gear – so this REI Travel 40 Review focuses on suitability for travel and performance in the outdoors relative to the amazing price (for more bags, checkout our list, "15 of the Best Carry on Backpacks for Travel")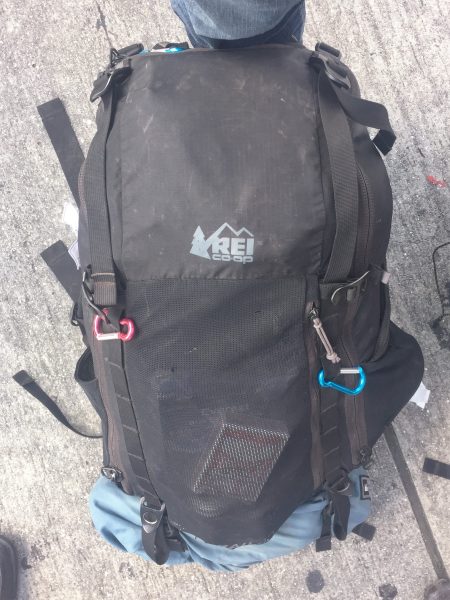 My experience with the REI CO-OP Trail 40 pack: This backpack was only travel bag, with a small, compressible daypack, for 6 months of travel from sea to summit (literally) through Southeast Asia and South America. The highlights were a motorcycle trip through rural Vietnam and Laos, and the trek from Lukla Airport to Everest Base Camp hiking 74 kilometers up to 17,600 feet in elevation.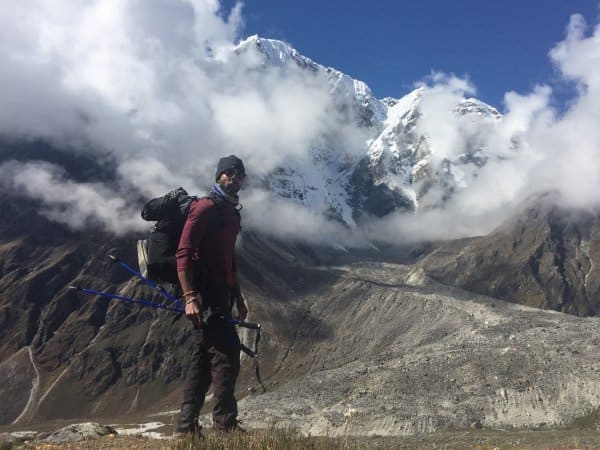 The Trail 40 handled every adventure well and stayed comfortable every step of the way. For the price (~$120), you'll be hard pressed to find a better performing, more durable, and more well-rounded hiking and adventure backpack that still fits airline carryon size restrictions. Based on my experience with the Trail 40 over those 6 months, this is the best carry on backpack in the "cheaper" category for newbie travelers and anyone who plans to hike or trek. Highly recommended.
How I used the REI Trail 40
The REI Trail 40 was designed as a large daypack or small weekend pack, aiming for 3 day backcountry trips
My intended use of the REI Trail 40 was as a travel backpack carry on for long term travel around the world and trekking adventures along the way
Who the REI Trail 40 is best for
First time or budget travelers in need of a bag for a week or less that's great for hiking
First time and budget travelers looking for a carryon option that is very well suited to hiking
---
Quick Verdict on the Trail 40 Review:
In my opinion, the REI Trail 40 is the best carry on backpack at the price for adventurous travelers, performing amazingly on the trail and making airline travel easy along the way.
After 6 months of traveling hard through rain and sunshine from beaches to mountains, these aspects of the backpack stand out:
Excellent value @ ~$129
Performs amazingly well on long hikes (based on my 7 Everest Base Camp Trek hike and Myanmar trekking)
Estimated lifespan of 2 years with hard use — constant traveling and 45lb+ loads — at which point the straps will probably break first.
Great dual purpose travel pack (urban or outdoors) with airline carryon restriction ready size and weight
Best for long adventures (3-6 months) traveling through a single climate. Carrying the equipment for cold weather, hot weather, and trekking can be challenging if you're not used to carryon only travel, but multi-climate packing is absolutely possible with an additional stuff sack strapped to the bottom (like I did with my boots above)
Highly recommended (I gave mine to my niece as her first travel backpack when I upgraded to the GORUCK GR3)
The REI Trail comes in a men's variant (here) as well as a women's REI Trail 40 variant, adjusted for women's shoulder and hip sizes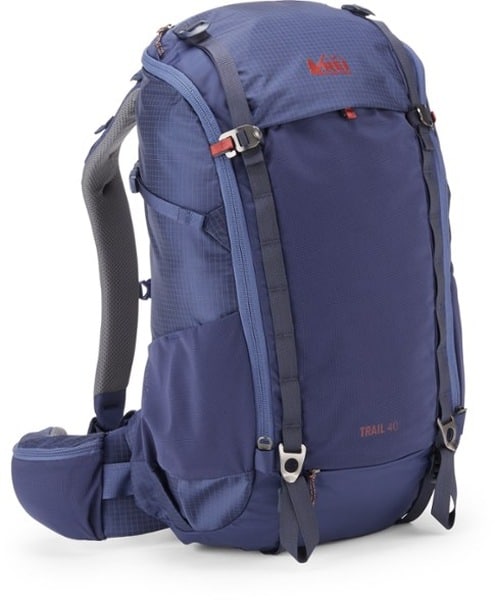 OR
Or, if you're in search of a pack that does more than hike, check out our list of the 15 of the Best Carry on Backpacks for Travel for more backpack options for urban travel, long term backpacking, minimalists and more.

Full REI Co-op Trail 40 Review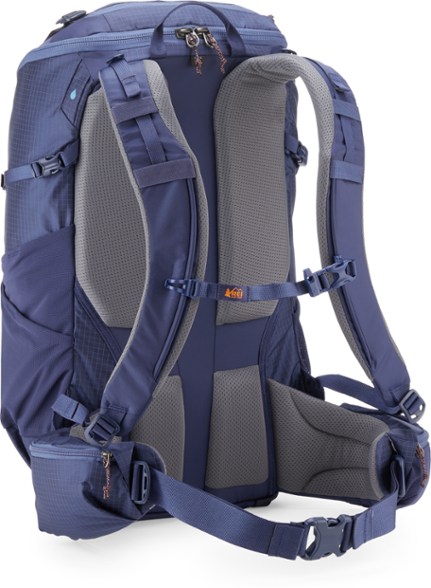 My Experience flying, trekking, and traveling with the REI Trail 40…
…I loved it the entire time.
For 6 months, I traveled through Southeast Asia and South America with the REI Trail 40 as my only bag using it as my sole travel backpack carry on (with the REI Flash 22 as my daypack) and it performed amazingly.
The trip included a motorcycle trip through rural Vietnam and Laos where it performed well strapped to the back of my bike. Though I learned it definitely wasn't monsoon proof and the included rain cover doesn't do much, the bag's materials (210 denier nylon) and stitching handled being overstuffed, strapped tightly, and being thrown around very well.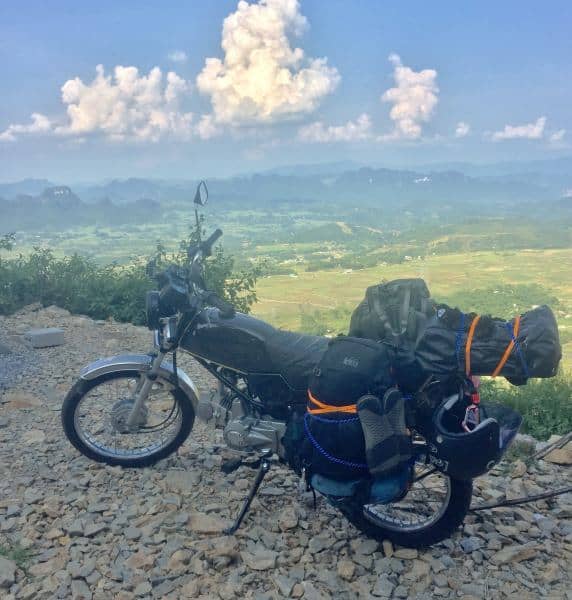 The bag did pick up some noticeable abrasion, but no holes. An old trick of rainproofing by lining the backpack with a large trash bag fixed its water weaknesses and waterproofed all of my gear inside, keeping everything dry through 8 hours of riding through Laotian rainstorms during the wet season.
After riding the Southeast Asian back country and trekking through Myanmar with the Trail 40, I used it as my main pack to make the 8 day hike up and back to Everest Base Camp independently carrying 11kg (~25lbs). The entire way, stayed comfortable. The straps were padded just right and kept the load steady on unstable ground and the waist belt distributed the load well and stayed comfortable while in use. For a large stint of the EBC hike, I strapped the hip belt tight and loosened the shoulder straps to full length – and the bag was still comfy
Back at sea level, I used the Trail 40 on several multi-day treks with 15-20kg and the bag performed just as well.
Pros of the REI Trail 40
Price & value: For the price of $120, you'll be hard pressed to find a better quality backpack that can perform hiking as well as this pack and also comes with a 1 year warranty
Well thought out pockets and design: Wraparound zipper, vented mesh pockets, and several hidden internal pockets make it easy to stay organized, securely store valuables, and still quickly and easily access them
Useful external storage: the mesh zipper panel pockets are great for storing wet or dirty stuff, the water bottle pockets are useful and easy (enough) to access with the pack on, straps on the bottom of the pack are useful for increasing storage using a sac like the GORUCK Tough Bag or simply strapping shoes or a sleeping pad and sleeping bag (like I did in the blue REI stuff sack containing my boots and strapped to the bottom of the bag).
Performs well on long treks: the shoulder straps and hip belt are padded and shaped well so I had no issues or discomfort hiking to Everest, through the heat of Myanmar and Laos, and lugging my gear around Ecuador
Airline size restriction compliant travel backpack carry on make it convenient for airline travel: Unlike the REI Ruckpack 40 the REI Trail fits perfectly as a travel backpack carry on for most budget airlines. The mesh pockets on the front and sides are well streamlined, topped with compression straps (on the sides) making the bag easy to move through crowds with and less likely to be damaged on the rare occasion that it is checked.
Cons of the REI Trail 40
The weakest point on the pack are the straps. They did very well with a hard 6 months of use being overstuffed and over weighted but I estimate the full time life to be 2 years (for the straps, not the pack) if traveling constantly with loads of 45lbs+. If you have any skills sewing, and some extra tubular nylon webbing to reinforce the straps, this pack could last 10 years. I reinforced the straps with leftover rock climbing gear (tubular nylon webbing) before giving it to my niece and the pack is still going strong
Wraparound zipper is useful but the lack of the "lip" that clamshell designed packs like the GORUCK GR3 has mean whenever the pack is unzipped to grab something at the bottom, things at the top tend to fall out
Loose shoulder straps and buckles may not travel on planes well just like with any summit style bag. Frequent flyers may consider the Ruckpack 40 (or read the REI Ruckpack 40 Review) as a budget option instead or checkout the Tortuga Outbreak or GORUCK GR3 as high dollar (and durability) items. Though I love the Trail 40, the elastin mesh water bottle pockets picked up a couple holes when India Airlines decided to drag my bag behind a truck while being chased by a pack of wild rhinoceroses…or something like that.
You can't expect this bag to last forever. Though this bag is well constructed and the materials are good, you can feel that the bag has a few years of life if used hard. You could easily extended this by patching as necessary and reinforcing the straps when the time comes (I will), but know that this bag is great but not bombproof. A mouse chewed its way through a mesh pocket trying to steal the last of my Reese's Peanut Butter cups, and it appeared Air India scratched it up quite a bit by dragging it on the payment. So know that the Trail 40 will stand up to the rigors of hiking and camping, but the little things in life will eventually do it in.
Design Review of the REI Trail 40
A very practical, functional, and well thought out, yet simple pack…which is why I enjoy it so much. The pockets, access points, zippers, and external storage (water bottle holders, mesh front pocket) have all been extremely useful in my travels. The materials and construction have been durable enough to stand up to overstuffing, heavier loads (~25lbs-45lbs). And everything has always been easily accessible, whether reaching for my water bottle while the pack was on, or digging documents out of the bottom of my bag while at the airport (thanks to the wrap around zipper)
U-shaped wraparound zipper for easy access with 4 individual YKK zippers makes accessing anything, anywhere in the pack easy – but the lack of a "lip" on the bag complicates things
The YKK zippers offer great durability and through the wet, dirt, and grime never gave me trouble.
Water bottle side pockets are oddly easy to take water bottles from, even with the pack on.
Front Mesh Pocket with zipper makes an easy place to store wet items while they dry
Top zippered pocket (small) is a great place for securely storing valuable, quick access items like a passport and money (mine always stayed here).
Zippered inner mesh pocket (main) makes another great place to store valuable items
Laptop holder and Water bladder holder is useful, but not truly padded enough for a laptop
Compression straps help pack the bag down to fit as a carryon when overstuffing
Shoulder Straps
Comfortable and cushy, and fit so well my shoulders never got tired
I do question reliability beyond 3 years if carrying more than 35-40 pounds often (multiple times weekly), but if reinforced with tubular nylon webbing, this pack could be used indefinitely.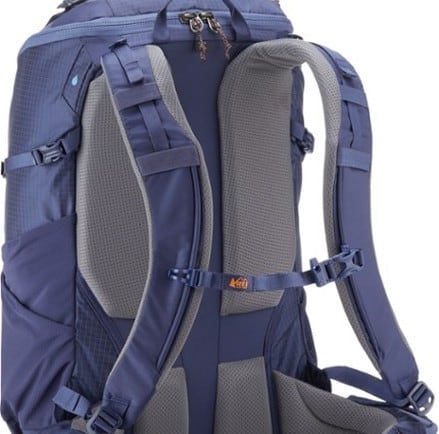 Waist Belt is well-padded without being too bulky. The zippered mesh pockets on the waist belt were useful, convenient, and large enough to store an iPhone 6 with Lifeproof case. Comfortably supported the weight of the pack on numerous treks. Occasionally, I would tighten the waist belt and total loosen the shoulder straps so that the waistbelt completely supported the bag…and I had no issues at all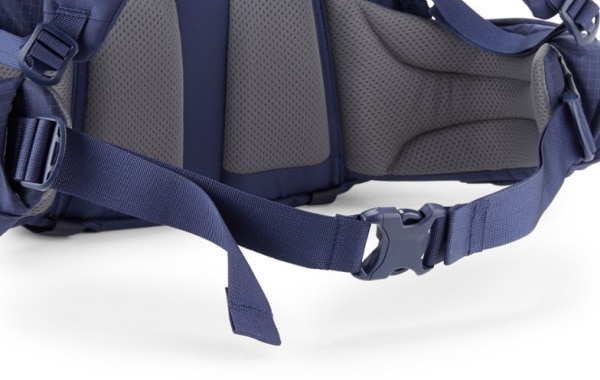 Compression straps on bottom of pack are great for storing a sack or dirty shoes, with the help of a carabiner. I carried a basic REI stuff sack but now I actually recommend the GORUCK Tough Sack. I still have my REI
The ripstop nylon fabric is water resistant but not waterproof so if you plan on being caught in the rain, ditch the rain cover and line the bag with a trash bag / compactor bag instead for full waterproofing. Use ziploc bags for documents and electronics – moisture tends to make it through the zippers during heavy (monsoon season) rain storms. I got caught in several storms on my motorcycle ride, and the nylon fabric repelled the rain well, but water did seep in through the zippers
Pockets: 6 pockets + main compartment provide enough storage in a way to keep organized through anything
Durability of the REI Trail 40
Considering the careless abuse I put this pack through, it stood up real well
Zippers stood up well to overstuffing
Haul points (top handle and shoulder straps) stood up well to dragging and being used as strap points for strapping the backpack to a motorcycle
At the end of 6 months, there was slight abrasion, usually due to handling on airlines when I was forced to check it in (thanks Air India)
Waterproofing – Not much. I waterproofed my gear by lining the bag with a heavy duty trash can liners and putting all valuables in heavy duty Ziploc bags
REI Trail 40 Size: Perfectly sized carryon
Size (L x W x H) is suitable for most budget airlines as a carryon, and I never had an issue with any of Asia's budget airlines. The weight of the pack is light enough that it doesn't chip away at the common 8kg/17.5lb weight limit for carryons on the more miserly airlines
Size: 22.5 x 13 x 10 inches / 57.2 x 33 x 25.5 centimeters
Weight: 3 lbs 1 oz / 1.3kg
Fit and Comfort of the REI Trail 40
Like a true hiking pack, the REI Trail 40 backpack takes into consideration that different people have different bodies and this affects how the pack fits quite a bit, and ultimately how comfortable the pack is during a hike. The width of the shoulders, the width of the hips and circumference of the waist, and the distance between them severely affect how well this pack performs for you.
Luckily, REI produces Small, Medium, and Large versions of this pack in both men's and women's. The differences between the small, medium, and large packs are simply 1 inch in height. The difference between the men's and women's packs are the width of the shoulder straps and the length of the waist straps to accommodate varying hip shape and narrower shoulders.
Performance Overview from 6 Months of Use
Trail: Used on over 100 miles of trail
On the trail, this bag performs amazingly. It distributes weight well and stays comfortable for miles
The shoulder straps are padded just enough to be comfortable without being bulky
The breathable back panel does its job well in warm or cool weather and kept me comfy
This was by far my favorite backpack to this point. I currently sport, and love, the GORUCK GR3, but in the sub-$200 category, the Trail 40 is my fave
City: Used in over 50 cities
Not much is required of a pack to be good in the city, but the REI Trail still performs well. The design is low profile and the internal zippered pockets keep your valuable goods secure in crowds. A little large for a daypack, but it still worked as a daypack from time to time and was awesome for everything else
Minimalist design and low profile make walking through crowds easy without snagging anything
The pocket setup (exterior and interior) give plenty of options for storing items for quick access without having to worry about pickpockets in the city and on trains in transit to your hotel or hostel.
As an everyday carry in the city, this bag is pushing towards the "too large" side, but it's absolutely doable
Transit and Travel: Used on 10+ flights, countless buses and trains
As carryon baggage, the Trail 40 is nearly perfect. It fits the carryon sizes for most airlines, is lightweight, and storage design allows you to easily access anything in the bag (like documents or your toiletries kit) without unpacking too much. The only time I had to check it was when I was last on the plane and there was no more overhead bin space.

Materials breakdown of the REI Trail 40
External Cloth: Ripstop Nylon. Very durable and kept the weather out well during monsoons – water only leaked in through zippers. The only time the Nylon cloth even scarred was when Air India dragged my bag on the concrete. Even then, there wasn't a hole, just visible (and annoying) scratches
Stitching: Not sure of the materials, but I overstuffed this thing for 6 months and never had to repair anything

Specs
What is the REI Trail 40?: A very thoughtfully designed backpack, capable of hiking and camping in comfort, small enough to fit as a carryon, and durable enough to survive very adventurous exploration, all created for the budget conscious traveler
Price: $129 at REI Online
Warranty: 1 year no questions asked warranty through REI
Size: 22.5 x 13 x 10 inches / 57.2 x 33 x 25.5 centimeters
Weight: 3 lbs 1 oz / 1.3kg

Tips for using the REI Trail 40
Bring a compressible sac to add external storage strapped to the bottom of the bag (via the sleeping bag straps on the bottom) and as a "leave behind bag" during long treks. I previously used the REI stuff sack which worked very well though it picked up holes over time. I recommend the GORUCK Tough Sack as a BIFL (Buy It For Life) item, which I use now. It has been extremely useful and insanely durable during my last 6 month trip.

Verdict on the REI Trail 40 Review:
The REI Trail 40 is an excellent budget backpack for adventurous travelers, in a carry on sized package.

This was an REI Trail 40 review. For more ideas on the best carry on backpack for you checkout our list of the "15 of the Best Carry on Backpack Options for Travel"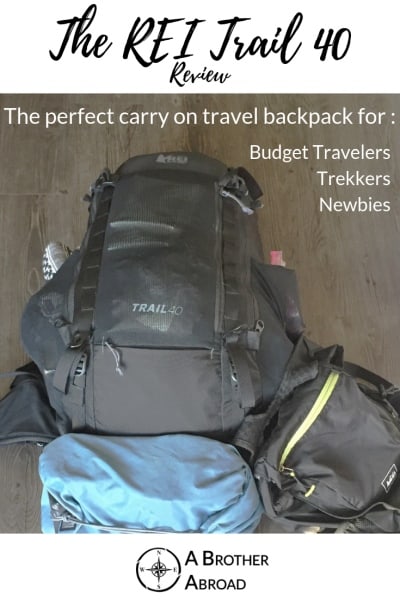 Disclaimer: I earn some spare change from some the links in this post, which goes to fund more "research" (aka travel)
For some of the backpack links (not all) I do receive a small bit of compensation, but for most I don't. Profits go towards building this site and financing the stories and research that make it up the content. If you find this useful and want to show some love, buy through a link here, leave some comment love, or share with someone that may find it useful. My goal isn't getting rich, it's sharing knowledge I wish I had earlier. Every product recommended here I would absolutely purchase with my own money or have purchased in the past. If you have any questions, feel free to email me at [email protected]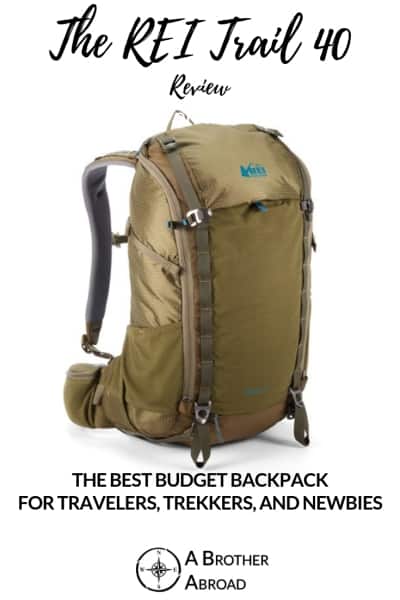 OTHER GREAT TRAVEL GEAR