The Philippines and Palawan are possibly the most beautiful aquatic paradises on the planet. Unfortunately, traveling around the 7,000 islands and finding out your options for the Coron to Manila ferry after your amazing time on Coron can be difficult at best. Additionally, all international flights pass through Manila, making it mandatory to make your way back to Manila…eventually.
To save you time and headache, and keep your vacation rolling smoothly, I'll give you the 3 best options for travel from Coron to Manila by ferry, 5 extra tips for the 7-14 hour cruise, and a few extra options in case those plans fall through.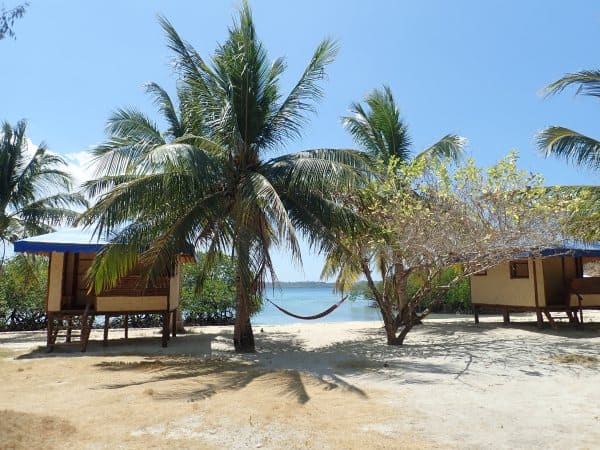 Contents
---
Your 3 Best Options for traveling from Coron to Manila
Palawan and Coron are a long way from Manila. Though a cheap flight would be fantastically convenient, Coron is still developing which makes those flights pretty expensive, by Southeast Asia standards.
By far, the cheapest transportation means from Manila to Coron is by ferry. If you have the time in your schedule for the 12-16 hour overnight boat ride, fully equipped with beds, the ferry will save you cash compared to flights (costing $20-$30 USD) and deliver you fresh and ready for adventure the next morning.
The downside of the Coron to Manila ferry: you'll need good timing as it only goes on Sunday, Monday, Thursday, and Saturday.
Your best options for getting back to Manila from Coron area:
---
The 3 Best Options for the Coron to Manila Ferry
[wp-review id="5332″]
2Go Ferry – The most comfortable option but only runs once weekly
Atienza Ferry – The cheap option that runs more often, but has very modest accommodations
2Go Ferry from Coron to Puerto Princessa – An alternative to get to Puerto Princesa overnight to explore Cebu, Bohol, Siquijor, and Negros
---
The Comfortable Option
2GO, the most comfortable ferry, with different classes of beds and suites, leaves once per week on Friday's for the Manila to Coron trip and returns once per week on Sundays for the Coron to Manila trip.
Prices for 2GO range from 900 PHP (~$18 USD) to 2000 PHP (~$40 USD) depending on class and bunk. The ships are also equipped with a restaurant.
If you're schedule fits, I highly recommend taking this option. The accommodations are much swankier than Atienza's, the ferry is faster, and the cafeteria onboard the ferry has plenty of options for eating.
2GO Ferry from Coron to Manila: 2GO Ferry from
Book your 2GO ferry from Coron to Manila (Sundays) via 2GO website here
Or visit the ticketing office next to the Coron Pier
Click here to book your ferry ASAP via 12Go as spaces do book out fully the day before departure and the tickets are refundable, minus a 10% service fee (confirm the refund policy before purchase).
---
Departs Sunday at 8:00PM and arrives in Manila Monday at 7:00AM
Departs Friday 7:00PM and Arrives Saturday 6:00AM
Price: 900 PHP (~$18 USD) to 2000 PHP (~$40 USD)
Travel Time: ~11 hours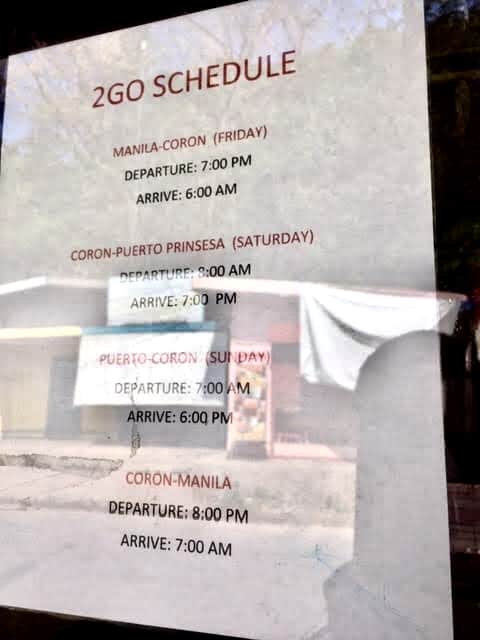 Click here to check ferry prices at 12Go.Asia

The Cheap & Adventurous Option
If you need to get from Coron to Manila by ferry on any other day of the week than Sunday, taking the Atienza ferry is your only other option. The Atienza accommodations are much more modest than 2GO, but the price is right (~$20) and the option is there for off days.
The Atienza is more of a car ferry that has bunk beds stacked on its top deck, with some in an air-conditioned room and some being outside. The Atienza ferries never leave on time and they're much slower (~4 hours slower) than the 2GO ferries. There is also no cafeteria, just a small snack shop but your ticket includes two meals of rice and hot dogs. If you're feeling adventurous, go for the Atienza ferry.
Tips for the Atienza ferry: Get one of the bunks outside – on the deck outside of the air-conditioned room. Your ferry will be traveling at night over the open ocean, and having the cool ocean breeze blow over my bunk as I slept was worth all other inconveniences.
Additionally, get a bunk towards the back of the boat, close to the end, where the railing isn't covered by tarps. The 2Go ferry is nice, but there's nothing like waking up to a sunrise over the open ocean, and no one else is around as you sleep.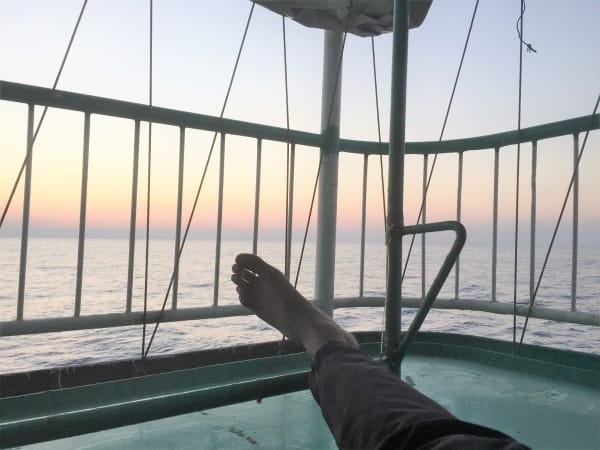 Atienza Coron to Manila Ferry Schedule:
Monday: 2:30 PM Departure
Thursday: 2:30 PM Departure
Saturday: 6:00PM Departure
Atienza Manila to Coron Ferry Schedule:
Tuesday: 8:00 PM Departure
Thursday: 4:00 PM Departure
Saturday: 6:00PM Departure
At current, Atienza doesn't have online booking so you'll need to go to the port or a booking agent right next to the Coron Port. Be warned that Atienza's ferries hardly ever leave on schedule…which is a plus if you're like me and live on BST (Backpacker Standard Time), or plan your life the morning of.
Price: 1000 PHP (~$20 USD) standard bunk; 1150 PHP (~$23 USD) aircon bunk
Travel Time: ~14 Hours
Click here to check times and prices at 12Go.Asia

If you're in a rush and your pockets are deeper, flights to and from Manila are an option via "puddle jumpers" (tiny prop planes). Plan to fly into Clark International Airport (in Manila) from Busuanga Airpot (on Coron) to save money.
Expect to pay $100+ USD one way, and book at least 3 days in advance to avoid burning your entire budget on tickets and transfers.
Coron to Manila by Air: The price will run ~$80 USD one way if booked far enough in advance (minimum 3 days to a week in advance), so a bit more expensive, but you get time in return. Busuanga Airport is the airport on Coron and you'll save more (~$80-$100 USD) by flying into Clark International Airport in Manila.
---
Coron Flight Options and Schedule
Manila Airport to Busuanga Airport (Coron)
Sky Jet Air, 3 times daily
Cebu Pacific Air, 5 times daily
Cebu Airport to
Cebu Airport to Busuanga Airport (Coron)
Philippine Airlines, 2 times daily
Clark Airport (Manila) to Busuanga Airport (Coron)
Philippines Airlines, 3 times daily
Puerto Princesa Airport to Busuanga (Coron) Airport
Airjuan, 1 time Tuesday, Friday, Sunday
---
Convenient if you plan to visit Cebu, Bohol, Siquijor, or Apo Island next
After your time in Coron, I highly doubt you'll actually want to go back to Manila after coming this far. **El Nido** should be your next stop but Puerto Princesa is a great option if you're heading to Cebu, Bohol, Siquijor, or Negros islands next, as there are plenty of cheap flights. If Puerto Princesa is an option for your next stop (instead of Manila), go to Puerto Princesa
The 2GO ferry Coron-Puerto Princesa line runs as follows:
Coron to Puerto Princesa: Departs Saturday at 8:00AM and arrives Saturday at 7:00 PM
Puerto Princesa to Coron: Departs Sunday at 7:00 AM and arrives Sunday at 6:00 PM
Book your 2GO ferry from Coron to Puerto Princesa Ferry (Saturdays) via 2GO website at https://travel.2go.com.ph/eTicket/search.asp
Click here to book your ferry as soon as you can as they do book out fully the day before and the tickets are refundable, minus a 10% service fee (conform before purchasing as policies change).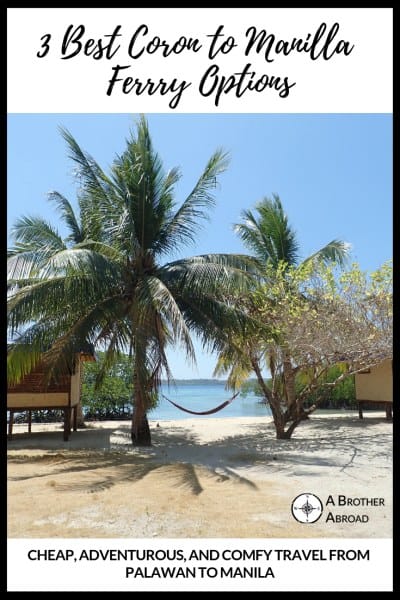 What Next: Plan your time on Coron Island
Now that you have your transport from Coron to Manila (or elsewhere) planned, make the most of your time in Palawan by getting familiar with your tour and sightseeing options, and all of the other adventures in the Philippines.