GORUCK makes some of the toughest backpacks and bags on the market, backed by a lifetime "SCARS" repair or replacement guarantee, but gear this "bombproof" like that can cost some serious cash – sometimes up to $500 for a backpack (such as the GR3). Lucky for you, this GORUCK coupon code, discount, and sale list has you covered.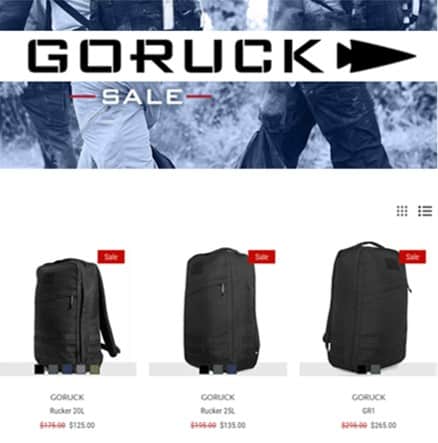 Seasonal GORUCK sales like Christmas in July, or GORUCK Veterans Day sales, or permanent GORUCK discount programs (like the earned service discount for military, law enforcement, and students at 25% off), and regular discount codes can offset costs quite a bit, making that GORUCK gear a great investment.
Read on for the Ultimate GORUCK Coupon Code, Discount, and Sale Guide [2019] – which we keep updated to ensure you're getting the best deal possible on that GORUCK gear you're bound to love.

Contents of the Ultimate GORUCK Coupon Code, Discount, and Sale Guide [2019]
---
Discount Tips & How to Save on GORUCK gear
To save the most on your GORUCK gear, pair your preferred GORUCK coupon code with the following GORUCK perks

LATEST GORUCK SALE EVENTS & ITEMS
---
Every year, the team runs a GORUCK sale for veteran's day with GOURCK discounts up to 35% off GORUCK bags, footwear, and apparel. This year, the sale runs from November 4 to November 12th and deals are just as great as ever including the GORUCK Rucker Backpack, the GR1, the MACV-1 GORUCK boots, and more.
Click below to check out the best item's from GORUCK's Veterans Day sale…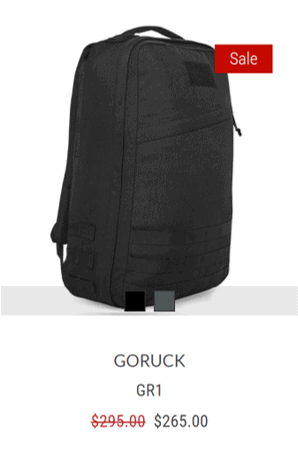 ---
GORUCK RUCKER BACKPACK
ON SALE FOR VETERAN'S DAY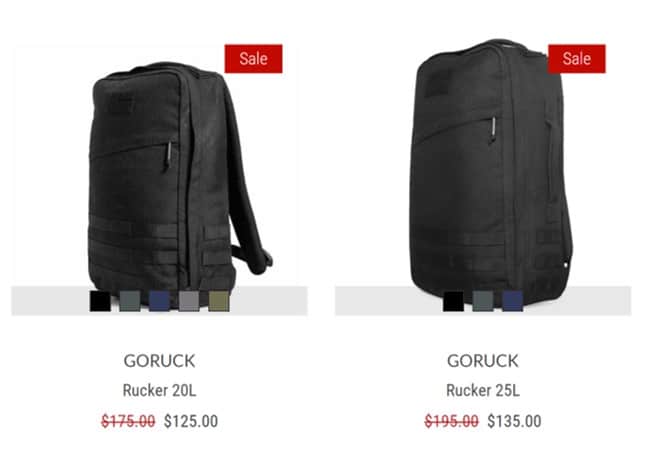 ---
…or click below to see all GORUCK sale items...

GORUCK Black Friday Sales 2021
Standby for updates on GORUCK's 2021 Black Friday Sales…

Don't forget the 15% off GORUCK Military Discount and Earned Service Discount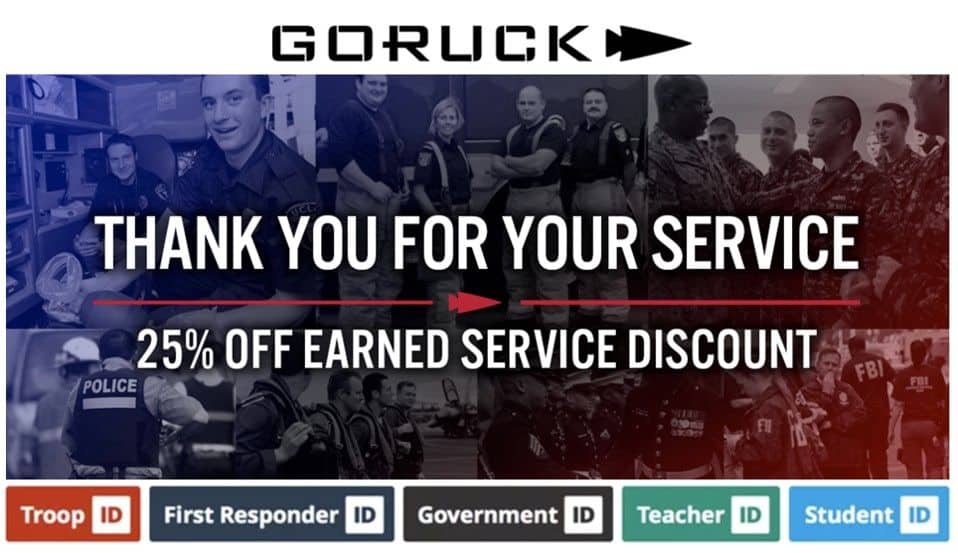 The GORUCK military discount, also known as the GORUCK Earned Service Discount is not to be forgotten. With the GORUCK Earned Service Discount, 15% discounts apply on all gear for active duty and veteran military service members, police, firefighters, students, and government employees.
Click here here to see if you qualify for 15% off GORUCK gear via GORUCK's Earned Service Discount
…or read on for more info on GORUCK's 15% off, Earned Service Discount…

GORUCK Discount Programs and Permanent Discount Codes
GORUCK offers a few permanent discount programs that significantly reduce the price of their packs
---
The earned service discount is an amazing discount that gives you 15% off all GORUCK gear for being a military veteran or active duty, law enforcement, firefighter, teacher, or a student. This discount is GORUCK's way of giving back to those who have given to society (or will soon) and is how I purchased all of my gear.
To get the earned service discount, simply follow this link to the earned service discount information page to get verified and then the 15% discount will be added to all future orders.
(Link: Earned Service Discount Information Page)
——————-
Ruck Club Discounts
Ruck clubs aren't just a great way to get in shape but also a great way to get a discount on gear. Simply signup with your local ruck club and contact the club leadership about discount codes and they'll fill you in.
Visit the Ruck Club information page to learn more about GORUCK Ruck Club related discounts
To find a ruck club near you visit the Ruck Club Directory.
---
Active GORUCK Coupon Code and Discount Code List
Active GORUCK Discount Codes (Gear)
LIFERUCKSRUCKS: $5 off every order
GOODLIVIN: 10% of GORUCK Challenge events
LIFERUCKSRUCKS: 5% off any order
Active GORUCK Discount Codes (Events)
HEAVY50: 50% of GORUCK Heavy Events
STAR15:15% off the GORUCK Star Course
RUCKSTAR: 50% off of GORUCK Star Course
---
Recurring GORUCK Sale List (Consistently Updated)
There are consistent GORUCK sales with massive discounts for the following holidays and seasons. If you're strapped for cash and can wait, these are the times to purchase.
Bookmark this page and check back routinely for updated links. As sales go live, we'll update accordingly with links.
Christmas in July (July 1 to July 15, 2021)
Cyber Monday Sales
Christmas sale
Presidents Day Sale
Spring Cleaning Sale
Father's Day Sale
---
Expired GORUCK Discount Codes
The following GORUCK discount codes were previously active but aren't reported as active anymore…but…it's worth a try, right?
RUCKSUMMER30: 30% of GORUCK Challenges (Expired)
SFLESSONS: 30% off challenges, firearms events, and survival training (Expired)
fitnfun016: Save 20% on any program (Expired)
CYBER50: 50% off GORUCK Events (Expired – Dec 1, 2018)
CYBER30: 30% off GORUCK Firearms Events (Expired – Dec 1, 2018)
CHALLENGE40: 40% off GORUCK Light, Tough, & Heavy Challenge events (Expired)
SURVIVAL40: 40% off GORUCK Survival events (Expired)
STAR15: 15% off GORUCK Star Course (Expired)
FIREARMS15: 15% off GORUCK Firearms events (Expired)
TOUGHDRY: 30% off of all Tough Dry apparel from GORUCK. (Expired)
TRAINMORE: 20% off all GORUCK sandbags. (Expired)
CHALLENGE40 (Expired – July 16, 2018)

Top Gear to Purchase from GORUCK
GORUCK has an array of gear, from 5 great rucking backpacks, to boots, clothing, and accessories. If you're wondering what to get with your new GORUCK backpack, the following gear is the most tested and best reviewed.
For more information, see our own GORUCK reviews below

Other GORUCK Perks
GORUCK's gear is pricey for a reason, and these 3 perks make the price well worth what you get, but ensure you understand them to get the most satisfaction out of your purchase.
---
The SCARS guarantee is an excellent lifetime warranty which makes GORUCK gear worth the price. In GORUCK's own words:
"…everything we manufacture — comes with our Scars Lifetime Guarantee. If there is a defect in workmanship or materials or if you actually manage to wear our stuff out, GORUCK will fix or replace (at our discretion) your item, free of charge. No receipt necessary — we can recognize our own stuff — and your date of purchase does not matter. Hence lifetime."
Visit the SCARS Lifetime Warranty page for more information
---
Simply put $150 of merchandise or more in your cart and free shipping is automatically applied.
---
GORUCK sells everything online and has a lot of faith in the gear the team produces. As a result, the GORUCK return policy is generous and makes the large dollar investment worth it, reassuring customers with a solid no-risk trial period.
A 30 day trial period is standard and the GORUCK return policy allows users to return gear for any reason to get a full refund (minus shipping fees) within that trial period
A 60 day trial period applies to all gear but any returns are only given store credit, not cash refunds
Note that returns are not accepted after 60 days, so get your abuse in before that point.
See GORUCK's return policy page for full details

GORUCK Discount FAQ
Does GORUCK offer a military discount?
Does GORUCK offer free shipping?
What is GORUCK's return policy?
Does GORUCK provide a warranty?

Other Great Related GORUCK Content