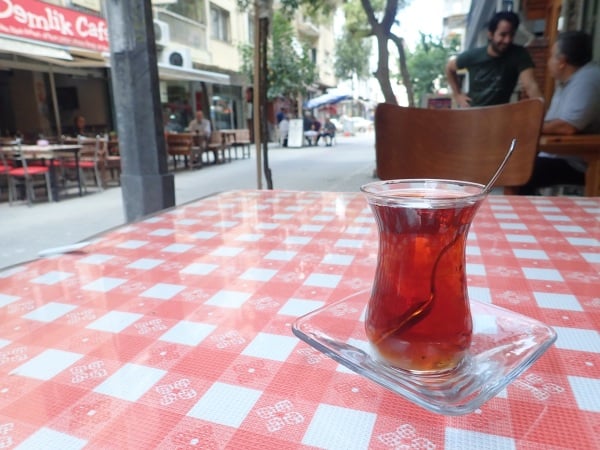 The relaxed port city of Izmir was a wonderful respite after the past two months of being busy and proactive nonstop. Despite the long list of sites to see in the city, I intentionally took it slow and saved the fomo for another city.
My days were spent leisurely wandering the city observing the contrasts between clearly European influenced residential architecture. Backpacking Turkey was taking me back to my preferred way to travel – wandering, absorbing cultures through the sights and sounds of their cities in a way that tells stories of their history, if you look closely enough.
The mashup between Spanish, Italian, and British was interesting and gave an odd yet welcoming feel. As I strolled down the streets lined with brick sidewalks and saw the young women at cafes, dark haired, dark eyed and olive skinned, I couldn't help but feel like I was back in Buenos Aires. Izmir felt unspectacular but enjoyable.
I chatted with a handful of other travelers – some were in town for a few days and others accidentally stayed a few weeks – and they all had the same idea. For all of its history, culture, and content brewing under the surface, Izmir wasn't the most interesting city they'd been to, but somehow, it managed to slow them down in a way they enjoyed and welcomed. It didn't completely make sense…
Bodrum and further south boasted pristine beaches and uncanny mountainous landscapes that look like they're from a James Cameron movie…or at least New Zealand. Ephesus was the most preserved ancient city I've ever seen, and an amazing experience. Istanbul is the gateway between east and west. Pammakule looks like a salted moonscape from a sci fi movie. What did Izmir have?
To be fair, Izmir is the most liberal and progressive city in all of Turkey – so much so that the chat with my Izmiri barber was about how he and his family were moving to the UK because of the outcome of the elections and fear of the continued conservative stances and hate speech. That sounds ODDLY familiar…
The conundrum is, you can't see those things: history, political views, ambitions. Maybe that's what Izmir had? Maybe that's why travelers kept getting stuck here. Because of the things you can't see…the parts of the local and Turkish culture that you have to experience and feel.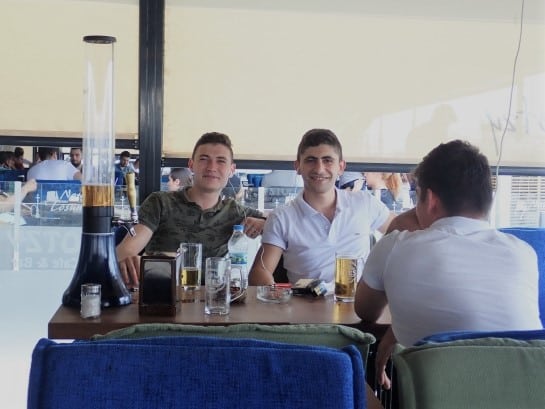 That was exactly it. If you hang out a few days and slow down, Izmir draws you in.
One night, when I was trying desperately to get some work done, some great new friends wisely convinced me to come out to the bar for one drink. I did. By the time we arrived at the city center we hadn't decided which bar to go to. Out of frustration, one of the group said "screw it, let's go to the park." So, we did. We dropped by the nearest street shop and picked up Doner Kebabs for $2 and each grabbed a cluster of locally brewed beers, each one different so we could sample them all.
As we wandered into the miles long park at 11pm, it was quite different from what I thought I'd see in the "Turkey I expected".
The seemingly miles long park that laid along the port, exposed to the cool sea breeze, was completely full of people. Different types of people. There were families having picnics on blankets with olives, cheeses, and breads laid out as they ate communally and laughed. Two groups away, a group drummed rhythmically broadcasting a light Brazilian sound that was oddly welcomed by everyone in the park as they were lightly applauded between songs. Groups of younger people sat like our group did, on the ground chatting and leaning against each other with a few beers piled in the middle.
Now let's think about this. Turkey is a dictatorship, right? Consuming alcohol outside is universally illegal (supposedly), right? Buying alcohol at a shop after 10pm could get you arrested, right? Despite all of that, here we sat. Next to the ocean and hundreds of Izmiris as I sipped and enjoyed a locally crafted beer that tasted lightly of wheat and honey, at 1am with the sea breeze lightly at my back. This is why people become drawn into and linger in Izmir.
The next day, the restaurant I went to frequently during my time in Izmir was just as welcoming as before. The old Turkish host saw me again and said "Carlos! You're back? Are you hungry?!"
"I'm always hungry," I replied with a smile and a laugh.
The gentleman did the same as the two days prior, bringing a plateful stacked, fresh, aromatic Arugula with a uniquely spicy tinge, sprayed with a fresh lemon and homemade vinegar. I've never even thought of that combination, but I fell in love with it as I sat facing the not so busy pedestrian avenue. At the surrounding cafes, old men once again slammed backgammon chips onto seasoned wooden tables and bantered as they heckled each other.
Next to the old men at a separate table, teens sat sipping chai with light conversation. Cell phones face down on the tables and very few in hand as everyone around me engaged each other in a relaxed yet intimately friendly conversation. This way of socializing, as natural and genuine as breathing but as integral to life as air is something I always miss observing back home.
The food at this favorite restaurant of mine took a strong cue from the social atmosphere that surrounded me – focusing on the basics and the essentials for life in a not so flashy, not so posh, but always fulfilling way. It wasn't "gourmet", the team of two just specialized making amazing home-style fare, comfort food, things that make you just want to relax into a Sunday sunset with an overly sweetened cup of tea. Which is exactly what I did.
Just then, the second course of my routine arrived, just as amazing as every other time. The "second course" of my meal was always just something that the chef was cooking for the day that he thought I would enjoy. Today, soup. A delicious soup. Eggplant roasted over coals and then simmered in a stock down to a creamy soup with bits of braised beef thrown in and slow cooked until tender and gelatinous. The simple dish was amazing. Then, I hit the bottom of the bowl to find an old friend…Kufta!! "Turkish Meatballs", those tiny flattened discs of ground beef and lamb, mysteriously seasoned and fired over open, red hot coals.
As I took the last bite, my host arrived smiling to check that I enjoyed my meal and offer tea. With a smile in return, I confirmed and accepted. For the next hour, I sat sipping tea, reading, and enjoying the ambiance of the pedestrian avenue again. This was how every meal went in Izmir.
As I went back to my hostel the owner and a friend sat playing traditional Turkish music and singing in Turkish as a group lingered sipping chai. I joined them and relaxed.
Though I couldn't see it either, I could feel why travelers linger in Izmir.
But after such a great, relaxing, and welcoming introduction to Turkey, it was time to move on to the fairy tale landscapes and history of Goreme, in Anatolia. The Cappadocia Green Tour and hot air balloons by sunrise held some fantastic views and stories I was much more eager to see.
Turkey. Quite the welcoming adventure…
---
As rich as my experience in Turkey and Istanbul was, I didn't nearly get to see everything. If you're planning to go, start by reading my 10 Day Turkey Itinerary filled with everything I did and loved, and all of the things I wish I had done as well