---
Isla Isabella is the least inhabited of the three main inhabited islands in the Galapagos archipelago. This quiet island of 5,000 is a great place for epic snorkel tours and volcano hikes.
Isla Iabella is the youngest of the inhabited islands in the Galapagos and provides a quieter, more remote experience, as shown by its dirt paved streets and population of 1,700 despite have the largest land mass.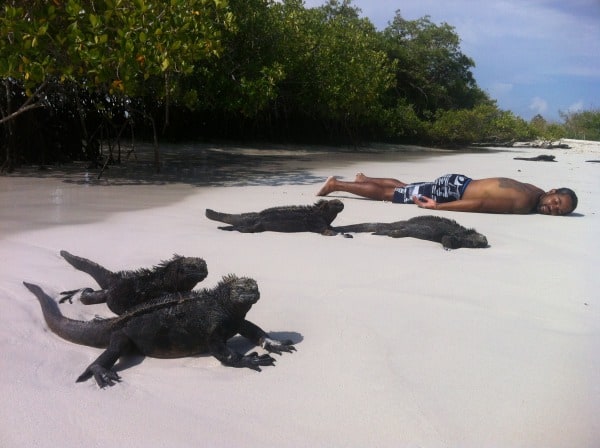 How to do the Galapagos Islands' Isla Isabella Island cheap, on your terms…
Come to Isabella if…you need peace, quiet, and the Galapagos experience, more remote means better to you, and you have 7 or more days in Galapagos.

Contents of this Guide to The Galapagos Island's Isla Isabella

Top Adventures on Isla Isabella
Go Here & See This…
Sierra Negra Volcano Tour: An interesting ~3 hour hike across an around an active volcano on Isabella Island, the youngest inhabited island in the Galapagos which was acutually formed by these volcanoes
---
Los Tuneles (The Tunnels) Snorkeling Tour: An awe inspiring snorkeling tour through the shallower (3 ft – 10 ft) waterways around Isla Isabella to interact with meter long sharks, sea lions, rays, turtles, and an array of other sea life in the water ways between a "volcanic desert"
---
Self-guided snorkeling in Concha y Perla bay: A small bay hosting a variety of marine life and a mere 100 meters from Isla Isabella's port. Bring a snorkel, mask, lunch, GoPro and a wetsuit and happily waste an afternoon
---
Amazingly quiet nights on the beach: Isabella has some of the quietest, most peaceful, most easily accessible beaches that are forgotten by travelers fixated on animal sightings. Schedule an extra day and take advantage. Playita (Little Beach), Playa del Amor (Beach of Love).
---
Biking to the Wall of tears and stopping at viewpoints: The ride/hike to the wall of tears is a 6.8km hike from the center of the city, with several very nice hilltop viewpoints along the way. A great free activity.

Isla Isabella Itineraries
---
3 Day Isla Isabella Itinerary
Day 1: Fly in, snorkel in concha y perla, rent a bike and ride to the wall of tears
Day 2: Los Tuneles Snorkel Tour
Day 3: Volcano tour and fly out to San Cristobal (1pm, $120-$150) or ferry to Santa Cruzut
---
5 Day Isla Isabella Itinerary
Day 1: Fly in + enjoy the beach
Day 2: Snorkel in Concha y Perla, Rent a bike and ride to the wall of tears
Day 3: Volcano Tour
Day 4: Los Tuneles
Day 5: Enjoy the beach + fly out

4 Best Organized Tours on Isla Isabella
---
The Galapagos archipelago's youngest inhabited island, Isla Isabella, has guided tours that give a taste of everything that Galapagos has to offer
(Note: All prices quoted are the average prices for booking on island, in Spanish)
#1. Los Tuneles (The Tunnels): $110, 7am-12pm or 12pm-5pm: An amazing snorkel adventure through water tunnels created by the lava follows that made Isla Isabella. The result are calm, clear, and shallow waters teaming with marine life. Above the water, you see a volcanic rocky desert scape covered with cacti between Albatrosses, Flamingos, Blue-footed Boobies, and Frigate birds. Below the water, you interact with sharks, sea turtles, sea lions, penguins, sea snakes and more. Everything from seahorses too sting-rays will make an appearance during your tour. During the adventure you will briefly swap your fins for sandals to explore the rocky, cactus covered volcanic landscape while nesting Boobies stare at you curiously. This tour is one of the "must do" tours on Isla Isabella. Highlights:sharks, playful sea lions, racing penguins in the water and walking through a desert scape floating on the sea
#2. Sierra Negra Volcones (Volcanoes): $45, 7am-12pm or 1pm-5pm – The Sierra Negra Volcano is one of five volcanoes on Isabella Island and has the second largest volcano caldera in the world (Yellowstone comes in first) and is the most active in Galapagos with the last eruption in 20055. Isabella Island is the youngest inhabited island in the Galapagos archipelago and was formed by the eruption of Sierra Negra and the other 4 volcanoes, which makes the 3 hour hike around the Caldera, and to the amazing vistas of the island that much more impressive. Highlights: Cross "lava fields", pass the enormous Sierra Negra volcano caldera, enjoy vistas of Isla (Island) Isabella and her many volcanoes, hiking up "Volcan Chica"
#3. La Tintoreras: $45, 9am-12pm or 12pm to 5pm (walking, snorkeling, and kayaking) – "Las Tintoreras" or "The Chasms" are a series off islets created by volcano flows that are actually small underwater canyons and hidden nooks that are home to penguins, sharks, and sea life of all types. On entry to the "Tintoreras" you can see nesting birds of all types (at the right time of year), from penguins to Blue-footed Boobies. Sharks can be seen here, but most likely while hiking and overlooking the flooded canyons.
#4. Isla Tortuga: $45, 2-3 hour trip, (open water snorkeling, bird watching) – Isla Tortuga is a collapsed volcano and the land is protected, so no hiking, by boat bound bird watching will give great views of Frigate birds and other sea birds and open water snorkeling (from boat) with sea turtles, sea lions, marine iguanas, and (potentially) sharks is possible.

Self-guided activities on Isla Isabella
Isla Isabella's self guided activities provide great fun for free between "excursion days"
---
Concha de Perla: Concha de Perla is a protected bay right next to (~100 meters) Isla Isabella's port. The bay hosts a wide variety of colorful fishes swimming in massive schools, marine iguanas, playful sea lions, and more. Bring your snorkel, mask, fins, and a lunch and happily spend an afternoon jumping in and out of the water. The most playful and interactive characters in the bay are absolutely the sea lions, but they alternate between carelessly laying in the walkway and playing with snorkelers, so come with a flexible schedule to adjust for the sea lions' playtimes.
Amazing Beaches: Isla Isabella is the least inhabited of the three main islands, which leaves its beaches pristine and solitary. Just look at the map of the island's coast running west from Puerto Villami (Isla Isabella's main town) and you see a stretch of amazing, easily acceptable, Pacific Ocean beach. Whether you stop off on a hike to the Wall of Tears or venture over at night, take full advantage. It is very common to get so caught up in the hunt for animals that travelers forget they are in a pristine, beach paradise. Relax! Have a Mojito! Enjoy the moment!
Wall of Tears hike/bike and viewpoints: The wall of tears is an interesting piece of history from when Isla Isabella hosted a penal colony. Now, the 6.8km hike to the landmark winds through mangroves, lagoons, and swamps and past beaches. Along the way, there are several steep hills to climb with amazing views, expansive views of the island which make the journey much sweeter
Centro de Crianza Arnaldo Tupiza ("Creation Center"): A tortoise nursery located walking distance from Puerto Vallimi, the center of town on Isla Isabella. The pens hold and protect adult tortoises of varying breeds from the different volcanoes on Isla Isabella. The road to the Centro de Crianza is an interesting hike that takes about 40 minutes from the center of town and winds past swamps, mangroves, and lagoons filled with flamingoes, herons, ducks, and other interesting, swimming birds

Getting to (and from) Isla Isabella
By Air if You're Ballin'…By Sea if You're Ballin' on a Budget
---
Flights direct to San Cristobal: Depart at 1:30p daily, duration is 45 minutes, cost is $120-$150
Boats to Santa Cruz depart at 5:30am and 2:30pm. Cost is $30 to Santa Cruz or San Cristobal
Note on boats to Isabell: Boats do not travel directly to San Cristobal from Isabella. To get from Isabella to San Cristobal you must take the early ferry (5:30A) to San Cruz and then take the afternoon ferry from Santa Cruz to San Cristobal

7 Best Tips for Your Galapagos Trip
A few tips that will make your experience on Isabella as smooth as possible
---
1. Book your tours at dive shops: These shops provide higher quality gear and cheaper prices.
2. When snorkeling, keep your head down and avoid talking to maximize your interaction with the animals. Avoid chasing them and be calm and sea lions, sharks, and fish will curiously (and harmlessly) come to you. Bringing your head out of the water or talking creates unnecessary noise that scares them off…so does chasing them
3. Get a thick wetsuit!!: For any open water activities, insist on a long wetsuit at least 3mm thick, optimally 4mm or 5mm if you get cold easily. Note that with a 4mm or 5mm suit you will be so buoyant that diving below the surface when snorkeling will be very difficult
4. Alternate between self-guided tours and boat tours: With a wetsuit and snorkel, there are many great sites to swim and snorkel with sea lions, sea turtles, and sharks on your own. For birdwatchers, there are several nesting locations that can be hiked to with little difficulty to see boobies, frigates, and pelicans
5. Keep an eye on the bull sea lion (aka the biggest ones) when snorkeling: Most wildlife on Galapagos is so used to having people around that they will not react. On the other hand, sea lions will play and invite you in. Allow them to approach you (not the other way around) and avoid touching and they will stay playful. As for the bull sea lions, if you area snorkeling and notice a bull sea lion continually swimming a line and barking, he's marking his territory. Stay on the far side of that line (away from the colony) and you are very safe…but still, stay aware of where the bull is
6. If you're torn between diving and snorkeling, go snorkel: The divers I observed (at Leon Dormido) went through 10x the hassle we went through, as snorkelers, and saw less sea life than we did…they didn't get to see the hammerhead shark we saw. Oddly enough, this happened to most of the divers I met. Unless you get the chance to dive at Darwin, Wolf, or Genovesa, save yourself a lot of hassle and snorkel instead.
7. Keep in mind that animals follow food sources and breeding patterns which means you may not see a certain animal in a specific place all of the time. Prioritize the list of animals that you would like to see, then double check your tour locations with the time of year to plan which tour (and animal chase) is

Where to Sleep on Isla Isabella
A few places to rest your head on the island
---
Casa Rosada (Formerly Coleta Iguana): This place comes highly recommended by other bloggers and local agencies as it is located right on the beach and has a bar, right on the beach,but beware, it can be pricey (we paid $50 for a private room and no breakfast during low tourist season) and the hot water can take a long time to warm up in the showers, but the views from the rooms are AMAZING!!

Where to Eat on Isla Isabella
A few places to stuff your face on the island
---
Most of Isabella's eating options lie on the main drag in the center of town on Antonio Gill street. For the budget conscioustake advantage of the almuerzo (lunch special) as it comes with an entrée, side, salad, and drink for around $5-$7, and load up! In other words, eat two lunches if you can squeeze it in. Beyond that, every eating option will be in eyeshot.
Coco Surf (Restaurant, Dinner): If you're craving something recognizable for dinner. Prices are average for the island, but the dishes (and their tastes) are more reliable as they dish up some of the best food on the island.
Unnamed Convenience Store (Mini-mart, Beer and munchies): This place is a jackpot for loading up on snacks and avoided the high prices for beer and cocktails at restaurants. Come here and pick–up a Corona for $3 and hit the beach to enjoy paradise. FYI, all of the restaurants walk over to this place to buy alcohol and beer, so jump oon the bandwagon. Recommendation: For snacks, try the patacones (plantain chips). They're delicious and cheaper than your usual snacks because they're local to Ecuador
Cafe next to Coco Surf (Café, Breakfast): I lost the name of this place and it was a fantastic option before the morning tours. Head to Coco Surf and it's the café on the left. Look for the smell of deliciousness

Money on Isla Isabella
Everything you need to know about Dinero on Isla Isabella
---
Basics:
ATM's: BRING CASH!!!! There are no ATMs on Isabella, so once you run out of cash…you're done!
Currency: Ecuador (and the Galapagos Islands) use the US dollar which makes conversions easy
Banks: There are a few banks on Santa Cruz and San Cristobal
Credit Cards: Credit cards are accepted at hotels and swankier restaurants but charge a 4% additional fee. Budget accommodations may charge credit card but charge an additional 4% and prefer cash. Most on island tourist agencies and tour service providers (the cheaper ones you want to be with) only accept cash.
Fees
Foreign tourist, non-resident entry fee: $100 (Paid on entry at Santa Cruz Island or San Cristobal Island airports)
Prices:
Boat from or Santa Cruz or San Cristobal: $30
Flight to San Cristobal: $120 (great price), $150 (normal price)

Comparing Islands in the Galapagos Archipelago
Each of Galapagos' Island has a unique personality suited to different travelers…
---
The Galapagos Archipelago has 4 inhabited islands, 3 of which are suitable for as launch pads for self-guided adventures in Galapagos: San Cristobal, Isabella, and Santa Cruz. Each of these three islands is best suited to a particular goal ad traveler type. Note that most animal life can be seen on day trips launching from each of the islands, so the main differences between islands are creature comforts, "poshness", and population size…
Isla San Cristobal: Flashpackers, travelers willing to spend a little more cash, and travelers that require the creature comforts (i.e., craft cocktails, top notch ceviche, great western style dishes) for a satisfying adventure
Isla Santa Cruz: Backpackers and budget travelers that want to be perfectly positioned to keep costs low by eating more local and living a little more "rustically" while being perfectly positioned to explore most everything in the archipelago
Isla Isabella: Travelers that like rural, peace, quiet, and small populations. The population is 1/10th of that on San Cristobal, the main roads on the island are dirt, and all of the locals are super chill…most moved to this island because of its deserted feel

Other Great Galapagos Resources