If you're looking for a simple, easy, and effective way to burn fat, build muscle, and get fit 100 kettlebell swings a day is the answer. This quick, one move workout takes less than 7 minutes challenges every major muscle group in your body, tones your core, and improves cardiovascular and spine health and increasing energy levels along the way. All of these benefits can be achieved in your own home with less than ~$50 of equipment
Read on to discover how to do 100 kettlebell swings a day correctly and healthily and build a great new habit into your life.

REASONS TO DO 100 KETTLBELL SWINGS A DAY
KETTLEBELL SWINGS ARE A FULL BODY WORKOUT
Kettlebell swings will provide your hips, glutes, hamstrings, biceps, triceps, chest, shoulders, core and back for an amazing full-body workout in a single movement.
With the right the right workout structure, this workout keeps your heart rate up for a heart healthy and strengthing workout too.
SWINGS TONE AND BUILD MUSCLE
Kettlebell swings naturally build muscle and tone your body. Kettlebell swings are a form of "resistance training" which trains your body by forcing your muscles to contract intensely on external resistance (the weight and momentum of the kettlebell). This results in your body's adaption to stimulate muscle growth, in addition to increasing the maximum strength and power output your body is capable of.
Kettlebell swings do a great job of working the muscles along the rear of the body, from the heels, all of the way to the head.
Kettlebell swings muscles worked include:
The "posterior chain" muscles, consisting of the glutes, hamstrings, and lower back, that help us lift objects, walk, and maintain good posture
The "upper back" including the spinal erectors, trapezius muscles, and the rear portion of the deltoid (shoulder) muscles
KETTLEBELL SWINGS PROMOTE HEALTHY HORMONE LEVELS, NATURALLY INCREASE TESTOSTERONE AND GROWTH HORMONE LEVELS
Additionally, kettlebell swings were also proven to stimulate growth hormone and testosterone levels based on the results of a recent **study**. These healthier and increased hormone levels stimulate muscle growth and promote leaner body as well as improving general energy levels and improving sexual function.
KETTLEBELL SWINGS DELIVER A CARDIO WORKOUT, GETTING YOUR HEART PUMPING AND BUILDING STAMINA, ENDURANCE, AND WORK CAPACITY
The act of kettlebell not only delivers strength and work capacity increases but also delivers an excellent cardio workout.
Kettlebell swinging is an exercise that lies in the area of potential High Intensity Interval Training (HIIT) workouts in the are between the thresholds of strength and cardio. Kettlebell swings elevate the heart rate to a level sufficient for high quality cardiovascular training and with the right workout, is sustainable for 20 minutes+ without extended breaks.
This structure allows athletes to gain the cardiovascular benefits common to running while receiving the muscle and strength benefits of resistance training.
BURNS CALORIES AND FAT, DURING AND AFTER THE WORKOUT
According to another recent study a 20 minute kettlebell swinging session, consisting of ~400 kettlbell swings, burns roughly 400 calories.
This means that in our 100 swing kettlebell session, which can be 7 to 10 minutes or less, we can burn ~100 calories. Another study found that HIIT workouts, similar to this 100 kb swings a day workout, burn far more calories than steady-state cardio exercises, such as running, cycling, eliptical, and rowing.
On the longer side, for a 1 hour kettlebell workout calories burned are in the range of 1200 calories! For some individuals that is equal to the number of calories burned in an entire day of normal activity (excluding heavy physical activity and physical work).
Plus, the benefits of HIIT workouts that comes from resistance exercises like the kettlebell swing continue after the gym. A 2014 study and a 2018 study uncovered that participants metabolism continued to burn calories at a higher rate than steady state cardio during exercise and continued to burn calories in recovery for up to 48 hours after a workout.
KETTLEBELL SWIGNS REDUCE BACK PAIN BY IMPROVING FLEXIBILITY, MOBILITY, AND STRENGTH IN THE HIPS AND LOWER BACK
Kettlebell swings have also been proven to reduce back pain because the movement and resistance for movement of lower back, glute, hamstring, and posterior chain tissues that otherwise don't receive sufficient movement in daily life.
For most of us that live lives as desk warriors, the permanently seated position causes a "stickiness" in the tissues around the hips, in the lower back, and in the legs. In the rest of our daily lives, few movements, exercises, or activities encourage us to move our hips and lower back through a range of motion that strengthens them and preserves the range of motion.
Doing kettlebell swings encourages the full movement of the hips through their natural range of motion, while providing the resistance to strength the involved body parts (hip, core muscles, upper legs) through the entire range of motion.
This mobility, achieved through the strength and flexibility gained through kettlebell swings, undoes the damage of daily life, reduces blower back pain, and injury proofs our backs.
Just ensure your 100 kettlebell swings a day is accompanied by stretches for your hips, glutes, and legs, for holistic health.
REVERSES THE DAMAGE OF SITTING ALL DAY
Moving your hips through their entire range of motion with resistance reverses the damage that sitting in a chair all day. Sitting in a single spot for hours naturally shortens the hip flexors and causes them to tighten, shortens and tightens the hamstrings over time, and leads to reduced flexibility in the glutes.
Moving your hips and posterior chain through their full range of motion with resistance restores flexibility and builds injury preventing strength in your lower back and posterior chain that is lost when sitting all day.
BUILDS SOLID HABITS EASILY
Contrary to what the internet may lead you to believe, fitness isn't built in a single workout, on a single diet, or in a quick workout challenge.
True fitness is build over time, with the accumulation of positive, healthy exercise, movement, recovery, and nutrition habits. Habits and healthy routines are the primary factor for lifelong fitness, a body you love to look at, and a body you love to live in.
Doing 100 kettlebell swings a day is an excellent way to build those positive habits because it is universally positive and easy to do, making this a great gateway to more healthy habits.

WHY 100 SWINGS?
100 kettlebell swings a day is excellent because it is an easy, achievable start for beginners, and makes a perfect end of workout "smoker" for athletes that already have a solid gym routine.
For beginners just breaking into a fitness regimen, 100 kettlebell swings is easily achievable – in bit sized clusters of 5 to 10 swings – over a period of 10 to 15 minutes , or throughout the day when greasing the groove. This ease of entry is perfect for starting, eventually adding more of a workout on top, or taking the 250 swings in 30 days challenge, once they've become accustomed to 100 swings
For experienced athletes, 100 kettlebell swings are the perfect finisher for a workout. The workout is short enough you can end a larger workout with it, and intense enough while being packed with enough benefits to make it worth adding.
With determination, 100 kettlebell swings can be completed in a single set in less than 5 minutes, delivering a high intensity, cardio-packed finish to a workout, while ensuring every workout conditions the all-important posterior chain of lower back, glutes, and hamstrings.
MEX**

HOW SHOULD YOU DO YOUR 100 KETTLEBELL SWINGS A DAY
New athletes should do 100 kettlbell swings a day and add an movement to reach a 20 minute workout total. Experienced athletes will best benefit from adding the 100 kettlebell swings at the end of a workout
If you are new to kettlebell swings, start with just the 100 Kettlebell swings a day. Starting at 10 swings on the first day, and adding 10 swings each consecutive day – so, 10 swings on day 1, 20 swings on day 2, 30 swings on day 3 – is a great way to ease into this workout, until you reach 100 kettlebell swings a day.
Doing those 100 kettlebell swings in a day is an excellent workout, but add enough movement to create a full 20 minute workout.
Individuals that are already in fairly good shape should consider adding 100 kettlebell swings at the end of their workout, as a "finisher" or smoker – giving a work capacity building strength and cardio end to every workout.

SHOULD YOU DO THE SWINGS ALL AT ONCE? OR SPLIT THEM UP?
Experienced athletes should aim for 100 in a single set, beginners should do sets of 10 to 25 reps.
Beginner athletes should complete the 100 swings in smaller sets in order to healthily and gradually ease into the workout. Completing the 100 swings in sets of 10 to 25 swings per set is recommended. Between sets, aim to rest for as little time as possible, ideally less than 45 seconds, to keep your heart rate up throughout the workout which in turn delivers more cardiovascular, stamina, and work capacity benefit from every workout.
Experienced athletes should attempt to do the 100 kettlebell swings in as few sets as possible – ideally a single set – for the best benefit.

CONSIDER "GREASING THE GROOVER" TO GET INTO SWINGING, SPREADING SWINGS THROUGHOUT THE DAY
If you don't have the time or patience to complete 100 kettlebell swings at once. "grease the groove" by breaking up the repetitions throughout the day.
Simply do 5 or 10 repetitions at a time, chipping away at your 100 total reps, being sure to complete them all before day's end.
Note that the "grease the groove" approach doesn't carry as much of the cardiovascular benefits as doing the swings in a single session, so you may want to do more than your 100 to focus more on increased strength through neurological adaption.

WHAT WEIGHT KETTLEBELL SHOULD YOU USE?
Start with 15lbs for women and 30lbs for men, but aim for ~30lbs for women and ~45lbs for men
For complete beginners, starting with a ~15lb kettlebell for women and a ~30lbs for men is recommended, with the goal of working up to a ~30lbs kettlbell for women and a ~45lbs kettlebell for men as the minimum standard for every workout.
However, as your fitness and strength improve, continue to increase the size of your kettlebell to keep the 100 swings challenging. I regularly alternate between 50lbs and 60lbs kettlbells for my 100 swings.
ADJUST DIFFICULTY BY ADJUSTING WEIGHT, SHORTENING REST PERIODS, AND SWINGING FASTER
Once you've reached a weight that you are comfortable sticking with indefinitely, adjust the difficulty of your 100 swings by decreasing rest periods or increasing the speed of your swing and total time for the 100 swings.

GREAT KETTLEBELL ALTERNATIVES FOR HOME GYMS
For many people, purchasing multiple kettlebells doesn't make sense, kettlebells simply aren't available, or kettlebells simply aren't practical or portable enough. In these cases, I recommend the following kettlebell alternatives.
Each of these kettlebell alternatives allow you to easily adjust weight, are very portable and reasonably priced, and can be used in a more versatile way – more exercises and workout types – than kettlebells while being slightly safer, due to being softer.
Sandbells are generally roll top bags made of canvas or an alternative tough material and are filled with sand. These bags, similar to waterproof bags, make a tough, travel friendly alternative to kettlebells, with the added benefit of being softer and thus safer.
Also, like all of these options, you can easily increase or decrease weight to suit your goals. I have, use, and highly recommend sandbag kettlebells as a kettlebell alternative.
Sandbags with handles
Sandbag with handles are another tough, versatile alternative to kettlebells. Thanks to the many handles they can be used for kettlebell movements, such as swings, but can also be used for powerlifting and olympic lifting movements, such as cleans, presses, and squats.
I also have and recommend sandbags. I currently use the GORUCK Sandbag however, there are plenty of great sandbag options on Amazon.
A ruck or workout backpack with handles and weight
The most versatile option for kettlebell alternatives is getting a "ruck", or a tough backpack designed for carrying weight and built with tough handles, and using that in the same manner you would a sandbag or kettlebell.
I've done thousands of swings with my GORUCK Rucker filled with a sandbag or a ruck weight and highly recommend it as an option for workouts at home or in the park.

HOW TO DO THE KETTLEBELL SWING
Setting up for a kettlebell swing
1. Stand with feet shoulder-width apart with the kettlebell sitting between your legs and just below your hips
2. Bend at the hips, keeping a straight back with core (abs and lower back) engaged, shoulder back and shoulder blades pulled in and down, so the arms are supported by the lats
3. With straight arms, grab the top handle of the kettlebell with palms down.
Execute the kettlebell swing
4. Maintaining straight arms and an engaged core, powerfully extend the hips pushing them up and forward, and transfer the movement energy through your lats and straightened arms
5. Continue with the momentum of the kettlebell swing until the hips are fully extended, your butt feels fully contracted, and the kettlebell reaches shoulder height.
6. Allow the kettlebell to fall naturally, slowing it as it falls, using your hips and arms, to reach the start position.
7. Repeat
GOOD TECHNIQUE POINTS FOR THE KETTLEBELL SWING
Maintain a neutral spine with an engaged core (both lower back and abdominal muscles)
Your hips should be higher than your knees, and your knees should be higher than your shoulders – this will help ensure you are hinging, not squatting
Keep shins relatively close to vertical through the entire movement
Activate the lats, pulling the shoulders back into an engaged and healthy position, and pulling shoulder blades down slightly – this is for safety/healthy form and to properly transfer energy from the glute action to the kettle swinging upward
Keep your arms straight through the entire movement
Hinge at the hip keeping the arms straight through the entire movement
Avoid using the arms and shoulders to move the kettlebell – your arms and shoulders should remain straight and engaged, like your core in a plank. Power the movement with your glutes.
Use your glutes to power the movement of the kettlebell while your core, shoulders, and arms are just transferring the energy. If you need the kettlebell to go higher, contract your glutes more powerfully.
Engage the lats and keep the shoulders engaged to transfer the energy from the glutes, up through the torso, through the extended arms, and swinging the kettlebell up.
Stop when the kettlebell reaches shoulder level.
Fully extend the hips at the top of the movement
Allow the weight of the bell to bring it down, slowing the movement naturally, and maintaining the rhythm to swing the bell up and repeat
COMMON FAULTS IN THE KETTLEBELL SWING
Rounding the back or changing the position of the lower back through the movement
Squatting instead of hinging
Bending the arms during the movement
Attempting to lift the kettlebell with the arms or shoulders, instead of using the glutes
Letting the shoulders go loose during the movement / not keeping the shoulders engaged through the entire movement
HOW MANY CALORIES DOES 100 KETTLEBELL SWINGS PER DAY BURN?
100 kettlbell swings burns approximately 100 calories
FOR FAT LOSS USING KETTLEBELLS, AIM FOR THE 10,000 SWING CHALLENGE AND BURN 500 CALORIES A DAY, AND CALORIES WHILE YOU SLEEP
100 calories burned is great, but to really burn fat, you'll need to amp up that number.
Ensure each workout is lasting roughly 20 minutes and you're getting a solid sweat in. If you're having trouble figuring out what to do to fill the remaining time, consider bumping up to 300 swings a day.
Even better, consider taking our 10,000 kettlebell swings challenge.

BE SURE TO STRETCH AND MOBILIZE AFTER TO GET THE MOST OF YOUR SWINGS
After every workout, you'll have a nice pump and feel good while your muscles are functioning smoothly, and we want to maintain that. To ensure your muscles don't cool down into those old, sticky positions, be sure to stretch after you're finished – to keep those mobility benefits and those lower back protecting benefits.
Stretch the groin (couch stretch)
Stretch the lower leg (calves)
Stretch the glutes and hamstrings
Stretch your shoulders

OTHER APPROACHES TO DAILY KETTLEBELL WORKOUTS
Perform 300 Swings (The Wall)
Tabata Kettlebell Swing Workouts

10,000 KETTLBELL SWING CHALLENGE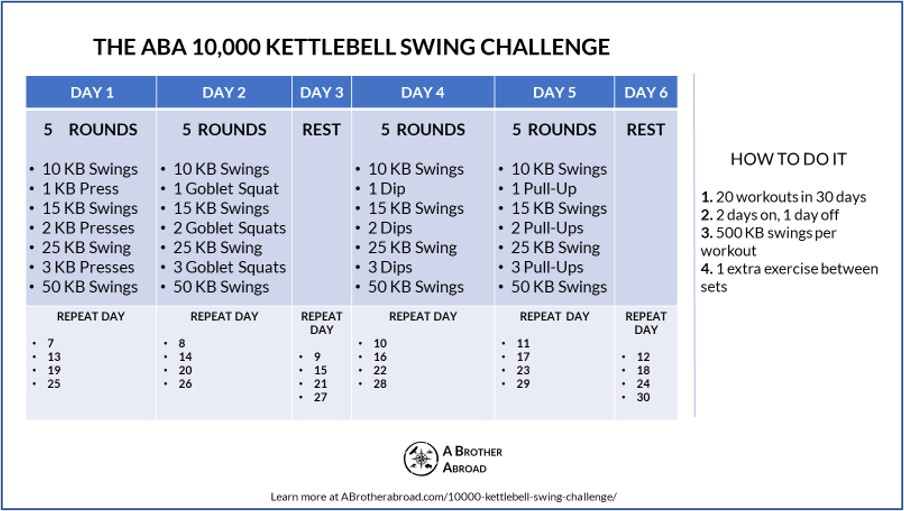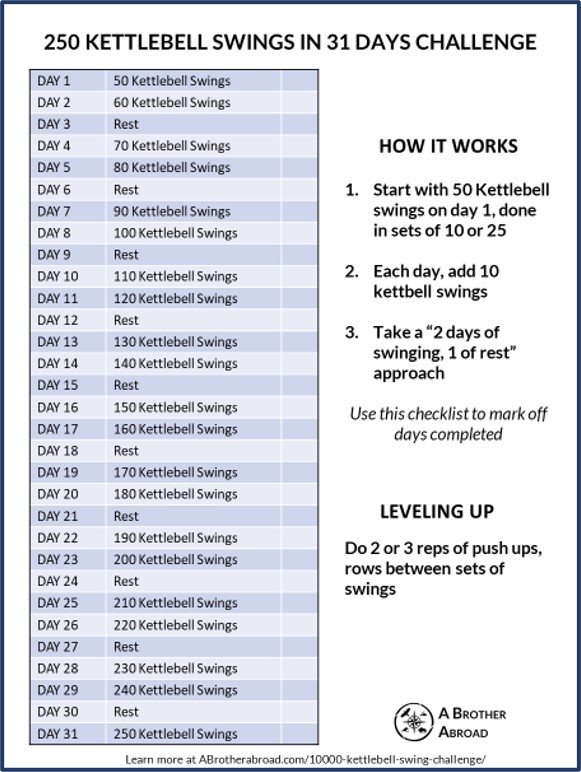 WHAT NEXT
Now that you're swinging 100 kettlebells a day, keep up the habit indefinitely as a finisher to your workout. Either swinging 2 days on then taking 1 day of rest, or doing swings for 5 days and then taking the weekend is off is best.
If you're crushing your 100 swings, consider taking our 10,000 kettlebell swing challenge.
Or check out these great related reads:

100 Kettlebell Swings a Day FAQ
What happens when you do 100 Kettlebell Swings a Day
100 kettlebell swings a day improves your posture, reduces back pain, promotes health testosterone and growth hormone levels, and builds a habit of movement and fitness into your daily lives.
Is 100 Kettlebell swings enough?
100 kettlebell swings is an excellent start, but every good workout should be at least 20 minutes long. Once you've become acclimated to kettlebell swings, aim for 300 to 400, if they will be your only movement in the workout.
How long will 100 kettlebell swings take
100 kettlebell swings can be completed in as quickly as 2 minutes, if performed in a single set. When performed in sets of 10 to 25 with rest between, 100 kettlebell swings will take 7 to 10 minutes.
Is it ok to do 100 kettlebell swings everyday
Improvement happens while we rest and recovery, so, your kettlebell swinging routine should include rest days. Either rest 1 out of every 3 days, or 2 days out of every 7 days, for optimal performance and health.
How heavy should your kettlebell be?
For beginners kettlebells should be ~15lbs for women and 30lbs for men with a target of 30lbs for women and 45lbs for men after adapting to the kettlbell swing. In the future, aim for as heavy as possible while still focusing on your goal (strength or cardio) for the workout.
What kind of 100 kettlebell swings a day for a month results can be expected?
From a workout of 100 kettlebell swings a day for a month (7 to 10 minutes of exercise), a fairly untrained individual can expect muscular toning in the glutes and upper back, improved posture, and a slight improvement in stamina for burst activities.
200 kettlebell swings a day results, what should you expect?
For 200 kettlebell swings a day for a month (15 to 20 minutes of exercise), a fairly untrained individual can expect muscular toning and improved strength in the glutes, upper back, and posterior chain in general, as well as improved cardiovascular fitness and health, as this training crosses the CDC's recommendations and the American Heart Association's recommendation for heart health and cardiovascular Fitness (50 minutes per week of moderate-intensity aerobic activity or 75 minutes per week of vigorous aerobic activity) (Source: American Heart Association)
Sources: