If you're looking for a new workout that will challenge your body and push you to the limit, the 10,000 kettlebell swing challenge is just what you've been waiting for. But, if you have no idea what I'm talking about, don't worry! This article will go over everything from why it's so effective to how to do 10000 kettlebell swings in 30 days or less.
THE VERDICT UPFRONT: IF HIGH-INTENSITY CARDIO, FAT LOSS, AND TONING ARE WHAT YOU WANT, THE 10,000 KETTLEBELL SWING CHALLENGE IS WORTH IT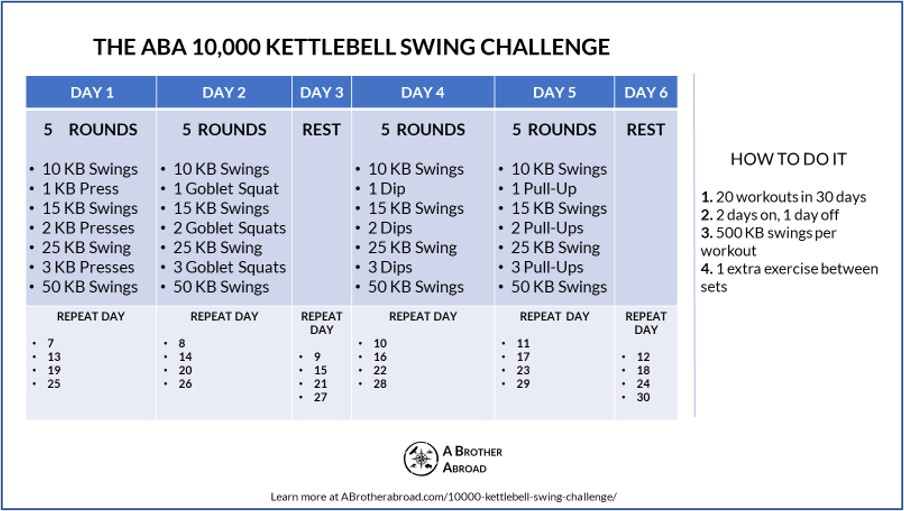 CONTENTS

WHAT IS THE 10,000 KETTLEBELL SWINGS CHALLENGE?
The 10000 kettlebell swings challenge is a 30-day workout program. In this program, you do 10,000 kettlebell swings over 20 workouts in 30 days with a few extra exercises between sets of swings for a balanced program.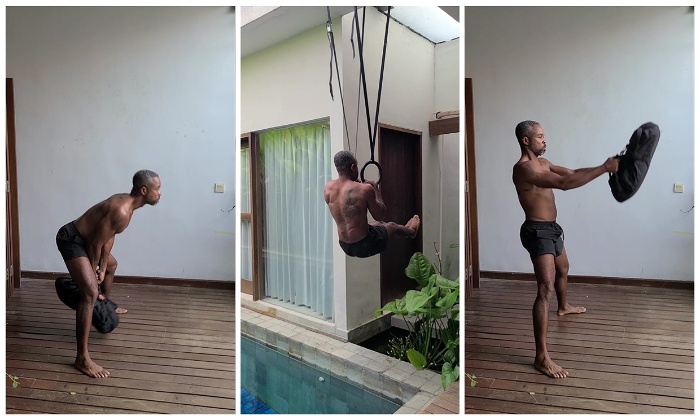 This sounds simple enough, but when you realize how many repetitions are required each day, it becomes clear just how difficult this routine will be! However, at 500 reps per day, or 20 sets of 25 swings, this is definitely possible and easier than you think! That's 10,000 total sets of back-to-back kettlebell swings.
Most don't realize is that you can do 10,000 kettlebell swings in just 30 days if you stay consistent.
WHY DOES THE KETTLEBELL SWING CHALLENGE WORK?
This workout program combines high-intensity interval training (HIIT) (just like Crossfit) while training strength in your upper body and lower body simultaneously. The kettlebell swing provides resistance training for the upper body (back, chest shoulders, arms), core (abs, back), and lower body (glutes, legs). Thanks to this mix, the 10,000 kettlebell swings blast your core, arms, and legs all in one go while toning muscle and giving you an amazing cardio workout. The additional exercises in each workout target multiple muscle groups simultaneously for maximum calorie burn without over-exerting any single area of the body.
Even better, this style of training (HIIT resistance training) bumps up your metabolism thanks to your body's recovery processes and causes your body to burn more calories than normal for the next 24 hours – even while you're resting
If this challenge of 10,000 swings sounds a little too intense, start with our challenge of 100 kettlebell swings a day for 30 days straight, for great results with a less intimidating approach.

HOW TO DO THE 10,000 KETTLEBELL SWINGS CHALLENGE
The 10,000 kettlebell swing challenge consists of 20 workouts performed over 30 days, with 500 kettlebell swings in each workout done over 20 separate sets with one additional exercise sprinkled between sets for balance.

HOW TO DO THE 20 INDIVIDUAL KETTLEBELL SWING WORKOUTS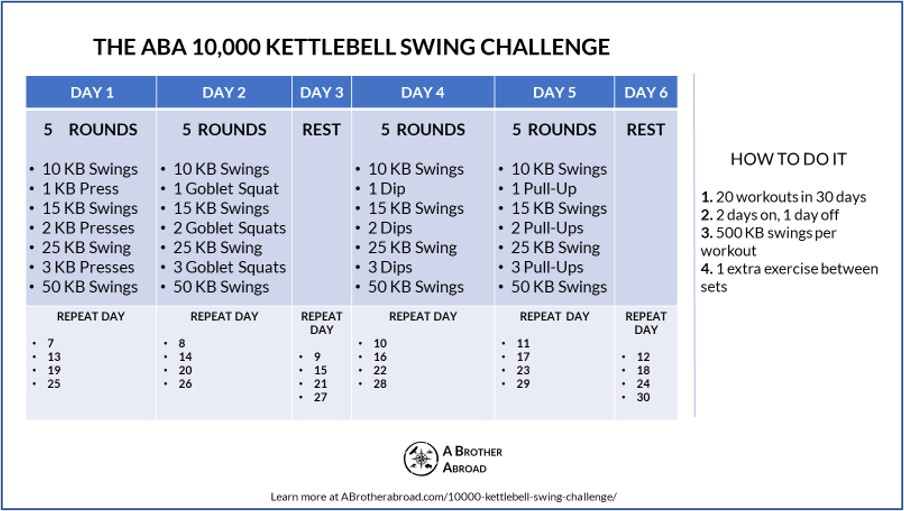 In each of the 20 daily workouts, perform the following:
5 rounds of the following circuit:
10 Kettlebell swings
1 rep of additional exercise of the day (press, dip, squat, or pull up)
15 kettlebell swings
2 reps of the additional exercise of the day (press, dip, squat, or pull up)
25 kettlebell swings
3 reps of the additional exercise (press, dip, squat, or pull up)
50 kettlebell swings
Between each "round" of 4 sets of swings, rest for 3 minutes max
For each round of this circuit, the kettlebell swing reps (10, 15, 25, 50) add up to 100 reps. Doing 5 rounds of the circuit gets us to our 500 each day.
Between each of the 10, 15, 25, and 50 sets of kettlebell swings, you will perform one additional exercise to train balanced strength through the body

ADD THESE ADDITIONAL EXERCISES BETWEEN KETTLEBELL SWING SETS FOR 1, 2, OR 3 REPS
Between the sets of 10, 15, 25, and 50 swings, you will do 1, 2, or 3 reps of your additional exercise of the day.
You will alternate through the additional exercises each day, using the following exercises:
Press (barbell or with the kettlebell – 1 rep per arm)
Dip
Goblet squat (with your kettlebell)
Pull Up
for your dip day, the workout will look like this
10 Kettlebell swings
1 Dip
15 kettlebell swings
2 Dips
25 kettlebell swings
3 Dips
50 kettlebell swings
Rest (for up to 3 minutes)
Repeat circuit for 5 rounds
The daily split of additional exercises added between kettlebell swings will be:
Day 1: Press
Day 2: Dip
Day 3: Goblet squat
Day 4: Pull Up
Day 5: Press
Day 6: Dip…

PERFORM THIS WORKOUT 2 DAYS ON WITH 1 DAY REST IN BETWEEN, TO DO 20 WORKOUTS IN 30 DAYS
This workout is intense, and your body will need time to recover, see improvement, and avoid injury. As such, the standard "2 on 1 off" workout plan common for most high-intensity interval training is perfect for this.
Ideally, perform the kettlebell swing workout for two days straight, rest one day, then continue for two days through the 30 days for a "2 on, one-off" workout regimen.

RECOMMENDED WEIGHT: MEN – 53LBS/24KG KETTLEBELL; WOMEN 16KG/35LBS KETTLEBELL
The recommended weight is 53lbs/24kg kettlebells for men and 16kg/35lbs kettlebells for women, but this is a rough starting point for conditioned athletes.
If you haven't been doing kettlebell swings in a while, or this weight seems high for your physical conditioning, consider starting lower.
However, as the challenge progresses, feel free to increase weight – especially if you feel the workout wasn't enough.
REST PERIODS BETWEEN SETS OF KETTLEBELL SWINGS: 3 MINUTE REST AFTER EACH 4 SETS
At the end of each of the five rounds, feel free to rest up to 3 minutes. However, feel free to shorten that rest period to keep your heart rate up.
If your goal is to increase strength, maintain the 3 minute rest period and increase the weight of your kettlebell as you progress and feel less challenged.
If your goal is fat loss, cardiovascular training, or tone, maintain the weight of your kettlebell and shorten your 3 minute rest period as you progress through the challenge.
Rest as little as possible between sets outside of the 3 minutes. This will maintain the "HIIT" nature of the workout and give you those maxed-out strength and stamina benefits you've heard about from the 10,000 kettlebell swing challenge.

WHY SHOULD YOU DO THE 10,000 KETTLEBELL SWING CHALLENGE?
THE BENEFITS
Is the 10,000 kettlebell challenge right for you? Probably, but just to be sure, here are the main benefits most people see from this challenge:
GET LEANER: You will lose fat during this challenge, especially if you're already eating healthy
BUILD FUNCTIONAL STRENGTH: The KB swing trains strength in the muscles you use daily
TONE YOUR WAISTLINE & STRENGTHEN YOUR CORE: Proper swing technique requires maintaining a stable core (abs and lower back), training the midsection naturally
INCREASE STAMINA AND CARDIO FITNESS: HIIT workouts like this are more effective than running and steady-state cardio for comparable periods at improving cardiovascular health
FULL BODY STRENGTH AND CONDITIONING: Doing 500 swings in a single ~1-hour session trains your cardiovascular system and strength in the legs, glutes, abs, lower back, and shoulders.
IMPROVE POSTURE: The end state of each swing is in the perfect posture stance – neutral spine, shoulders back and down, head up, chest up – training you to maintain perfect posture daily.
IN THE ORIGINAL TEST OF THE CHALLENGE BY DAN JOHN'S TEAM, THE ENTIRE TEST GROUP EXHIBITED THE FOLLOWING GAINS…
Everyone in the original 18 lost fat and dropped a pants waist size
Every athlete increase gripped strength and work capacity/stamina
Every athlete experienced increased strength in their core lifts
Muscle tone increased, and abs became more visible

ESSENTIALS TIPS FOR GETTING THE MOST OF THIS 10,000 KETTLEBELL SWING CHALLENGE
Good form is key
Go as fast as possible for the most benefit
Track your sets during the workout – otherwise, you will definitely lose track
Track your times over the 20 workouts
Measure yourself before and after
Consider stacking this with healthy eating habits

GOOD FORM IS KEY
Kettlebell training is an excellent form of exercise that trains strength, work capacity, and stamina. However, in extended HIIT training (such as this workout), any forms in your fault – rounding the back and using the arms too much (not keeping them extended) is the most important – will become more prevalent towards the end of the workout.
Form faults can put you at risk of potential injury, so we should avoid this at all costs.
Start by using good technique.
Do
Keep an engaged core (abs and lower back) and neutral spine at all times.
Do keep your arms extended with the biceps and triceps engaged to protect the elbow
Keep your lats engaged, keep your shoulders in an engaged neutral position and shoulder blades back and down
Hinge at the hip and use the glutes to power the movement, instead of squatting and using the quads
Do not
Round your back
Use your arms to "bicep curl" the kettlebell or overly use the shoulders
GO AS FAST AS POSSIBLE TO GET THE MOST BENEFIT
Between sets, rest as little as possible to keep your heart rate up. The more your heart pumps, the more of a workout you'll get. Whenever your heart rate and breathing begin to slow and recover, your workout effectiveness diminishes.
Keep the intensity up and keep moving.
TRACK YOUR SETS DURING THE WORKOUT – OTHERWISE, YOU WILL DEFINITELY LOSE TRACK
You will lose track of the number of sets completed if you simply think about it. Use a piece of scratch paper or your phone to record sets – to avoid the frustration and confusion of having to do an extra set
TRACK YOUR TIMES OVER THE 20 WORKOUTS
Time to completion will be the biggest indicator of improvement during the challenge and will be the most noticeable. Even getting the same time but not feeling like you've danced with death will motivate you via observed improvement.
TAKE YOUR MEASUREMENTS BEFORE AND AFTER THE CHALLENGE
Your body will change. If you lose fat, you may gain muscle, and the zero "weight difference" will be misleading.
To better observe your improvements, measure yourself before and after. If you have access to a bodyfat measuring device, that's awesome. Use that same device before and after.
Even if you do, still measure your waist (at the belly button), hips (around the butt), chest, thighs, and arms (both flexed biceps and triceps).
Also – take a picture of before and after, just for fun. Be sure to smile in them.
CONSIDER STACKING THE CHALLENGE WITH HEALTHY EATING HABITS
When it comes to weight loss and fat loss, nutrition is the number 1 factor in what we look like. So use this challenge opportunity to improve how your body functions and what it carries.
By "healthy eating," I don't mean diet.
My approach was limiting my eating to an 8-hour window (intermittent fasting) and skipping refined carbs and sugar. That's it…and it resulted in losing 6 pounds over a few weeks.
I highly recommend considering the Crossfit eating guidelines:
"Eat meat and vegetables, nuts and seeds, some fruit, little starch, and no sugar" and "keep intake to levels that will support exercise but not body fat."
You can't go wrong with this sustainable eating approach – and you'll compound what you achieve in this challenge.

HOW TO DO A KETTLEBELL SWING: THE PROPER TECHNIQUE
Kettlebell Setup Step 1: Stand of the kettlebell with feet just wider than shoulder with for men and just wider than hip-width for women
Kettlebell Setup Step 2: "Hinge" at the hip while keeping the back straight (spine neutral and core engaged), ensuring to keep the hips well above the knees and shoulders well above the hips
Kettlebell Setup Step 3: Grab the kettlebell with both hands, palms down with arms extended and biceps/triceps engaged. The arms should hang.
Kettlebell Setup Step 4: Engage your shoulders and lats, pulling the shoulders slightly back and the shoulder blades down to "connect" the arms, shoulders, and lats
Kettlebell Execution Step 1: Contract the glutes and posterior chain while pushing through the heels
Kettlebell Execution Step 2: Keep the lats, shoulders, and arms engaged to properly transfer the upward force from the powerful contract of the glutes and straightening of the upper body to the kettlebell, which ultimately causes an upward swing.

ESSENTIAL POINTS FOR PROPERLY POSITIONING YOUR BODY IN THE KETTLEBELL SWING
Maintain a neutral spine with an engaged core (both lower back and abdominal muscles)
Your hips should be higher than your knees, and your knees should be higher than your shoulders – this will help ensure you are hinging, not squatting
Keep shins relatively close to vertical through the entire movement
Activate the lats, pulling the shoulders back into an engaged and healthy position, and pulling shoulder blades down slightly – this is for safety/healthy form and to properly transfer energy from the glute action to the kettle swinging upward
Keep your arms straight through the entire movement
ESSENTIAL POINTS FOR PROPERLY EXECUTING THE KETTLEBELL SWING
Hinge at the hip keeping the arms straight through the entire movement
Avoid using the arms and shoulders to move the kettlebell – your arms and shoulders should remain straight and engaged, like your core in a plank. Power the movement with your glutes.
Use your glutes to power the movement of the kettlebell while your core, shoulders, and arms are just transferring the energy. If you need the kettlebell to go higher, contract your glutes more powerfully.
Engage the lats and keep the shoulders engaged to transfer the energy from the glutes, up through the torso, through the extended arms, and swinging the kettlebell up.
Stop when the kettlebell reaches shoulder level.
Fully extend the hips at the top of the movement
Allow the weight of the bell to bring it down, slowing the movement naturally, and maintaining the rhythm to swing the bell up and repeat
COMMON FORM FAULTS AND MISTAKES TO AVOID IN KETTLEBELL SWINGS
Rounding the back or changing the position of the lower back through the movement
Squatting instead of hinging
Bending the arms during the movement
Attempting to lift the kettlebell with the arms or shoulders, instead of using the glutes
Letting the shoulders go loose during the movement / not keeping the shoulders engaged through the entire movement

VARIATIONS OF THE 10,000 KETTLEBELL SWING CHALLENGE
The 10,000 kettlebell swing challenge is a solid path to toning, cutting fat, and a cardio/stamina boost in an easy structure.
However…anything can be improved upon.
If doing 500 kettlebell swings a day seems daunting and risky to you, we have a lighter, equally useful variation of the challenge – the 30 Days to 250 Swings Challenge.
If you would prefer more strength maintenance/gains during the challenge with a touch of mobility gains, we have our second (and my preferred) variation – the ABA 10,000 Kettlebell Swings challenge
Let's start with the strength building, ABA 10,000 Swings Challenge….

THE ABA 10,000 KETTLEBELL SWINGS CHALLENGE
Add High-Intensity Calisthenics To Build More Strength, Muscle, And Mobility
The 10,000 kettlebell swing challenge is a great, straightforward plan to build functional strength and stamina over 30 days – but everything can be improved.
In my version of the 10,000 kettlebell swing challenge, we simplify the rep scheme (20 sets of 25 reps). We also replace the additional exercises with higher intensity calisthenics – muscle ups, 90 degree pushup variations, and thrusters. This promotes more strength and mobility and develops more muscle over simply using the press, dip, squat, and pull-up recommended in the original challenge.
Using these replacement exercises, we work the back, chest, the rest of the legs and shoulders in a higher intensity way that focuses on strength (in these muscle groups) over stamina. At the same time, we retain the stamina honing element of the original workout and HIIT workouts in general.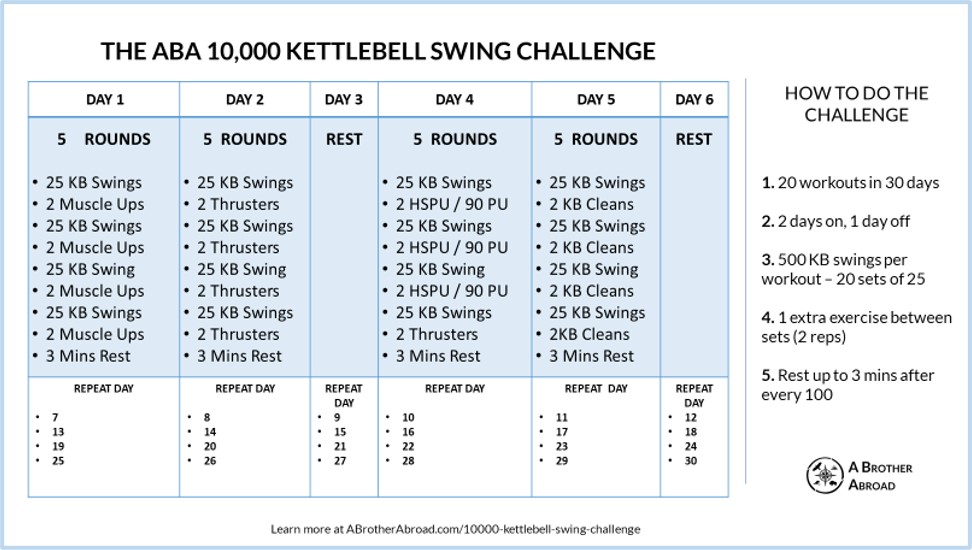 HOW TO DO THE "ABA 10,000 KETTLEBELL SWING CHALLENGE"
1. Perform 20 workouts over 30 days, doing two days of workouts and one day of rest in rotation.
2. Perform 20 sets of 25 kettlebell swings per workout.
3. Between each set, perform two reps of the additional exercise of the day (or a progression variation) – muscle ups, 90-degree pushup variations, or thrusters
4. After every four sets of 25 swings (every 100 swings), rest up to 3 minutes but keep your heart rate up.
And that's it
An example daily workout would be –
Daily workout for the ABA 10,000 Kettlebell Swing Challenge:
25 Kettlebell Swings
2 of additional exercise
25 Kettlebell Swings
2 of additional exercise
25 Kettlebell Swings
2 of additional exercise
25 Kettlebell Swings
2 of additional exercise
3 minutes or less of rest
Repeat this circuit for 5 rounds.
Each circuit consists of 100 total swings ( 4 x 25) and gives us 500 swings per day

WHAT IF YOU CAN'T DO A MUSCLE-UP OR 90 DEGREE PUSH-UP?
The Muscle Up and 90-degree push-ups are ultimate calisthenics moves, but you don't have to be at the level of doing them. Instead, pick one of the "progressions" listed below. Again, we don't have to be able to do the original move – muscle-ups or 90-degree push-ups – we just want to recreate the movement with just enough resistance.
If you can't fully do the muscle-up or 90 degree push up, do whichever of the following "progression" exercises are within your ability
For Muscle Ups -> Pull Up + Dips -> Pull Up Negatives + Dip Negatives -> Push Ups + Ring/Suspension Trainer Row
For 90 Degree Push Ups -> 1 x 90 degree push up negative -> 1 x Push Up + 1 x Handstand Push Up -> 1 x Pike Push Up + 1 x Push Up
As you proceed through the 500 kettlebell swings and start to get tired, feel free to drop down to a lower progression to complete your two reps of the additional exercise between sets.

WHAT'S SO GREAT ABOUT THE ABA 10,000 KETTLEBELL SWING CHALLENGE APPROACH?
Simpler rep scheme of 20 x 25: Makes counting rounds easier
Applies more resistance (to train more strength): Using these additional exercises – muscle ups and 90-degree push-ups – or their progression movements trains for much more muscle and strength through the challenge while maintaining the stamina-building intensity.

But what if you're newer to kettlebell swings or just coming off the bench?
As respectable as ambition is, going too hard without the right conditioning and training to fatigue proper technique in kettlebell swings can lead to injury and worse shape than when you started.
If you haven't done 100 kettlebell swings in a single session recently or can't say that your kettlebell swing form is good, 500 swings a day is possible, but it's also risky.
Instead, if 100 kettlebell swings sound too intense, go with the "kettlebell challenge light" for the first run and then upgrade to the full kettlebell challenge later.
So, what is the "Kettlebell Light Challenge?"

THE KETTLEBELL SWING LIGHT CHALLENGE: 250 SWINGS BY DAY 31
For those who haven't done 100 kettlebell swings in a single workout session recently or need to improve their kettlebell swing technique before knocking out 500 swings in a single session, the 10,000 swings are possible. Still, for the first month, I recommend the 250 swings in 31 days challenge – 30 days to gradually work up to 250 swings in a day.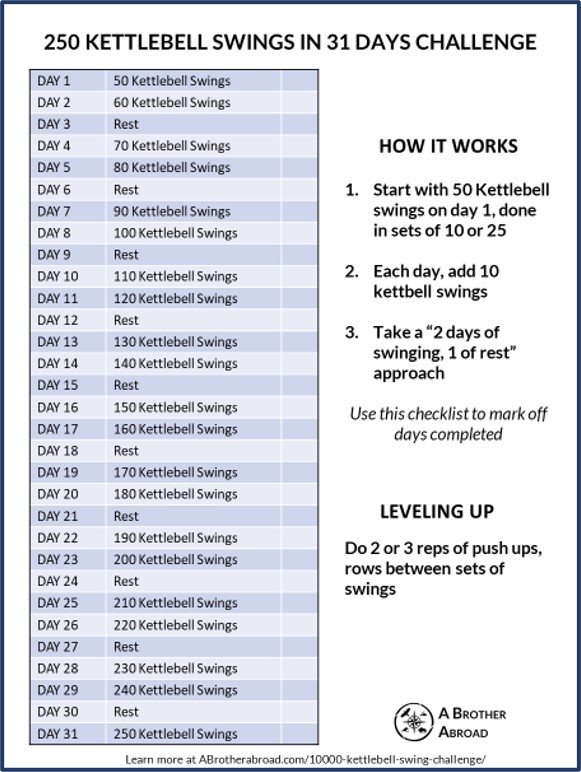 In the 250 swings in 31 days challenge, we start with 50 swings and increase by ten swings in every workout, working out two days and resting one.
We'll knock out our swings in sets of 10 or sets of 25, depending on your skill and conditioning level going in. If you can do 25 swings straight, I recommend going for 25 per set.
Starting at 50 swings gives us a low-effort starting point to focus on form and a low-intensity start point suitable for anyone.
Increasing by ten swings per session slowly builds our capacity, muscular strength, stamina, and work capacity, in a productive, low-risk way.
We perform 2 or 3 repetitions of our additional exercise between every single set – whether you choose 2 or 3 is your preference. The additional exercises we'll cycle between are pull-ups, dips, goblet squats (squat holding kettlebell in front), and kettlebell overhead presses
And that's it
The workout plan will go as follows:
Day 1: 50 Kettlebell swings (2 sets of 25 reps)
Day 2: 60 Kettlebell swings (2 sets of 25 reps + 1 set of 10 reps)
Day 3: Rest
Day 4: 70 Kettlebell swings (2 sets of 25 reps + 1 set of 20 reps)
Day 5: 80 Kettlebell swings (3 sets of 25 reps + 1 set of 5 reps)
Day 6: Rest
Day 7:…
Day 31: 250 Kettlebell swings (10 sets of 25 reps of kettlebell swings)
An example daily workout:
Day 7 Workout:
25 Kettlebell Swings
2 Goblet Squats
25 Kettlebell Swings
2 Goblet Squats
25 Kettle Bell Swings
2 Goblet Squats
15 Kettlebell
For 90 Kettlebell Swings in total on Day 7

EXERCISE SUBSTITUTIONS IN THE 250 KETTLEBELL SWINGS IN 30 DAYS CHALLENGE
If you are unable to do the listed exercise because of lack of equipment or strength, substitute as follows:
Pull-Ups: Suspension trainer pull-ups, suspension trainer rows, or rows using a sturdy table
Dips: Push-Ups, Push-Ups on knees
Goblet Squats: Air Squats (no weight, just drop it like it's hot). Twerking is also an option. Kidding. Kind of.

AFTER ACHIEVING 250 KETTLEBELL SWINGS – CONSIDER DOING 100 SWINGS A DAY
The benefits of kettlebell swinging – to a strong posterior chain and core – don't have to stop. If you don't jump into the 10,000 Kettlebell Swings Challenge, I highly recommend considering doing **100 kettlebell swings a day** 5 days a week. To keep the benefits going and the fitness up.

PRO TIP: GET A SANDBAG INSTEAD OF A KETTLEBELL
I've owned several kettlebells; however, I prefer and recommend getting a solid sandbag with handles instead. (I've screened and recommend these** sandbags).
Here's why
Weight is adjustable with sandbags – with kettlebells, you're stuck
Sandbags are incredibly cheap, relative to weights
Sandbags are travel friendly; kettlebells aren't
Sandbags are soft and (generally) less dangerous
Sandbags are incredibly versatile, allowing for kettlebell style workouts, Crossfit workouts, power lifts, traditional weight lifting, and sandbag training
SANDBAG WEIGHT IS EASY TO ADJUST
Simply pour out a little sand or add a little sand. Each move takes less than two minutes. This allows you to adjust the weight up or down for the specific move or workout you're doing. My current GORUCK Sandbag can be loaded with up to 120lbs. I currently use it at home for kettlebell training, power lifts (cleans + presses, snatches, thrusters, etc.), and Crossfit workouts with no issues
SANDBAGS ARE INCREDIBLY CHEAP RELATIVE TO KETTLEBELLS AND OLYMPIC WEIGHTS
$100 will buy you an incredibly good sandbag and filler bag that takes the place of a whole gym. Ensure the bag has dual top and side handles, and you'll be able to use it as you would dumbbells, kettlebells, or Olympic bars.
SANDBAGS ARE TRAVEL-FRIENDLY: SIMPLY EMPTY AND MOVE
I've taken my sandbag on island vacations where I know there wouldn't be a beach. I simply emptied the sandbag and packed it in the bottom of my backpack. When I arrived at the island, I unpacked, went to the beach, and refilled with sand, and I was able to get in a Crossfit workout the entire week I was there. If you need weights while traveling, the sandbag (or resistance bands) is your only true option.
SANDBAGS ARE SOFT AND (GENERALLY) LESS DANGEROUS THAN METAL WEIGHTS
Suppose you drop a sandbag on your head accidentally after an overhead press. In that case, it will be uncomfortable and a hit to your pride, but you're unlikely to break anything. With kettlebells, drop that thing on a toe or a skull, and you'll have some major issues.
SANDBAGS ARE INCREDIBLY VERSATILE
If you get a **good sandbag** with handles in the right places, then you'll be able to grab and move the bag the same way you would for dumbbells, kettlebells, or an Olympic lifting bar. This means virtually any training style – HIIT/Crossfit, kettlebell training, traditional weightlifting/bodybuilding, and sandbag training – is possible with a single piece of equipment

MY EXPERIENCE DURING THE 10,000 KETTLEBELL SWING CHALLENGE
Your hands will adapt but expect them to be sore first, then calluses, then grip strength to come
Beware of the "wall" at rep number 150 – 200 of each workout. Hang in there
Look forward to the endorphin rush at rep 300 – you'll be able to cruise through the rest of the workout
Stretch the lower back, hamstrings, and hip flexors upon completion, sometime during the day, and on rest days to speed recovery and avoid injury
Beware of a mental wall due to boredom around the 10th workout. Hang in there as your body will continue to improve and adapt in the last ten workouts.

THE VERDICT
DO I RECOMMEND THE 10,000 KETTLEBELL SWING CHALLENGE? ABSOLUTELY…WITH A FEW CATCHES
Challenges like this are great ways to either break out of a rut and try something new or train something we've neglected too long.
The simple structure of this challenge makes it brainlessly easy; you just have to show up and stay in the fight for ~40 minutes.
The cardio, stamina, and work capacity conditioning that comes from the challenge is significant and useful to anyone. By work capacity, I mean the ability to lift weighted loads vigorously, then recover, and do it again.
The strengthening of the posterior chain (glutes, lower back) and toning of the core were noticeable and appreciated. However, sitting at a desk all day, losing core and lower back strength, is something you won't appreciate until you pull your back, reaching down to pick up the groceries.
All in all, I recommend the 10,000 kettlebell swing challenge. The effort required and the gains you get are worth the effort, with two caveats:
1. If your kettlebell swing technique isn't great or you haven't worked out in a while, start with the 250 kettlebell swings in 30 days challenge variation – then, later, jump on the 10,000 swings challenge
2. If maintaining or improving strength is a priority while still getting the cardio, fat burning, and toning gains, do my ABA 10,000 Kettlebell Swings challenge variation. I like the original challenge, but I'm not trying to cut weight, so the adaption for strength was the perfect 30-day plan for me.
No matter which variation you go with, this is a challenge and workout program I highly recommend. You won't regret it.

WHAT NEXT?
Check out our recommendations for the best sandbags to train with that will double as kettlebells and weights for other workouts at home.