Whether you are a minimalist fitness enthusiast that uses tought backpack to carry heavier loads for rucking and weighted calisthenics, or simply in the market for a buy it for life, tough, versatile bag that does as well in cities and daily life as on adventures in the mountains, you can't do better than a GORUCK backpack.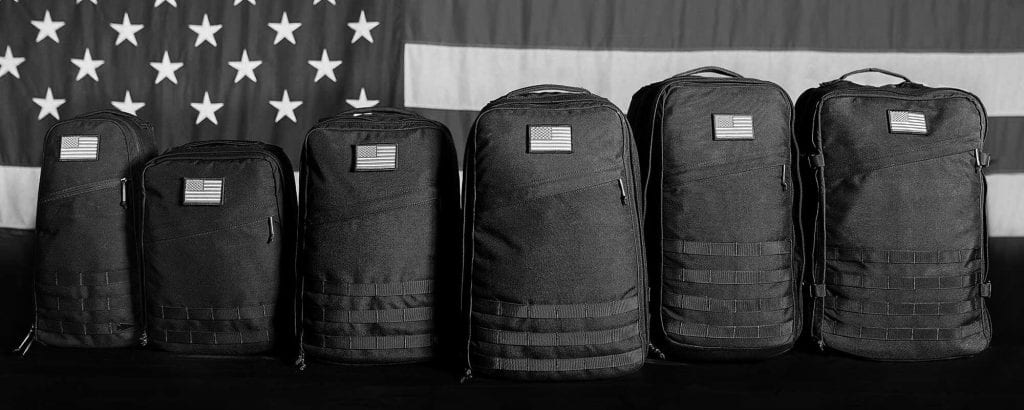 In this GORUCK backpack roundup, we'll review the best GORUCK bags on the market, who and what each is best for, and give you the right info on your search to decide which is best for you.

GORUCK, the military veteran and ex-Special Forces soldier owned company that produces a slew of bombproof backpacks that are perfect for everyday carry and travel, thanks to their minimalist, rugged, and yet simply organized build, but double just as well for the task they were designed for and which inspired such rugged packs – rucking.
"Rucking," is the exercise and act of loading up a backpack with weight, and marching off onto the trail. Though this activity was once solely the fitness tool of hardened soldiers and Marines, rucking has grown as a fitness activity that's cheap, easy, effective, get's you outside, and builds a rugged, injury-resistant body. Nowadays, whether or not you're a rucking fanatic, the products of this cult-like fitness following or not, you can still benefit military-grade equipment in daily life and travel adventures.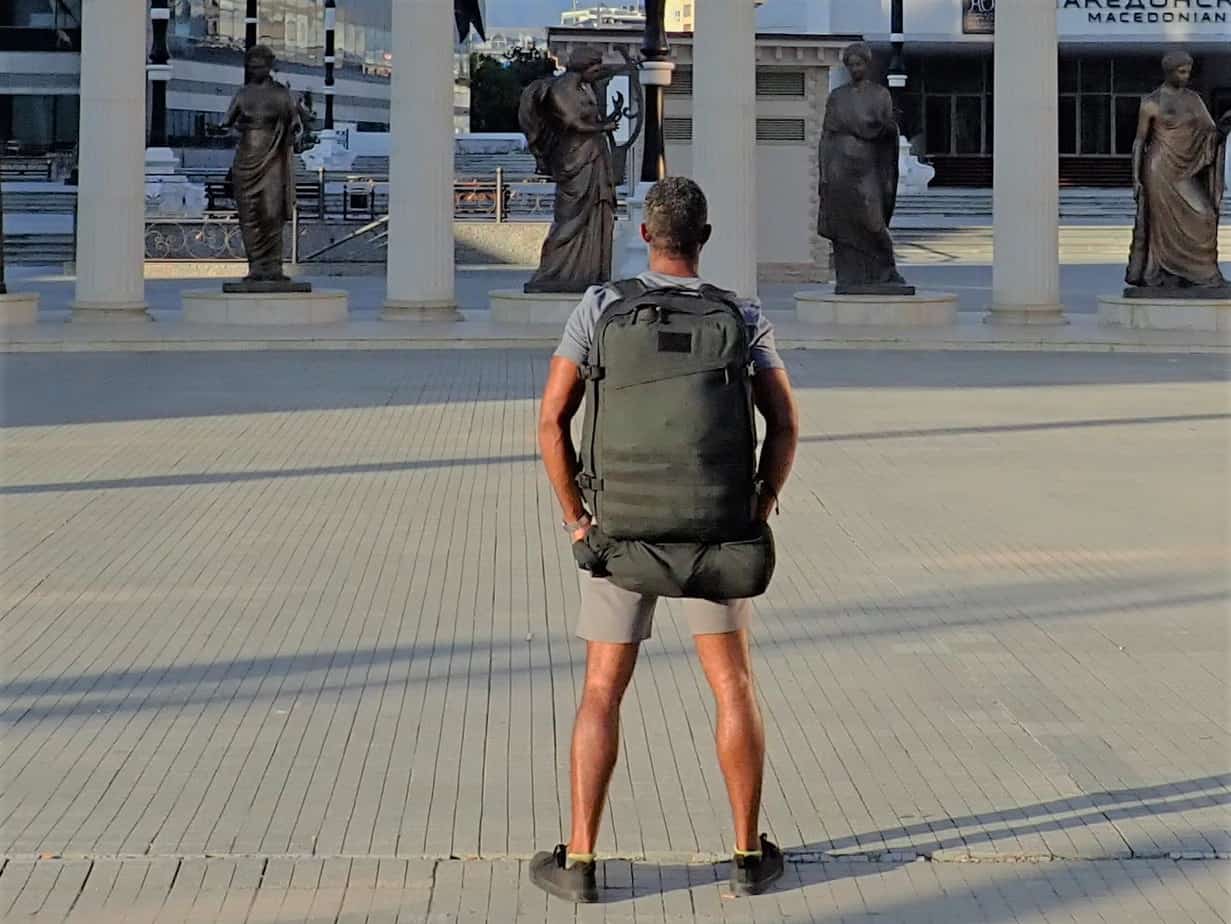 Unfortunately, with so many GORUCK bags, that admittedly all look alike, how do you know which GORUCK backpack is right for you and your life outside of rucking?
Don't sweat! In this guide to GORUCK backpacks, we'll break down the GORUCK backpack line for you. Plus, if you don't find the right bag on this list, we have another list at the end with plenty of durable and cheap alternatives to the GORUCKbags and plenty of tips for picking the ruck that's perfect for you.

Contents of this GORUCK Backpack Guide
What Next: Buying Tips and GORUCK Alternatives

Who is GORUCK and why do they matter?
GORUCK is the brainchild of former Special Forces soldier, Jason McCarthy, who after leaving the military became very passionate about backpacks, but not just any backpacks. In Jason's former line of work, their teams would deploy to harsh environments, like Iraq and Afghanistan, operating for long periods in austere conditions. Lives literally hung in the balance in warzones based on everything going to plan, or at least on gear performing as it should allowing the soldiers to work around everything going wrong.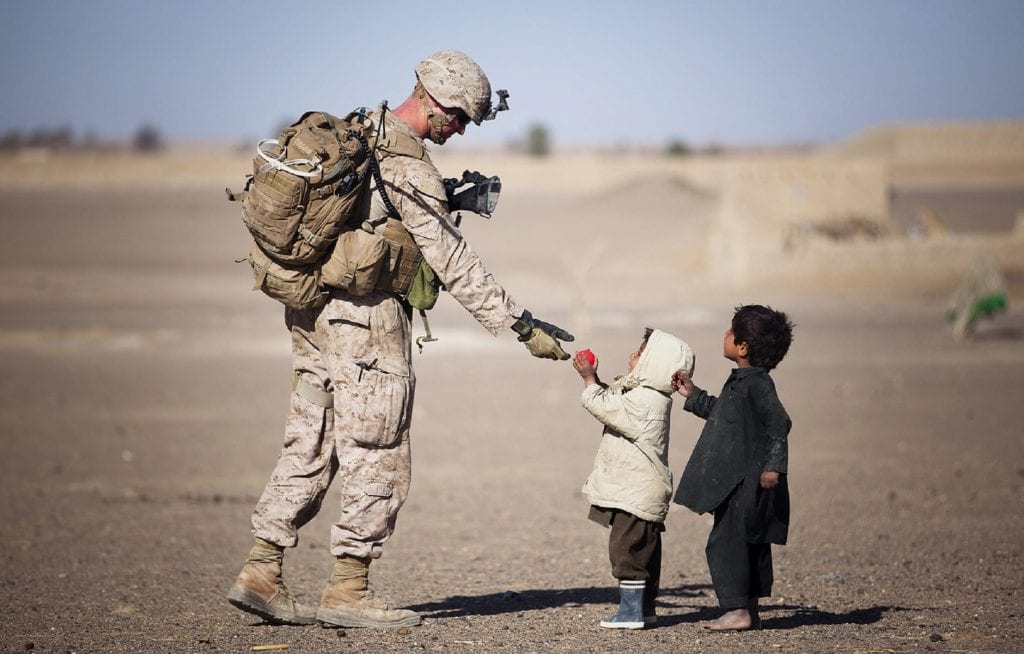 Finding the "perfect" gear for combat is a difficult (if not impossible) task for any sailor, soldier, or Marine, and the backpack, more commonly known as a "ruckpack" is one of the most important pieces of gear that doesn't drive or go "boom". If your backpack breaks under the heavy loads on a patrol miles away from base, you have "very inconvenient" problems. If your pack is uncomfortable, you're distracted from your job and vulnerable. If your pack wears out after a deployment, you're wasting cash you don't have to buy new gear.
Jason decided to build a "ruckpack" that could handle the loads that servicemembers "ruck march" with while surviving the abuses of training and combat.
As such, GORUCK was born.
What is a GORUCK backpack, and where did the style and design originate?
At the inception of Jason McCarthy's company, he wanted to create a pack tough enough for combat and "Special forces grade abuse." Any servicemember who's been to combat has noticed the medic rucks, that belong to medical professionals in the field. These packs are designed to carry lots of medical gear, and keep it all safe and organized for quick, easy access in the field for combat surgeries.
Let's think about that…a backpack that is tough enough to literally survive combat, keeps things organized as if scenarios are life and death, and designed to carry heavier loads than your average pack? Sounds like the perfect inspiration to me.
So, Jason McCarthy, an ex-Special Forces soldier and GORUCKS (future) founder, took the inspiration from those Special Forces medical rucks, with tough Cordura nylon, an open flat design, and overly padded straps. McCarthy then added a laptop pocket and additional features for daily life and travel, that military design commonly misses and BOOM! GORUCK was born.
Now, the brand, and its products, exist to serve hard users and travelers in keeping their goods safe and organized in a pack that will last forever.
Why I own a GORUCK…and maybe you should too
Two years ago I set out to travel the checking countries and experiences off of my bucket list…but I'm not your normal tourist.
The adventures on my list are far off the beaten path and far from easy. Whether it's the motorcycle ride along the Ho Chi Minh trail through Laos and Vietnam, or trekking solo to Everest Base Camp (no porters, no guide), or even wandering through Patagonia, my travel have (and will) take me to rough places where I don't need gear failing.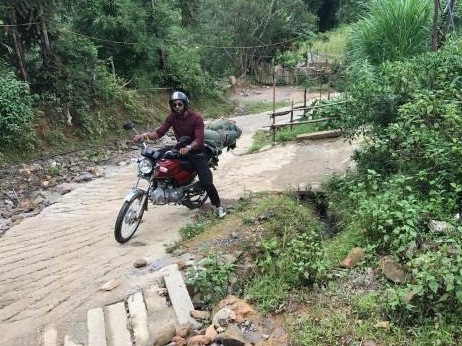 I had packs break on me in Patagonian backcountry, where I sat sewing up straps and seems by camp fire light, and climbing trips in the US. It took two instance before I decided, never again. I'll make sure I pick the right gear upfront, so I can focus on the adventure instead of patching up gear.
Yes, GORUCK's gear is more expensive than the average, but I'm paying for peace of mind, and never having to buy another travel pack again.
For the last year, I've traveled with the GORUCK GR3 with the GORUCK Tough Compression Bag. Not so much as a seam has even come undone and I still have GORUCK's Lifetime Guarantee on top of that for peace of mind.
What details do all of the GORUCK backpacks have in common?
GORUCK has a handful of rucks, the GR1, GR2, GR3, and Rucker being the most prominent and each to a different adventure (besides rucking) from daily life to traveling the world. Despite the differences, all of GORUCK's bags have a few things in common
Materials
GORUCK's bags use 1000 Denier Cordura Nylon. This material is the gold standard for hard use packs as it is abrasion resistant, has been tested to a 450lb tensile (tear) strength, and is water resistant. If durability is what you're after, you can't eat 1000D Cordura.
Tough, huge, YKK zippers are used through on all bags and are arguably the toughest zippers available. These large YKK zippers stand up to the stress and strain from carrying weight in the bag and overstuffing, and are big so they can still work as planned when littered with sand and mud.
Open Flat Design
Similar to the design of military medic's bags, GORUCKs bags have a wrap around "clamshell" zipper that opens flat to reveal everything in the bag. This is extremely convenient over top opening bags and making packing much easier. More than a handful of times, I've had to grab something from the bottom of my bag quickly at an airport counter or security check – thanks to the open flat design, I never have an issue.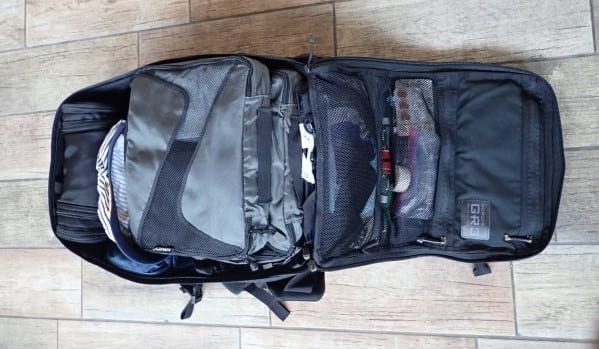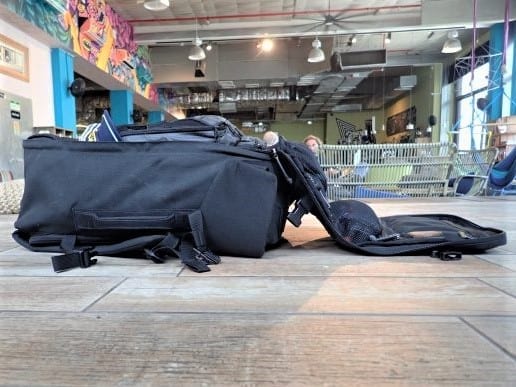 Bombproof Laptop Compartment
Everyone carries tech these days, but despite the ubiquity those laptops are still extremely valuable to us. The "bombproof laptop compartment" is a quick access zippered pocket that is overly padded and has a "false bottom" created a space between the bottom of the compartment. This "false bottom" prevents the laptop from touching the ground, and being damaged.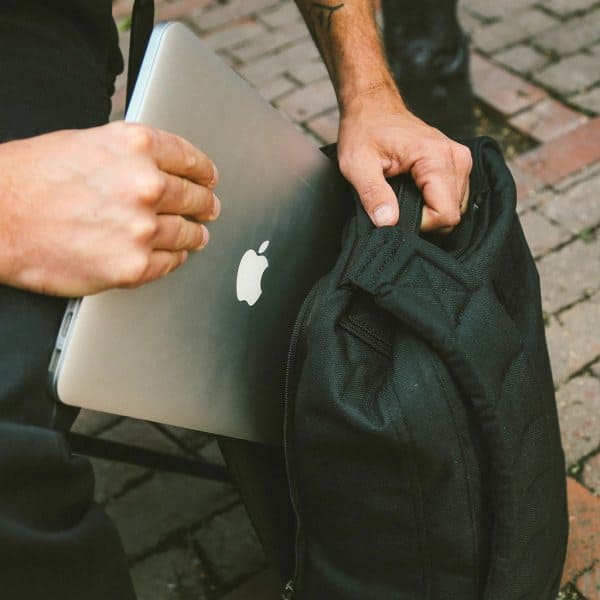 An additional frame sheet inserted behind the padding of the laptop compartment adds rigidity to the back panel both to protect your laptop and protect your back when carrying weight plates.
This laptop pocket is also perfect for holding a ruck plate to use your GORUCK as a weighted backpack or rucking backpack. because of the padding and support from the rigid framesheet.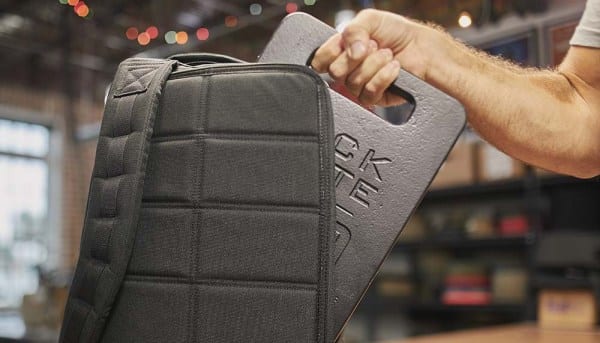 Note that the laptop compartment is only on select models – the GR1, GR2, and GR3 variants. The GORUCK Rucker does not have this laptop pocket, given that it is a pack designed specifically for exercise and abuse in which you likely won't (or shouldn't) be carrying a laptop at the time.
Extra padded shoulder straps and back panel
These bags are designed to carry heavier loads than your average backpack, which not only means being built durably but is also assurance that they will stay comfortable under loads.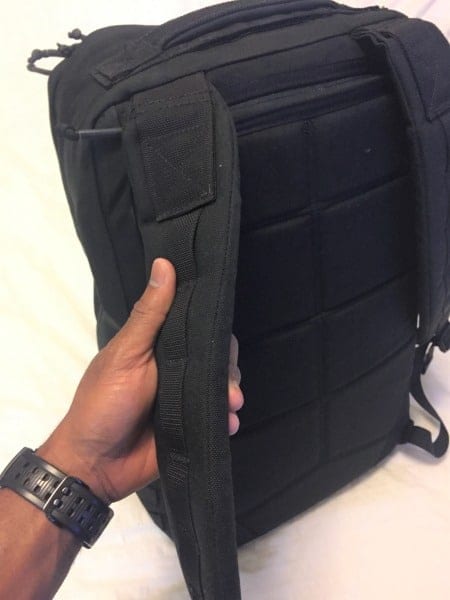 Each GORUCK bag has thick, extra padded shoulder straps compared to other backpacks that make those heavy loads much more comfortable.
Additionally, the back panel is heavily padded to protect your laptop and make carrying those ruck weights more comfortable.
Strength Tested to 400lb loads
Those heavy loads I mentioned…400lbs is what GORUCK bags are tested to at a minimum for all stress points, so you'll break before your ruckpack does. This means that the top handle (on all packs) shoulder straps (on all packs) and the side and bottom handles (on the Rucker variants) can all withstand 400lbs of stress at minimum.
Heavy duty nylon stitching, reinforced stretch points, and the use of 1000D Cordura Nylon and milspec webbing throughout make this possible.
Mesh, zippered panel pockets, to keep everything organized
One of the biggest draws of the medic bags that inspired GORUCK was the organization, which continues with these GORUCK bags.
Zippered mesh pockets line the panel in all of the packs to help keep all of the small items organized.
SCARS Lifetime Guarantee Guaranteed Quality
The most important thing that justifies the shockingly high GORUCK prices is the SCARS Lifetime Guarantee. Under this guarantee, if your ruck ever breaks or succumbs to wear and tear, GORUCK will repair or replace it free. You don't even have to be the original owner, it just has to be genuine GORUCK gear.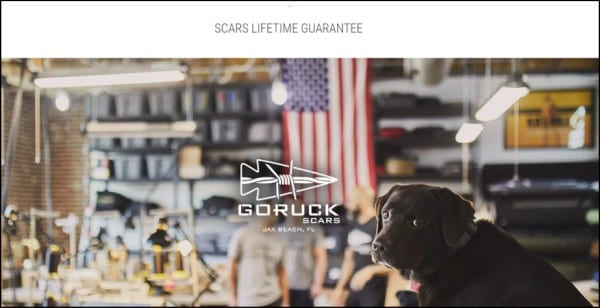 Don't get me wrong – I'm never excited to cash in on a warranty, but I find assurance in the quality of GORUCK bags given that they are willing to "own" their bags for life, meaning repair and replace for as long as you own the pack.
I have personally owned and tested several GORUCK backpacks over the last 5 years, and after overstuffing, dropping off trucks, hiking with 60lbs in my bag, and more, the quality is clear to me. I've never seen a stitch pop, had any fabric tear, or experience any negative quality issue whatsoever.
Checkout the SCARS Lifetime Guarantee
What are the Cons of GORUCK Bags You Should be aware of?
Price (but know that you get what you pay for – and you can buy used)
As you'll see, the GORUCK bags are much more expensive than other bags, but, based on my experience they perform much better too. Though the price is inconvenient, you absolutely get what you pay for.
Weight (but you won't find a bag this durable made of lighter materials)
Having a pack that can hold 400lbs and years of abuse comes with a price beyond the pricetag as the weight of all of those components adds up. However, this is something you'll never get around with a durable backpack. All of the best tactical backpacks and GORUCK alternatives are built with similar materials and hit similar weights. If you do decide to purchase a lighter bag to cut weight, plan on it not last nearly as long as a GORUCK.
What are the differences between the GORUCK packs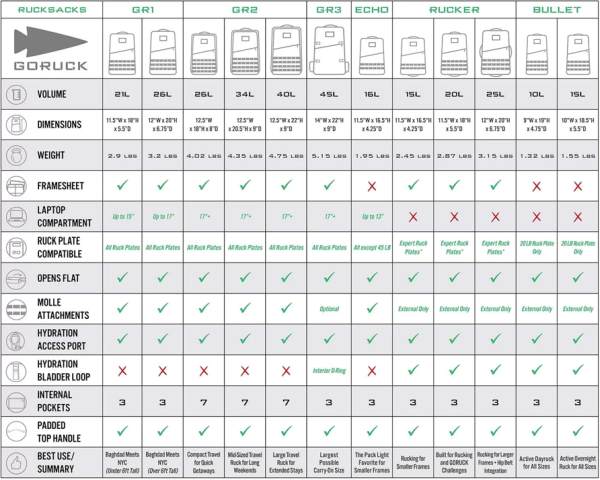 Size
The major difference between GORUCK backpacks will be the size, to suit different uses, ranging from the 10L Bullet ruck to the 45L GR3.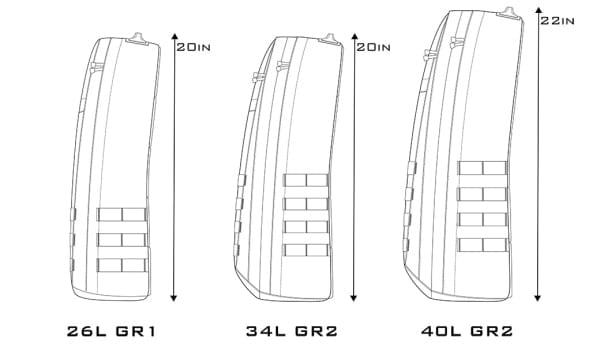 Compartmentalization and the Separate Compartment in the GR2 and Rucker Long Range 4.0
Making each ruck better for their different uses, pockets, and compartmentalization are different. For instance, the GR1 is a smaller, single compartment ruck for daily use, while the GR2 has a two-compartment setup, with a main pocket and front separate compartment behind the front panel, to make it easier to stay organized on weekend travels.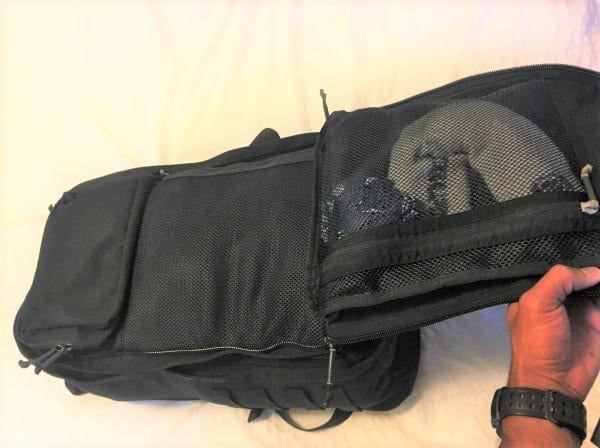 MOLLE webbing placement
MOLLE webbing placement on the front, bottom, and sides varies by ruck but can be added custom on any backpack
Compression straps
The larger a bag is (like the 45L GR3) the sloppier it can become without compression straps while the smaller GR1 is completely fine without them.
**

The GORUCK Backpacks
Now that you know what to expect from the GORUCK backpacks, lets introduce the family.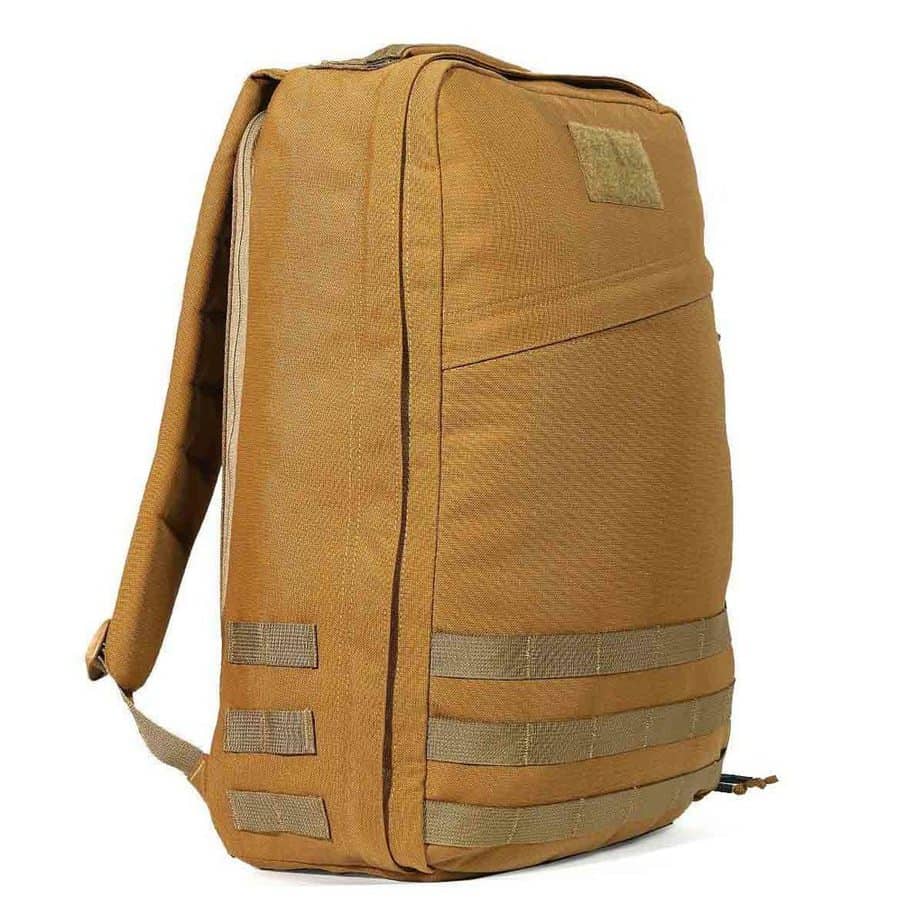 The GORUCK GR1 is the original GORUCK pack, and the perfect everyday carry backpack for anyone who values durability and simplicity. At 21L and 26L this bag is perfect for carrying everything you need in a day.
The GR1 has a single compartment design that opens flat with convenient zippered mesh and Cordura panel pockets on the lid, to keep things organized. "Rainproof", abrasion resistant, tested to hold 400lbs and ready for whatever you throw at it.
Size: 21L, 26L
Price: $395
Best Use: Daily Carry, Rucking, Weighted Workouts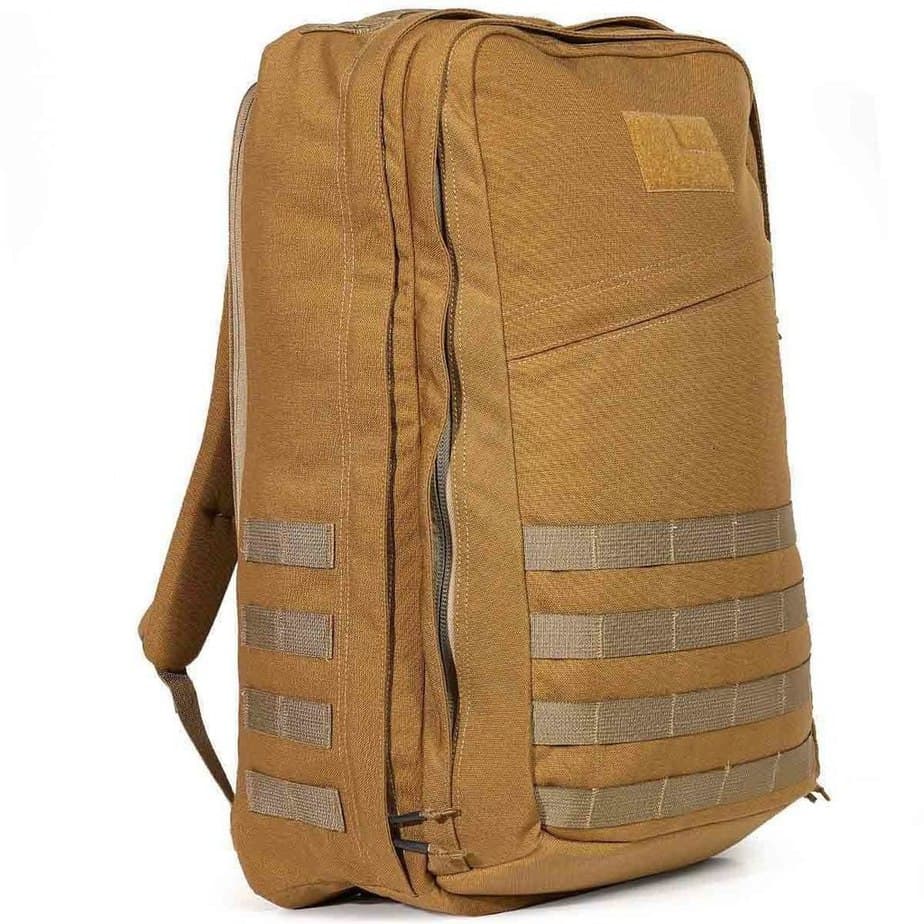 The GORUCK GR2 is ~14L larger than the GR1, coming in 34L and 40L models with a two compartment design making for more storage and plenty of pockets that make it easier to stay organized.
The GR2's design is by far my favorite for short travel (a few days to a few weeks) as it allows for keeping organized without packing cubes. Despite its travel prowess, the GR2 still rucks as well as the GORUCK GR1 and is great for weighted workouts.
If you're looking for a durable bag for travel, weighted workouts, and rucking, go for the GORUCK GR2 40L. If you're on the shorter side (shorter than 5'8") or plan to use the GR2 as more of an everyday use backpack, go for the GR2 34L
Read more about my experience with the GORUCK GR2 in our GORUCK GR2 Review
Size: 34L, 40L
Price: $495
Best Use: Weekend Travel, Rucking Weighted Workouts
Learn more about the GORUCK GR2 at GORUCK.com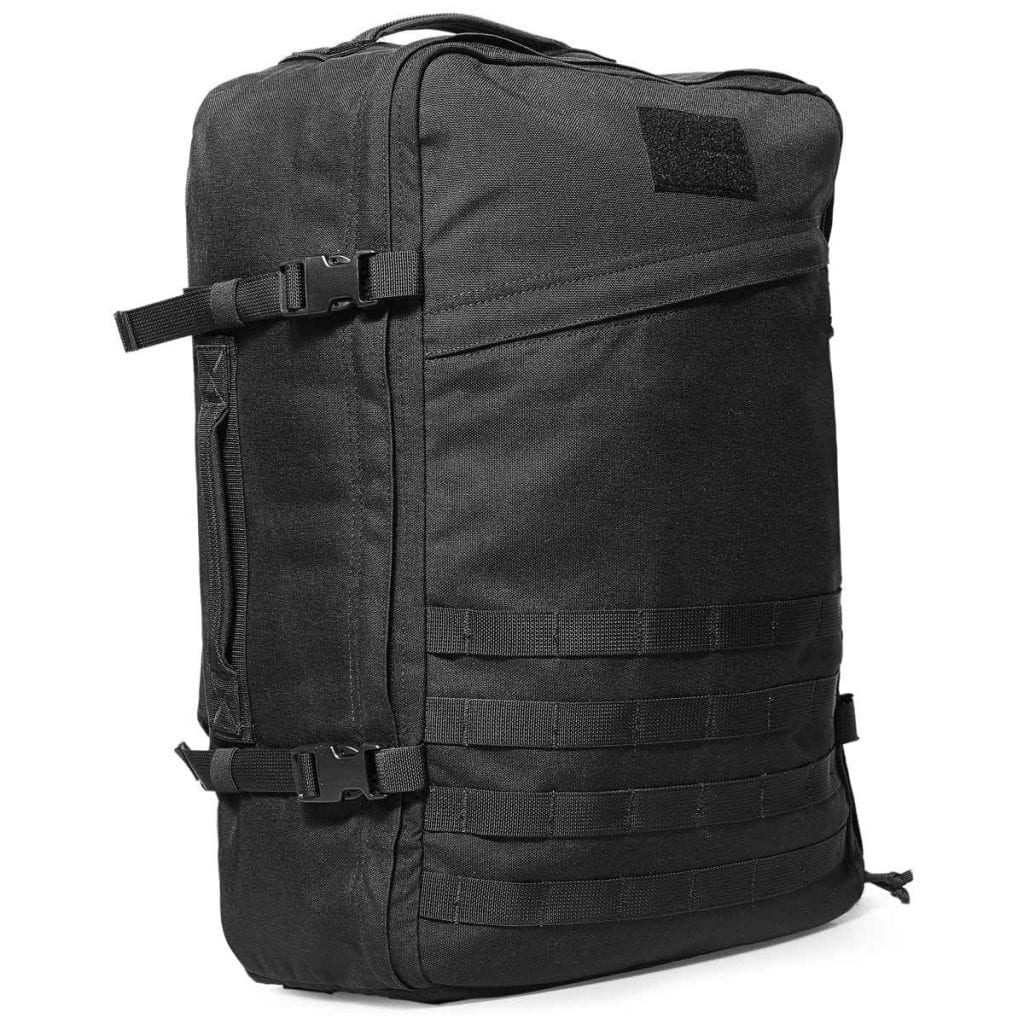 The GORUCK GR3 is the largest bag in GORUCK's line, takes up every in of the airline carry on size limit, and is designed for longer term travel. Think of the GR3 as an extremely durable suitcase that fits on your back. If you're an avid traveler or a slight minimalist, you could travel out of this pack indefinitely.
I've been traveling with the GORUCK GR3 as my only bag for the last year, through 25+ countries and it lives up to its reputation of durability and simplicity while still be extremely functional.
To make the most of the GR3, pick up some packing cubes, either GORUCK's bulletproof set of GORUCK packing cubes, or cheaper packing cubes on Amazon and you'll be set for any length of travel.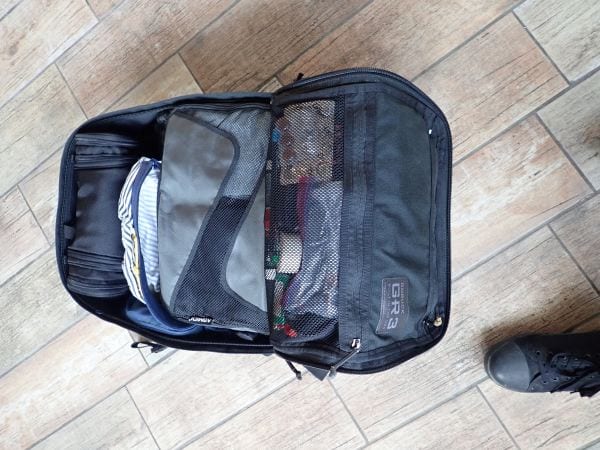 The GR3 is tested to 450lb loads, so it will last through any adventure you can throw at it
Size: 45L
Best Use: Long Term Travel, Camping
Learn more about the GORUCK GR3 at GORUCK.com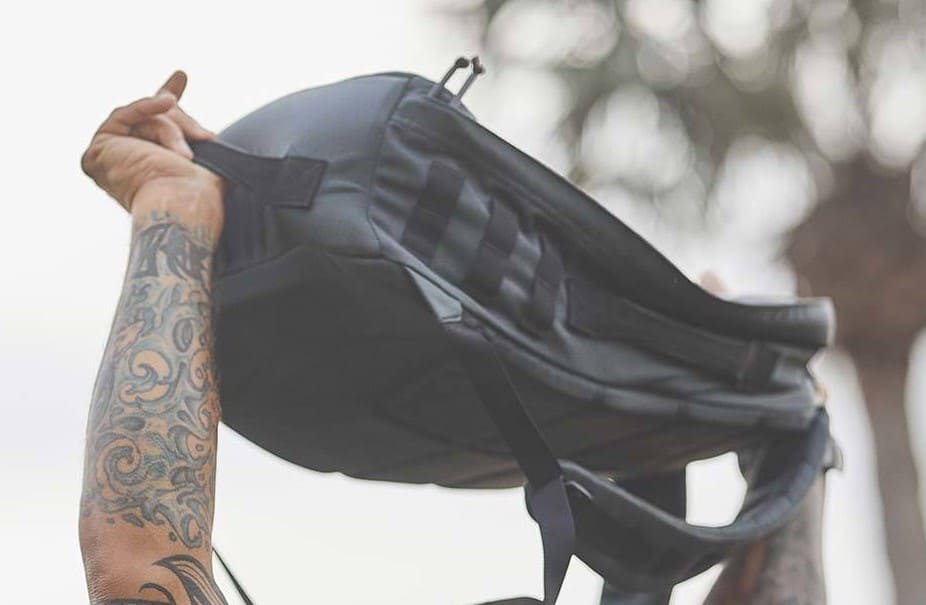 The Rucker is essentially "a gym on your back", according to GORUCK. Not only is the Rucker designed to the same bulletproof standards for carrying heavy weight and standing up against abuse, it is equipped with top, side, and bottom handles for doing variations of "sandbag training" and functional workouts.
The Rucker's function and size (15L, 20L, and 25L) still make it perfect for daily use.
If you're looking for a rucking and workout backpack that lives equally well in the city, opt for the Rucker.
Size: 15L, 20L, and 25L
Price: $265
Best Use: Rucking with ruck plates, daily use, functional workouts
Learn more about the Rucker at GORUCK.com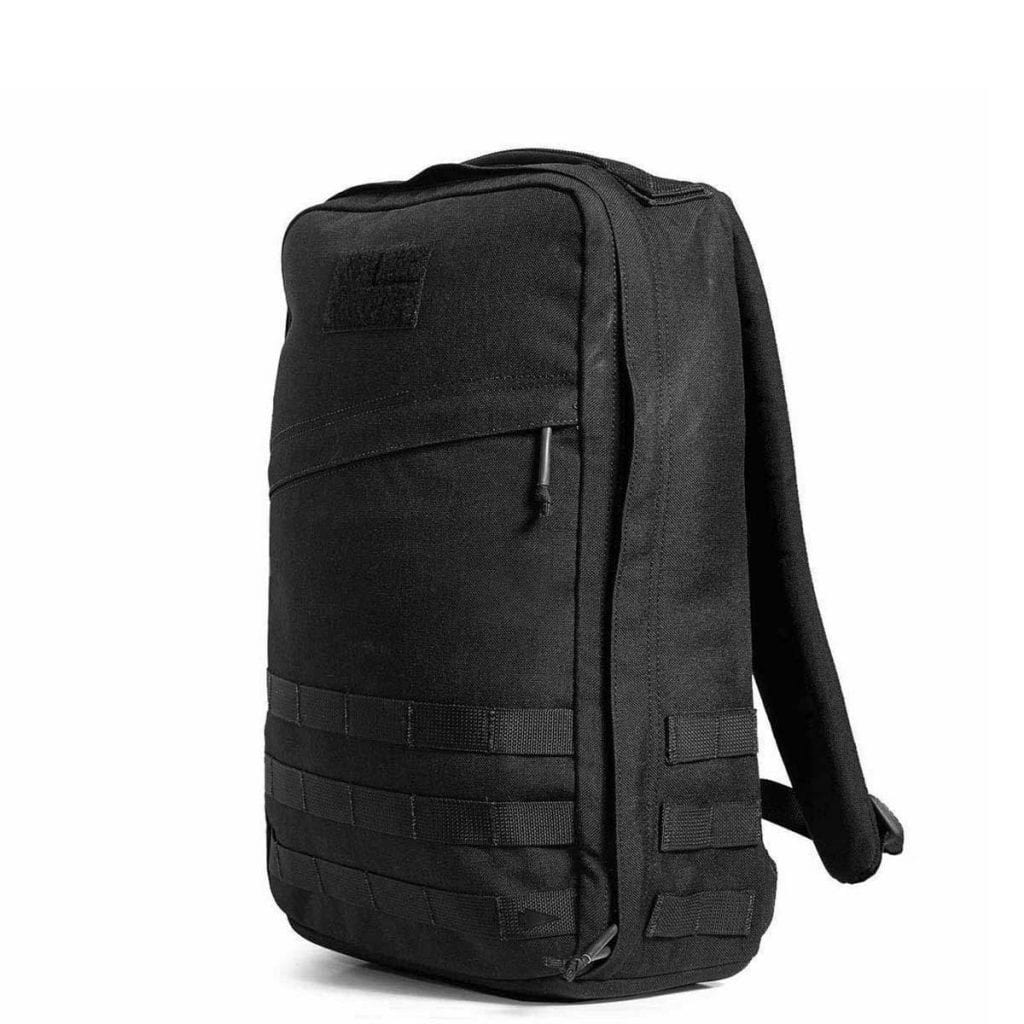 A smaller, streamlined version of GORUCK's other packs, made to be simpler and fit all shapes and sizes.
The Bullet could work for your needs as a daypack, if you're on the minimalist side, but performs better as a ruck, especially if you have a smaller frame. Don't let the size fool you though, the bag is still tested to 400lb+ loads
Size: 10L, 15L
Best Use: Rucking
Learn more about the Bullet Ruck at GORUCK.com
6. Rucker Long Range (33L and 39L)
One of the newer additions, the Rucker long range doubles down on being a gym in a bag, removing the bombproof laptop and delivering tough handles on all sides, a dual compartment with a front pannel setup and a main compartment behind it (like on the GR2) so you can carry weight as well water and food for an all day workout.
Visit GORUCK.com to pickup the Rucker Long Range
7. The GORUCK Kit Bag **
The GORUCK Kit Bag isn't exactly a backpack, but it is a great bag none the less. This kit bag is a handbag of a tough and durable style that used to be common among aviators. However, its a great option for stowing a small amount of gear for hand carry.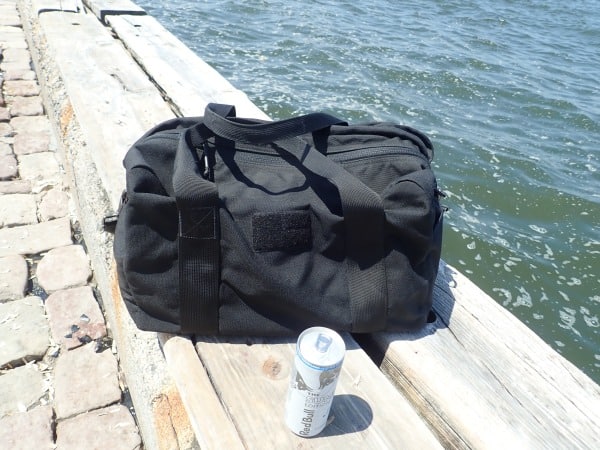 Being completely honest, I had a Kit Bag similar to this back during my combat deployments to Iraq. Like a well behaved Marine, I stole it from a pilot and used it on our Mad Max style combat adventures through the desert. If you're looking for a side option to keep gear, that can be folded and stowed at the bottom of another bag, I highly recommend the GORUCK Kit bag.
Click here to check out our full GORUCK Kit Bag Review
Other Great GORUCK Gear
What Next: Buying Tips and GORUCK Alternatives
GORUCK makes some awesome bags, but for reasons of price, aesthetic, or other reason, the GORUCK brand bags may not be perfect for you.
Check out these great rucking backpack alternatives for your GORUCK challenge or normal routine of rucking to stay fit.
Great Related Reads